Want to take your bedroom décor to a whole new level? Try these chic boho bedroom décor ideas!
Your bedroom is your sanctuary. It's the most peaceful place in your home, the room dedicated to rest and relaxation. That's why investing in making it your own is so important.
Boho style takes this concept to a whole new level. It combines cozy elements, and natural materials with travel-inspired décor, creating the perfect blend of excitement and relaxation to please your free spirit.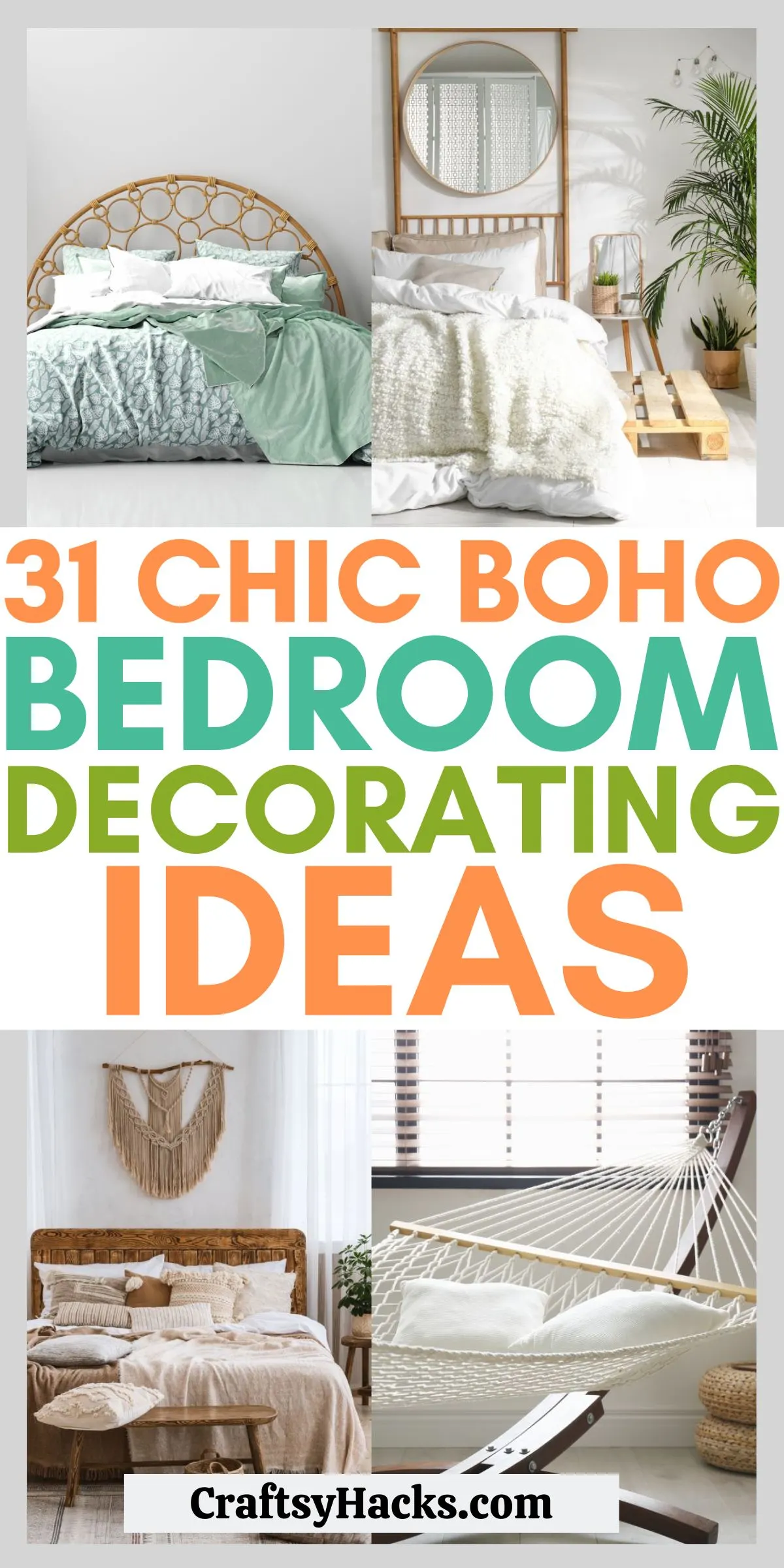 If you're searching for inspiration, this list of boho bedroom decor ideas is the place for you. Check out these thirty-one unique ideas for a boho bedroom to make your sanctuary utterly your own.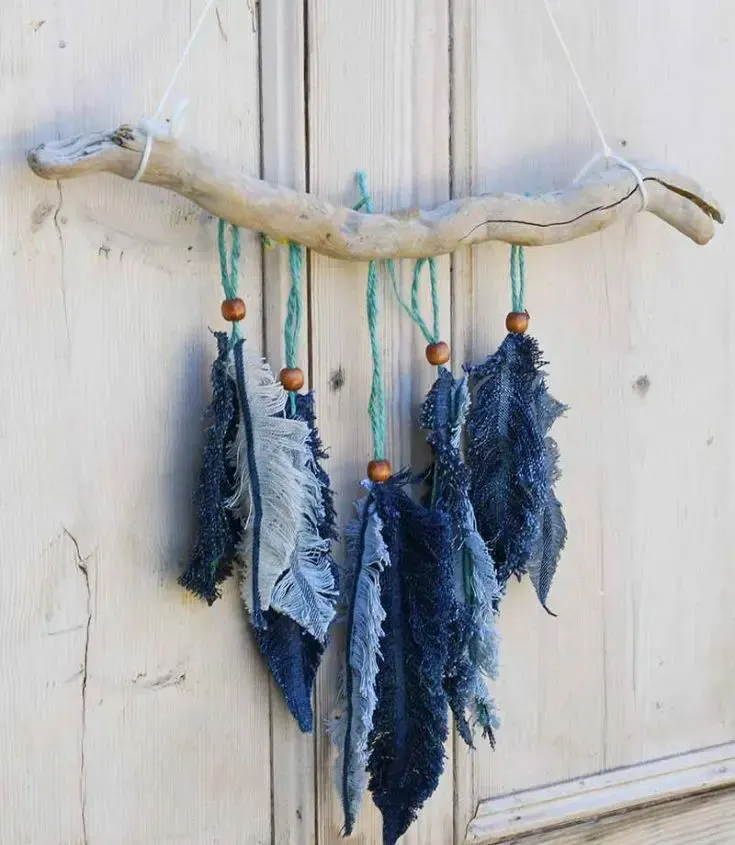 Source: pillarboxblue.com
One of the reasons I love boho style so much is because it's so sustainable. The aesthetic promotes reusing things we no longer need as décor, which looks stunning in your master bedroom.
For example, this beautiful denim feather wall decoration is a great way to reuse a pair of jeans that no longer fit. It's a simple DIY bohemian decor that is ideal for completing in front of your favorite TV show.
2. Comfortable Hammock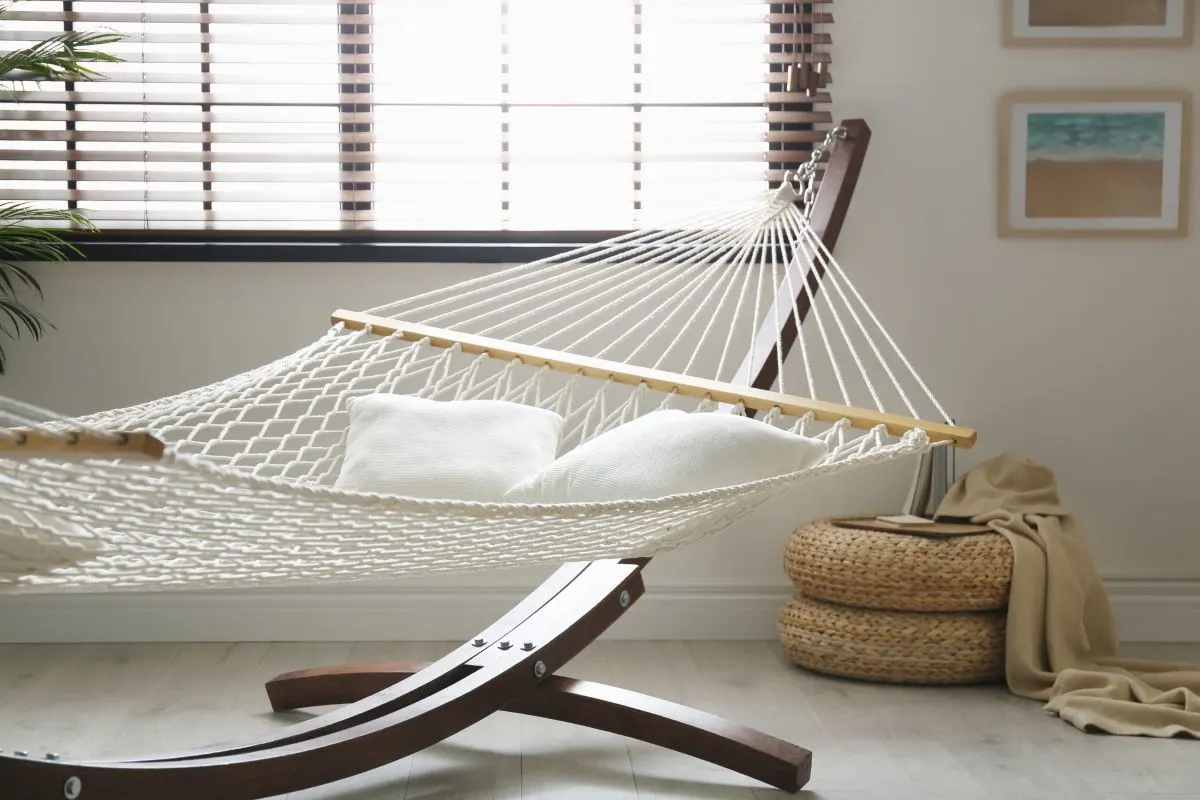 Some bedrooms have an extra chair in the corner of the room for lounging or reading. Why not give that idea a boho twist and use a standalone hammock instead!
Pick up a stunning hammock like this and pile on the throw pillows for a comfortable oasis in your boho bedroom. It adds a relaxed, beachy, bohemian design and is a rental-friendly choice.
Check out more stunning bedroom décor ideas here.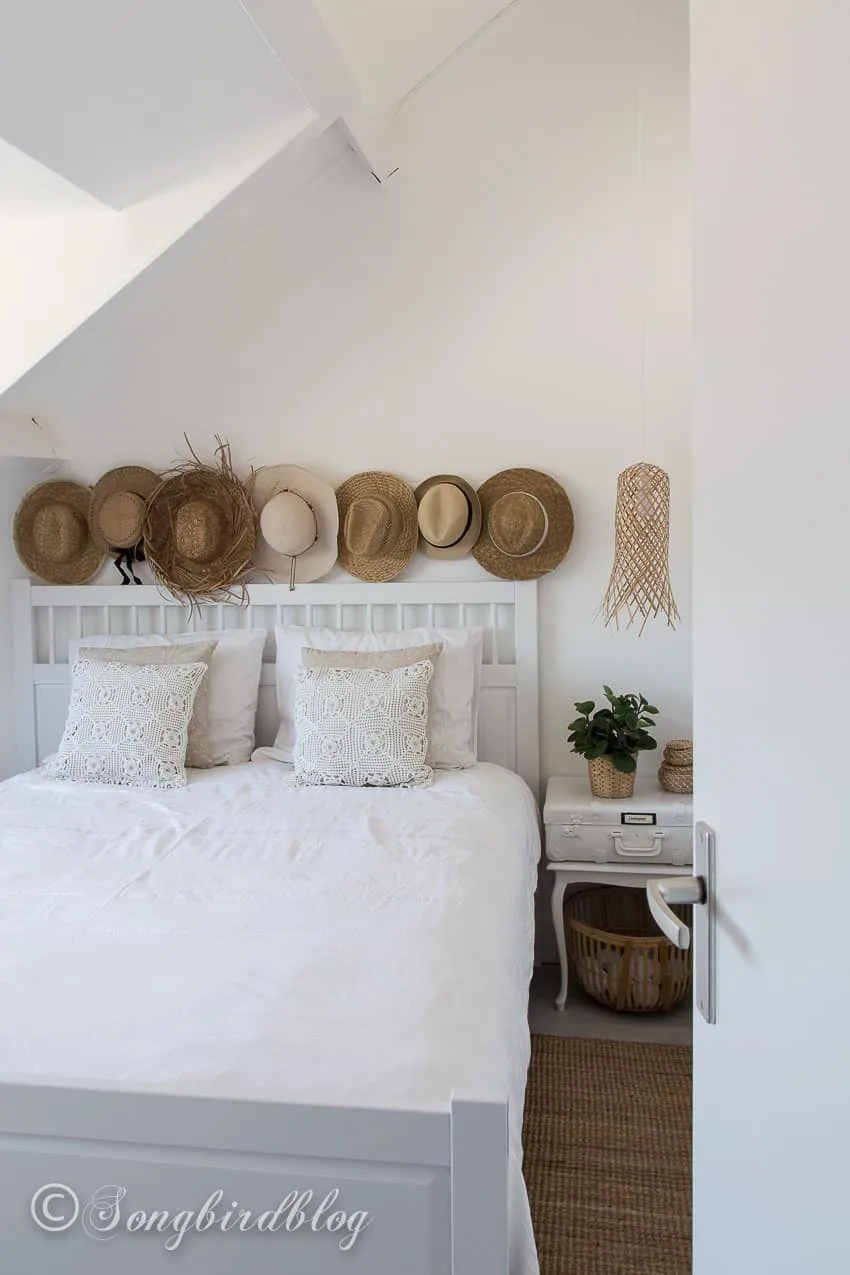 Source: songbirdblog.com
A classic white bedroom is a perfect canvas for a boho design. Clean white sheets, cream walls, earthy tones and bright linens are ideal companions for the boho style's woven textures with natural elements.
Dot your walls and bed with macrame wall hangings and woven light fixtures like this one for a natural look. This helps these elements stand out while keeping your bohemian-style bedrooms clean, sleek, and modern.
4. Posters and Patterned Plates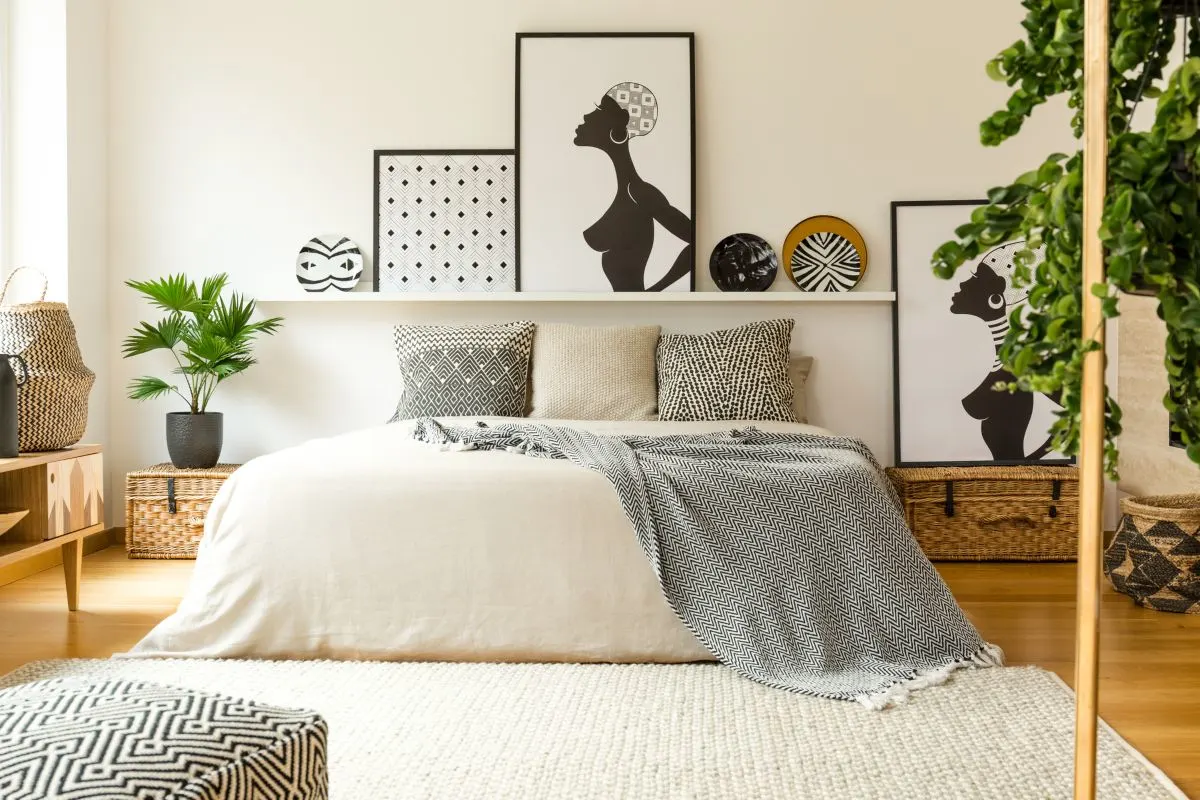 If you scroll through images of boho bedrooms, patterns are among the most common themes you'll find. The right poster wall adds a focal point to your room, deliberately drawing the eye.
The best ways to position your patterned posters or plates is above your bed. This draws the eye upward, centering your bed as the focal point in the room.
This works best if you have clean, white walls from which the patterns will stand out.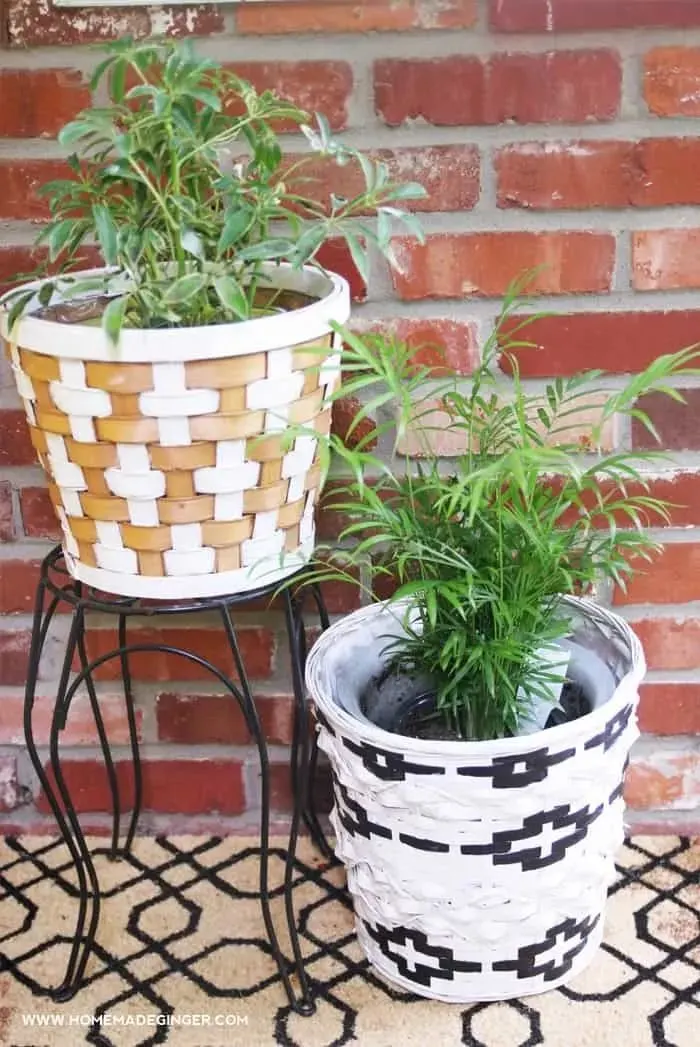 Source: diycandy.com
Woven textures and vibrant colors are a massive part of the bohemian look, so these painted baskets are a perfect addition to your guest bedroom! Whether you use them as bins or plant pots, they add a touch of texture to the bohemian space.
This is a cheap DIY that doesn't require a lot of effort to create an eclectic look, so it's excellent for first-time crafters. Head to your local thrift store to pick up some old woven baskets and get to work!
If you want a long-lasting result, pick up this spray paint to use as a base coat on this bohemian bedroom decor.
6. Tropical Bedroom Interior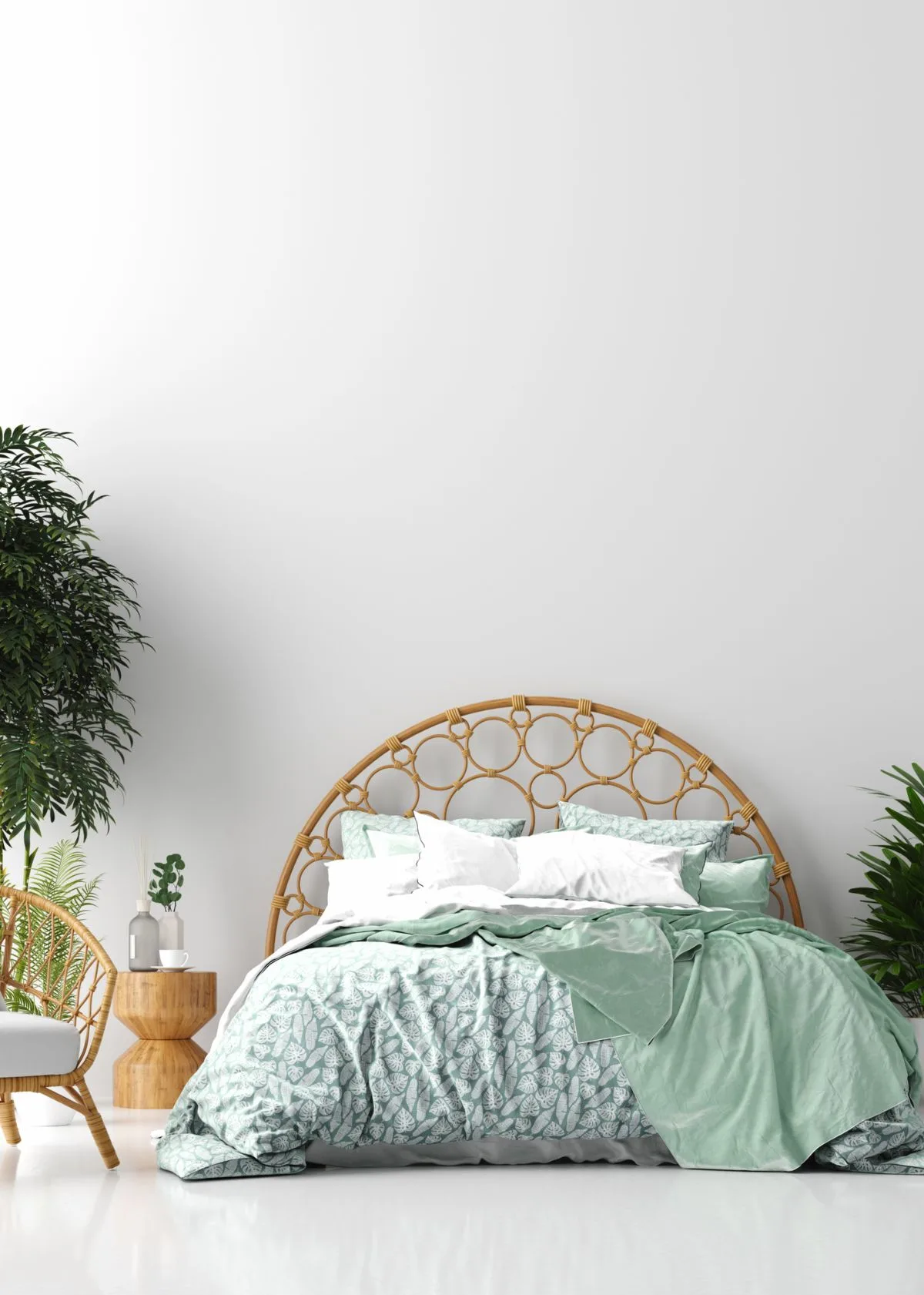 This island-chic look is inspired by tropical greenery to create the perfect bohemian style bedroom. There's nothing better than having plenty of greenery in your bedroom. It's great for your mental health, and it looks stunning with hardwood floors.
Embrace the green color spectrum with pastels and brights; all interspersed with lots of texture and bright white walls. Vary your textures for an incredibly soothing island-style look.
Check out more cute decoration ideas for girls here.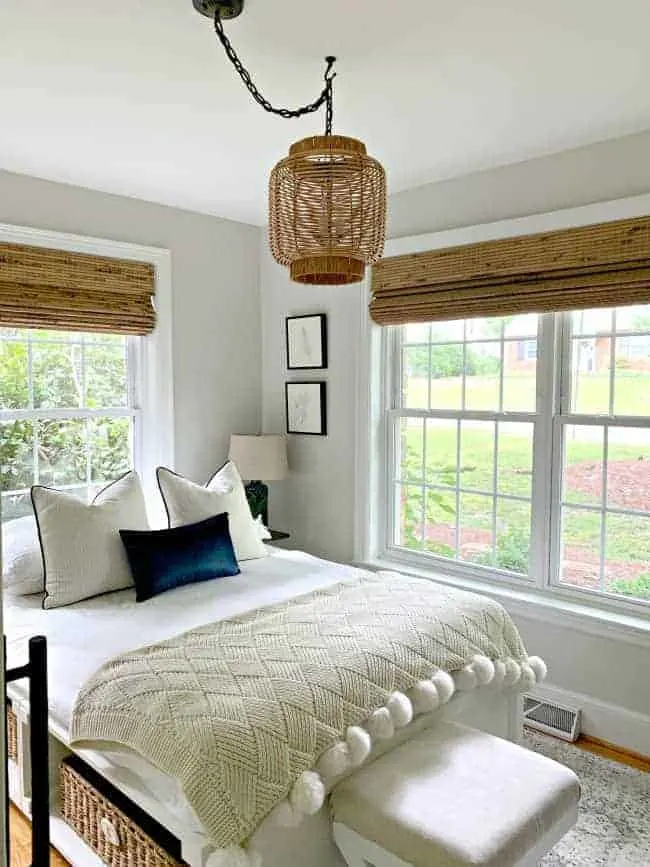 Source: chatfieldcourt.com
Have you always wanted one of those fancy hanging light fixtures but never knew how to get it? This DIY will show you! The result is a stunning light fixture that offers a great focal point.
This is a relatively simple DIY. It's also great for recentering your light fixture over your bed if it's slightly off-center. Create beautiful symmetry with minimal effort and maximum payoff.
Can't find a rattan lantern near you? Just pick up this one to get started.
8. Rustic interior with wooden furniture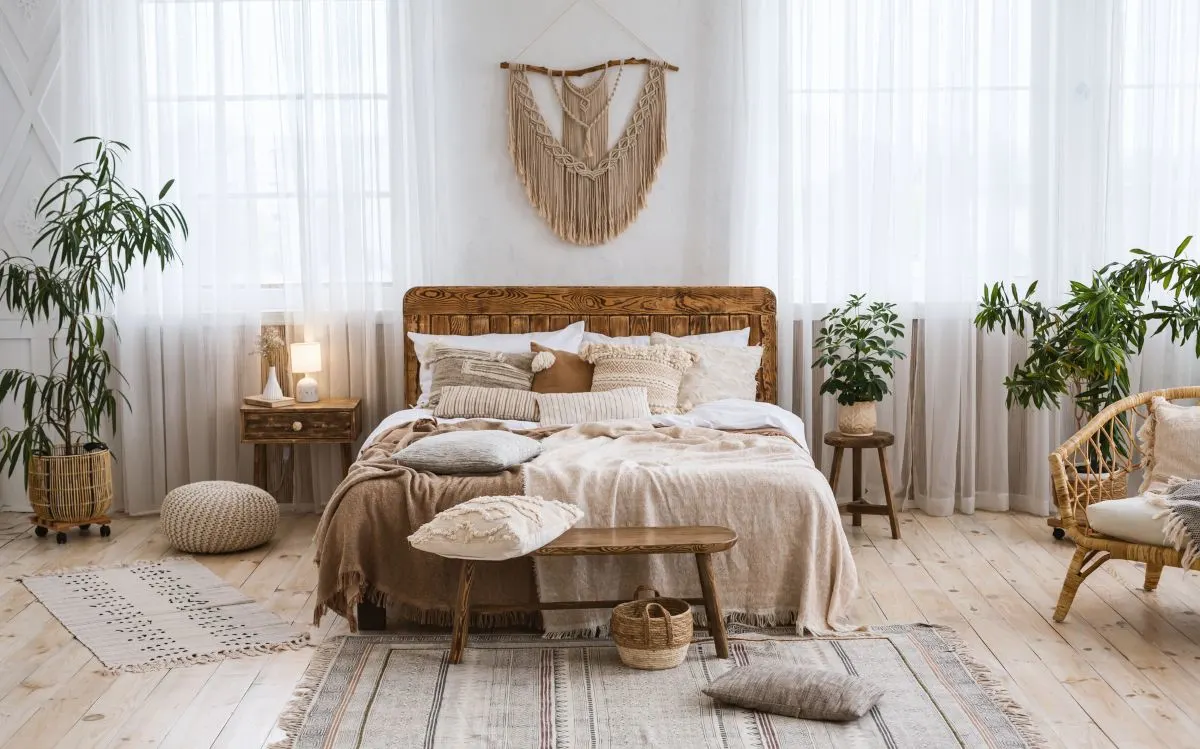 One of the most significant elements of the boho style is natural textures. In this case, we're focusing on the importance of wood textures. They bring nature indoors, helping the room feel lighter.
A great way to create a focal point in your room and incorporate some wood texture is to pick up a wooden headboard like this.
Choose the same wood for furniture throughout the room to create a cohesive look.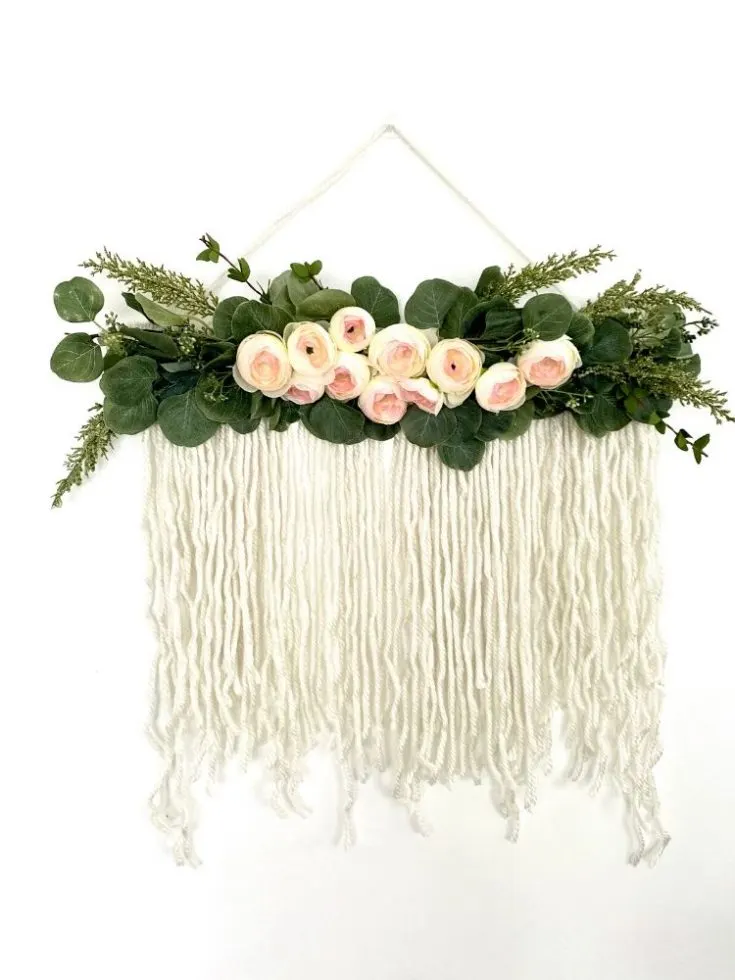 Source: ahundredaffections.com
This next idea blends farmhouse-inspired décor with chic bohemian style. It's a cheap and easy floral wall hanging that anybody can complete, so it's perfect for beginner DIY enthusiasts!
Incorporate natural textures and plant life into your boho décor with this a straightforward wall-hanging. Once you have the method down, you can use it to create all sorts of styles!
Find more DIY summer décor ideas here.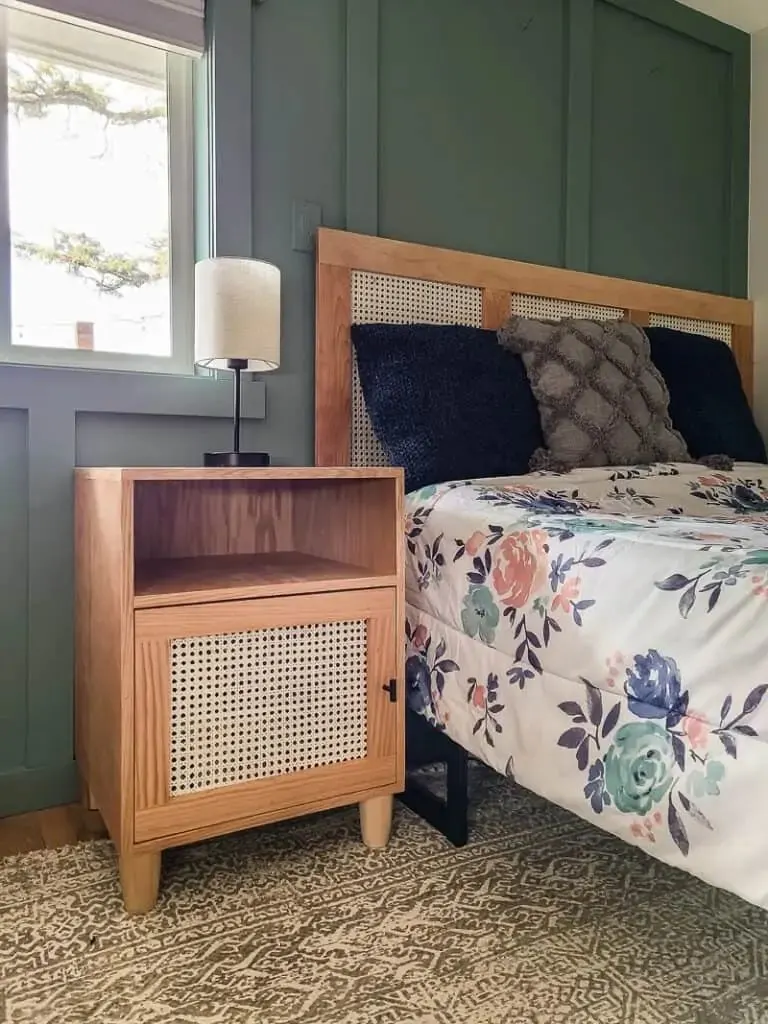 Source: makingmanzanita.com
Your bed is the focal point of your bedroom. That's why the bedside tables you choose have such an impact on the room's style! These wood and rattan tables are a big vote for boho chic.
The linked article is a DIY how-to article, teaching you how to make one from scratch. Imagine looking at those tables and remembering that you made them every day!
It's a great way to test out your woodworking skills. The key to making these stand out is cane webbing, so pick up plenty here.
11. Cozy Vintage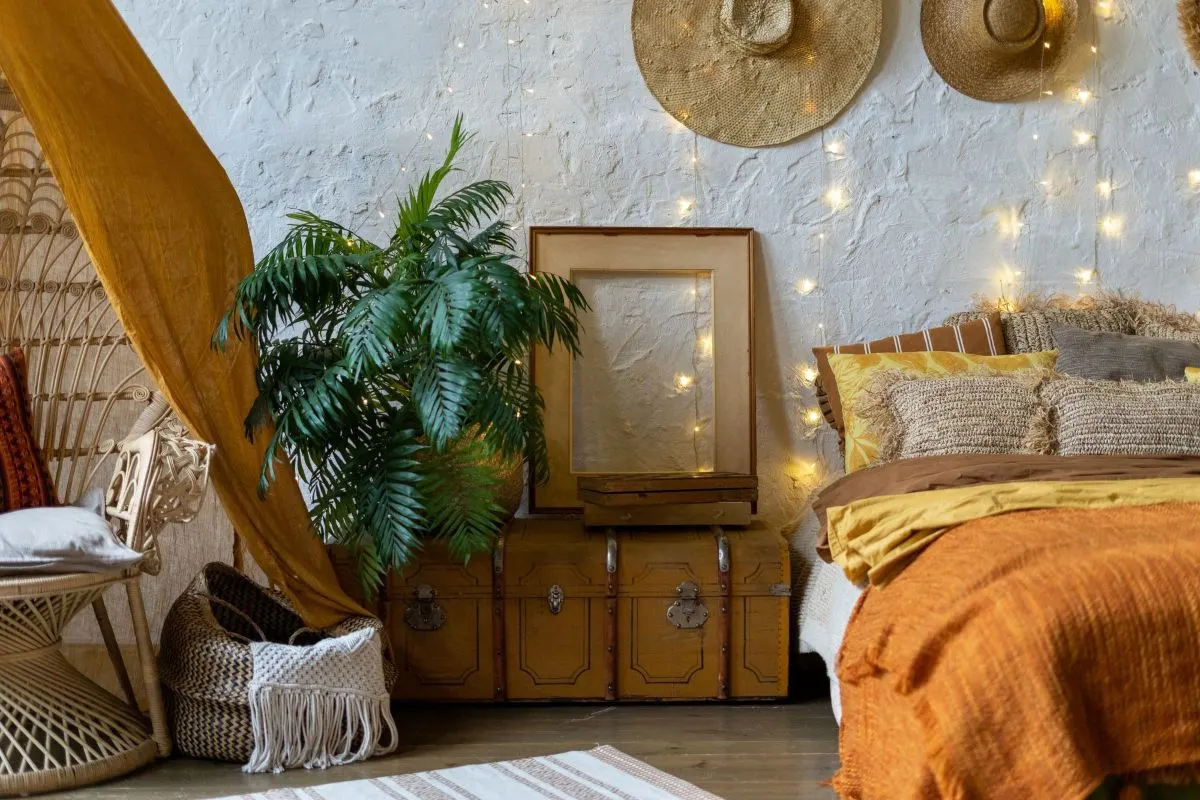 Cozy vintage elements and boho style go hand in hand. Give your room a nostalgic spin with antique woven and wooden pieces.
In this case, a warm color scheme is your best friend. Warm tones like orange, yellow, and red emphasize the vintage elements in the room.
The point of a vintage boho style is to feel slightly cluttered, but that doesn't mean you have to overcrowd your room. Choose a few keystone pieces that push the vintage theme.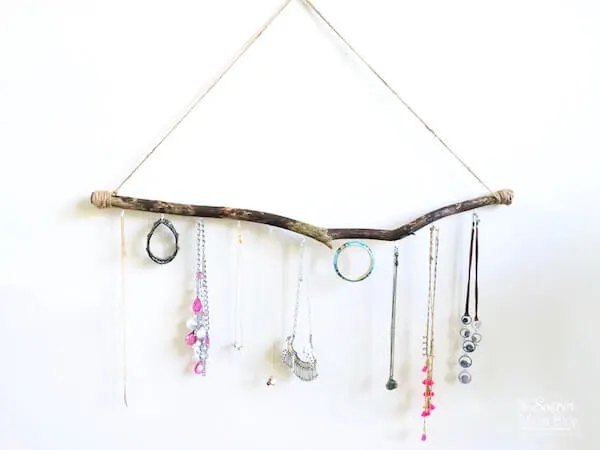 Source: thesoccermomblog.com
If boho style is your go-to, you likely have a lot of jewelry to organize! That's why this DIY boho jewelry holder would be a great addition to your new bedroom.
This can happily hang over your nightstand, putting your available jewelry on display. It uses natural textures like wood and this twine, perfectly fitting the boho vibe.
Best of all, it's insanely cheap and renter-friendly. It's an awesome first-time DIY!
13. Scandinavian style with tent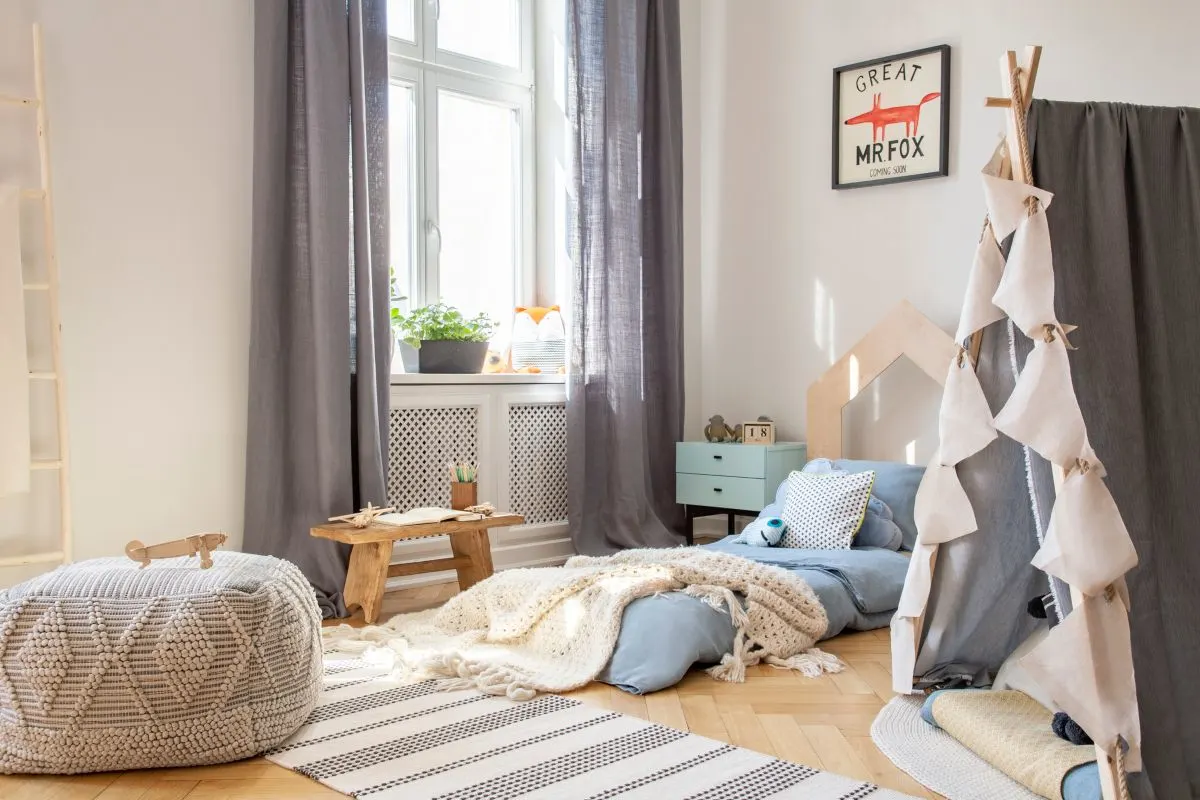 Scandinavian style is known for its minimalism and attention to neutral, calm colors. That makes it the perfect companion for boho style!
Take your bedroom in a slightly more chic direction with a cool, neutral palette. Add the boho elements by choosing light patterns and woven, natural textures to finish it off.
Something like this woven ottoman is a great feature piece to highlight the room's intersecting styles.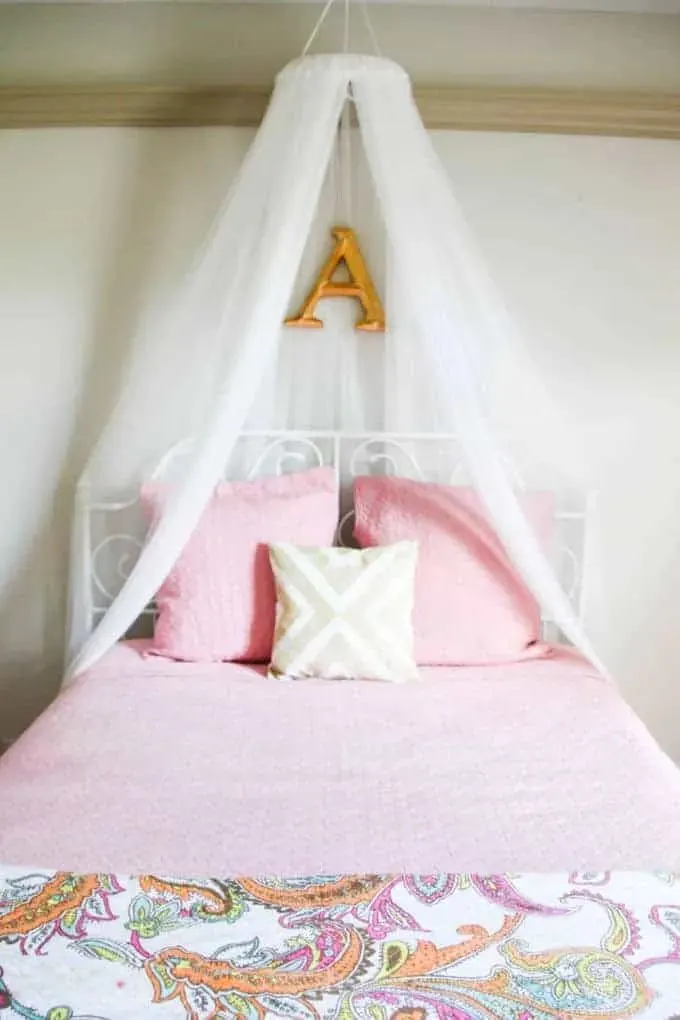 Source: burlapandblue.com
When it comes to boho-style, a huge inspiration is vintage-era accessories. This bed canopy is a great example, adding a soft and airy feel to the room. You can pick one up here.
Or, if you don't want to drop money on a pre-made canopy, you can make your cost-effective version! All you need is an embroidery hoop, a ceiling hook, and some bed net.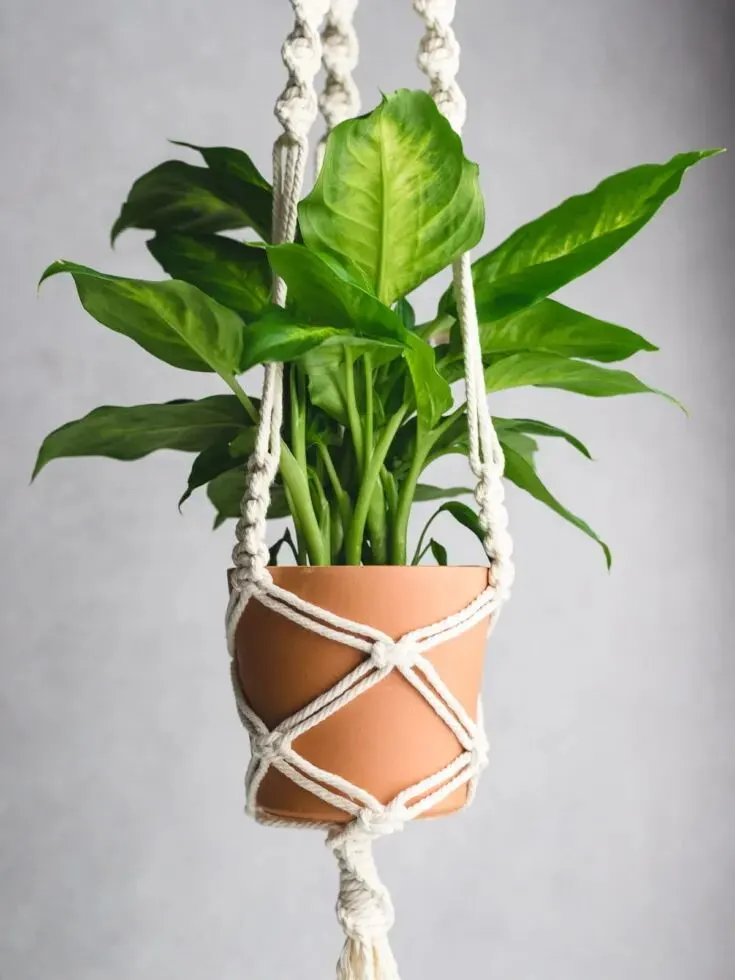 Source: sarahmaker.com
Macrame is a core element of all boho styles. It's a clean, woven look that's perfect for minimalist boho chic. It's also an excellent contrast to bright green plant life!
Save on floor space while enjoying as many plants as you want in your room. Turn your room into a personal oasis with plants hanging from the ceiling in all corners.
These also serve as a great focal point over your nightstands or fill blank wall space. Ready to try one for yourself? Follow my tutorial for DIY Macrame Plant Hangers.
16. Boho Children's wall art with matching rug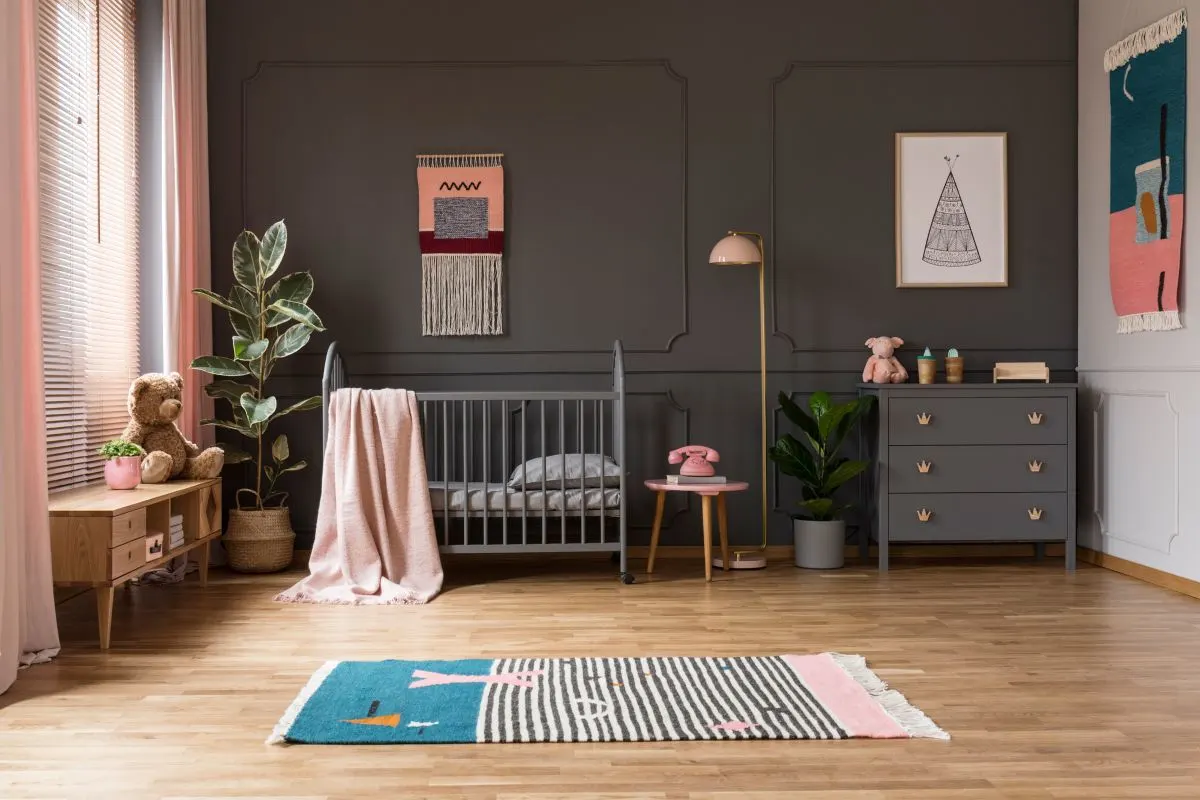 Who says boho style is just for the adults? Give your kids' rooms a boho-style makeover that is stylish enough for you and exciting enough for them.
The key is to use more bright colors and patterns in a child's room, as it offers that fun interest they're looking for in décor. Keep it light and bright!
It's a great family activity to go out there and pick some elements together. Help your kids feel like a part of the decorating process.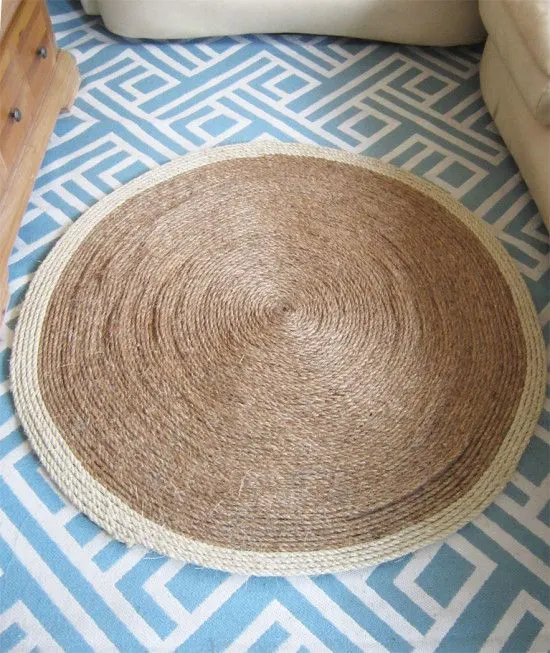 Source: thehoneycombhome.com
If you've ever had to buy a woven rug, then you know how expensive they can be. Finding one that's the perfect size for your given floor space can also be tough. So, skip the hassle!
Instead, pick up some thick jute rope like this and weave your very own rug. This dual-tone Sisal rug is the perfect addition to a stunning boho room.
Pair the rug with a couple of other twine elements throughout the room to create a cohesive design.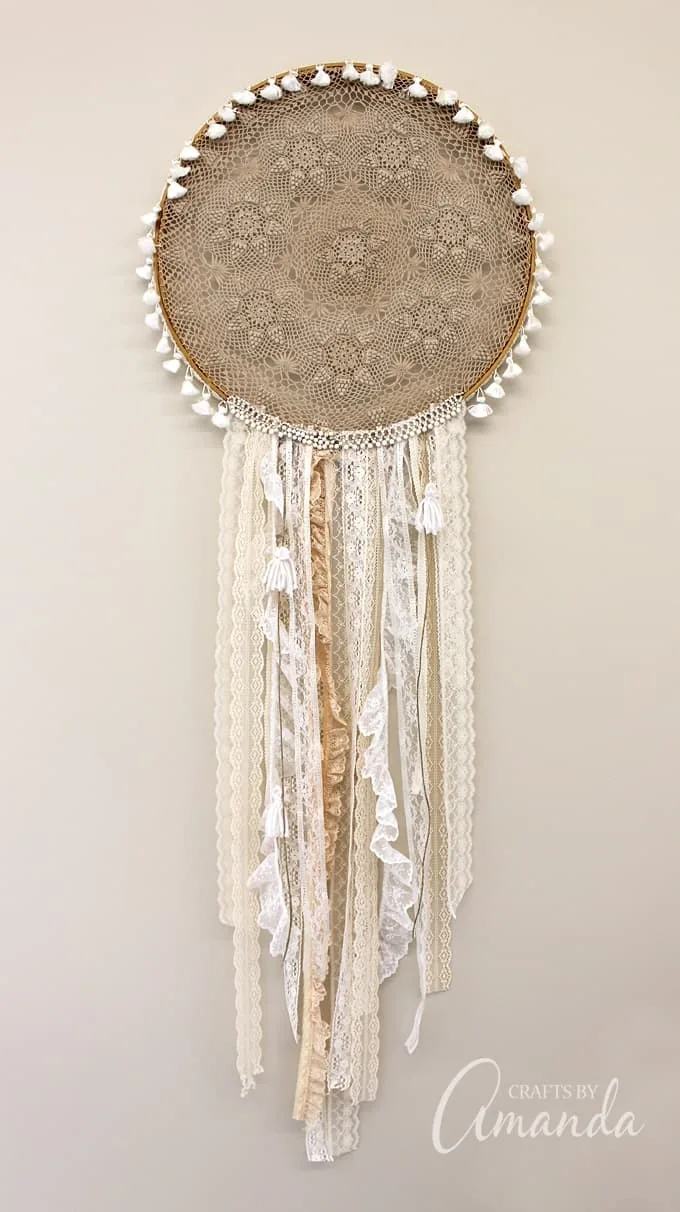 Source: craftsbyamanda.com
A dream-catcher is a beautiful focal element to hang above your bed. Create a stunning piece of décor while simultaneously shooing any unwelcome dreams away!
This stunning dreamcatcher incorporates several textures, including lace, ribbon, and wood. While it looks complex, it's pretty simple to make with some thrifted materials.
Experiment with different textures to find one that suits the other décor in your room.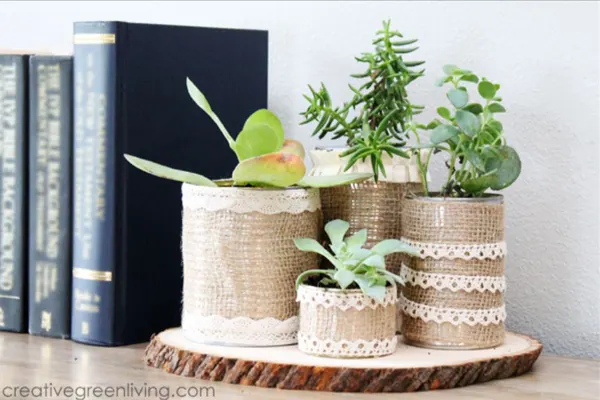 Source: creativegreenliving.com
Like I said at the top of the list, the boho style is excellent for reducing, reusing, and recycling household materials. Introduce some gorgeous plants into your room while reusing old cans!
Trust me; these look very professional. Cans are the perfect thing to hold succulents, especially when you have several different sizes to create a décor piece with levels.
Group them on a wood slice like this to highlight the outdoorsy vibe.
20. Boho Style Children's Room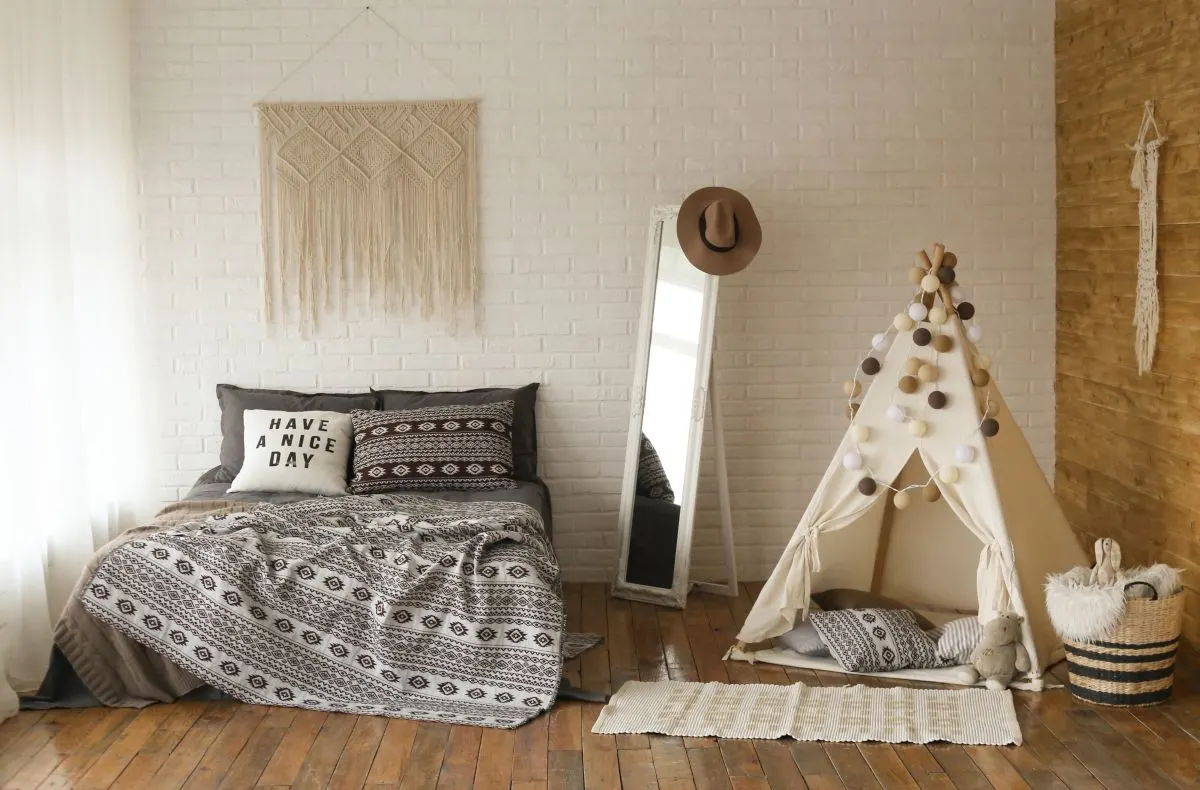 Here's another take on a boho-style children's room. We're shying away from color and shooting for monochrome chic this time. But don't worry, your kids will love all the textures!
The best part about this room for kids is the canvas tent in the corner. A tent like this is a super fun addition to any kid's room, and it doubles as a stunning piece of boho-inspired décor.
Sit down with your kids to complete one of these Beginner-Friendly DIY Macrame Projects to cap off their new bedroom.
21. Stylish and modern interior with plants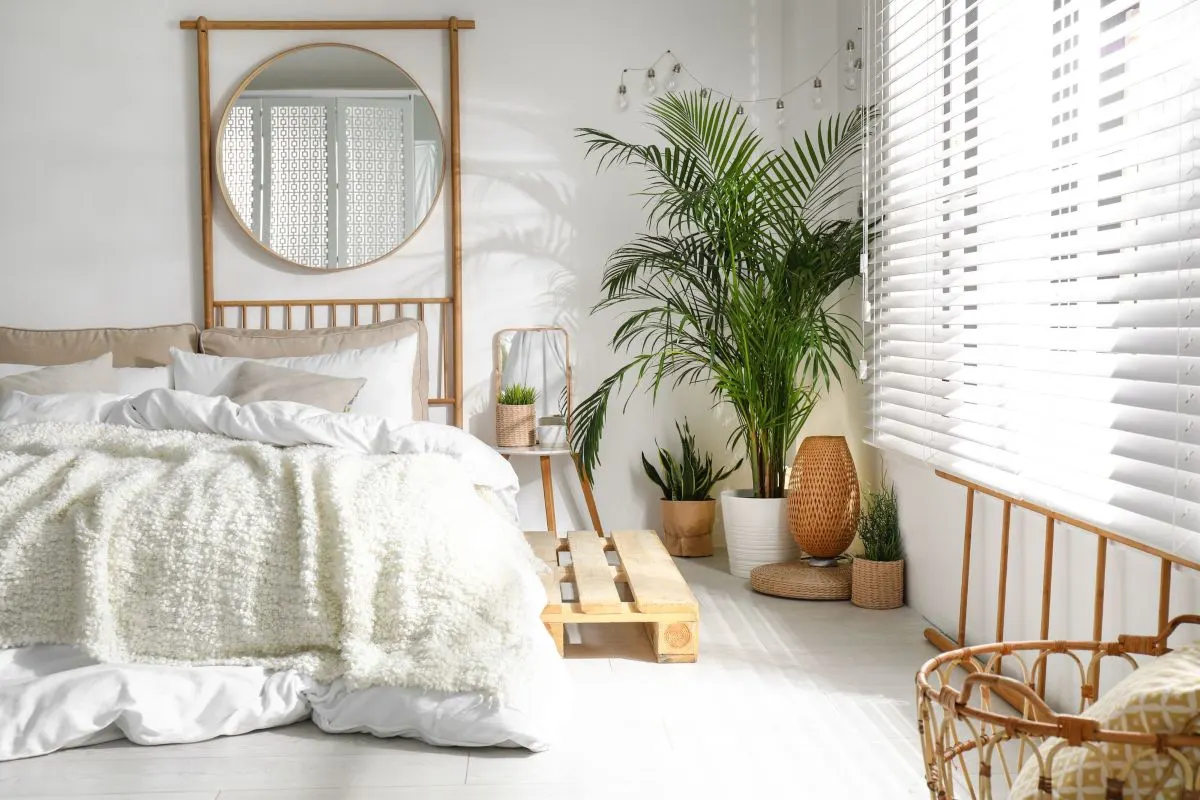 If you're living in a rental and don't want to do anything to your walls, you can still achieve the boho style. The key is choosing the proper collection of textures and plant life.
This works best if your room has clean white walls, as you can pair them with white bed sheets and décor. Then, the woven elements, wood, and plants will stand out.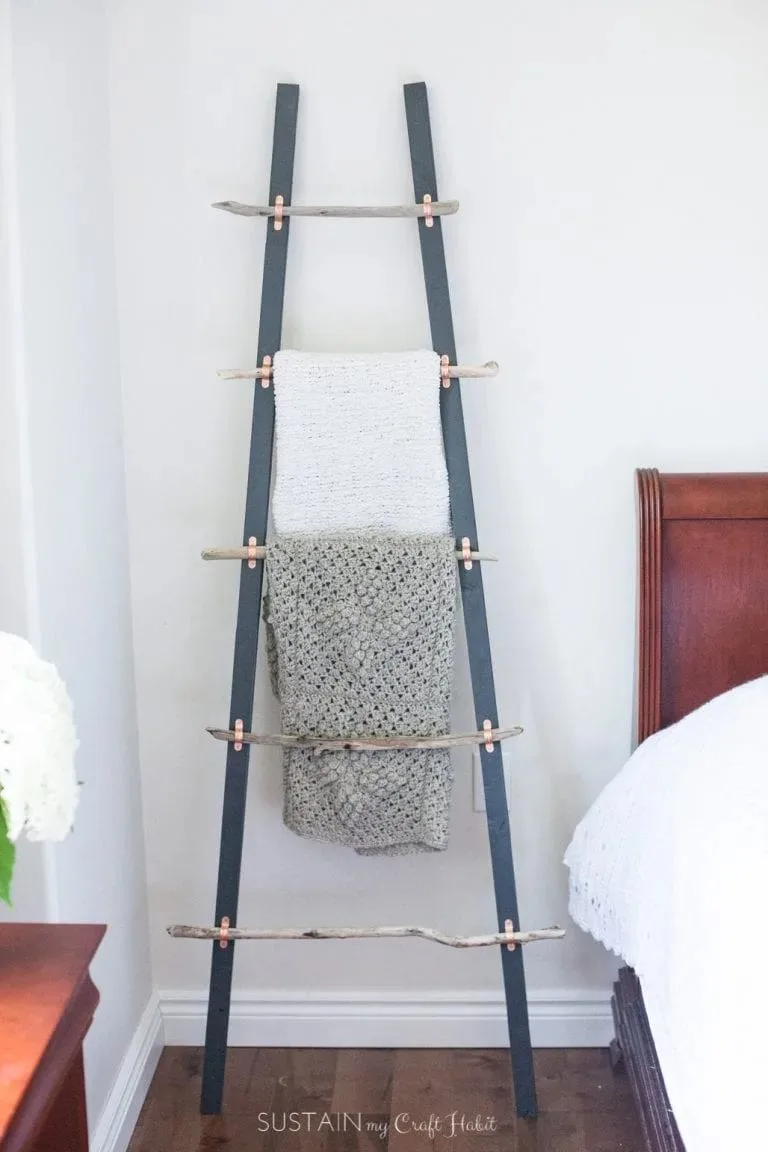 Source: sustainmycrafthabit.com
This décor idea kills two birds with one stone. It adds a beautiful decorative element to your bedroom while offering easy blanket storage! You can easily make one yourself.
You'll need two planks, some brackets, and some birchwood sticks to create the ladder's rungs. Take it one step further with chalk paint like this to add a rustic feel.
23. Rattan Lampshade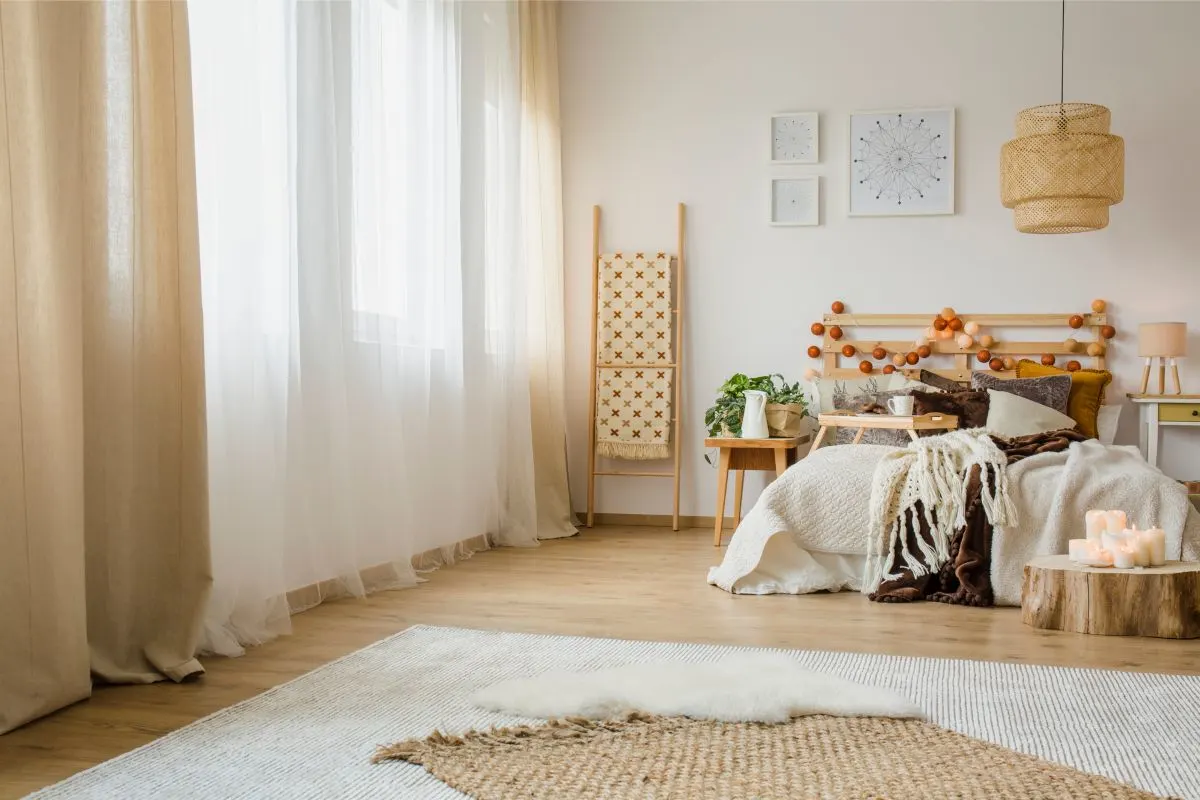 The rattan lampshade is a classic choice for a chic boho bedroom. It has a clean, simple silhouette and a tremendous natural tie-in to the style. Best of all, they're cheap and easy to find!
Use the lampshade to create a hanging light fixture above your bed, or use two for your bedside table lamps. You can even repurpose them as plant holders or wall décor.
24. Feather Decor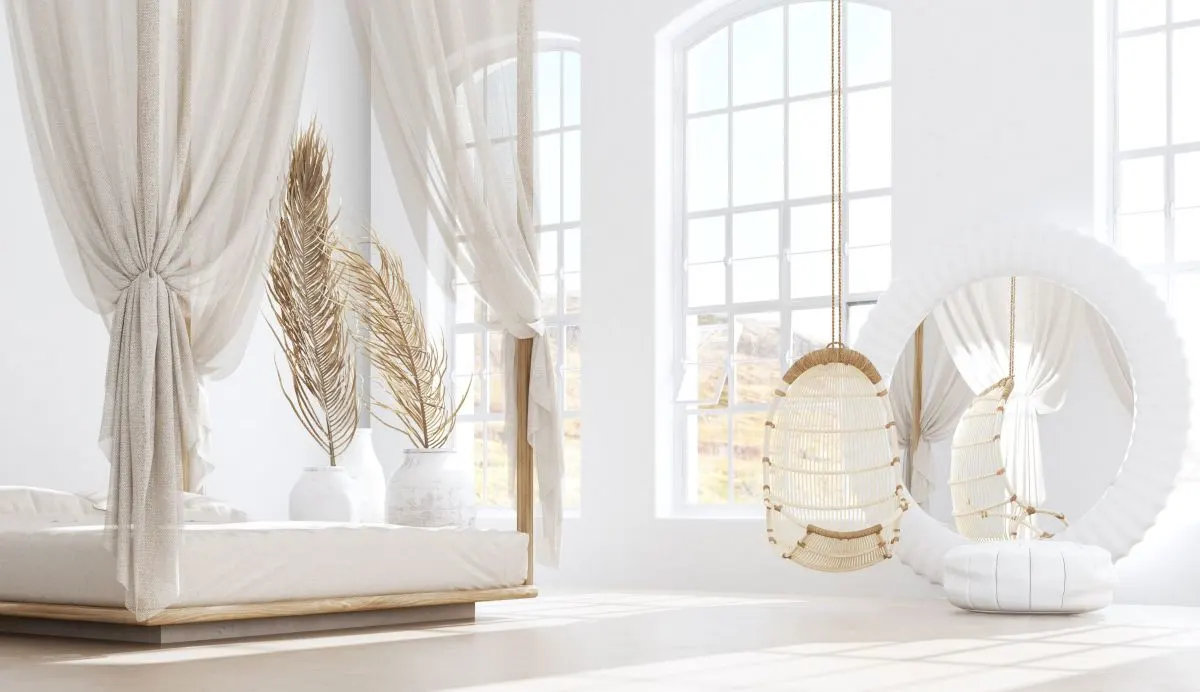 Sometimes the best things in life are simple. Create an empty white room with soft, luxurious textures and a single decorative focal point.
These gorgeous feather decorations are the perfect way to celebrate boho-chic without doing anything too strenuous. Prop them in some simple white pots for a clean, classic look.
Pick up a couple of these stunning feathers here.
25. Rattan Headboard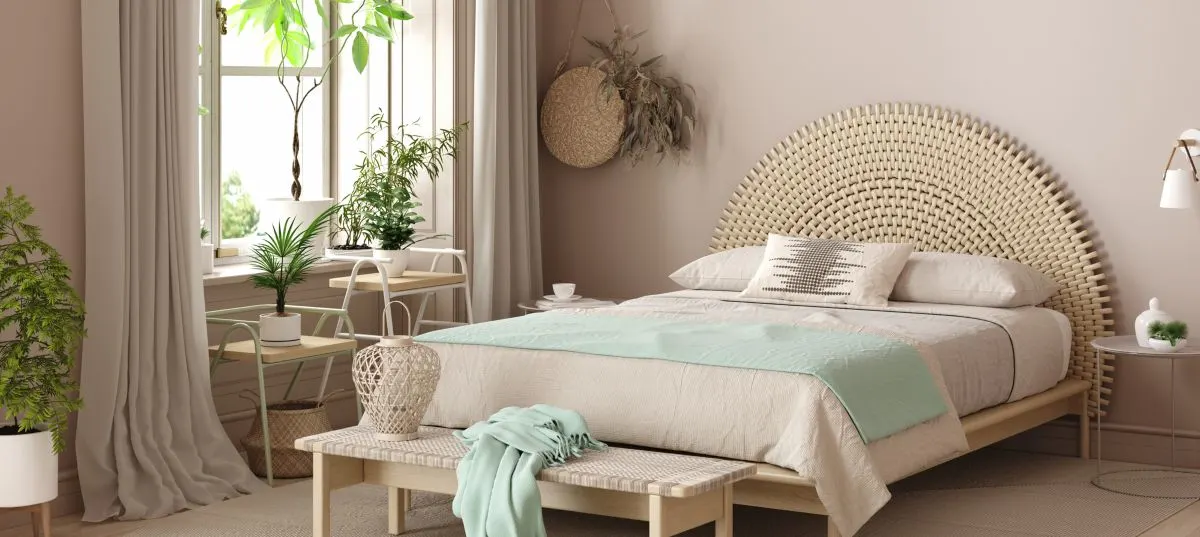 Effortlessly blend Scandinavian and boho styles with this rattan headboard. It is a great focal point, drawing all attention to your bedspread.
Pick up the texture with small additions of rattan or woven décor around the room. Complete the look with an abundance of plant life in some simple white pots and a mint color throw.
26. Macrame Wall Hanging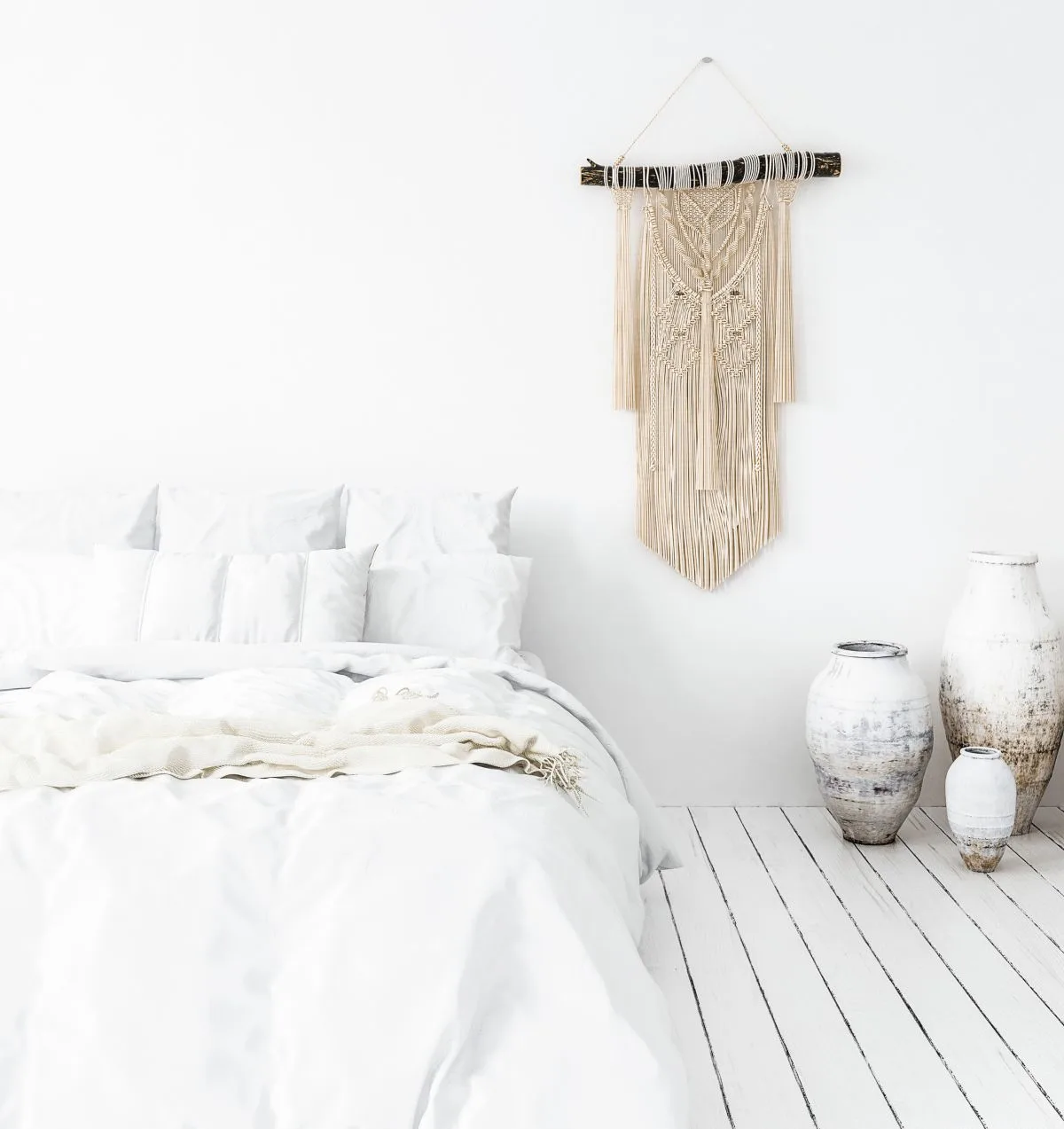 When most people think of boho style, they think of macrame. It's a keystone of the style and a great way to give a nod to the look without overwhelming a room.
Plus, making your macrame wall hanging is a skill you'll be thankful to have! It's a quick and easy way to carry the boho style throughout your home. Plus, it's super cost-effective.
Pick up some high-quality macrame cord here to get started. You can use this to make plenty of things, from wall hangings to my DIY Macrame Leaf Earrings!
Source: sustainmycrafthabit.com
Next on the docket is a statement piece sure to elevate your room's décor? Mirrors are a great decorative element. They help a room feel lighter and brighter, which is perfect for boho style.
This driftwood mirror makes for a stunning centerpiece over a vanity or bed. While it may look like it sprang straight out of a magazine, this high-quality piece is simple to make yourself.
Take this chance to walk your local beach and pick up some driftwood to reuse at home. Then you need a large circular mirror like this one to get started.
28. Light bedroom with boho vintage details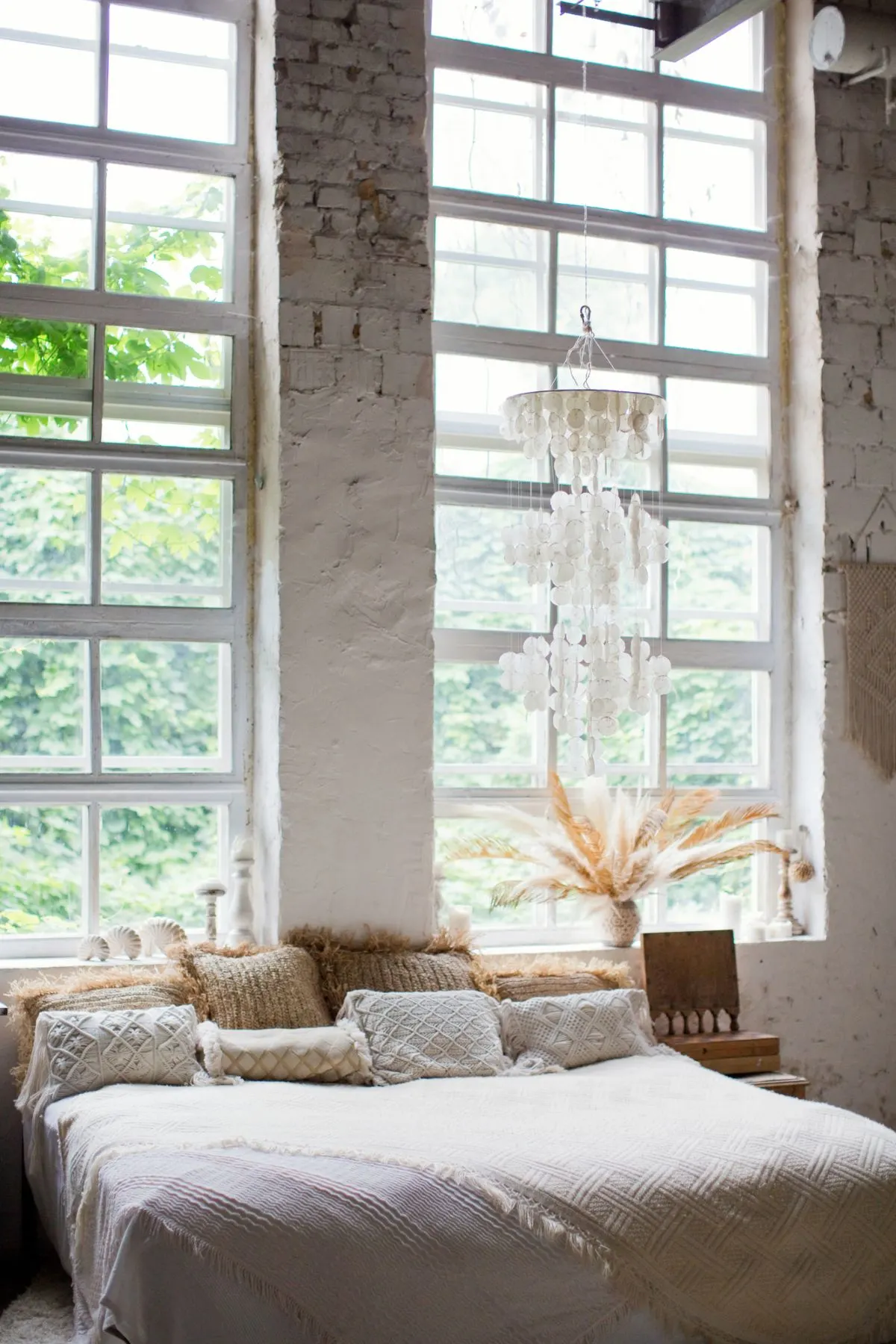 Speaking of statement pieces, this next piece of inspiration positions the bed beneath a set of windows for a light and bright vintage room.
Pile your bed high with linens and woven textures to anchor that boho look as the center point of your room. Then, it's up to you to add a few little vintage touches that make your heart sing.
Thrift stores are a great place to find these items without spending an arm and a leg. Look out for old trunks, wooden implements, and even old wall hangings!
29. Hanging Chair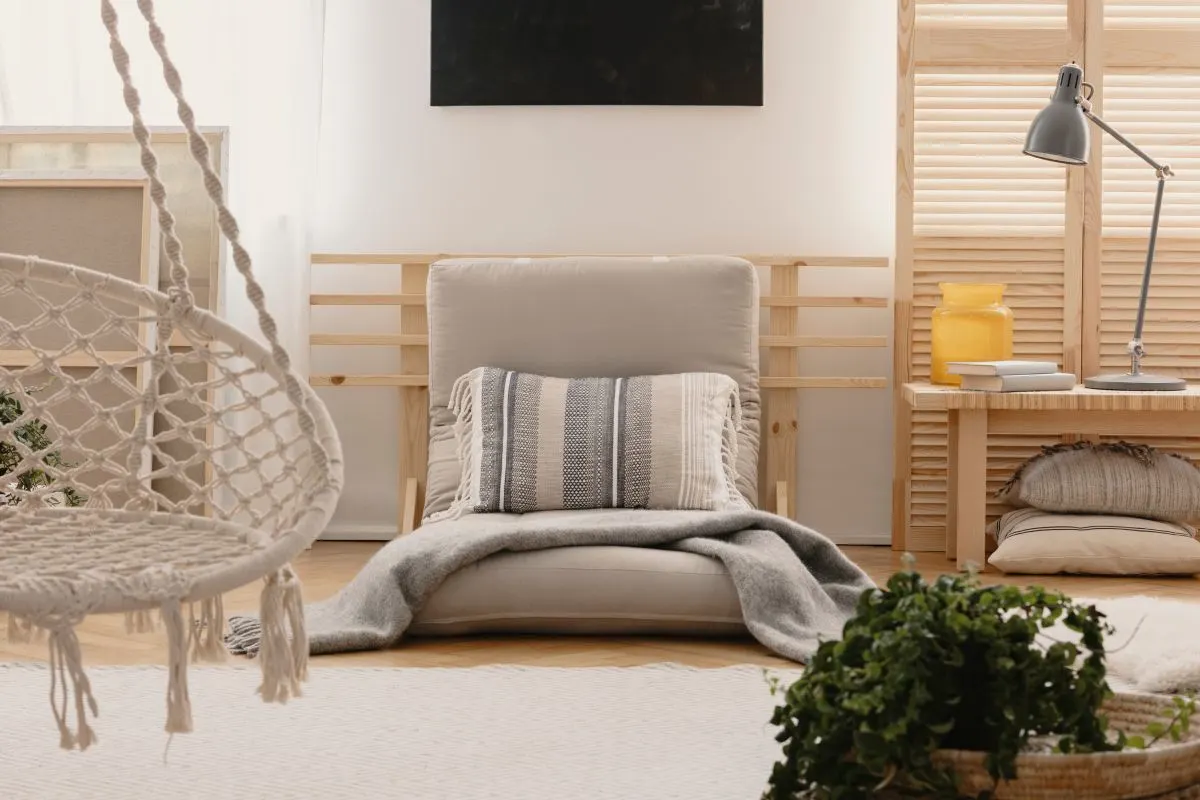 In the name of comfort and relaxation, there's nothing better than having a cozy corner to curl up in your bedroom. This hanging chair is the perfect solution while keeping up the boho style.
This is perfect for creating a little reading nook in an under-used corner of your room. Set up the chair, some cozy blankets, and a little reading table with a lamp for late-night reading sessions.
Grab a hanging chair here!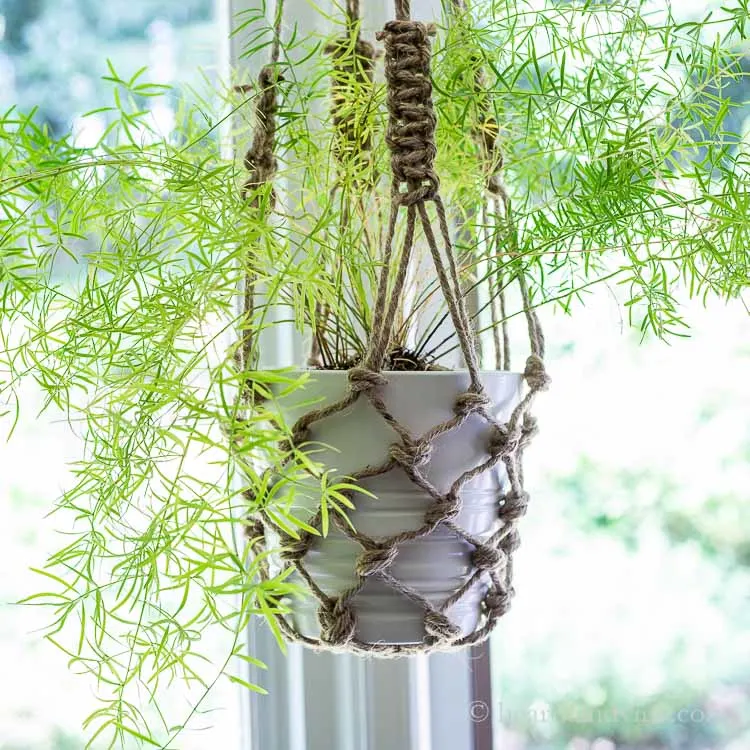 Source: hearthandvine.com
This is another style of macrame hanging planter. It's great if you're a little more experienced with macrame. Using a dark cord against a white pot is a great way to help it stand out!
Pick your favorite bright and leafy plant to liven up your room. Make sure it's a plant that can do without a lot of water, as you can only hang small pots with minimal drainage.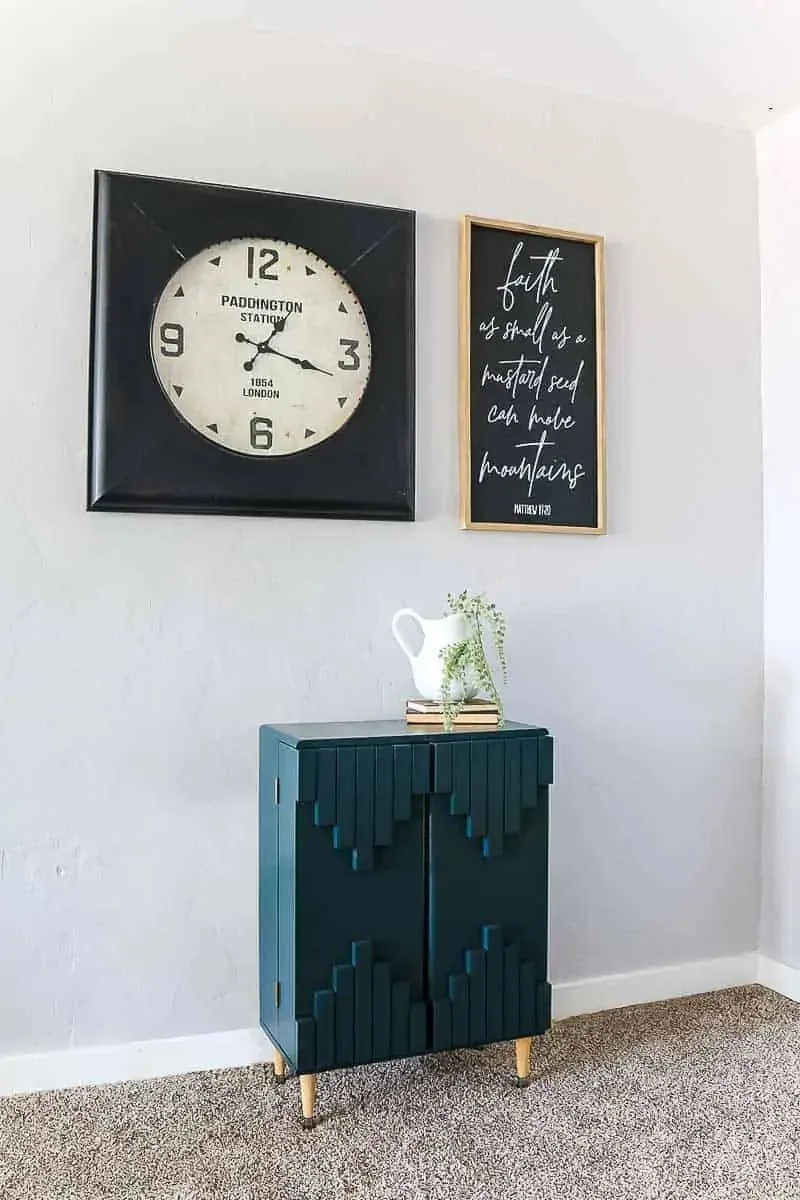 Source: makingmanzanita.com
Our final item takes chic boho style into the twenty-first century. Give a basic thrift store cabinet new life by overhauling it with some quality laminate and paint.
This is a simple way to create a statement piece in your boho room without dropping hundreds of dollars. It's also an excellent start for DIY beginners!
So, which of these elements will appear in your boho bedroom overhaul? Comment down below with some of your favorites!