Sensory activities for toddlers are a great way to encourage toddlers and promote their development. They engage in exploration, creativity, and sensory integration.
These activities help children build cognitive, social, emotional, and physical skills.
In this list, you'll find 31 sensory activities for toddlers that are easy to set up and use materials you probably already have at home. These ideas are generally pretty easy to adapt to your kiddo's needs.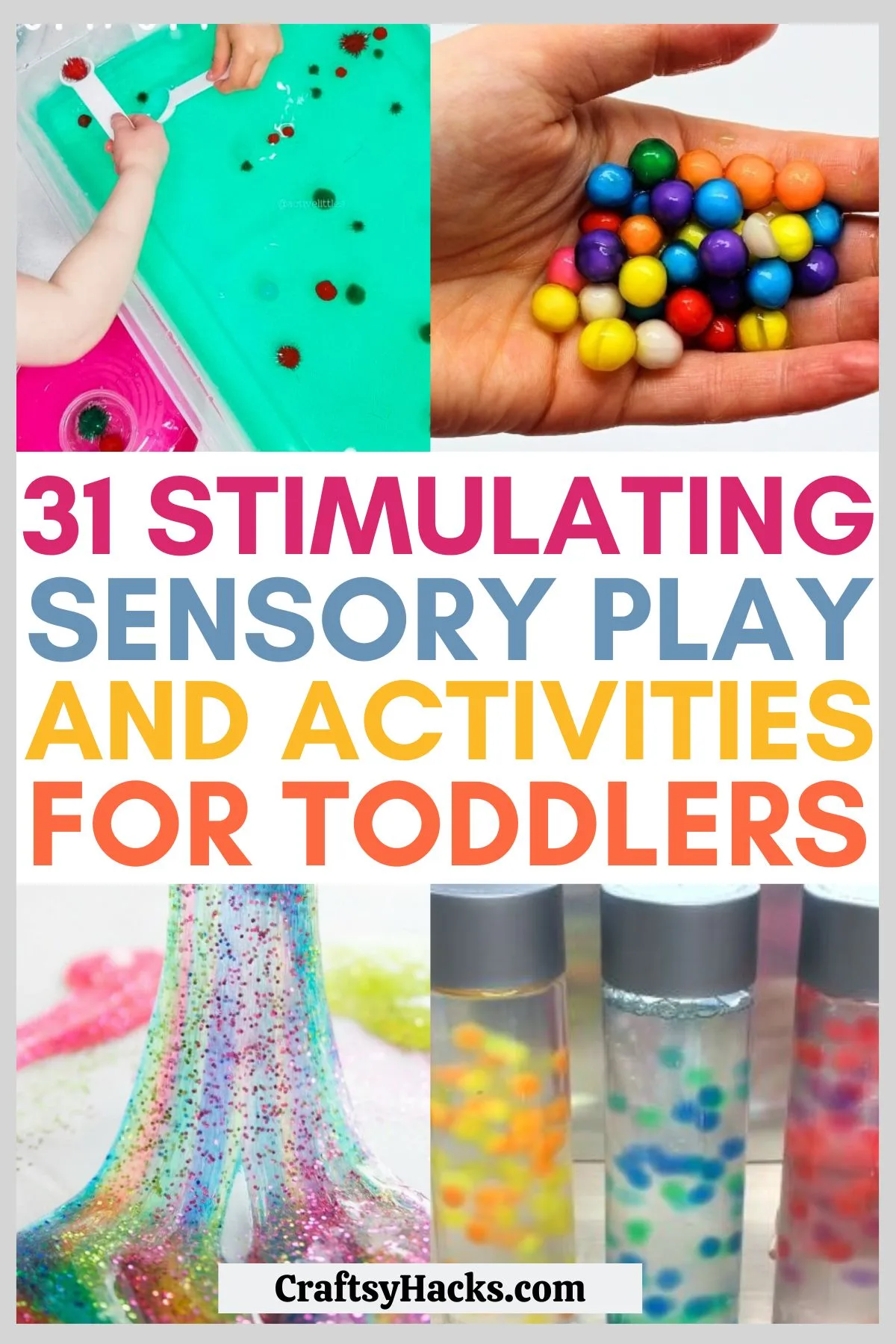 From sensory bins and playdough to messy play and sensory bottles, these activities will provide your little one's hours of fun and learning.
So, get ready to dive into the world of sensory play and watch your toddler's imagination soar!
I hope your little ones enjoy it, and you, too! I have realized I love some of these activities just as much as my kiddos do.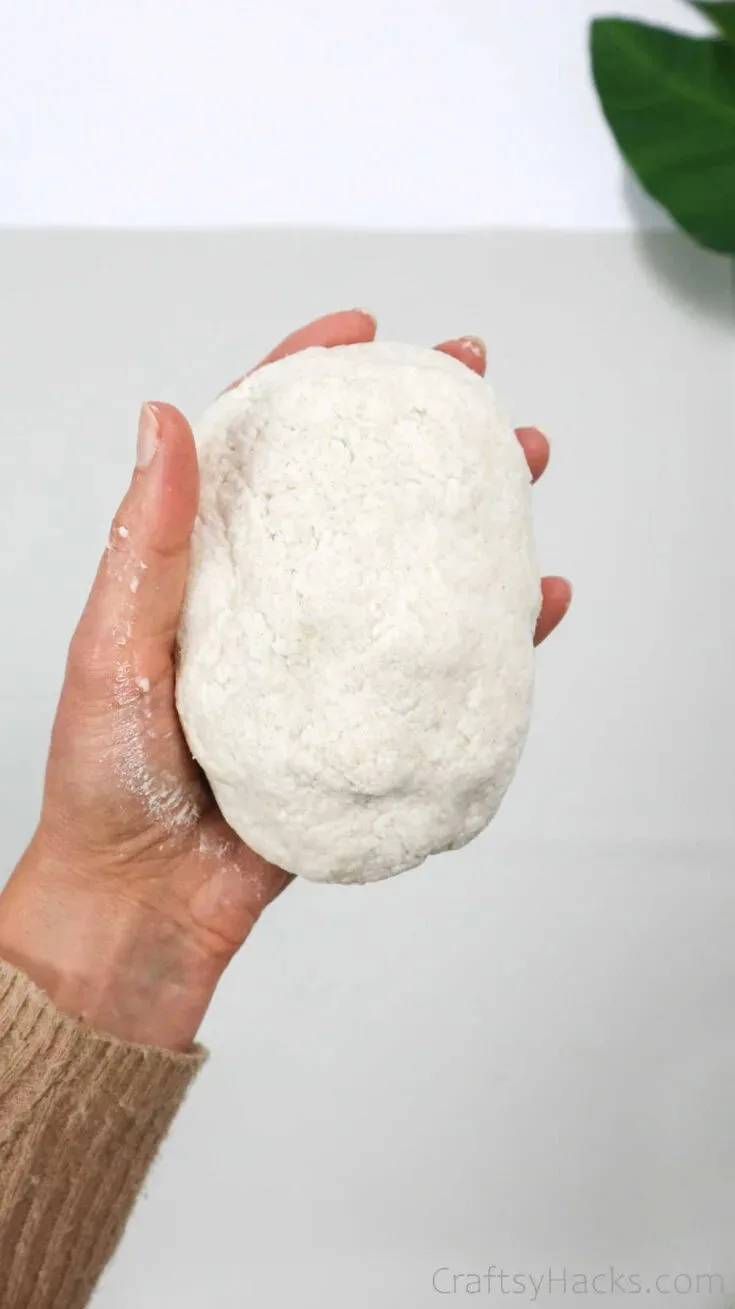 Source: craftsyhacks.com
A fun and easy sensory activity for toddlers is paper mache. It's a great way to use up old newspapers and magazines and have fun at the same time!
Make any animal, craft, or other fun projects you find online. We've loved making fun ornaments with this mold, trays, and even an alphabet set.
This is one of the best indoor activities for toddlers on a rainy day!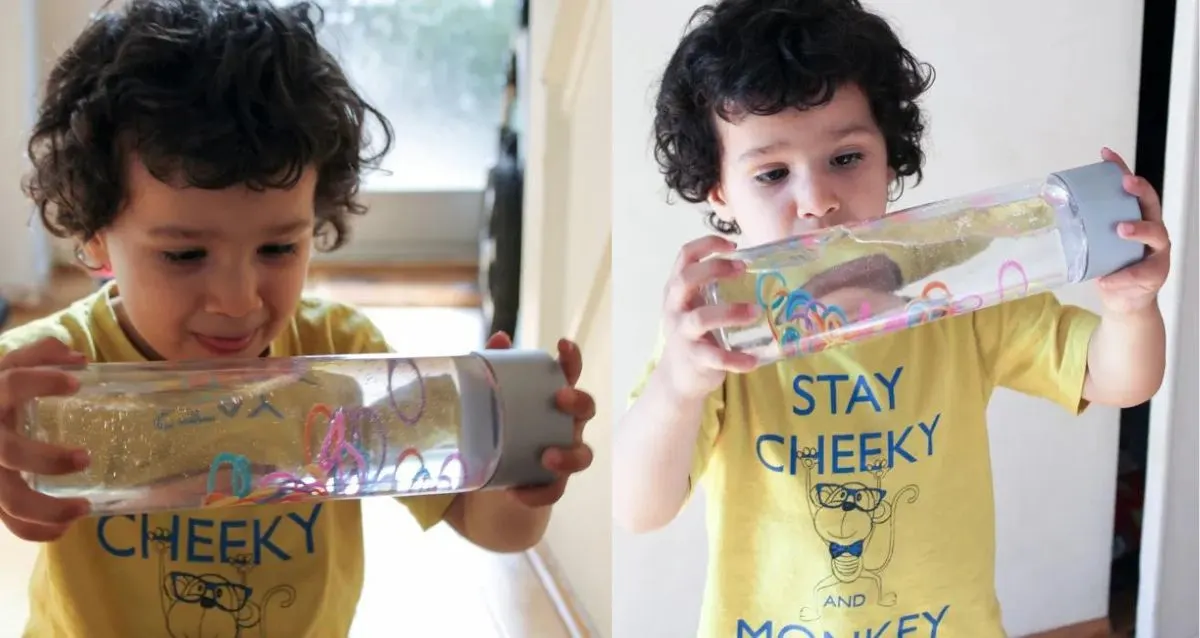 Source: intheplayroom.co.uk
Create colorful bottles filled with loom bands to enhance visual and tactile stimulation. Add water, the loom bands, and maybe glitter or hair gel/soap, and hot glue the lid on.
Once dry, let your kids enjoy! They shouldn't be able to remove the lid, but just be aware if you have someone curious enough to try breaking that seal.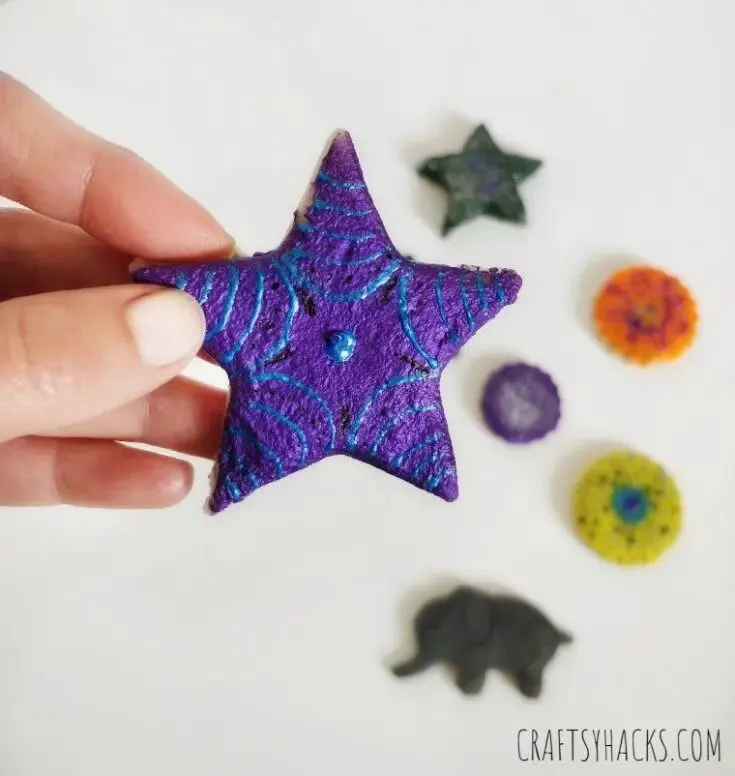 Source: craftsyhacks.com
Mix flour, salt, and water to create a moldable dough that promotes fine motor skills. Create something together, practice shapes or letters, or give your kid some free playtime.
Bonus! This dough is an excellent recipe for ornaments and can take paint or other mediums once dry.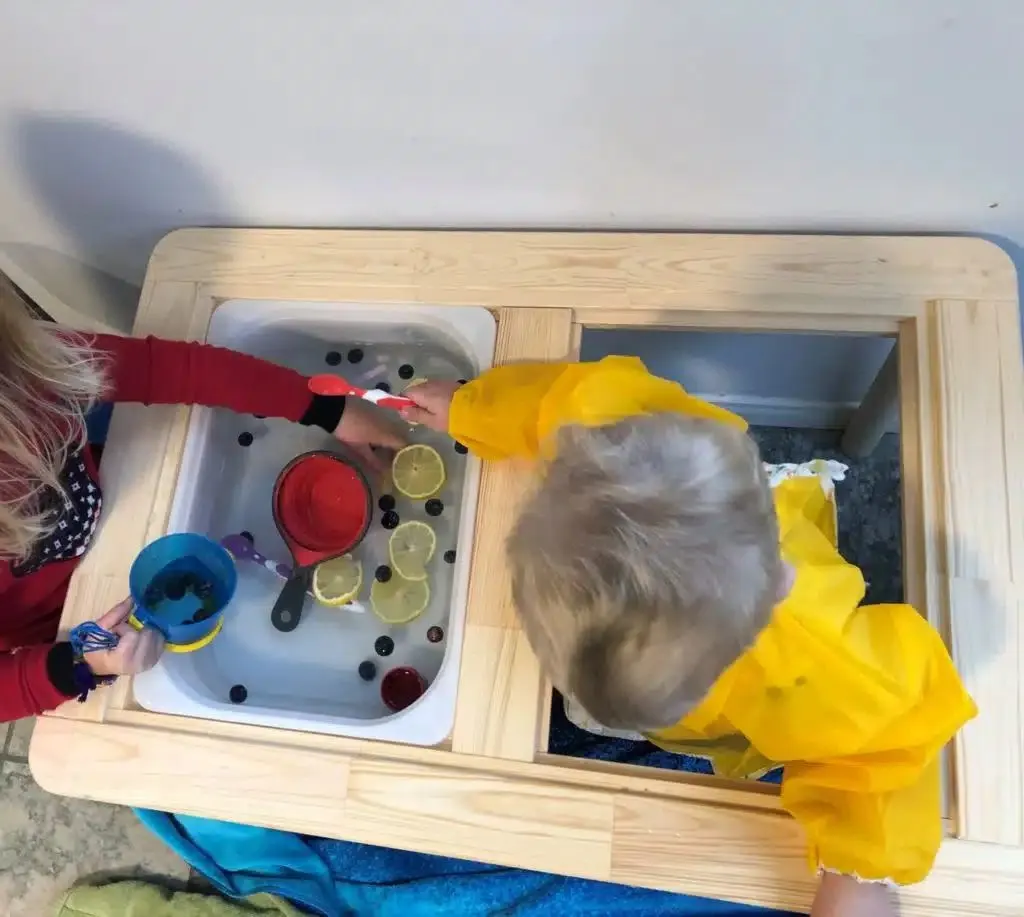 Source: mominthesix.com
Use materials like rice or sand to create a play bin that encourages exploration and creativity. Make it themed or pair it with what your young one loves or is learning about in school.
I love these bins for any sensory activity! I only make sensory stuff with these bins because of the storage stackability.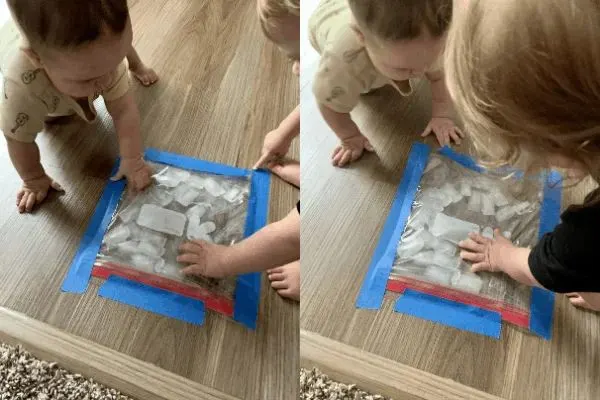 Source: mimosasandmotherhood.com
Fill ziplock bags with materials like paint or gel to provide a mess-free sensory experience. Duct tape the opening so no one gets tempted to get inside of the bag.
Nothing too pointy, either! Round or soft items have a way lower chance of poking through, unlike a point accessory in the bag.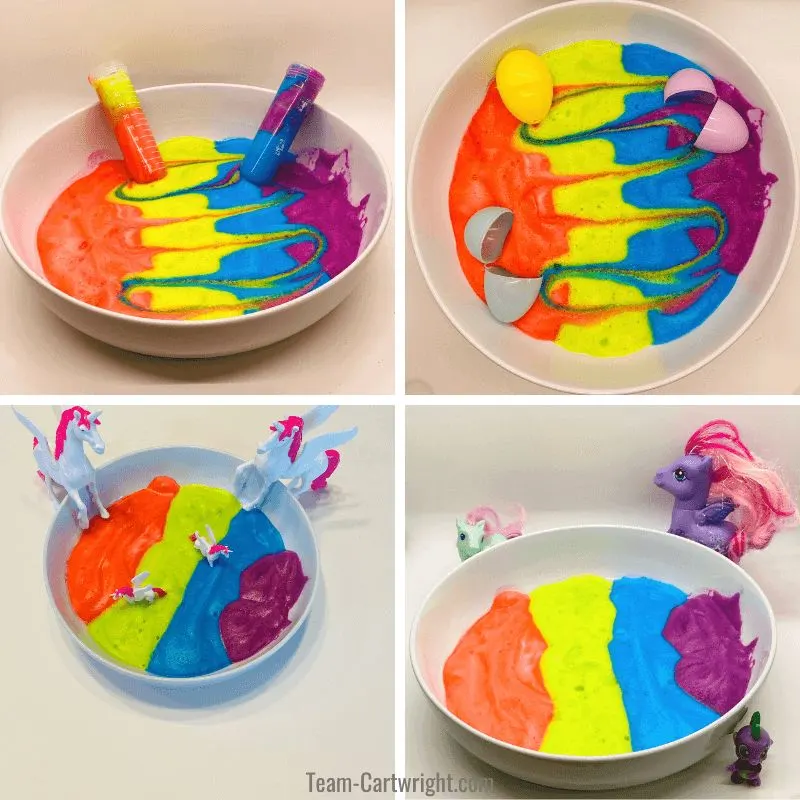 Source: team-cartwright.com
Whip up chickpea juice to create a fluffy foam that can get used for sensory play. Add food-safe dye to foam for that extra fun, colorful appeal.
Cream of tartar is the secret ingredient to make the chickpea juice hold its form. Don't be afraid to really whip it–the longer you go, the stronger the foam.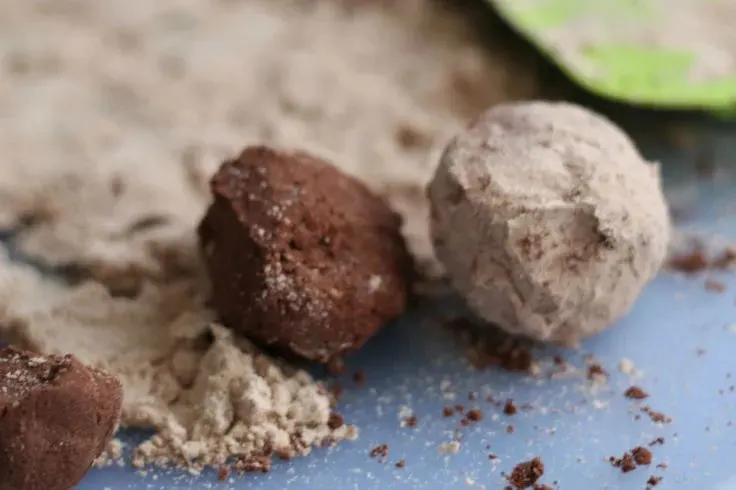 Source: intheplayroom.co.uk
Combine cocoa powder and oil to create a sensory experience that smells delicious. Cloud dough is a lightweight consistency that holds its shape relatively well, like the damp sand you find at the beach.
You don't need much oil to achieve the texture either, and over-saturating can cause problems and waste your oil and money.
Have some molds, toys, or diggers at the ready for this dough–they love it even more with the tools.
This would be such a fun activity for kids' birthday parties!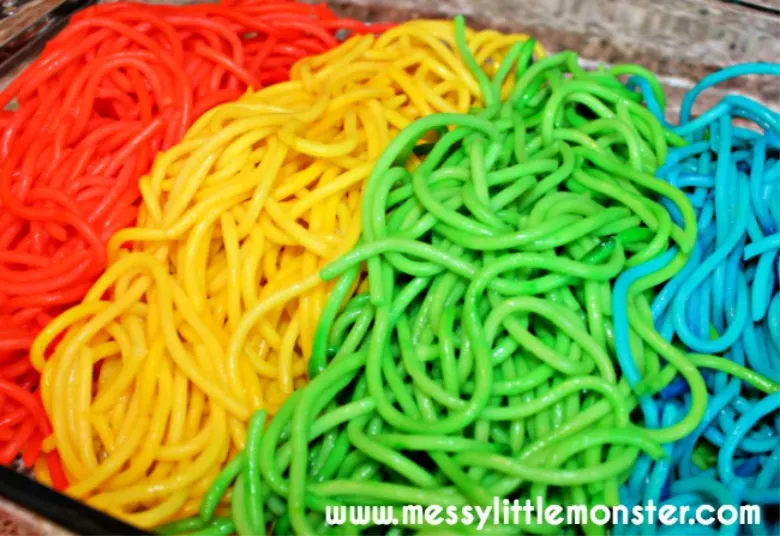 Source: messylittlemonster.com
Dye spaghetti noodles in different colors to provide a fun and colorful, tactile experience. Use food-safe dye for those adventurous explorers that like to sample anything and everything.
Add spaghetti into different pots and add the colors you'd like to one pool each. Let the noodles cool entirely, drain, lightly pat any excess water away, and let your kids have them.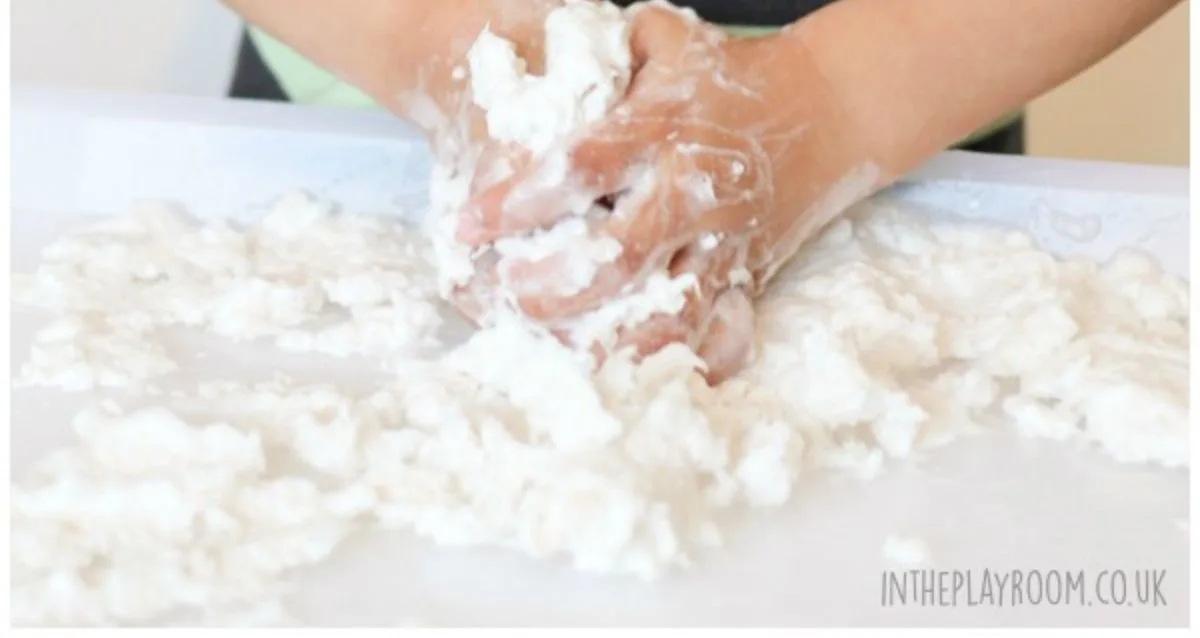 Source: intheplayroom.co.uk
Mix soap flakes and water to create a squishy, mud-like substance that can be molded and played with. Everybody wins–the kids get the ooshy-kooshy feeling of the mud, and adults get a little cleaner kid and space in the process!
Even though it's soap, make sure your kids are playing in a space you are all comfortable cleaning up afterward because it'll get messy!
A squeegee, plastic clipboard, or some other firm but thin plastic makes the bulk of cleaning up a snap.
Source: momscollab.com
Use baking soda and shaving cream to create a sensory experience that mimics snow.
Whether it's a winter with no snow, midsummer, or living somewhere too warm for snow, your little one can enjoy it without getting too cold.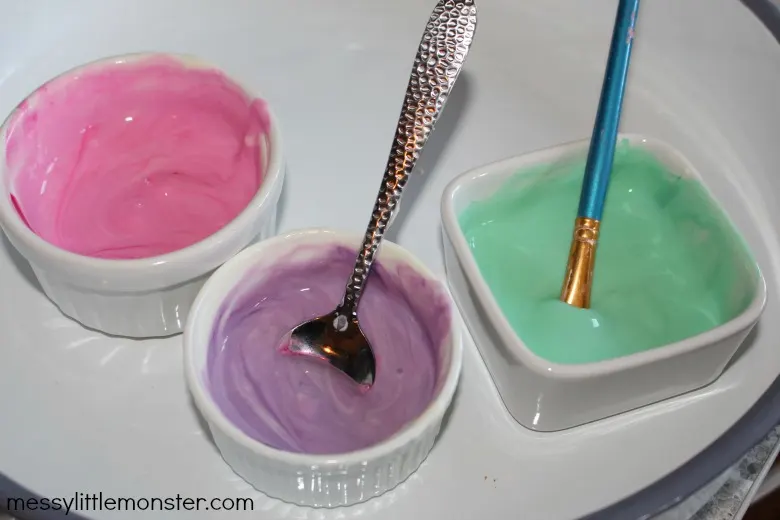 Source: messylittlemonster.com
Create a natural painting experience by making paint out of yogurt and food coloring. Grab a plate or large cutting board and let your child explore.
If you want to go even further in the natural route, add powdered or juice-based fruits or vegetables to the yogurt and blend.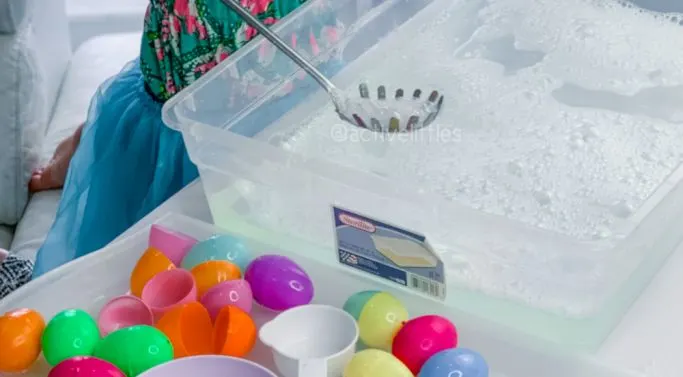 Source: activelittles.com
Use plastic eggs and Easter-themed materials to create a fun and festive sensory bin. Add water, rice, or any other appropriate base for your child, and let them explore.
We love this little Easter pack and will re-buy it every year or few to leave little gifts for the kiddos. The old stuff gets used for the bins–a great way to upcycle old holiday decor.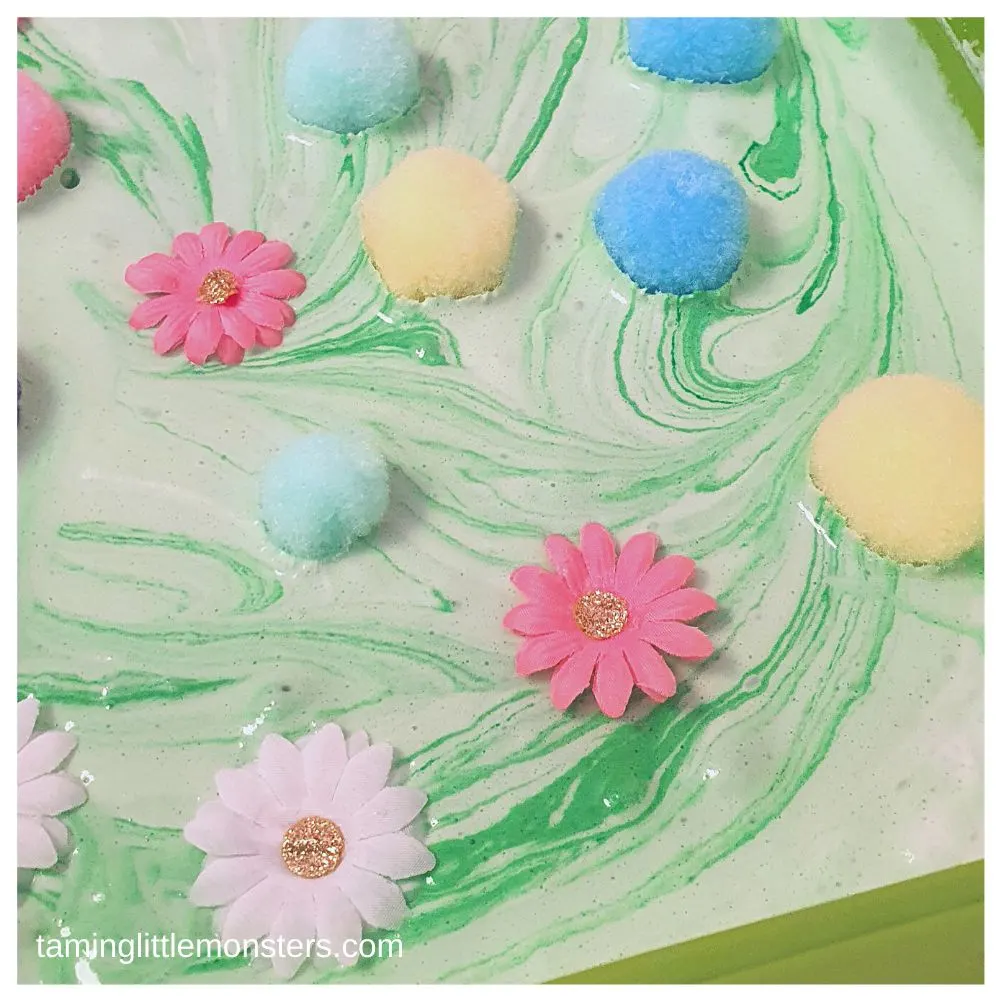 Source: taminglittlemonsters.com
Create a sensory foam bin using shaving cream and food coloring for a unique tactile experience. We like to pair this one alongside our regular holiday sensory bin for all the fun textures and exploration.
Also, if you're feeling artsy, try dipping a piece of paper gently and evenly onto the tye-dyed foam to get the same effect on the page.
Once dry, create a specific image on top of it, or let your kids use it as an extra cool coloring page.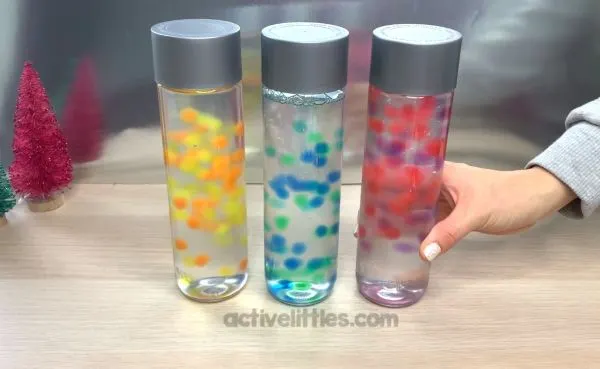 Source: activelittles.com
Fill bottles with water beads and glitter for a calming sensory experience. Hot glue the lid shut and let the kiddos have fun once dry.
Or, you can reserve these bottles for when someone needs calming. This idea will help your kid's brain signal when the bottle gets given to them so they can start practicing regulating their emotions.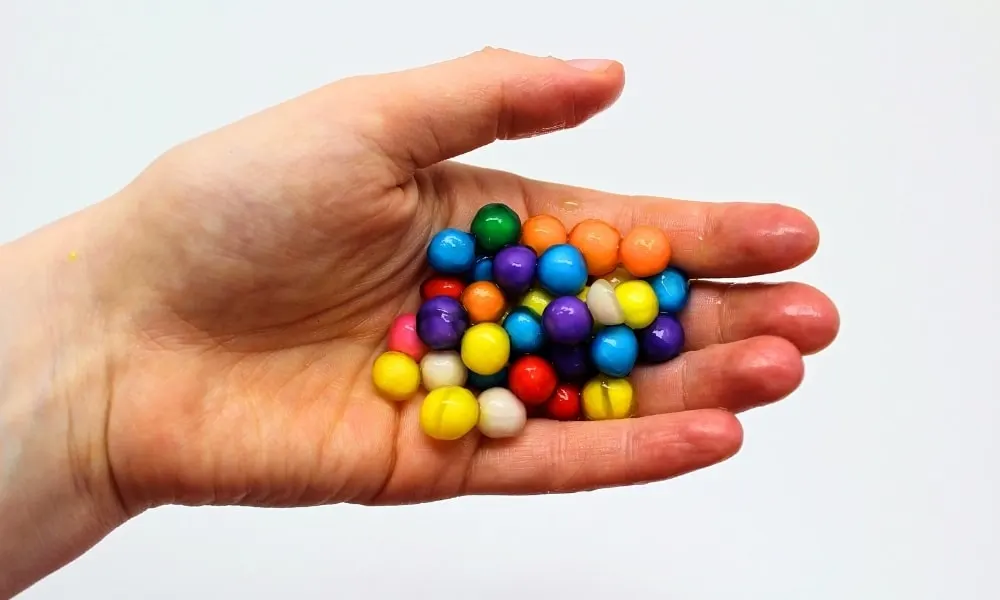 Source: thecraftathomefamily.com
Make water beads from boba or large tapioca pearls like these for a safe and edible sensory experience. Add some food gel or dye to batches to get the multicolored effect.
I know we've all reprimanded or fished water beads away from a kid's mouth. In the kid's defense, they look like little pieces of candy.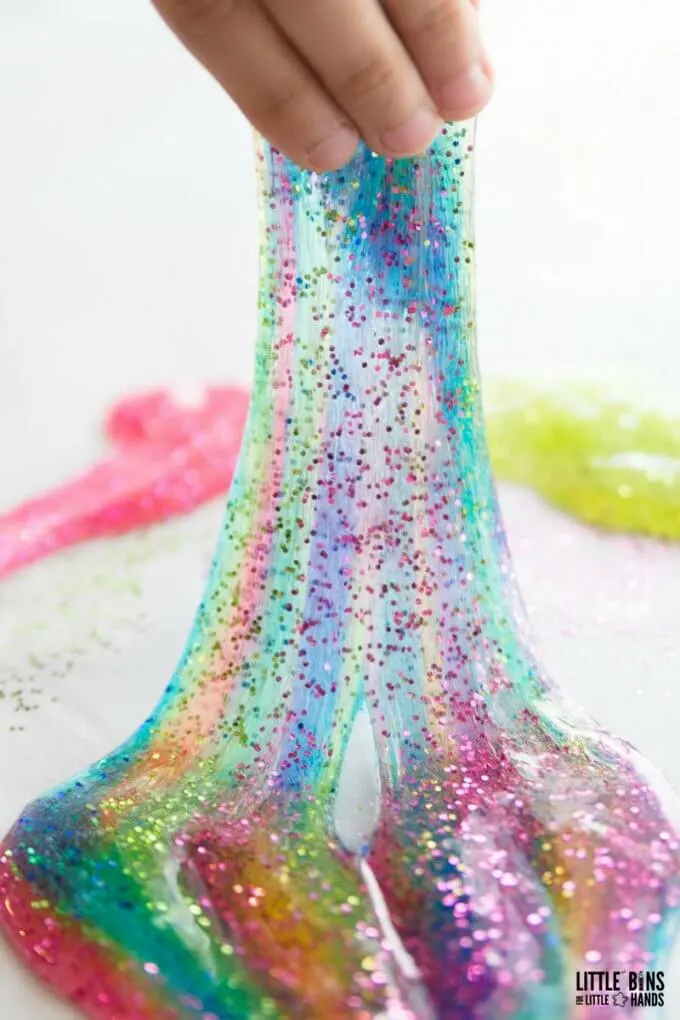 Source: littlebinsforlittlehands.com
Create a fun and slimy tactile experience using ingredients like glue and borax. Make sure to grab these perfect-sized slime containers!
A tip, if you haven't experienced it–keep slime away from any fabric or carpet and thank me later. I'm still chipping dried slime out of different parts of my house, car, and kids' clothes.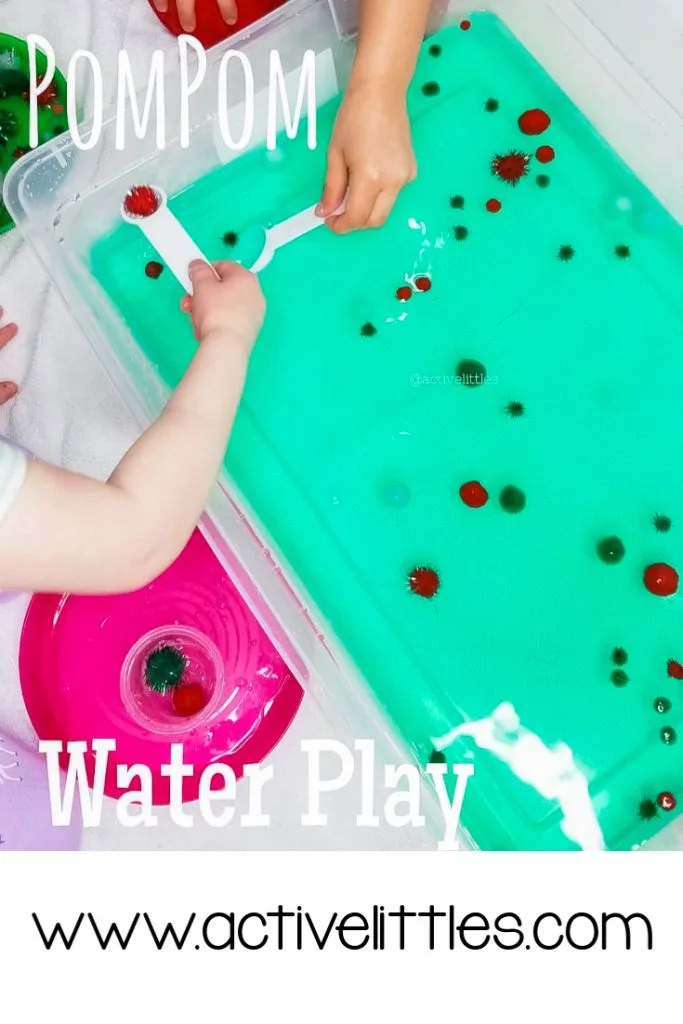 Source: activelittles.com
Use pom poms and water to create a festive sensory experience. Just like the Easter bin, older (safe) items get implemented into the mix.
Dye the base or water a holiday color your kids love for even more fun. Have them practice active listening for I Spy, counting, color identification, and so much more.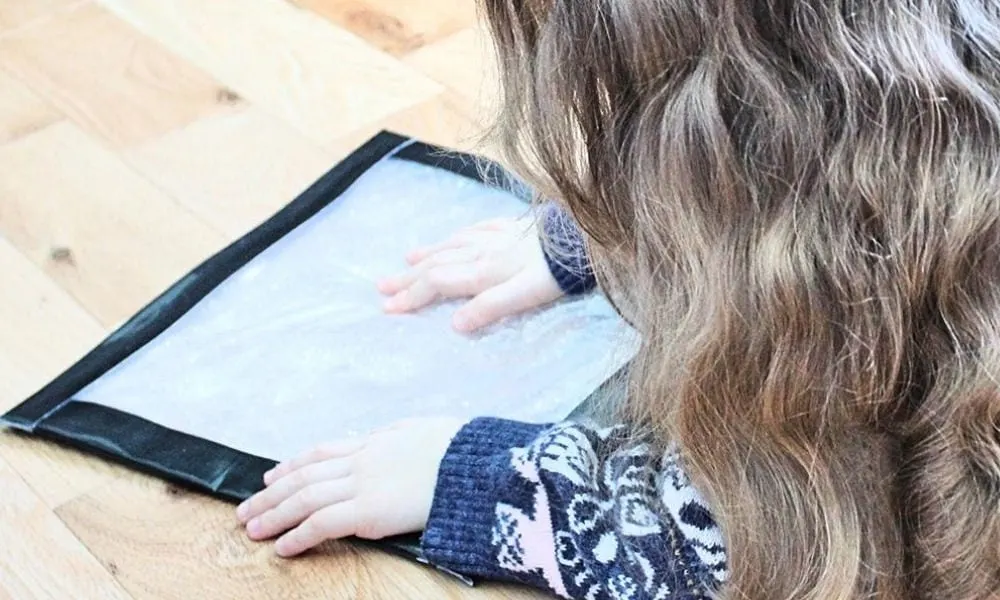 Source: thecraftathomefamily.com
Fill a ziplock bag with different beads and hidden surprises for a fun and engaging sensory experience.
An extra tip is to reinforce the bag, duct tape all four sides, and even double bag the sensory bag for those spirited explorers.
I like to add sensory beads, classic beds, and a sparkly or specific figurine to the bag before closing it up the bag.
The textures of the different things in the bag help keep the kiddos engaged and simultaneously experiencing different sensory textures.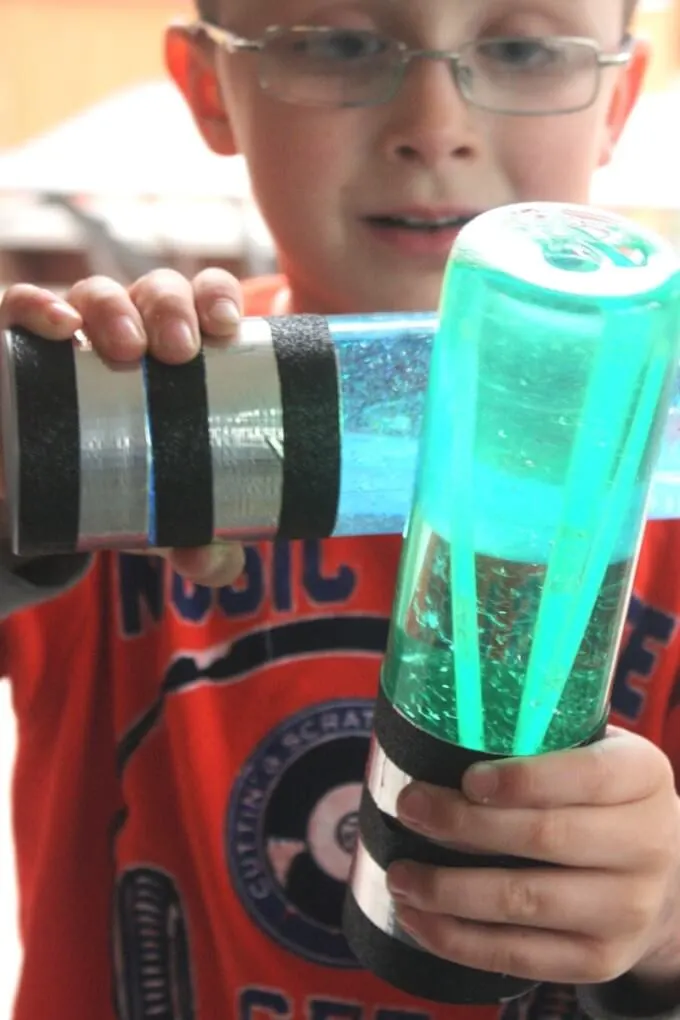 Source: littlebinsforlittlehands.com
Create a Star Wars-themed sensory bottle filled with glitter of their favorite color and decorate the bottle in the style of a light saber! Use bottles safe for lightsaber fights if you're making more than one.
This bottle is a really easy and fun gift to give the Star Wars lover in your life. Add small figurines of their favorite Star Wars characters into the water for a unique spin before sealing the bottle shut.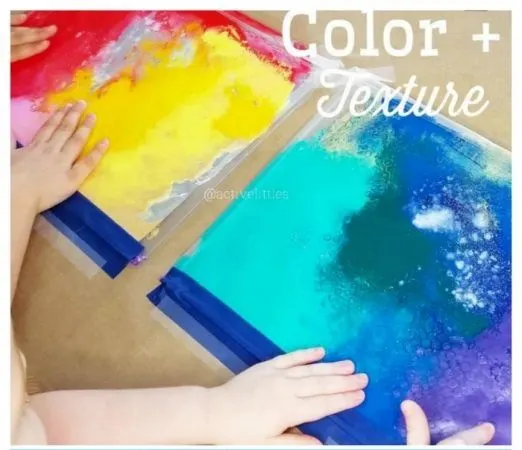 Source: activelittles.com
Mix paint with various materials like beads or sand for a textured sensory experience. Add them to different bags on a board so your kid can play with different textures.
Use this for a fun activity if your kid is learning about descriptors in school. Have them describe each texture to you.
This is one of the most fun learning activities for 3-year-olds!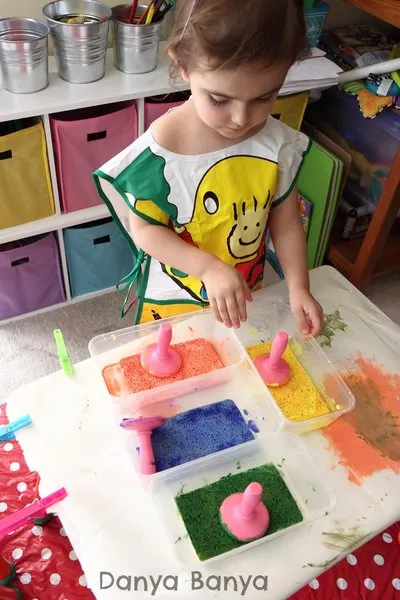 Source: danyabanya.com
Create stamps out of household items like sponges or potatoes for a fun and artistic sensory experience. Make holiday ones, and for the stamps that aren't perishable, keep them for years to come!
Incorporate store-bought stamps with homemade for an even more unique art project.
Or practice patterns with different stamps and create a few that your child has to add to the next one in each of the sequences.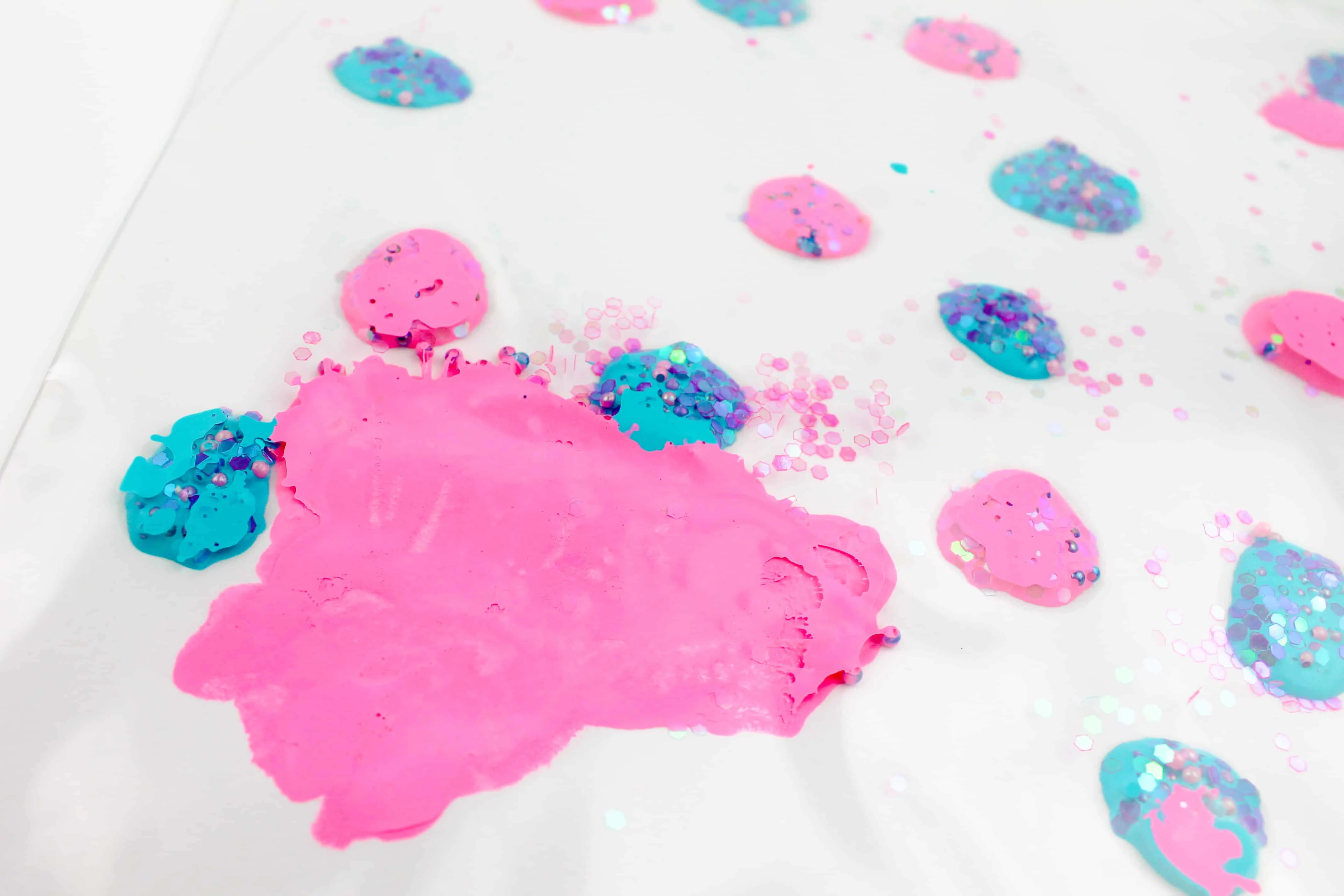 Source: threekidsthreecatsandahusband.com
Fill a ziplock bag with paint and let toddlers squish and mix the colors. Dot one color or two that will yield in their favorite color. Let them explore by combining the color alongside the texture of the bag.
Add glitter, gel, or beads for a special touch.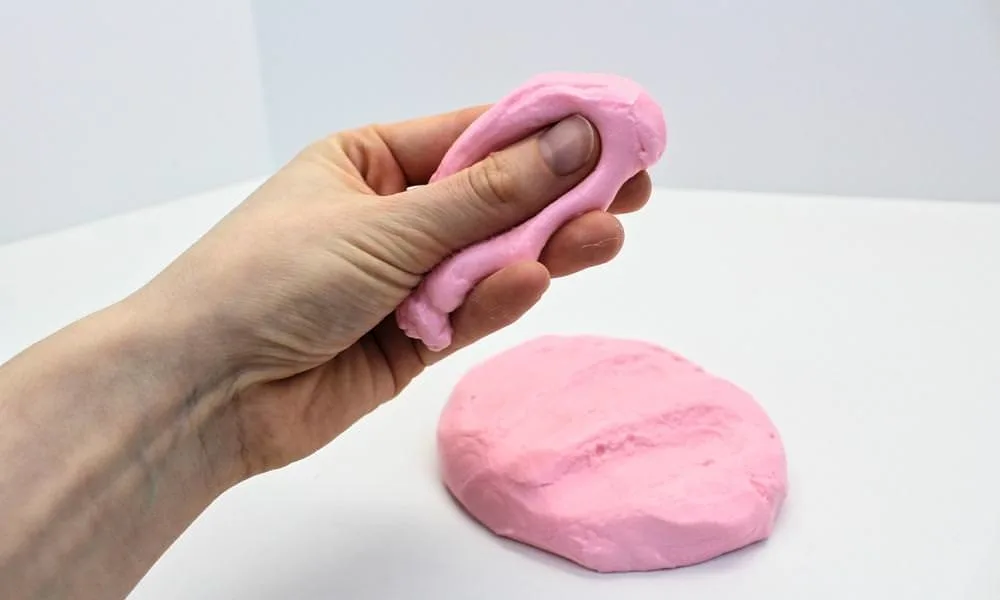 Source: thecraftathomefamily.com
To create this putty, start by mixing yogurt and cornstarch together. Add safe food dyes or natural dyes into the pots of yogurt.
We like to use these small containers for the putty–the smaller sizer of the slime containers. And, this putty only lasts so long in the fridge–compost or trash it once it expires.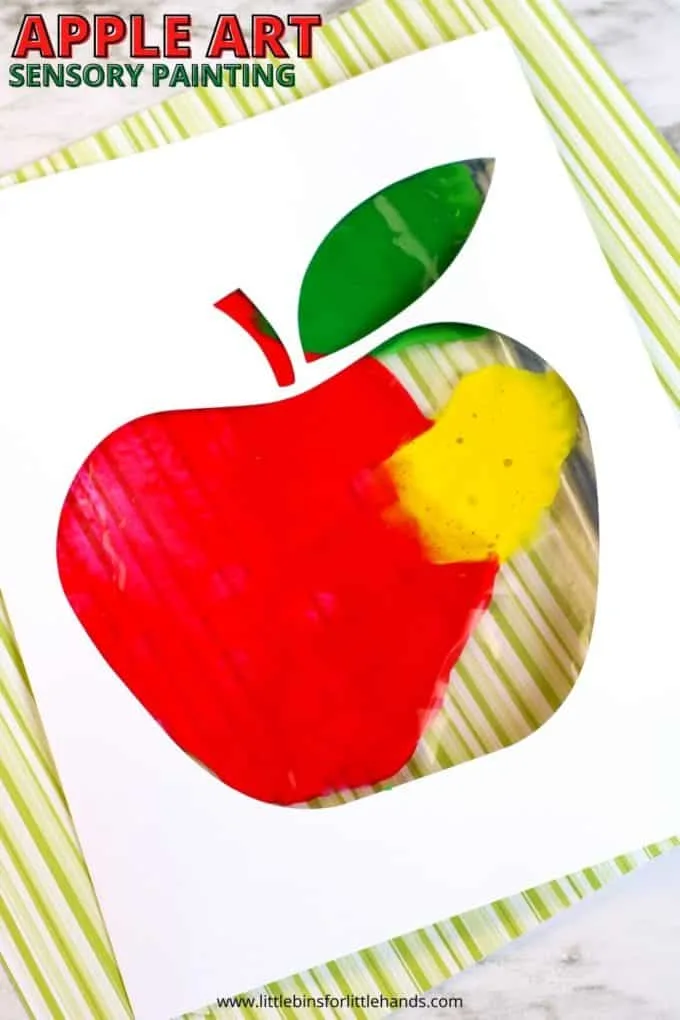 Source: littlebinsforlittlehands.com
Place a cut-out silhouette of an apple overtop a zip lock bag with paint for a fun and mess-free painting experience. It's a fun mess free activity if they are learning about fall or an early school activity.
Other simple silhouettes would look cute too! Whether seasonal, holiday, letter/number oriented, or beyond, it's a great mess-free art sensory activity.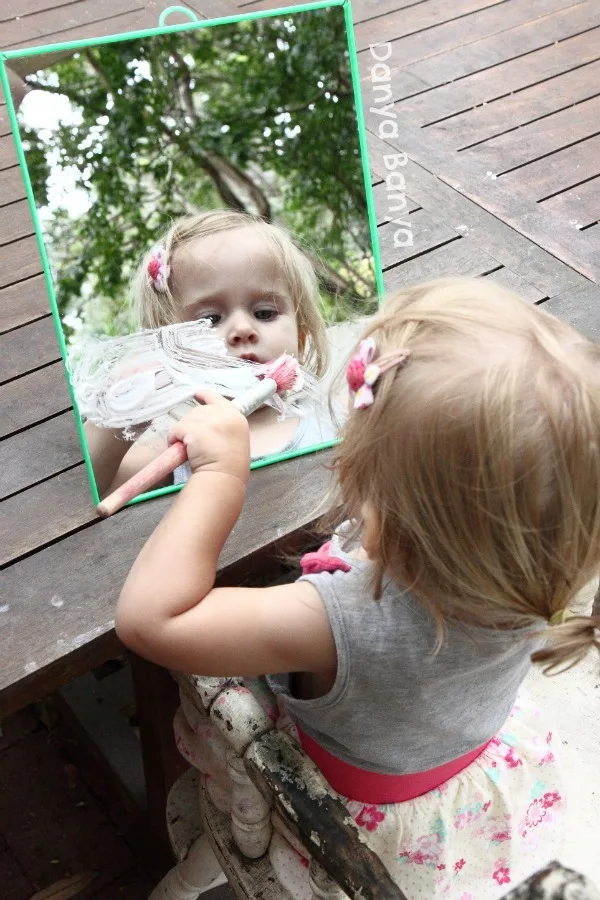 Source: danyabanya.com
Let toddlers explore with shaving cream and mirrors for a unique sensory experience. Practice shapes, letters, numbers, etc., in the foam for a different educational exercise.
A squeegee or anything laminated (that's okay to get a little dinged up) is the easiest way to clean up shaving cream. Add a bit of washable paint into the mix for extra fun.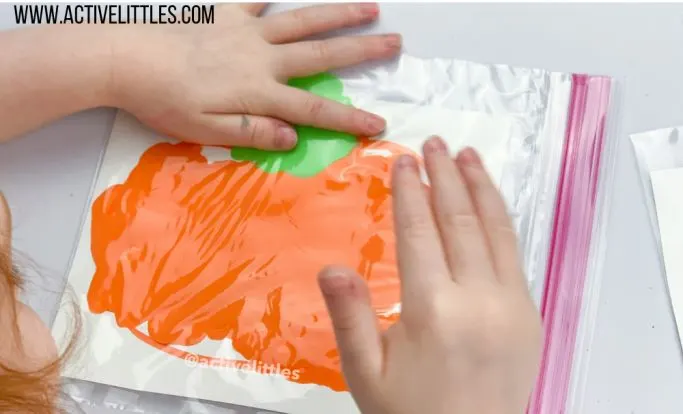 Source: activelittles.com
By now, you can all tell that I'm a big fan of holiday crafts or projects! Create spooky sensory bags filled with gel and creepy crawlies.
Or, add a simple printout of a Halloween-themed picture and the appropriate paint color for another fun exploratory art activity.
This is one of the most fun Halloween games for classrooms!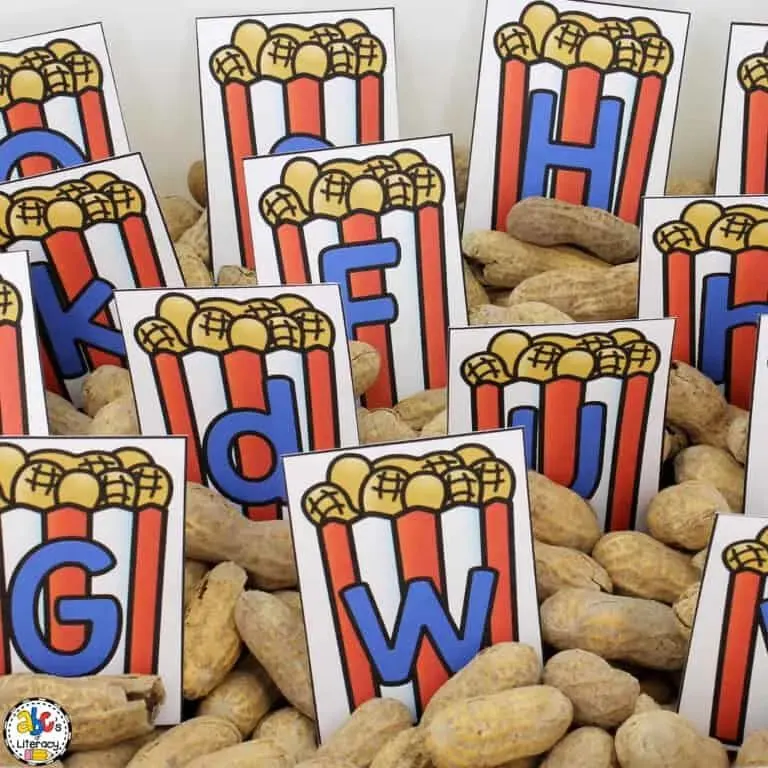 Source: abcsofliteracy.com
Use letters and letter-themed materials to create a sensory bin that promotes literacy skills.
Add vocabulary words in if your kid has them, or even just the letters to their name to start–it's such an adaptable sensory bin.
We've got a lot of mileage from this alphabet set between bins, slime, and other sensory activities revolving around letters.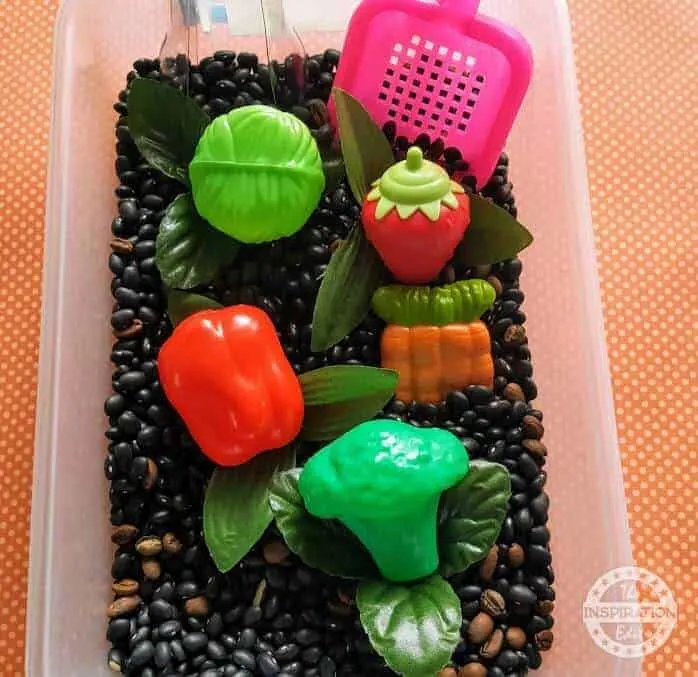 Source: theinspirationedit.com
I love this one for the seasonal bins that help transition from winter to spring and spring to summer!
By creating a garden-themed sensory bin using vegetables and gardening tools, it's the perfect way to share the basics with someone just learning about vegetables and fruit.
This little vegetable garden set is absolutely perfect for what we need!
This would make a fun outdoor activity for preschoolers in the summer!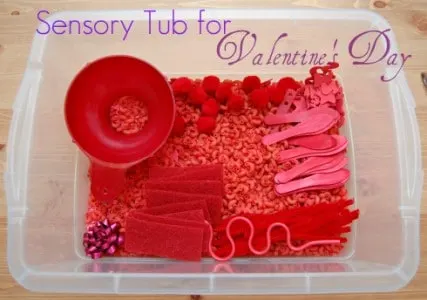 Source: babysavers.com
I couldn't leave out Valentine's day in my examples of different tubs for your kids to play and explore! Use heart-shaped materials, or red, pink, and white pom poms, to create a fun and festive sensory tub.
It could also be a great tool for a color study or practicing identifying colors, too. Buy different colored hearts to practice colors to make this bin all the more helpful as well as fun.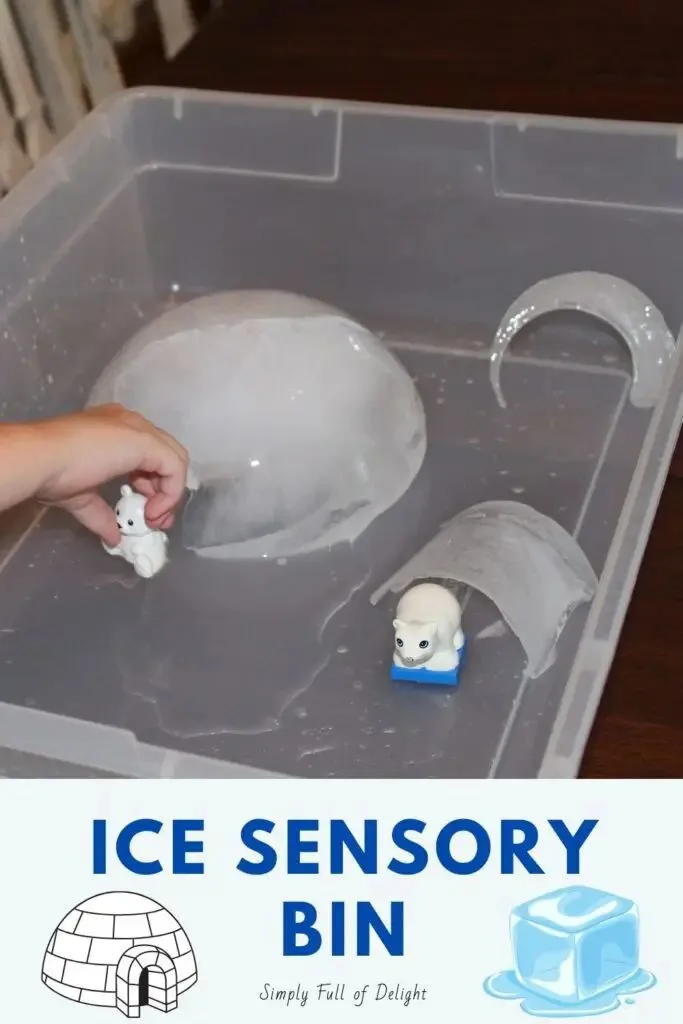 Source: simplyfullofdelight.com
A great bin for any kiddos learning about winter or landscapes! Create a sensory experience using ice cubes and arctic animals.
We dipped a small and medium balloons into a tub of water and let them freeze to make the igloos.
This sensory bin may also be a great visual tool to talk about climate change with your little one–add warm water little by little to illustrate.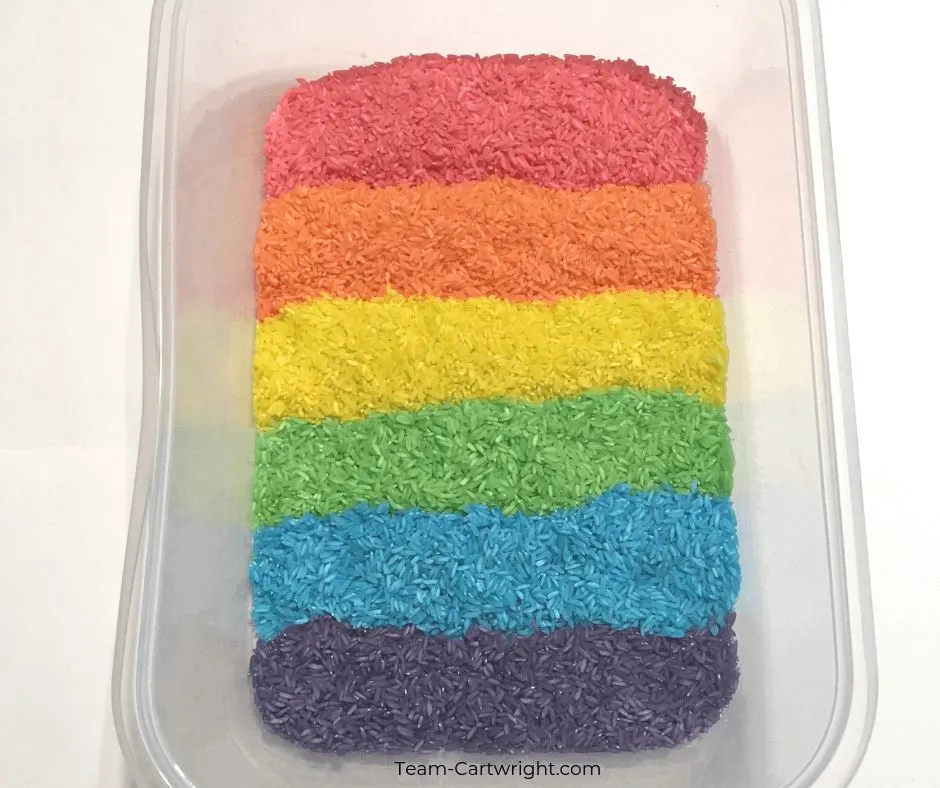 Source: team-cartwright.com
Dye rice in various colors to create a fun and colorful sensory bin. I do a re-dye for themed or holiday bins every couple of years (depending on how much play the rice has had).
It's a great way to let your child really engage with the sensory activity at hand. I love this dye set because it has so many options of colors.
I've tried it on other materials with varying success, and rainbow rice has been the most reliable dry good for the bins.