Dollar Tree magazine holders can be used not just in one way. Here are all the ways you can use your magazine holders and organize your home.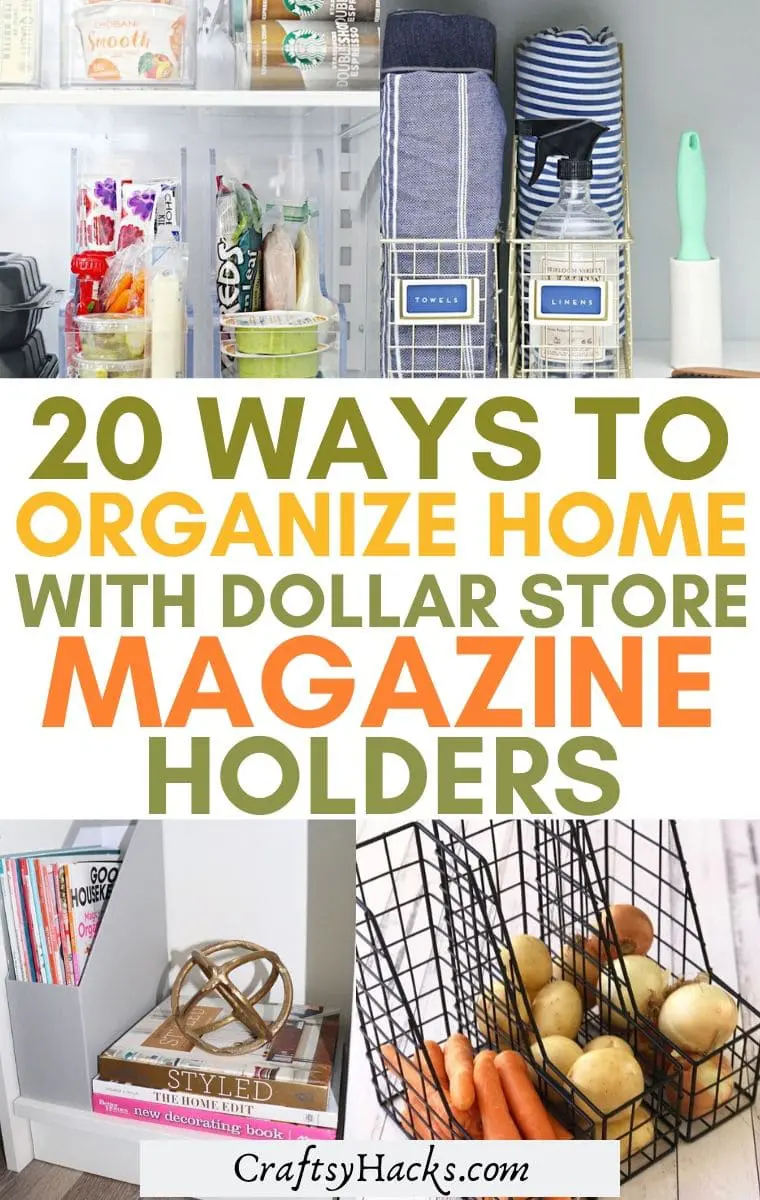 You want to organize your house, but you don't have much money. All the organizers you see online are expensive and elaborate.
Don't worry; you don't need a lot of cash to create a tidy, clutter-free home. A trip to the dollar store for some simple magazine holders like these can do wonders!
Take a look at these easy ideas you can do with your spare change! Make a big difference with just a few bucks.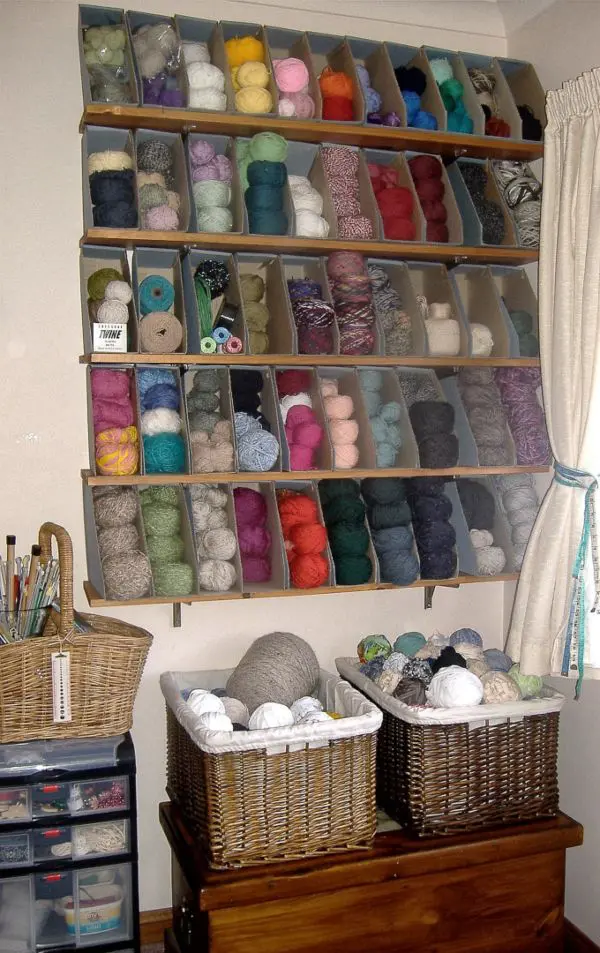 Credit: laughingpurplegoldfish.blogspot.com
Like to crochet or knit, but balls of yarn take up too much space? Let magazine holders and some floating shelves create a craft cubby.
Simply install shelves and stack magazine holders on top. Each shelf can hold a row of single holders lined up.
Organize your yarn this way by type, color, or project. You'll keep it neat and easily find what you're looking for when you go to craft.
Use a different magazine rack to hold needles and other small supplies, like patterns.
Use magazine holders also to organize your craft room.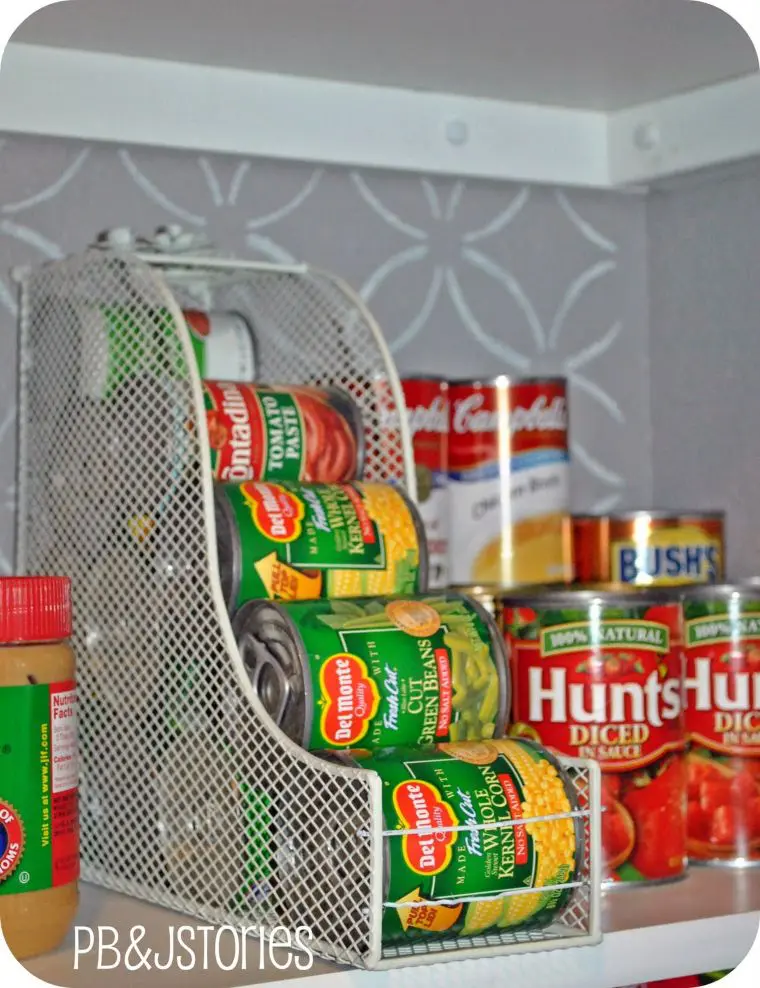 Credit: pbjstories.com
You may have never noticed that a magazine holder is the same length as a can of vegetables or soup. Adding a couple of these vertical racks to your pantry cleans up clutter.
A metal magazine rack lets you stack up a handful of cans. This keeps them from falling over and taking up too much space.
They're also super easy to grab when you're cooking. You may find you can organize each holder by soup, beans, vegetables, etc.
Store cans on their sides with the labels up. Use this hack to organize the pantry!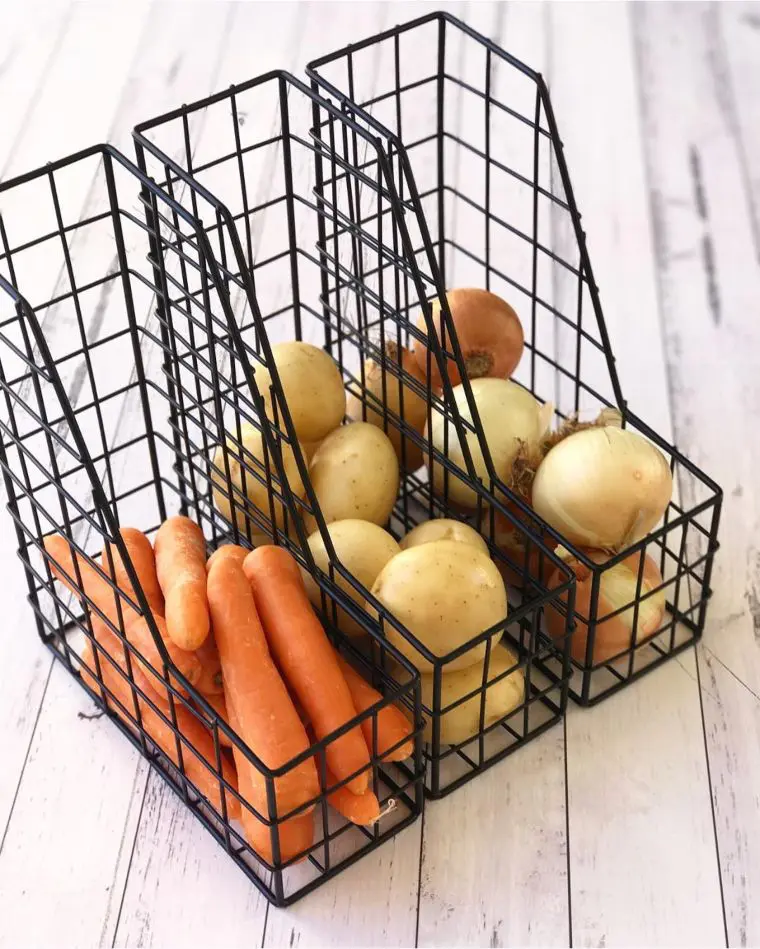 Credit: instagram.com
Your refrigerator has dedicated drawers for fruit. But where do you put veggies like onions and potatoes?
If you don't have a bin for them, turn to magazine racks. You can put them on a shelf in your pantry and line them up.
Use one for potatoes, one for peppers, one for onions, etc. This keeps them out of your way but easy to reach for when you're ready.
This is also a good way to organize other pantry staples, such as boxes of rice, seasoning packets, and quick macaroni meals or oatmeal packets.
Use this little hack to organize your kitchen on a low budget!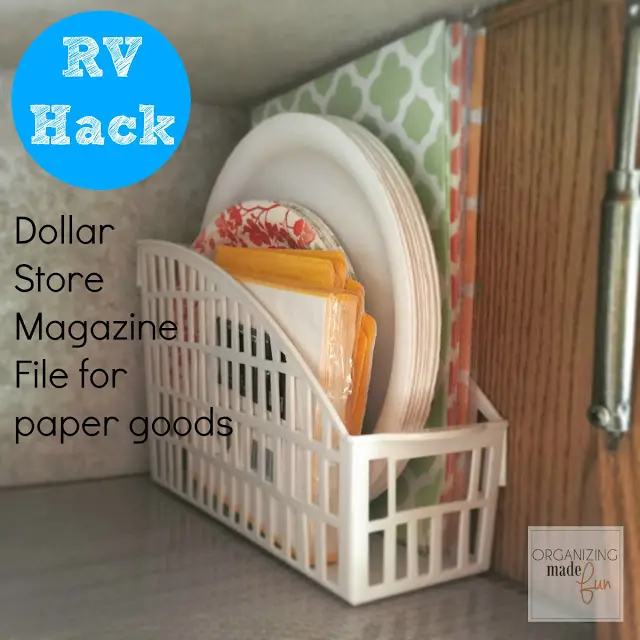 Credit: organizingmadefun.blogspot.com
When it comes to paper plates and napkins, there's no place for them in your kitchen. However, stashing a magazine rack in your cabinet keeps things clean.
Slide your napkins and plates standing upright. This slim magazine rack is portable, and you can put these anywhere.
You can also use this idea for greeting cards and invitations. Or, use the racks for extra tissue paper, tape, and small gift supplies.
A paper goods station is useful for your craft room or office. Everyday, paper plates, and napkins can be stored in your pantry.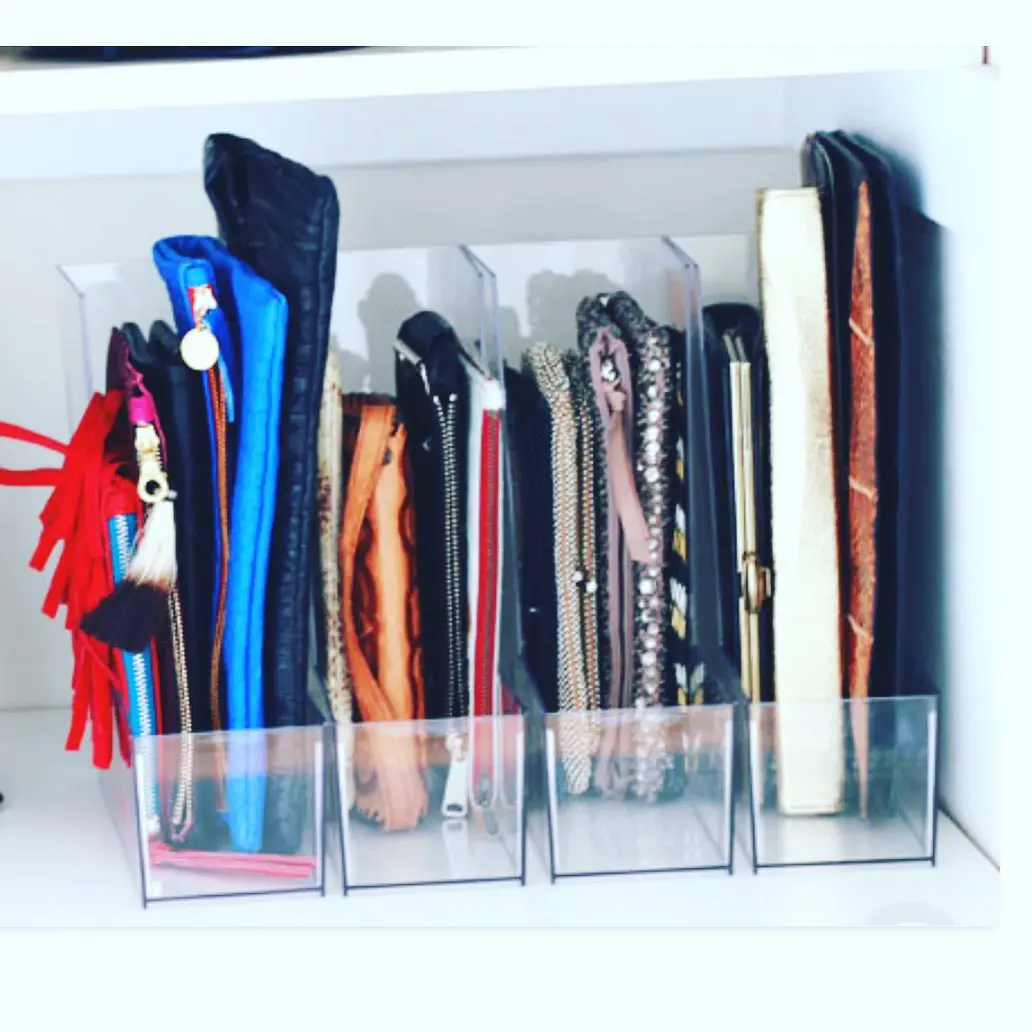 Credit: instagram.com
Small makeup bags and clutch purses take up precious storage space. Why not use a magazine rack to store them upright?
This not only keeps them neater in your cabinets or closet, but access is easy. You can see all of your purses at a glance.
Keep coin purses and wallets in these, too. This idea can neaten up your closet in seconds and free up more storage space.
Add one to your bathroom, too. Find more bathroom organizing ideas here.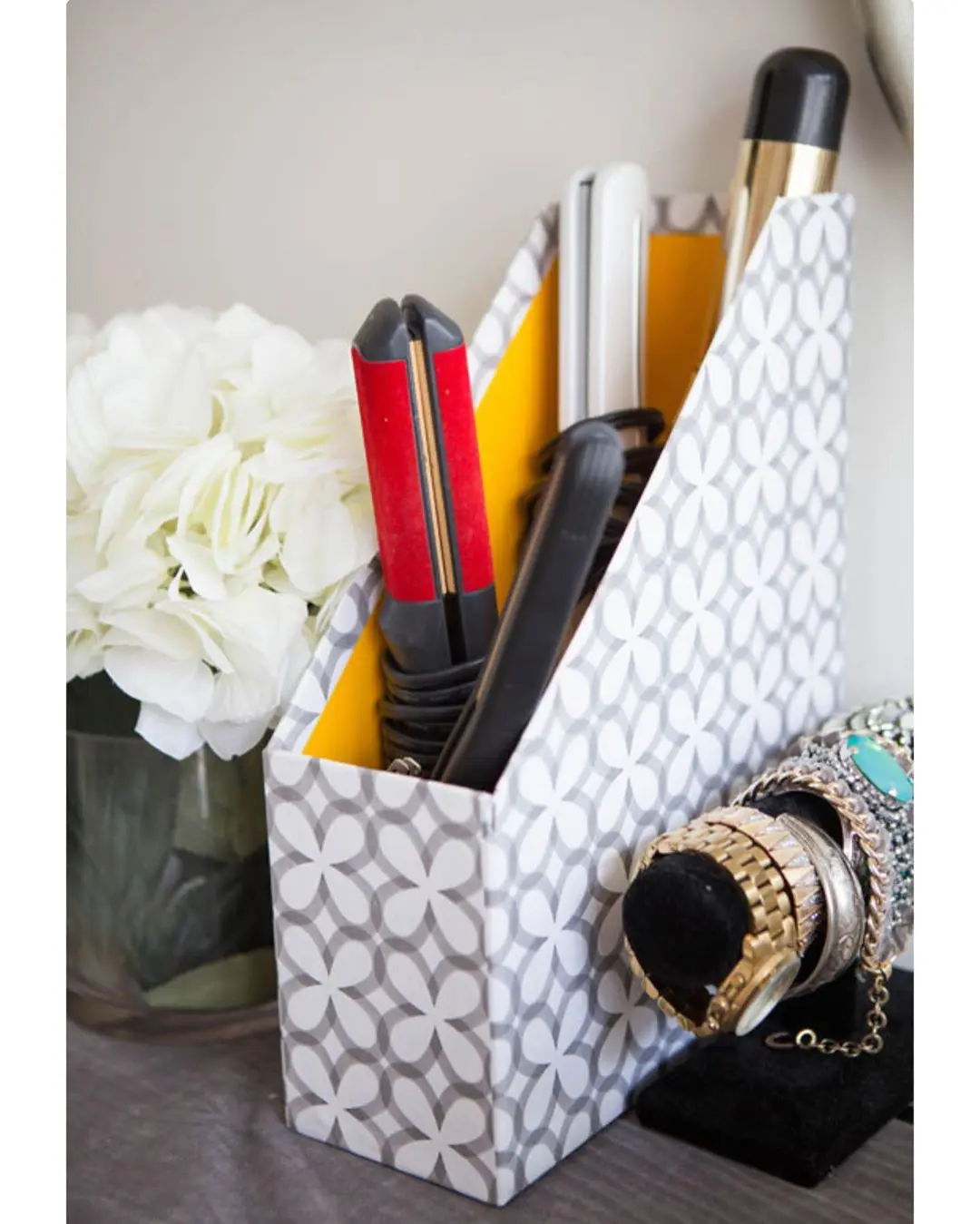 Credit: instagram.com
Create cute bathroom storage that you can leave on your counter. Cover magazine racks in the pretty adhesive paper.
Toss in your curling iron, hair straightener, combs, and brushes. This is a great way to keep cord clutter to a minimum and easily find your hair tools.
Use a separate magazine rack for barrettes and headbands. Imagine the room you'll save that you can use for makeup or other toiletries.
Plus, they look appealing on your counter or vanity. Wrap cords around hair tools so they don't unwind.
Get more organizing ideas for all your beauty products here.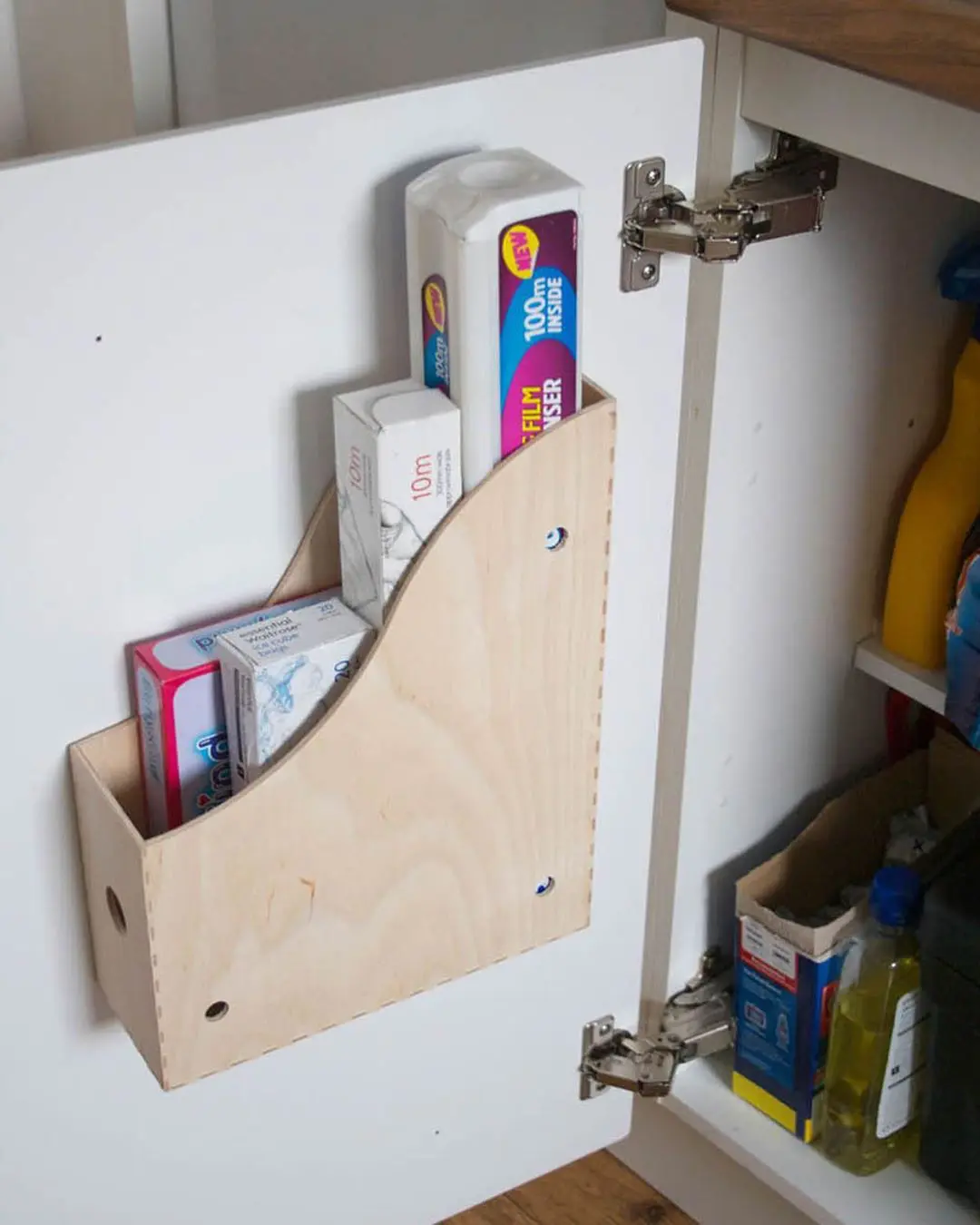 Credit: instagram.com
This storage option does two things well. The magazine rack holds your wax paper, plastic wrap, and foil.
Mounting a wooden or plastic magazine rack inside your cupboard door makes use of available storage. This means you won't take up any unnecessary space.
You're creating storage space out of unused space. You can use this idea for multiple storage options in your kitchen or bathroom.
Here are more ways to organize kitchen cabinets.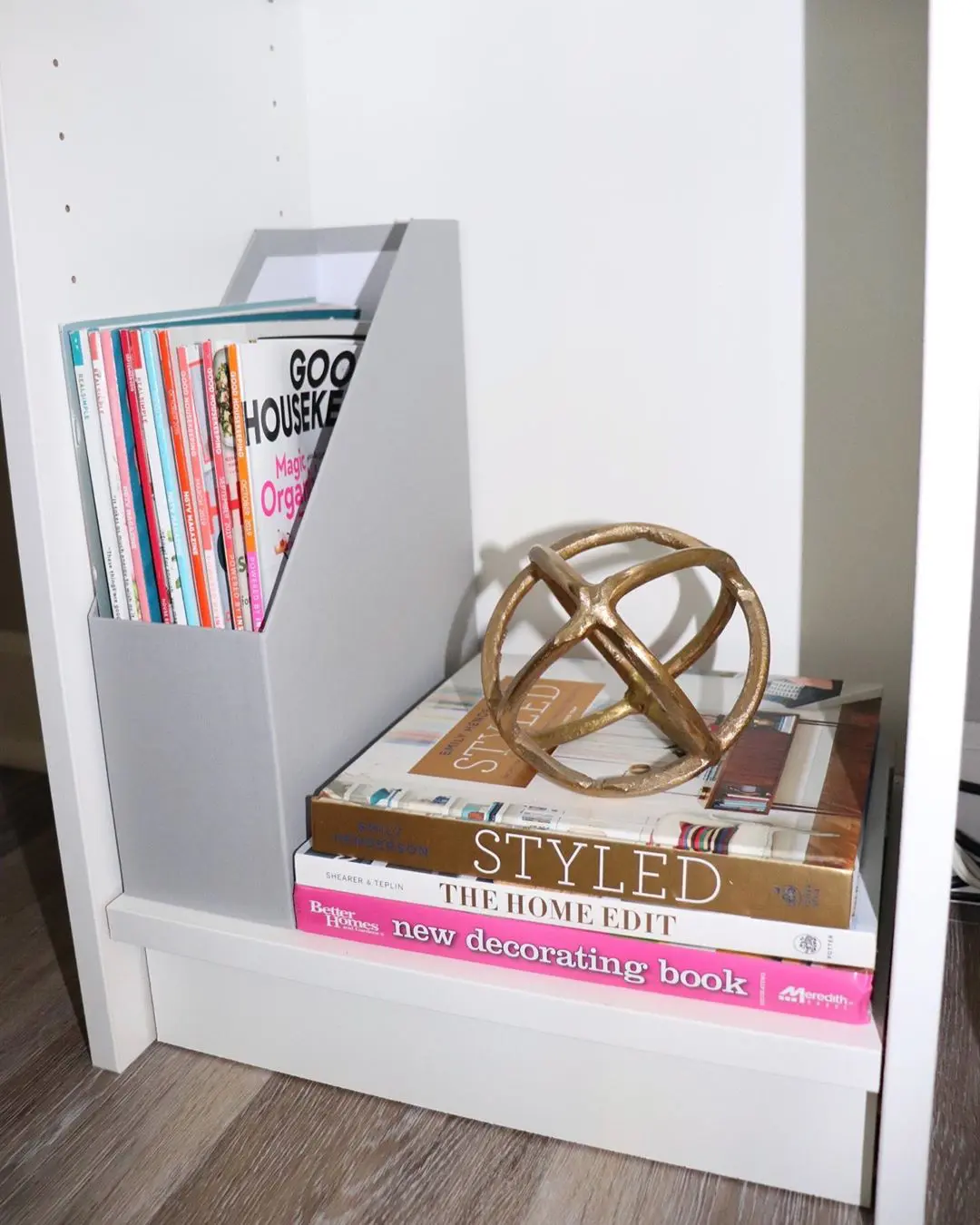 Credit: instagram.com
Just because you bought them at the dollar store, it doesn't mean they have to look like you did. Give your magazine racks an upscale makeover with adhesive paper.
Pick paper that complements your home décor. Add the rack to a shelf, and create a display with knickknacks or books.
The magazine rack will fit right in, and nobody has to know it was a dollar! Pick more than one rack and paper it with complementary paper to hold magazines or books while adding style.
These also hold slim paperbacks or graphic novels in your kids' rooms.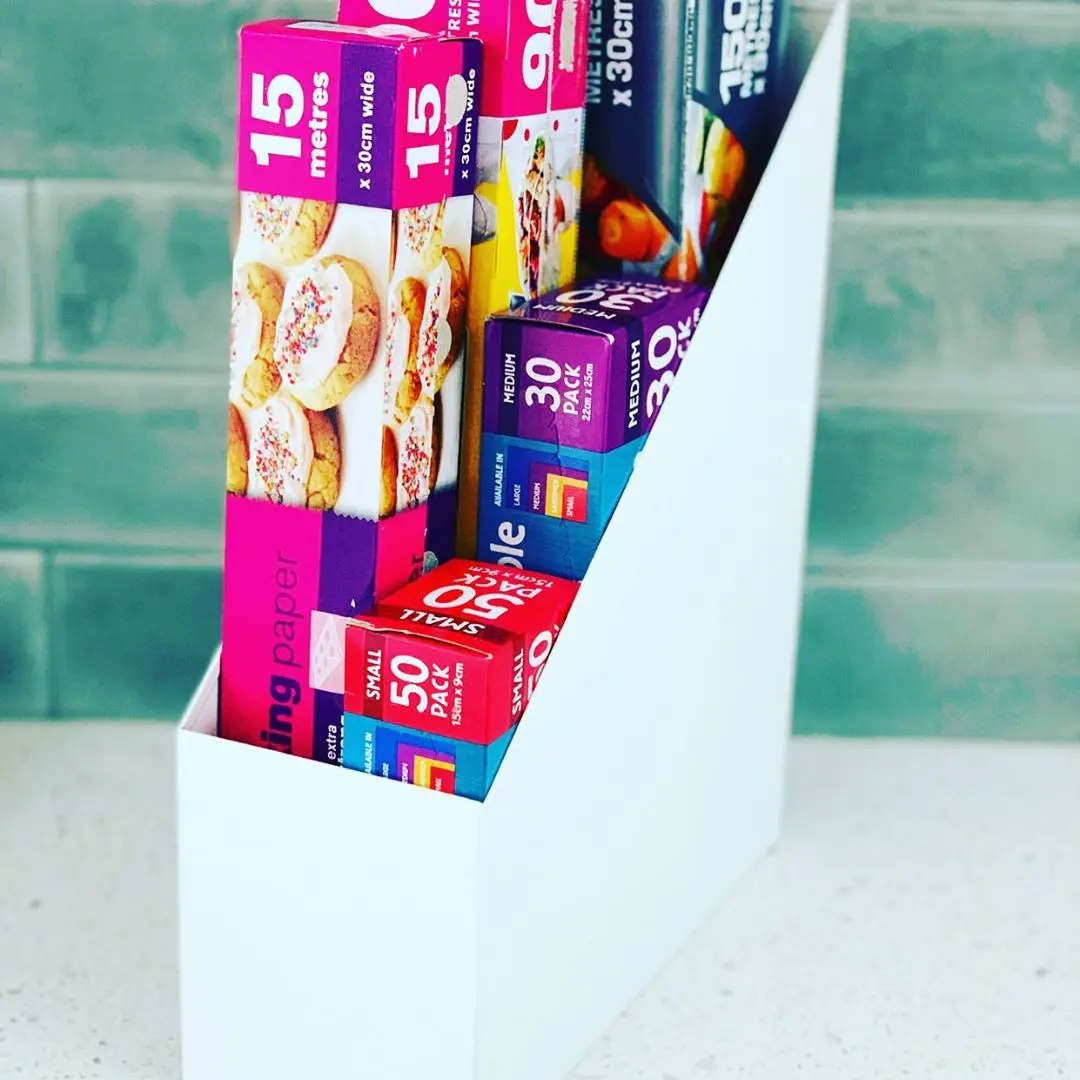 Credit: instagram.com
A simple plastic magazine holder transforms into a handy countertop or pantry storage. Place bigger bags at the back and smaller ones at the front.
Perfect for the pantry, but they blend in nicely on top of your cabinet. You could also mount them to the inside of a pantry door similar to the ones that hold foil.
Maximize space in a small kitchen or make the most of every inch in a larger one.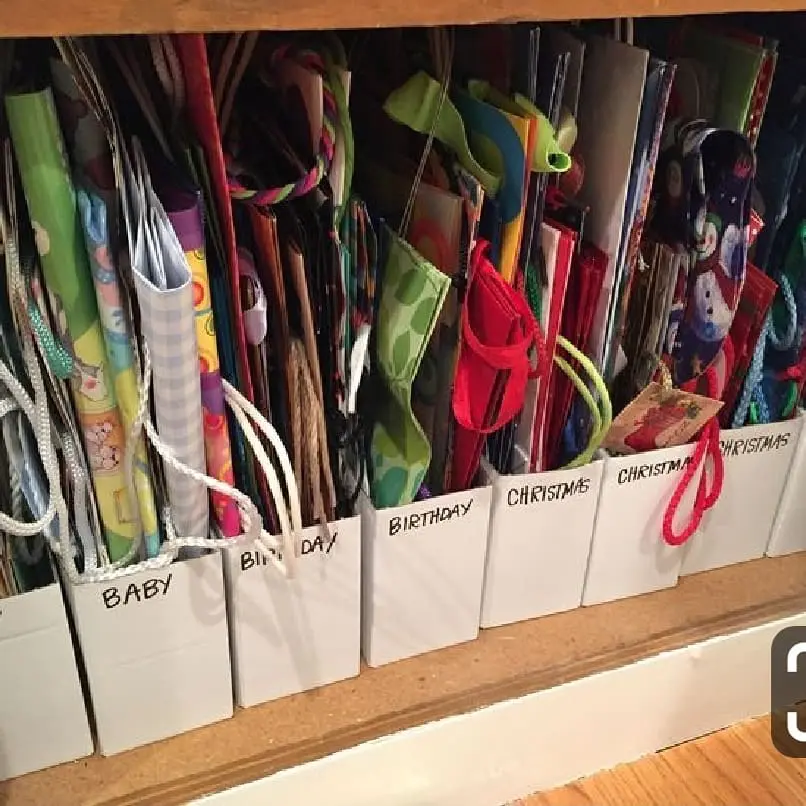 Credit: instagram.com
Most of us save gift bags to recycle and reuse. The problem is storing gift bags of different sizes and shapes.
The solution is simple: magazine holders. Use cardboard holders you can easily label.
With a marker, add the holiday or purpose to each set of bags; birthday, Christmas, etc. Store bags sideways or upright.
When you go to add gifts to bags, easily choose the bag you need without sorting through a bunch of bags. Use another rack for gift tags, markers for labeling, and tissue paper.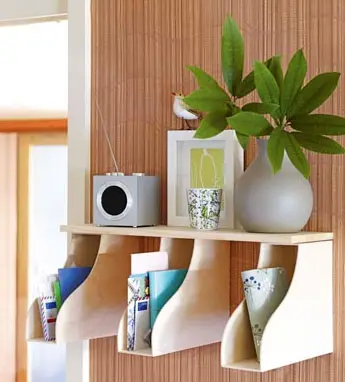 Credit: theorganisedhousewife.com.au
Are you one of those people that stacks up bills on your desk? Can't find the one you need when you're ready to pay it?
How about searching for a stamp when you need one? Solve all of these issues with a handmade hack that costs dollars to make.
An inexpensive floating shelf and a few wooden magazine racks transform into a station where you can put paper goods. Organize bills, tape, stamps, envelopes, and such.
Or, keep track of kids' school notes and appointment cards. Add a pen or pencil holder to complete the station. This frees up space on a cluttered desk, and it looks nice.
Use magazine holders to organize your office just like that!
12. Wrangle Your Water Bottles
Everyone has them. Oversized, clunky plastic water bottles that don't quite fit in your cupboard with your other cups.
Keep them in your pantry and easily accessible. Flip magazine holders on their backs to create a wide space.
Stack up bottles with their tops facing outward. Grab one when you need it.
Avoid losing precious parts like tops and straws by keeping these together in one place. You could even devote a separate magazine rack to lids.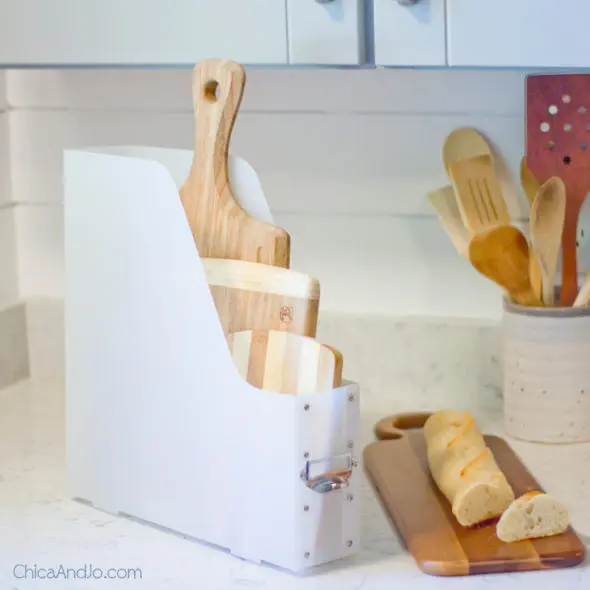 Credit: chicaandjo.com
Cutting boards are great for slicing and dicing. However, their odd sizes and big handles make them difficult to store.
Worry no more. A white, chic magazine rack made of plastic makes for an easy-to-clean cutting board storage unit.
Slide the magazine rack on your counter and organize the cutting board handle-up. Easy to grab and put back, you can use more than one for multiple boards.
Keep this next to your knives for a cutting station on your counter for busy chefs.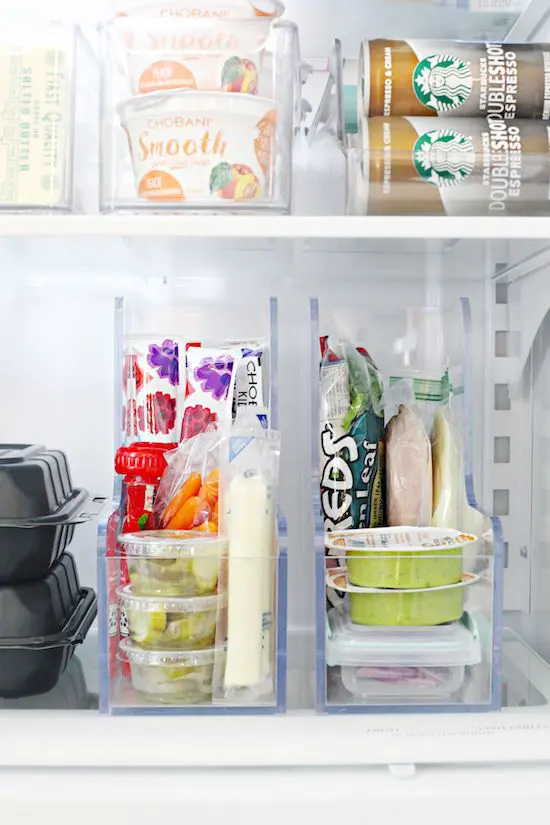 Credit: iheartorganizing.com
Give your fridge a much-needed makeover. Clear, acrylic magazine racks are the stars of the show.
These fit perfectly on your fridge's bottom shelf. Use them for a variety of things. Make snack stations with yogurt, line one with small drinks, or store tortillas and flatbreads on their sides.
The sky is the limit, and you'll be able to grab what you need without moving foods around.
Plus, it's easy for kids to grab what they want to eat or drink. Keep kid-friendly foods at kids' eye-level. Clean the racks weekly with soap and water.
Check out more of the fridge organization hacks here.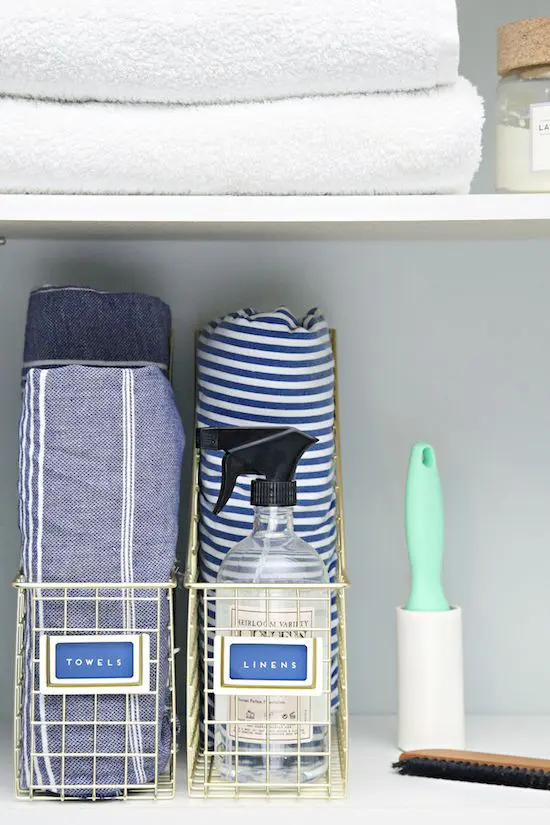 Credit: iheartorganizing.com
Do you know how towels always look messy even when you fold them? And sheets are a chore to keep straight.
Your linen closet needs some love. That's where metal magazine racks come in.
Slide towels and sheets upright into these bins and turn your closet into a clutter-free zone. Suddenly you'll find yourself having extra space.
And changing the bed sheets won't be such a chore when you don't have to dig around for matching pillowcases.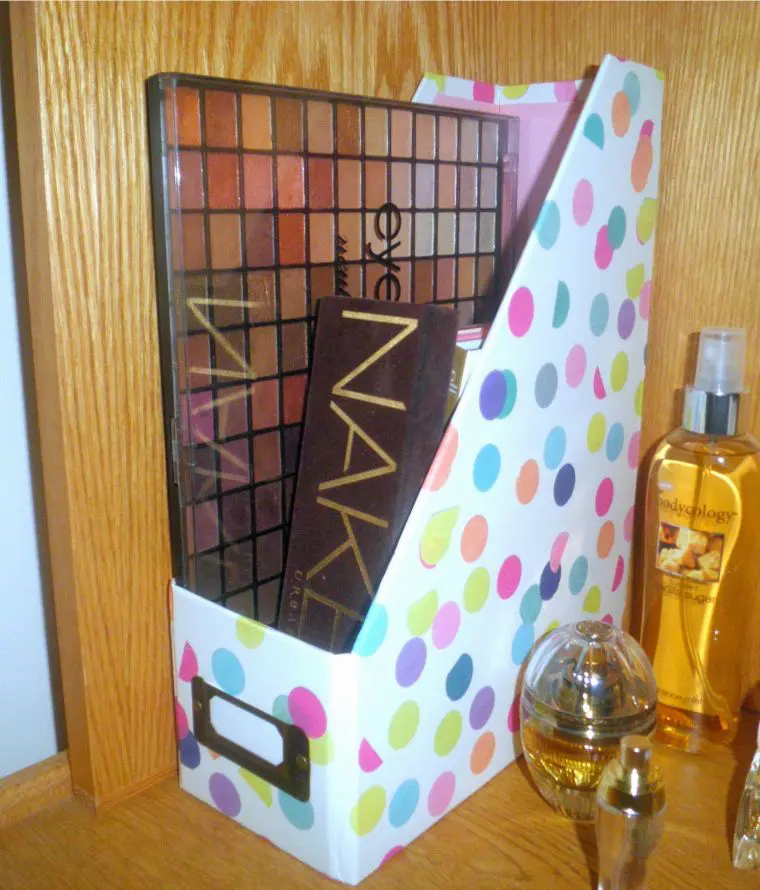 Credit: sparkleandmineblog.blogspot.com
You love using makeup palettes. Everyone does!
The problem is that they're an unwieldy size. You can't stack them up, and they slide around when you're looking for a particular palette.
Round up your palettes and stand them up in a magazine rack. This not only keeps them neat, but you can look at them with one glance.
Store palettes on their sides and flip through them. Grab the one you need and slide it back when you're done.
Use adhesive paper to add a design to the palette organizer. Then, it fits in on your bathroom counter.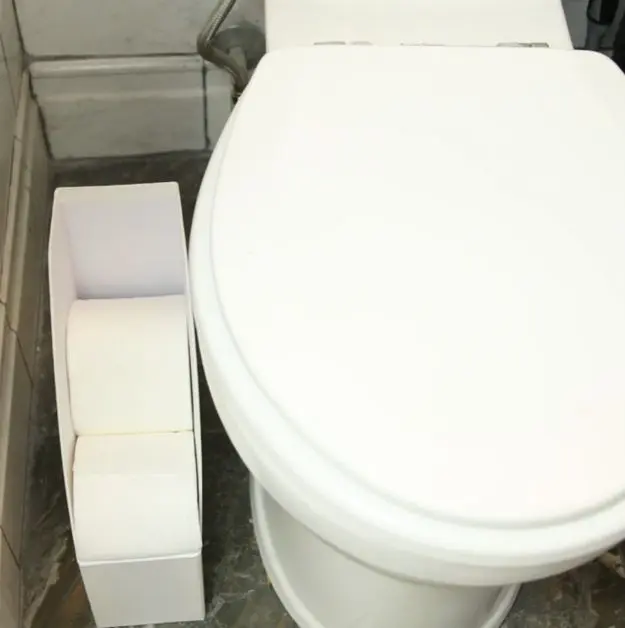 Credit: buzzfeed.com
There's nothing worse than running out of toilet paper right when you need it. Avoid this stressful situation by leaving a magazine rack next to the toilet.
Store rolls of extra paper in the bin. Fill it up each week.
This guarantees your husband and kids will change the roll when they realize how easy it is to grab a new one. One less chore you have to do. Also, nobody yelling to Mom when they run out of paper.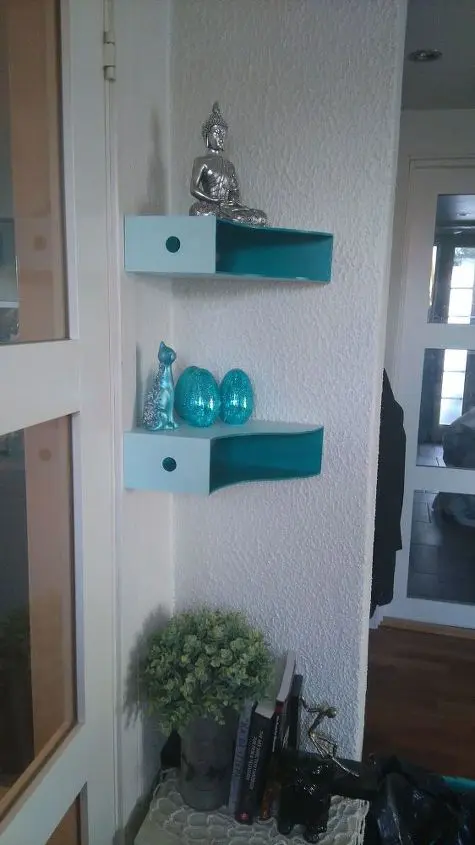 Credit: hometalk.com
Everyone needs more storage. You may wonder how you'll make the space in your home.
However, using the space in front of you opens up new possibilities. Use magazine racks as corner storage shelves.
These are the perfect size to fit into the corner of a room. Use them to store just about anything you like.
Paint or paper them to fit into your décor or hold a knickknack on top. Simple storage that adds style!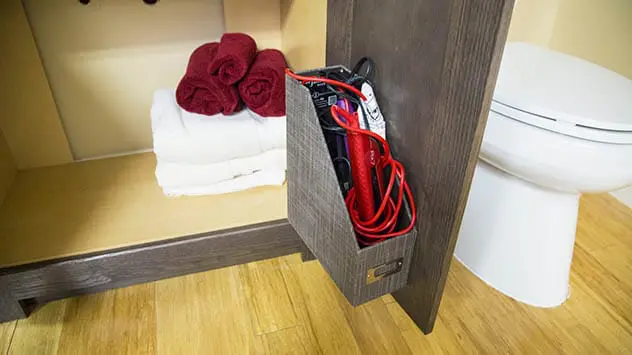 Credit: todayshomeowner.com
It's easy to lose tiny tool parts. A magazine rack can keep hammers and nails handy.
Any type of magazine rack works. Place them around the house where you use tools the most, or in the garage.
Fill them with the necessary tools. This makes it a cinch to find the exact tool you need when you need it.
It also keeps your garage neat. Find more garage organizing tips here.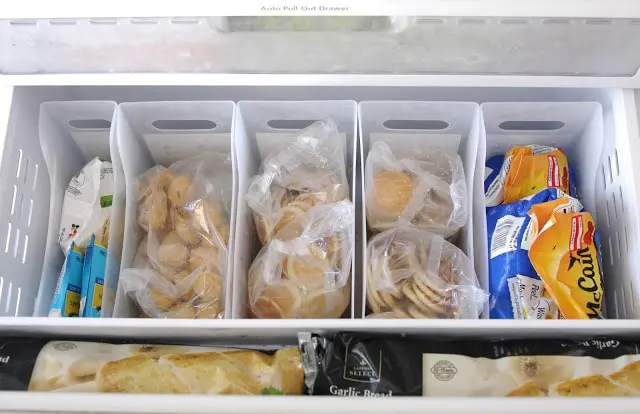 Credit: simplyorganized.me
Stacking up food in your freezer is not the best way to organize things. When you are looking for something, it could be on the very bottom of frozen food bags.
This makes a mess. Avoid this hassle by adding plastic magazine racks to your freezer.
Each rack can hold different food. Frozen vegetables, breakfast options, or frozen meat can go into each one.
Put things that expire first towards the front, so you'll use them faster.
Conclusion
Are you going to use any of these dollar store magazine holder hacks? Let me know which one is your favorite in the comment section.