Have fun with IKEA furniture to create beautiful spaces for your cats! Your cats will definitely enjoy it!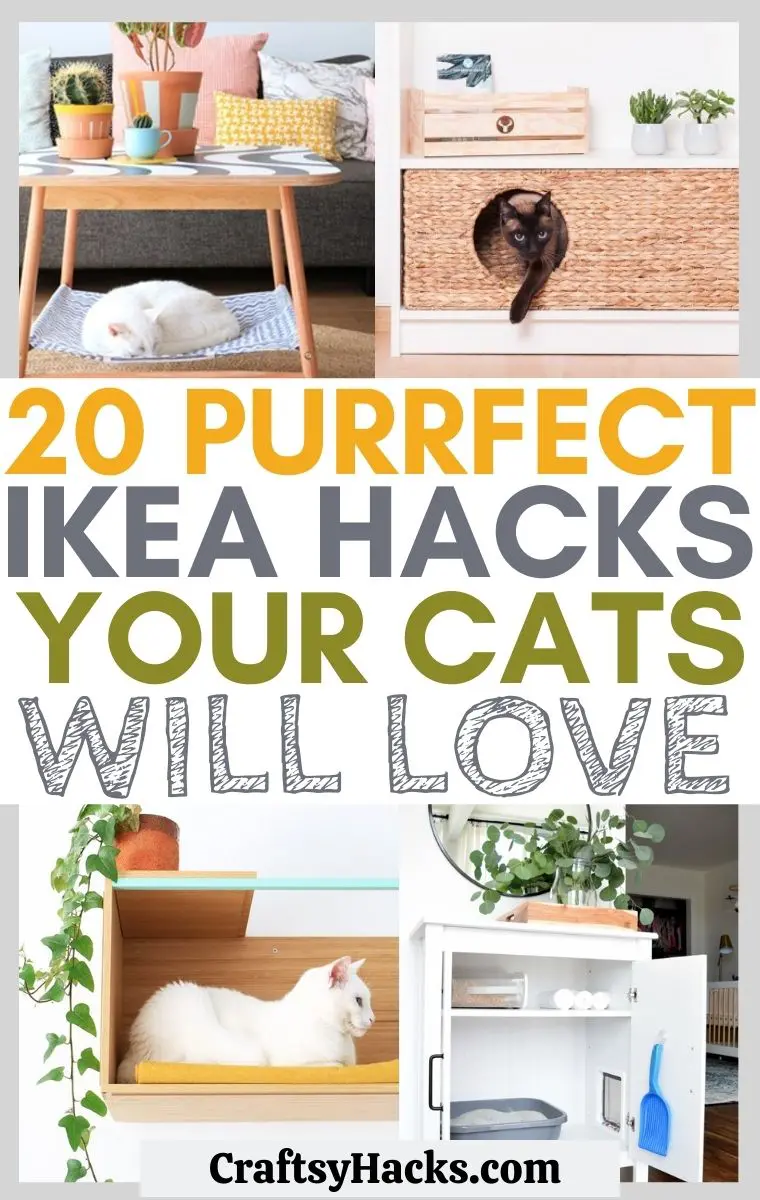 Let me fill you in on a cat parent secret: Ikea and cats make the perfect match! If you don't believe me, browse through the Ikea-inspired cat haven hacks I have rounded up for you below:
1. DIY Two-Level Cat Entertainment Unit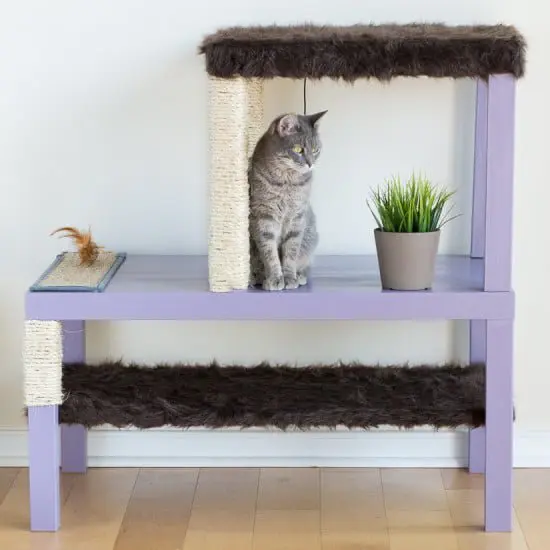 Credit: ikeahackers.net
This two-level cat entertainment unit is the perfect gift for your super active fur baby (or babies). They're also a relatively inexpensive alternative to cat trees, especially if your cat isn't declawed.
Recreating this unit is achieved by placing the Ikea Lack side table on top of an Ikea Lack coffee table. Wrap a few of the table legs with sisal rope like this, for your cat's scratching pleasure.
2. Stylish Ikea Cat Litter Loo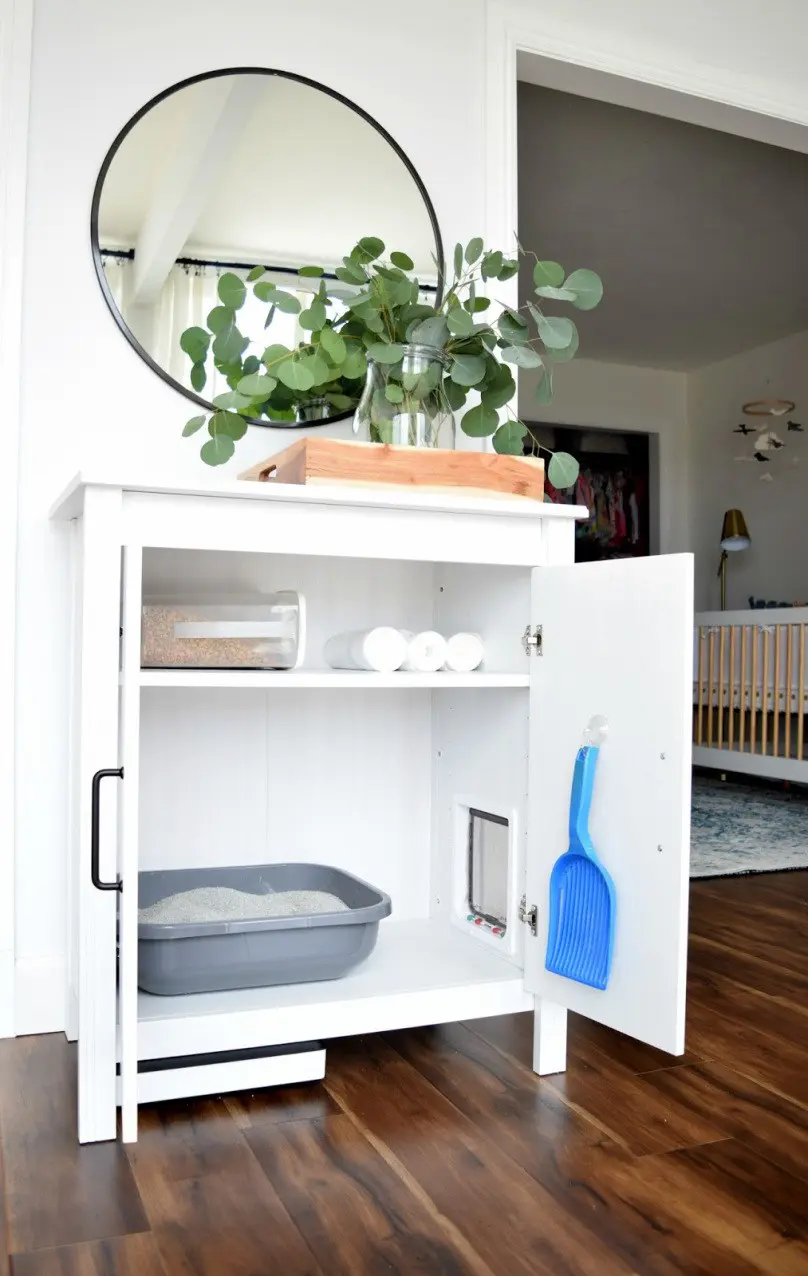 Credit: thehomebodyhouse.com
Cats' litter boxes aren't really aesthetically pleasing. But that doesn't mean it can't be done.
Look at this gorgeous Ikea cabinet, for example. If I didn't tell you, would you have guessed it was a cat litter cabinet?
To make your cat's stylish litter loo, you will need an Ikea cabinet. Any cabinet will do, but I'm particularly drawn to the design of the Ikea Brimnes cabinet.
Install a cat door like this on one of the cabinet's sides, and that's it. All that's left is adding in the litter box and other litter cleaning equipment you may need.
3. DIY Outdoor Cat Lounge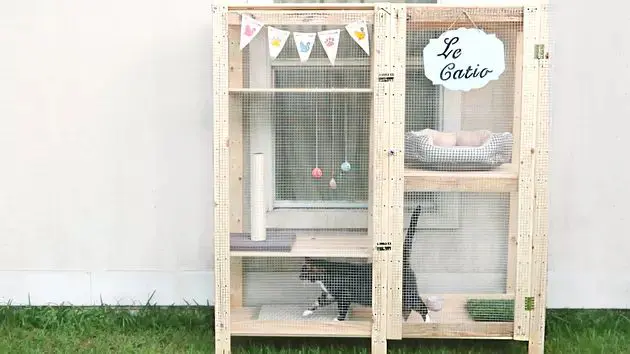 Credit: cuteness.com
Spending time outdoors is therapeutic, not only for us humans but also for our cat counterparts. An outdoor cat lounge like this would be perfect for those warm summer days.
It also makes a safe haven for your fur baby while you do some gardening or yard work. You will need a couple of Ikea Henje shelves, chicken wire, and a few knobs and screws.
You will also need your drill and a staple gun to attach all your materials together.
4. Ikea Trending Two-Level Cat Bed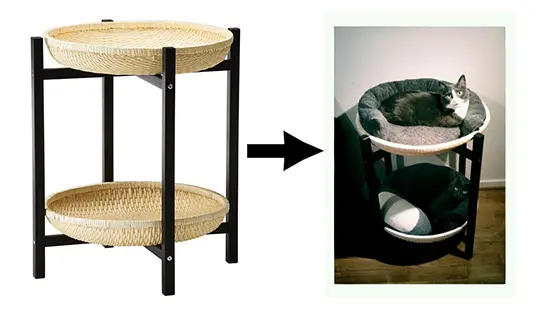 Credit: hauspanther.com
The Ikea Trending was a limited-edition occasional tray release from Ikea back in 2013. If you have this lying around unused, don't throw them away!
Convert them into a posh two-level cat bed instead. Your little whiskers will thank you later.
The best part – you don't need to do much, apart from topping the trays with a cushion bed, similar to this.
5. DIY Minimalist Cat Tree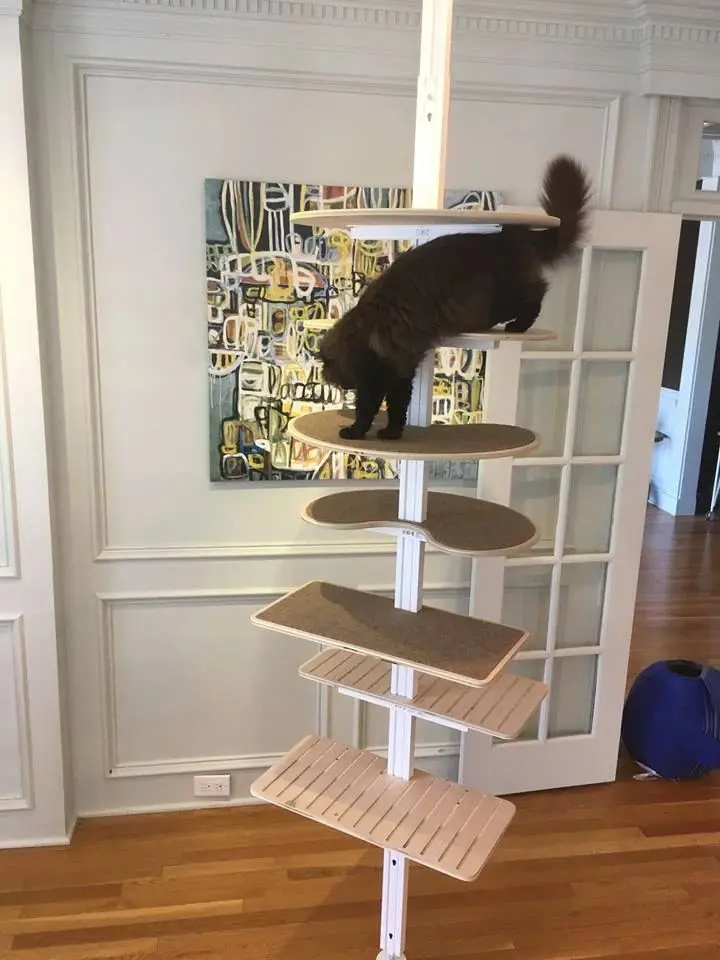 Credit: contempocat.com
What better way to create a minimalist cat tree than using Ikea, the household name for minimalistic designs?
You will need an appropriate-lengthed Ikea Elvarli post and a few Elvarli brackets. Add wooden panel boards like these to serve as the cat's platform, and that's pretty much it.
This cat tree is perfect for small spaces. The open style makes the room look bigger than it actually is.
6. DIY Scratching Platform
Credit: entermyattic.com
Making your cat a dedicated scratching board saves your precious furniture the torment that comes with scratches. And no, we're not going to repurpose an Ikea furniture for this hack.
Instead, we use an Ikea mini rug and staple this on to your DIY wooden platform. Place the board in the living room to keep the furry ones busy while you peacefully enjoy your favorite movie.
7. Wall-Mounted Cat Home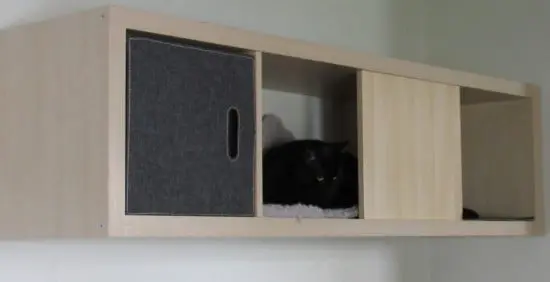 Credit: ikeahackers.net
Cats love heights. Or at least they love climbing on to furniture no matter how high they are.
Give those feline limbs a daily challenge by creating a mini-home on the wall. For the home's frame, you will need an Ikea Kallax single shelf unit.
The rest of the cat home can be completed by a mix of decorative storage cubes, fake fur like this, and some cat toys.
Check out more IKEA Kallax hacks here.
8. Cat Shelf "Basement" Cubby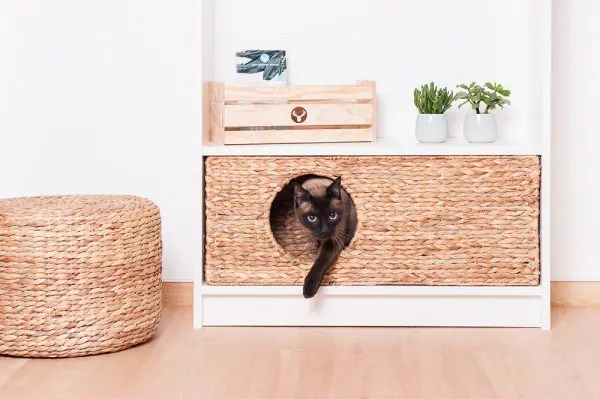 Credit: decorlovin.com
If you don't have space for a full-scale cat house, use the Ikea Billy bookshelf's bottom end instead (or your existing bookshelf).
Check out more IKEA bookshelf ideas here.
9. Floating Cat Steps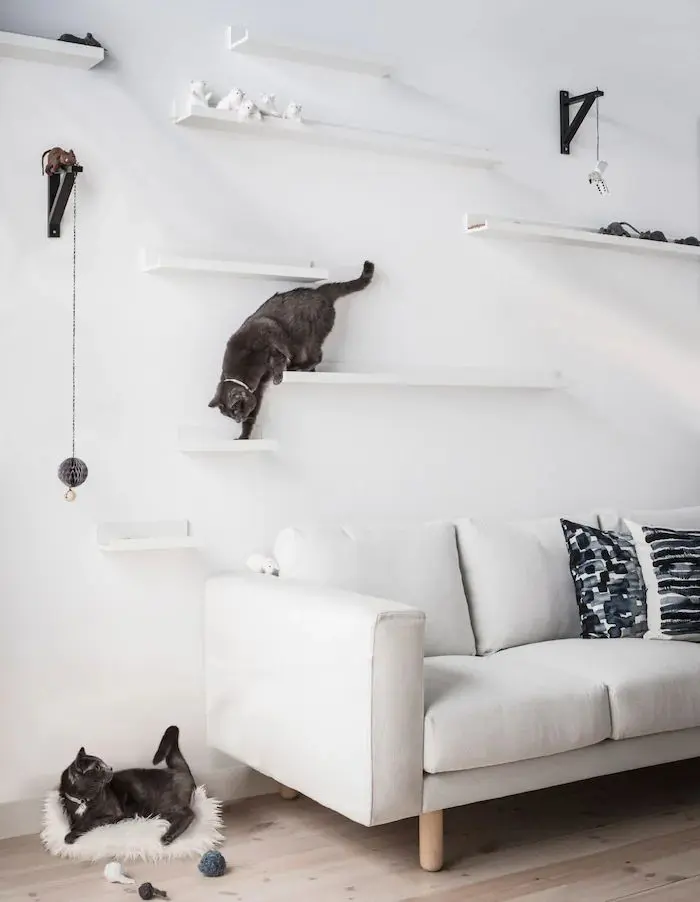 Credit: ikea.com
Maximize bare walls by installing a few Ikea picture ledges like these for your cat to play around on. This hack is perfect if you have a limited floor area for a proper cat treehouse.
The great thing with the Ikea picture ledges is they come in a range of colors to match your existing décor. They also come in different lengths, allowing you to play around with your layouts.
10. Discreet Yet Stylish Litter Cabinet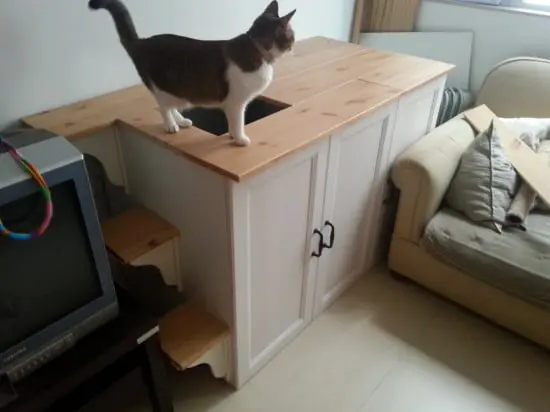 Credit: ikeahackers.net
This litter cabinet is perfect for small apartments or for homes that have young kids. Having the litter box concealed inside a cabinet improves the aesthetics of your room while saving space.
A neatly tucked away litter box would also make those tiny curious hands away from potentially harmful cat poop.
To create a discreet and stylish litter cabinet, you will need a few Ikea pieces:
METOD base cabinets;
LAXARBY doors;
HEMNES shelves;
HENSVIK brackets;
FAGLAVIK handles.
11. Kitchen Chill Area
Credit: entermyattic.com
Prep and cook dinner uninterrupted by giving your fur baby space to hang out while you do the hard work. This wall-mounted open shelving type nook would sit perfectly atop the fridge.
Recreate this hang out space with open-style Ikea shelves, such as the BESTA or the LACK.
Check out more IKEA kitchen hacks here!
12. Vertical Cat Lounge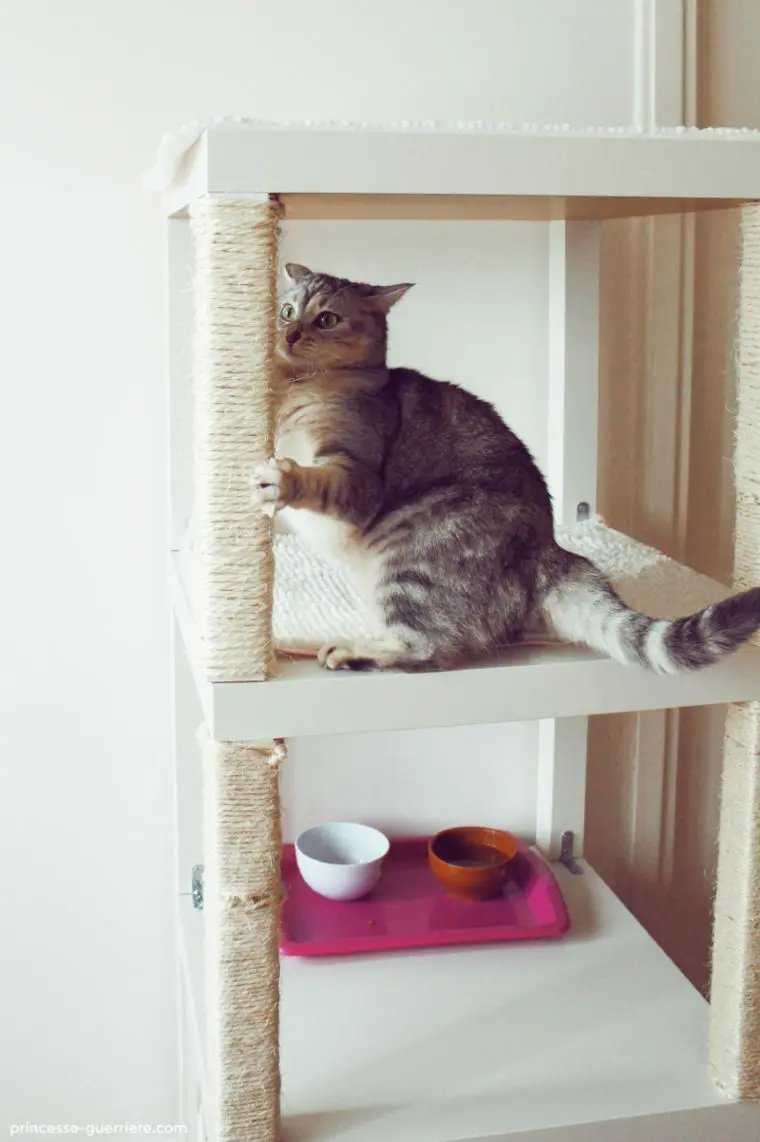 Credit: chatterie-nekobaa.com
Cat's need their own space to do their thing – nap, play or scratch their paws off. But this doesn't necessarily mean they need to take up a lot of space in a room.
The most space-efficient way of giving your little whiskers their own sanctuary is by building a vertical lounge. Do this by stacking a few Ikea Lack side tables on top of each other.
Wrap a few of the table stands with jute twine to serve as scratching posts. Finally, for comfort, place a cozy cat bed like this, one on of the shelves.
13. DIY Forage Board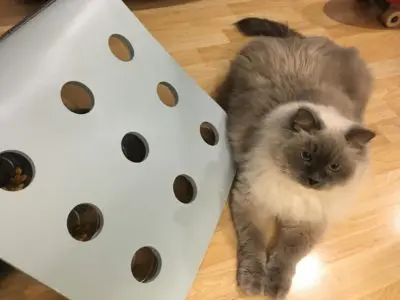 Credit: fundamentallyfeline.com
Make mealtime fun and challenging for your cat with this DIY forage board. It's super easy to make, and the base material comes from the seat of an Ikea Jules chair.
Attach a sisal carpet on one side and a few food cups on the other, and that's it. The great thing about this is it's super mobile. You can easily move it around the house for your cat to go along with you (or away from you for a while).
14. Hallway Deluxe Cat Station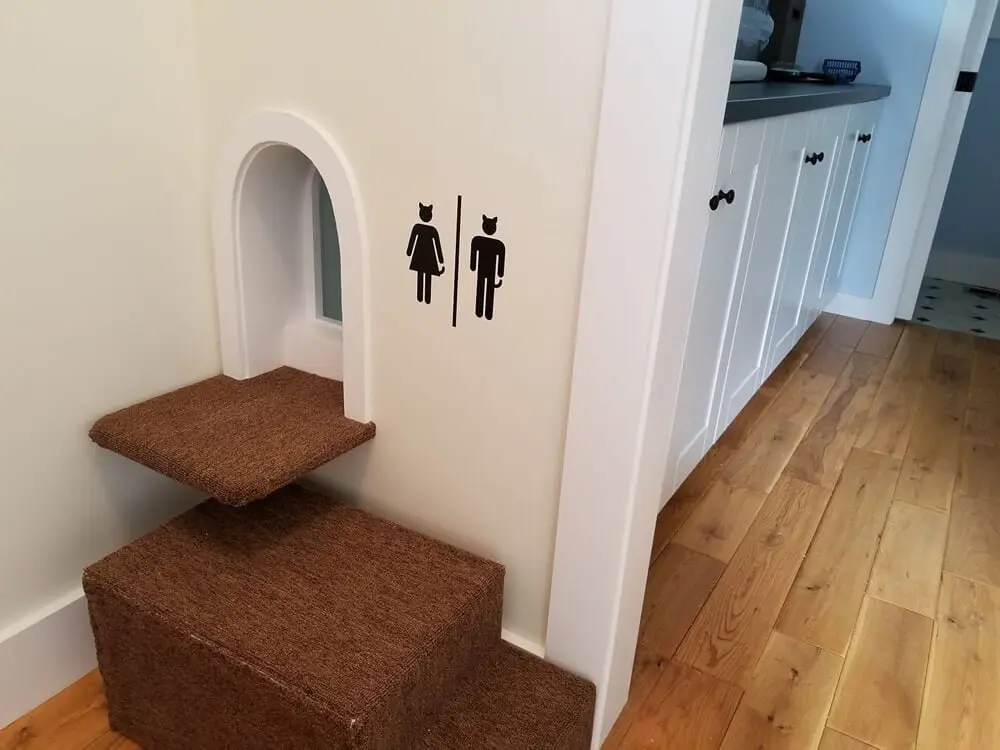 Credit: ikeahackers.net
If you have a cat (or cats) and a generous and empty hallway space, this is the perfect weekend project for you! Build this deluxe cat station, and I bet you no one would ever guess what's hidden inside!
Building this hotel's stylish cat hub requires a combination of a few Ikea cabinet frames, drawers, and cabinet doors. You may also want to mount an exhaust fan like this, to keep nasty smells away.
15. DIY Triple Decker Kitty Bunk Bed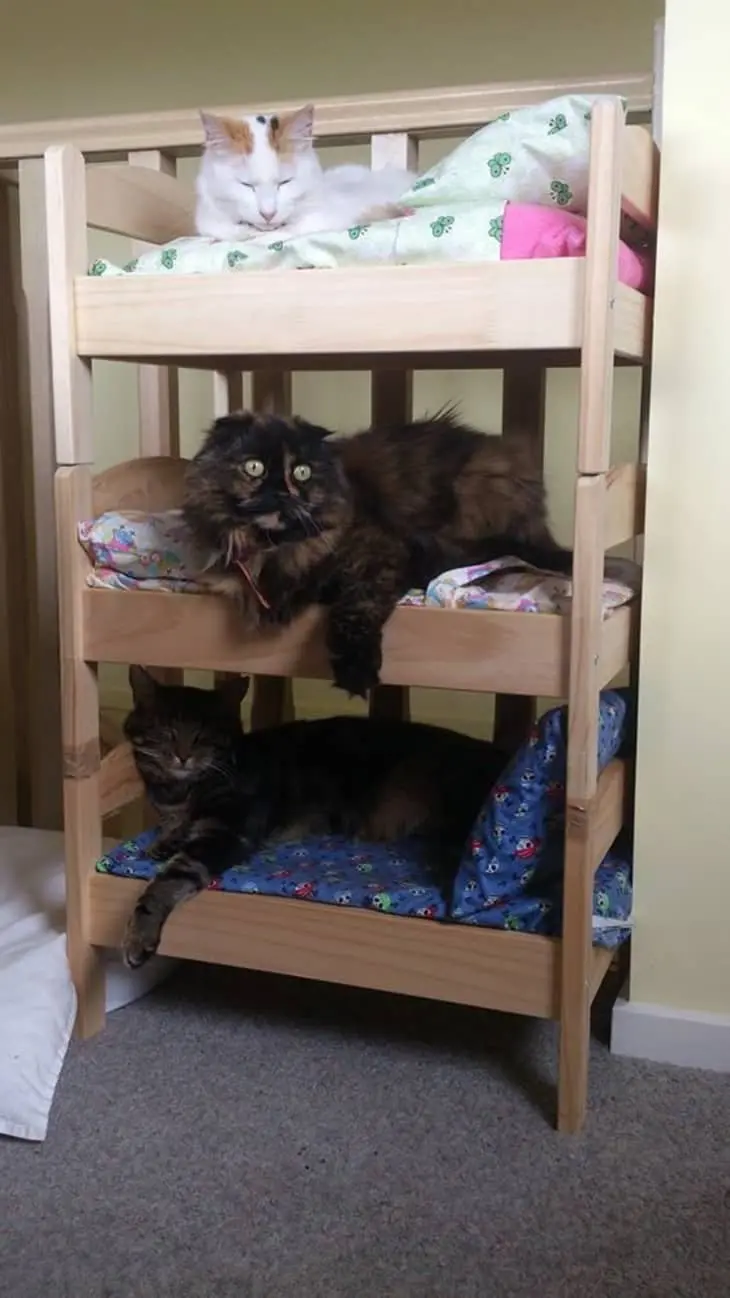 Credit: apartmenttherapy.com
This cute and functional bunk bed is perfect if you're a parent to more than one cat. It's super easy to make, too!
You will need three Ikea DUKTIG doll beds (or more depending on how many fur babies you have). Remember to use a strong-hold wooden glue to ensure that the beds stack together securely.
16. Top-Entry Litter Bin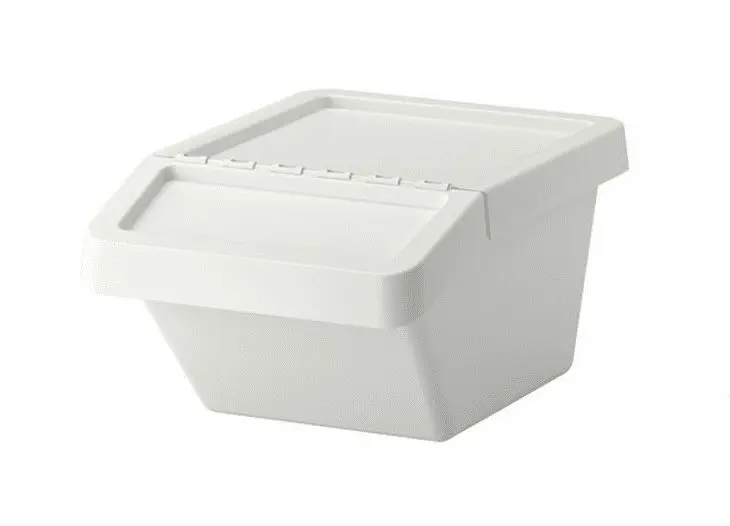 Credit: apartmenttherapy.com
Top-entry cat litter boxes are great for keeping your cat's litter space mess-free. This means less cleaning for you and makes it more hygienic for your space.
The downside is, top-entry litter bins can cost incredibly more than the standard ones. The upside: an Ikea SORTERA is an inexpensive DIY alternative! Genius, right?
17. DIY Multisensory Cat Gym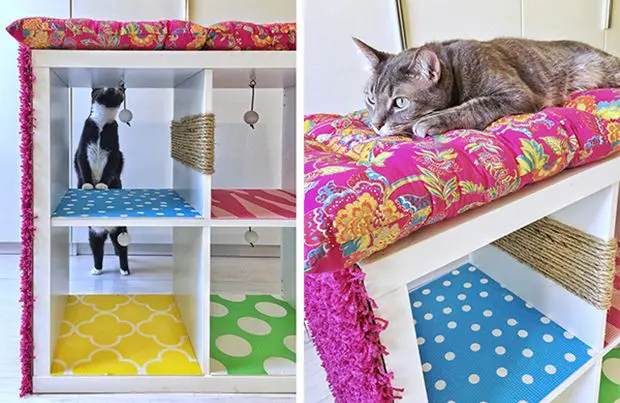 Credit: pawculture.com
Cats need stimulation, and this multisensory gym is the perfect way to achieve that. Your furry pal will have hours of mental and physical exercise in this space.
You will need a few KALLAX shelf units, jute twine, cushions, these colorful foam mats, and other cat-friendly stuff.
The best thing about creating this yourself is that you can decorate it to match the room's décor and your cat's personality.
Check out more IKEA hacks like this!
18. DIY Couch-Side Cat Scratcher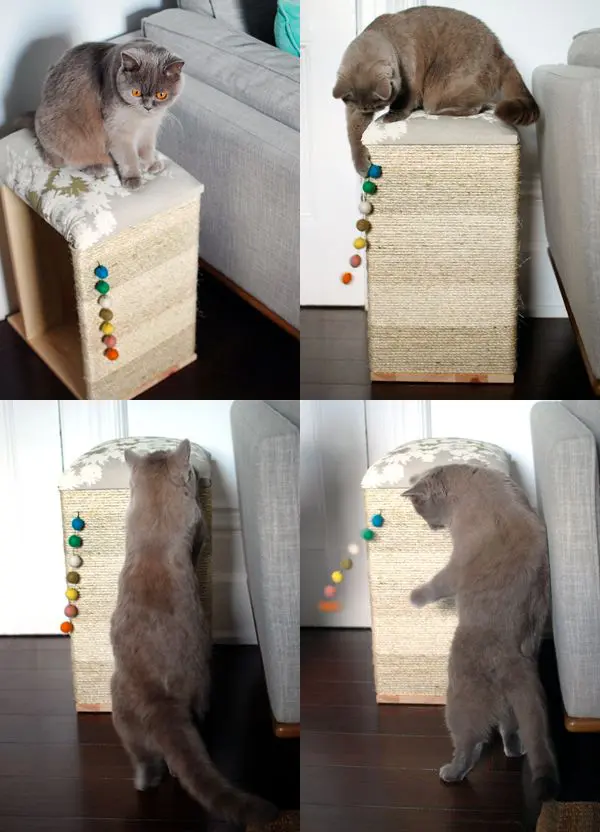 Credit: we-are-scout.com
Binge-watching your favorite TV series can be a very therapeutic and enjoyable experience. But your cat may not agree, and they may end up interrupting you from time to time.
Create this stylish modern cat scratcher and place it beside the living room couch. This way, your furry baby is entertained while you watch a bit of entertainment, too.
19. Coffee Table Cat Lounge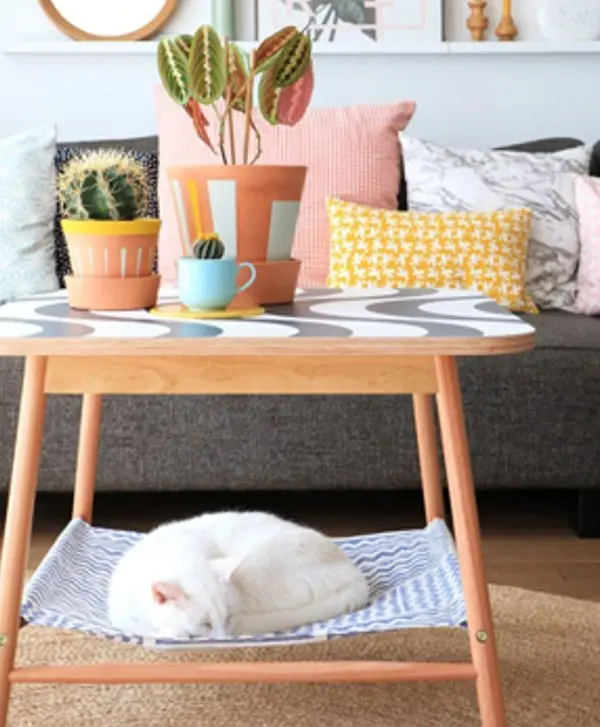 Credit: typicallytopical.com
This stylish cat lounge is another alternative cat space for the living room. It looks so relaxing, doesn't it?
Pick your own choice of Ikea nesting or side tables and fit it with a sturdy yet flexible cloth for the hammock. If this was big enough to fit humans, I'd probably want one too!
20. Mobile Cat Hammock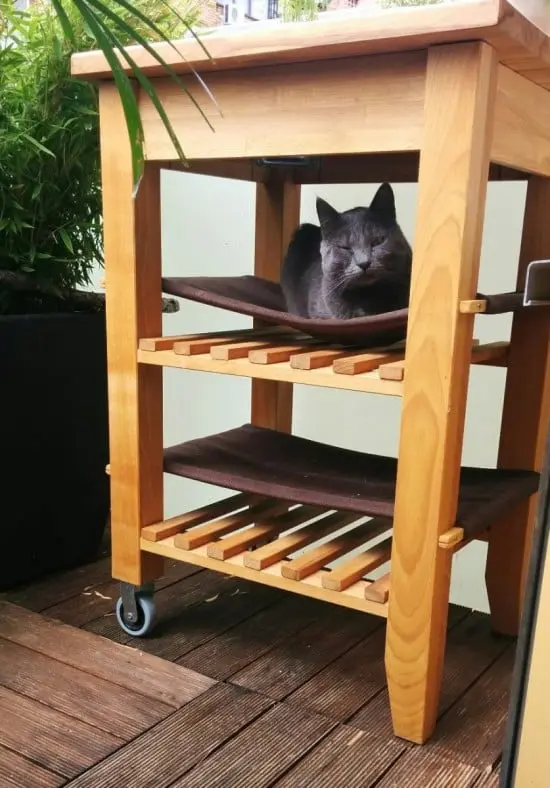 Credit: ikeahackers.net
If you loved the previous hack, you'd probably love this more. This mobile hammock version has two levels: perfect if you have a few cats at home.
You will need an Ikea BEKVAM cart and your choice of fabric for the hammock. You will also a fabric stapler like this to complete the project.
Conclusion
What hack are you most likely to do for your fur baby? Have you done any other Ikea cat hacks have other than the above? I would love to hear about it in the comments.