Looking for large group activities for preschoolers? You're in the right place. Keep them engaged with these fun and entertaining activities.
Keeping a large group of any kind occupied and entertained can be a daunting task. Finding fun ideas to keep a large group of preschoolers occupied? Well, that requires prayer, a miracle, and maybe one of these 31 large group activities to help you along the way.
Check it out!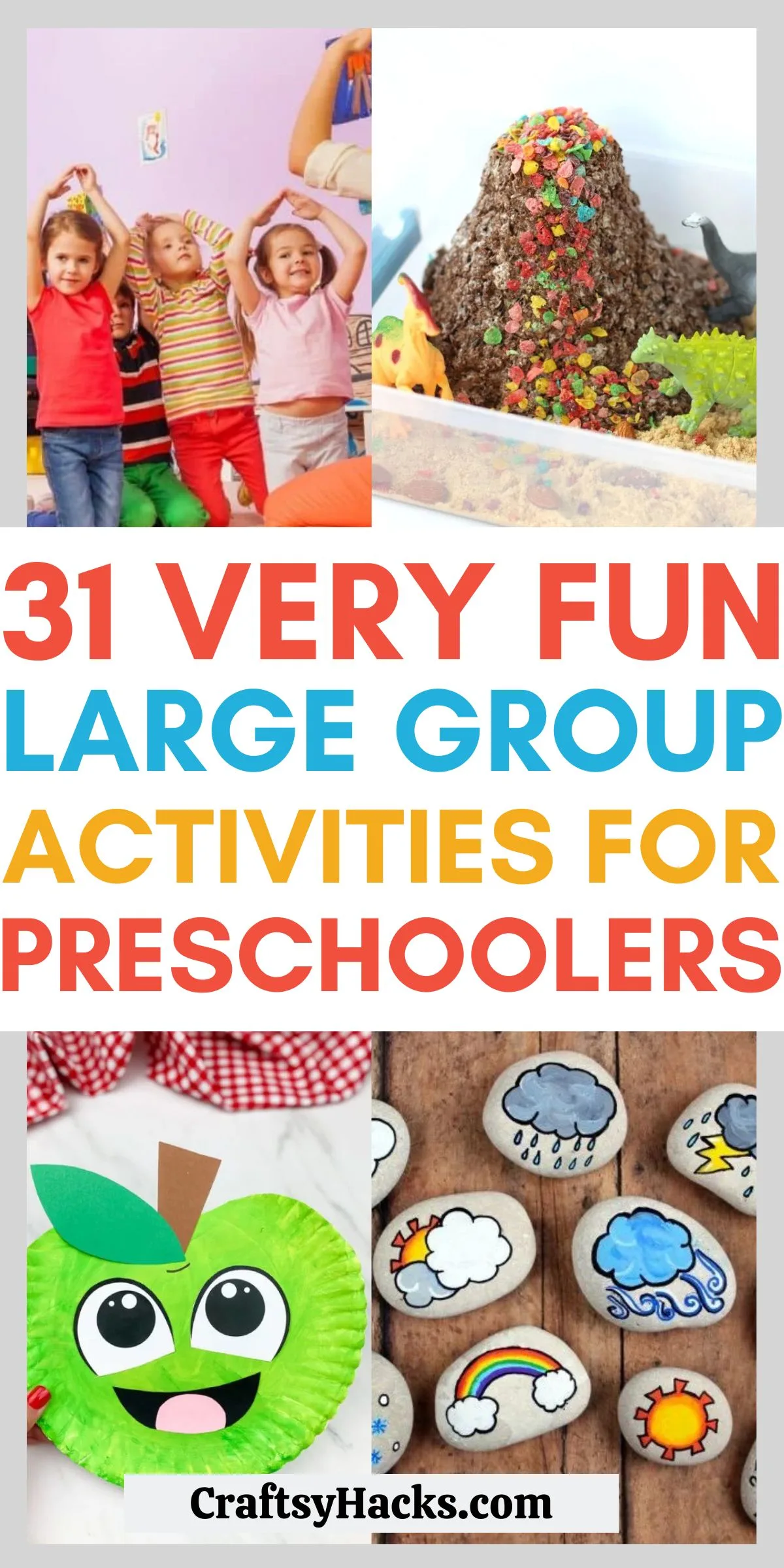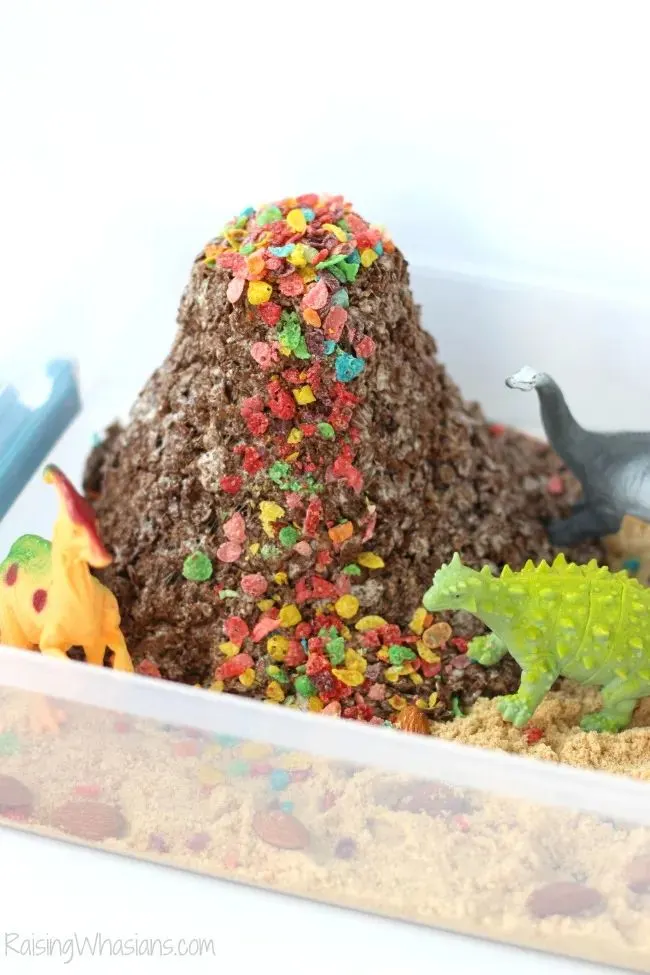 Source: raisingwhasians.com
Every science fair in the history of science fairs has featured at least a couple of volcanoes. But has it ever featured an edible volcano that also has—wait for it—dinosaurs?
Intrigued? Check out this dinosaur sensory bin which is actually also an edible volcano young children will love. I bet your preschoolers are going to get a kick out of making this, and it's just the kind of fun activities that they can really look forward to.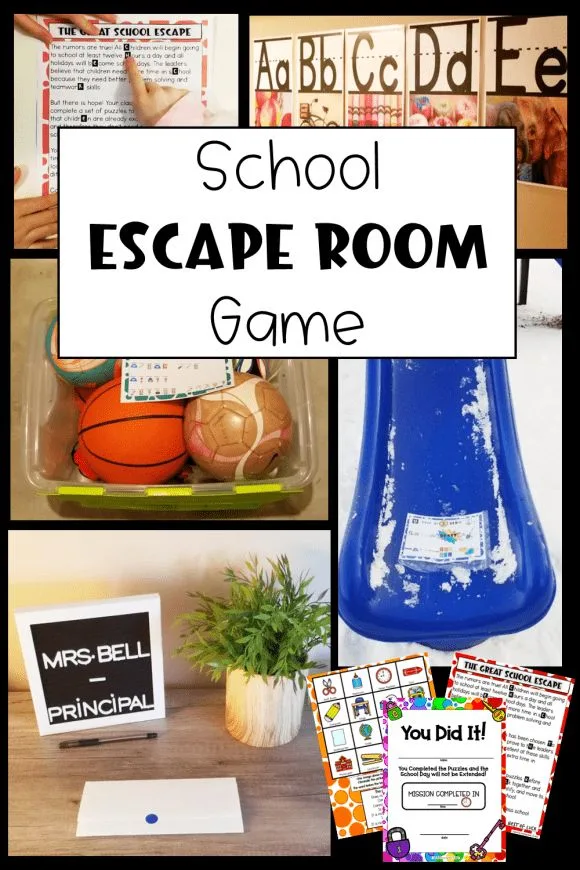 Source: teachingideas.ca
Have you ever thought of organizing an escape room activity for a large group of… preschool children? I bet that sounds terrific and terrifying at the same time.
But it's definitely an exciting activity to plan and execute and a great way to celebrate a school event like a fair or activity day. This escape room idea can also be extended to a school-wide activity for a fun way for kids to come together and increase social skills!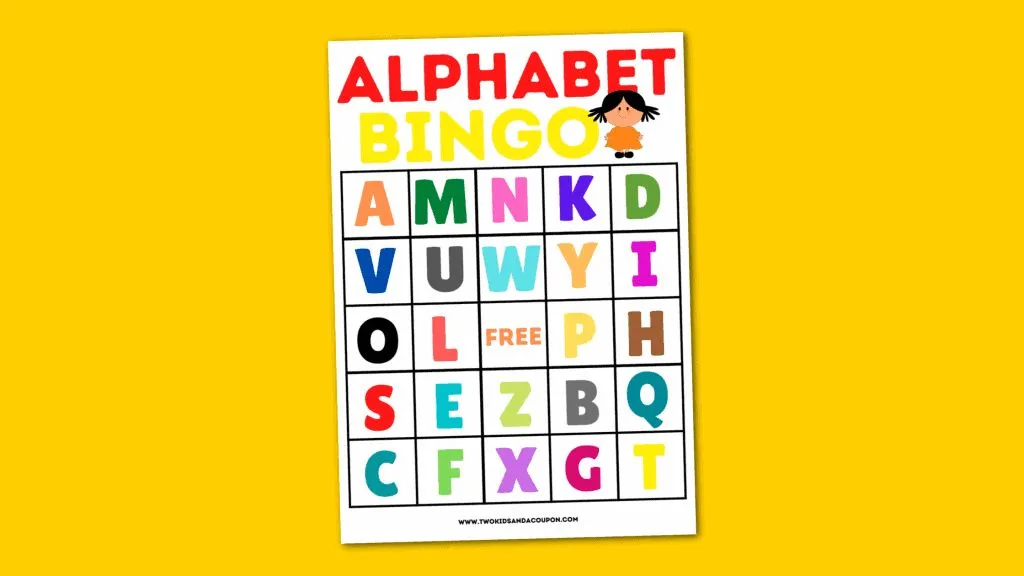 Source: twokidsandacoupon.com
I love a good classic game of bingo. It's just the right amount of excitement and fun but can also help with teaching your preschoolers to listen to cues, follow up, and keep track of their progress in your preschool classroom.
You can use bingo to help them practice the alphabet or numbers. There's a free template provided to help you along the way; just download and print it, or make up your own bingo card sheet, as well!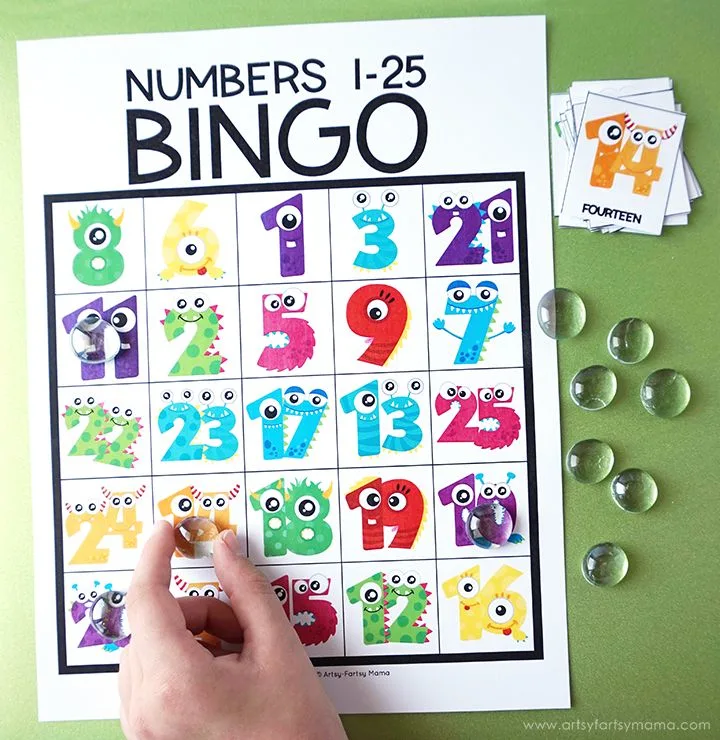 Source: artsyfartsymama.com
If your kids loved alphabet bingo and you noticed that their knowledge of letters and their ability to recognize and recall them has improved, then check out this number bingo activity.
The same method stands, just print the template, hand them out to your preschoolers along with pencils or fun stamps, and just start calling out numbers!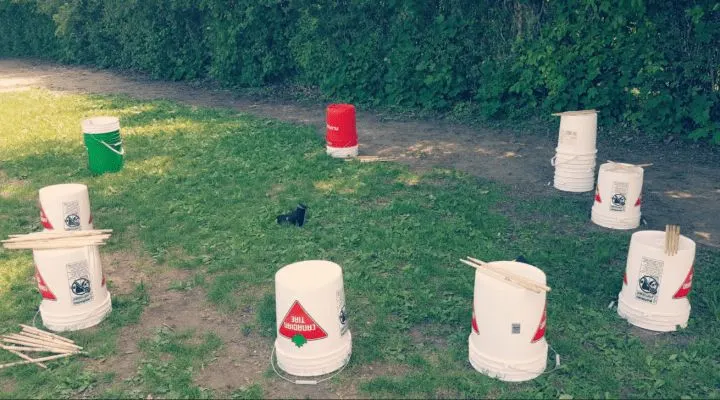 Source: teachingideas.ca
Don't tell me you never had the urge to join a band and become a drummer when you were little. Kids as little as preschoolers get a kick out of drumming—it's the joy of turning noise into music that gets them going.
The easiest way to make your own set of drums is to just upturn an old bucket, find a couple of spoons and ladles and just let them have a blast. If you don't mind a veritable din, then you can use pots and pans, too for this great game!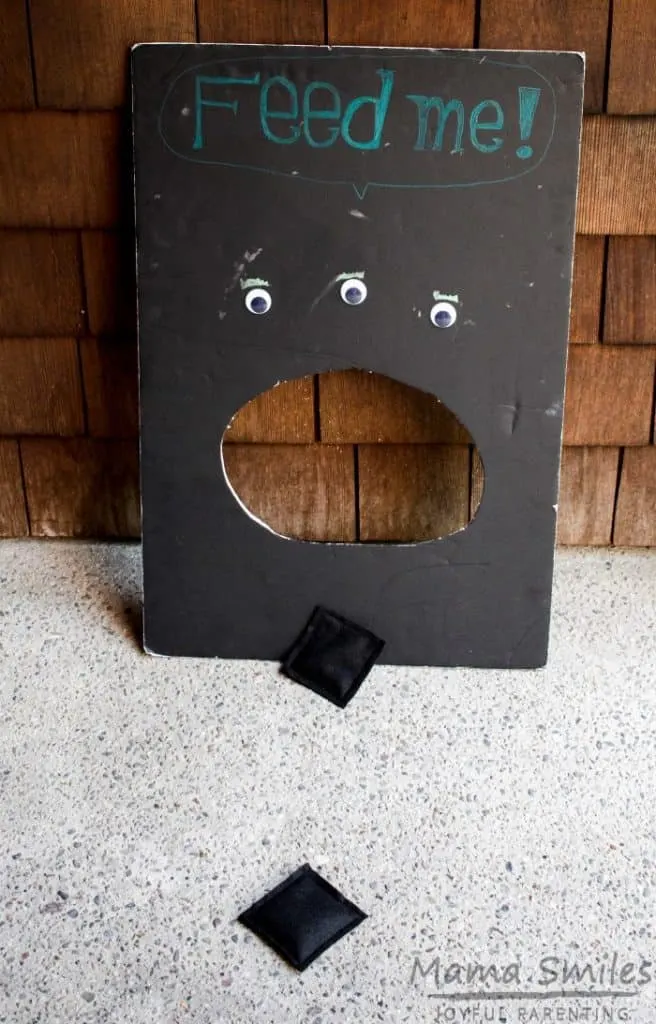 Source: mamasmiles.com
I played a few rounds of bean bag toss just last week, and I'm a full-fledged adult. Just imagine how much a large group of preschools will enjoy playing it during circle time.
It's a great activity you can keep in mind for when you have a large school celebration like a fair or a carnival coming up. It's super easy to set up, and for your preschoolers, you can make a cute 'Feed Me' monster version of this game! This is one of the best preschool activities for gross motor skills.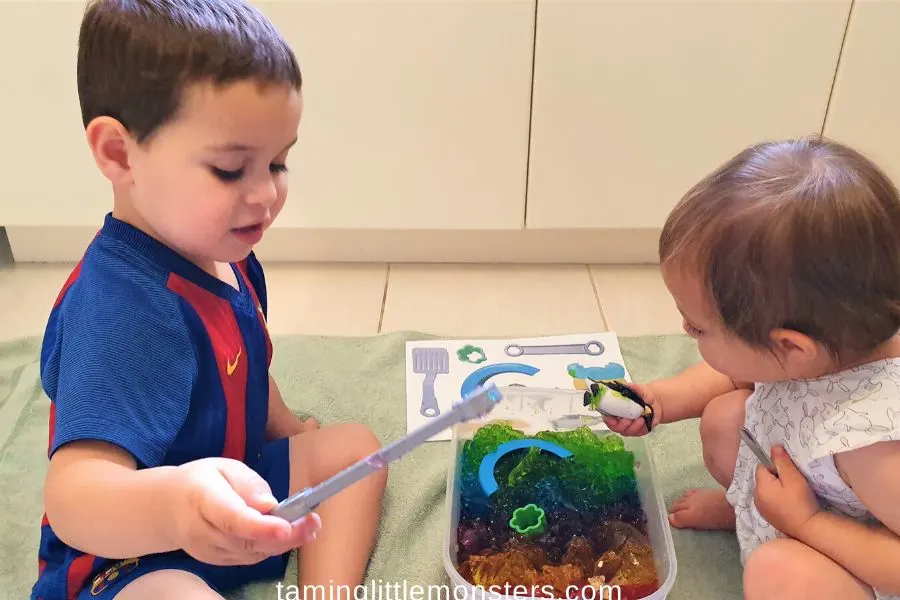 Source: taminglittlemonsters.com
Sensory activities are super important for the entire class of young kids. They can help them get used to new textures and different colors and can help them adjust to new sensations and feelings.
One of my favorite sensory bins includes rainbow jelly—a combination of jiggly jelly and a rainbow of colors. Your whole group of preschoolers will simply love squishing around in the jelly trying to find little treasures in there with this fun activity to improve their gross motor development.
If some of the jelly finds its way into their bellies, then that's just a bonus.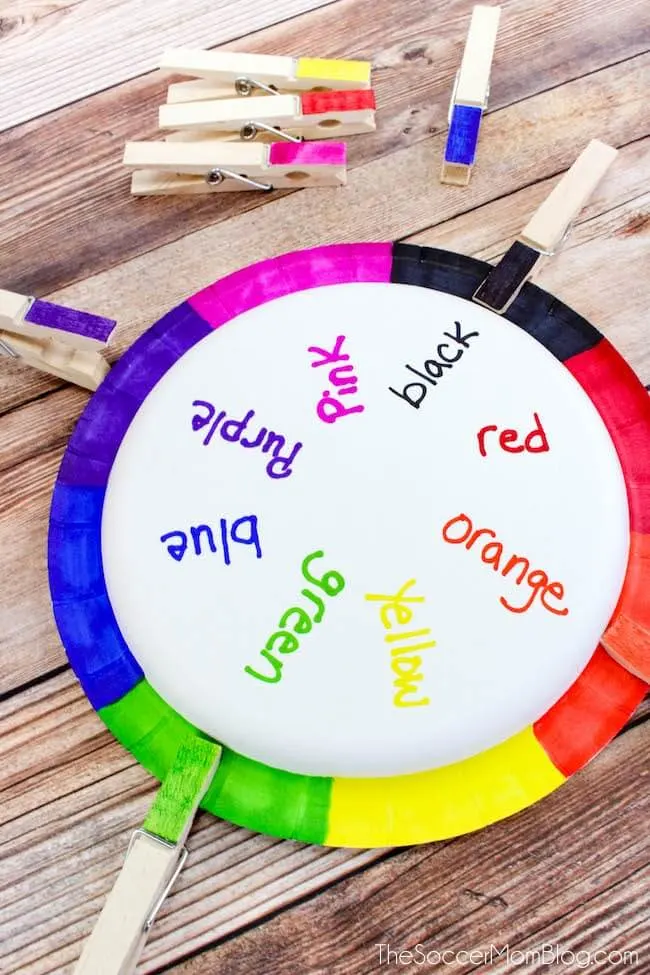 Source: thesoccermomblog.com
Speaking of colors, have you tried easy activities where your preschoolers get to match colors? It's quite a good idea to practice and encourage color recall and recognition, not to mention fun for a group of toddlers.
This activity can be adapted to fit different age groups and skill levels for kids in their preschool years or school-age children, too! You can use a rainbow color wheel, too, to not just teach them color matching but also to read and recognize the corresponding color words, as well!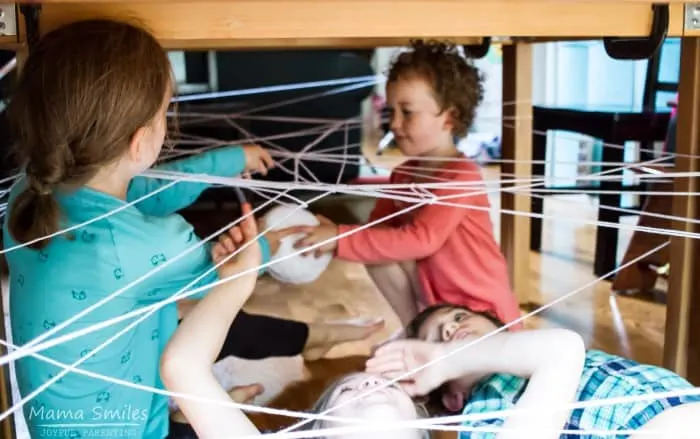 Source: mamasmiles.com
Obstacle course activity ideas like this cute spider web obstacle course are ideal for when you've got a large number of rambunctious kids stuck inside a schoolroom on a rainy day. Just herd them into a room and set up the spider web obstacles.
All you need for this preschool activity is some string, and all you have to do is loop the string across the room in a web-like pattern. In fact, you can have your preschoolers do this for you, and that in itself is a collaborative activity for team building.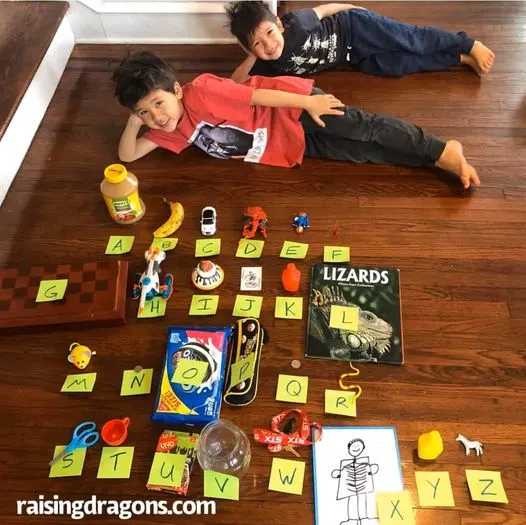 Source: kidsactivitiesblog.com
An easy game of scavenger hunt can help tire kids out, especially preschoolers, before naptime. The best part about scavenger hunts is that they are so versatile, and you can have so many varieties and themed hunts.
Check out this alphabet scavenger hunt. All you have to do is have your kids look around a space—outside in the playground or even inside the classroom—for objects that start with the different letters of the alphabet.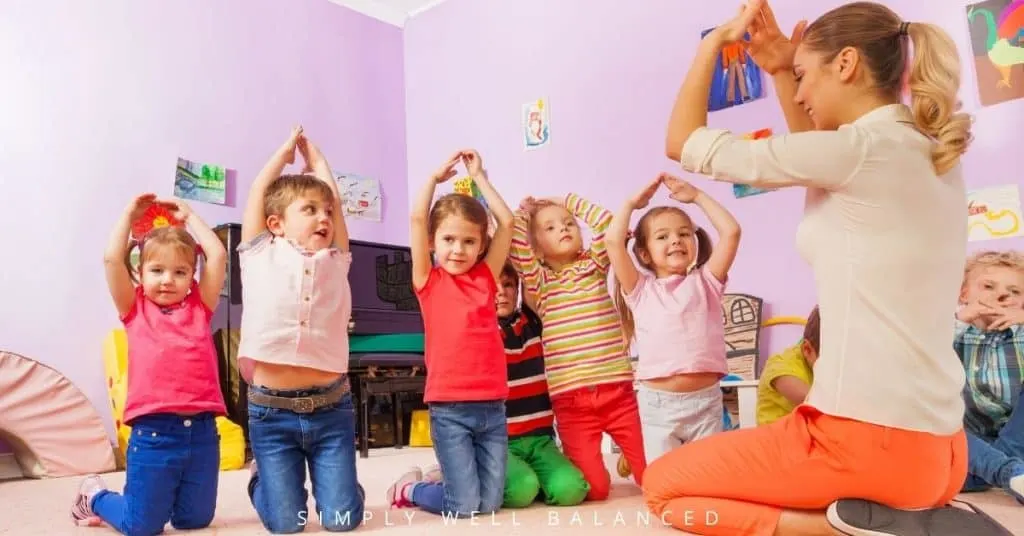 Source: simply-well-balanced.com
There are so many ideas when you want to play a round or dozen of Simon Says with your preschoolers. This is the kind of activity that can keep a large batch of them occupied and under your watchful eye at the same time—you are Simon, after all.
Here are a few Simon Says commands that you can try:
Simon Says touch your shoulder
Simon Says run in place
Simon Says hop like a bunny
Simon Says touch your toes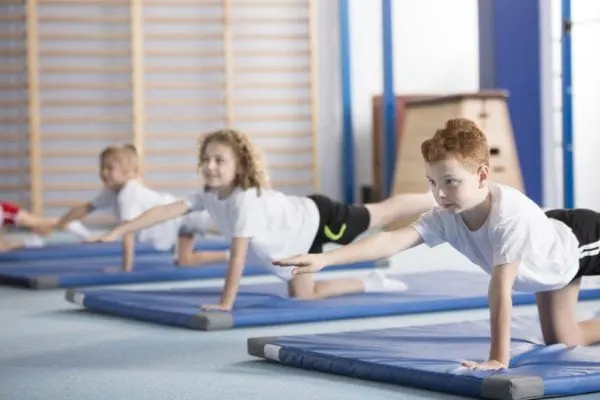 Source: kumarahyoga.com
You can never go wrong with introducing someone to yoga. Kids, in particular, can benefit from practicing yoga, and starting them off early can encourage a lifelong love for the exercise.
To keep your preschoolers interested, you can devise and plan a yoga sequence that includes the best of all that yoga has to offer. You can incorporate breathing exercises, stretches, and more to your sequence to make it fun and memorable.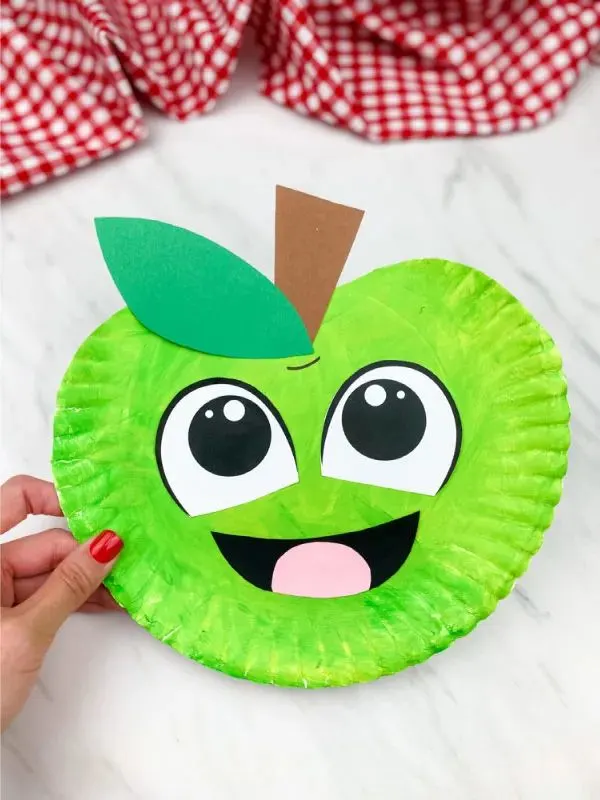 Source: simpleeverydaymom.com
Paper plate crafts are super inexpensive and easy to set up. That's what makes them ideal for when you're handling a large group of preschoolers and don't want to have to worry about the expense or hassle of setting everything up for a craft activity.
Let's start them off with a paper plate apple that requires paper plates, paint, cardstock, and your basic craft essentials. There is also an apple template that you can print and hand out to your kids to help them along the way.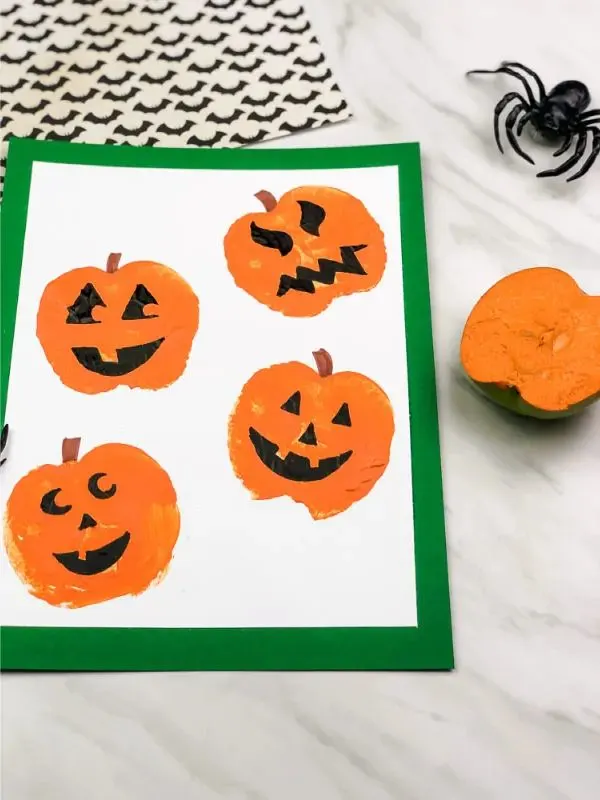 Source: simpleeverydaymom.com
Did your kids love that apple-themed craft activity? Well, that's good because one can never get enough of apples and apple-related crafts.
Check out one more apple craft—an apple pumpkin stamping activity that is fun and just the right amount of messy to entice your kids to stay involved and participate.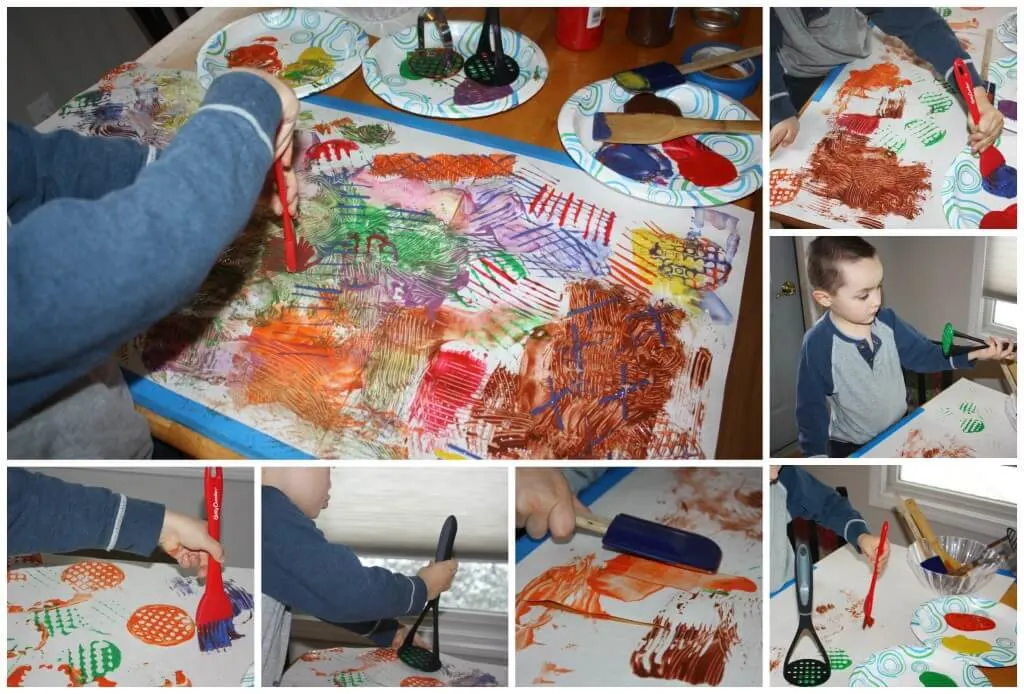 Source: littlebinsforlittlehands.com
Collaborative art activities are ideal for when you've got a whole bunch of preschoolers who need to be kept occupied by being made to keep themselves occupied. You've got to keep finding fun and creative activities for them, and the easiest way to do that is to make the best use of the supplies you already have.
Grab a whole lot of kitchen utensils and set them up to be used as applicators in a painting activity. Your kids will get a kick out of the different prints and designs they can come up with using, say, a whisk, to paint a picture.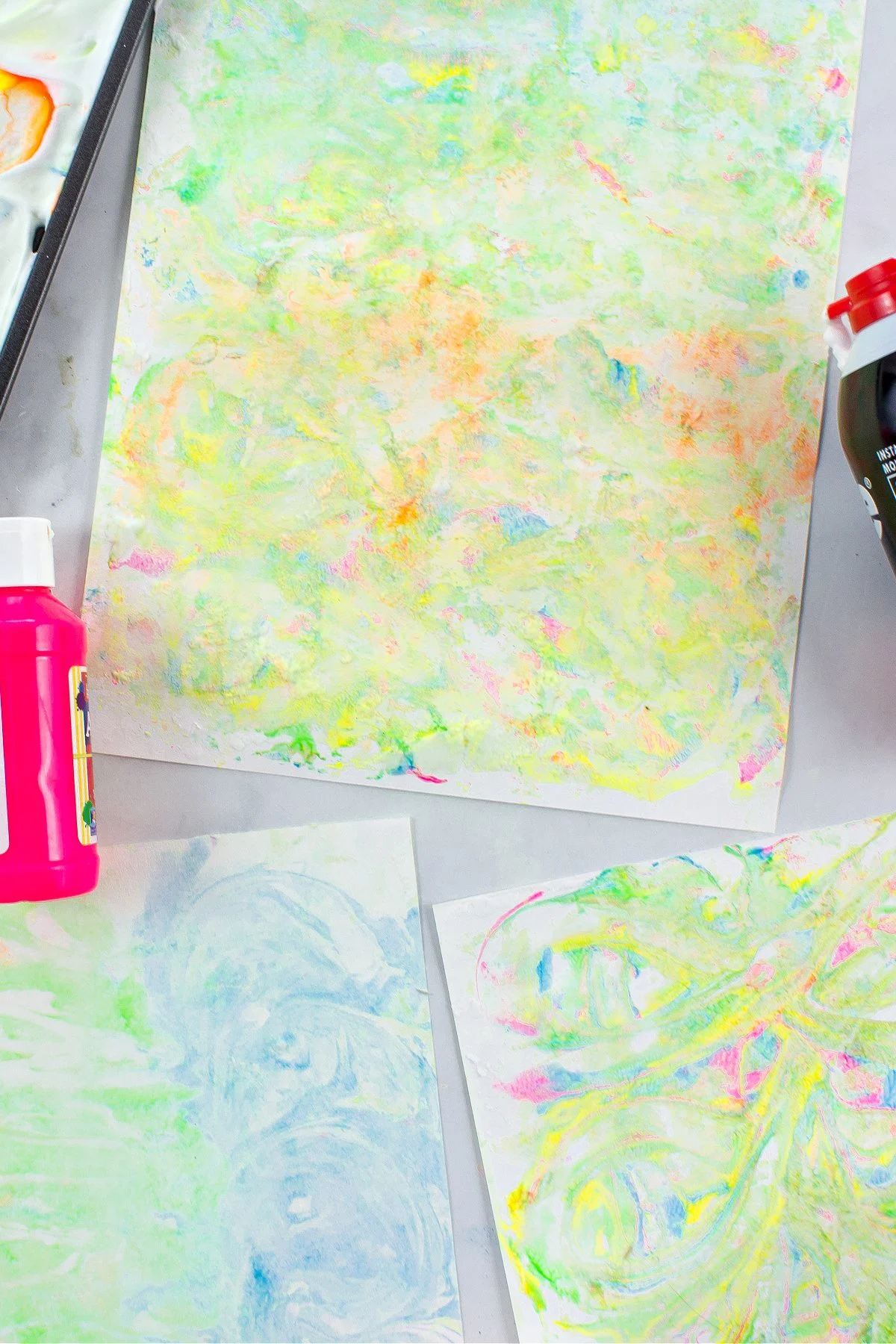 Source: kidsactivitiesblog.com
The next time you're at a supermarket, go ahead and pick up a few bottles of shaving cream. Why? Well, you're going to whip up a batch of shaving cream paint for your preschoolers to paint with.
Grab a few bowls and fill them all with shaving cream. Then just add a few drops of paint to it. You can mix tempera acrylic paint with shaving cream and make the paint as dark or light as you want.
For a more fluffy outcome, just add a few blobs of glue, et voila!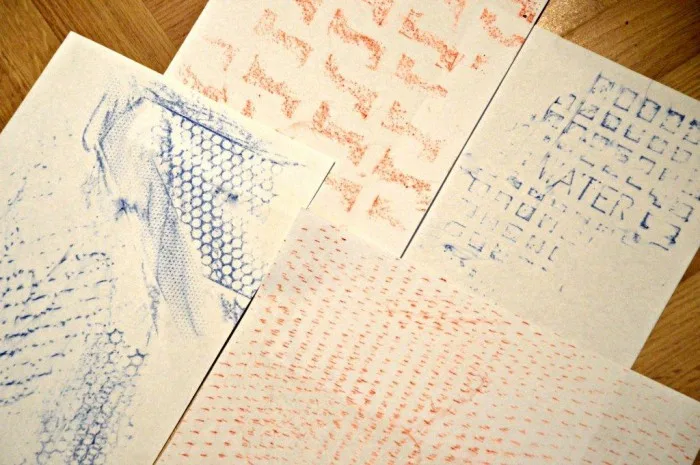 Source: redtedart.com
Texture rubbing art is nothing other than print-making art. You use a pencil, crayon, or some kind of colored applicator and run it over the surface of a textured object like a leaf, for example.
You will find that the lovely veins and patterns on the leaf—effectively all the raised elements of the leaf—will be emphasized. Your kids will love reproducing a print of whatever object they use on a new sheet of paper!
Source: theinspirationedit.com
When you know how to whip up your own batch of playdough from scratch, there's nothing stopping you from taking on the world. Or at least a classroom full of preschoolers in dire need of some sensory playdough activity to keep them occupied.
This fall sensory craft is just so wonderfully unique and textured, with beautiful and colorful leaves in all its fall splendor. With a few cookie cutters, your kids can make their own branches and leaves.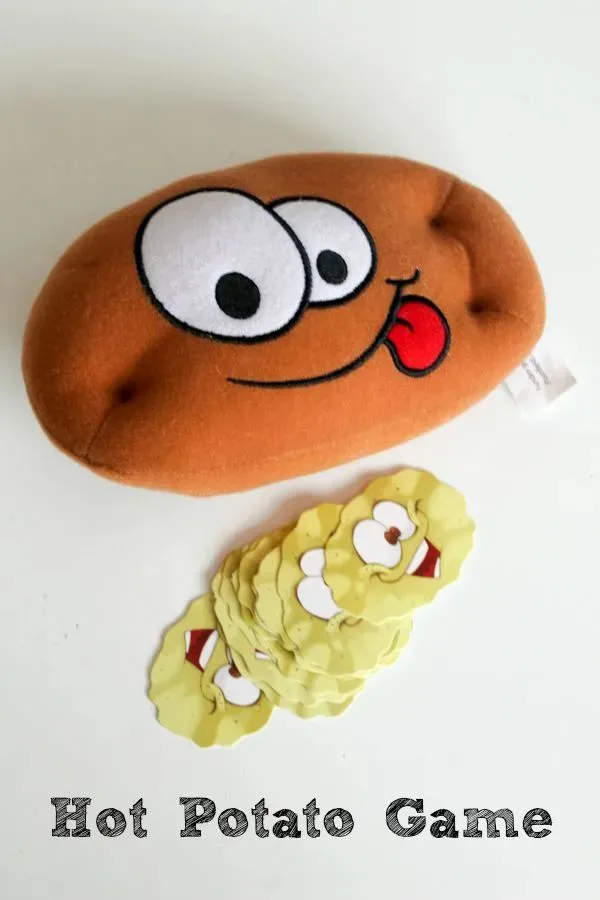 Source: intheplayroom.co.uk
This is a traditional, timeless, and fun game that works really well with large groups—like a classroom of preschoolers, for example. You've got a big 'hot' potato and a whole lot of 'potato' chips.
The kids have to pass the hot potato and whoever happens to hold the potato when the music stops picks up a chip. The person who gets three chips is the first to leave the game.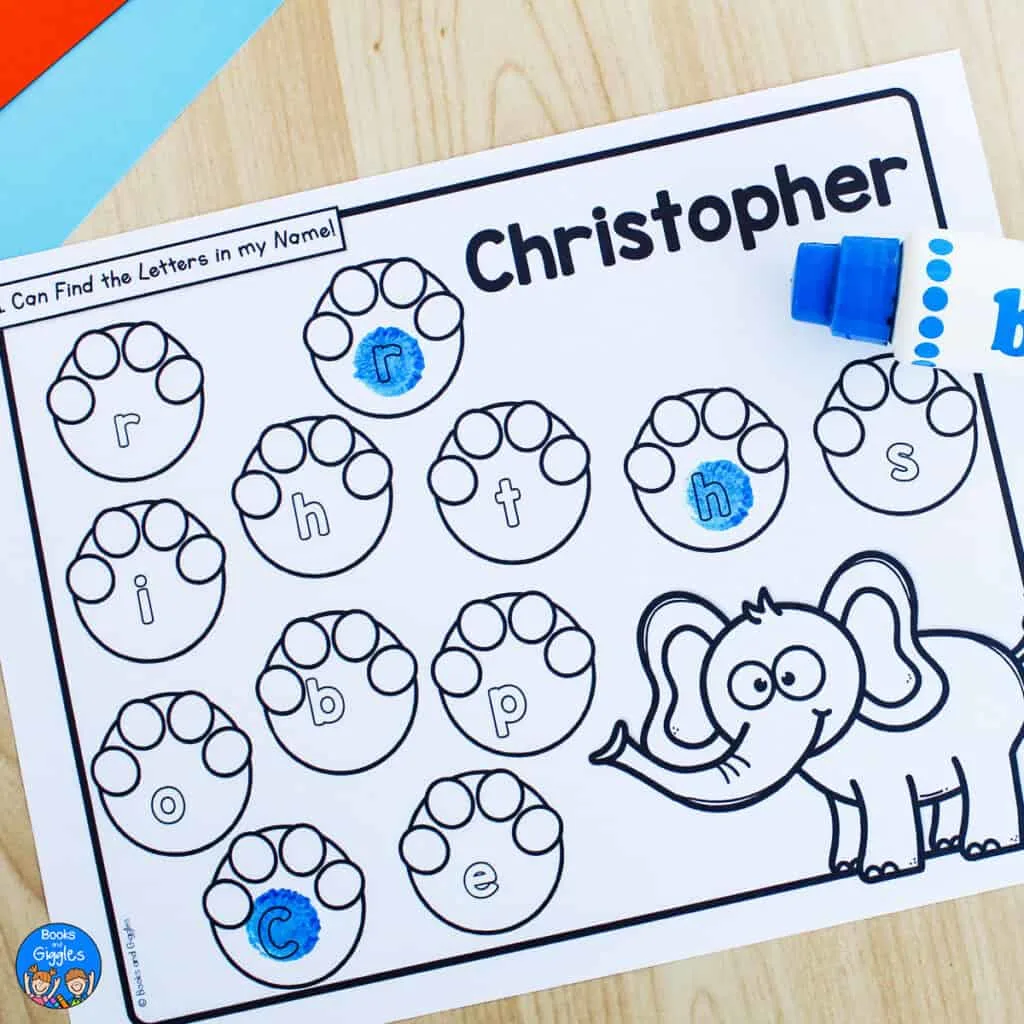 Source: booksandgiggles.com
I don't need to tell you how important it is for kids at that preschool age to be able to recognize and recall the letters of the alphabet. Even more important is for them to be able to recognize the letters in their name.
So here's a fun and relevant activity that can help you with that. It's a zoo-themed worksheet, but you can always switch that out for whatever theme you like.
Source: kidsactivitiesblog.com
Nothing like a big and colorful-looking mystery box and the promise of a big reveal to keep your kids in place till the end of class, right? Well, this box is actually an activity, one which is going to be a treat for all the senses.
To help your kids channel and focus on their senses, you need to introduce one in the absence of the others so as to not overwhelm them. This mystery box can help them focus on their sense of touch.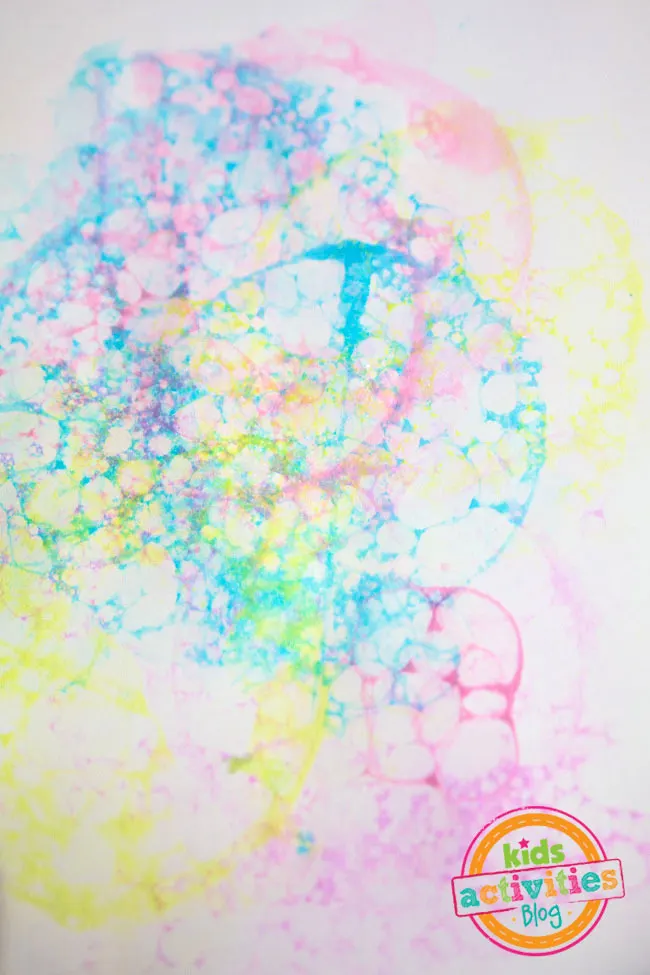 Source: kidsactivitiesblog.com
When bubble art activities incorporate fun and a dash of science, they're just the absolute best way to entertain a group of preschoolers. It's a learning opportunity to explain different science concepts—like hyperbolic pressure, for example—in a fun and interesting way.
Besides, there's a whole lot of messiness involved that every preschooler in the vicinity is just going to adore. Just remember to have plenty of paper towels ready!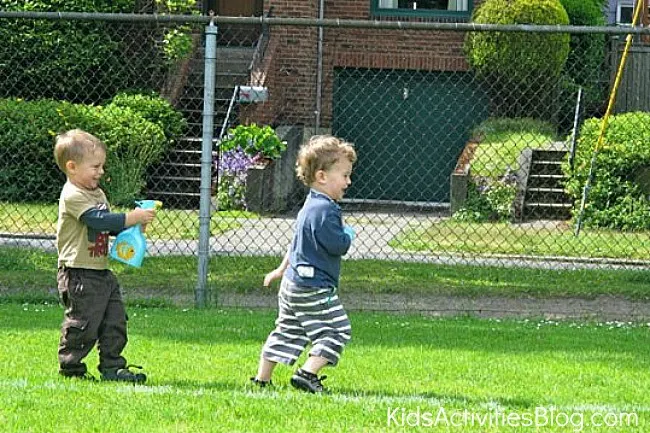 Source: kidsactivitiesblog.com
The next time you take a big bunch of rowdy preschoolers outside to the playground during recess or to the park for a picnic, here's an activity you can try: freeze tag, but with a twist! It's definitely inspired, I can tell you that.
It involves spray bottles, water, and preschoolers—all of which is a recipe for messy fun! Gather your players, fill up the spray bottles, and get started!

Source: teachingideas.ca
I find that kids just love being outside as much as they possibly can—weather and elements be damned. That's why a sensory activity that is also a learning experience outdoors can be a perfectly planned lesson plan.
If you take your kids outside on a fall afternoon, they're going to see all the fall-colored foliage, hear and feel the leaves crunching under their boots, taste the cold air on their tongue…doesn't that sound splendid?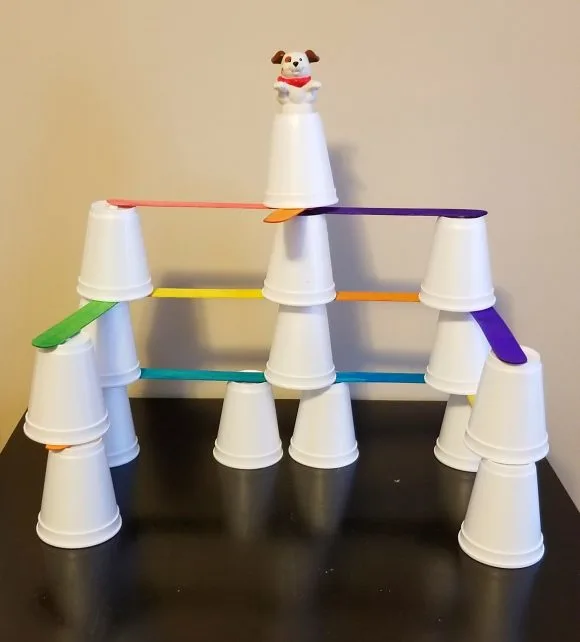 Source: teachingideas.ca
Do you want to encourage your preschoolers to grow, to solve problems, and to build something? Do you want to do all that with just one activity?
Then check out this fun STEM challenge activity that promotes coordination and fine motor skills, too. Here's a list of materials you will need: cups, large popsicle sticks, and a plastic character.
You can also use tongue depressors, craft sticks, or even cut-out cardboard strips for this project—whatever you have on hand works.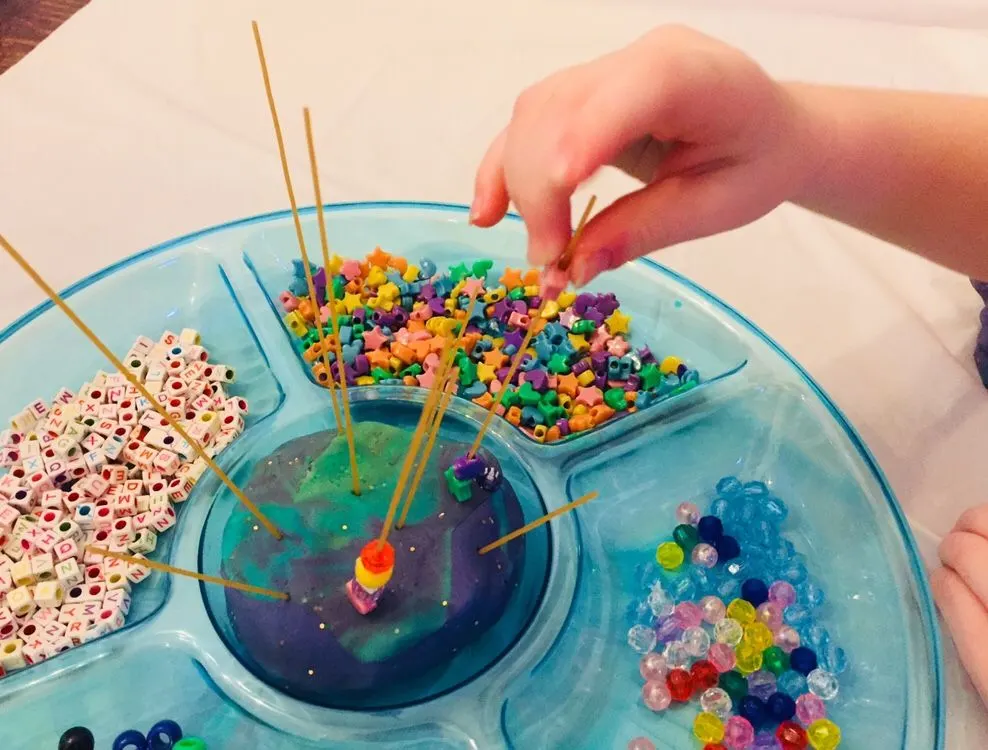 Source: glitteronadime.com
I have a big box of beads that I've been collecting over the years. It's usually a big jumble of spaghetti beads, perfect for an activity like this.
To get started, you will need to grab a few dry spaghetti sticks from your pantry, as well as your stash of beads. You know that rainbow-colored lump of playdough left over from the last time your kids played with it? Grab that as well!
Now stick the spaghetti sticks into the clay and start beading them!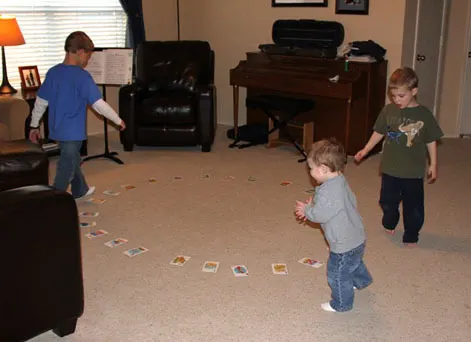 Source: kidsactivitiesblog.com
There's something about musical chairs that really get me going, so imagine what it will do for a bunch of rowdy kids. Hopefully, at the end of it they'll be tired out, and you can get them working on something academic.
For this game, you will need flashcards to hold up the alphabet, or you can make your own using whatever supplies you have on hand. Sometimes, all you need are some foam letters, and that should do in a pinch.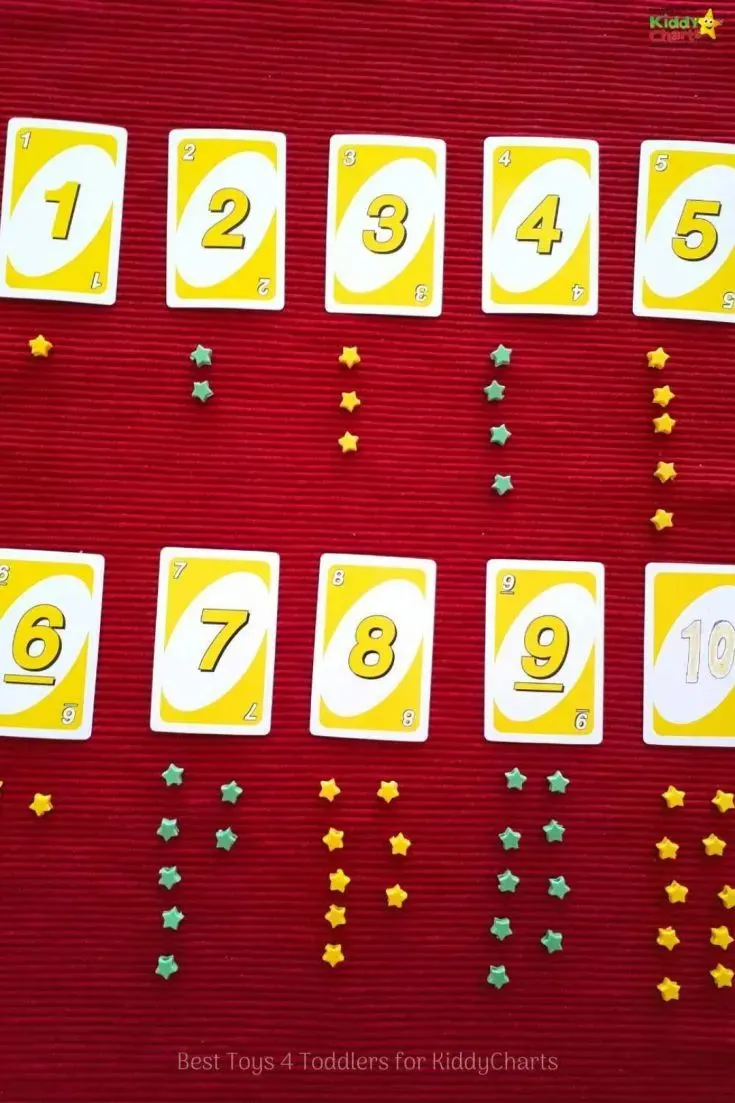 Source: kiddycharts.com
Here's a fun math activity that you can play with your preschoolers. You probably have a pack of UNO cards on you, right? Go ahead and grab it.
You can use these UNO cards to create a counting with cards game. Just one or two decks should do the trick, depending on the number of kids playing.
You can start by segregating the numbers 1-10 in each of the colors from the additional cards in the deck.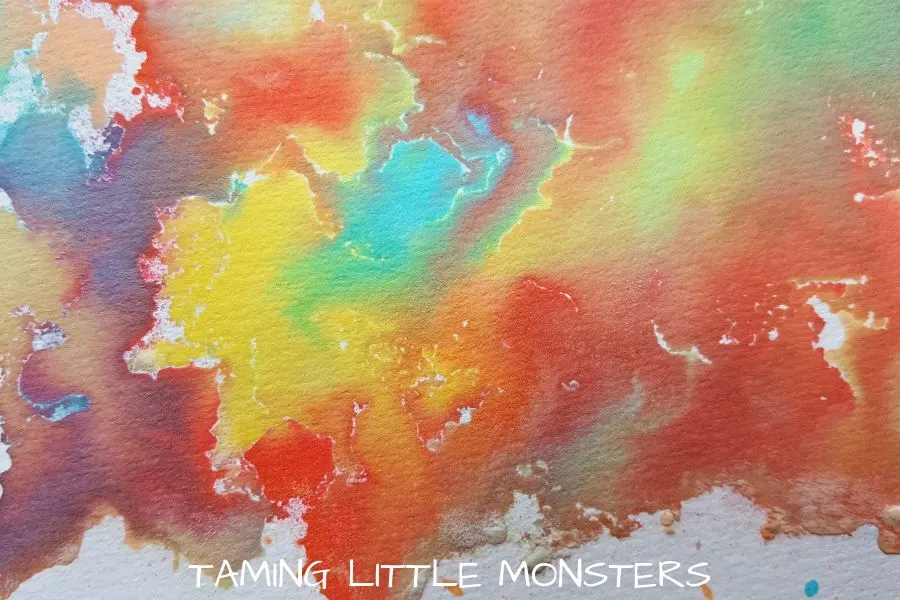 Source: taminglittlemonsters.com
What, you might be wondering, is a fizzy painting activity. Well, take a look at how this STEM activity can be a bucketload of fun and learning at the same time!
You will need to gather some supplies first, of course. Here's a list of everything you'll need:
Watercolor paper
Food coloring
Vinegar
Baking soda
Croppers
You will also need a generous number of paper towels ready on hand to help you catch spills and control the mess.
Source: kidsactivitiesblog.com
Check out these printable shadow puppets of animals! They're ideal for when you are in need of a quiet afternoon indoors and are stuck with a bunch of rambunctious preschools to entertain.
Shadow puppet play can provide hours of imaginative play, and these printables make the activity even easier to set up. Just download the different animals you need and print them out on white cardstock to begin.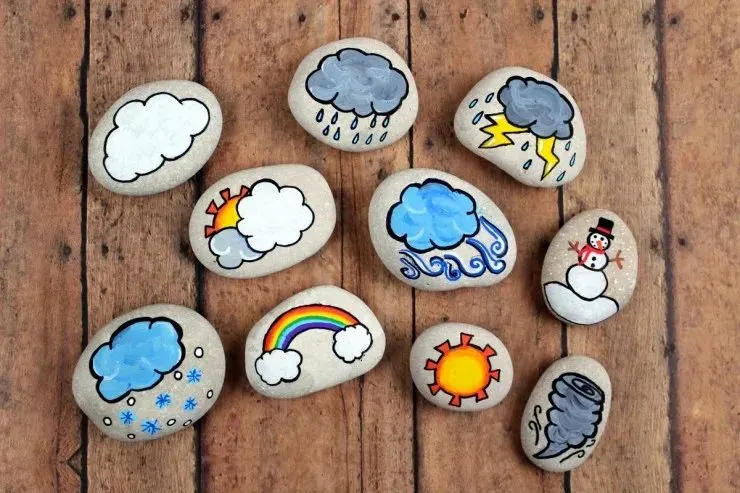 Source: frugalmomeh.com
Did you know that ancient dwellers used to carve and paint the stories of their lives on rocks and caves? Well, that just goes to show that you can use just about anything to tell a story.
For a more modern-day rendition of that, go ahead and gather some flat pebbles and get started on painting with your preschoolers!