There's always much to bring, whether you and your loved ones are heading on vacation or relaxing by the pool or beach. These brilliant beach hacks will help you have more fun in the sun!
From Sunblock to snacks and everything in between, it seems like you need eight arms just to keep up.
If you feel like you need the extra ligaments, look at this list of twenty-one beach hacks you absolutely need and then decide.
1. Freeze Aloe Vera Gel to Help with Sunburn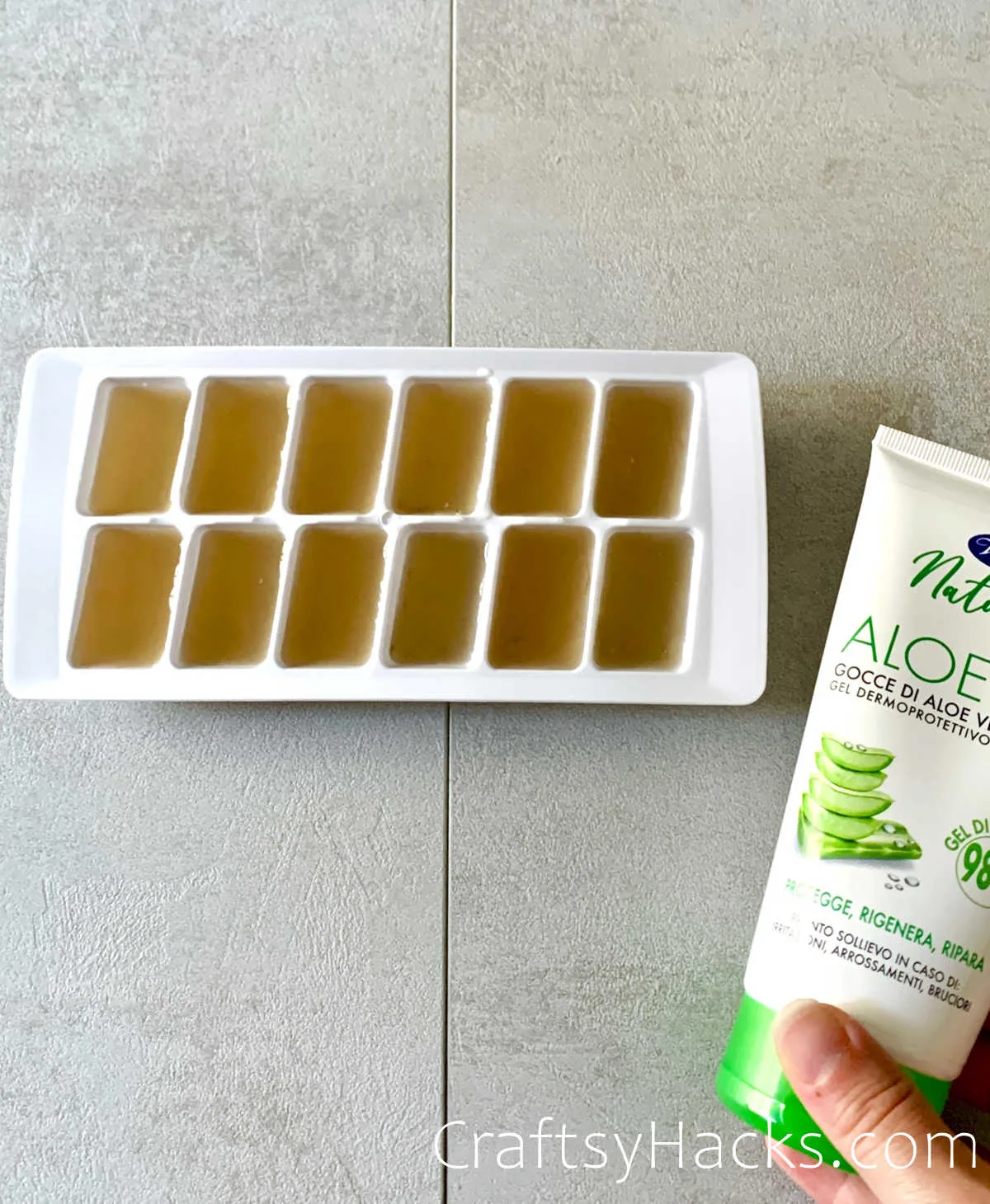 Sunburn is inevitable, and it's a fact of life that we all encounter at least once. Get proactive about that impending burn for you, your friends, or your family by freezing aloe vera into ice cube trays.
That way, whoever needs some can pop it out and apply it to specific areas. The application is easier to freeze, and the extra cooling sensation helps soothe.
2. Create an Emergency Kit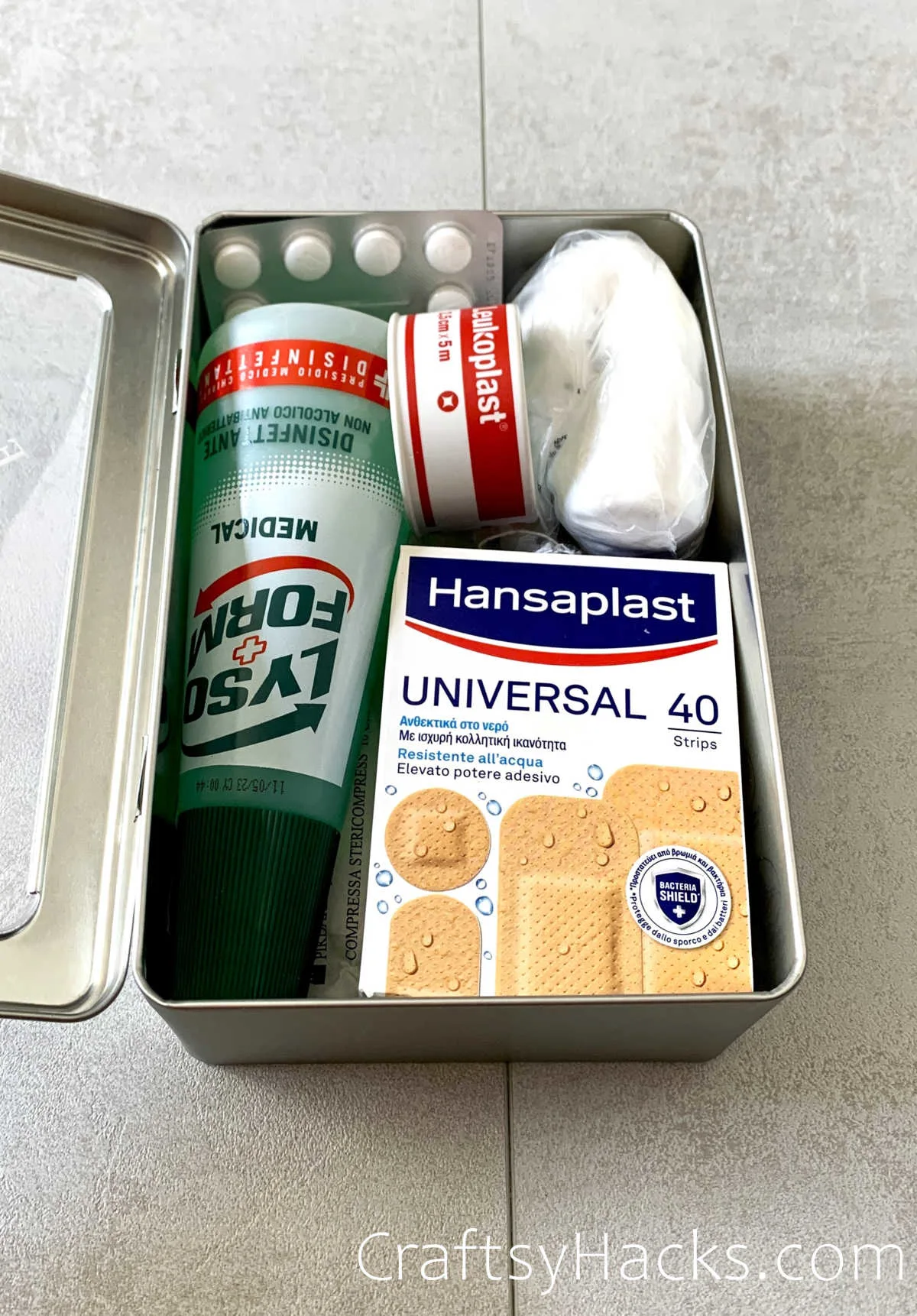 An emergency kit for any occasion is always a good idea, whether at home or on the go. Build it out with whatever needs meet your lifestyle, but make sure to have waterproof bandages like these!
Waterproof items are the main difference to keep in mind for a beach or water-oriented kit. That idea is key, and a fully sealable and waterproof case to house everything.
If you loved this smart idea, you need to know these other practical life hacks!
3. Freeze Balloons to Keep Food and Drinks Cold
If you're out of ice packs or looking to have a lighter cooler by the end of the day, there are some great alternatives! One of the easiest is filling up balloons with water and freezing.
At the end of the day, you can use them for a quick balloon game or fight–if they've thawed enough!
If you are having a beach party, this party hack is a must!
4. Freeze a Wet Sponge to Use as an Ice Pack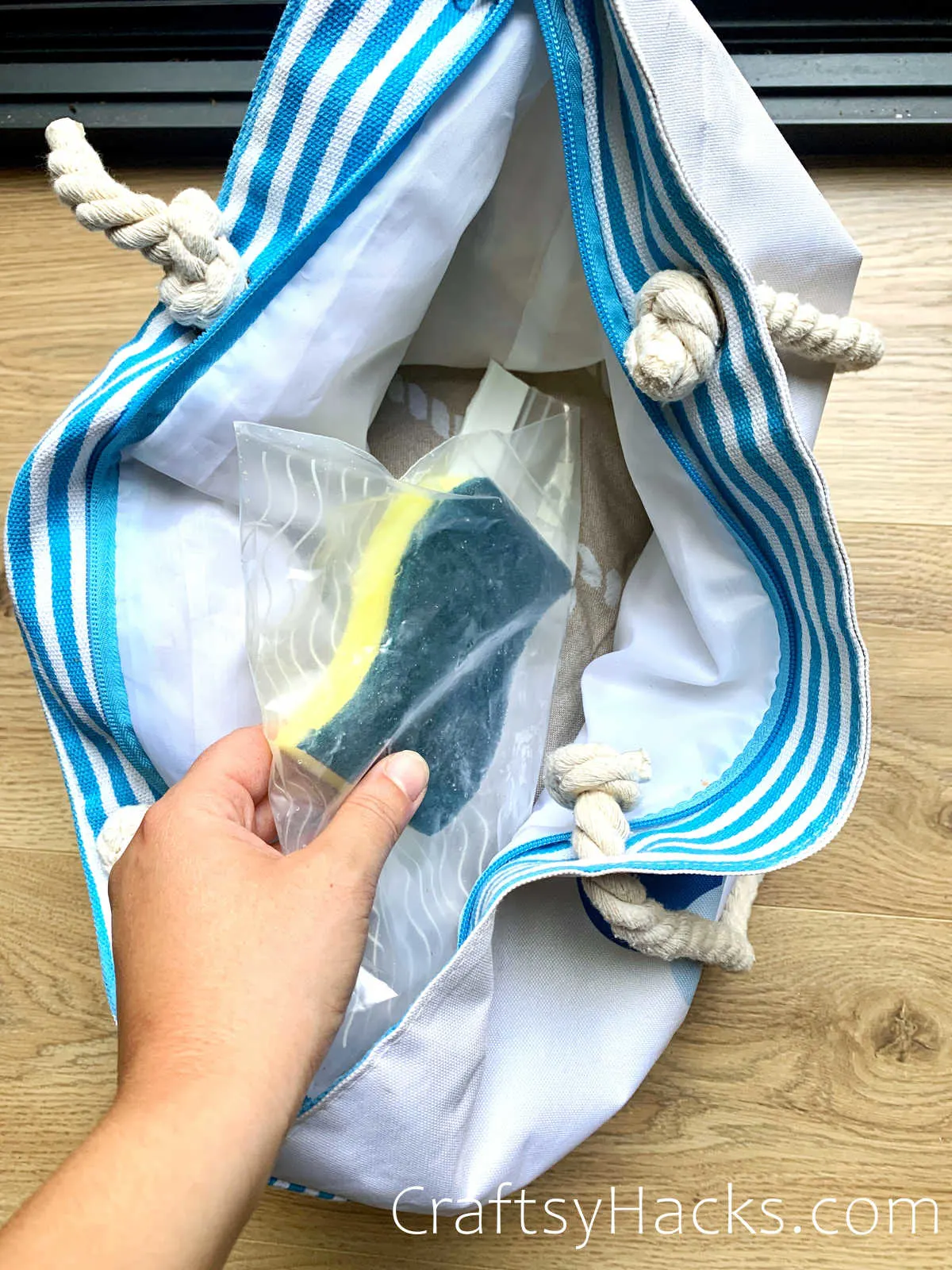 Another great option, if you don't have balloons on hand, is freezing a wet sponge.
Lightweight, can absorb water and retain the coldness for most of the day, and you can dump any thawed water out of the bag before heading home.
5. Use a Paper Cup to Prevent Sand from Sticking to Bottles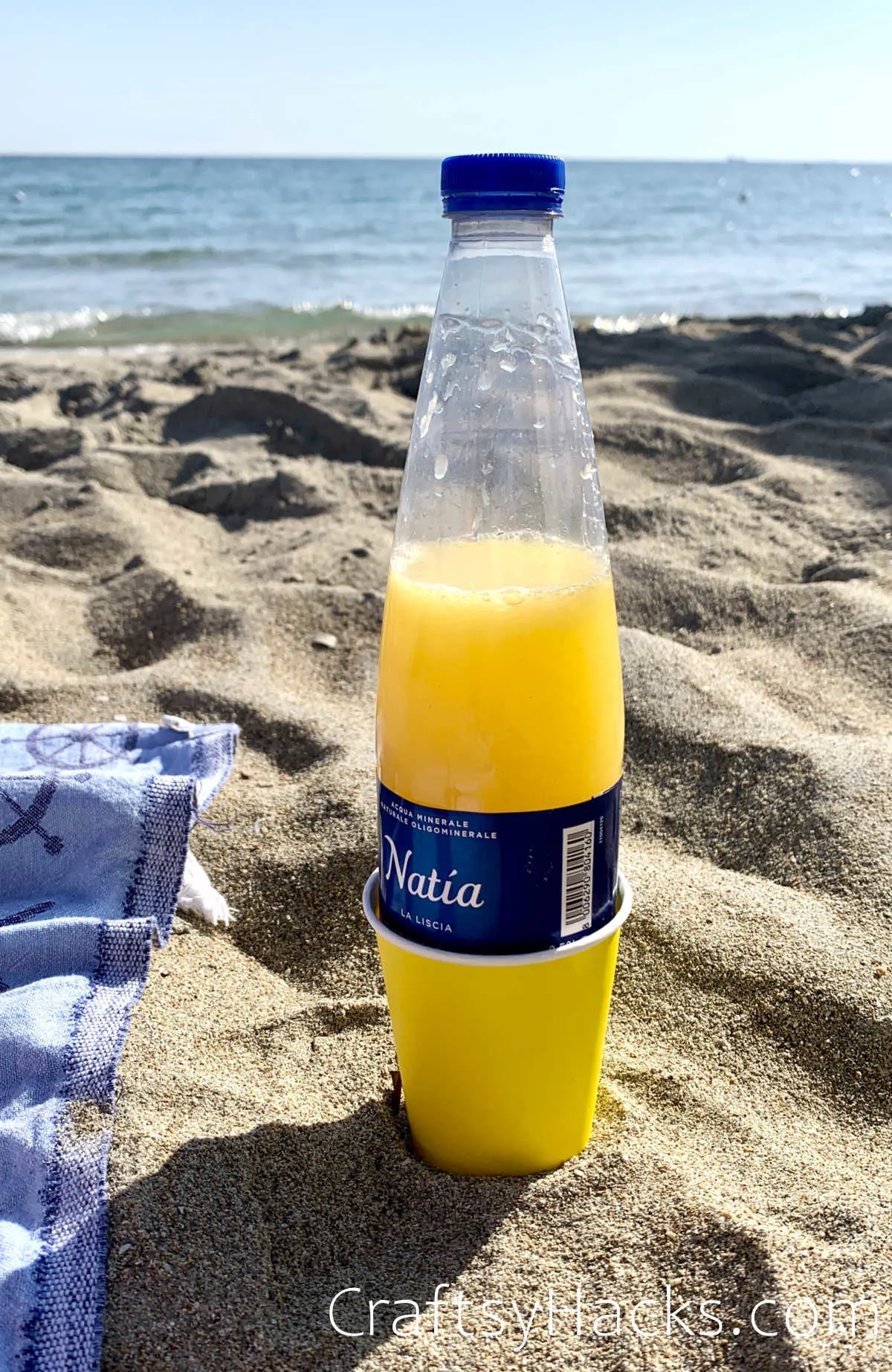 The coating of sand on everything is a lot to manage–to circumvent that hassle, try to bring some cups as cup holders.
Plastic cups like these wedged far enough into the sand will keep any bottle or drink sand-free and all the more enjoyable.
6. Set Alarms for Applying Sunscreen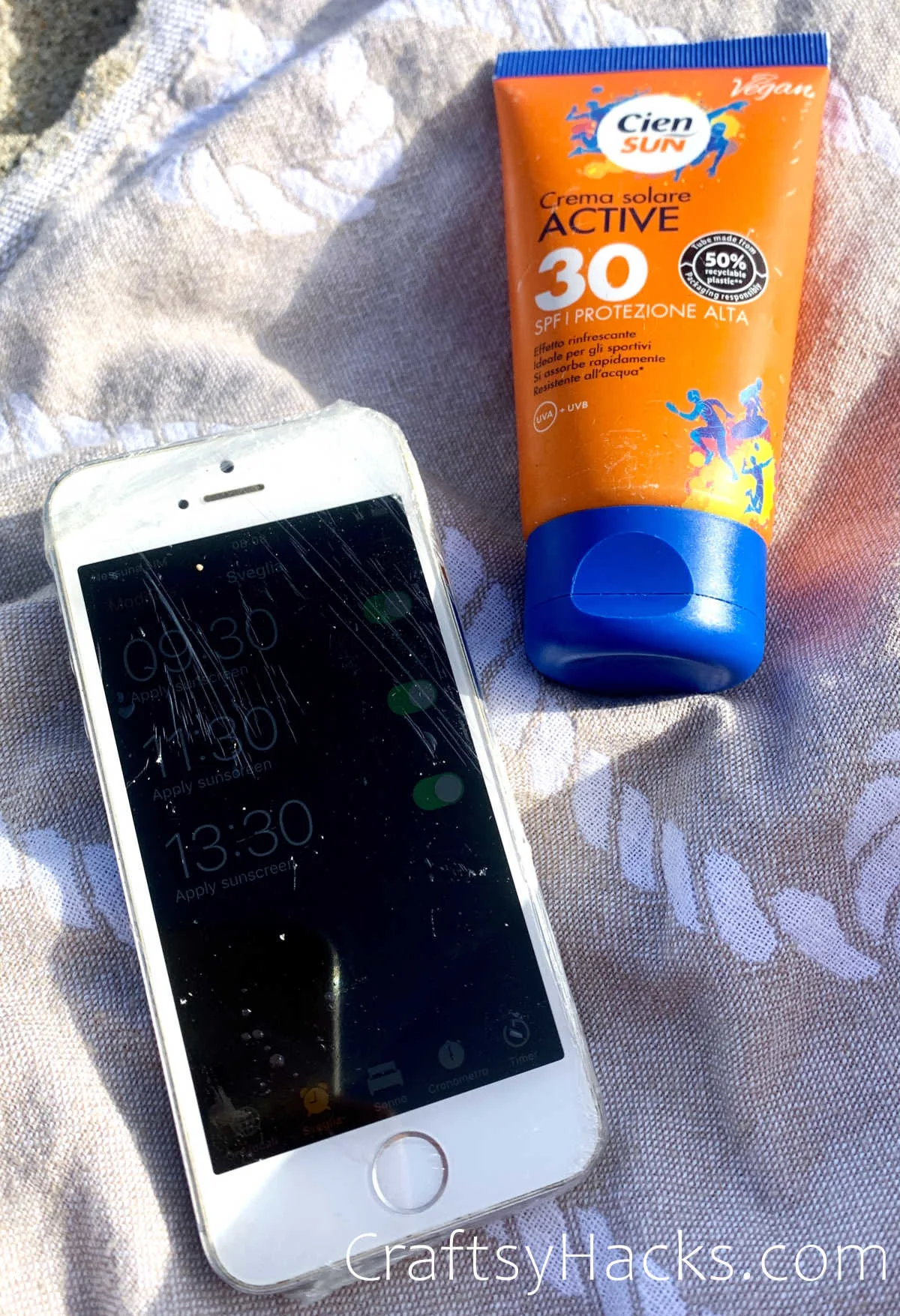 Beach days can be a lot of fun until you realize you or someone you're with has become burned, and it varies depending on how severe it is.
A way to avoid the painful experience for anyone is to set alarm reminders on the phone–that way, the fun doesn't have to stop–just pause momentarily.
This is one of the best life hacks every girl needs to keepher skin healthy!
7. Wrap the Corners of a Towel in Sand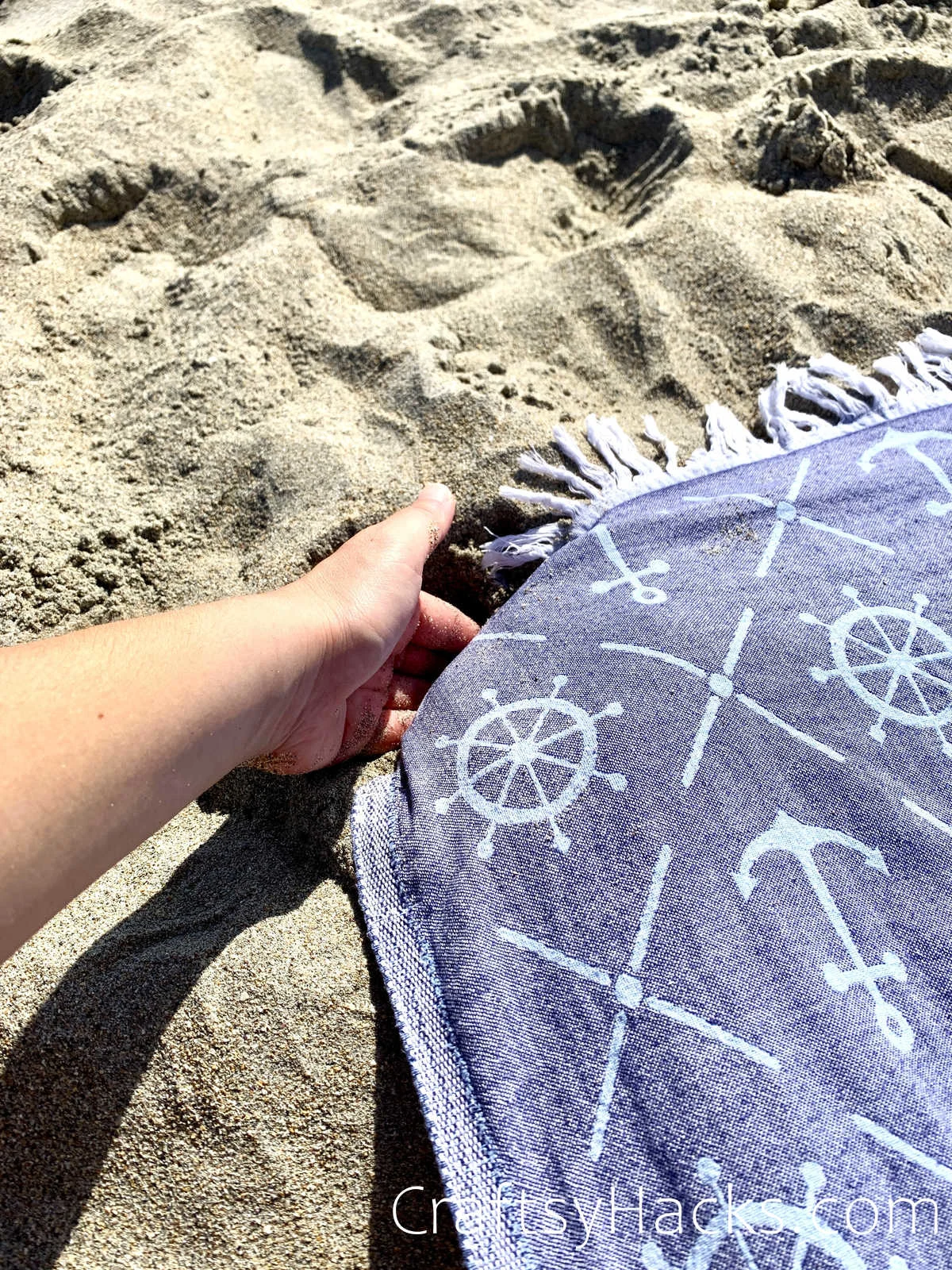 Wind at the beach is another possibility, from just casual breezes to blowing everything you've brought over. This idea especially rings true with beach towels or blankets.
A great and simple fix–simply tuck the edges of the towel directly into the sand.
The corners should be deep enough that the weight of the sand will snuggly hold the fabric in place and shake well when done.
8. Store Valuables in a Packet of Wipes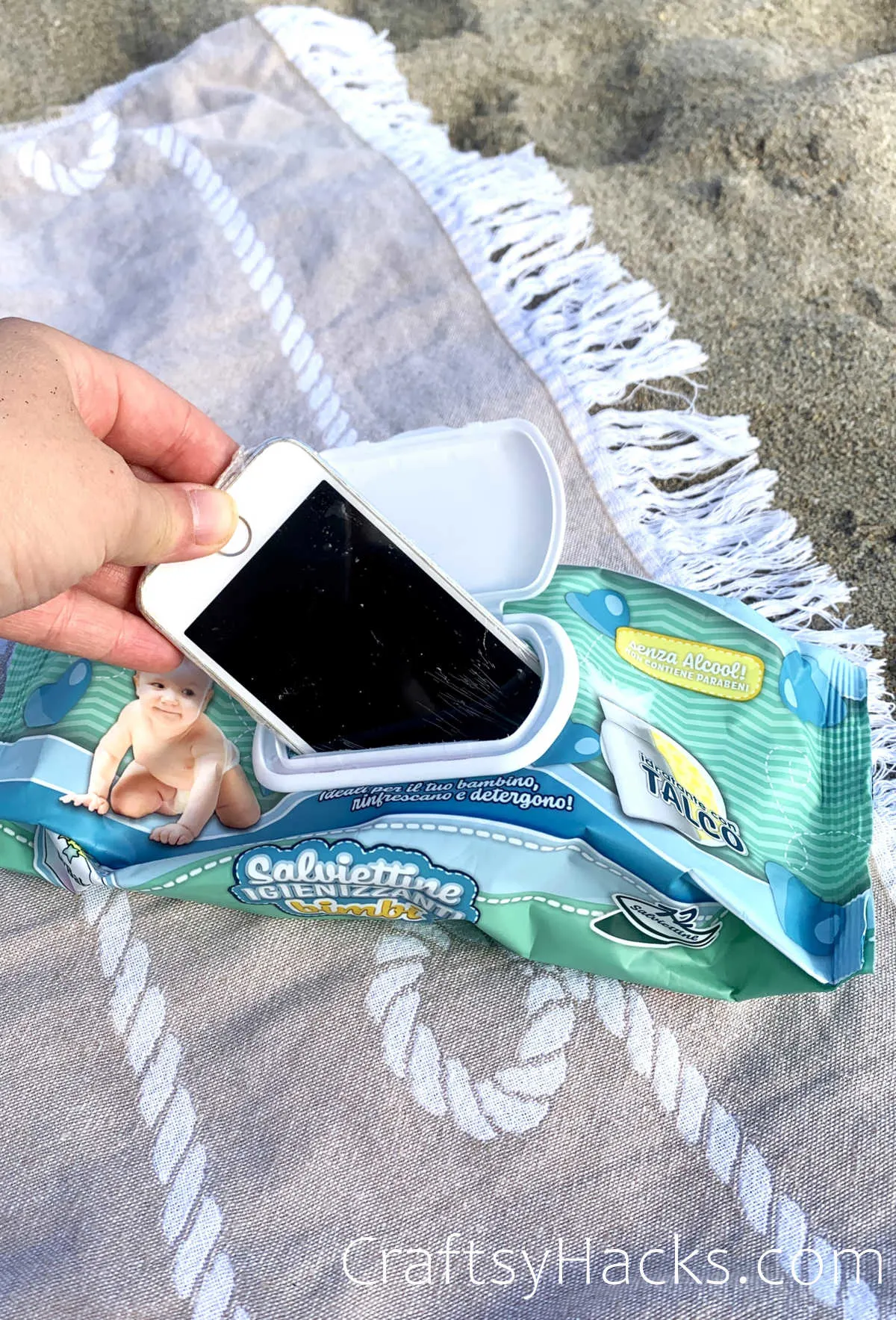 Are you concerned about your stuff getting swiped at the beach?
Grab a completely innocent and mundane-looking item, like a baby wipes container, and stash all your essentials (phones, keys, money, etc.) inside.
Ensure that your item is empty and can hold everything without damaging anything.
Other ideas could be opaque Tupperware, a sealable snack bag, and similar things–just make sure you don't throw it out!
9. Flip Your Slippers Over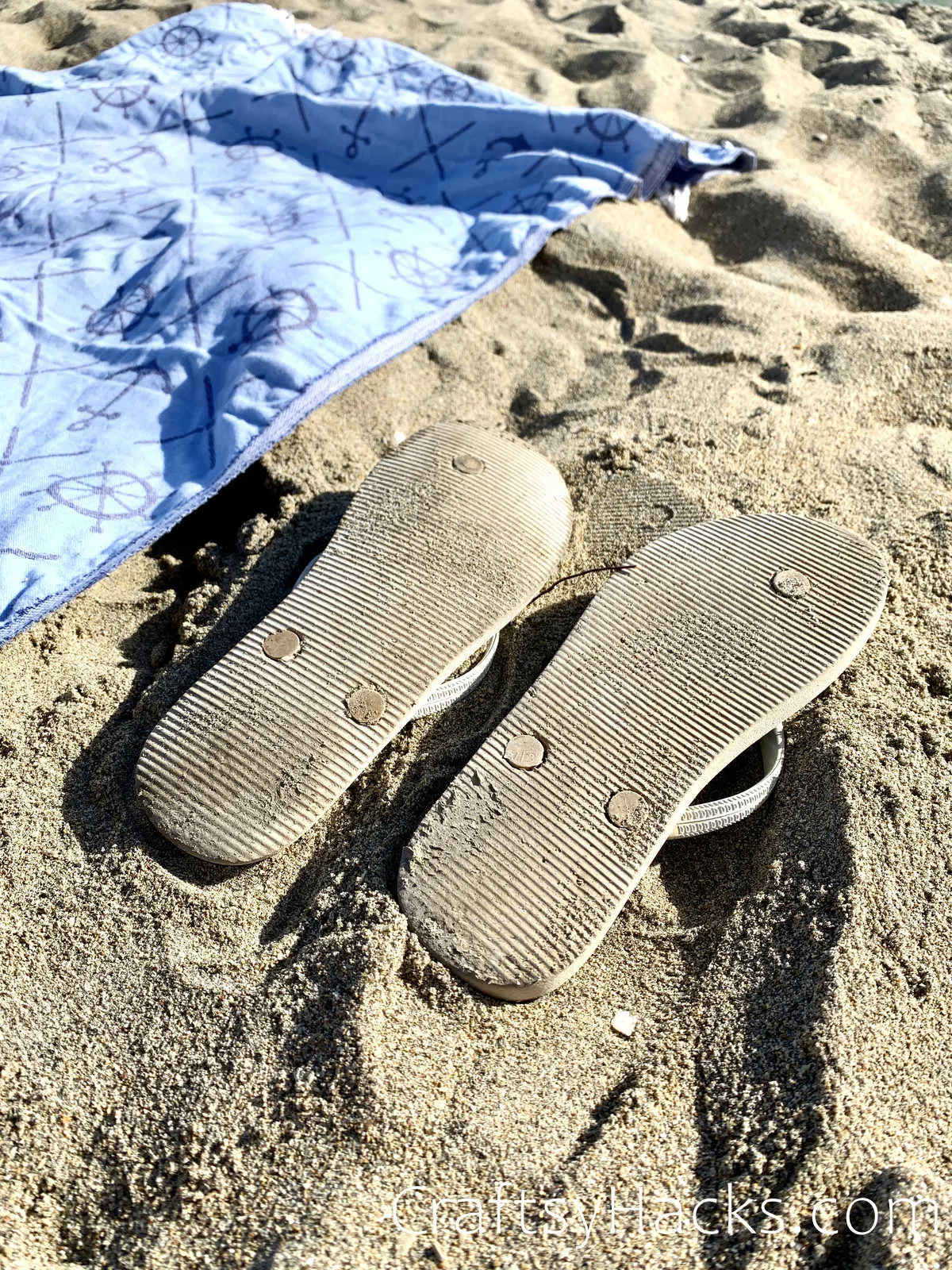 Sand finds everything while at the beach, including the inside of your shoes. A great way to combat the small mountains that develop in everyone's footwear is to turn them upside down.
Simple but effective with all of the possible crevices on a pair of shoes facing downward, there's no place for it to settle other than around the proximity of your shoes.
10. Spray Cold Water to Freshen Up
Consider bringing a cold spray bottle if you love the beach but not the water. If it gets too warm, spritz with a nice refreshing mist from the homemade ice spray.
This bottle works wonders for beach days.
11. Wrap Your Phone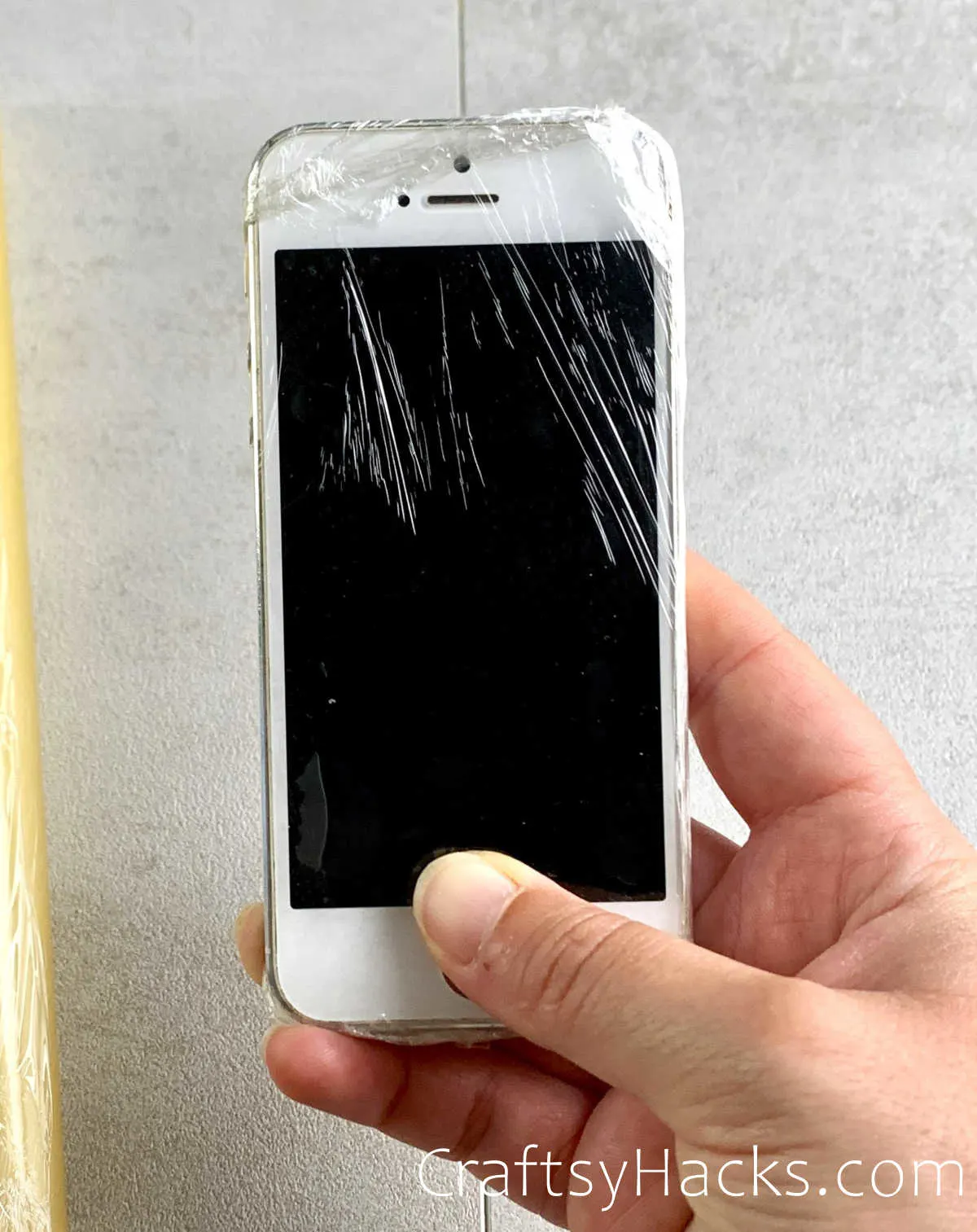 One of the worst things is getting sand, sunscreen, or anything else from your phone. Before you leave, wrap your phone with saran wrap (screen first).
Your touch screen should work through the wrap and have no foreign substances in it or on it by the end of the beach day.
12. Attach a Money Bag Inside a Hat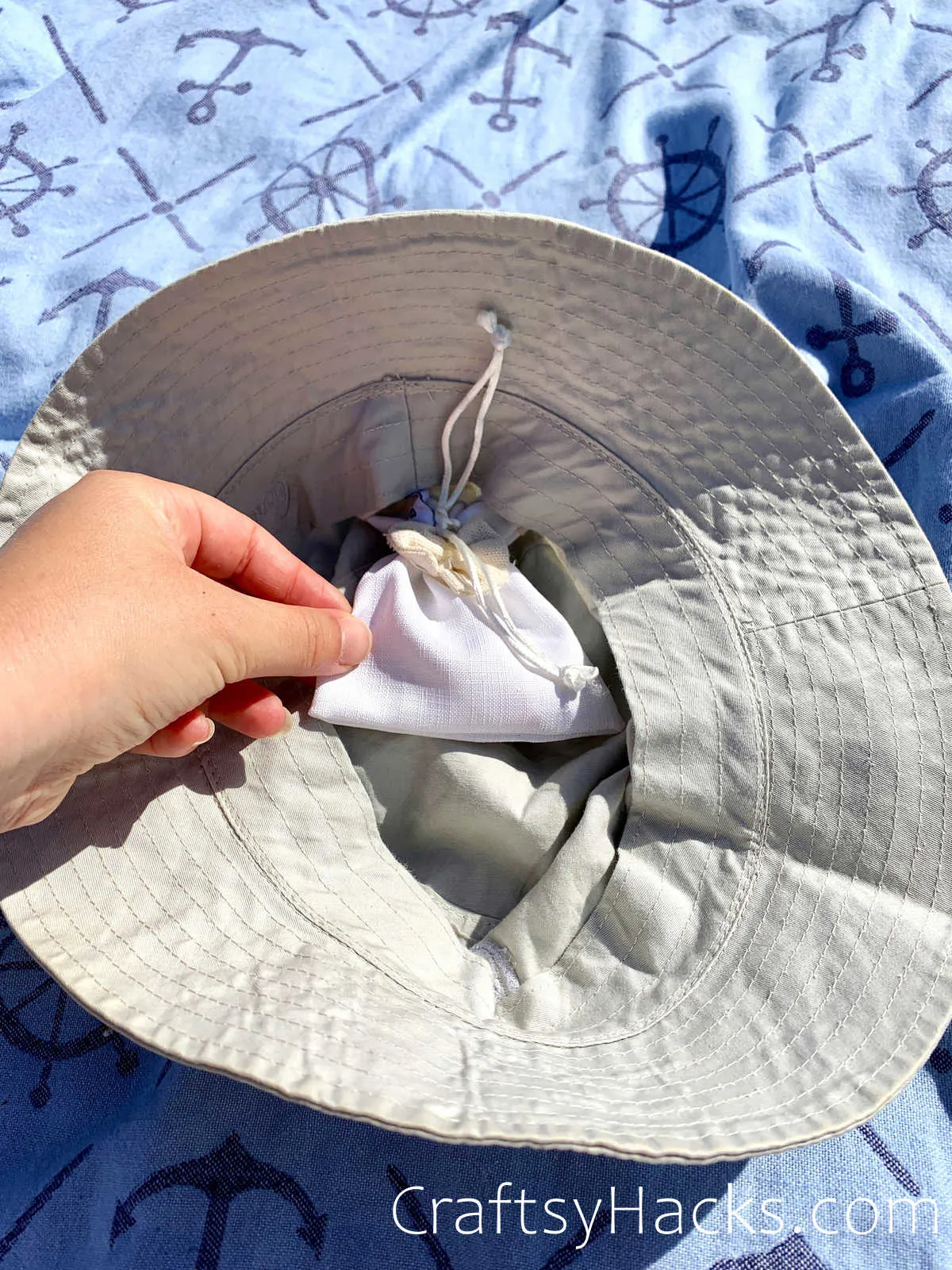 If you are taking money directly onto the beach, a great way to keep it safe and secure is by attaching a money bag to the inside of a hat.
Your money will be safer and less likely to float away or get lost in the mix of everything.
You'll also benefit from these genius binder clip hacks!
13. Freeze Half a Bottle of Water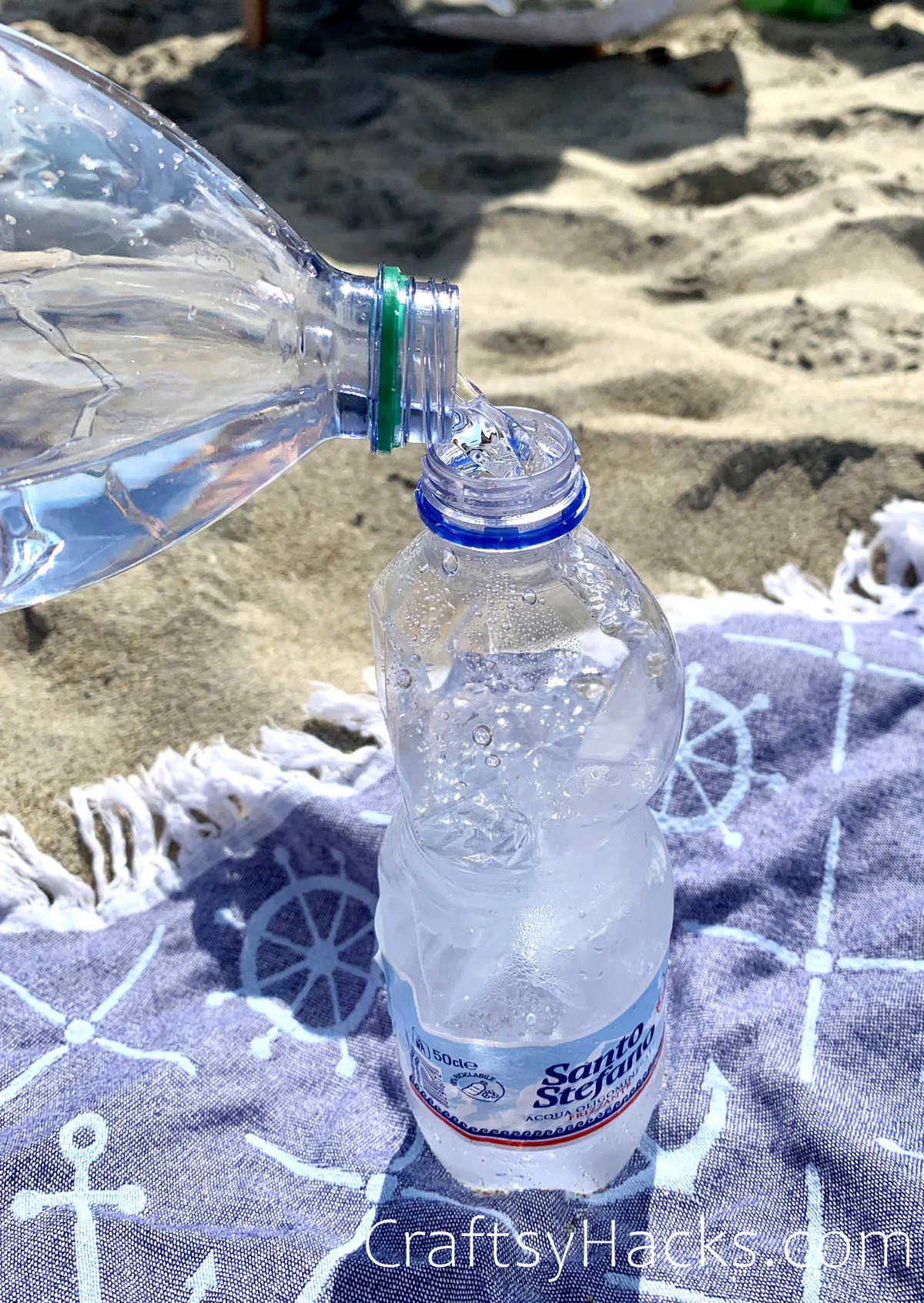 Whether using your cold water bottle as an ice pack or a drink, it's smart only to fill it halfway up to freeze so it doesn't explode.
If you're using it as drinking water, once at the beach, fill the bottles with room temp or chilled bottles to keep water brisk longer.
Bringing your kiddos for a beach day? Check out these other incredible mom hacks!
14. Fill Bags with Sand to Hold a Towel in Place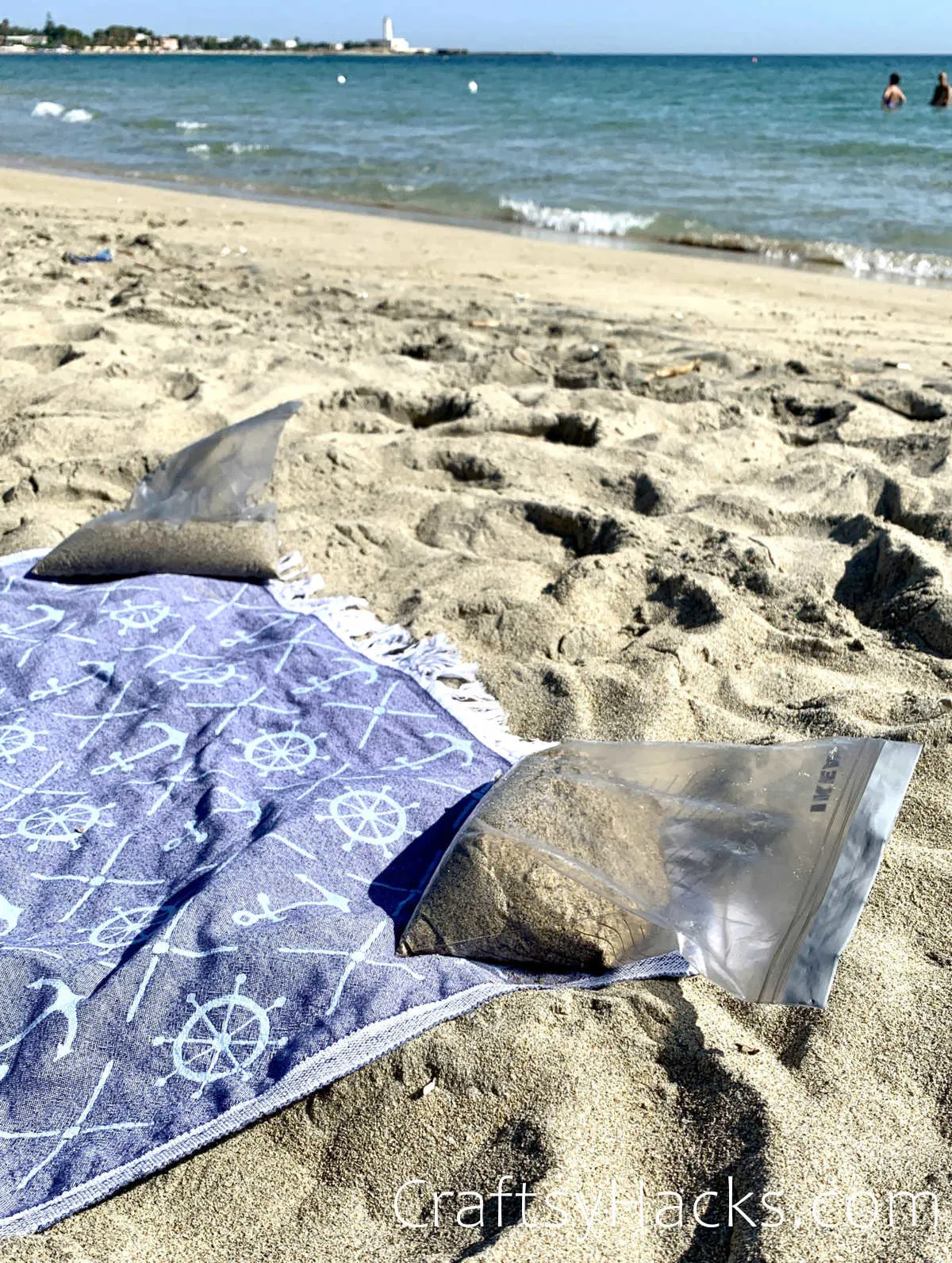 A surefire way to keep towels in one place is to fill sandwich bags like these with sand once you get there!
I always have a few extra bags floating around for many reasons (shell collection, half-eaten snacks, etc.).
15. Waterproof Your Valuables with a Resealable Bag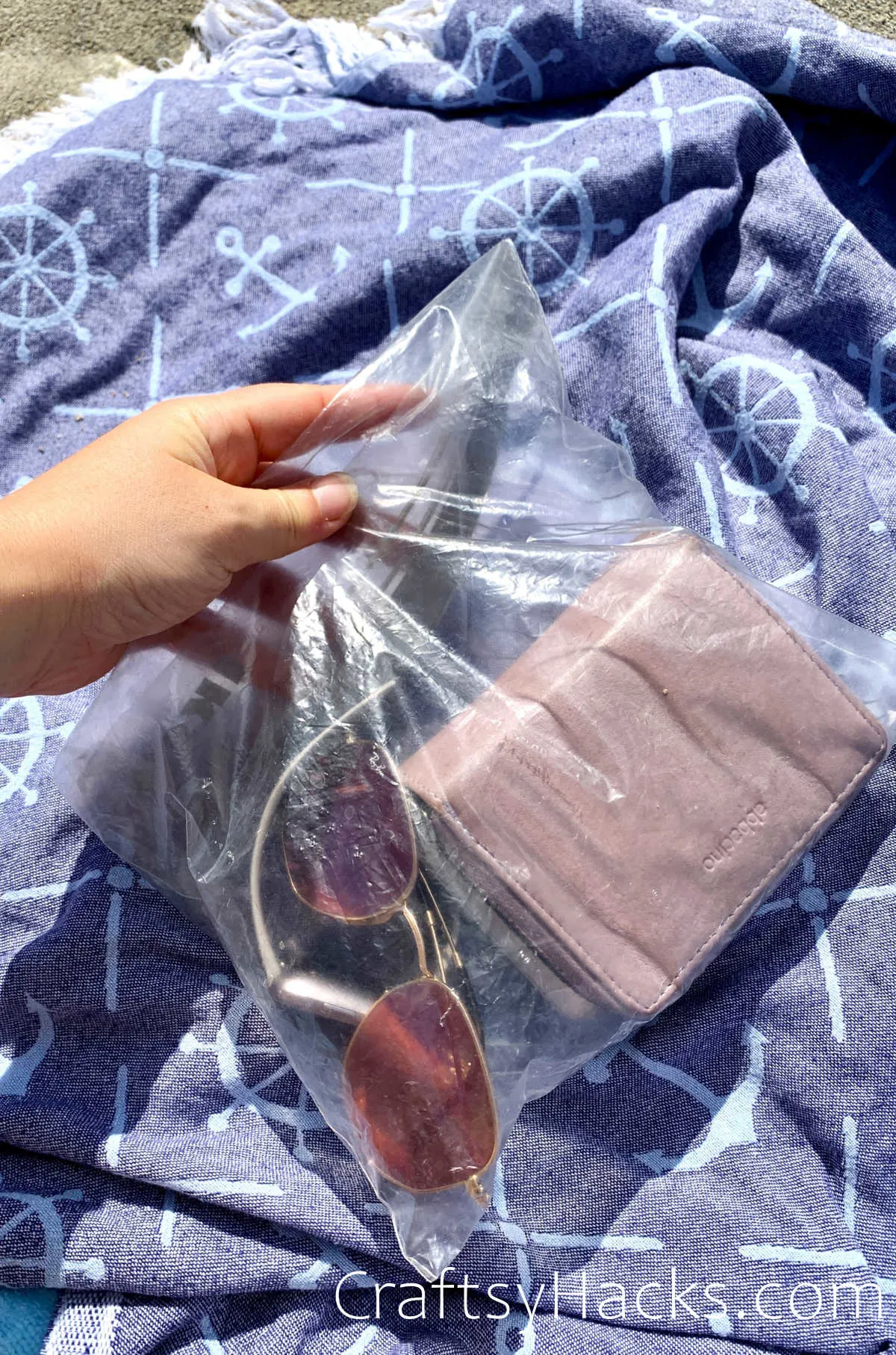 To ensure the safety of your personal belongings that aren't so beach-friendly–throw everything into a sealable plastic bag. You can never be too safe with the sand, water, and wildlife.
16. Use a Fitted Sheet for Sand-Free Space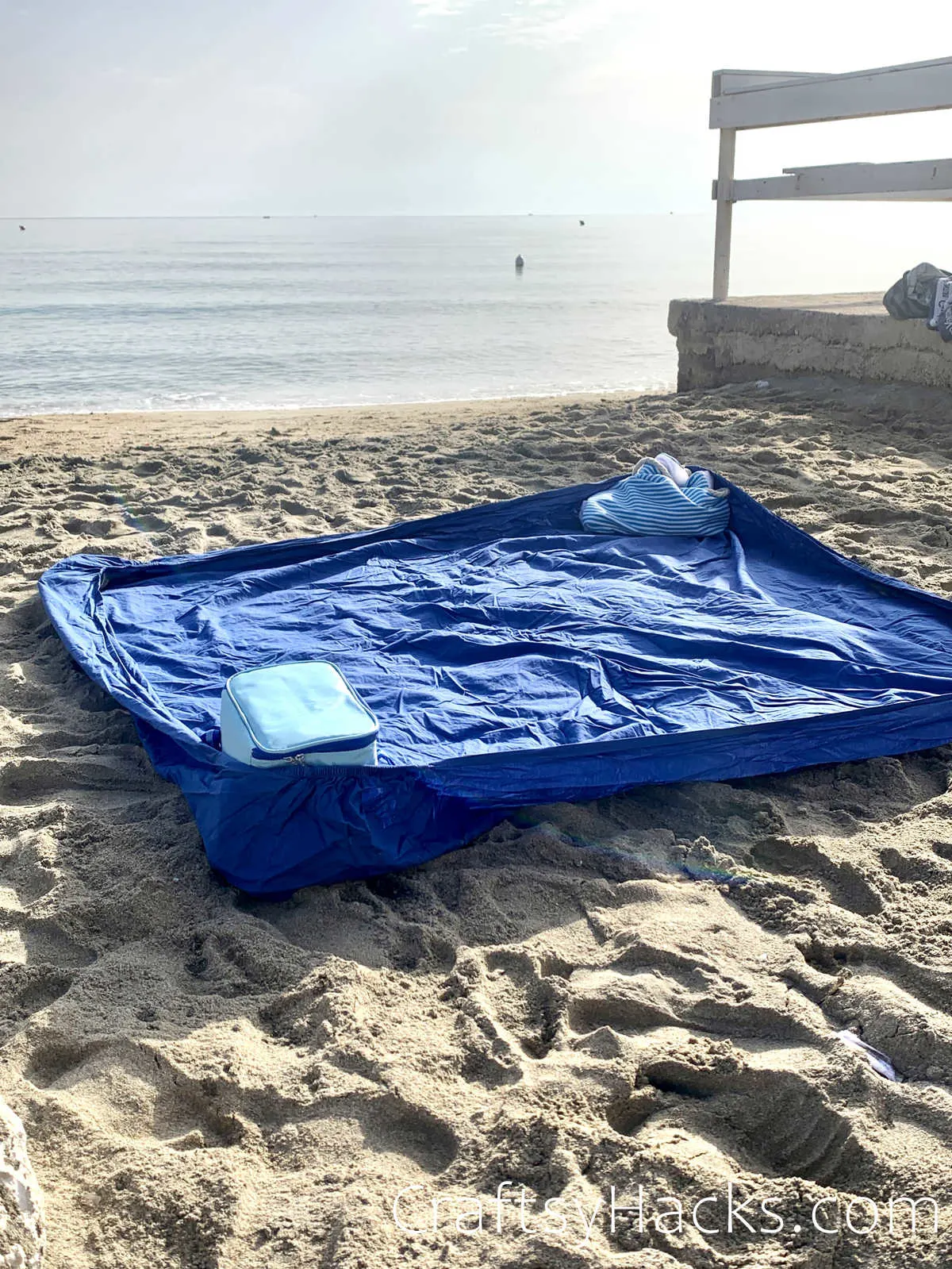 If you want a small but mighty barrier against the sand, try a fitted sheet at the beach next time!
Anchor each corner with your bigger items and have a towel off space outside the sheet to cut down on the sand invading.
17. Use a Mesh Bag to Store Toys and Wash Them Easily
Mesh bags are handy at the beach! Whether personal belongings or beach-oriented items, all the unwanted sand shakes through the openings, saving you time in cleanup.
18. Store Your Wet Costume in a Plastic Bag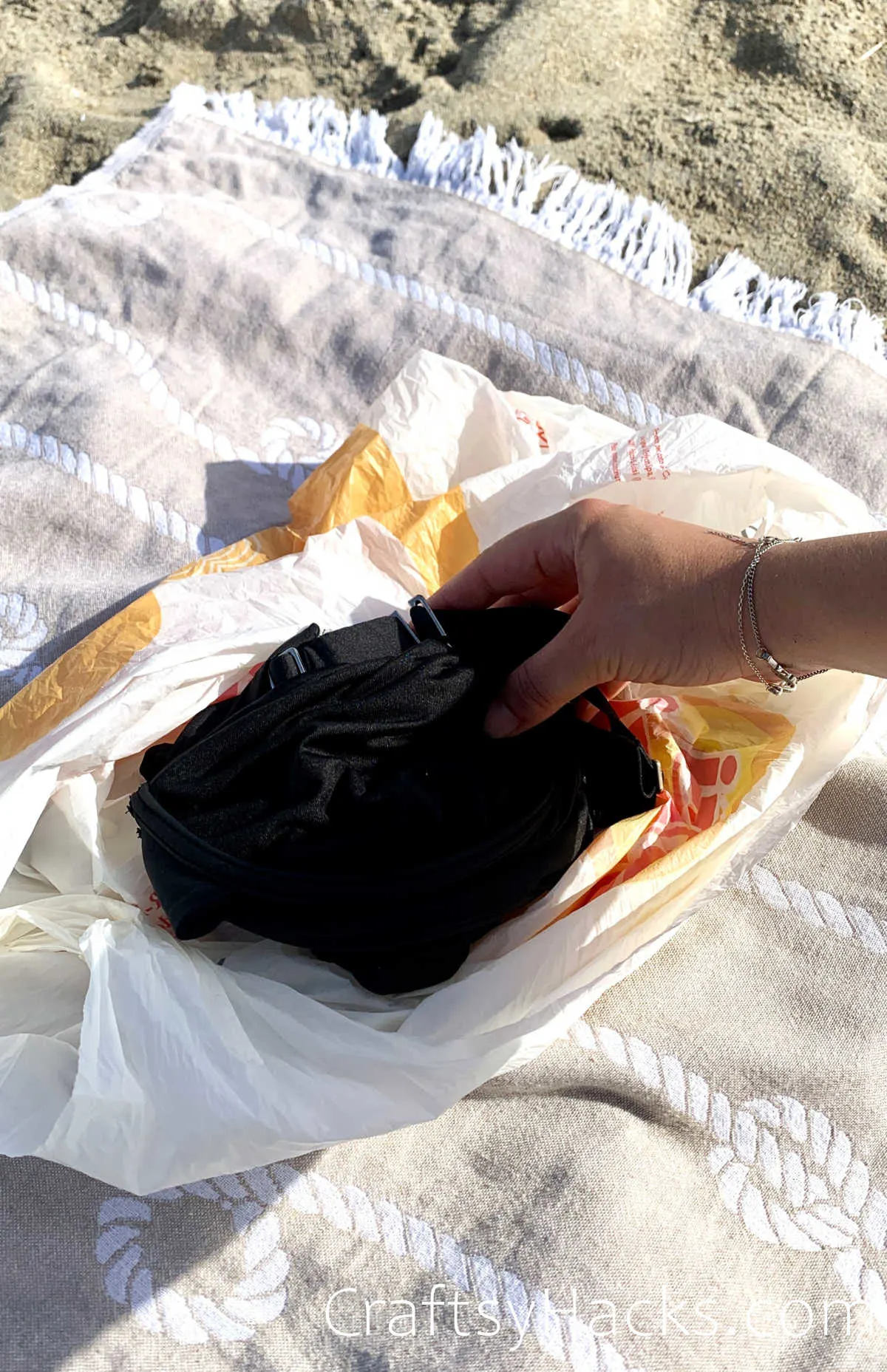 Wet beach or pool clothes while traveling can get yucky in any situation, so if you are traveling, have plastic bags for everyone to throw their wet suits into.
That way, you can avoid water damage to other parts of your car, belongings, and more.
19. Use Talcum Powder to Remove Sand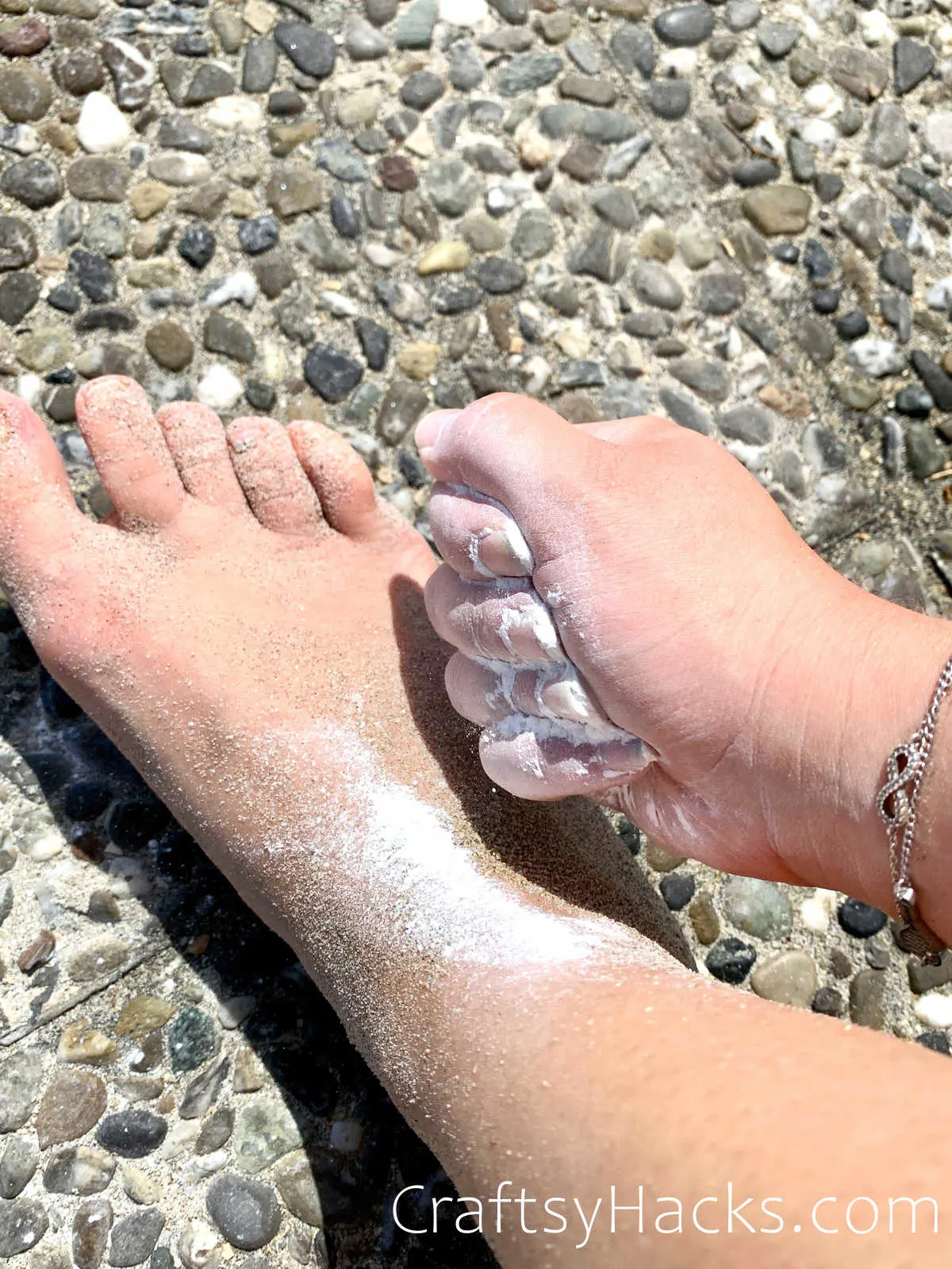 Cleaning sandy feet can be a never-ending game! Next time you're trying to de-sand, add talc powder like this to your hands–it'll pull the sand off much easier.
20. Use a Hook to Carry Your Slippers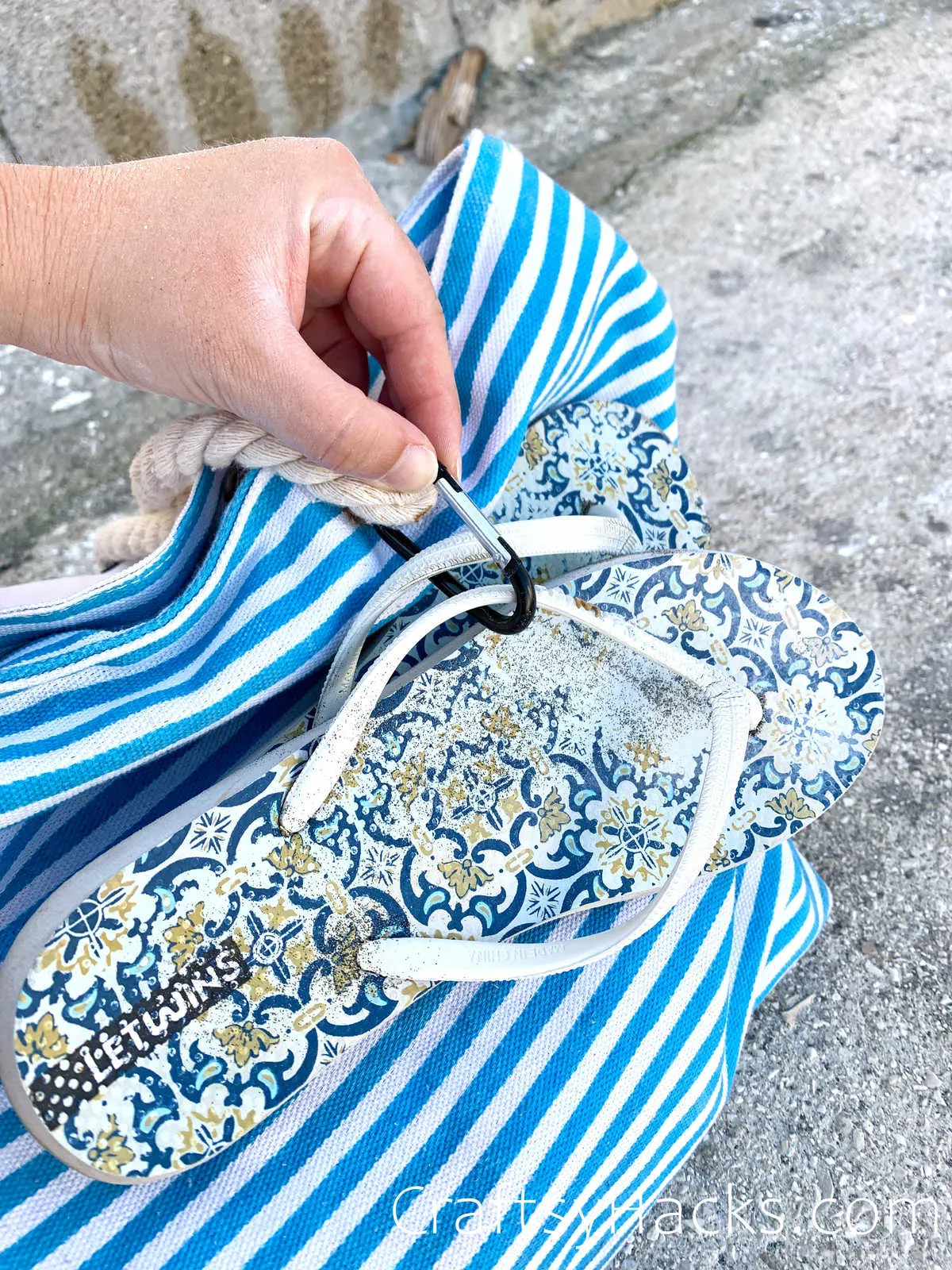 A carabiner hook is a great addition to any bag! It can carry anything from keys to flip-flops on beach days!
21. Place a Towel in a Car to Keep it Clean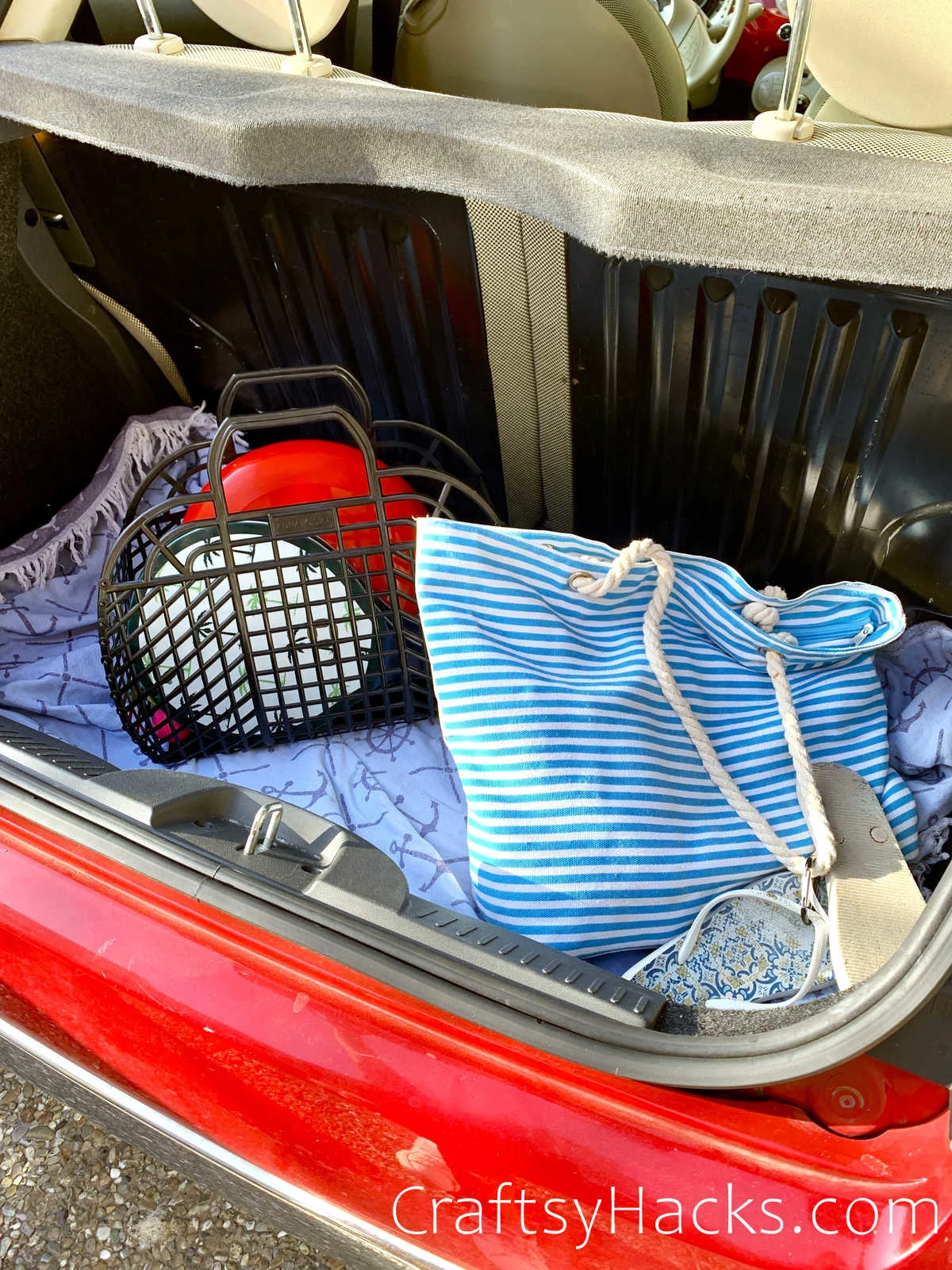 Finally, a clean towel already set up to host all of the sandy bits from the day can save your car from a vacuum.
A big enough one, you can pull everything out simultaneously–towel included for the quickest cleanup ever.
Watch: 21 Beach Hacks