You're thinking of the right thing–the oversized, more stable paper clip binder clips are very versatile in what they can stabilize. The binder clip hacks will blow your mind!
From the classic of organizing your tech cords to giving order to your gift wrap, some needed order.
Most likely, you have a pack of clips somewhere in your life, so grab them after reading through the list and try out some of these hacks!
If you don't, this variety pack is a great starter pack to try out these ideas.
All of the hacks are easy and really make life a little bit easier in the small moments. If you have tricks that you do that you don't see on the list, please feel free to share!
I hope you find some ideas you love and enjoy the list!
Youtube Video: 21 Incredible Binder Clip Hacks
1. Keep Bottles from Rolling in the Fridge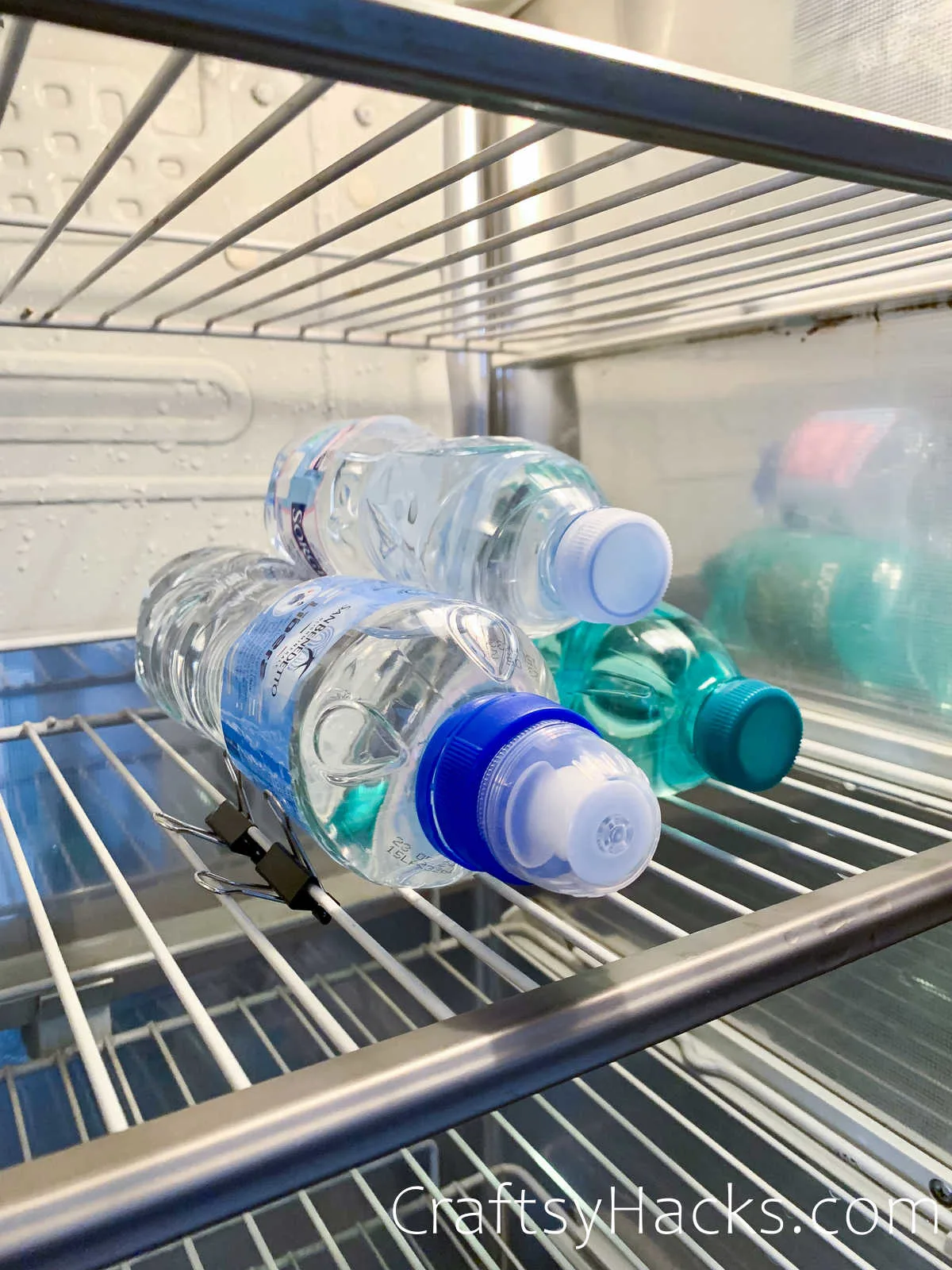 Have beverages that end up rolling around on a shelf if touched incorrectly? Try adding a few binder clips to the racks to help prevent bottles from taking over valuable fridge space.
Two does the job for me, but add more or bigger-sized ones depending on the drinks you're reigning in.
2. Hold Up Trash Bags In the Waste Basket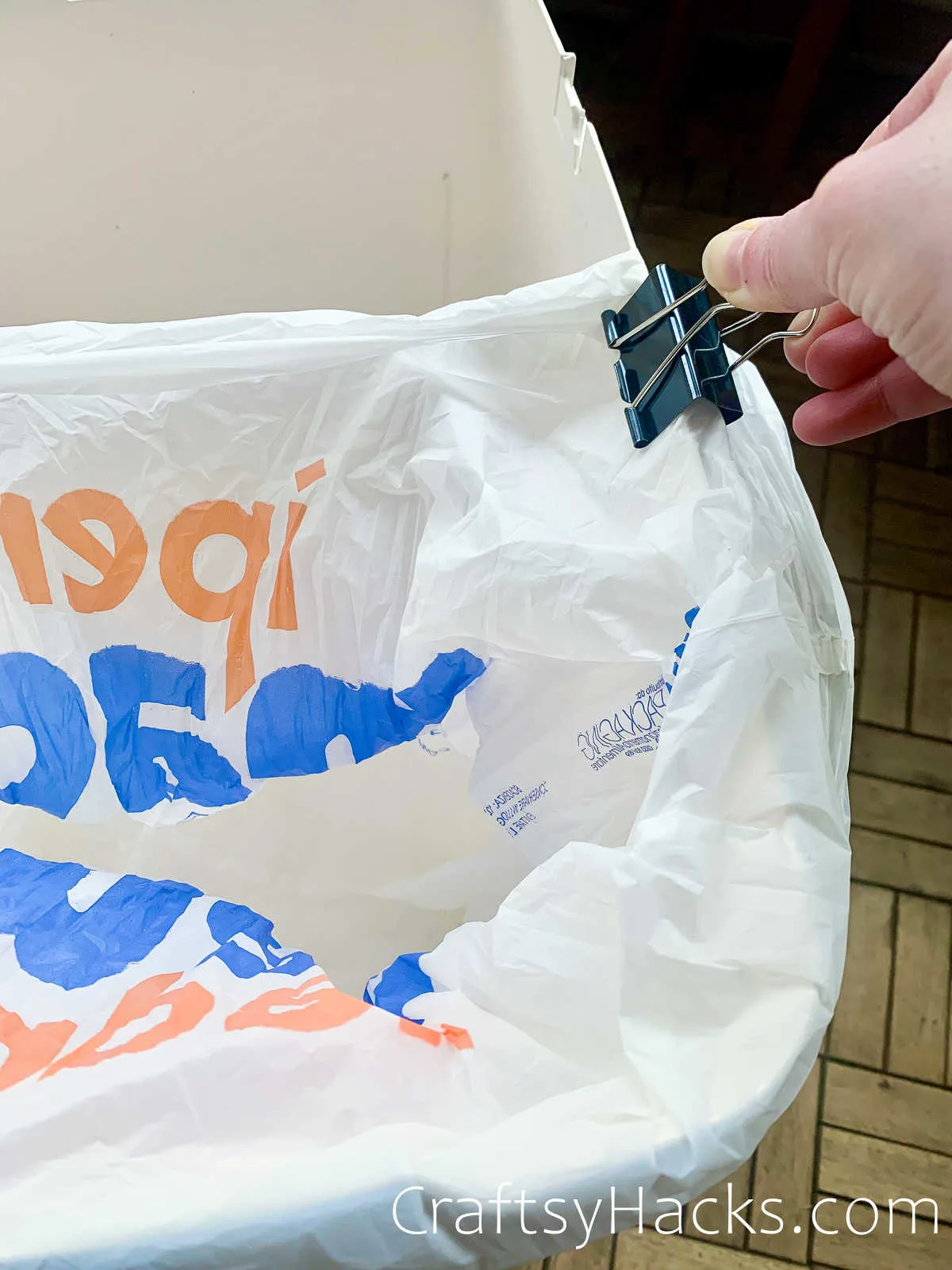 Slouchy trash bags are one of my biggest pet peeves! One surefire way to not have to fish out a side of your bag from underneath filth is to add clips on one or multiple sides of the waste basket.
Once the bag is full, unclip your fasteners first and set them aside. Grab your full bag and take it out, and when adding a new bag, secure it with your clips again!
3. Mount Your Smartphone Using Binder Clip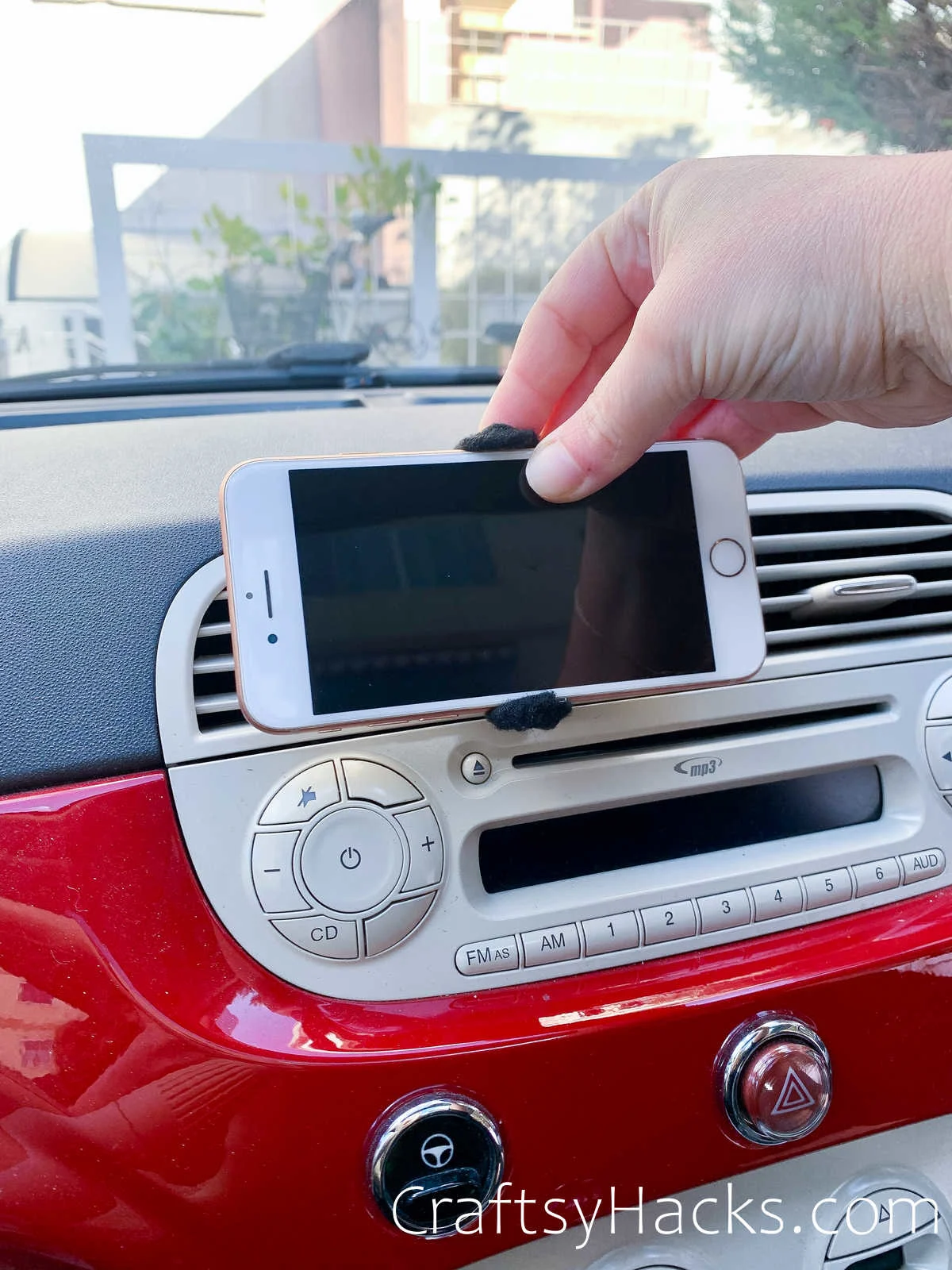 For an easy and cheap phone mount for the car, all you need is a binder clip, rubber band, and a bit of fabric (optional).
Simply clip the binder clip onto a vent with the arms bent forward, add the material, and then wrap the rubber band around the arms.
Test your phone out in the holder and adjust accordingly. The rubberband should give it the space that it needs to hug your phone properly.
4. Put Together a String Keeper Bowl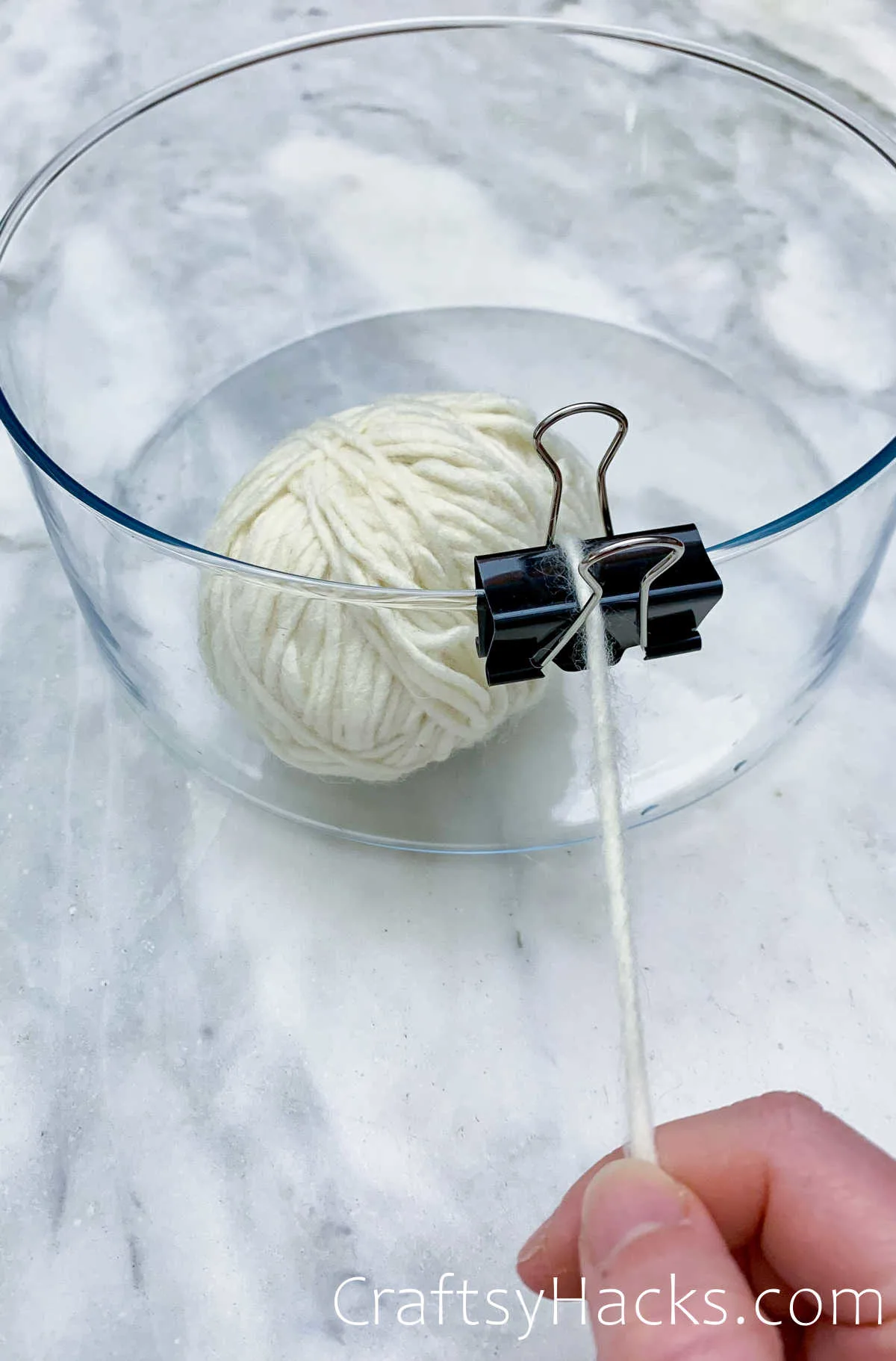 Try this trick when working with yarn, twine, or any other string–it does keep everything tight. A friend shared this with me after her yarn bowl broke!
Grab any appropriately sized bowl for the material you're working with, and simply add a clip with both arms up to thread your string through.
5. Corral Your Loose Cables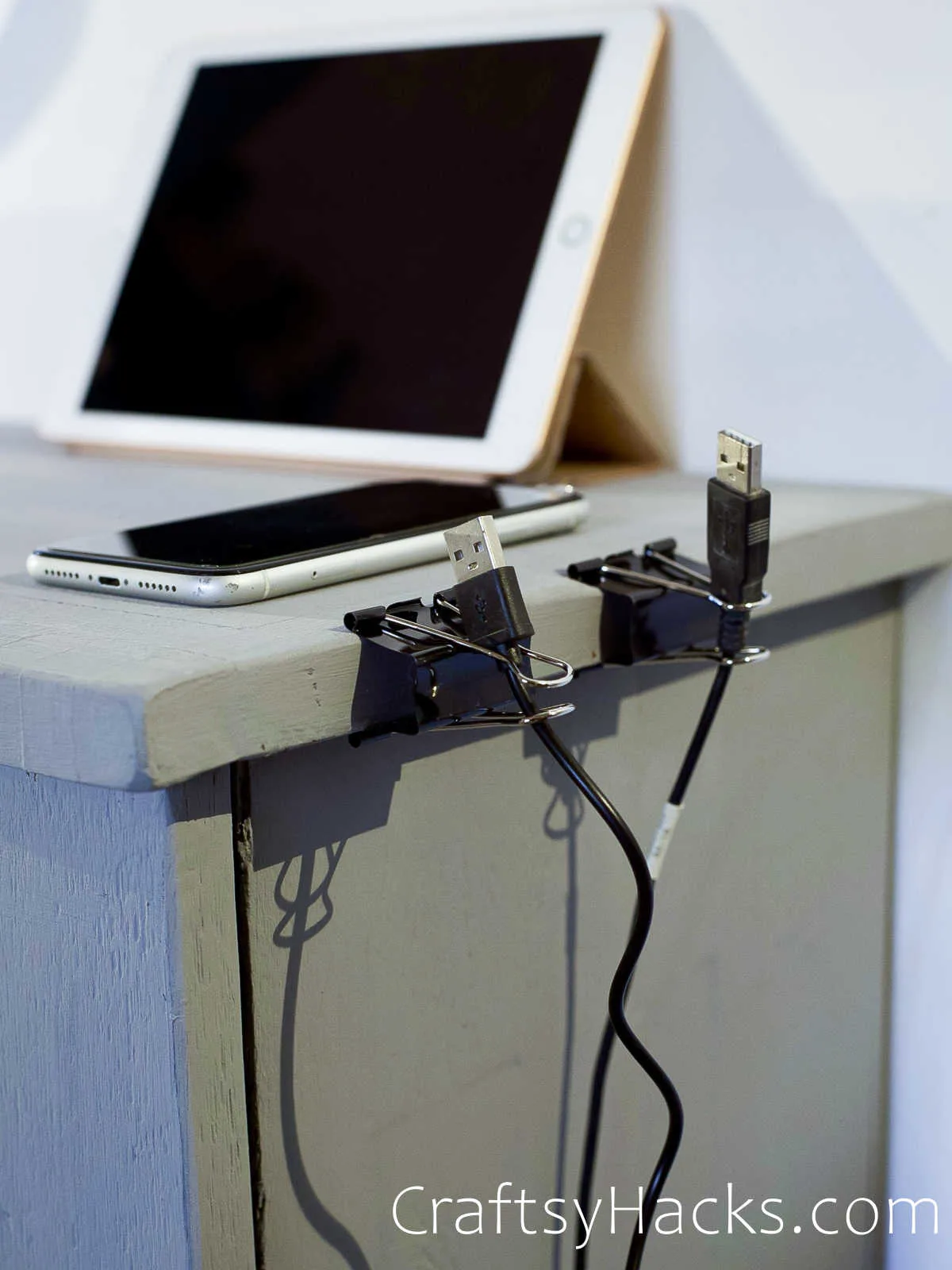 This idea is a tried and true hack that will change the game for all those messy cords in your office or tech center!
If you aren't familiar, these clips can organize any cables by threading them through the arms and having them accessible on the very edge of a table or desk.
This is one of the most genius DIY storage ideas for your home!
6. Mark Your Place with a Friendly Binder Clip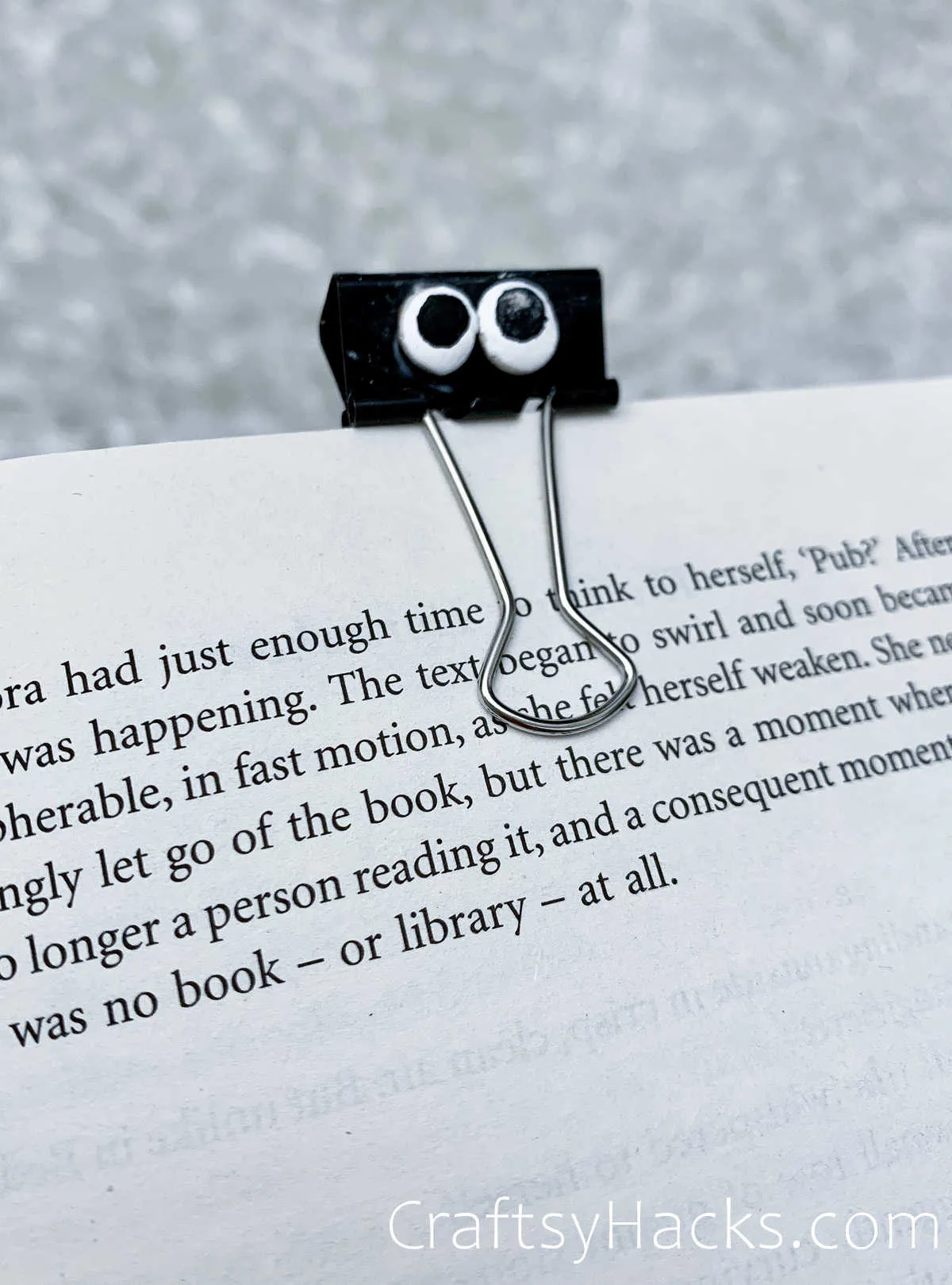 A sweet, fun, and secure way to keep your place in any book you're reading! Just glue some of these googly eyes onto the clips and let them dry.
These make excellent and inexpensive cute gifts for children in goodie bags or prizes. Buy a colorful pack to make them extra fun!
7. Photo Holder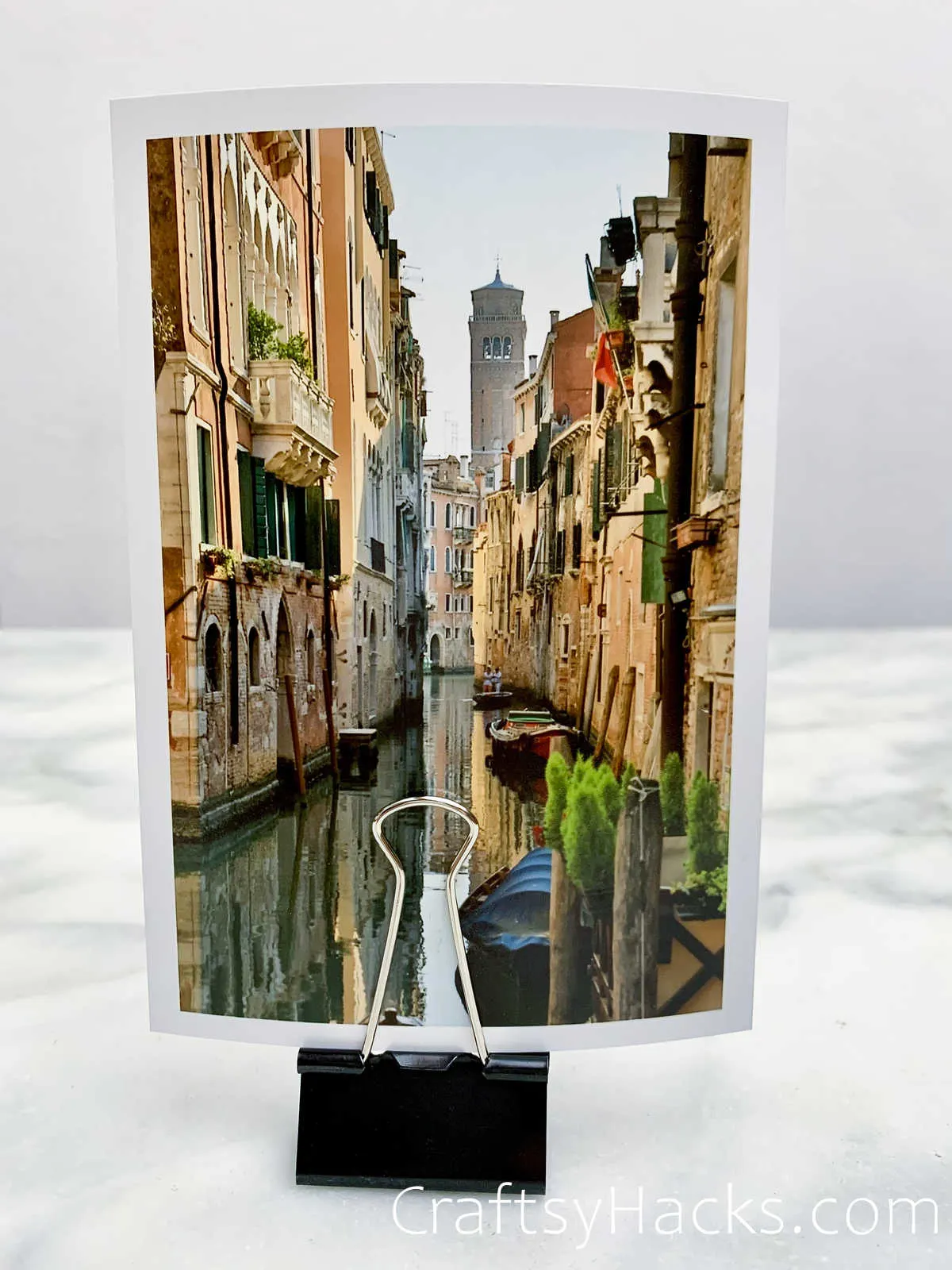 A minimal and cheap way to display a photo is to use large binder clips (depending on the image size). Open the clip, place the picture in, and then unpinch it, so it secures the image.
Customize your clips by adding some fun tissue papers, these rhinestones, or these stickers.
8. Keep Ear Buds in One Place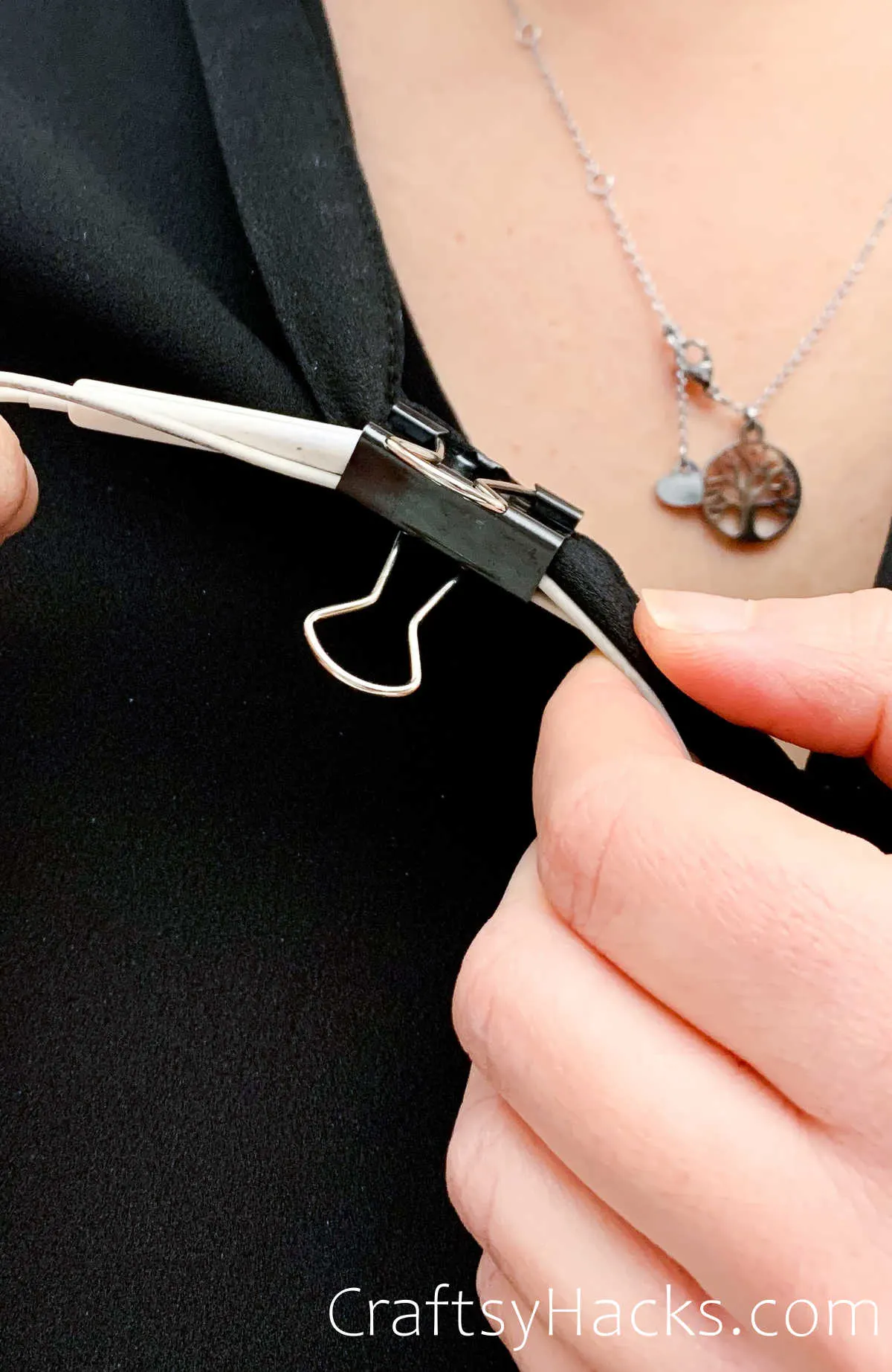 When I wear wire earbuds, they always seem to get lost in my work when I have to take them out for one reason or another.
A way to avoid wasting time looking for them is to use a binder clasp and attach the wire to your clothes!
A little goofy, but I promise this saves me so much time! Just remember, if you have to walk away from where your headphones get plugged in–unclip them first!
9. Keep Pages in Place When Cutting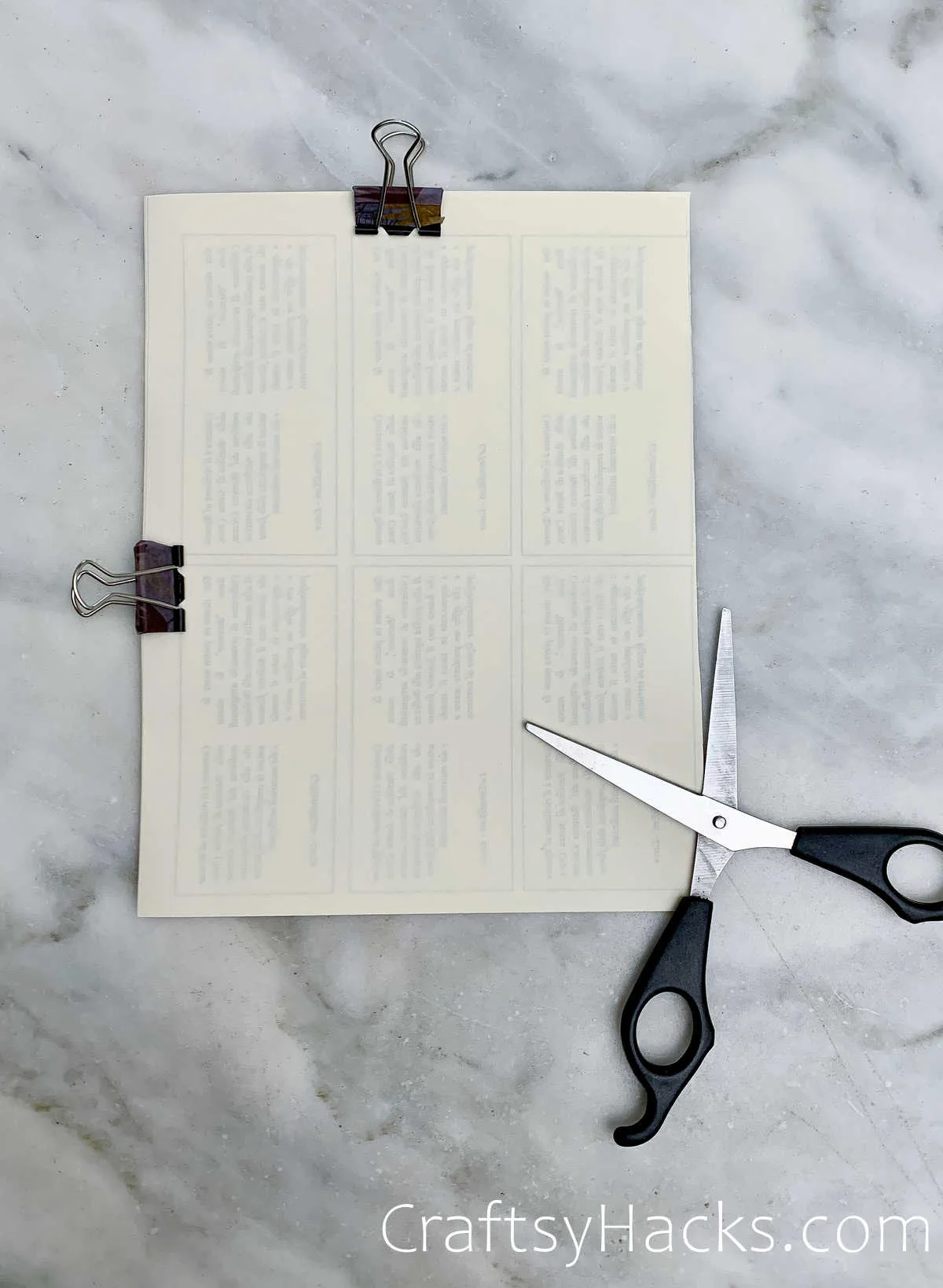 If you have to cut a stack of papers, use a few binder clasps to keep them in place! Simply add three clips–on the sides where you aren't cutting.
10. Make Table Number Signs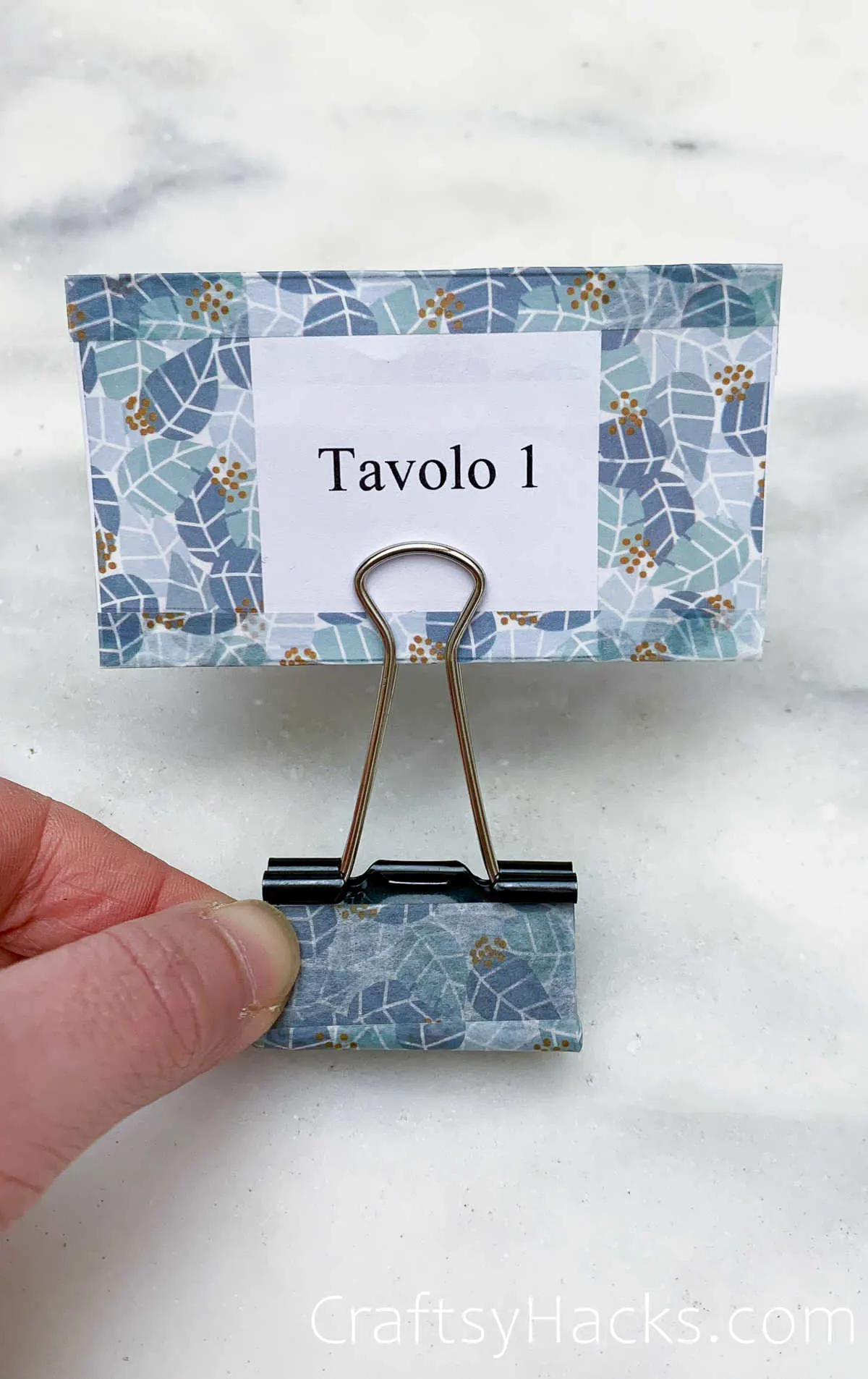 Similarly to the idea of a photo frame, binder clips make a great table number sign holder.
Design the clip however you want–I used some of this washi tape brand for this clip and then added the number to the top of the arms.
11. Travel Proof Your Razor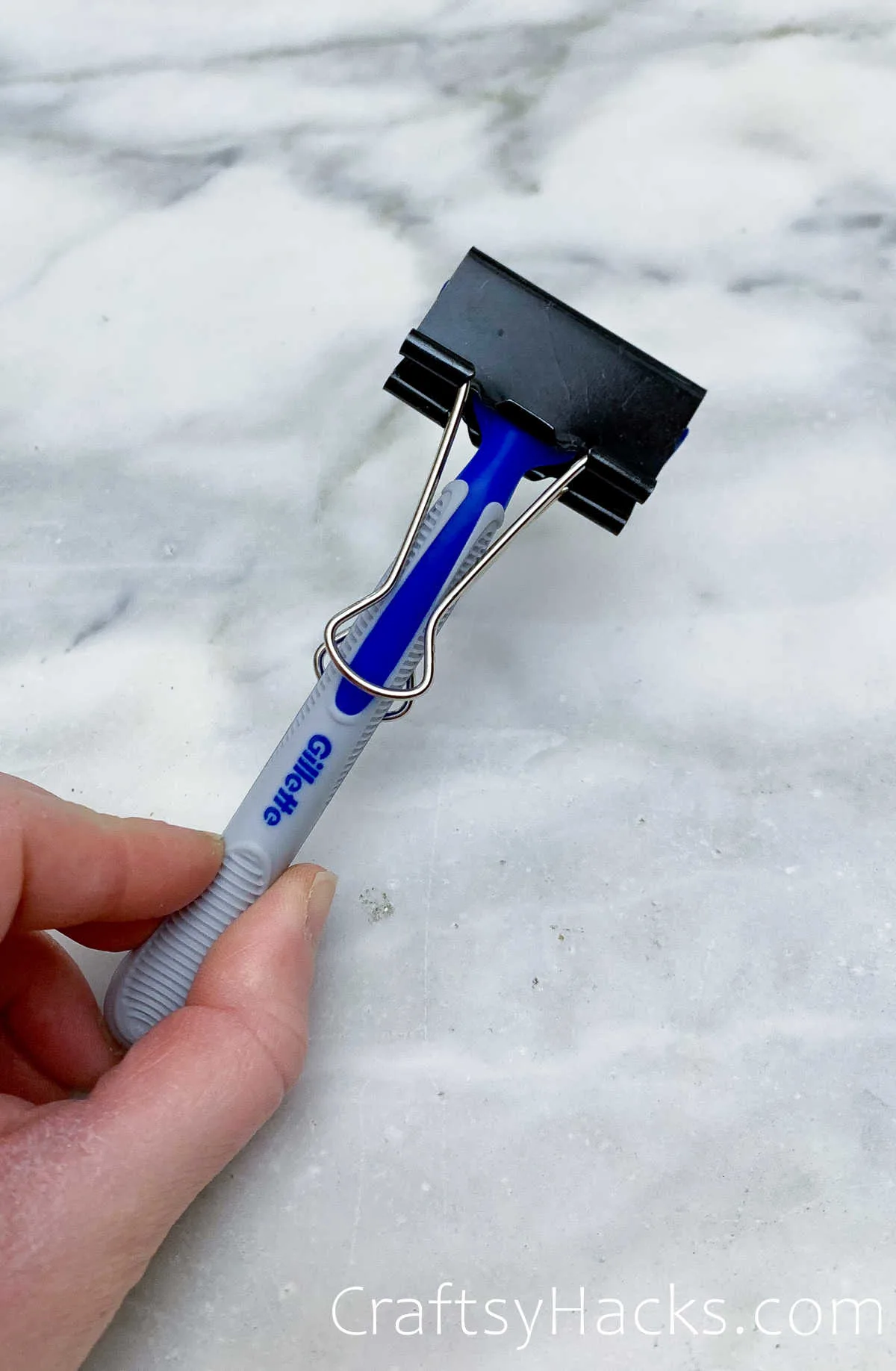 A way to really secure your razor while traveling is to secure the top with a binder clip! Play around with this a bit–it'll all depend on the size of the razor.
12. Hang Your Headphones by the Desk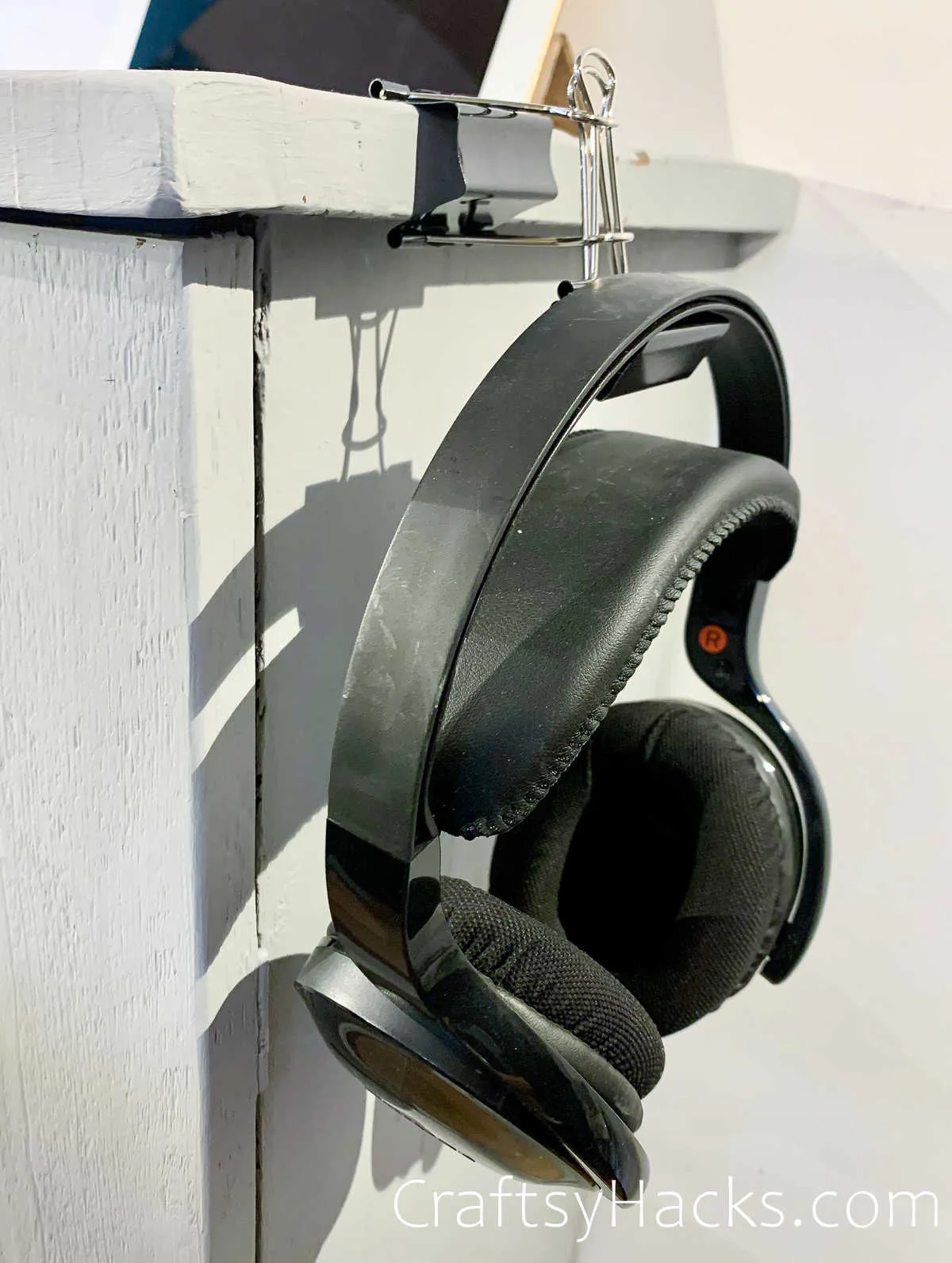 This trick I learned about this while the cord-organizing hack was going around the first time. You have to wiggle one binder clip's arms into the other.
After you connect the two clips, one part hooks onto the edge of the desk while the other clip supports the headphones to create this support.
This DIY desk organizer will also be useful to clear up your work desk!
13. Wrap up Your Earbuds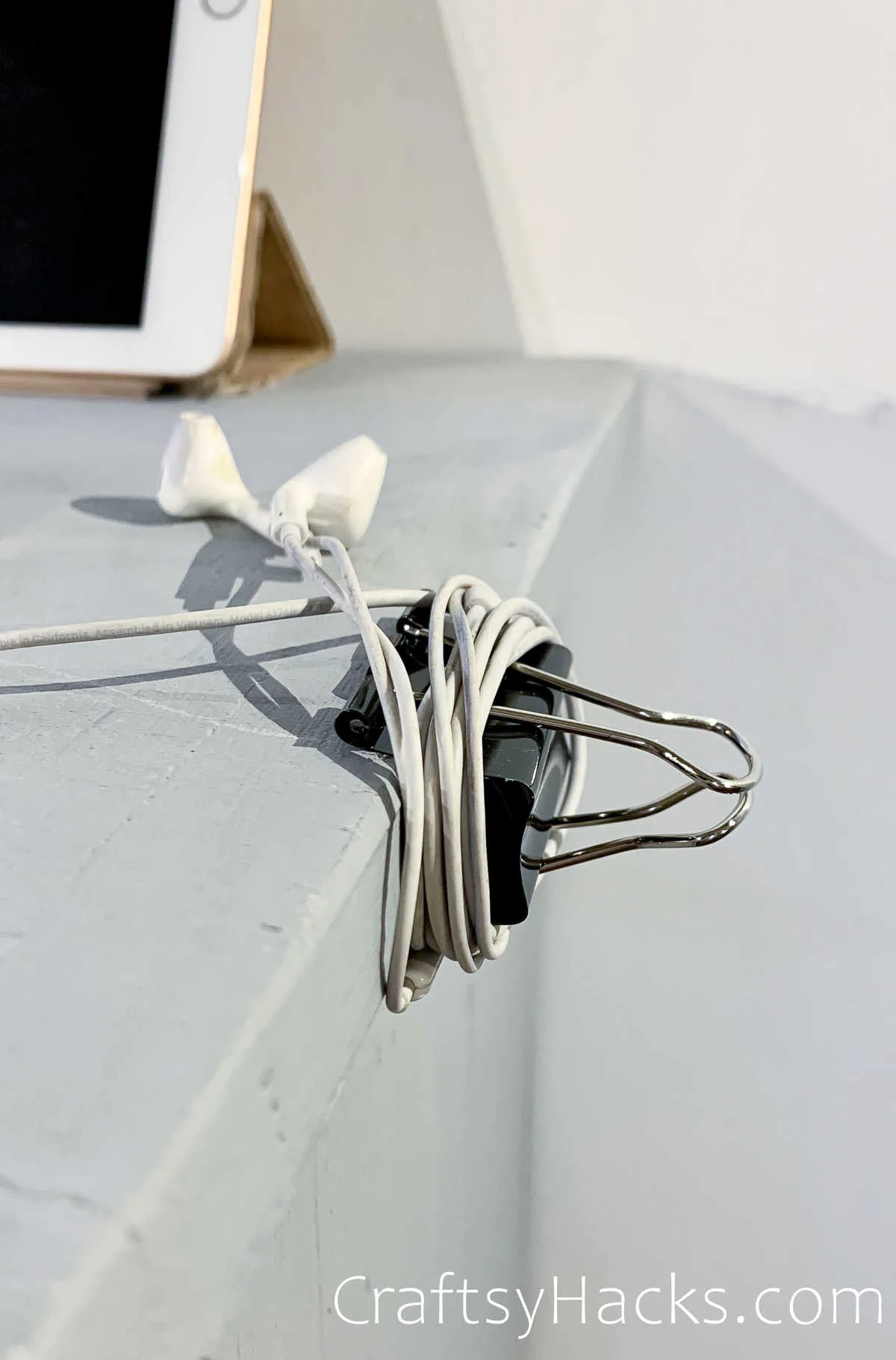 In the same spirit, this hack is for you if you use earbuds instead of headphones. Simply clip a clasp onto the edge of your workspace and wrap your buds when not in use.
14. Hang Your Gloves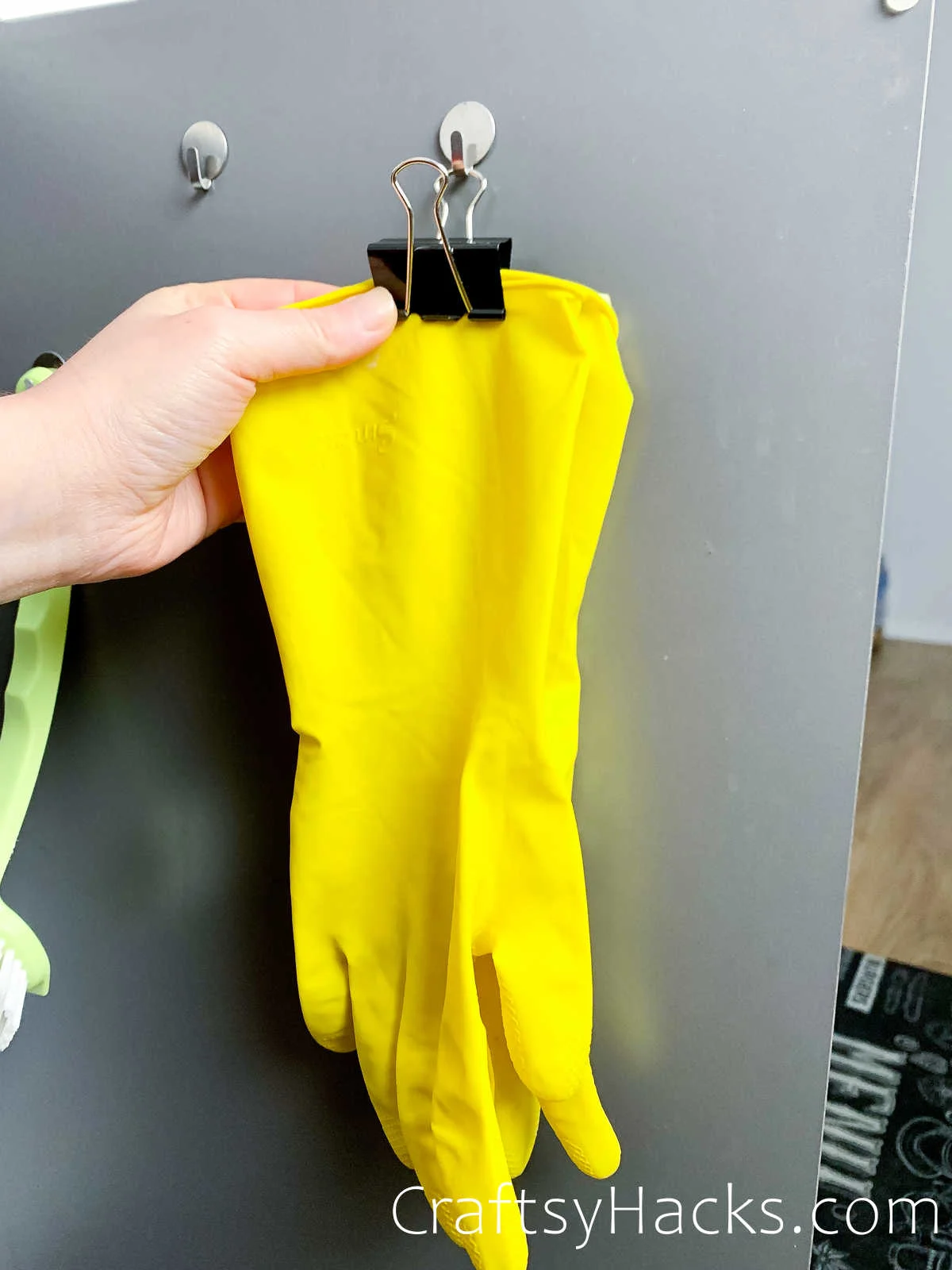 You'll need existing hooks, or grab a pack of these. Once they are in place, attach your gloves to the clips and hang the pair easily on the hooks.
Any lightweight item could do the same.
15. Organize Your Fridge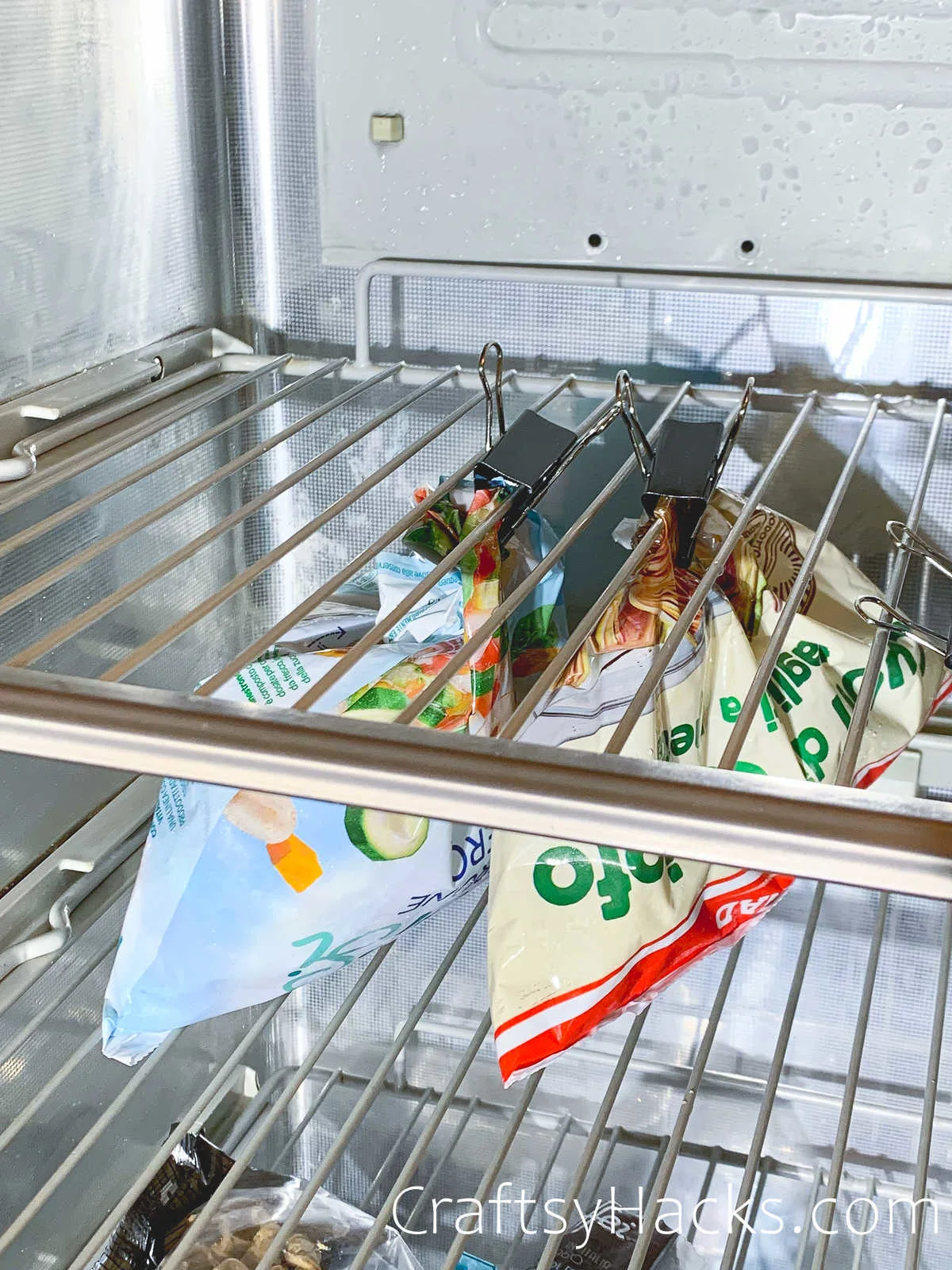 Save this one if your fridge gets crowded quickly or can get crowded. To keep calm, clip bags to the wire racks on the shelving to give you a little more space and more space to navigate the area.
While you are organizing your fridge, check out these genius ways to store food to keep it fresh longer!
16. Hold Your Table Covers Down with Clips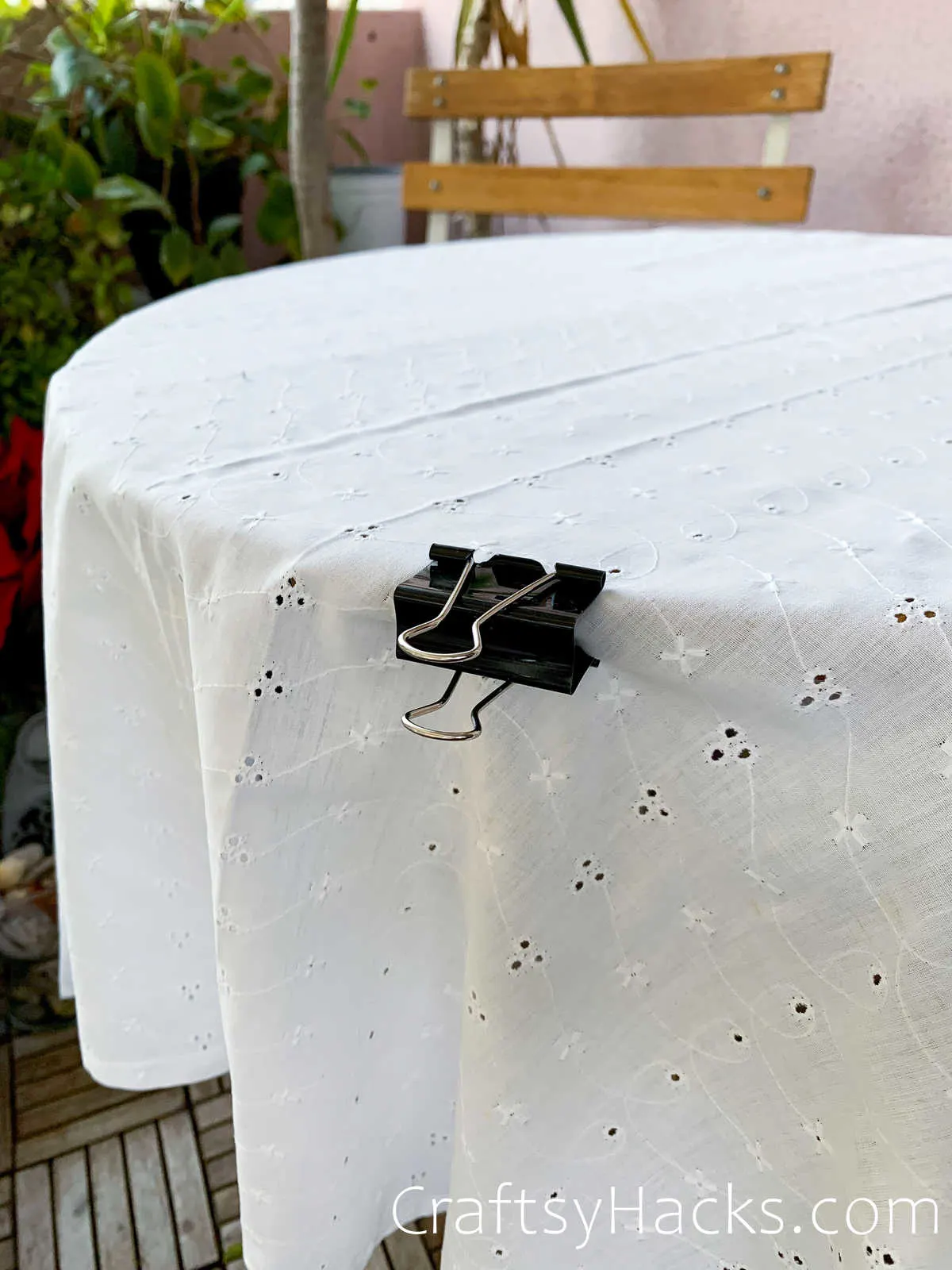 To safely secure tablecloths, whether inside or out, add binder clips to the edges to prevent disasters of any type.
They are sturdier than some of the clips you can buy in stores, and you most likely have clips already!
17. Use Clips to Squeeze Out Toothpaste
Keeping a clip on the end is a surefire way to get every bit of toothpaste (or any similarly packaged product) out of the tube.
Every time you use paste, fold down the empty space so all the useable material will continue towards the spout.
This way, even those that may forget can't squish the toothpaste too far out of order.
18. Hot Glue Gun Stand
We all know hot glue can get messy quickly, and a way to prevent that is to use a binder clip as a holder.
There may be a minor cleanup, but it is much easier to clean and is way less damaging than placing your gun directly on the work surface.
You could even attach a clip onto a little lid to ensure no damage or hot glue cleanup is necessary.
19. A Brush Hook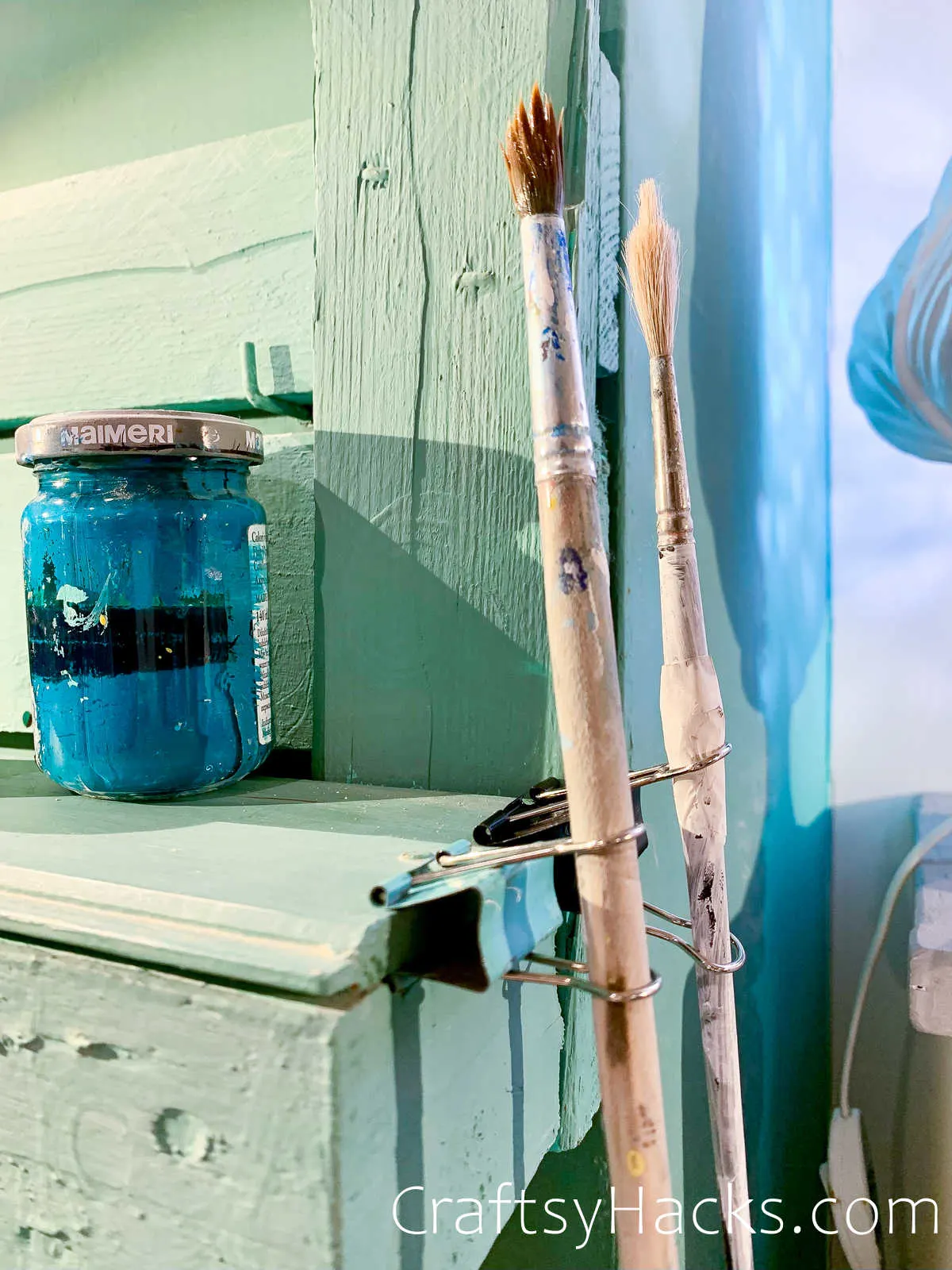 Fix clips appropriately sized for your brushes to the side of your easel or workstation for easy access to interchanging tools.
Make sure to clean up any brushes that could stain the area beyond your designated work space.
This is one of the most ingenious organization ideas for your craft room!
20. Hold Rolled Paper in Place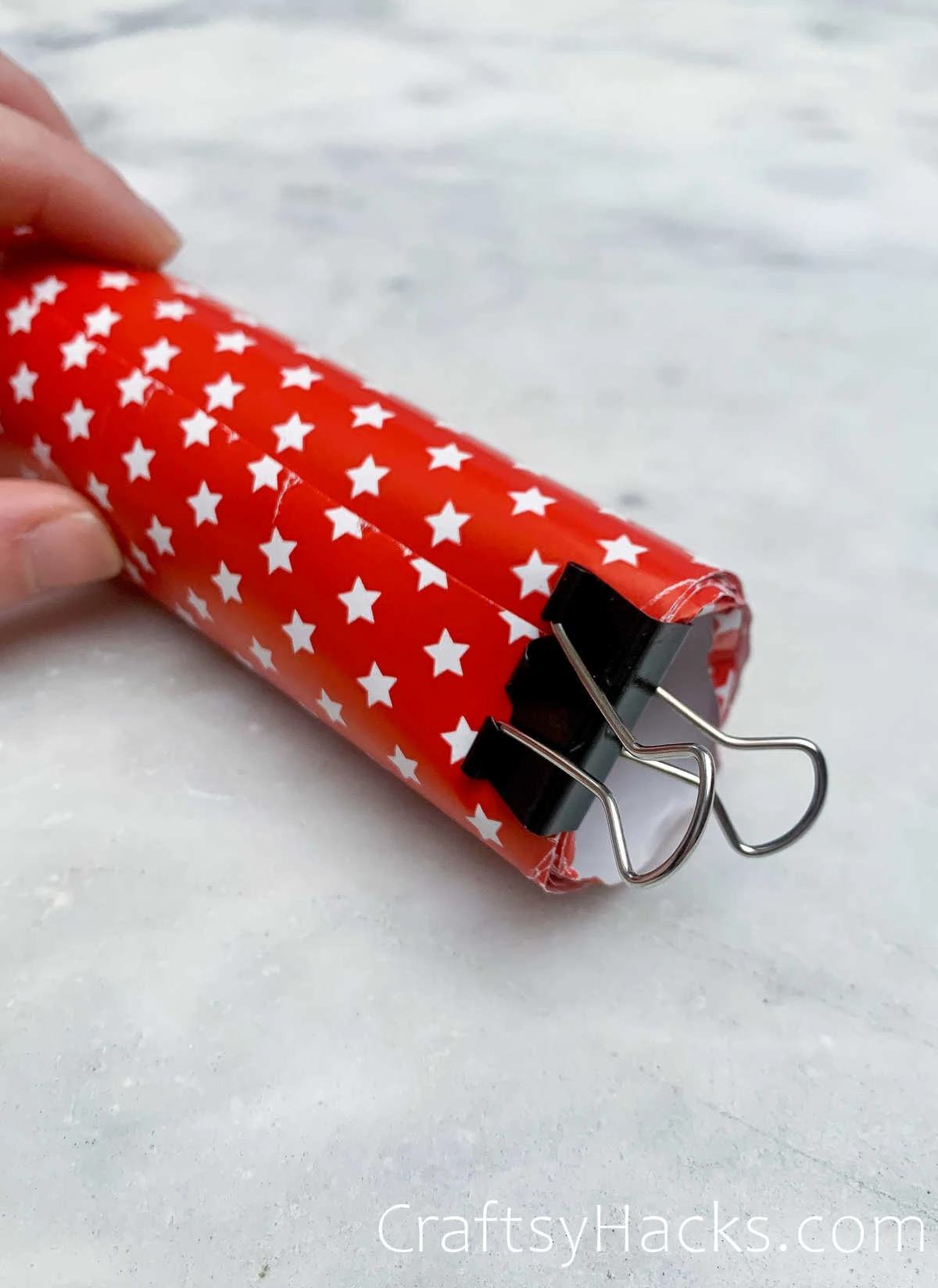 During any gifting season–birthdays, graduations, holidays–rummaging through gift wrap can quickly get stressful.
Cut the rummage time by attaching a clasp at the end of the paper to prevent it from unraveling.
Bonus: If you have the space, you can attach your gift wrapping paper to hooks on the wall for extra organization.
21. Keep Your Kitchen Sponge Upright to Dry Faster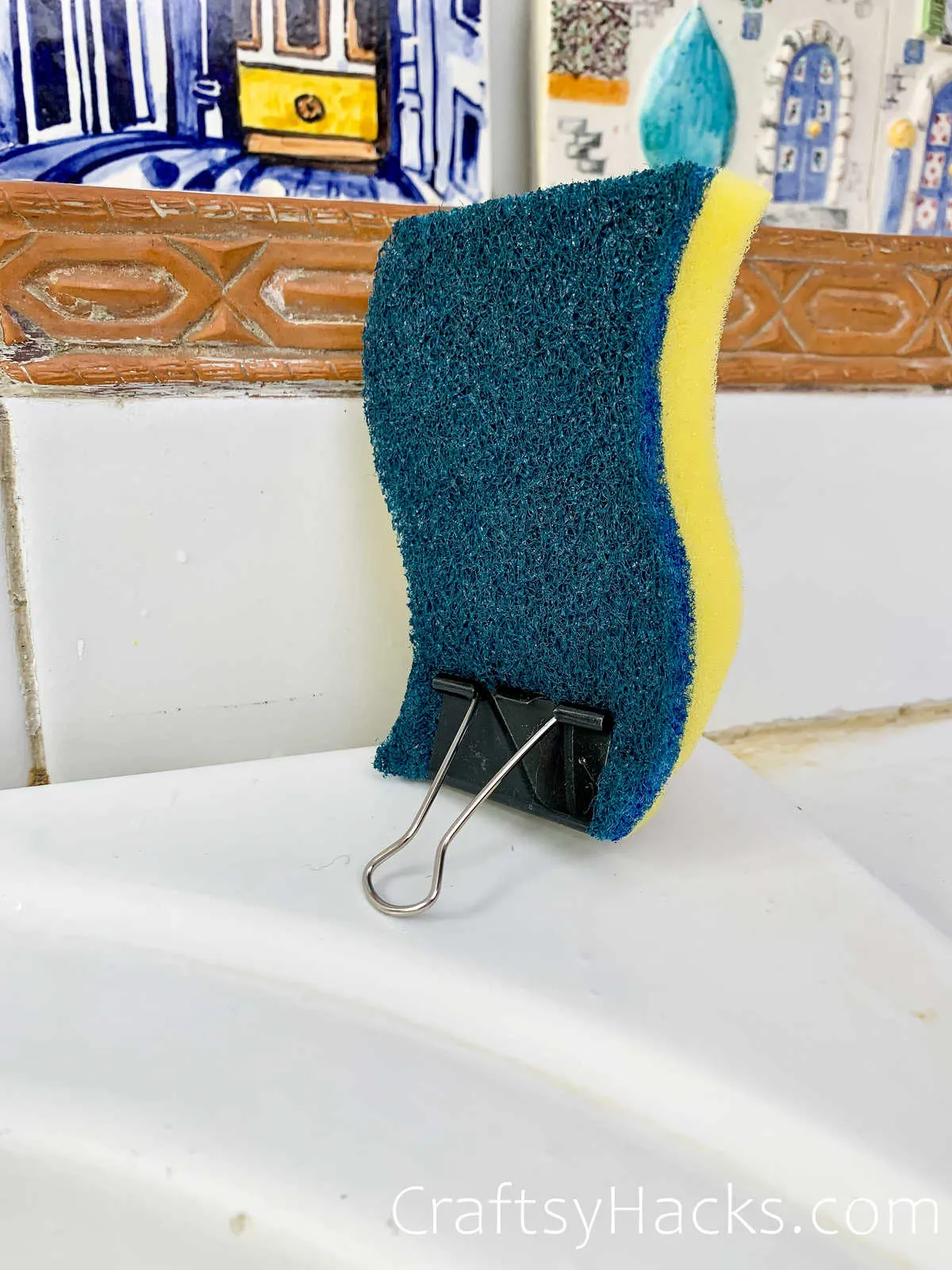 Soggy sponges get stinkier faster. To make sure your sponge has a chance to dry, clip it into a binder clasp to give it the space to dry appropriately.
Hang it from the bottom of a cabinet as a space saver or any other hangable space where it can dry. Get creative and see what works best for your home.
22. Use as a Money Holder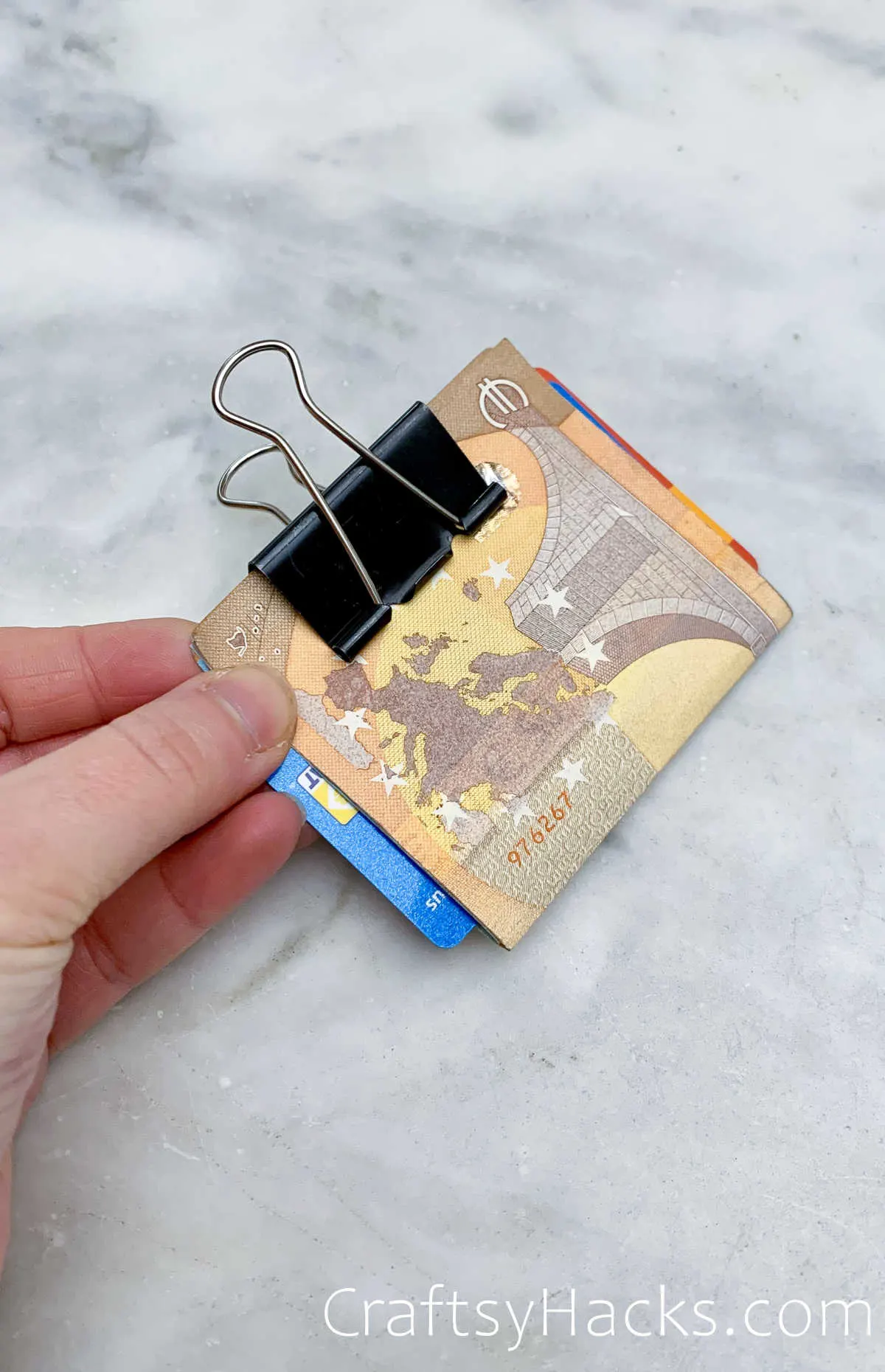 Finally, if you are in between wallets or trying to travel light, use a binder clasp to hold your money! I know it seems a bit scary, but the clip, attached well enough, will keep everything in place.
For a bit of security, try grabbing some cardstock and making an outer shell for your cards and money to sit inside.
Ready for your life changing hacks? Check out these brilliant Command hook hacks!