Declutter your garage with these genius garage ceiling storage ideas. They'll help you to use more of the space you wouldn't usually use to organize the items.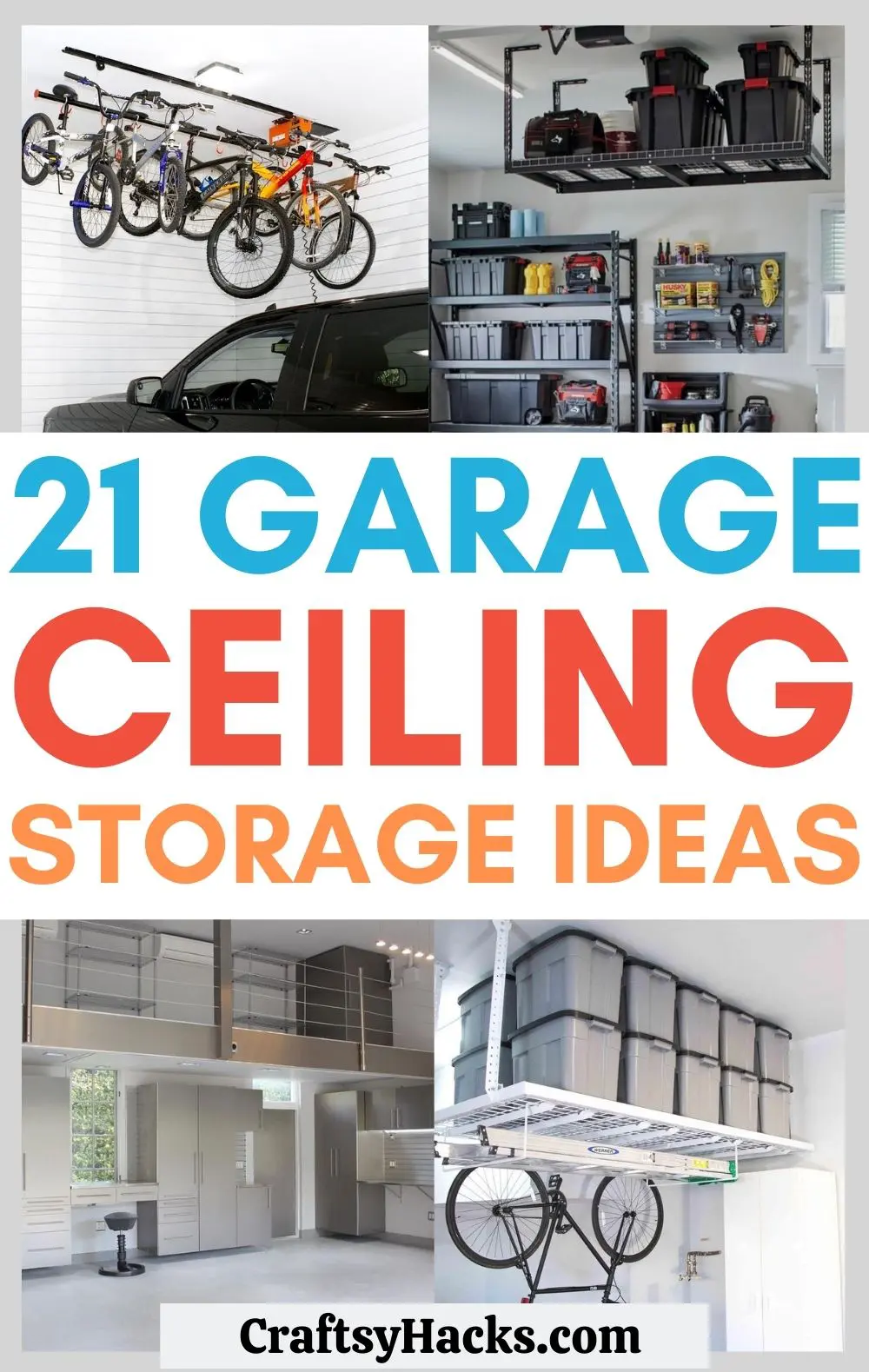 Too often, people neglect the ceiling as a potential storage location. However, in the world of garage storage, the top is the perfect place to put all those supplies we don't always need access to.
For example, it's a great place to put your Christmas or Halloween decorations or even out-of-season clothes. With these things no longer taking up space, you can do anything you like with the extra room.
Happily, installing ceiling storage is a super simple job, and there are many different ways to do it. There are twenty-one of them filling up this list.
So, without further ado, let's dive into the best ways to free up some space in your previously cluttered garage finally.
1. Sliding Ceiling Storage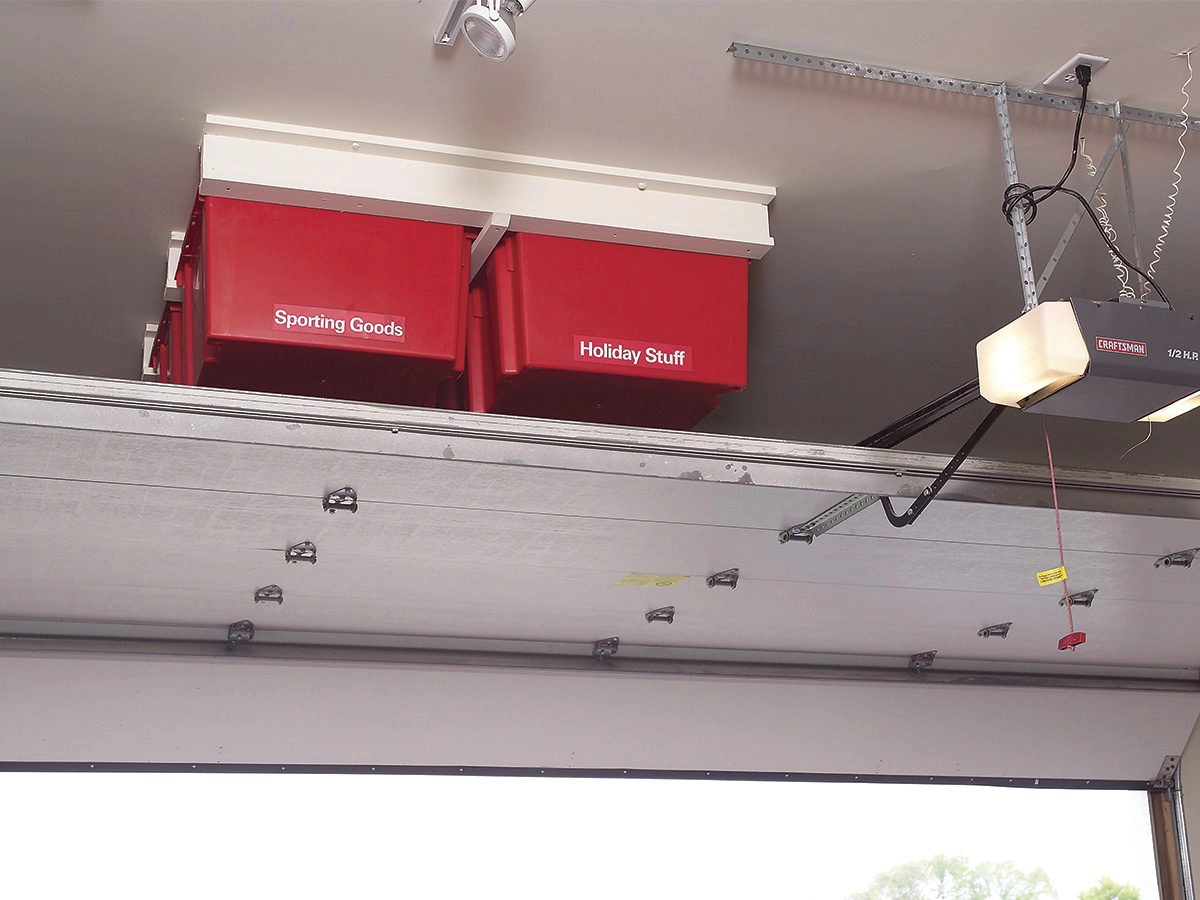 Credit: familyhandyman.com
This sliding ceiling storage module is the perfect way to utilize the space above a retracting garage store. With a few planks of wood and some plastic bins (here), you'll have a sliding system in no time.
It's a great way to store everything from sporting goods to holiday stuff, as it keeps everything well out of the way of any condensation. Make sure you have enough space above your sliding door to fit the bins' depth.
2. Surfboard Storage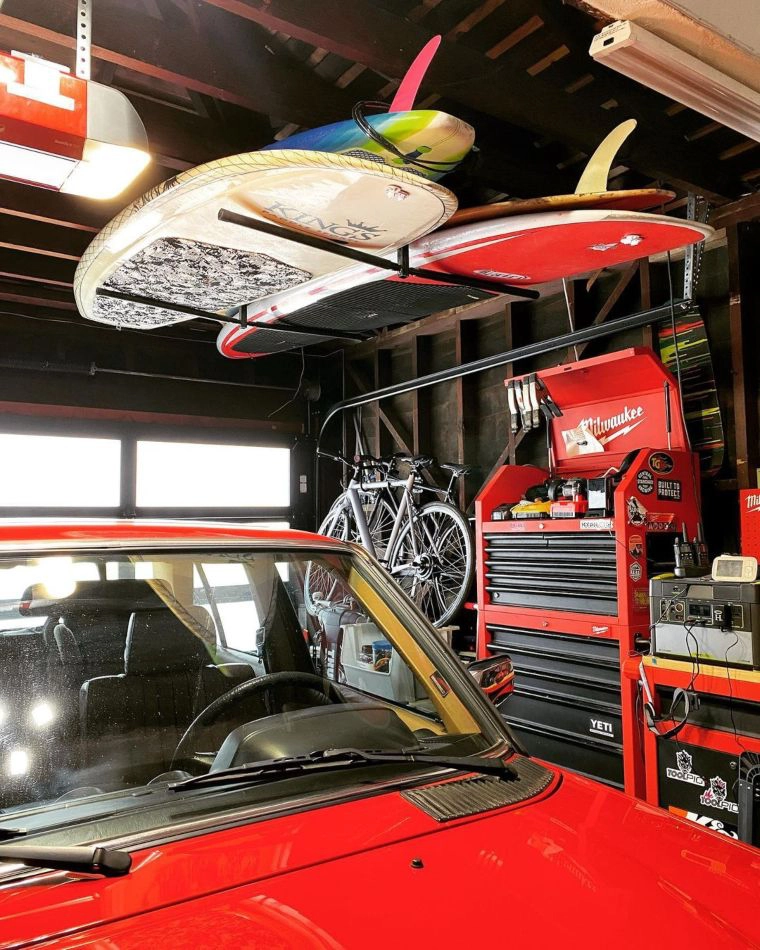 Credit: Instagram
If you're a surfer, you know how tough it is to find space for all your boards. That's where this hanging bar storage system comes in. Ideally suited to storing boards of all sizes, this is a super versatile system.
3. Supersized Ceiling Storage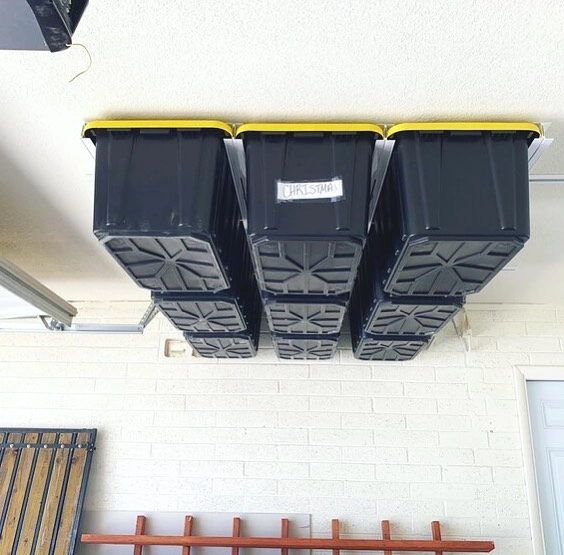 Credit: Instagram
Third, on our list is a supersized version of the first sliding storage system. Rather than creating a grid with wooden planks, this idea uses long steel rails as tracks, slotting one plastic bin in after another.
I recommend using opaque bins like these as your containers of choice, simply because looking up and seeing all your stuff on display isn't the greatest of looks. Don't forget to label them too!
4. Ceiling Pallett Shelf
Credit: hertoolbelt.com
Rather than a rail system, some people might prefer a shelving system, and that's where this bad boy comes in. Using a simple suspended shelf design, this fixture is an ideal way to utilize vertical space.
You can make one of these shelves on your own without too much hassle, thanks to its simple design. Alternately, you can purchase one with a similar style here, but I prefer the wooden one for its natural look.
Speaking of using vertical space in your garage, another fantastic way to free up space is to install a pegboard on one of your garage's walls. Check out some of these genius pegboard ideas for inspiration!
5. Corner the Storage Game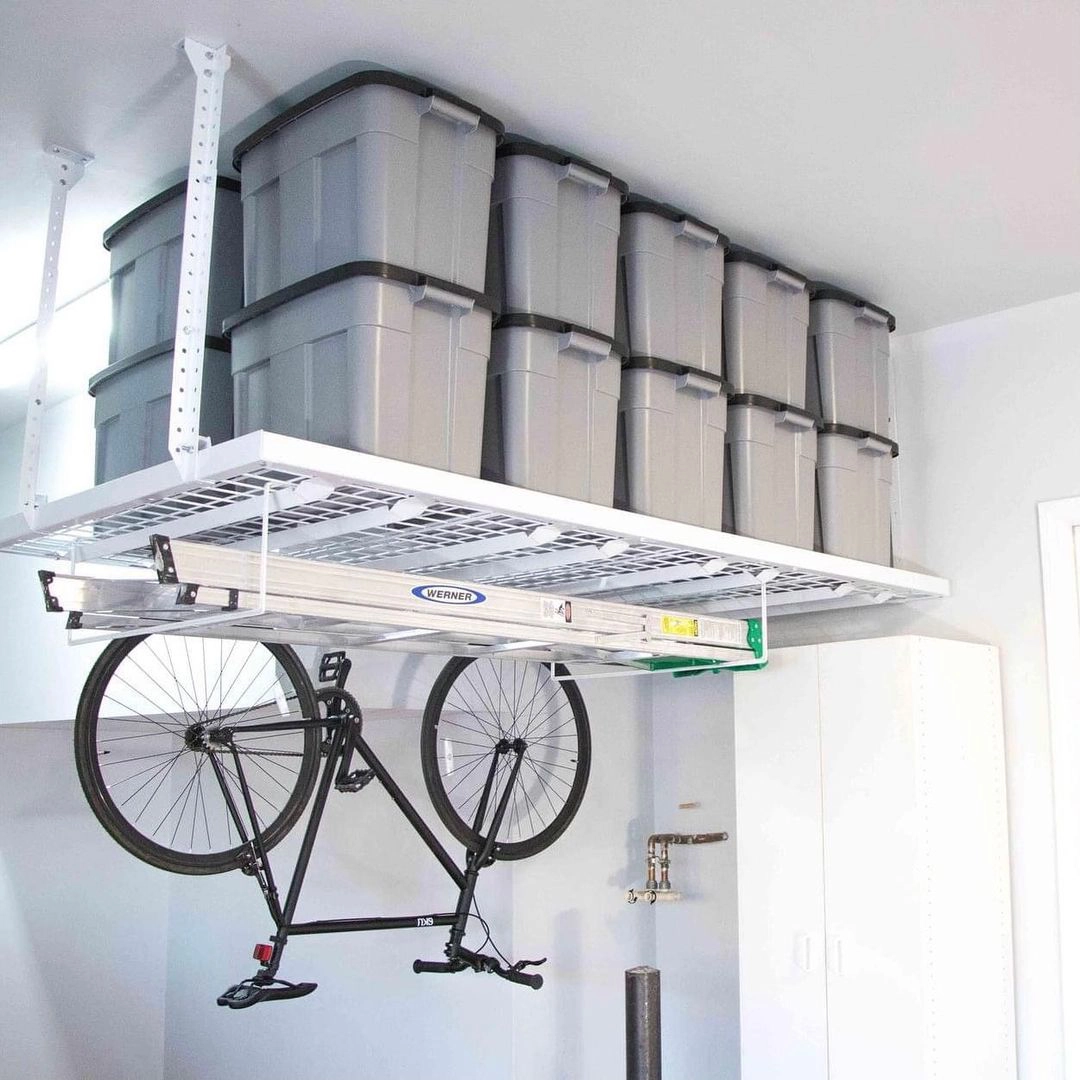 Credit: Instagram
This rack is a different take on the ceiling rack before, using a store-bought rack rather than constructing one for yourself. This genius design lets you use both the top and bottom of the rack for extra space.
Stack as many containers as you can fit on the top of the rack, then suspend items with an awkward size or shape (think bikes and ladders) from the rungs on the bottom.
This rack fits best in the corner of your garage. It does present a bit of a hazard to anyone above five feet tall.
6. The Ultimate Fishing Rod Storage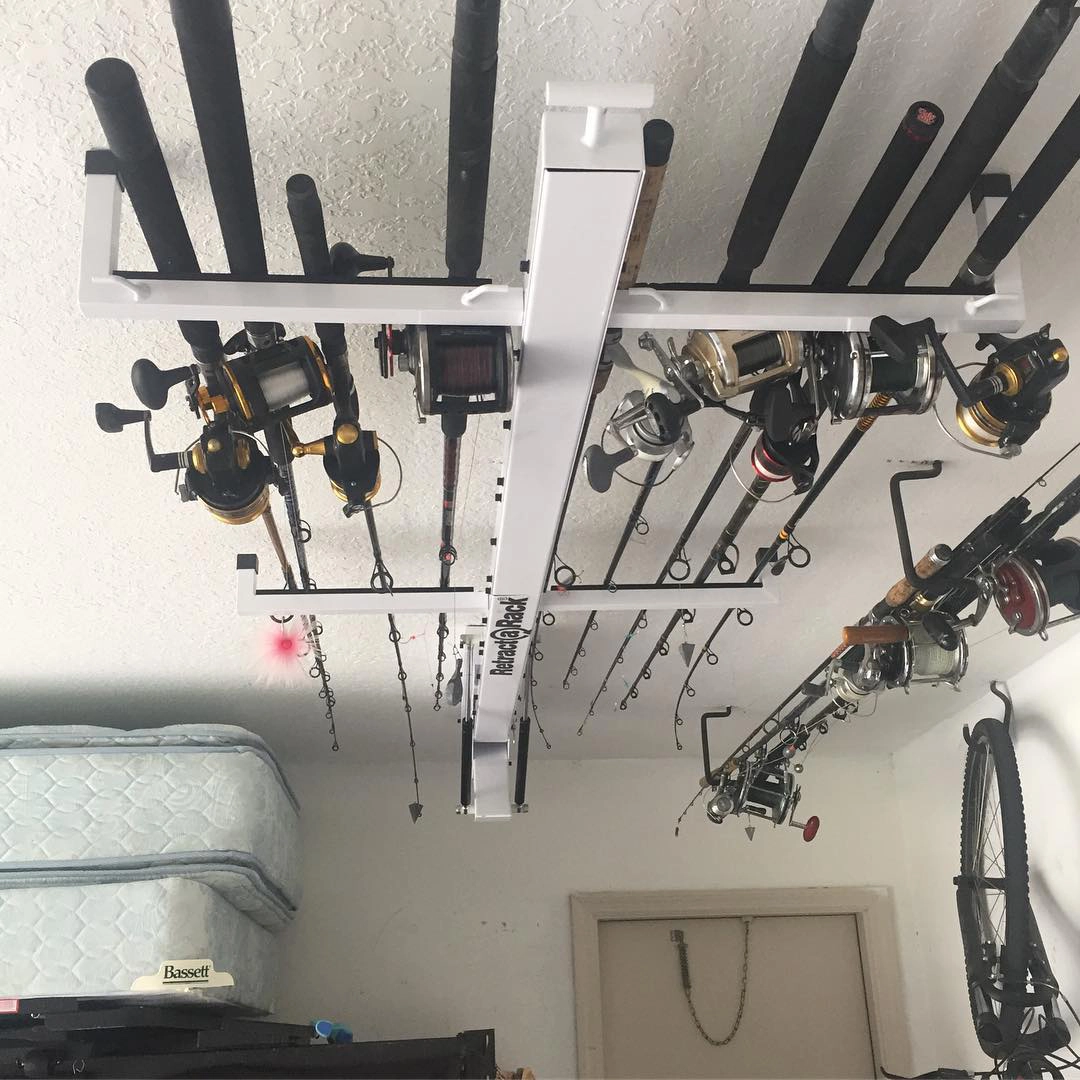 Credit: Instagram
Storing fishing rods without tangling the lines or bending the rods is quite a hassle, but it doesn't have to be, thanks to this genius storage solution. Create a T-shaped rack on which to lay your many rods.
While the rack in the post is branded, you can easily make yourself using any timber you have lying around. If you're not much of a builder, there are plenty of installation-ready models from which to choose.
For example, this one embraces an old nautical look, displaying your rods how they were meant to be seen.
7. Install a Garage Loft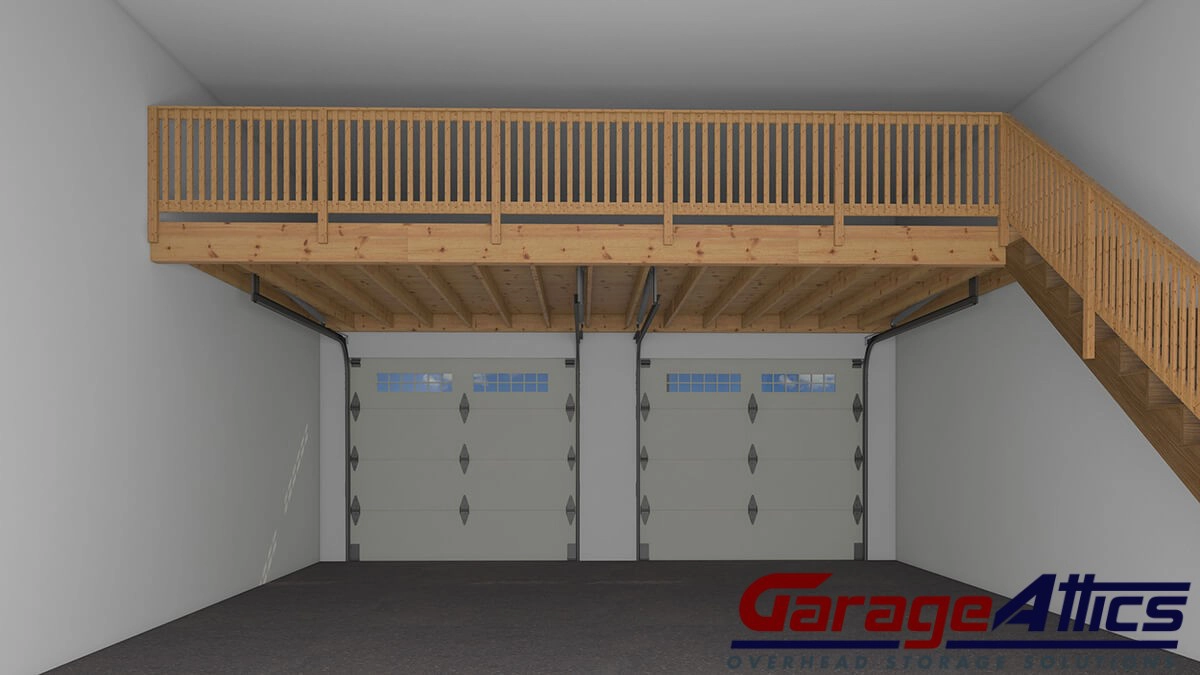 Credit: garageattics.com
This idea takes garage ceiling storage to a whole new level, literally. Installing a garage loft offers ample space for everything you could need to store, leaving the garage free for work or parking the car.
While the loft will require a more considerable investment than any of the other items on this list, it also provides the biggest payoff because it creates square footage out of thin air.
8. Suspended Bike Storage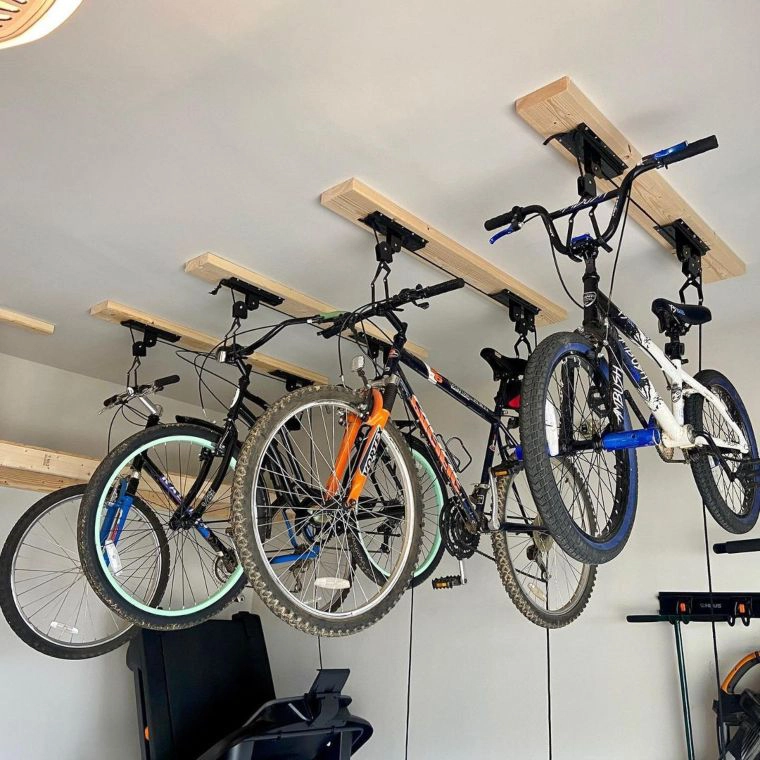 Credit: Instagram
If you're blessed with high ceilings in your garage and happen to be an avid cyclist, this idea is for you. Using a bike hoist like this and some wooden planks, you'll have your bikes floating above your head in no time.
Why is this such a great idea? Well, bikes take up a bunch of space when they're not in use, but you can't just store them anywhere for fear they'll rust.
This airy system prevents any rusting, plus it's super easy to get the bikes down when you and the family are ready to ride.
9. Suspended Power Tool Racks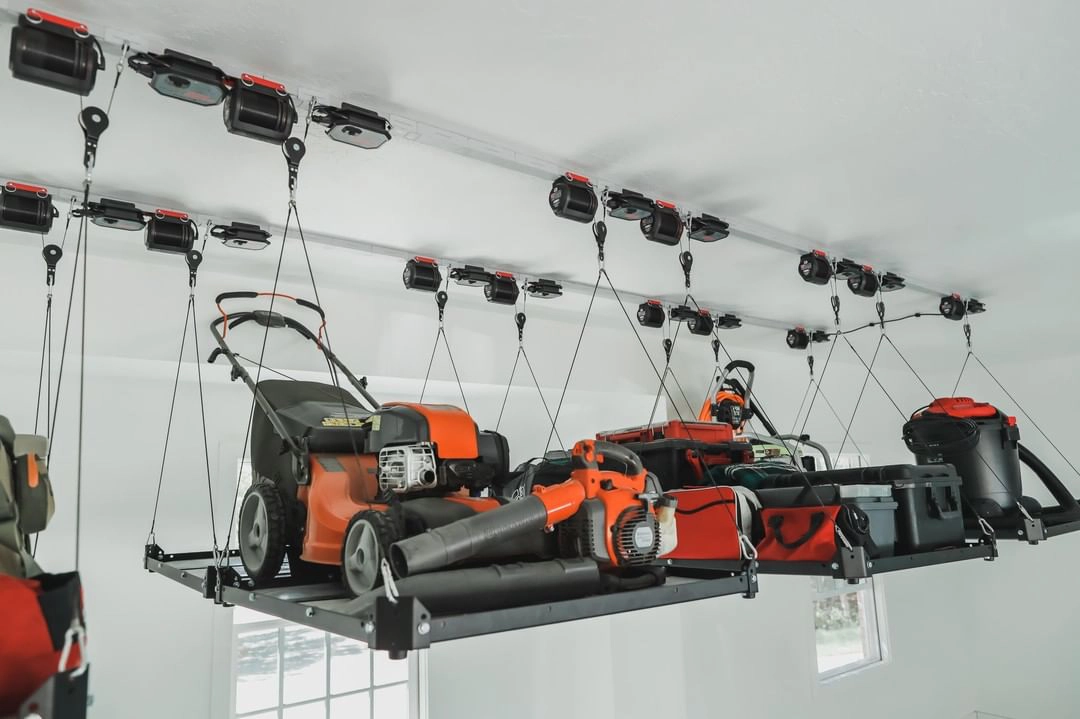 Credit: Instagram
Another group of items hungry for your garage space is your power tools. Things like your lawnmower, leaf blower, and workshop vacuum are inconvenient to store, but they don't have to be!
These suspended ceiling racks are very easy to install, and they're sturdy enough to handle the weight of your heftier power tools. Remove these obstacles from your garage storage journey with ease.
10. Workshop Ceiling Shelf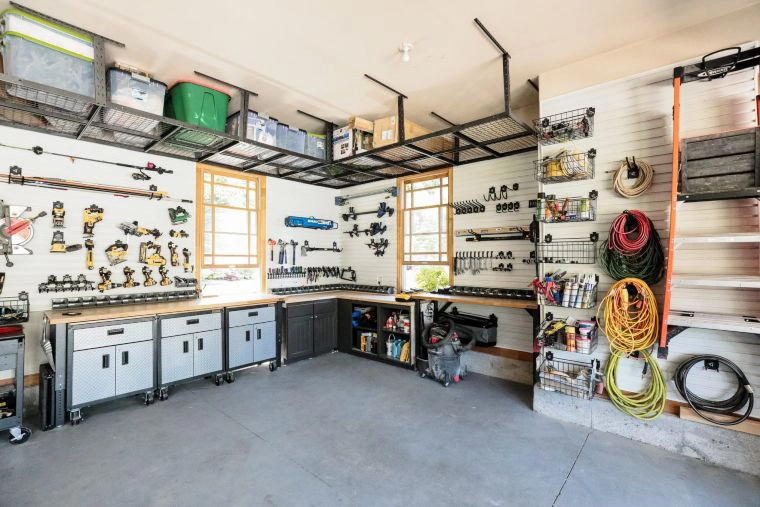 Credit: chrislovesjulia.com
Here's another storage idea that you can DIY or buy, depending on your preference. Rather than using the space above the garage door, put the corners of your garage's ceiling to good use with a suspended shelf.
Among other ideas for storage in small spaces, this ceiling shelf is a great way to fit more things into less space.
11. Free Up Space for a Home Gym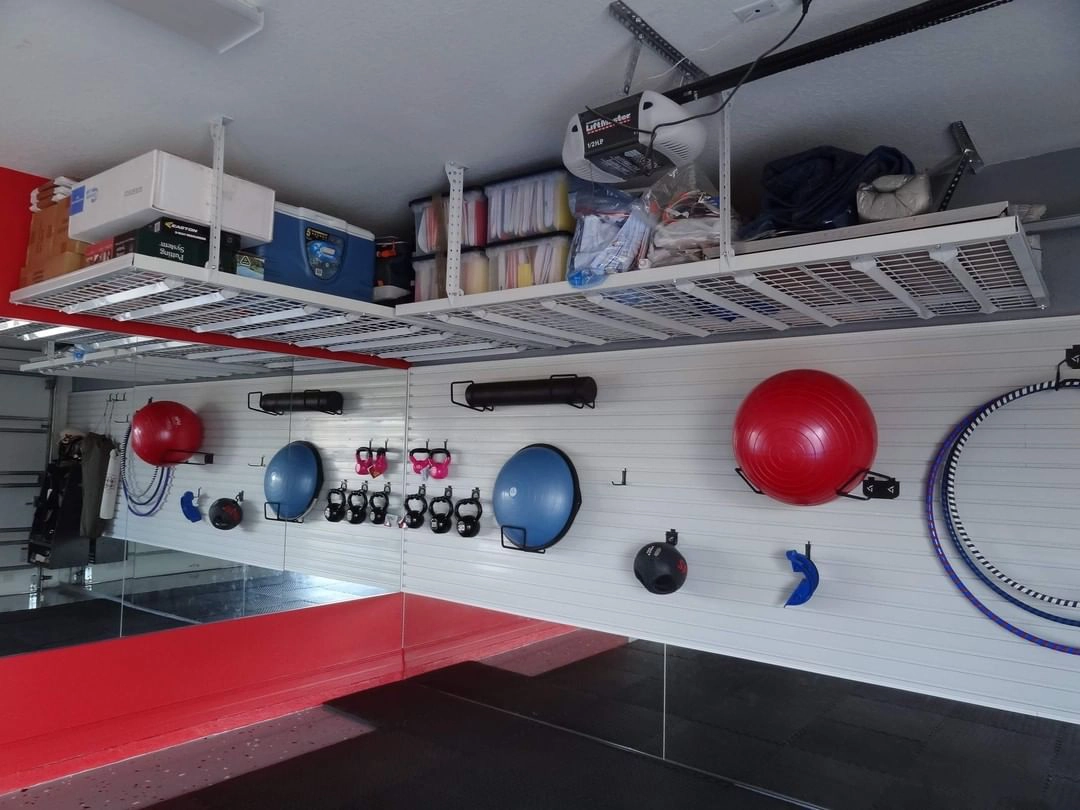 Credit: Instagram
Most people leave the luxury of a home gym to the rich and famous simply because they don't have space for one. But once you install a ceiling storage system, you'll have more room for your very own!
Transform the bottom half of your garage into the workout space of your dreams with foam mats (these are super easy to install), a weight set, and even a mirror wall to keep an eye on your form.
12. Ceiling Bike Rack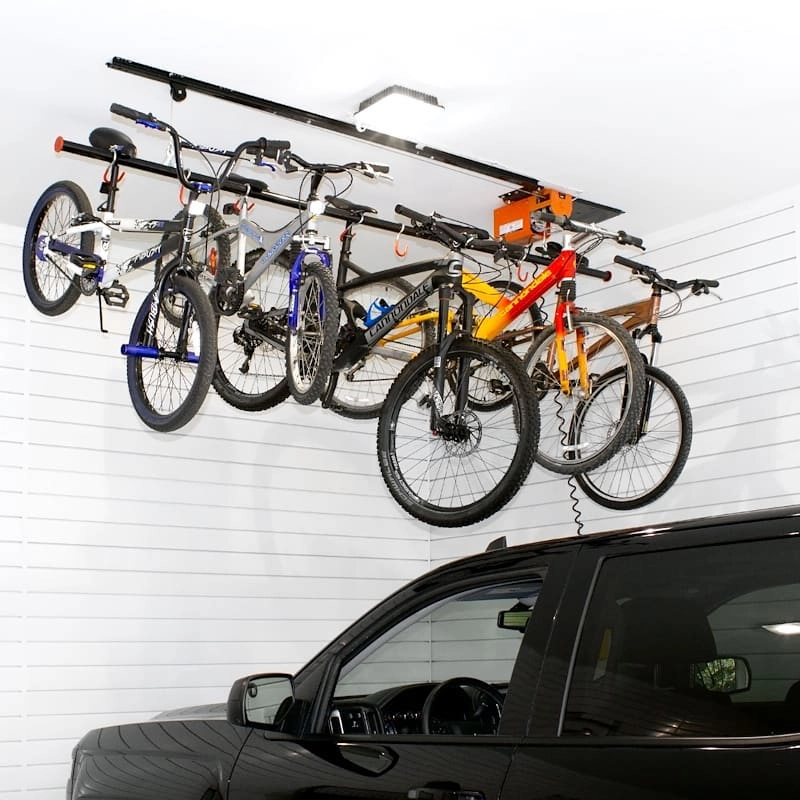 Credit: Instagram
Instead of a bike hoist system, using a ceiling bike rack allows you to store more bikes in even less space, as it can hold significantly more weight. Plus, these systems are a breeze to install.
Keep in mind that you'll need to get up on a ladder every time you want to get your bikes down, which might be inconvenient if you park your car right underneath them.
13. A Hanging Workshop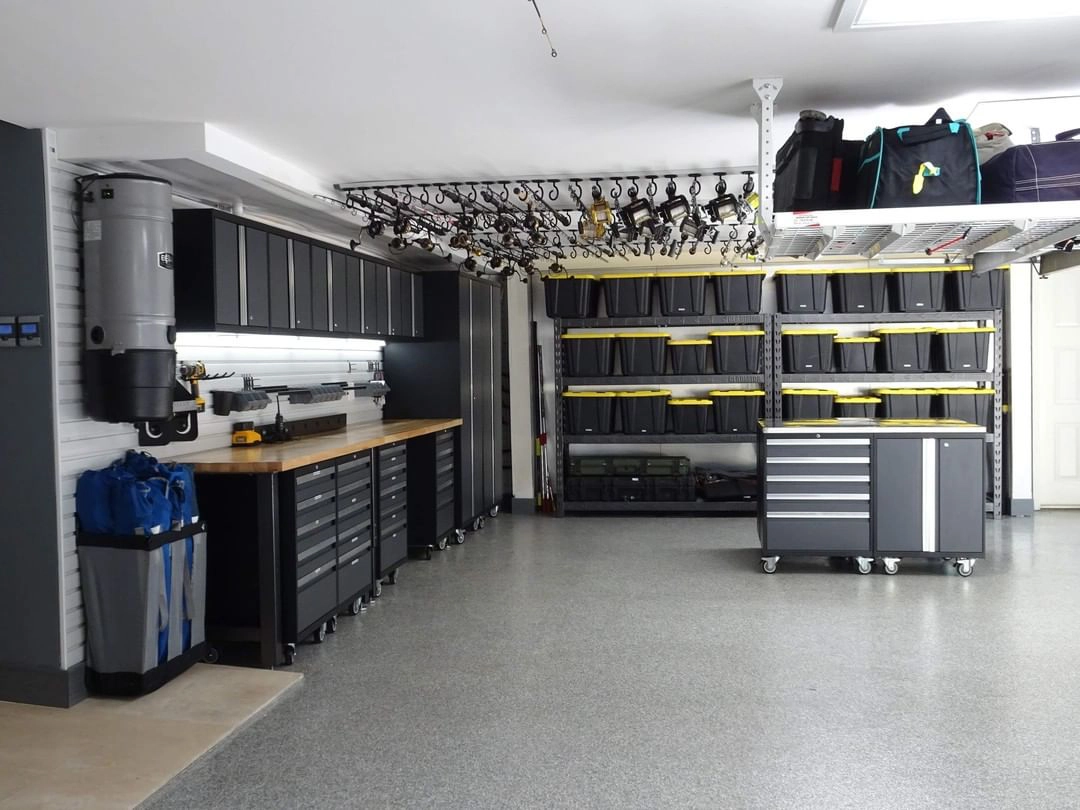 Credit: Instagram
Rather than sacrificing counter or shelf space to the various little tools in your workshop, dedicate a few square feet of the ceiling to the task of storage. This grid of metal hooks is easy to install and easy to use.
When you need something, whip it off the ceiling hook (try these) and put it to use. Once you're done, hang it back. No ladder, hoist, or struggle is needed to get those essential items down.
14. Tilted Surfboard Storage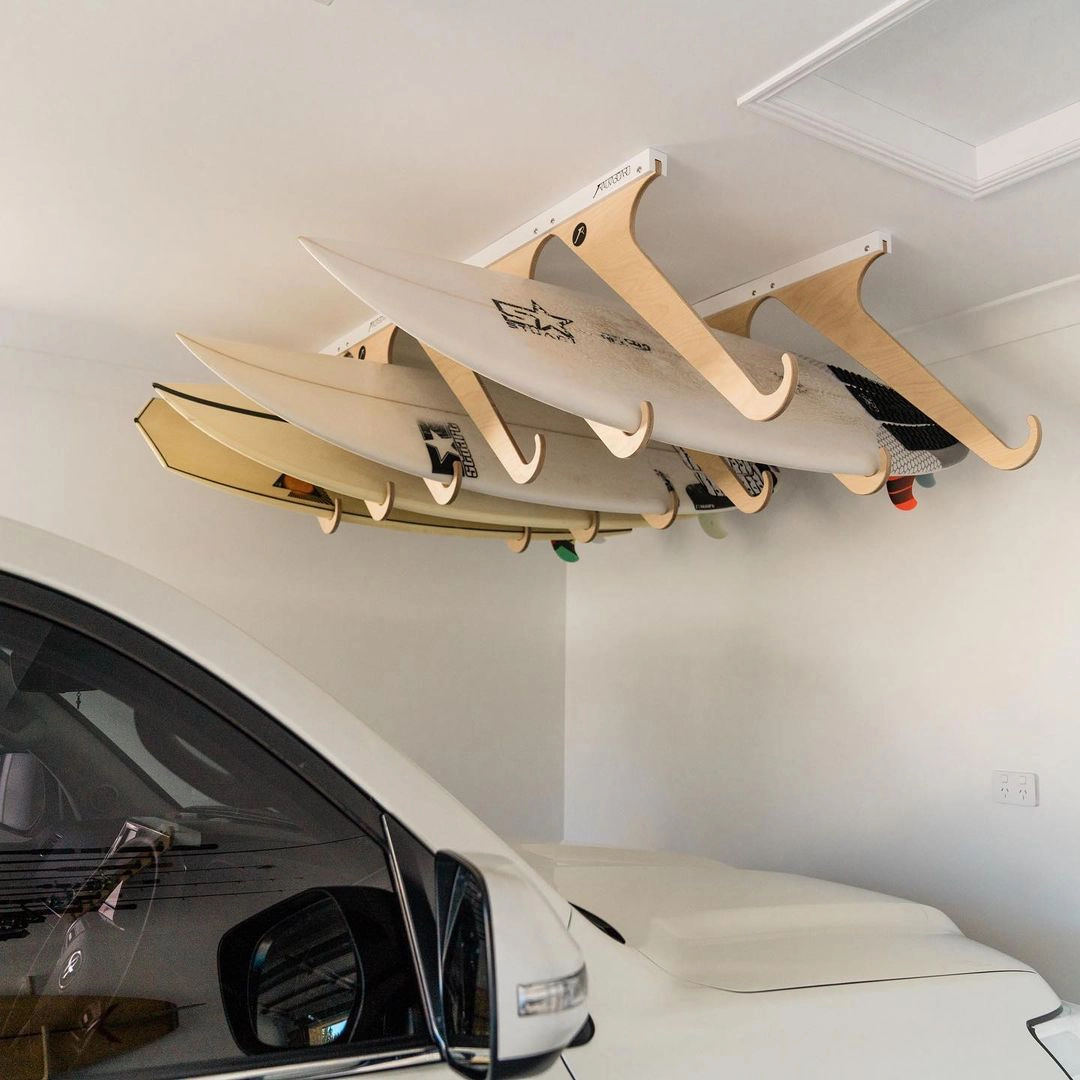 Credit: Instagram
If you're looking for a way to store and display your surfboard collection simultaneously, this hack is for you. Using wooden hooks reminiscent of waves, this hack puts your boards on display without taking up space.
In the world of garage storage, it's rare to find a solution that's both functional and attractive, so this is a breath of fresh air.
15. Soft-Mount Kayak Racks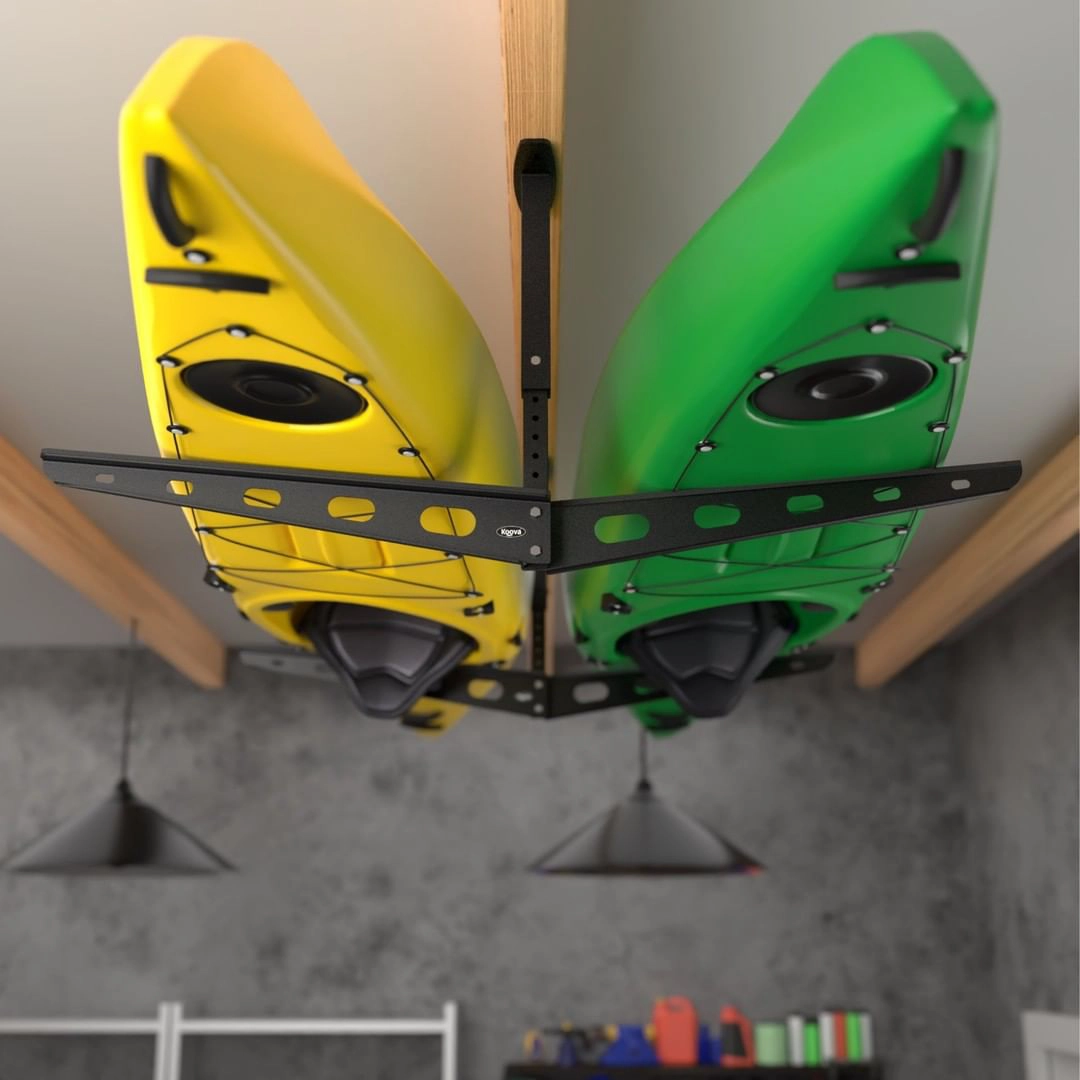 Credit: Instagram
Water-based hobbies sure do take up a lot of storage space! When your kayaks aren't living atop your vehicle, why not suspend them from your ceiling instead of propping them against your garage wall?
This serves the dual benefit of saving space and letting your kayaks drip dry, preventing cracking or plastic erosion in the long term. Store your paddle in a rack beside this one, or keep it closer to the ground.
While finding a place for your kayaks is a big space saver, if the rest of your garage is cluttered, you still have a problem. Check out some of these brilliant garage organization hacks to bring that mess under control.
16. Overhead Camping Storage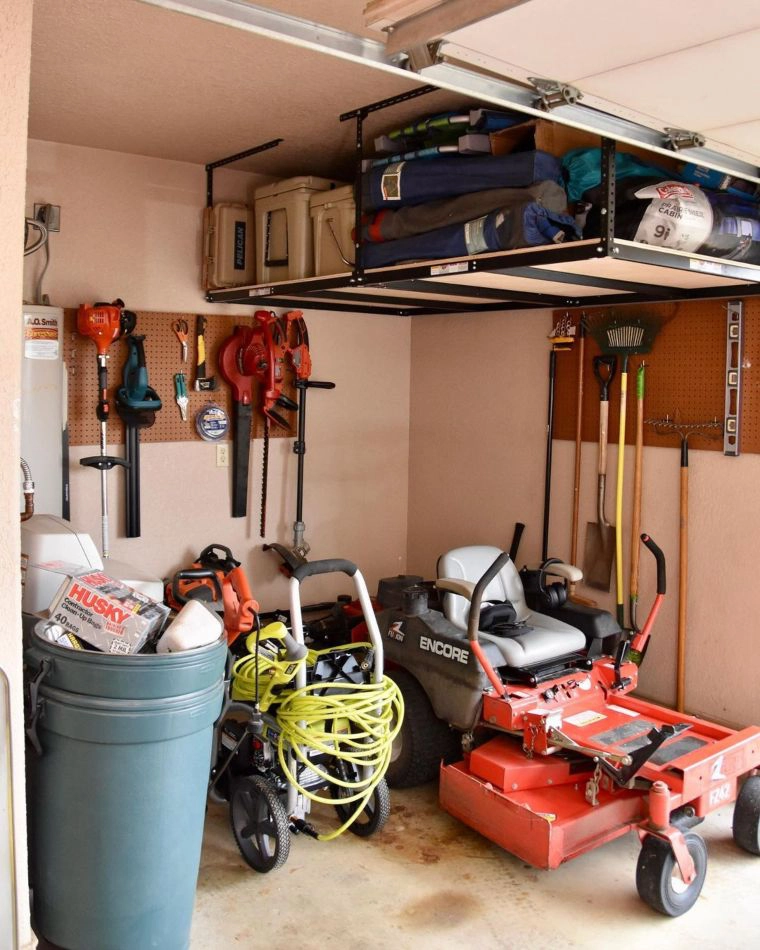 Credit: Instagram
If you're an avid camper with a thirst for adventure and the great outdoors, then you know what a struggle it can be to keep all your camping gear in the less-great indoors.
While using a shed is an option that leads to rusting and molding sleeping bags as soon as the rainy season comes. Never fear. Ceiling storage will save the day!
Pick a lower-set rack like this to create more space for oversized items like your tent and camping chairs.
17. Create a Dedicated Storage Loft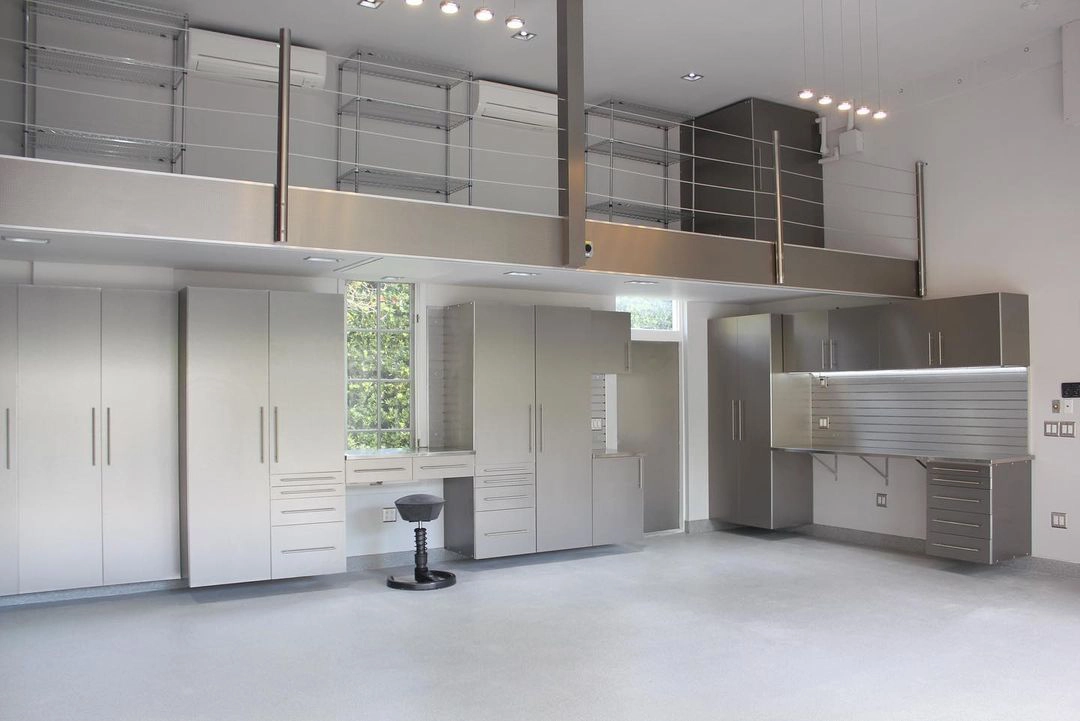 Credit: Instagram
Rather than using your loft as additional floor space, sacrifice it to the storage gods to free up the rest of your garage! With all your belongings stored neatly in your new loft, your garage is now free real estate.
My advice? Don't skimp on the loft's design. It's tempting to throw together a basic loft and call it a day, but by putting some effort into its appearance (with the lighting, for example), you'll make this new addition shine.
18. Go a Little Smaller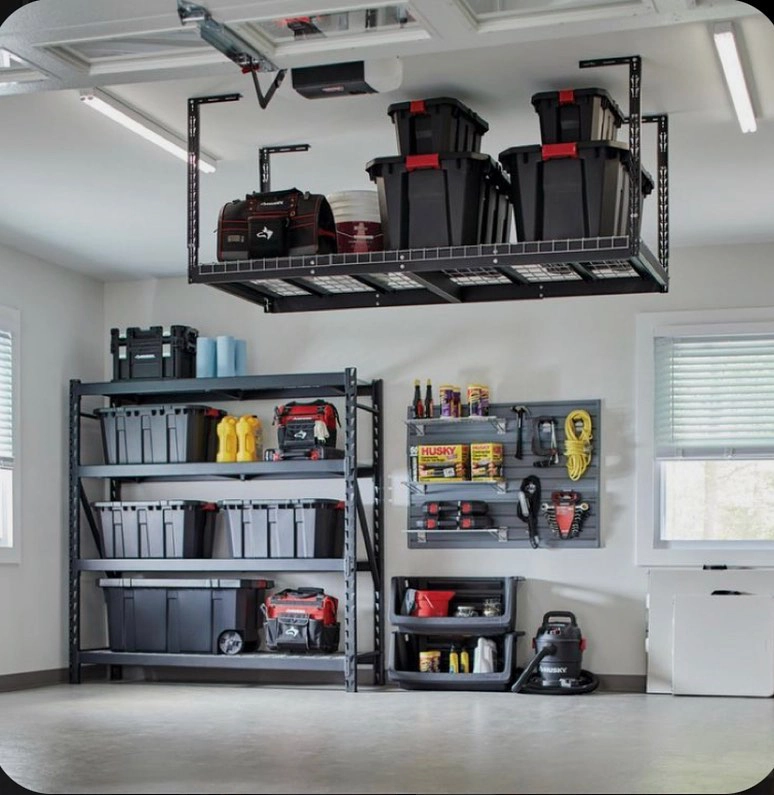 Credit: Instagram
Rather than using your ceiling as your only source of storage, you might want to supplement your existing storage with a small ceiling rack. This is a great way to put items that don't fit out of the way.
If you need ideas for storage a little closer to the ground, these ingenious basement storage ideas are a great way to keep the clutter to a minimum in your garage too.
19. Keep Your Luggage Out of the Way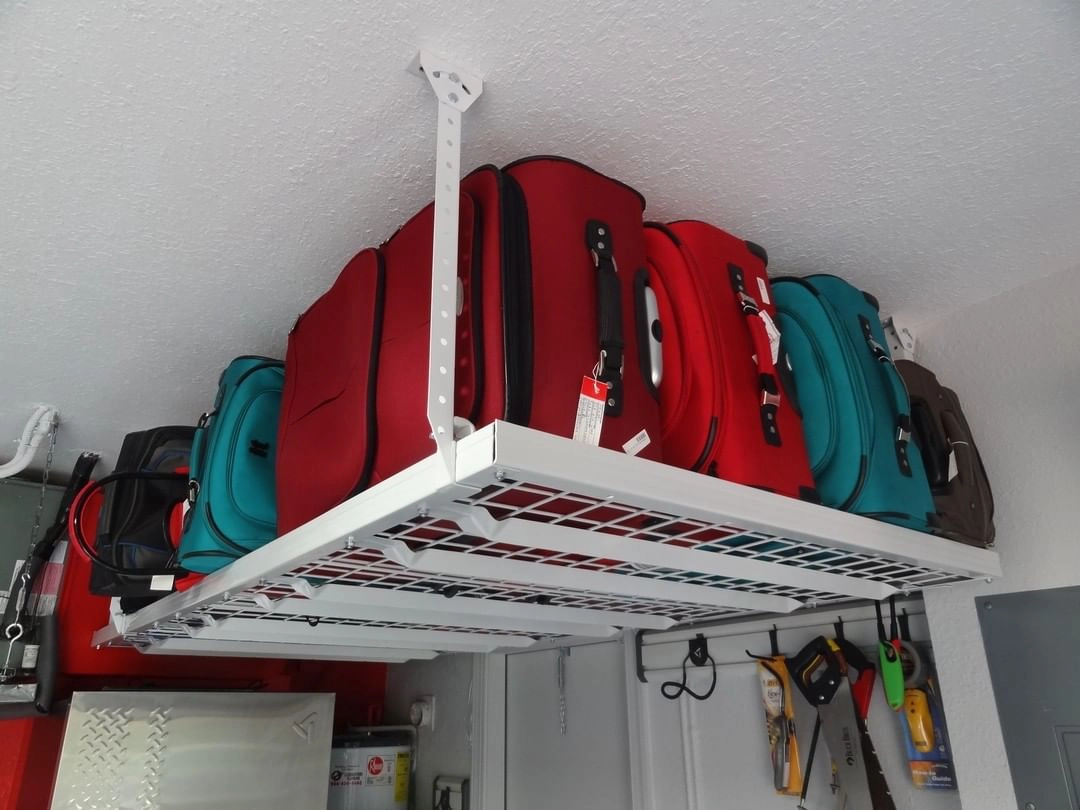 Credit: Instagram
Ironically, something meant to store your clothes for easy traveling can take up a lot of space. If you're a frequent flyer, you might struggle with finding the right place to keep your empty suitcases.
Struggle no more! With a simple ceiling storage rack, you can keep all your luggage in one place and out of the way. Don't tear apart your house searching for your suitcases ever again, thanks to this genius idea.
20. A Place for Your Cargo Box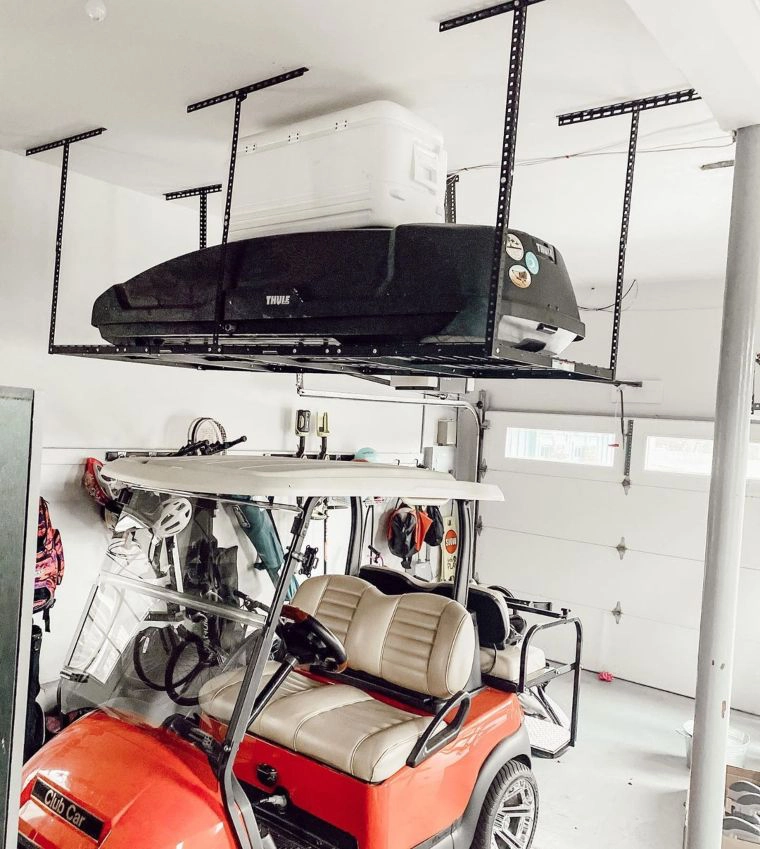 Credit: Instagram
When you're traveling, a cargo box on your vehicle's roof is an absolute lifesaver. But what do you do with it once the trip is over? You can't leave it on your car forever, and the floor isn't an ideal spot.
Enter the ceiling rack. These babies are the perfect place to store a cargo box, and you can even use the space inside the box to hold more minor things you want to keep out of sight to prevent clutter.
21. Stacking Storage Shelves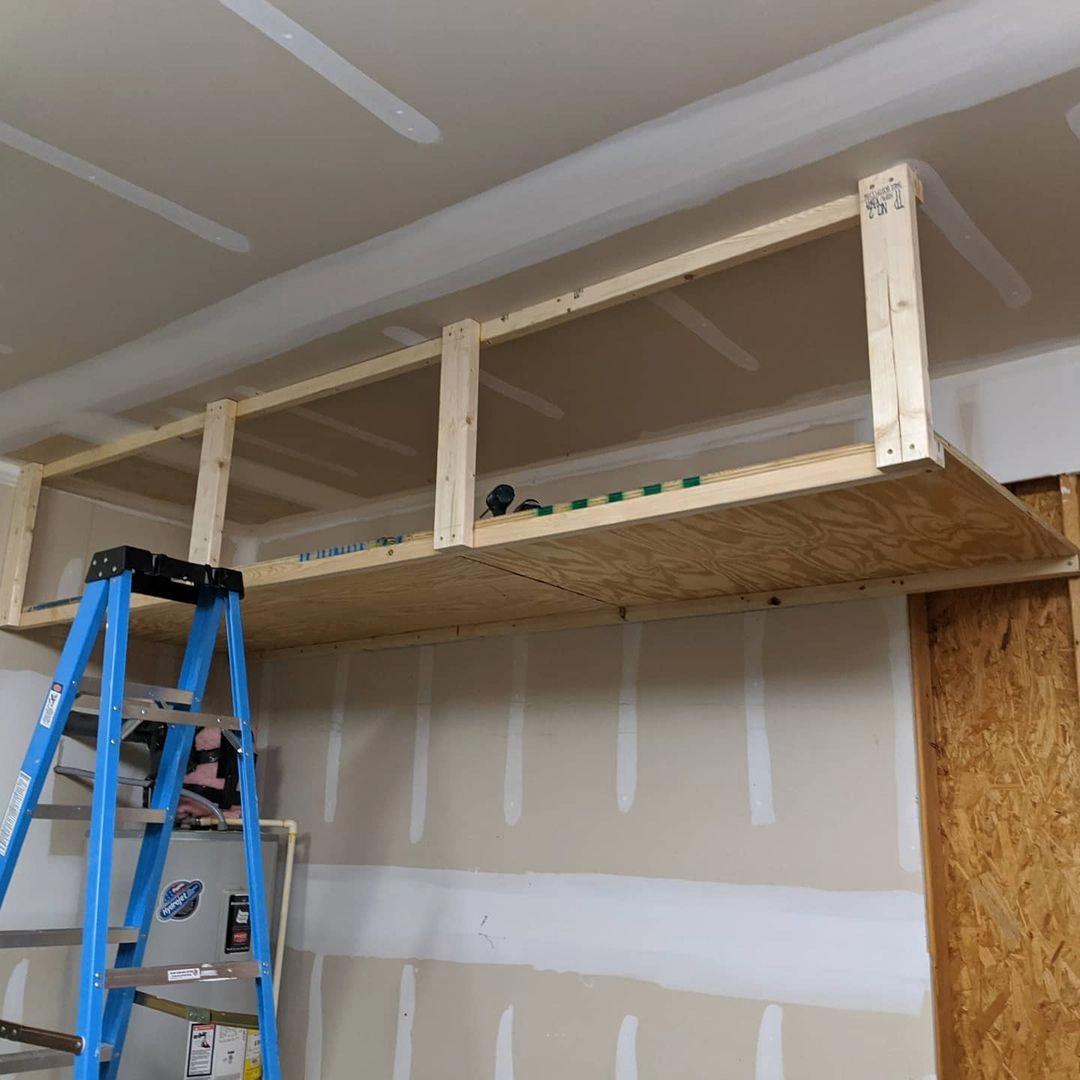 Credit: Instagram
Finally, this DIY storage shelf uses a simple box layout to create some overhead storage space in your garage. It's an excellent project for aspiring builders or anyone handy with tools!
Below it, you can install specialized storage for any pieces that won't fit in your new addition, such as surfboard (here) or fishing rod racks.
Conclusion
So, have you found the storage solution that's going to transform your garage? Set aside a weekend and bring this oft-neglected room up to scratch. Once you're done, I guarantee you'll feel like an organization hero!