Are you planning a baby shower this autumn? Here are a bunch of fall baby shower ideas that will make your autumn celebration even more special.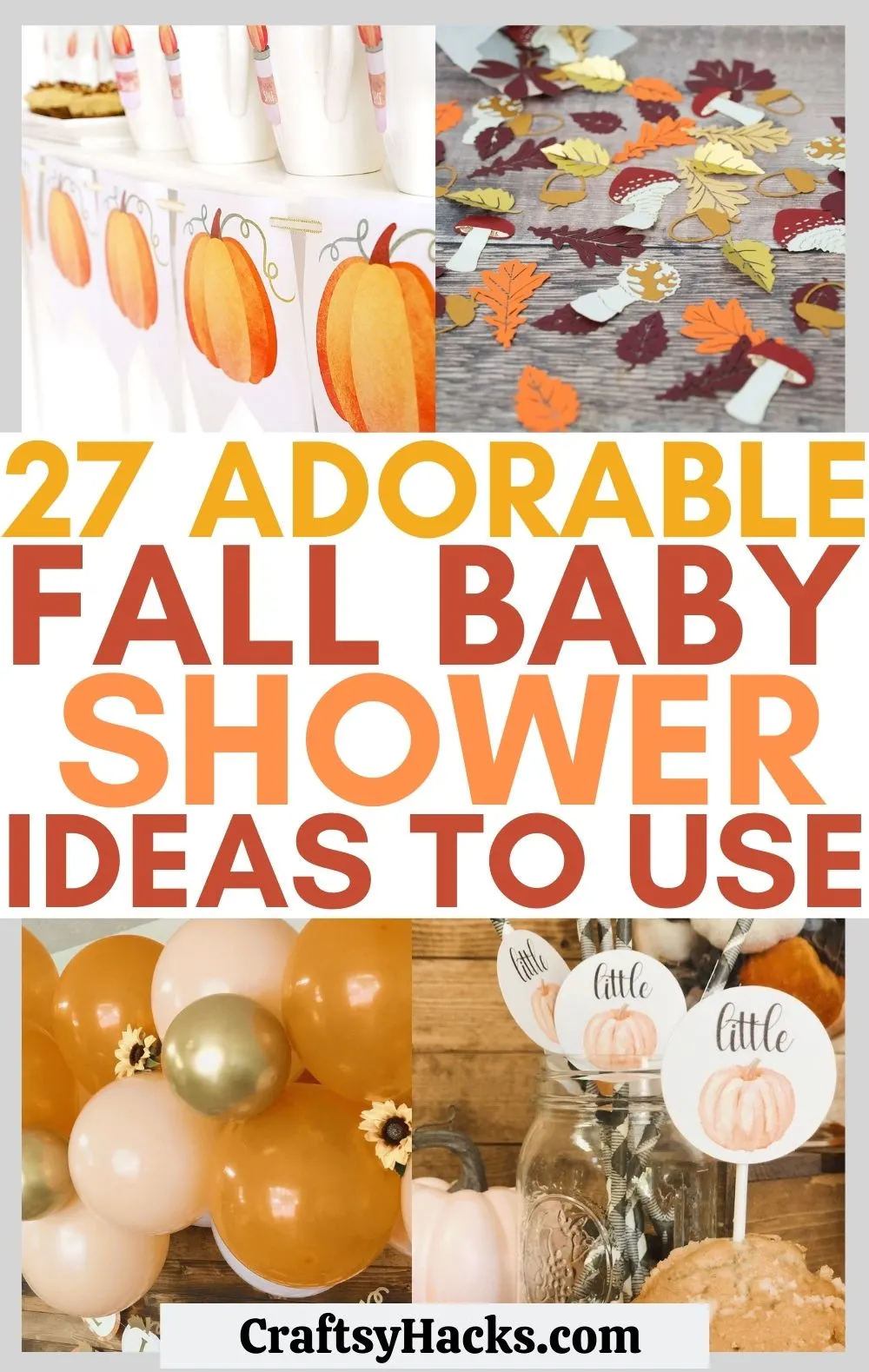 With a baby on the way, you're probably on cloud nine, planning your baby shower and thinking of all the amazing ways your life is going to change.
But back to the baby shower. Do you know what kind of decor or theme you want? It is the fall season, and you'll be surprised by the amount of fall-themed
1. 'A little Pumpkin is On The Way' Cookies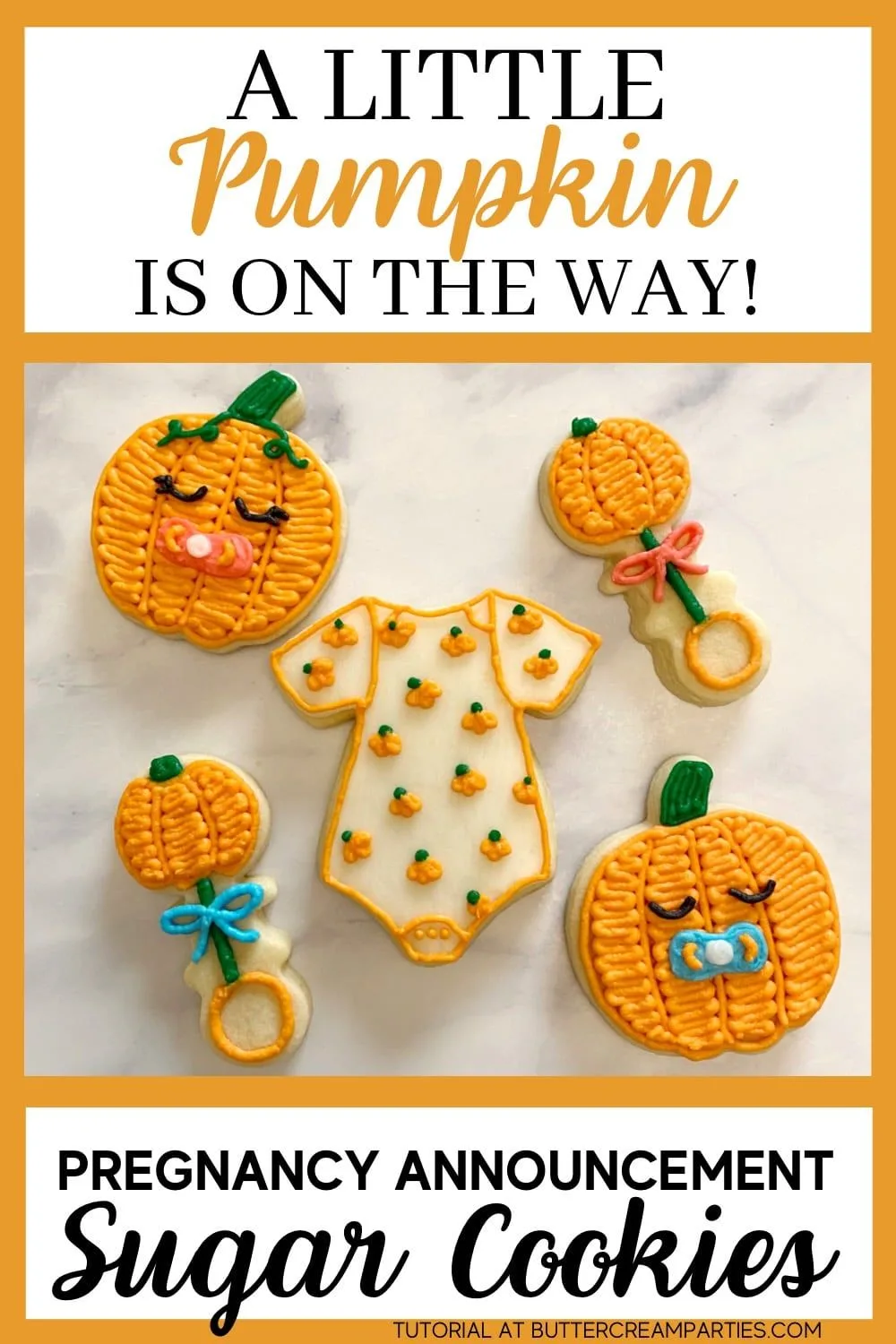 Source: buttercreamparties.com
Can we all just appreciate just how adorable these cookies are? No, really, they're just too pretty to eat.
With a little pumpkin of your own on the way, this fall baby shower is not only apropos, it's downright endearing. But here's an idea: you don't just have to have them at your baby shower.
These cookies can be a fun way to announce a pregnancy to your family. They can also be the perfect treat to add to your baby shower goody bag and give to your guests.
Grab some baby shower-themed cutters from here and get baking!
2. Clementine Pumpkins
Source: tastygalaxy.com
Clementines look like cousins to pumpkins, don't they? Or, at least second cousins twice removed, perhaps?
Either way, these mini orange fruits are healthy treats that you can make and set out during your baby shower. They look good, and their sweet-tartness makes them the perfect fall food for your baby shower.
You'll need clementines, of course, as your key ingredient. For the stem and leaf, you can use parsley or coriander.
3. DIY Baby Blocks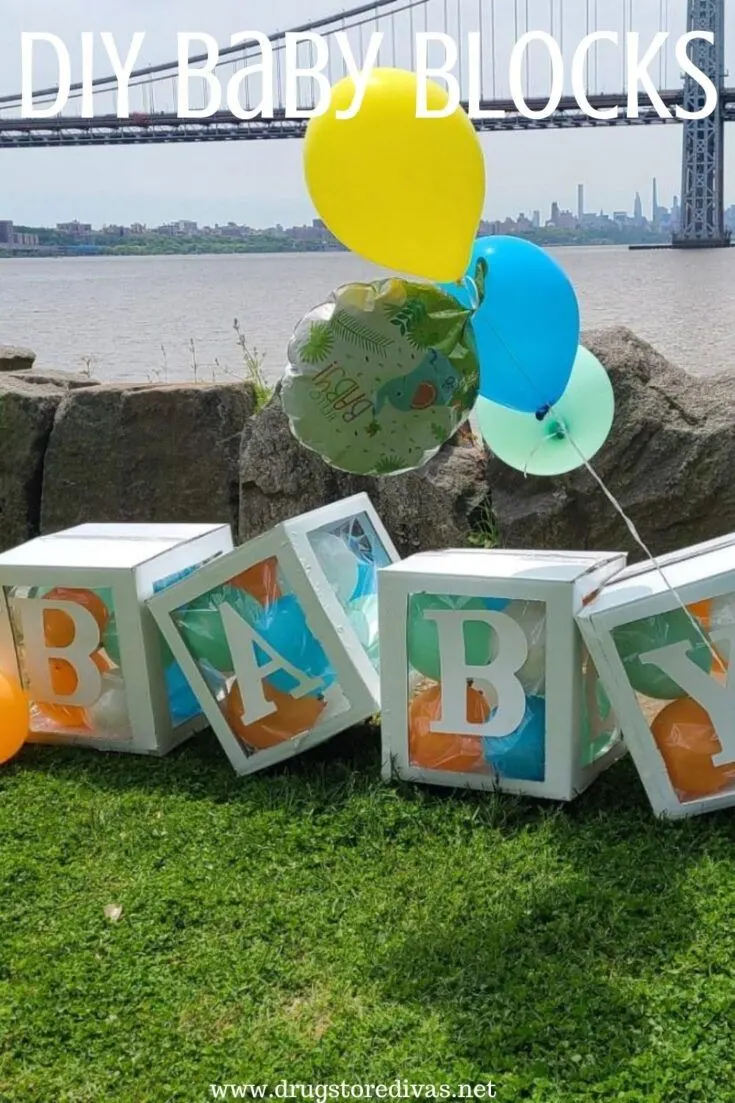 Source: drugstoredivas.net
How about you take the idea of baby blocks quite literally? Four big blocks that read 'baby' as a part of your decor would look really adorable.
You'll need four of these moving boxes, to begin with. You'll also need a box cutter, some packing tape, clear cellophane from here, and letter stencils.
Using a tape measure, demarcate and subsequently cut out the 'windows' for your box. Cover them with clear cellophane, and when you've finished the boxes, you can fill them up with party balloons, streamers, and confetti.
4. Baby Shower Ducky Punch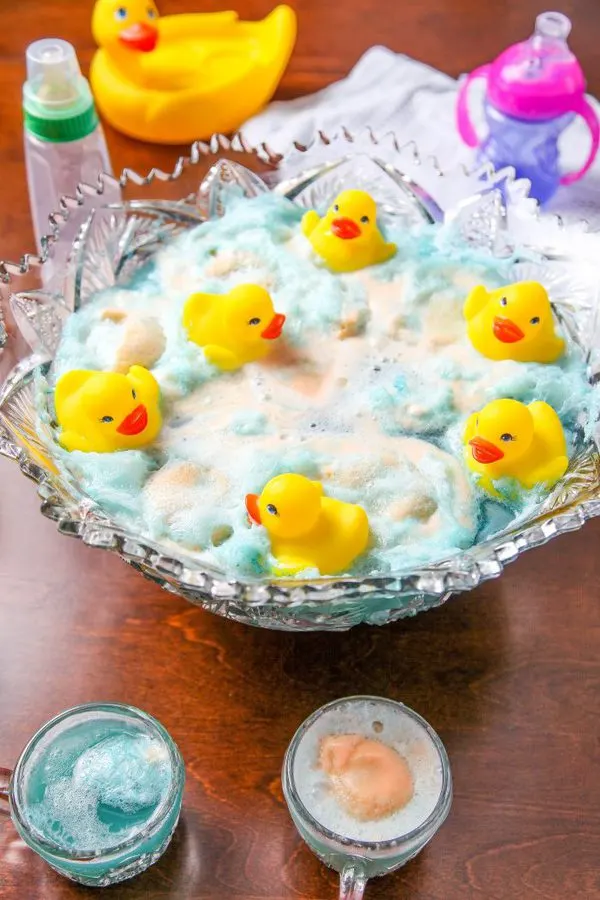 Source: bakingbeauty.net
Nothing can quite beat the cuteness of yellow duckies. It was such a fundamental part of my bath time as a kid, and I bet it was a part of your childhood, too.
For this next baby shower decor project, check out the punch bowl with its adorable yellow rubber ducks. It's frothy and right out of the night-time ritual of your sweet baby's bubble bath time.
5. Sunflower Kissing Balls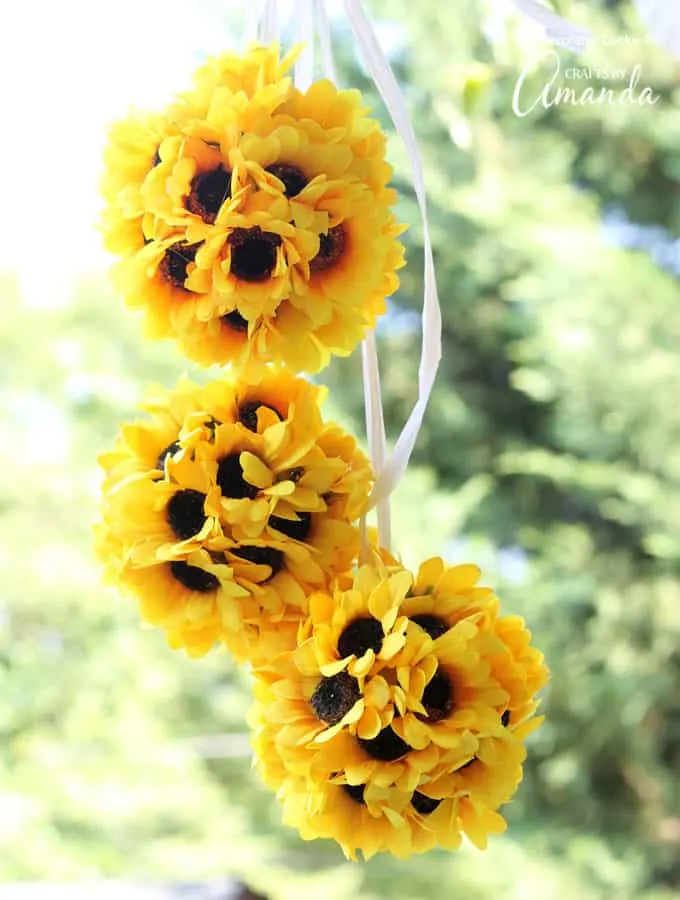 Source: craftsbyamanda.com
Kissing ball decor is the perfect addition to bridal or baby showers, parties, weddings, and other festive events. These sunflower kissing balls would be a sunny reminder of warm days at your baby shower!
They're easy to make, really. You'll need a few wiffle balls from here, preferably some in yellow, seeing as how you're making sunflowers.
Tie a length of ribbon or twine before you begin to hot-glue your faux sunflowers in place,
Here are 20 IKEA wedding hacks that look awesome and are easy to recreate!
6. Throwing Up Pumpkin Centrepiece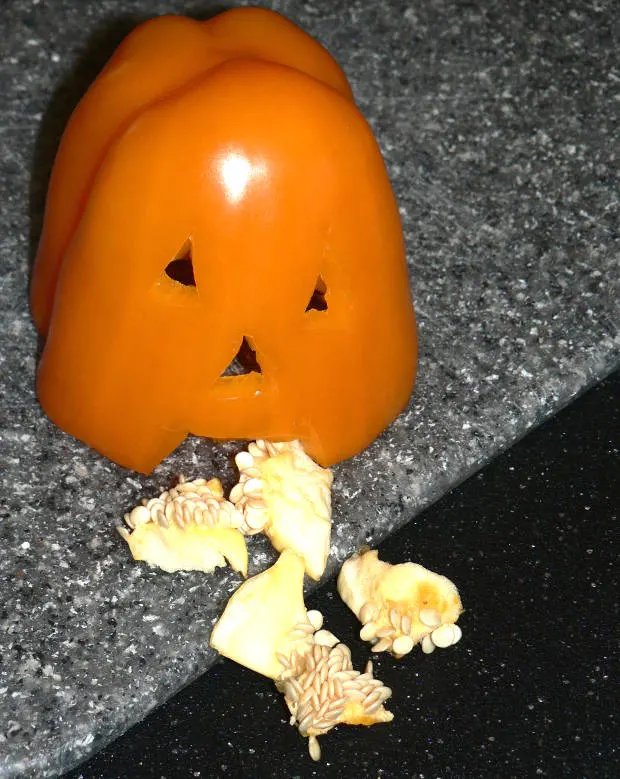 Source: tastygalaxy.com
Babies aren't just cute little cherubs you can doll up and cuddle with, you know. They eat a lot, pee a lot, and throw up a lot.
Perhaps that's why this pumpkin centerpiece would be the perfect gag centerpiece for your baby shower. You don't really need pumpkins for this one—just a few orange bell peppers.
Cut away the top of the peppers and scoop out the seeds. Don't throw them away; you'll need them as the main prop. Carve out triangles for the eyes and the nose, as well as a mouth, and you're all set.
7. DIY Pumpkin Pinata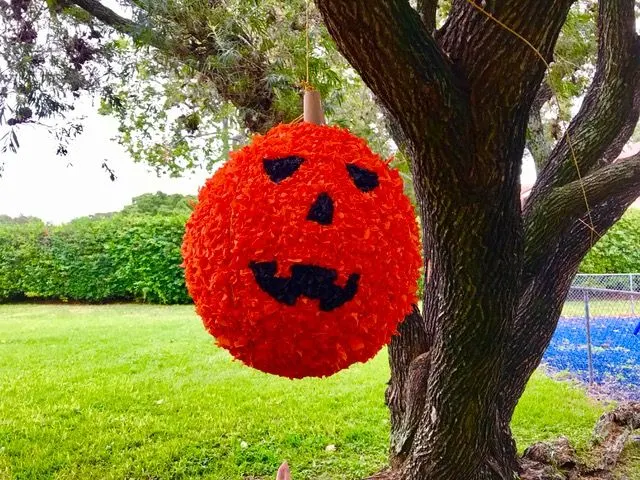 Source: momjunky.com
Is a party ever complete without a pinata? Now it might be a touch macabre to have a baby-themed pinata, but that's where the fall theme comes in to save the day.
A DIY pumpkin pinata is super easy to make and a ton of fun to destroy when the time comes. First, grab one of these punching balloons for the base.
You'll also want some orange crepe paper and craft glue to help you cover up your balloon. Pop down to your local grocery store or dollar store and pick up a ton of candy to fill your pumpkin pinata.
If you love picking up little decor items from dollar stores, then here are 40 Dollar store home decor projects you can explore.
8. DIY Virtual Baby Shower Box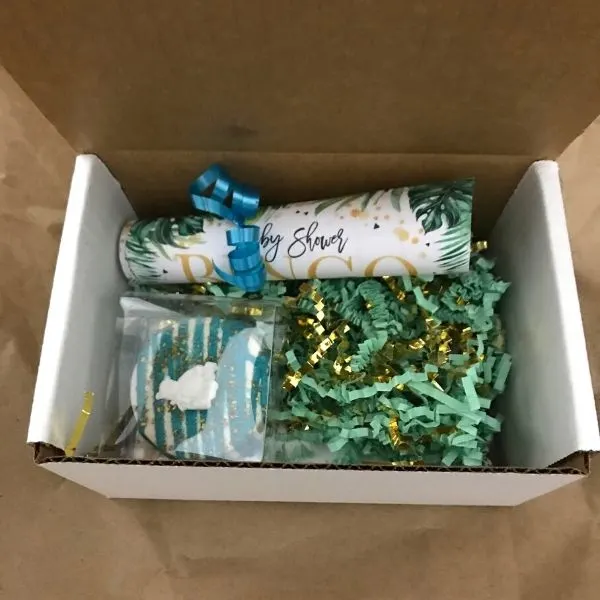 Source: bydeze.com
Virtual baby showers are a real thing now, and there's a real concern that comes with it. How do you make the shower fun and festive and not like a zoom meeting?
You can, with these baby shower boxes! It all comes down to the kind of boxes you pick. Remember that they'll be mailed to your guests, so pick something appropriate and not just pretty.
Here's a list of things you can put in these boxes:
Treats like chocolate, cookies, mini-cupcakes and cake pops.
Postcards that double as party games like BINGO.
Confetti and streamers.
9. Bandana Pumpkins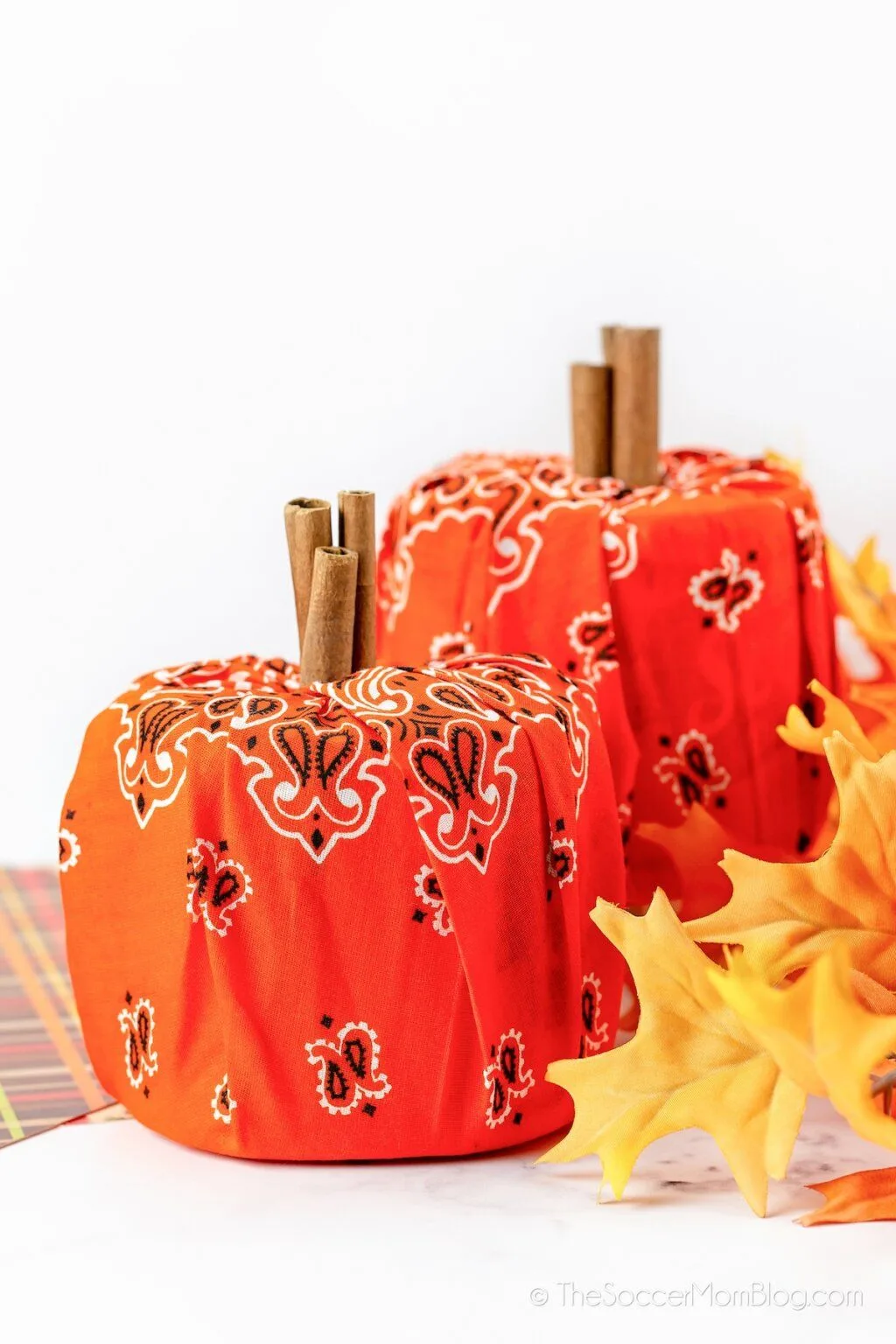 Source: thesoccermomblog.com
Check out these bandanna pumpkins. They'd look fabulous as a part of your baby shower decor as well as your fall decor for your home.
You'll need an orange bandanna, of course, as well as your stuffing of choice(look here). Since there's no cutting required for this craft project, you can rope your kids into it, as well.
My favorite part of this project is the stem of the pumpkin. Instead of craft sticks, you can substitute them with real cinnamon sticks.
Can't you just imagine the mouthwatering aroma that spicy cinnamon will add to your baby shower?
10. Rustic Baby Shower Name Tag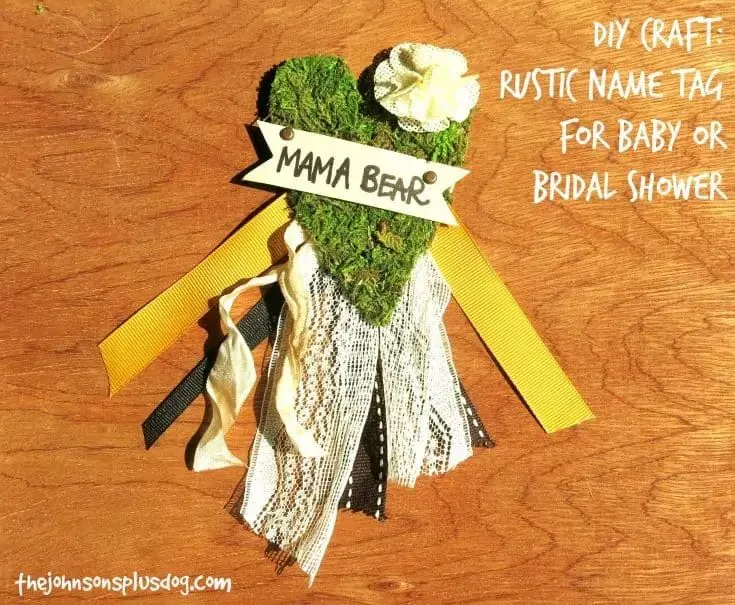 Source: makingmanzanita.com
You might think that name tags are out of style or even cliche, but just hear me out, or at least check these ones out. They're not your run-of-the-mill name tags.
These are earthy, rustic, and just so much fun to make and look at. This is a DIY project that is easy and simple. Even the name on the tag is adorable- " Mama Bear."
You'll need some cardstock paper and moss from here to get you started on this project. Don't forget; you'll also need a pin back clasp to tag the name tag in place.
11. Diamond Dust Pumpkin Decor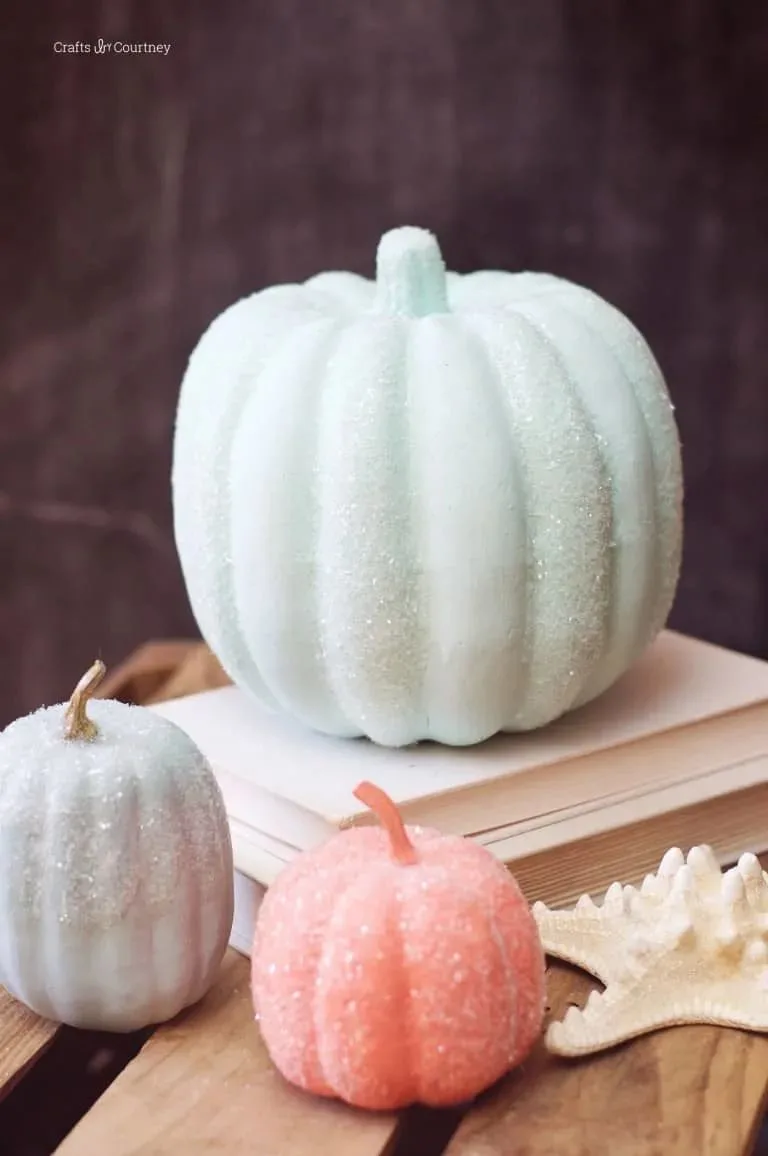 Source: modpodgerocksblog.com
White pumpkins are inherently elegant and classic, and you can't convince me otherwise. That's why they make for some of the most versatile decorative pieces—like your fall-themed baby shower, for example.
But you know what can turn that elegant white pumpkin into something magical and something you'd only find in a fairytale?
Sparkle, of course, with a little diamond dust from here. You'll also need to paint your pumpkin with a chalk finish for the dust to properly stick onto the surface.
12. DIY Fall Garland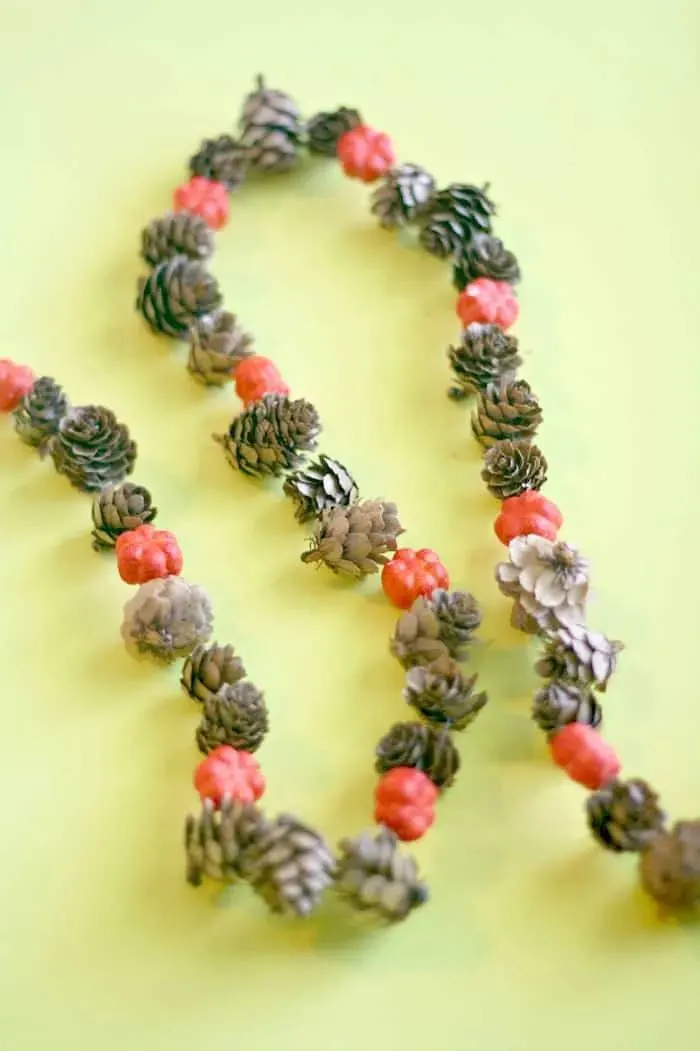 Source: diycandy.com
You don't want bare walls at your baby shower, do you? Well, since you're decorating everything in accordance with the fall season, how about you make a garland or two?
You'll need sturdy twine from here, preferably jute, as well as faux acorns, pinecones(look here), berries, and even leaves if you'd like. String them along until you've got your desired length and fasten the ends to keep your props in place.
You can wrap this garland over your mantle or even use them as a streamer and hang them over doors and on the walls.
13. Hot Chocolate Bar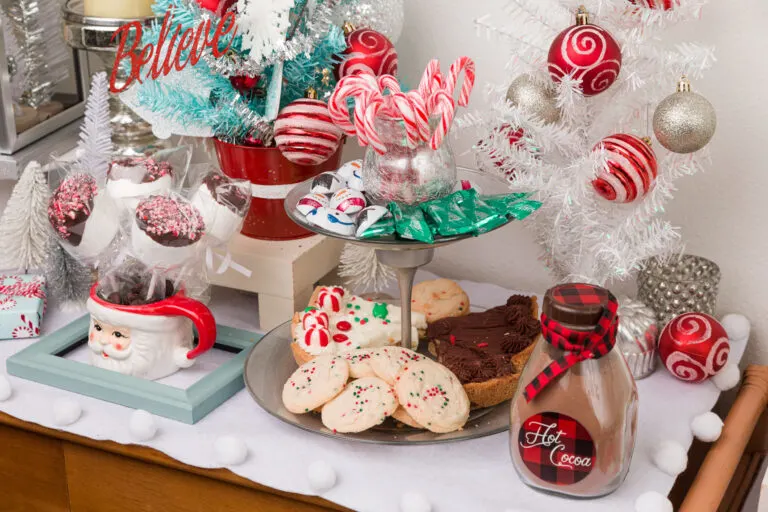 Source: kippiathome.com
Booze is definitely out of the question at a baby shower, at least for the mama-to-be. So how about you eschew alcohol altogether in a show of support and solidarity?
Don't worry; I have a better idea for beverages: a hot chocolate bar set up! It will be perfect, I promise.
You can have your hot cocoa—how about different flavors like caramel cocoa, orange, raspberries, and more? You can also set up some cans of whipped cream, marshmallows, sprinkles, and spices like cinnamon and nutmeg and other amazing add-ons.
Don't forget a plate of goodies!
14. Halloween Cupcake Toppers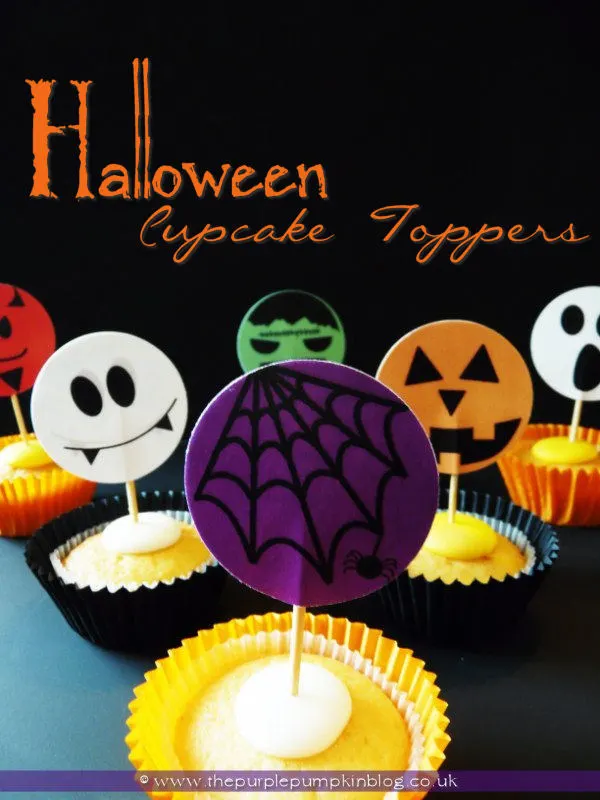 Source: thepurplepumpkinblog.co.uk
Speaking of goodies, check out these Halloween-themed cupcake toppers for your baby shower. These printable cupcake toppers are free to download.
All you have to do is download and subsequently print the template. Then cut them out carefully with a pair of scissors, stick them onto cocktail sticks and mount them onto the cupcakes!
Even toothpicks or bamboo barbeque skewers like these should do the trick! This is a really unique and creative way to jazz up simple cupcakes and make them blend into your fall-themed baby shower!
15. Spider Cupcakes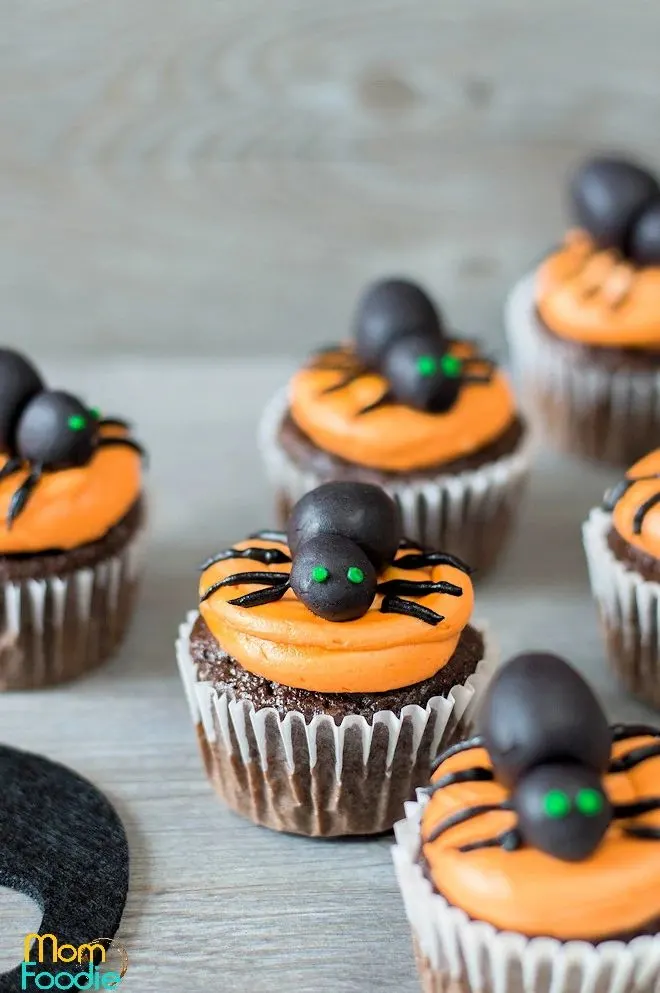 Source: momfoodie.com
Did you notice that we've progressed from hot chocolate to cupcake toppers to—finally!—the actual cupcakes. And what lovely cupcakes they are!
Check out those gorgeously creepy black widow spiders perched atop the billowy bed of orange buttercream frosting. You might not believe it until you actually try it, but orange and chocolate go wonderfully well together, flavor-wise.
For the final touch, carefully stick two green sprinklers or beads to act as the spiders' eerie eyes! These cupcakes will totally blend into your fall-themed baby-shower decor, I promise!
16. Confetti Pumpkins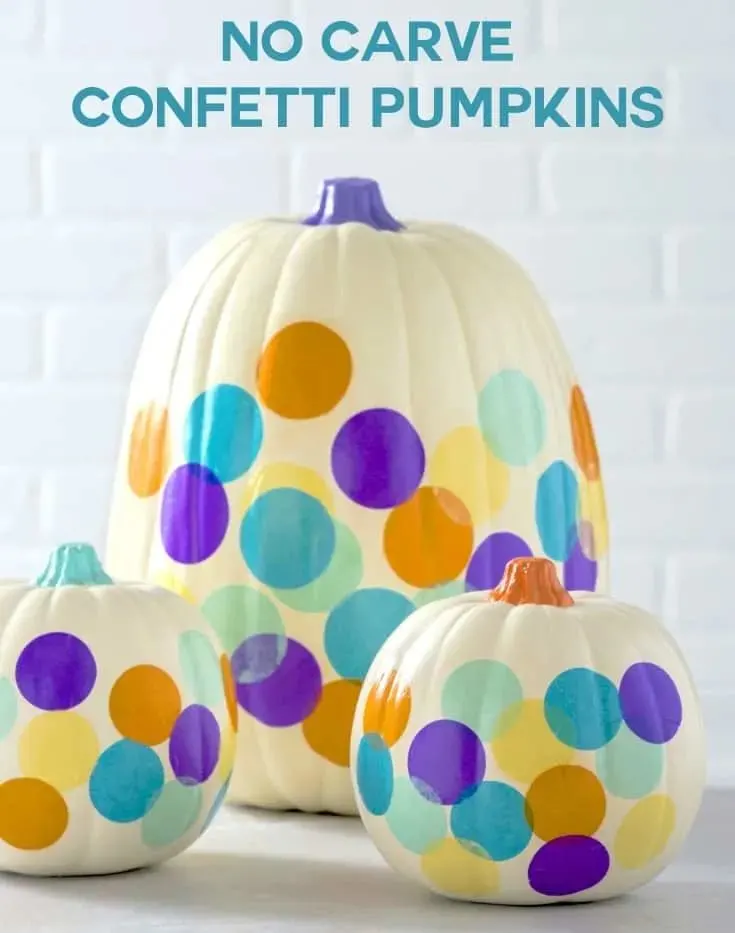 Source: modpodgerocksblog.com
Who doesn't love confetti at parties? When You're planning your baby shower, make sure they're on your shopping list.
In fact, why don't you buy a few extra bags of confetti; I have this DIY project in mind that I think you'll love! Confetti pumpkins would look festive and cheery as a part of your baby shower decor.
You'll need some faux pumpkins from here, acrylic paint, matte mod podge from here, tissue papers, brushes, and finally, a circle punch.
17. Pumpkin Spice Printable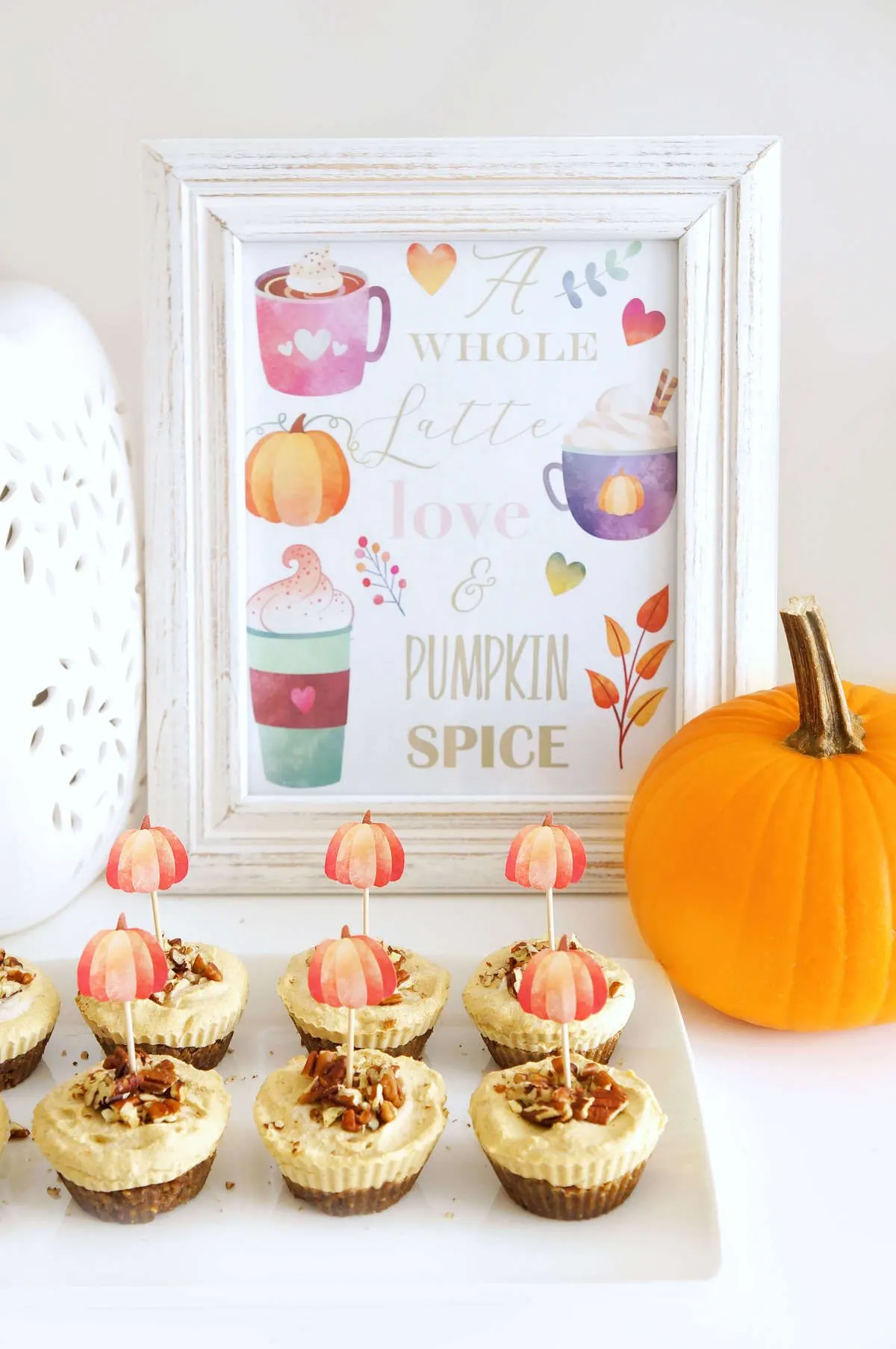 Source: hauteandhealthyliving.com
​Here's another DIY printable cupcake topper for you to try. These pumpkin toppers are elegant and chic and would pair perfectly with the pumpkin-spiced cupcakes you're planning to serve at the shower.
They're rather delicate, with over five different shades of peach, coral, and orange. Speaking of ways to spice up your birthday shower decor, check out that lovely frame.
Don't you think that frame with that message would be the perfect prop to your beverage counter, right next to the cupcakes, lattes, and hot cocoa?
18. DIY Wood Pumpkin Sign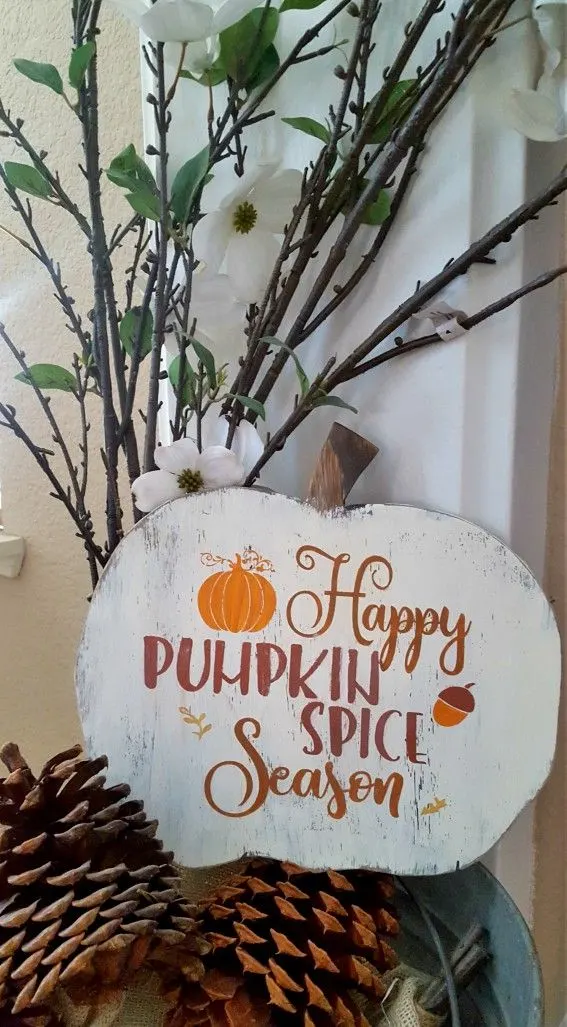 Source: leapoffaithcrafting.com
Sometimes, you really do need a DIY sign to jazz up your decor. It might seem superfluous and an added bit of work, but trust me, this DIY wood pumpkin sign will bring your decor together.
You can make your own pumpkin sign if you're good at woodwork, sure. Or, if you want to avoid the hassle, just grab one from here.
You'll need some vinyl, chalk paint, some ribbons, twine, and other embellishments to decorate your DIY sign.
19. Fall Rustic Welcome Sign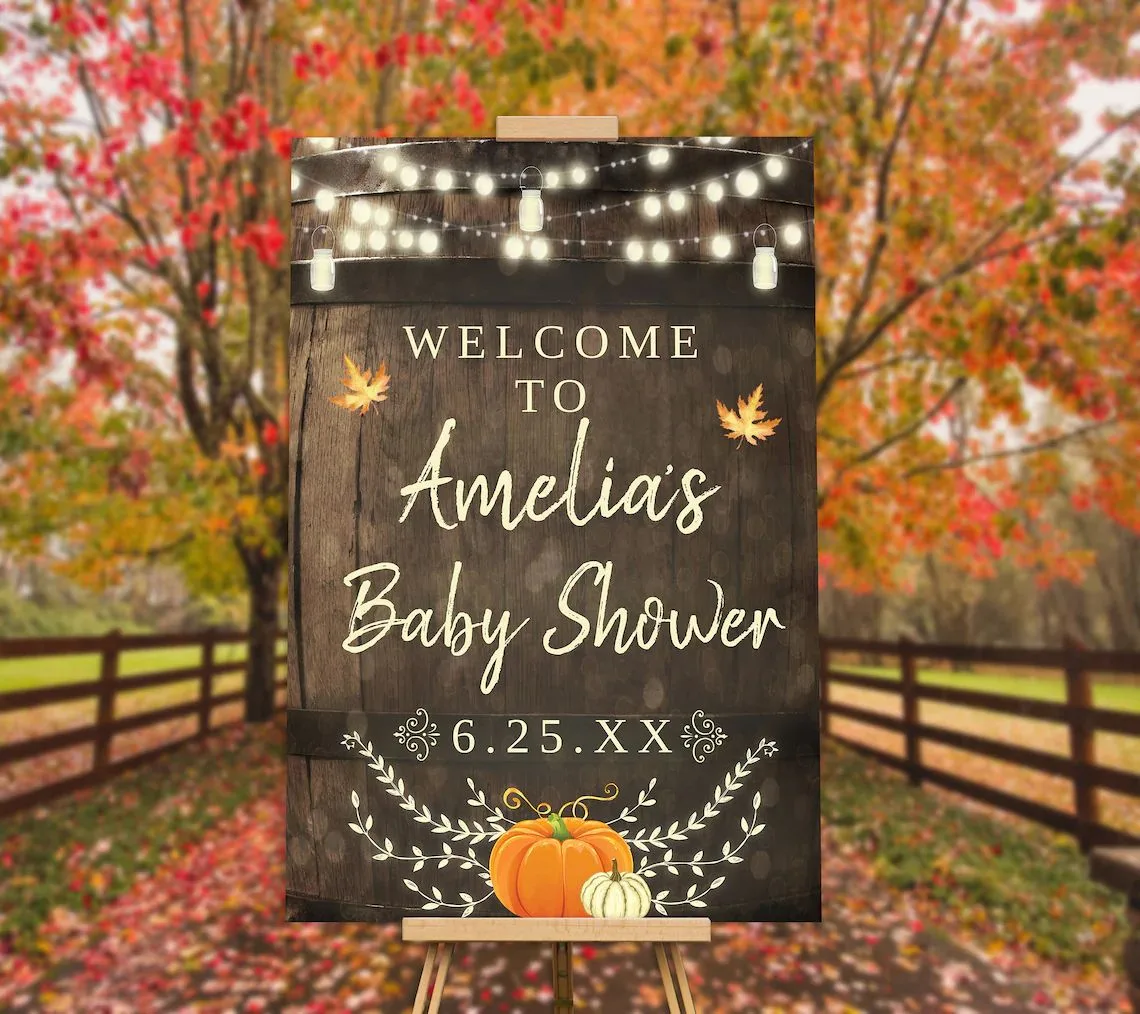 Source: Etsy
If you loved the idea of having a DIY signboard at your baby shower, then here's another one for you. This one's a welcome board that you can set up at the entrance to welcome your guests.
Technically, it's also a printable banner that you can have mounted on a wooden board. It's editable, which means you can customize the font, color, size, and the message you want to have printed.
You can also include the date and occasion if you like. Once you have your signboard, you can jazz it up some more with a few artfully placed bows, ribbons, and even a string or two of fairy lights(look here).
Since you're interested in the whole rustic-chic farmhouse vibe, why don't you check out these 21 farmhouse decor ideas?
20. Fall Woodland Table Confetti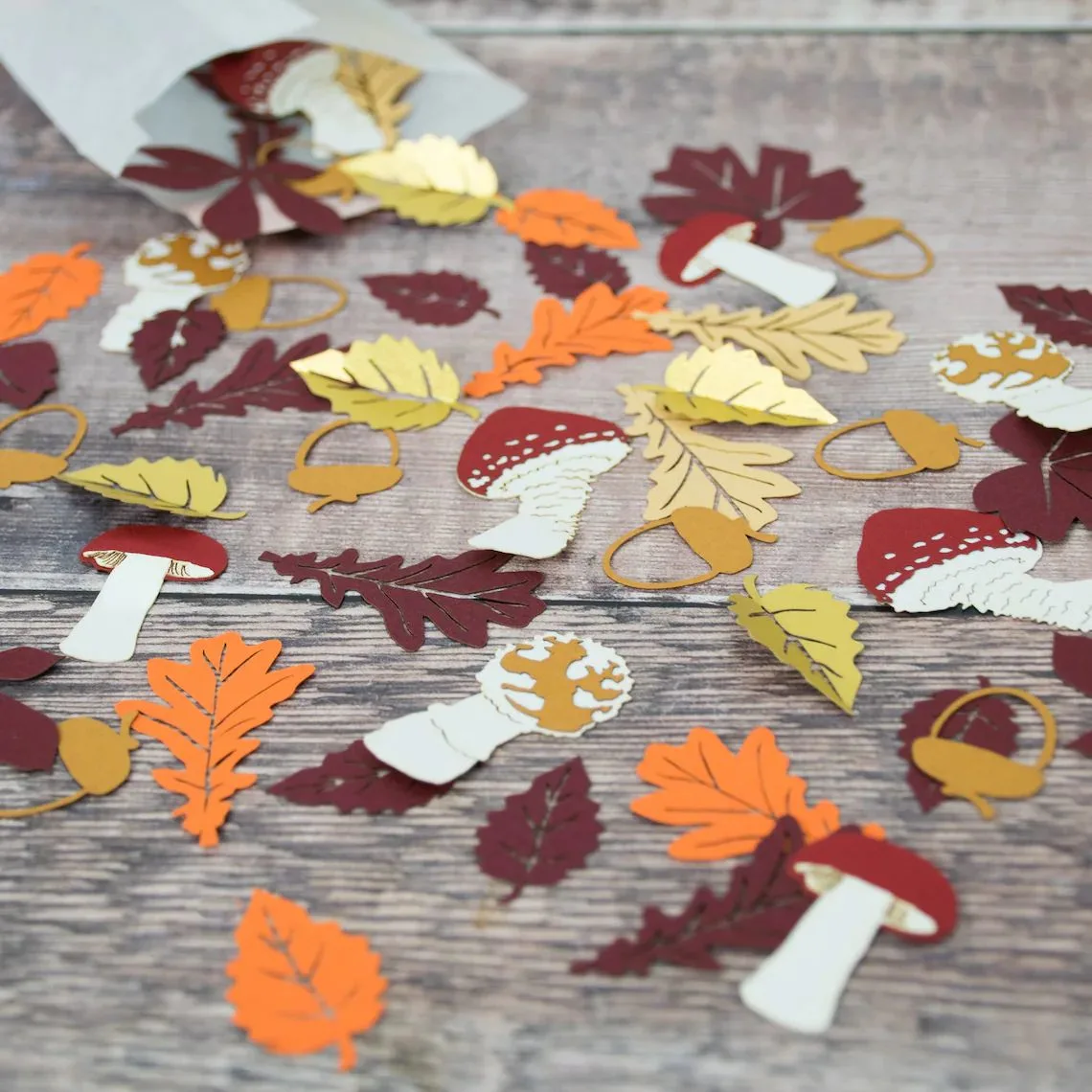 Source: Etsy
There is more than just one way to set the table, so to speak. You can set the table with food and cutlery or, set the scene at the table like you see here.
When you're decorating your table to match the fall season's colors and vibes, you can use woodland table confetti to help you achieve the effect you're looking for.
These pretty paper confetti leaves, acorns, mushrooms, and pinecones would look splendid against a backdrop of a dark, wooden table.
21. Pumpkin Paper Straws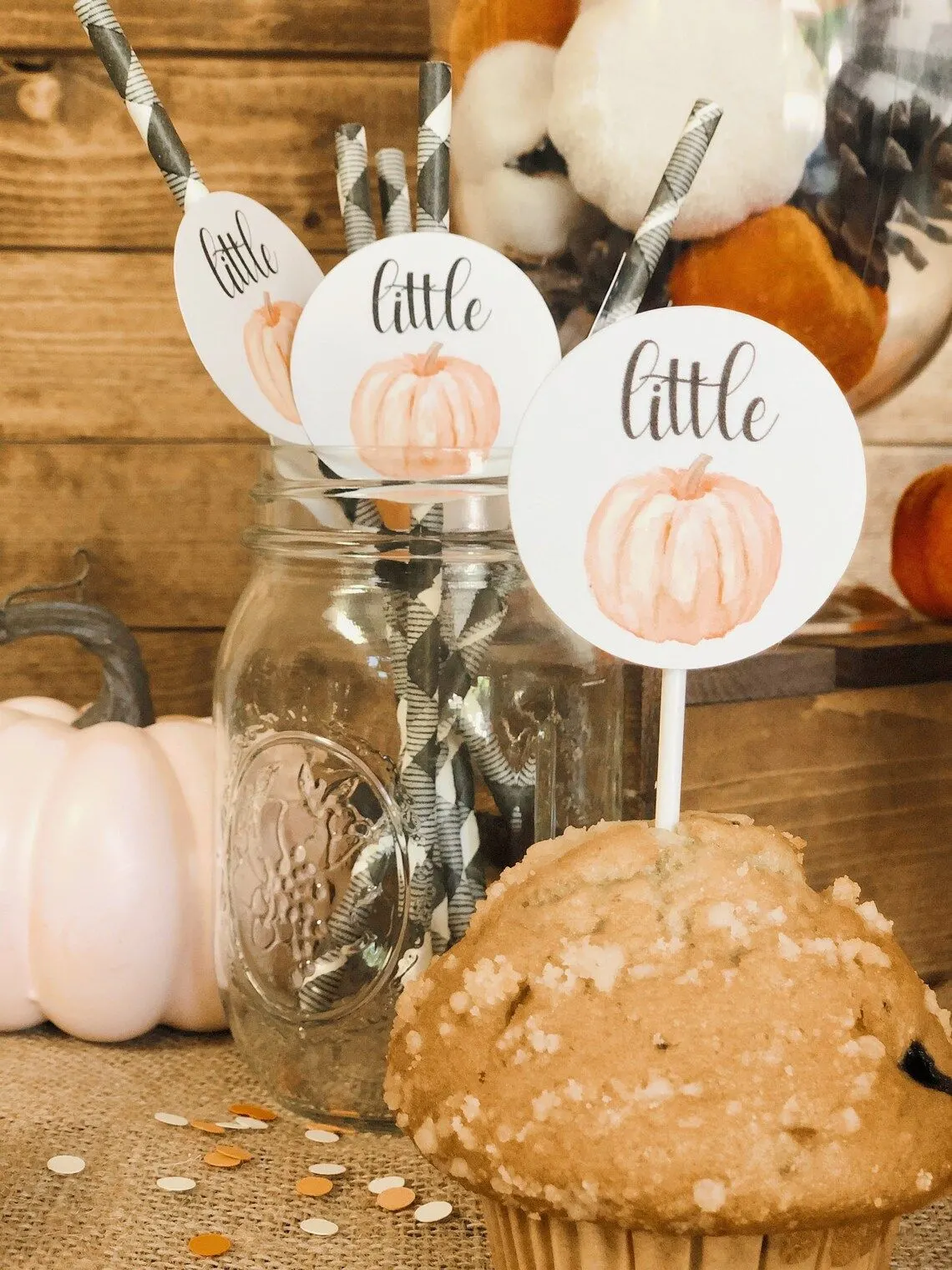 Source: Etsy
When you're planning a fall baby shower, there are plenty of decorative avenues to explore. You've got garlands, wreaths, little knick-knacks, cupcake toppers, and more to choose from.
You've also got these adorable pumpkin paper straws. You don't necessarily have to drink out of them—they make great souvenirs, too. But they do look wonderful, don't they?
You'll need something to put your straws in. How about you buy a mason jar from here? They're painted mason jars, so you can take the fall decor one step further if you use a red, orange, or a mustard colored one!
22. Fall Pumpkin Balloon Garland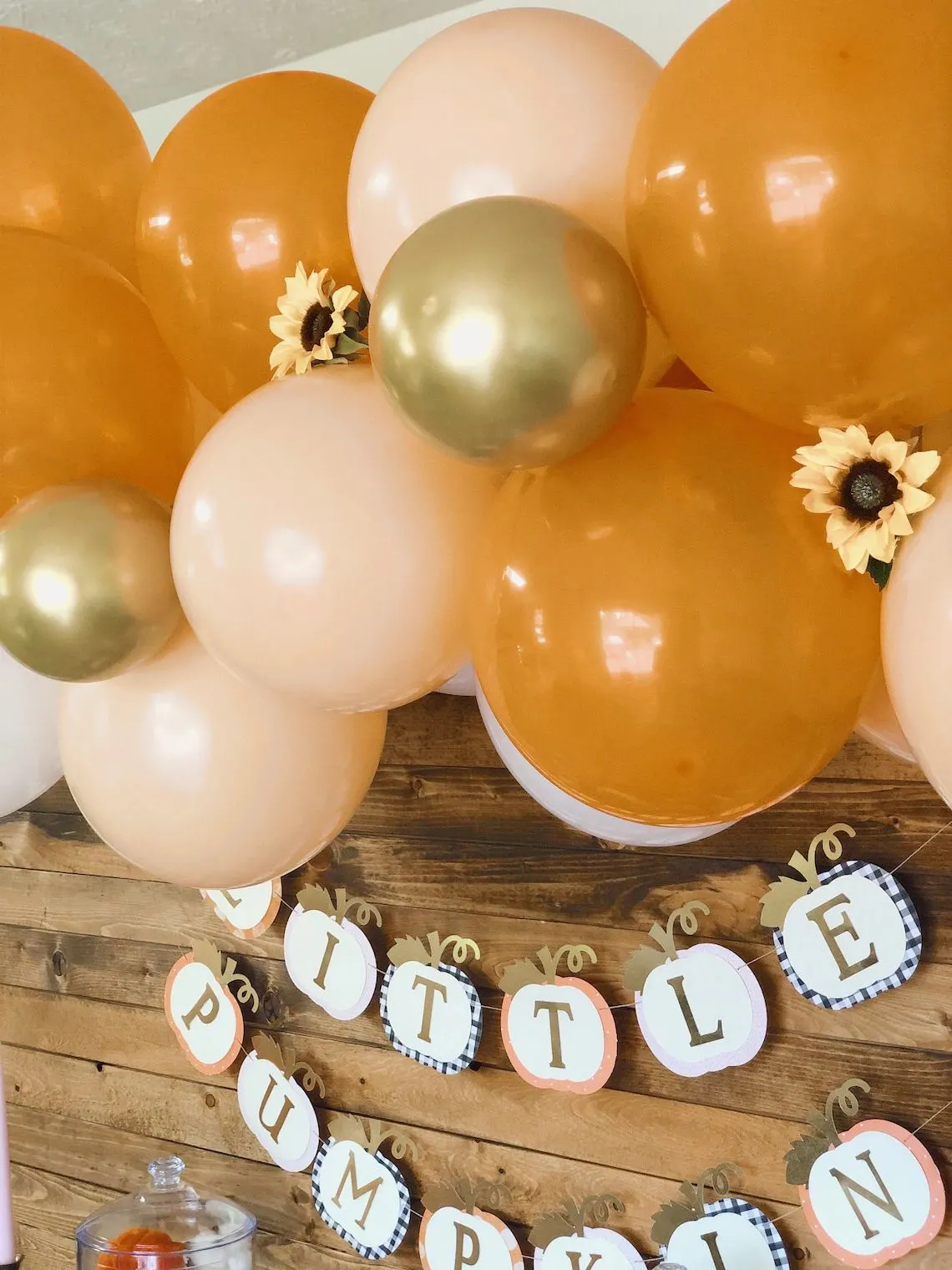 Source: Etsy
Balloons and parties are like bread and butter. You can have one without the other, but it wouldn't be worth it without this combo.
Buy and blow up dozens of these pumpkin-colored balloons at such an affordable price. You can also string them into a balloon garden and hang it up above the baby shower marquee, as seen in the picture.
If you want to jazz it up some more, feel free to tuck a few fall leaves and flowers in there. You can also string a few acorns and pinecones and hang them alongside the balloons.
23. Fall Mom-osa Bar Sign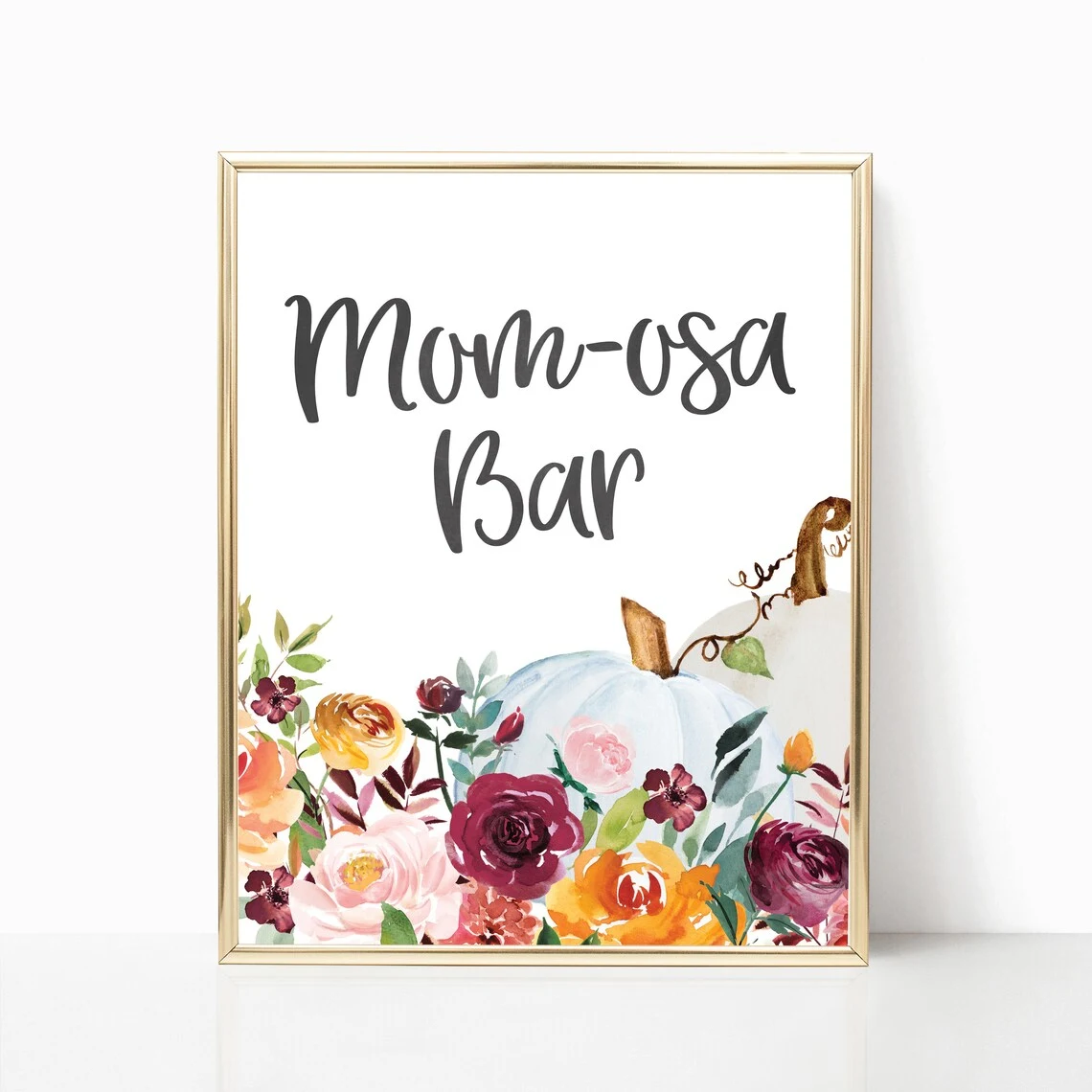 Source: Etsy
Since mimosas are out of the question, at least for the expecting momma, how about a mom-osa sign for the bar to cheer her up?
The sign is fall-themed but with a more elegant finish to it because of the muted colors. You've got baby blue and pink pumpkins, mauve, and burgundy flowers offset by the pink baby's breath roses, and ferns.
It really is an elegant sign and is sure to cheer up the mom-to-be, even if she can't have the real mimosas!
24. Burlap Banner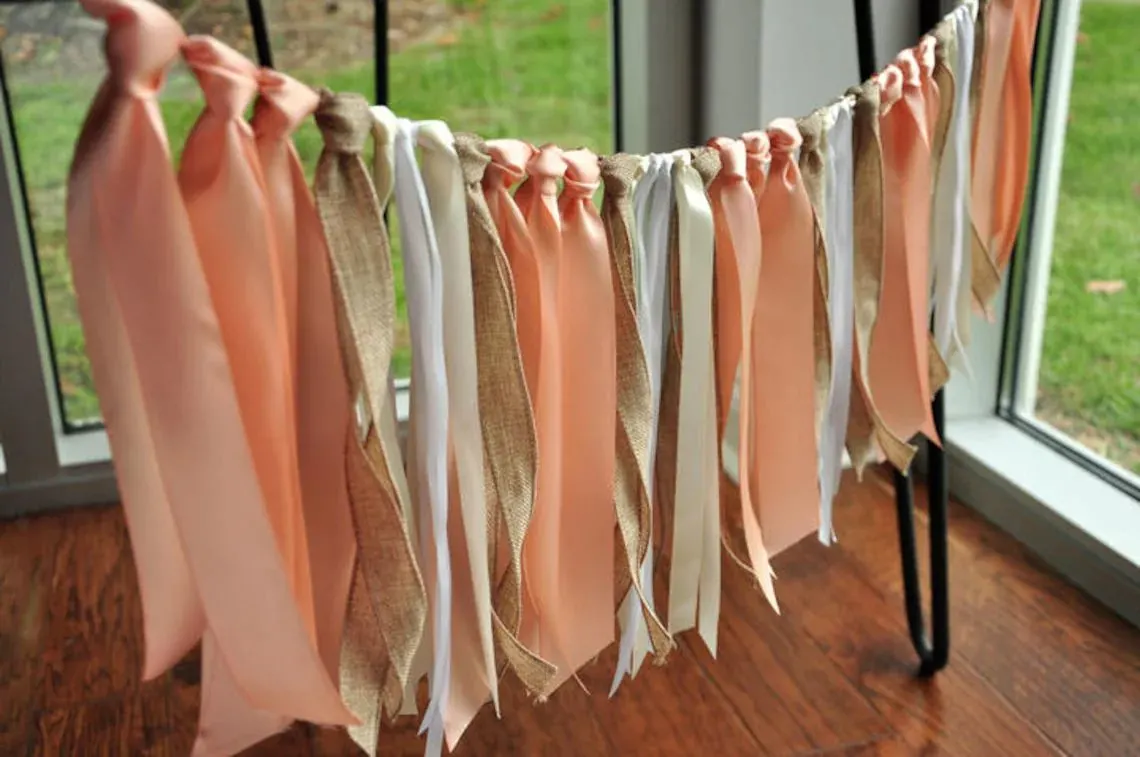 Source: Etsy
Fall is such an earthy and rustic season. There's a ton of rustic decor ideas you can explore that can only amp up the fall theme at your baby shower.
This burlap banner, for example, just screams rustic-chic, doesn't it? You never realize just how much color and texture a banner like this can add to your party, especially if you're using it as a backdrop.
You can set up a few quirky props right next to this banner and use it as a photo booth of sorts, if that's something you want to explore. But before any of that, just grab some burlap ribbon from here and you can get started.
25. Candy Corn Centerpiece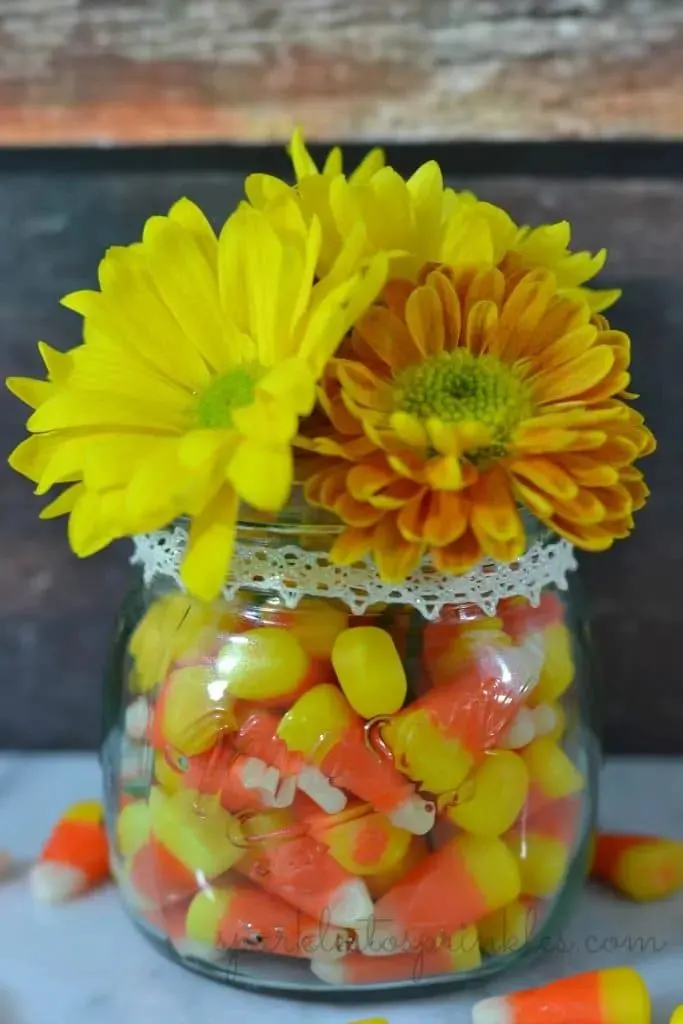 Source: sparklestosprinkles.com
Who would have thought that candy corn would prove to be such a wonderful fall centerpiece for your baby shower? It really is a quirky decor choice, but I think it can pay off.
It's got some bright pops of color, too. Just grab a glass jar or vase and fill it up with candy corn. Next, tuck a few faux fall florals in there.
For the final touch, you can wrap a bit of lace trim from here around the rim of the jar for a bit of muted elegance to offset all the bright colors.
26. DIY Printable Pumpkin Banner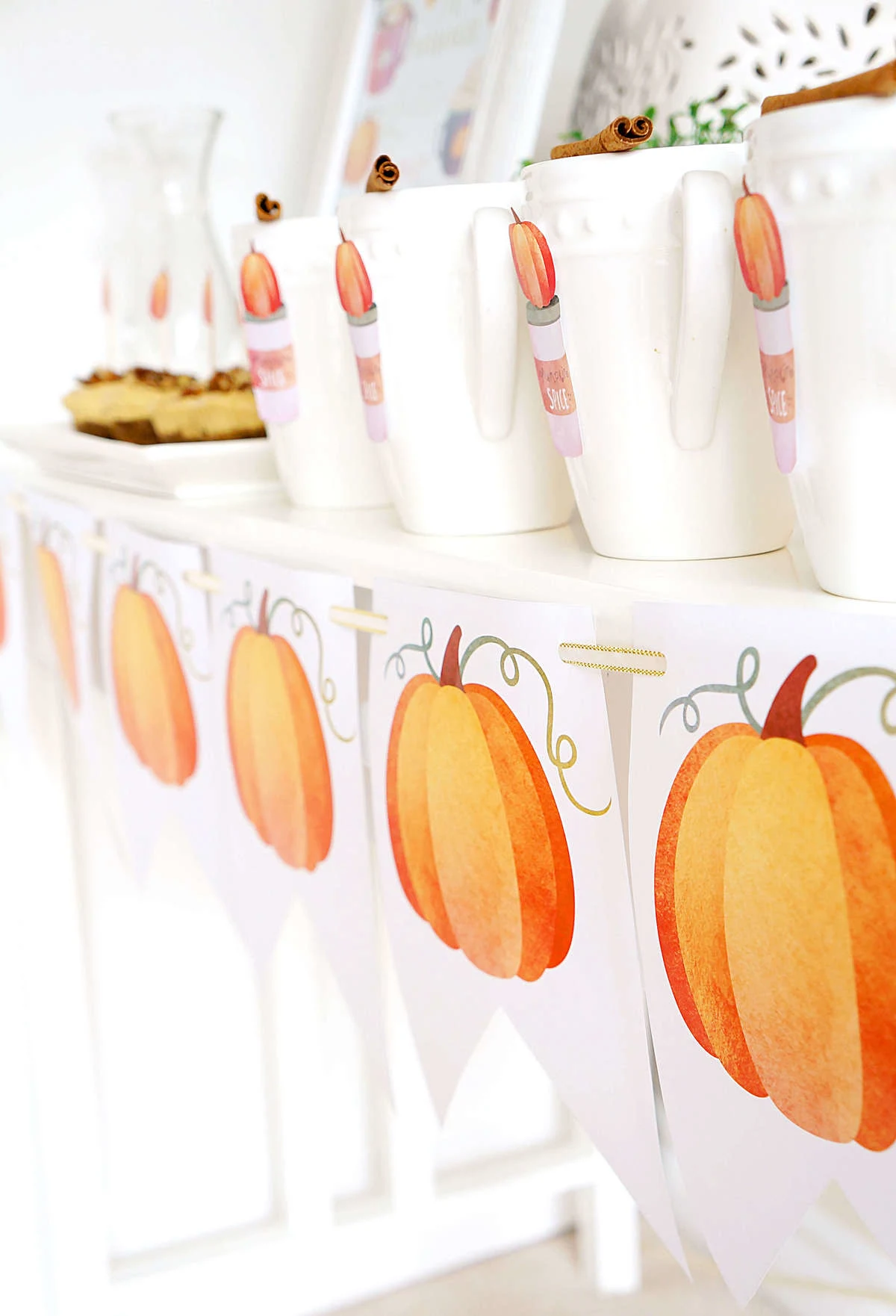 Source: hauteandhealthyliving.com
Check out this DIY printable pumpkin banner. It's not at all rustic, like you would have imagined.
Instead, this banner is bright and cheery, with almost cartoon-like pumpkins on its face. In fact, doesn't it remind you a bit of Cinderella's own pumpkins, with those tendrils curling down just so?
You can use some gold edged ribbon to lace through the banner and tie it up over the mantle around an archway.
27. Pinecone Label Holder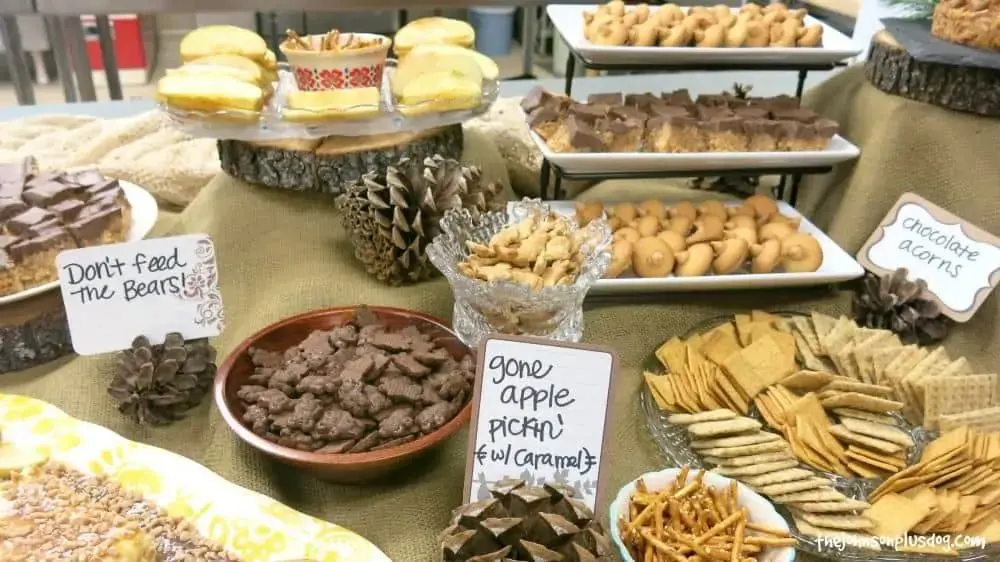 Source: makingmanzanita.com
When you've got guests over for your bridal shower, they're bound to have certain food and dietary preferences. So, when you're setting up your food table, you might want to consider using labels.
This will help your guests know what they're about to eat. You can also specify any possible allergy-triggering ingredients the dish has, like dairy, nuts, or gluten.