Having fun decorating? Try these mature teenage girl bedroom ideas and take your home décor to a whole new level.
A teen girls room is her haven. It's her safe space to think, to learn, to grow, to be creative, and express all those facets of her life in a creative and unique way.
Here are 31 ideas for a mature teenage girl to decorate her room.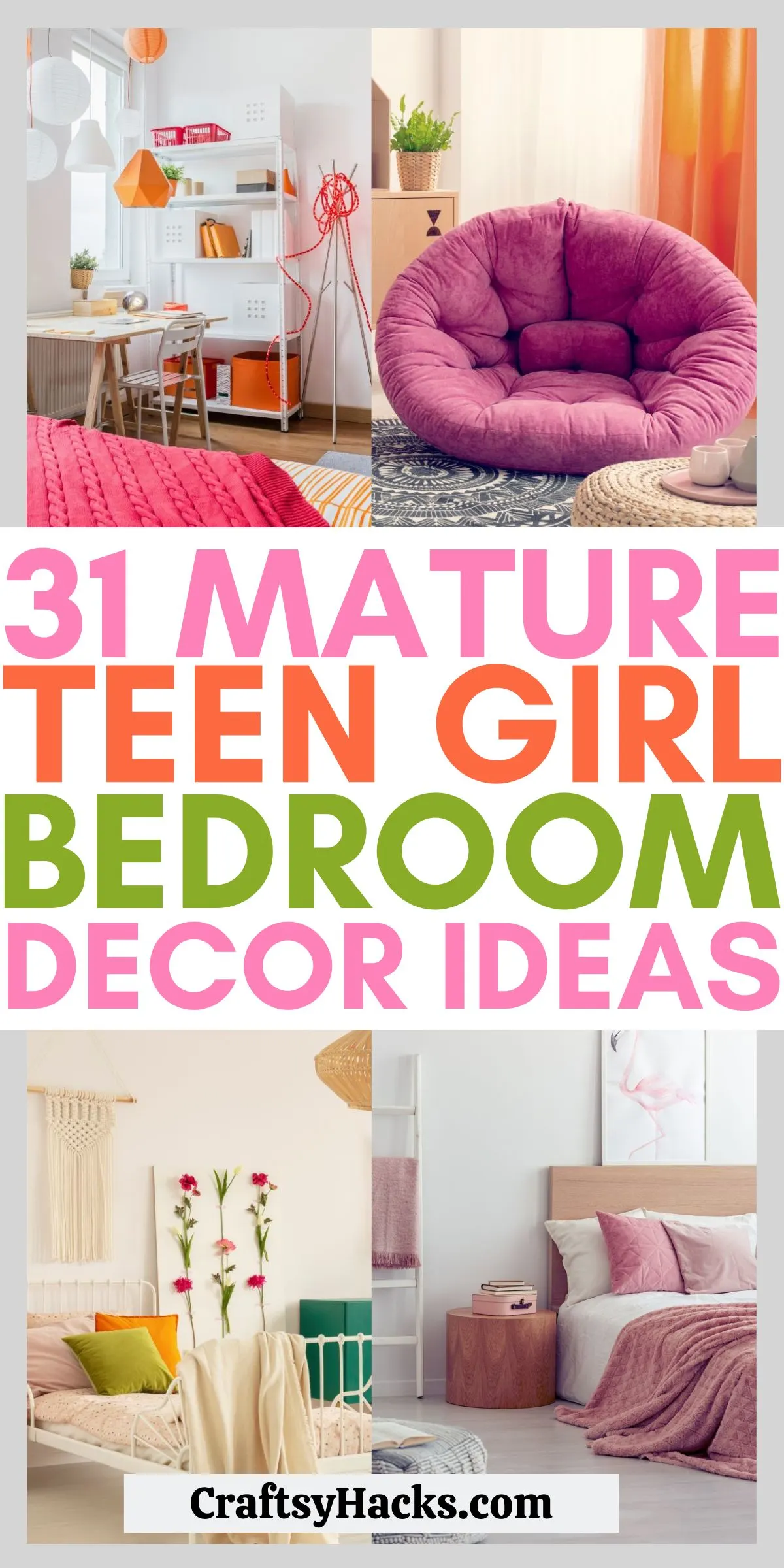 1. Pink and white theme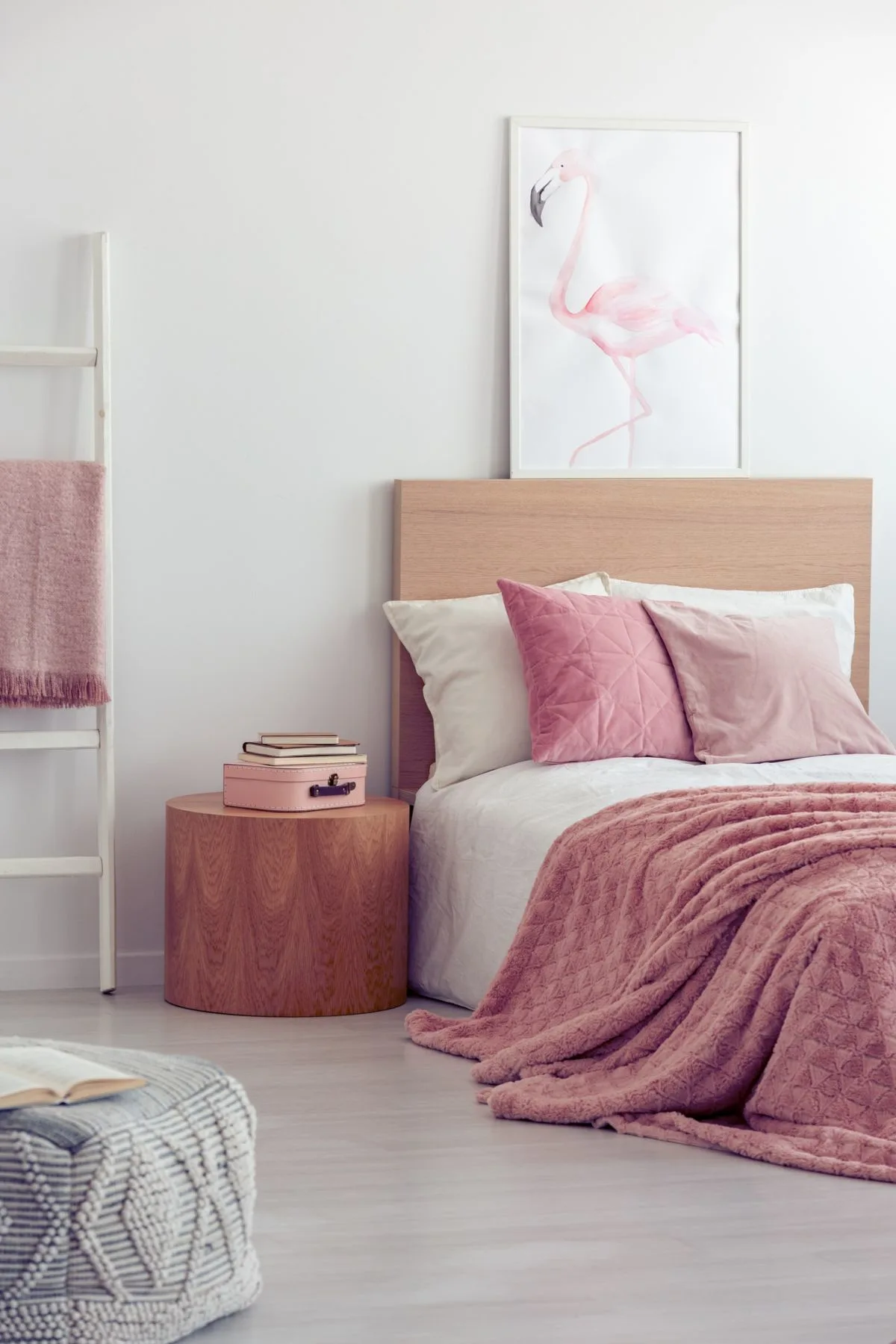 A pink and white color scheme does not necessarily have to be girly and loud. This favorite color can be subtle and elegant, just what your teenage daughter needs as she makes her way into her 20s.
You can have ivory sheets, a soft downy blush duvet, plenty of toss pillows to create this teenager's bedroom.
2. Modern Light Interior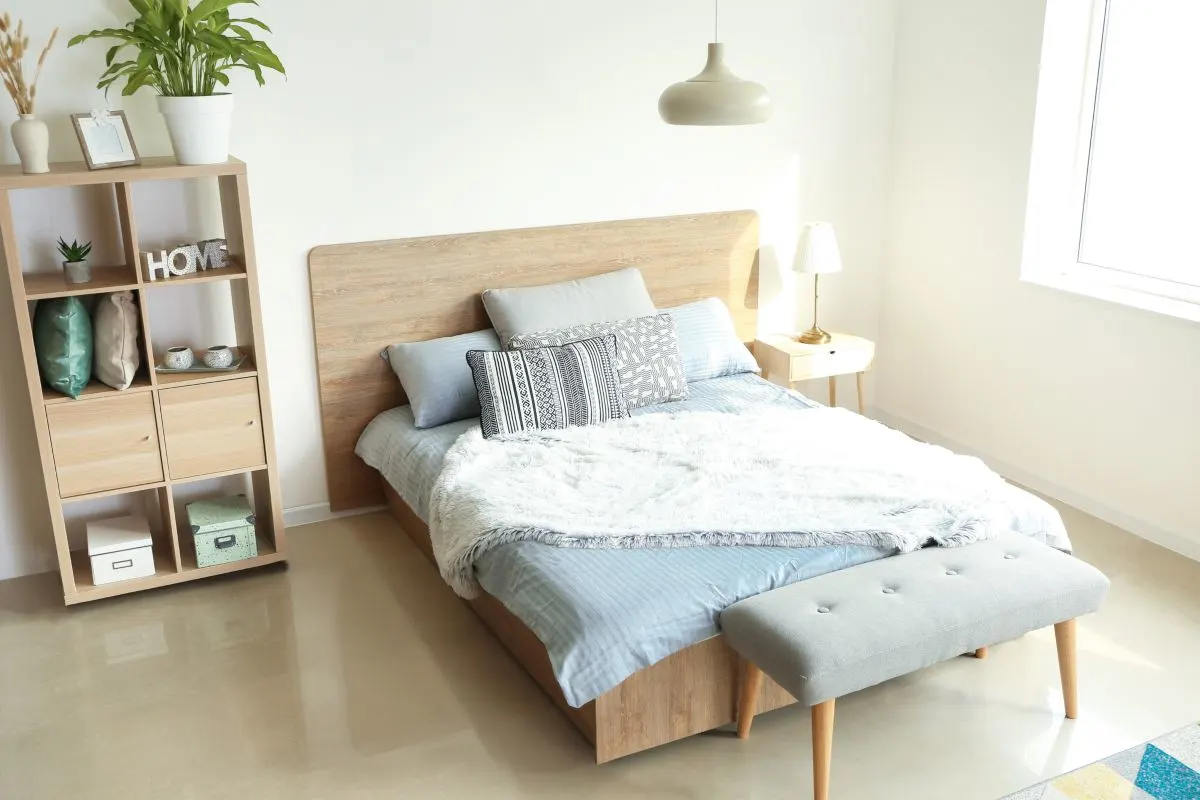 If you're in the mood for something light, bright, cool, and modern, then look no further than this chic bedroom with a modern design. This bedroom design has got a ton of pastel colors with light wood notes to offset it.
Lighter wood furniture can open up small rooms quite a bit. With a few planters in there and with some sunlight streaming in, it's super conducive to a working environment for young adults.
Check out more cute room decoration ideas for girls.
3. Art Deco Style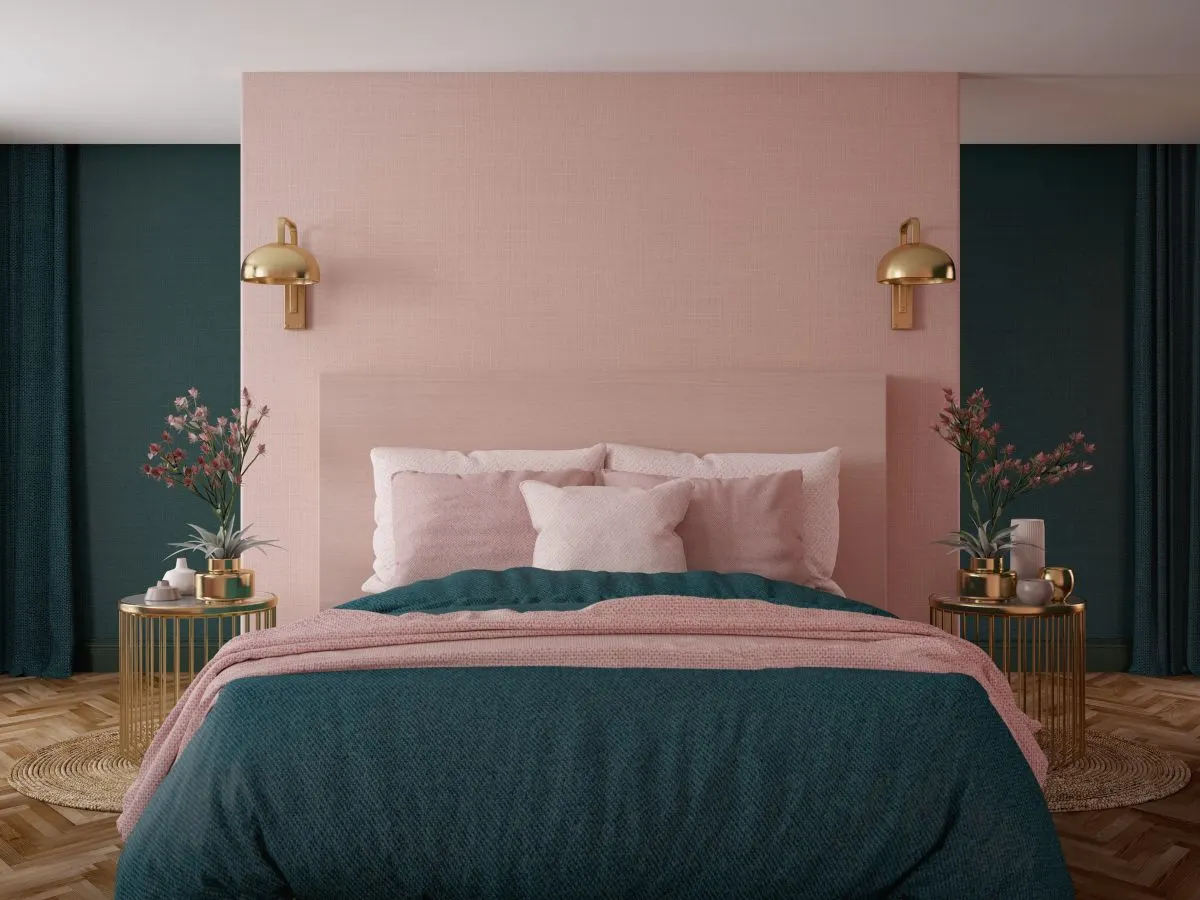 This teenage girl bedroom idea looks like something right out of a home decor magazine. It's sleek and chic, and I just bet that the teen it belongs to has some seriously good taste.
The dark green covers and walls are offset by blush pinks from the pillows and accent wall. Plus, that metallic tinge from the gold lamps and bedside tables is divine. A great way to uplevel this teenager's room by adding some cool art decor wall art.
4. Pink and Gold Accents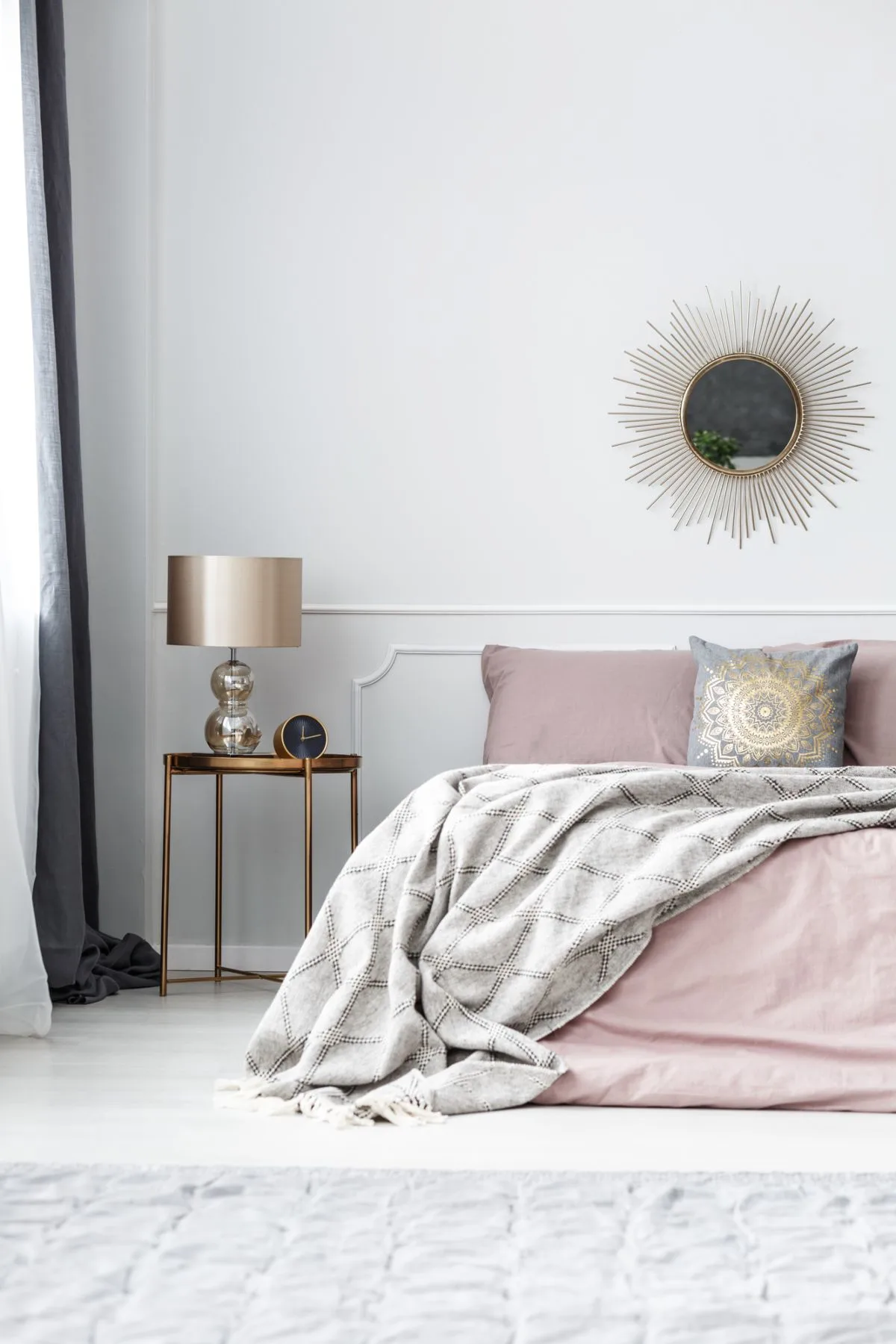 Let's hold on to those shades of pink and that divine gold for this next teenager's bedroom idea. Only, instead of darker walls, let's open out the space with a soft and creamy white paneled wall. These cool bedroom ideas are an easy way to open up a small space so your little girl has enough space.
If you pair that with some grey and white fabric at the curtains and the throw pillows, you're all set!
5. White and Yellow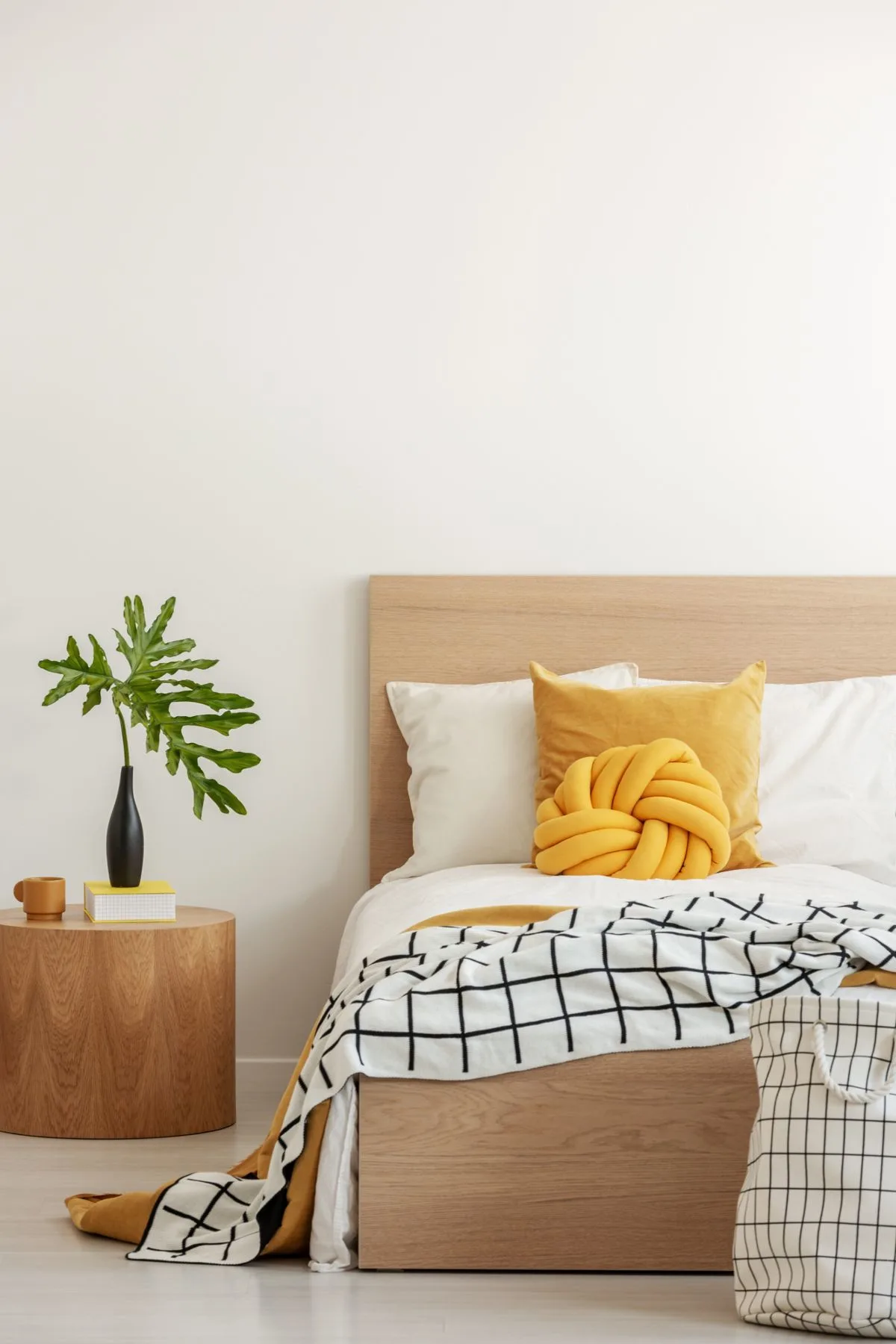 Nothing says bright and cheerful, yet subtle and mellow like white and yellow(see what I just did there?). These two colors paired with some tan and sand-colored wood furniture is all that the room needs to feel your best in your teen years.
To add some texture to the tableau to add your own unique styles, you can accessorize with some chunky and unique toss pillows. Don't forget, a little plant or succulent and some string lights might help, too!
6. Leaf Accents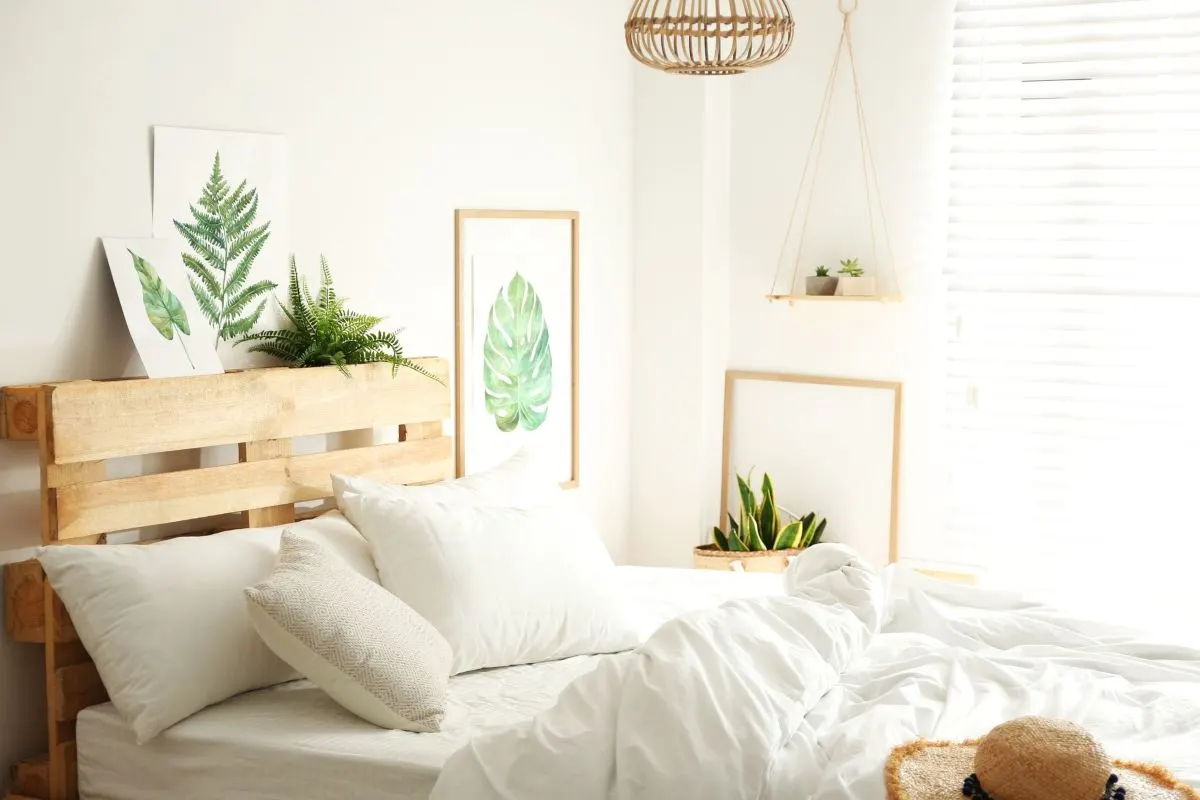 While I love a few leafy plants in my room, it might not be a great idea to fill your bedroom with too many of them as they emit Co2 during the night.
So, to make up for that, you can mount a couple of lovely prints—floral or leafy—and just let the pops of color from them help decorate the room.
Find more stunning bedroom décor ideas here.
7. White interior with Lilac Bedding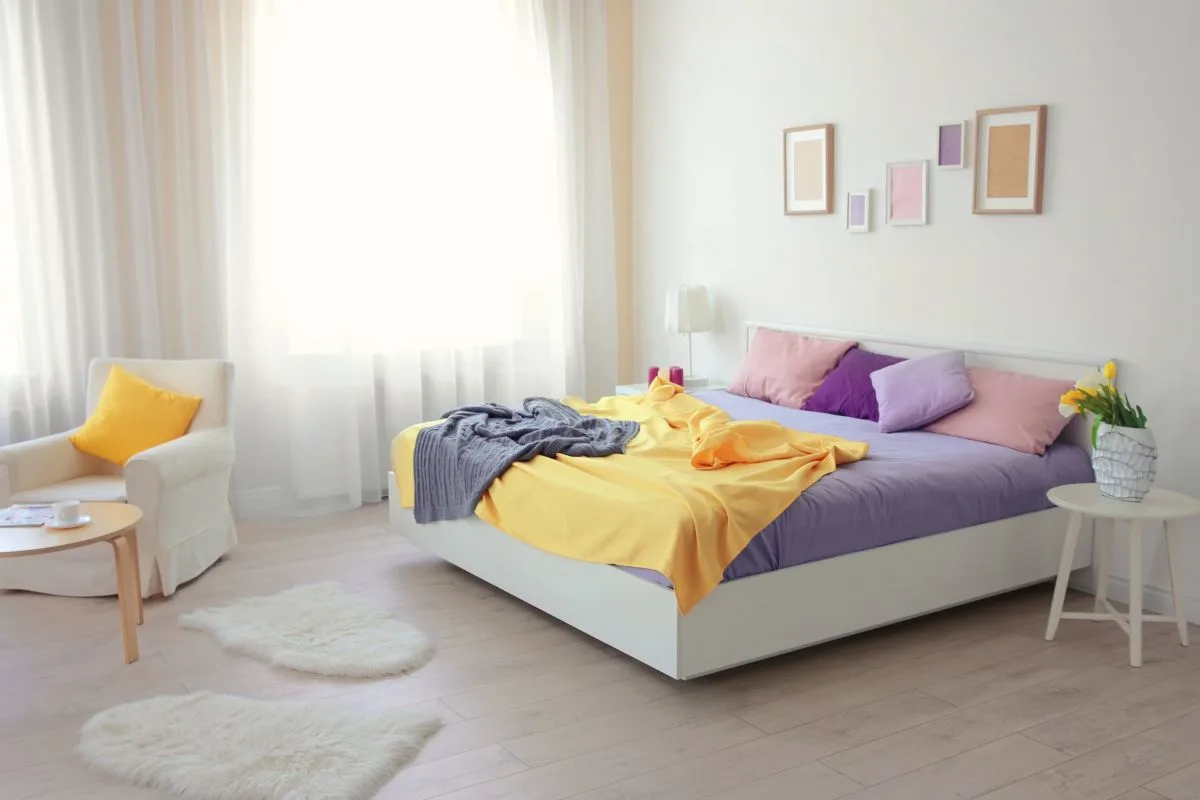 Now this is definitely a room that a girl in her mid-teenage years is bound to love. You can never hate those pops of vibrant color like purple, lilac, and pink, and you can definitely not love that contrasting shade of yellow to balance the rest of the room.
You should consider keeping the walls simple with neutral colors like white and just fill them up with cute frames and knick-knacks for the perfect teen bedroom.
8. Wallpaper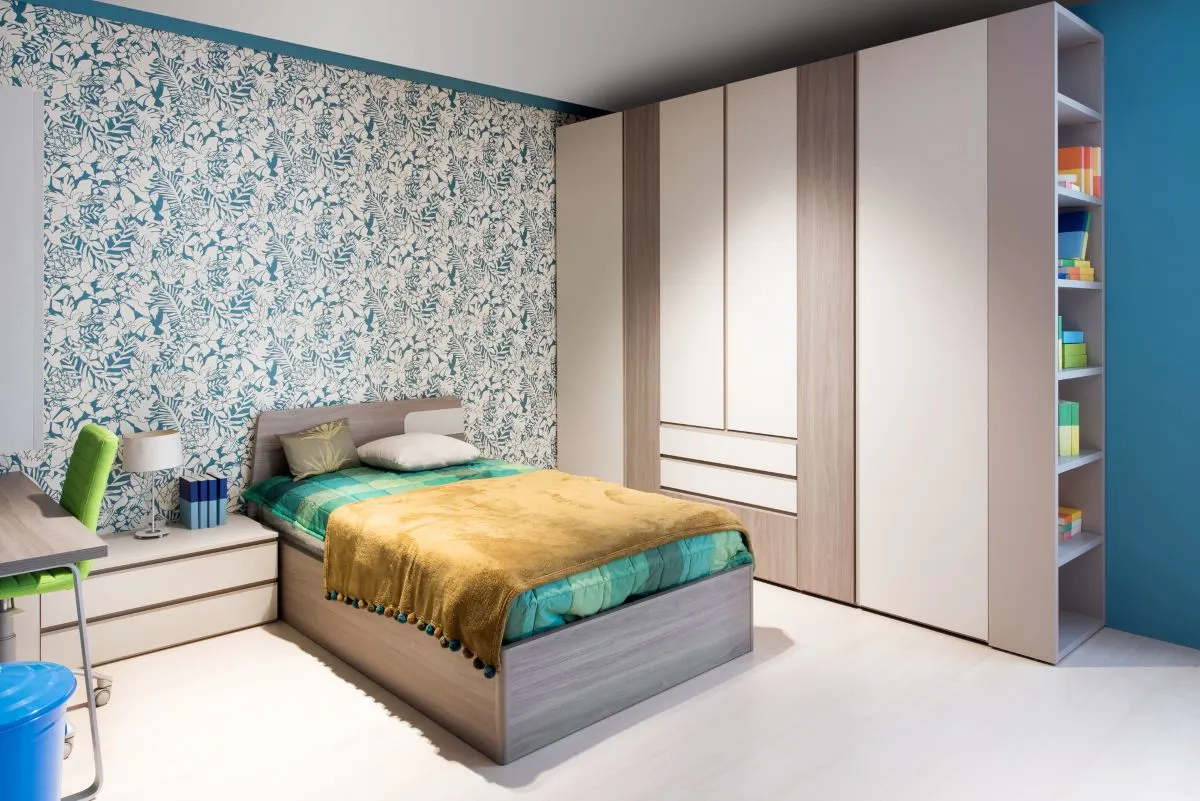 I remember when I was a teen, I was really into bright and bold prints and colors for my room. I was also into constantly redoing the decor in there.
That's the thing about wallpaper—it makes it super easy to pull apart and redecorate—something I'm sure a teenage girl is going to appreciate.
9. Feature Wall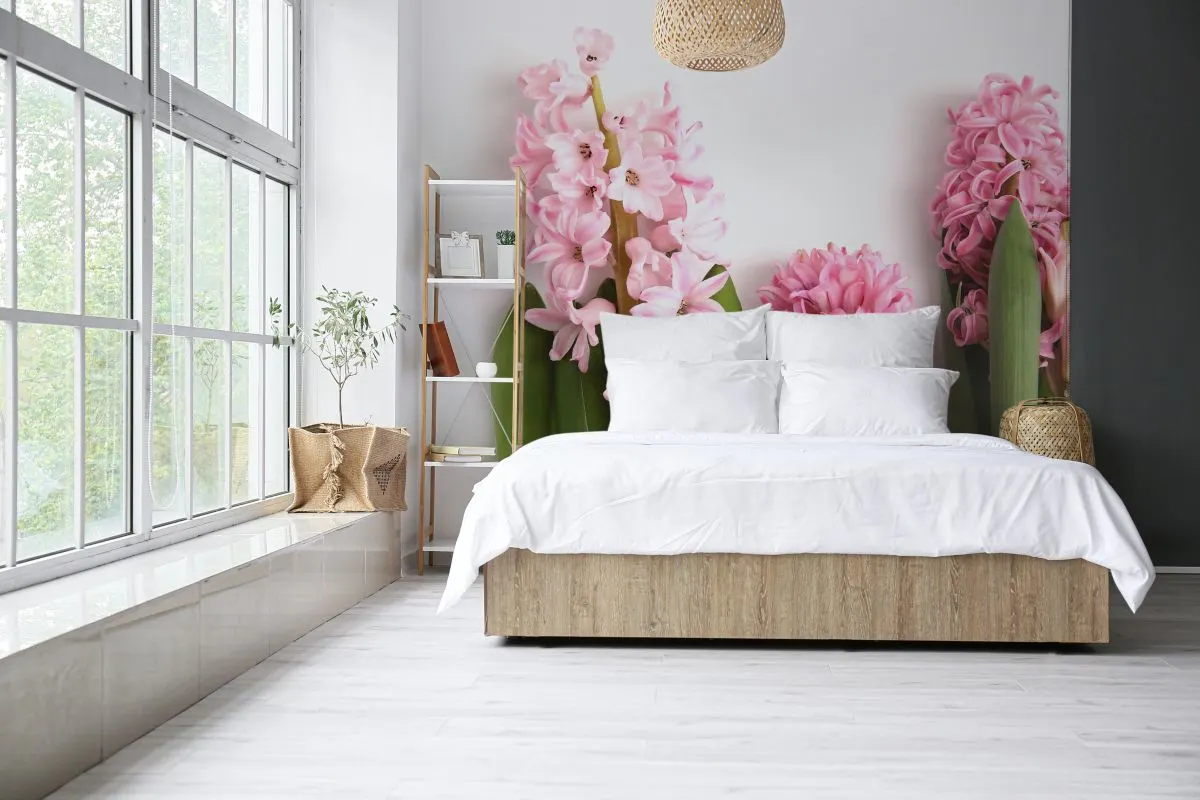 There were times when I was a teen when I'd fixate on one particular thing—mostly dogs. While a dog-themed feature wall is a bit out there, something simple and floral like the one you see here can be quite pretty!
This can be on the wall behind your bed, or the one right opposite if you want to admire it. Find more inspiration with these unique wall shelving ideas!
10. Boho Style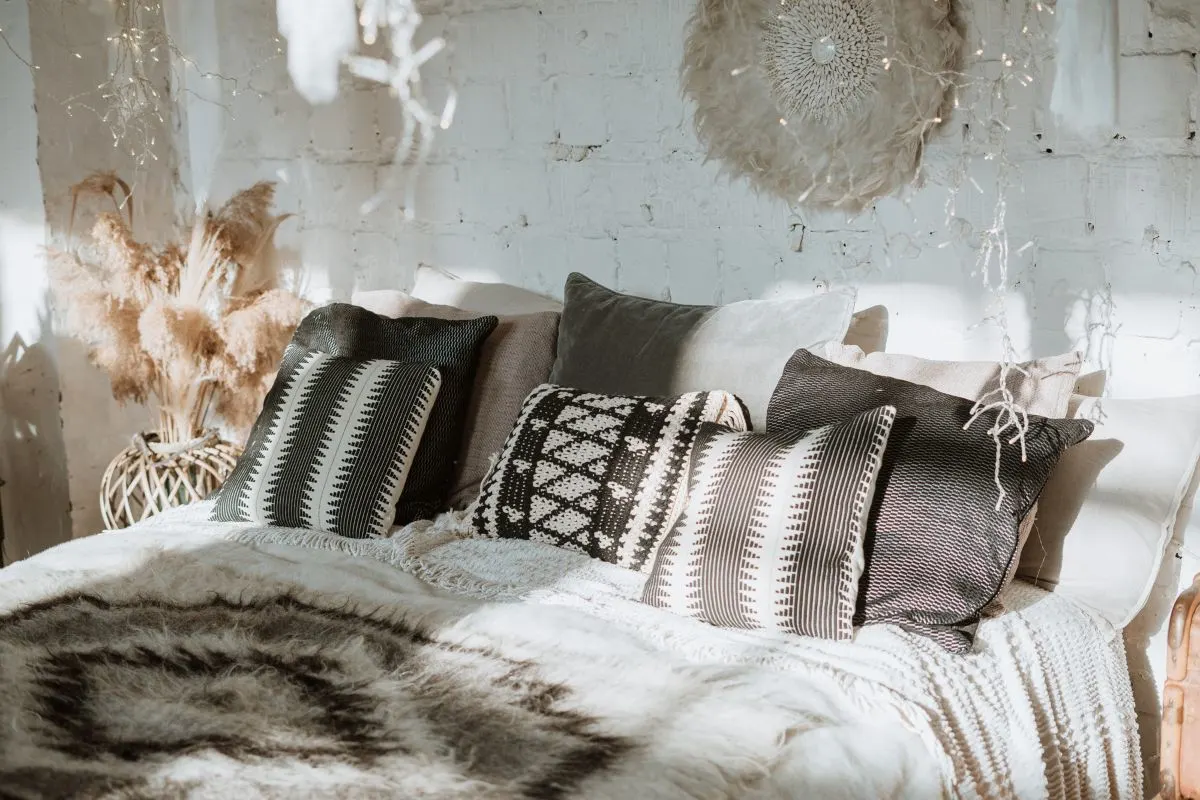 Bohemian isn't just a style, it's a way of life. I love bohemian decor as much as the next person. It has so many fun textures and components to work with.
You can decorate with some really rustic and textured toss pillows and bed covers. You can also hang up some macrame on your walls, if you're interested in a little DIY project.
11. Scandinavian Interior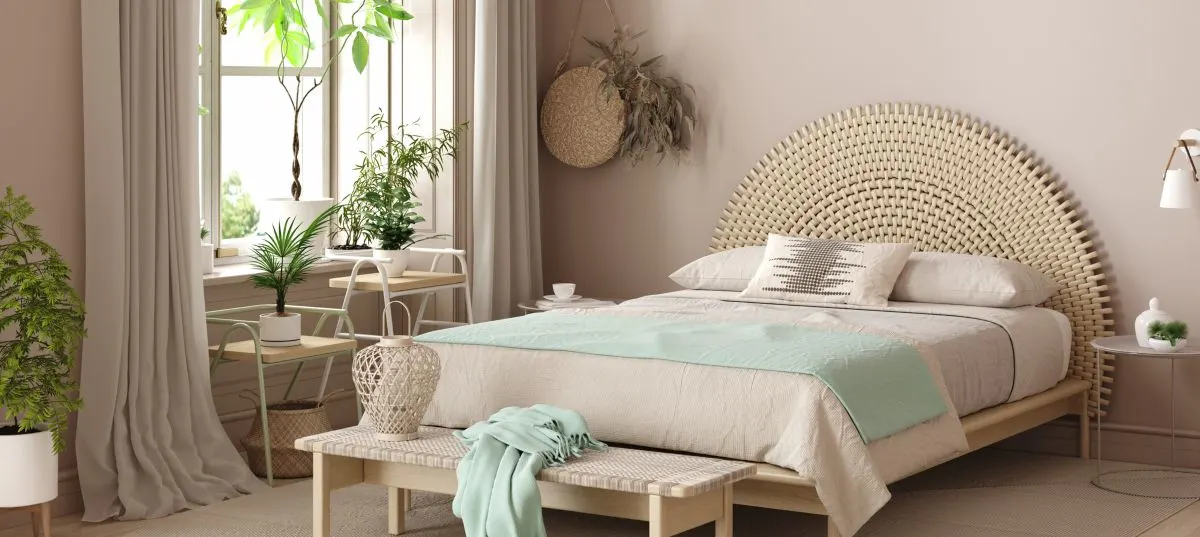 You can't help but feel calm, relaxed, and happy in a room like this. It's got some wonderfully mellow beige and blush tones that pair really well with that wheat-colored headboard.
You can also use cane or light-wood furniture to accentuate the softer hues. But don't forget that one single pop of color the room needs—a bright throw blanket, perhaps?
12. Coloured Accents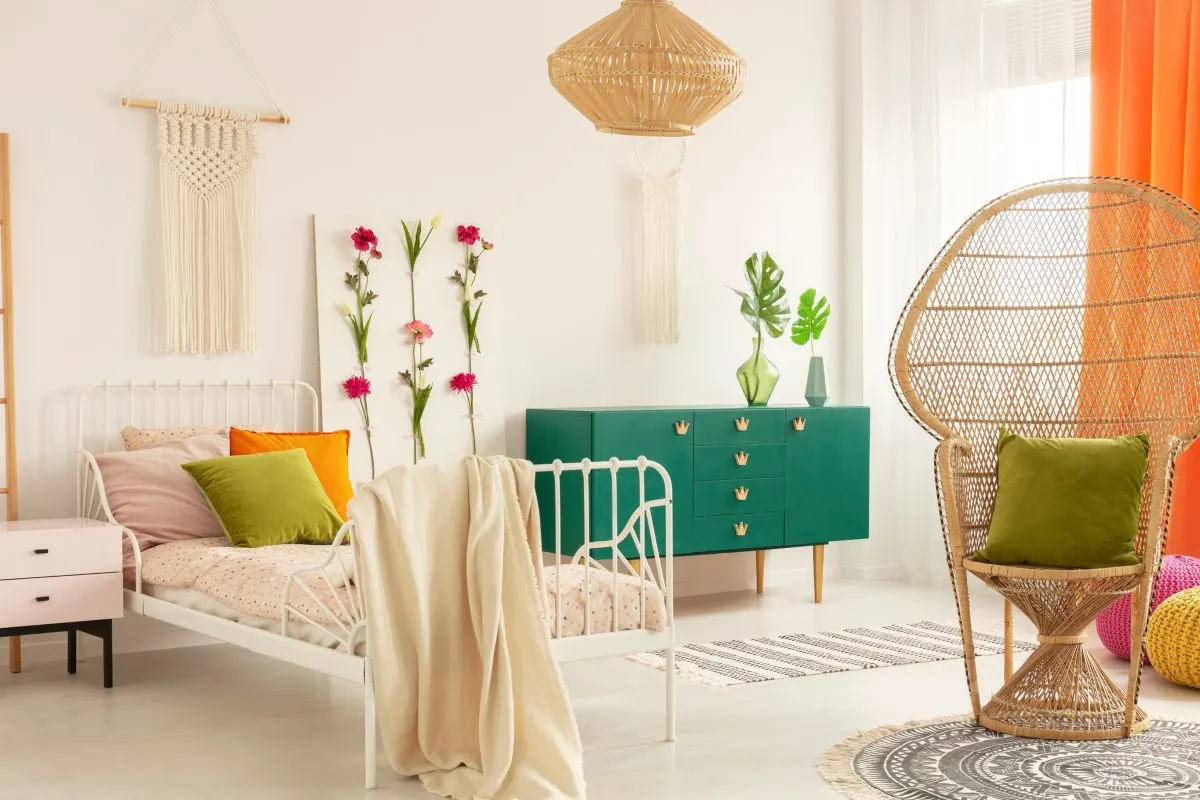 The best part about cream or white walls? They give the space a whole lot of room to play with colors. Just look at those exquisite pops of teal, green, orange, fuchsia, yellow…well, all those colors!
A soft grey fringed mat and some cane furniture would also be perfect in this tableau, don't you think? Go ahead and add a couple of bohemian wall decor pieces, too, while you're at it.
13. Cozy Furniture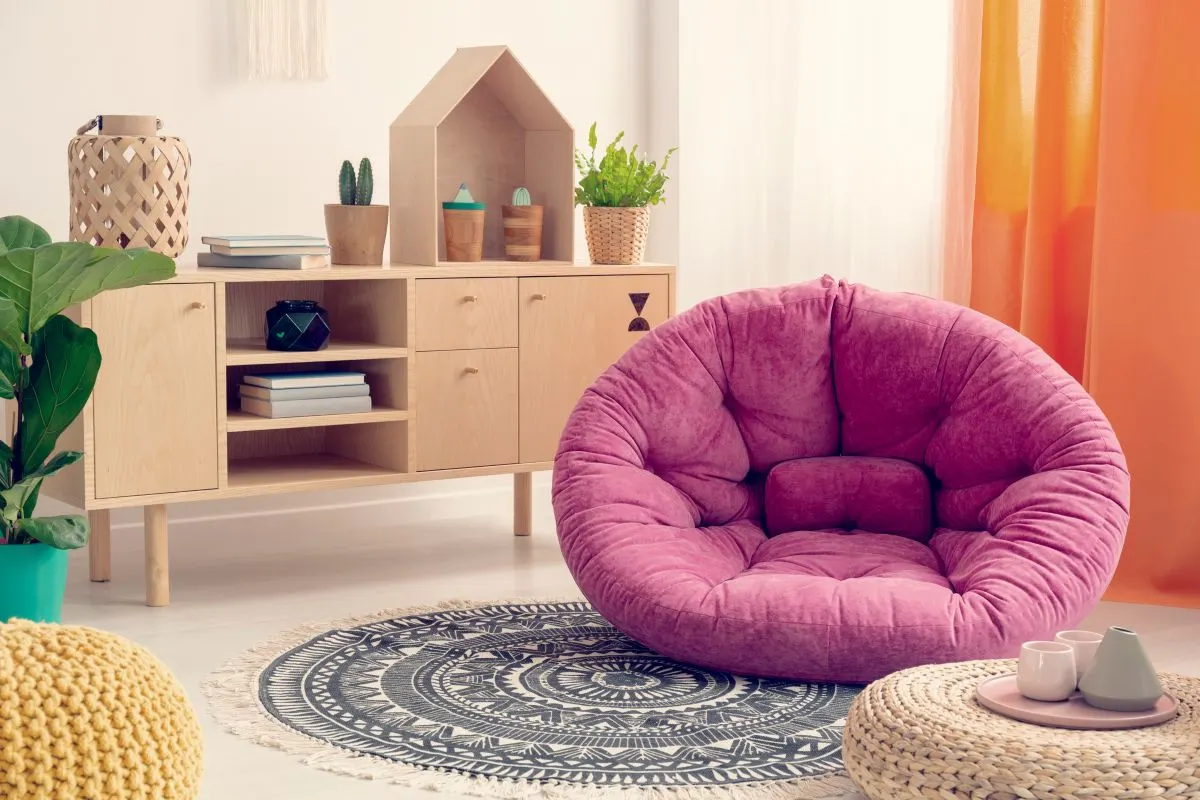 When you're decorating a teen's room, comfort can sometimes get lost in the quest for perfection. But it's super important to have some really comfy and cozy furniture—they can be chic, too, you know.
A big and plush purple chair like this, for example, ticks all the boxes. It's cozy, yes, but also cute and snazzy!
14. Wicker Furniture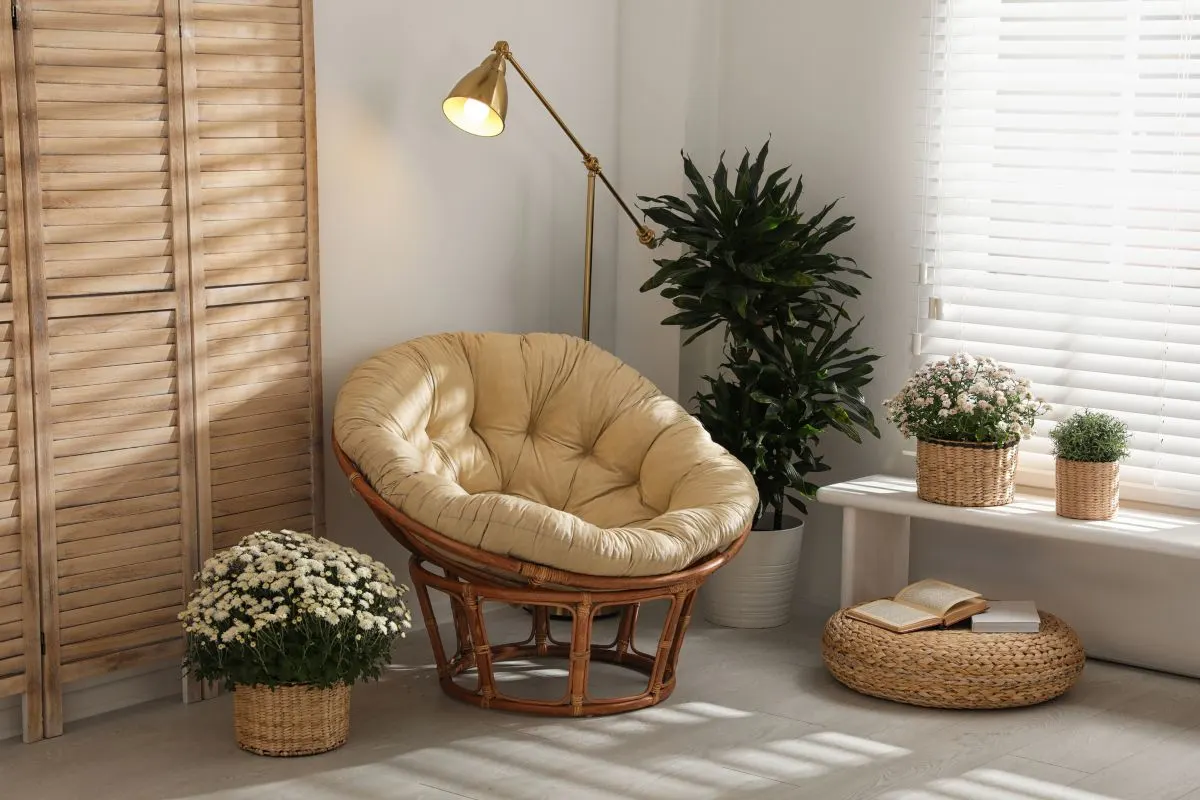 I love incorporating different textures and colors through furniture. They introduce so many facets to a room, turning something ordinary into elegant and tasteful—like wicker furniture, for example.
A couple of wicker reading chairs, a few bohemian cane or jute planters, and that braided pouffy seat on the floor? Just fabulous!
15. Rustic Interior
You don't often see a teen girl's room looking this…rustic. There's a ton of dark woods, yes, but it's the animal print pellet and those logs of chopped wood that take the theme to full-on rustic.
To soften it up a little, you can string some fairy lights and place a couple of succulents!
16. Dark Blue Wall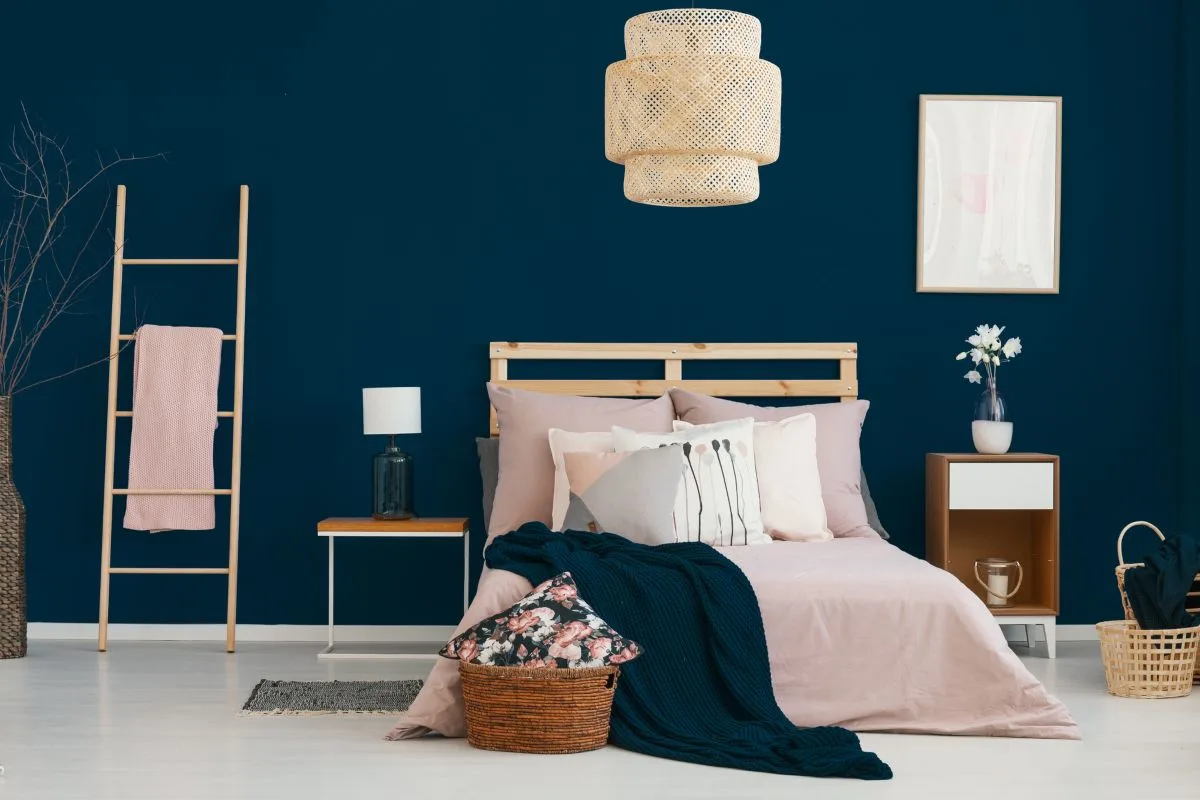 While darker walls do tend to make a space seem smaller, they offer a rather interesting color palette to work with. You can choose a ton of contrasting colors to go with this dark blue wall—be it bright pops of sunny colors, or softer pastels.
This pale pink, mauve, and lilac combination does pair well with the navy walls. You can incorporate a floral toss pillow, as well.
17. Wild West Style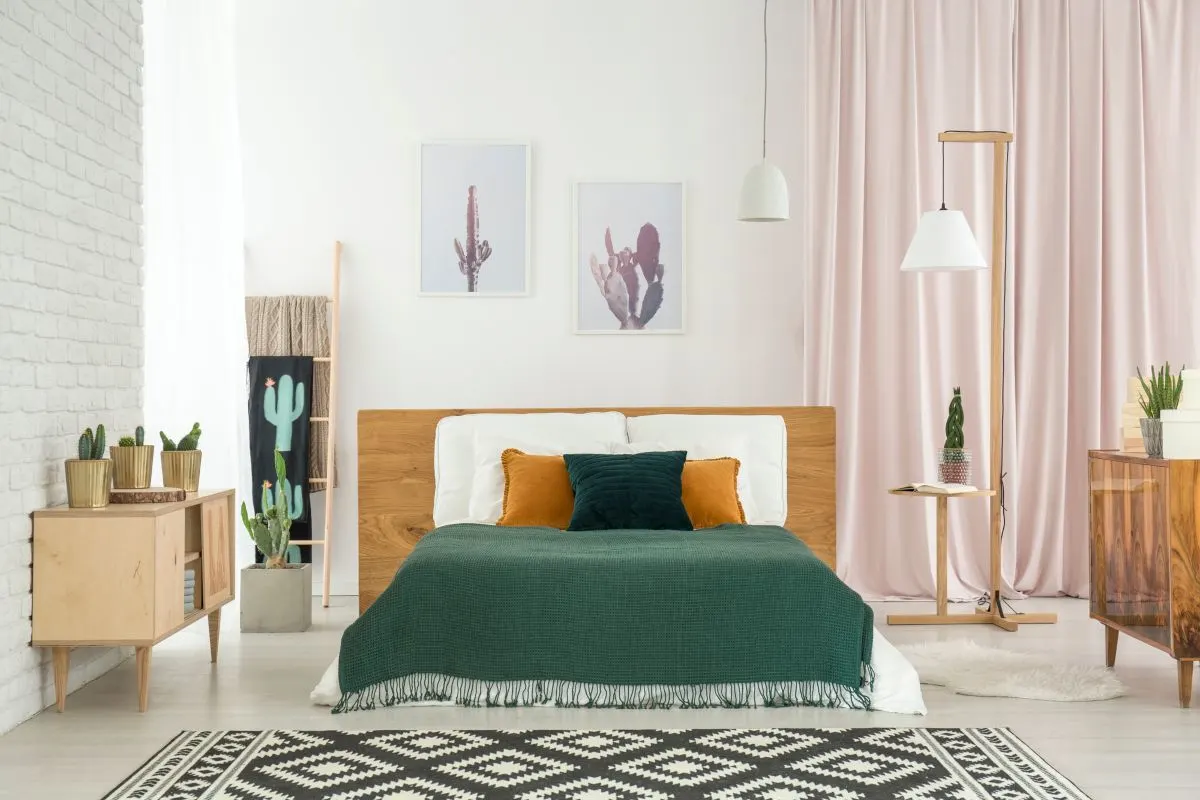 Have a test for the wild wild west? Then let's explore some decor ideas that incorporate classy and country into one teenage girl's bedroom.
Go for dessert themes that include cacti, fringed throws, tan pillows, and a bold bed cover. You can also have that lovely black and white patterned rug, as well!
18. Black and White Theme
When in doubt, stick to the basics, and you don't get more basic than black and white. A black and white room is a statement in itself.
It's strong and bold just as it is, but you can definitely add a splash of color—a bright pink rug, or a red futon, perhaps?
19. Pastel Interior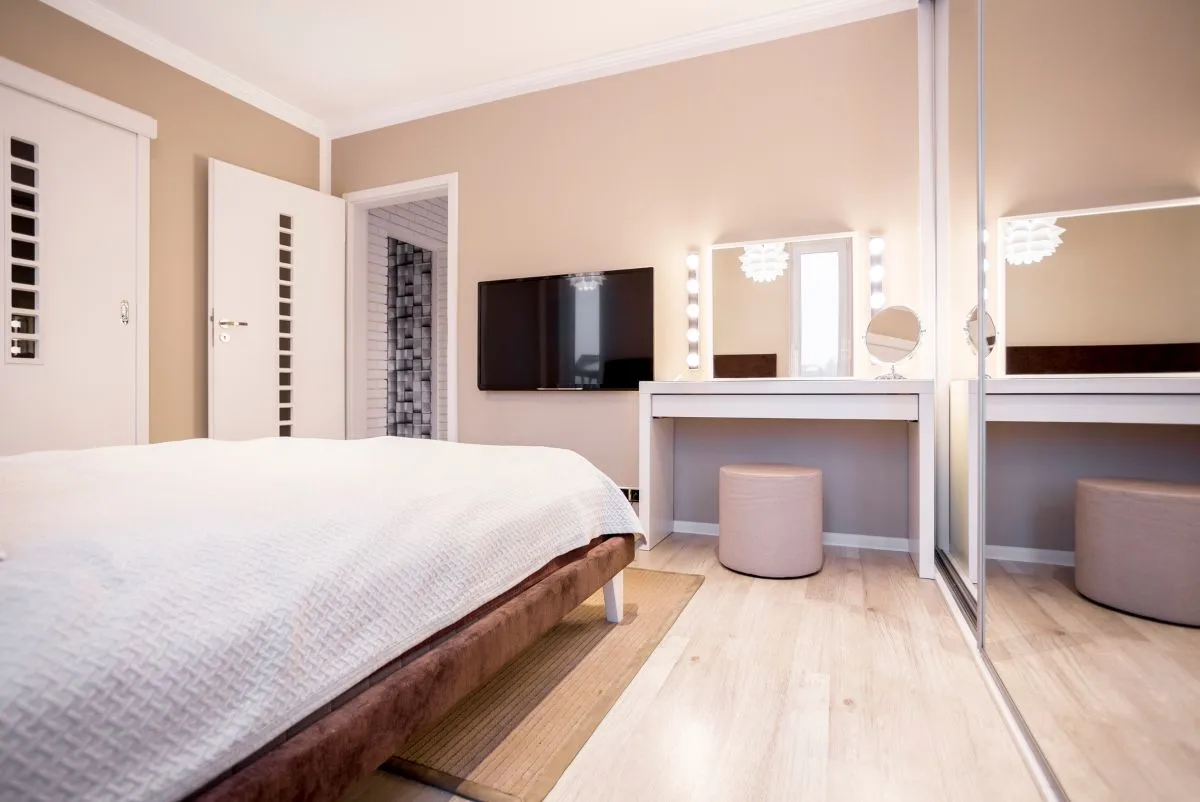 There's something soothing about pastels. They're soft and mellow, and I always associated pastel shades with sunshine and cheer.
Pastel interiors can bring that sunshine and cheer into your home and into a teenage girl's room, too. So go ahead and start with those walls and then work your way up to furniture and other accessories!
20. Japanese Style Interior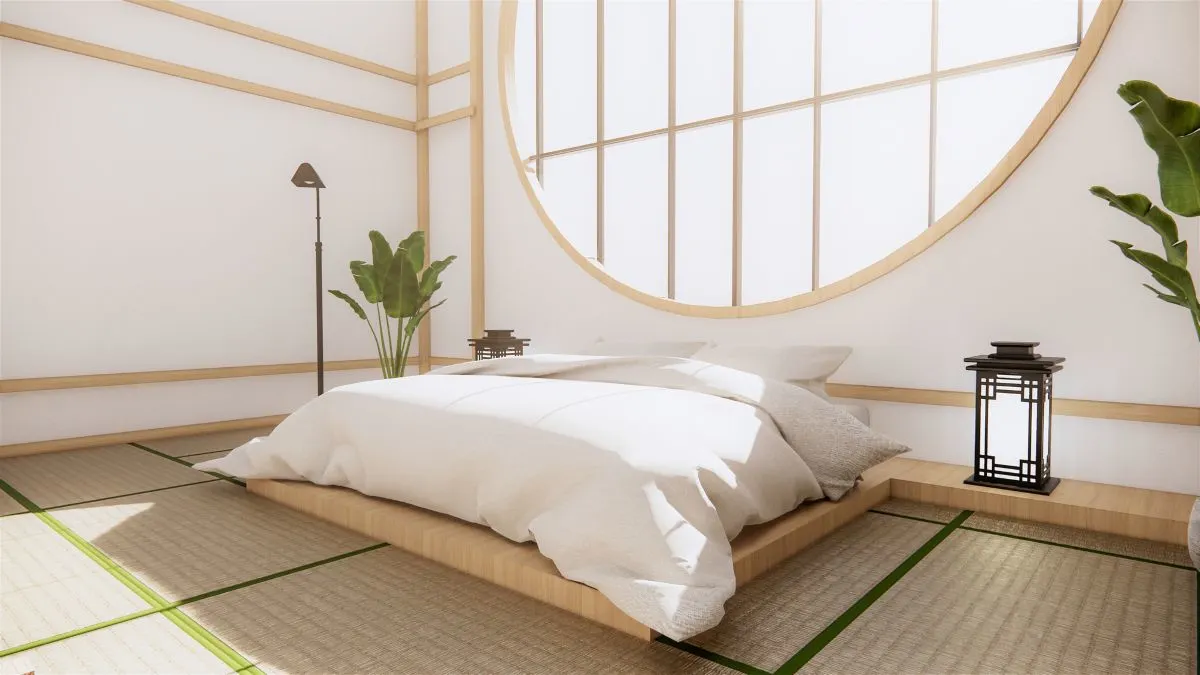 Looking for something minimalistic and light, but also full of unique decor style and character? How many teenage girls out there have such a zen bedroom, I ask you?
Switch out the carpet floor for mats, and have your bed right on the floor, atop a low-slung wooden bedframe. Then a couple of Japanese lamps on either side should do the trick!
21. Beige Modern Interior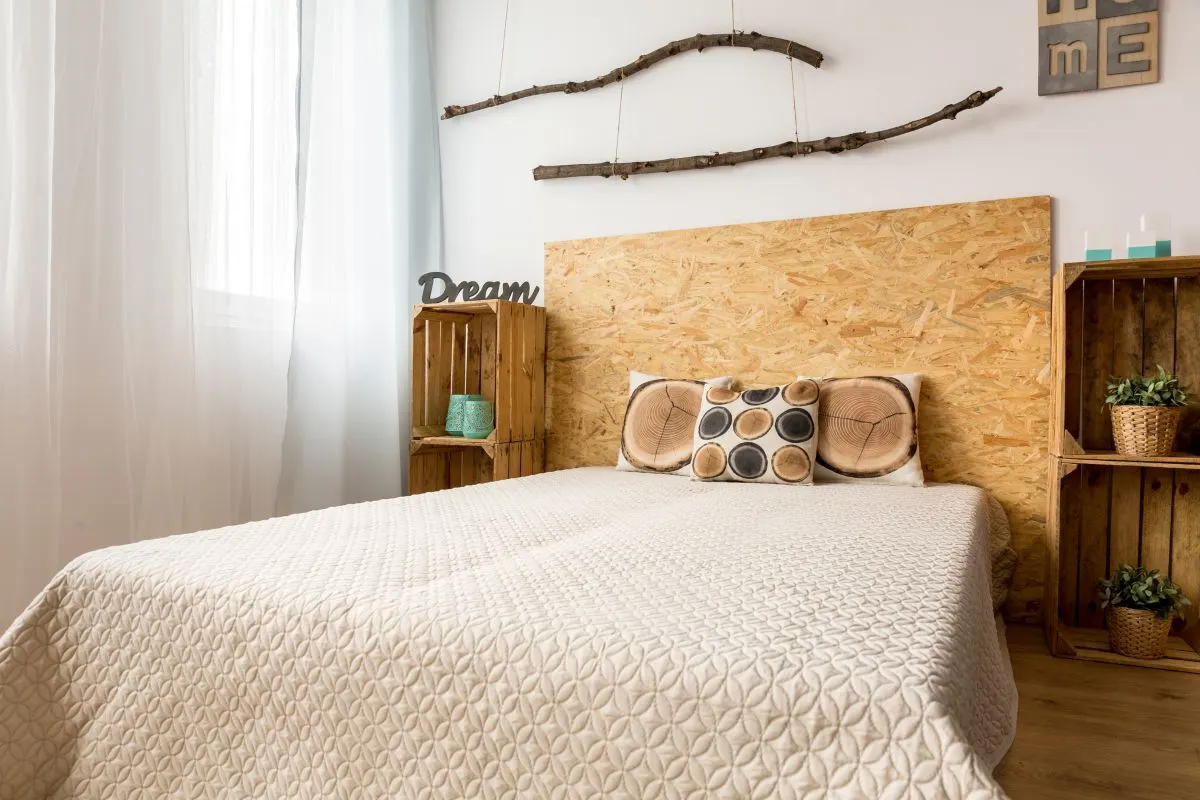 When beige meets rustic meets modern, you get this. There are a ton of really unique pieces of decor that come together in a wonderfully simple way.
There's also a mild whiff of the beach from those two driftwood branches hanging above the headboard.
22. White, Minimal Interior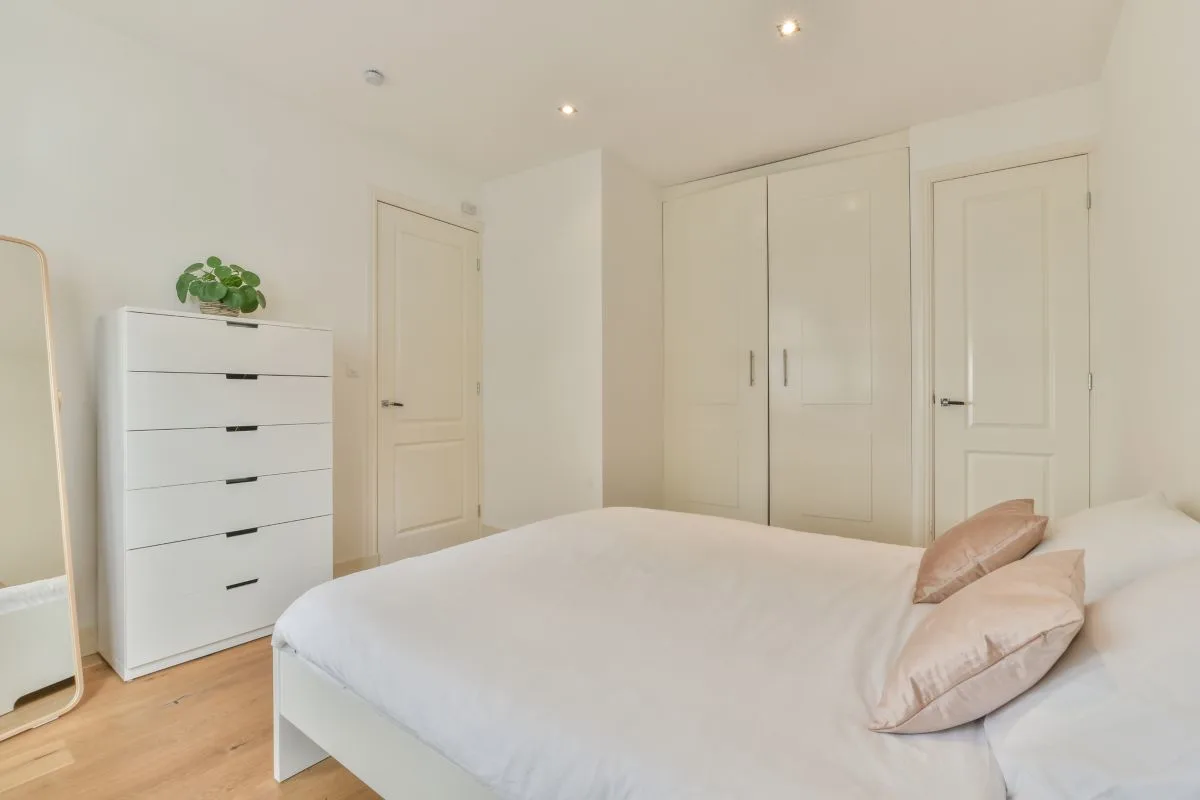 Teenage drama can be all-consuming and extra. So to keep the mind free of all clutter, drama, and mess, a girl's room can be something like this minimalistic room.
Choose different shades of whites and complement them with the palest of pinks, and the odd pop of green from plants.
23. Plants above bed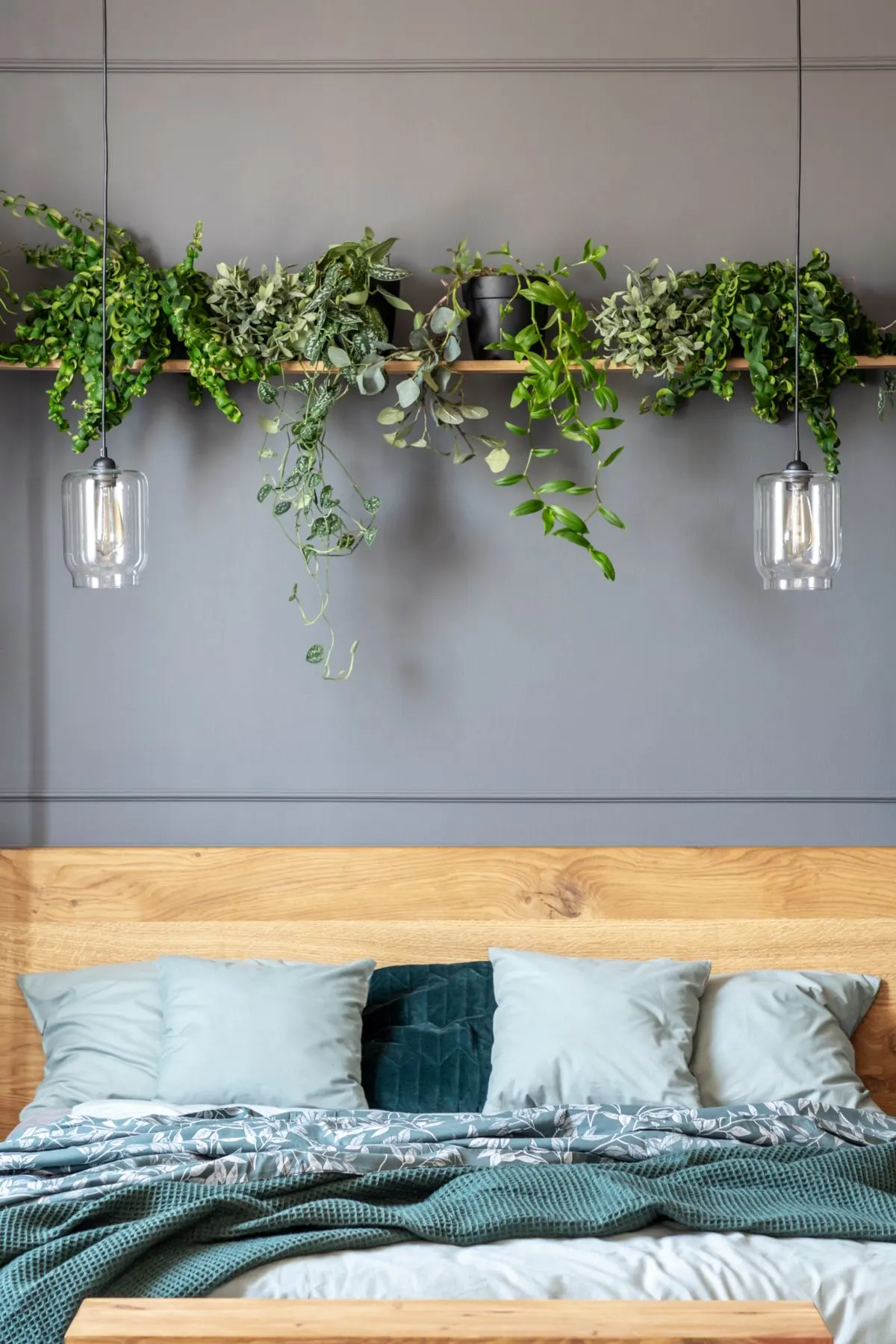 Speaking of pops of green from plants, how about an entire row of green? Check out this lovely canopy of green, leafy foliage right above the bed.
It's super simple to set up—just install a floating shelf a couple of feet above the headboard. Then fill it up with all the plants it can hold!
24. Coastal style bedhead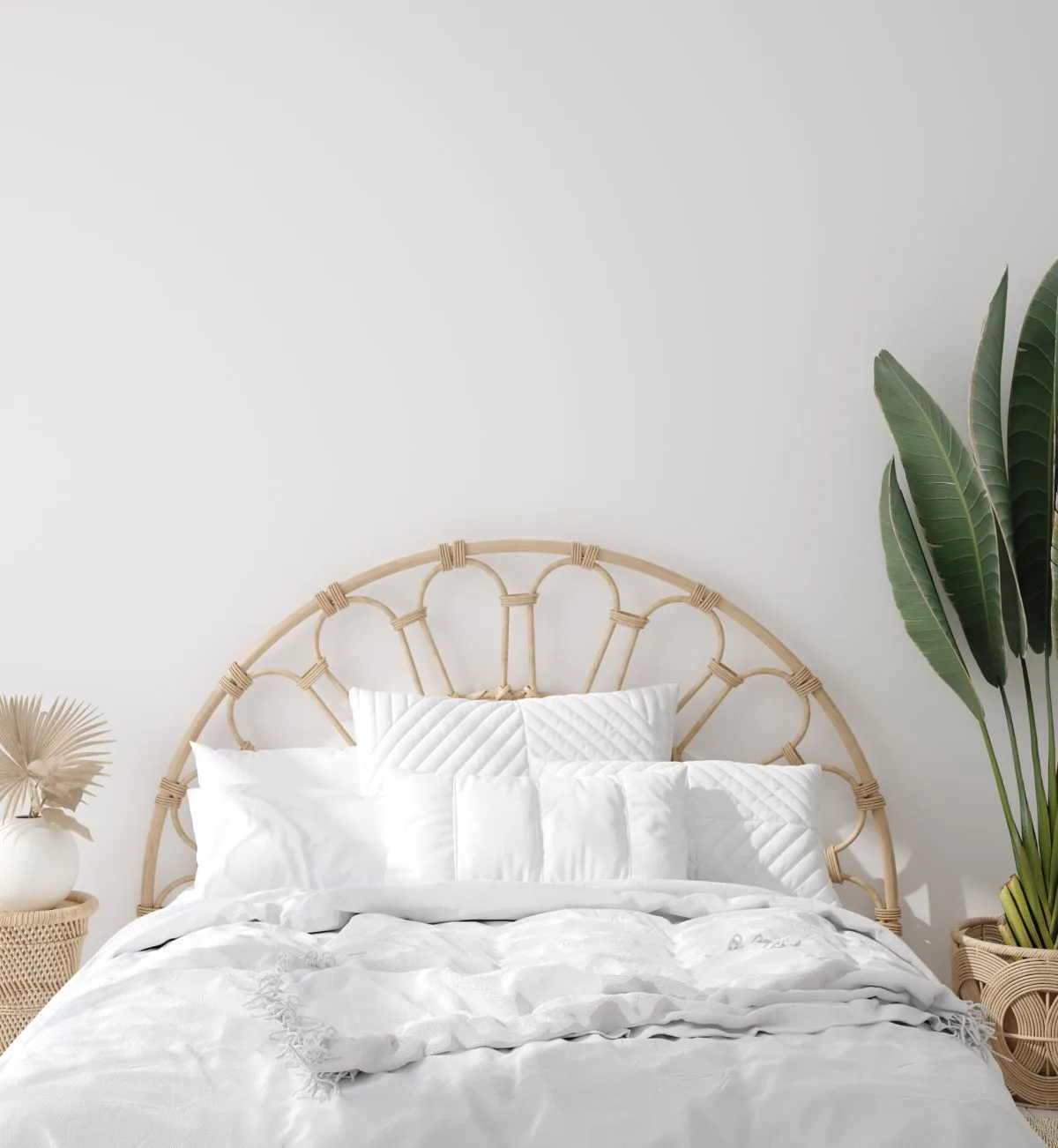 This rounded headboard has so much to love about it. The light cane or wicker finish, the lovely floral design inside, and finally, the matching side table and planter are all to die for.
You can top the mattress with soft and fluffy white linen, with some textured cushions, or even colorful ones for added depth.
25. Light Blue tones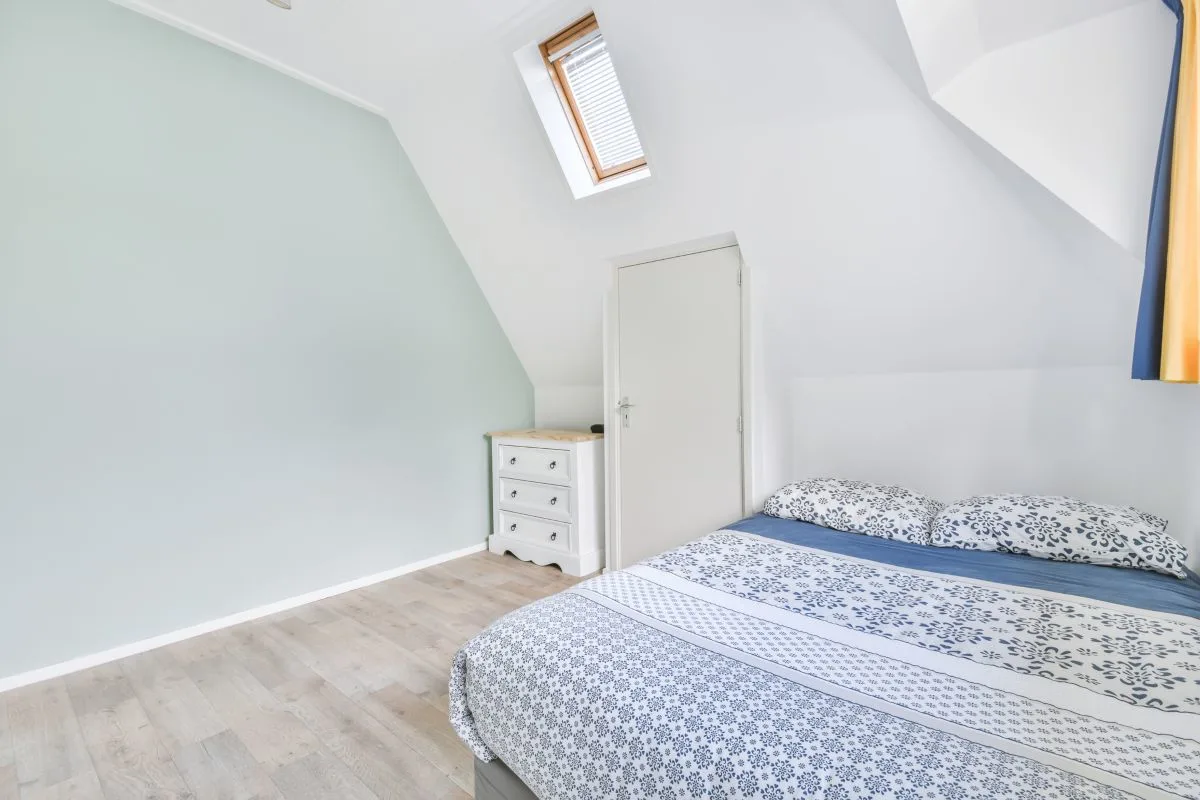 I love every shade of blue there is—even bright electric blue. But I also have a soft spot for the lighter shades like you see here.
The soothing mellowness of the pale blue wall is all the room needs to go from good to fabulous. Even with the rest of it decorated in whites or pastel, that blue definitely stands out.
26. Work space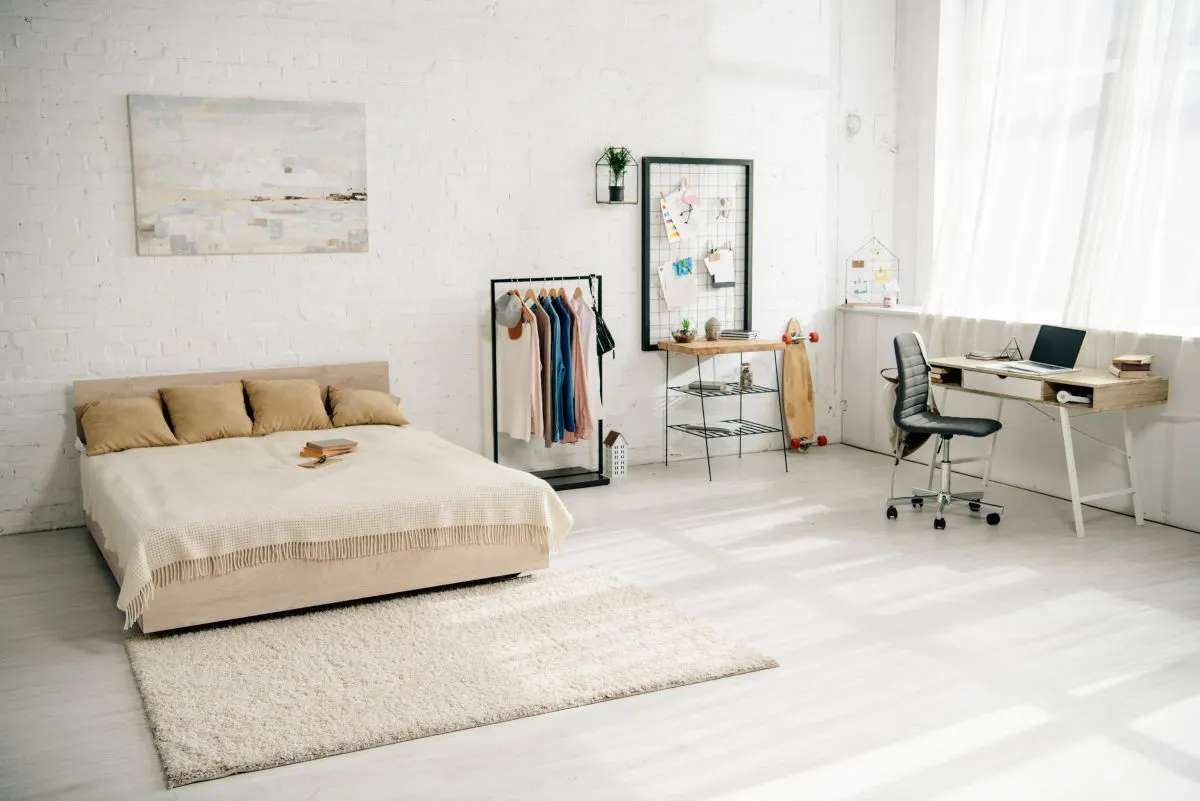 A teenager's work space is sacred. Whether she's working on her term paper, or she's designing an outfit, painting a picture, or just listening to music, that workspace needs to be all her's.
Just remember to have comfy seats and a sturdy desk, and you're more than halfway there already
27. Vintage style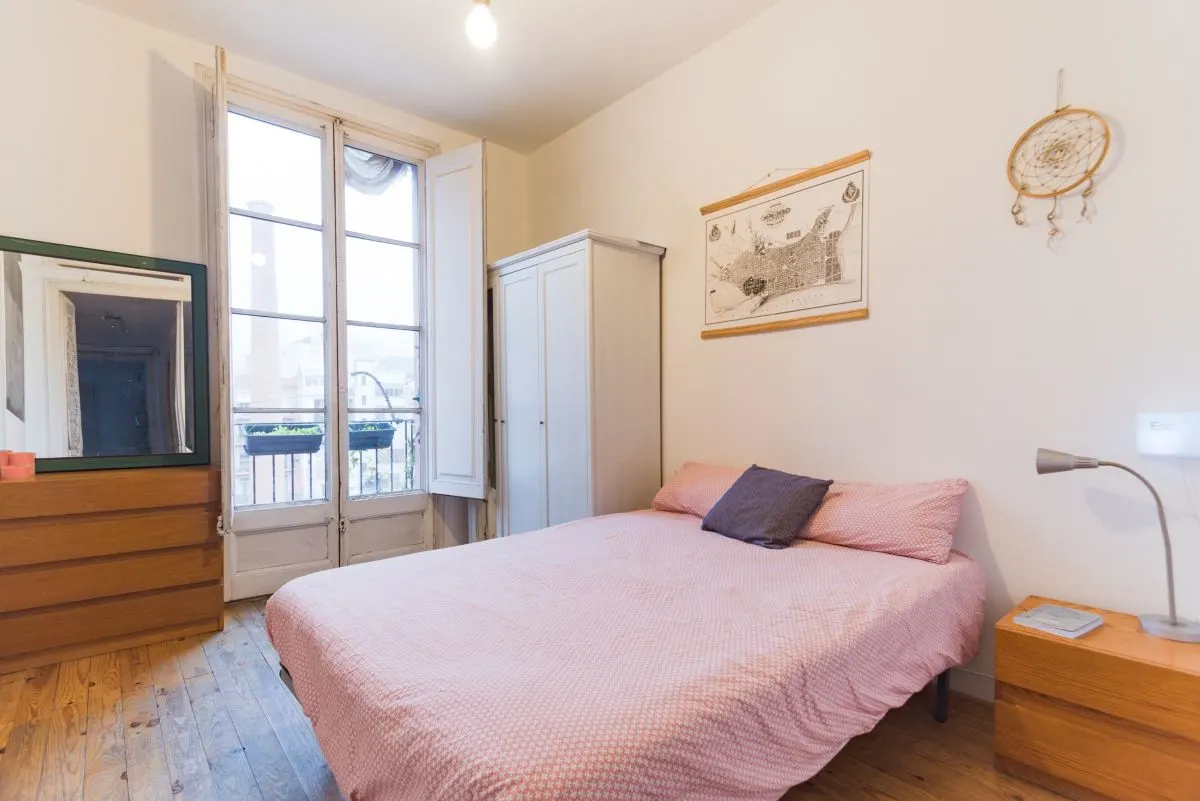 For a vintage bedroom like this, head out and hit a flea market or two. You will find some truly unique pieces to help decorate your room, and to add character to it—which is what vintage-themed decor is all about.
Find yourself some vintage furniture, too!
28. Patterned Bedding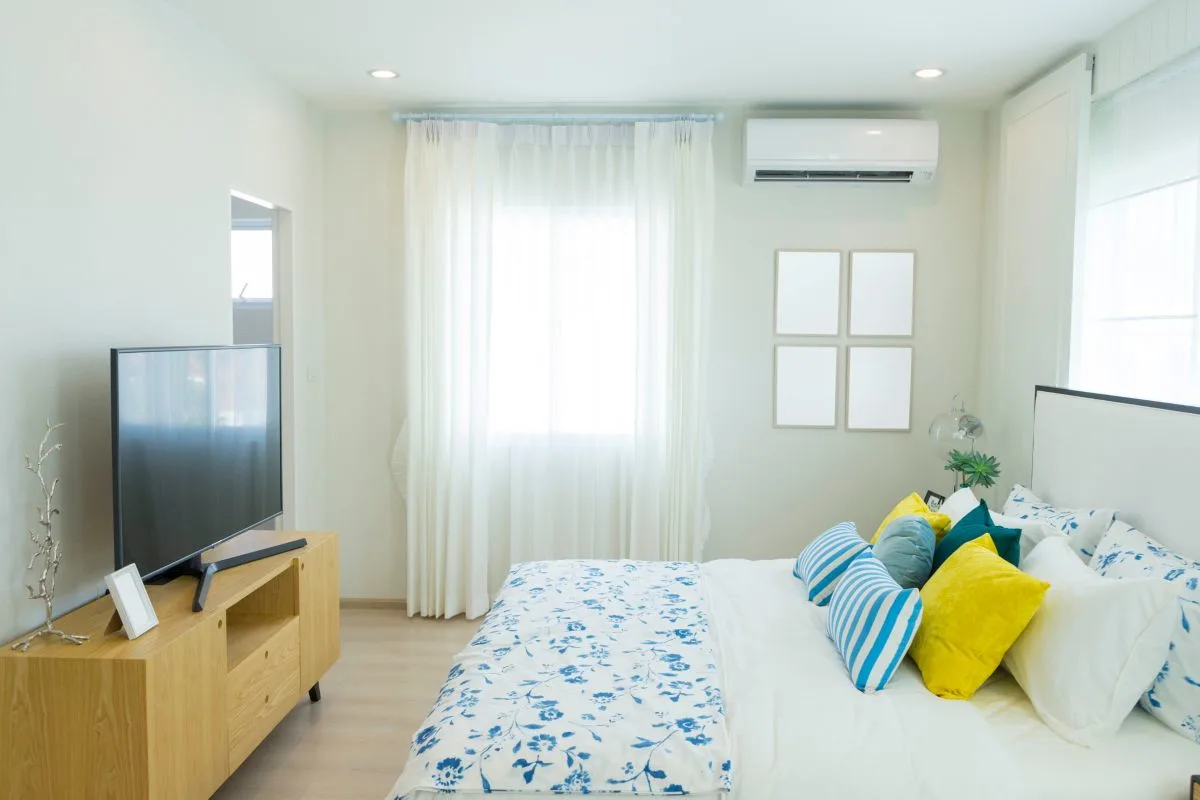 While white bedrooms hold a certain charm, there can, however, be too much white in there. That will open up your room a lot and make it seem sparse and empty.
You need to introduce some color and texture, and you can do both with a patterned bed cover and some colorful toss pillows.
29. Bright orange and pink decorations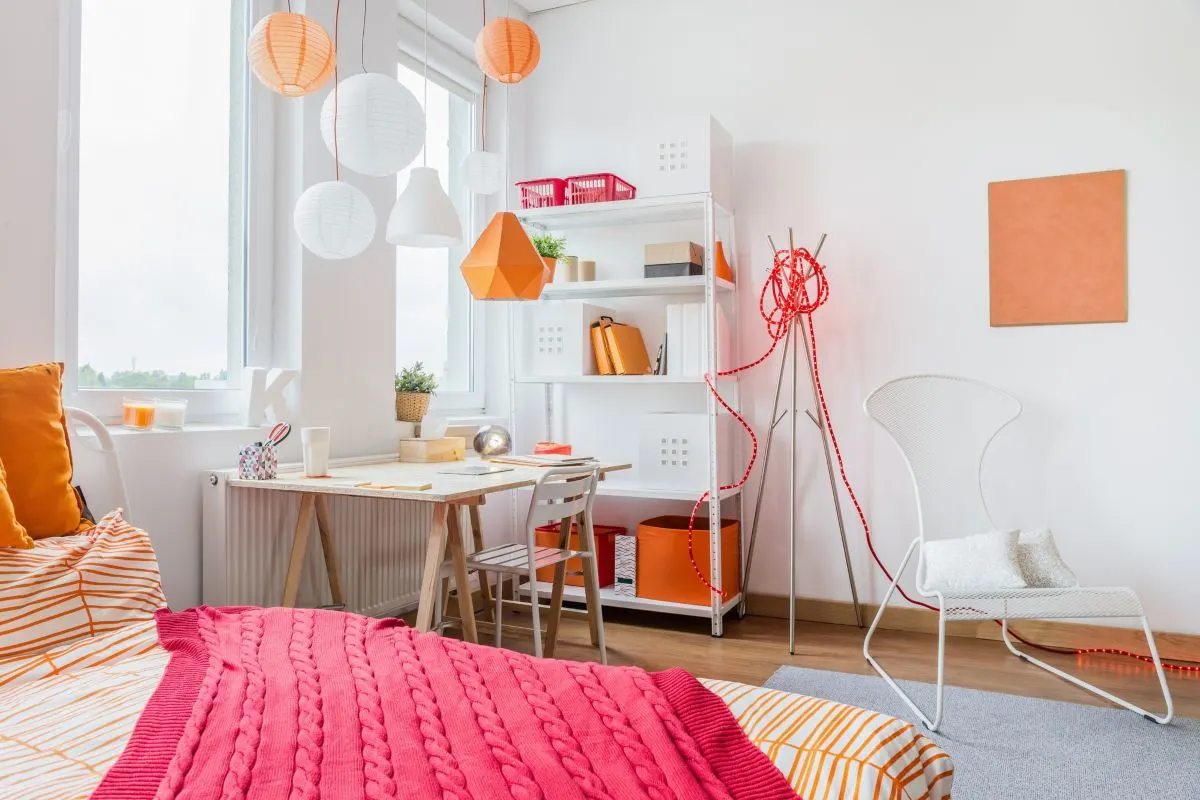 You'd think that bright orange and pink would clash, wouldn't you? But I think that with enough pastels or even just plain white to balance the two bold colors out, you can really make that combo work.
30. Bed Canopy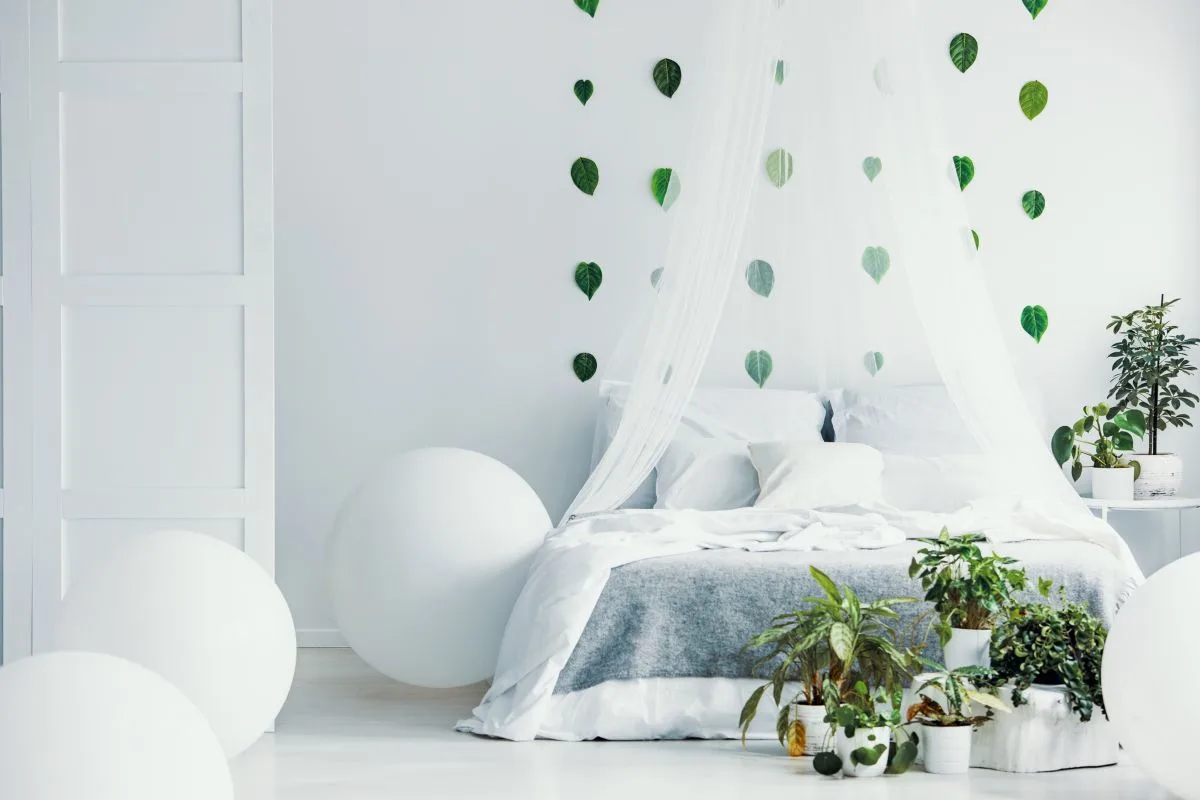 I think that every girl should definitely have a canopy bed growing up. It might not be a necessity, but it sure does look great, doesn't it?
You can make a simple yet beautiful canopy out of lace or tulle fabric. Just pick out what works for you and make your canopy bed!
31. Green plants/Nature theme