Transform your office space with these DIY craft desk ideas. These craft desk ideas will inspire you to get creative in ways you haven't imagined. Thus, take a look and have fun playing with your space.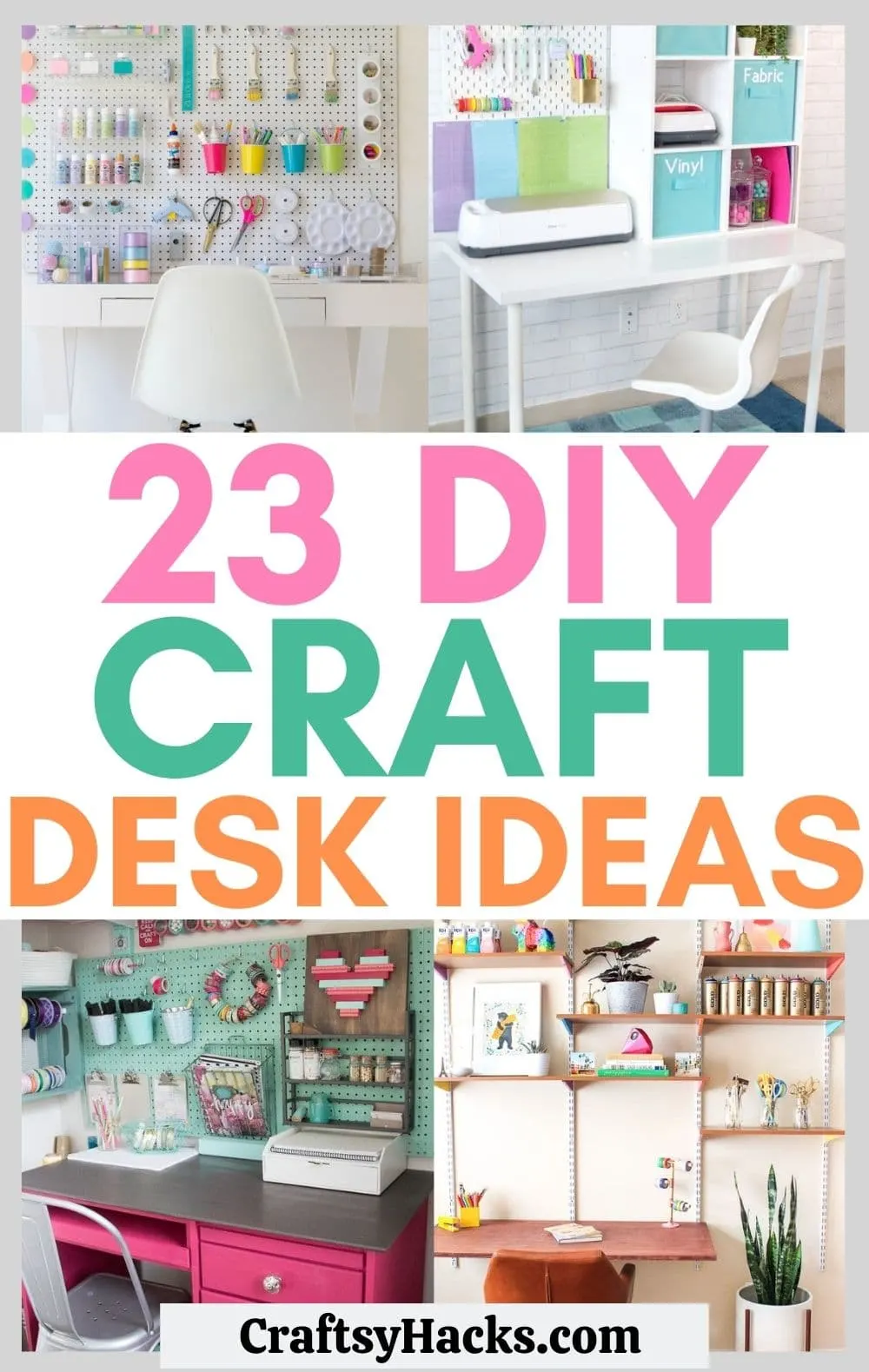 Every craft enthusiast I know has had that moment. You know, the one where you're in your spare room, one hand clutching your hair in frustration, the other hand digging through what I like to refer to as The Great Pile of Craft Supplies?
Nothing to be ashamed of, we've all been there.
You tell yourself that you'll get around to organizing it, eventually. Then you tell yourself that you thrive on chaos and that craft time is supposed to be a whirlwind of creativity.
Who are we kidding? Wouldn't you just love to open a drawer and find your craft scissors exactly where you put them?
Craft time should be therapeutic and relaxing, not an archaeological dig in the aforementioned Great Pile.
The first step is acceptance: you need to organize your craft supplies. Now here's a brilliant solution: DIY Craft Desks. What better way to create your craft space than to actually create your craft space?
Let's take a look at 23 different ideas to customize, create and accessorize your craft corner
1. Back To Basics DIY Desk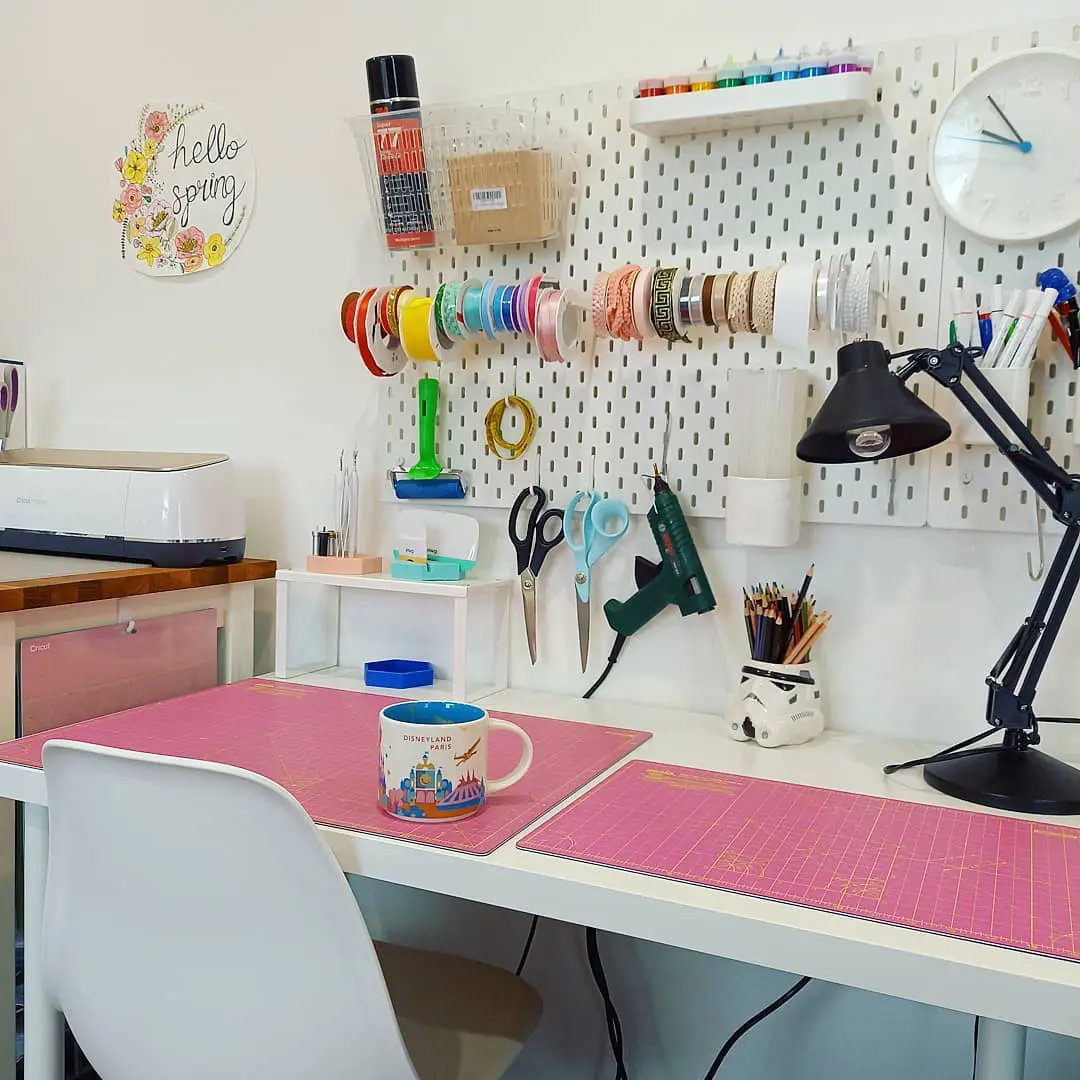 Credit: Instagram
It's simple, it's efficient, and more importantly, it's easy to set up.
You have oodles of room here to line your walls with pegboards. If you really want to make the most of your craft desk space, invest in a few stackable racks, like the ones you'll find here.
These racks are not unlike the ones you use in your kitchen as a spice rack and are an effective way to add another layer to your craft desk top.
2. Pretty In Pink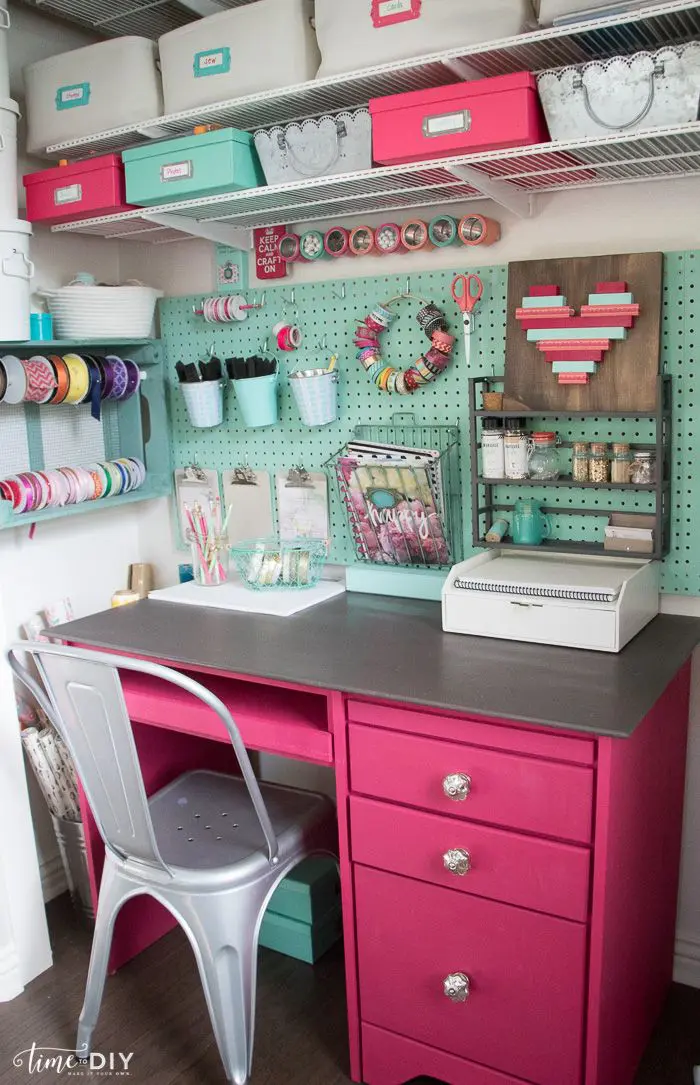 Full Tutorial at: prettyhealthyhouse.com
Look at that gorgeous pink desk, offset by those lovely jade pegboards. Be still my beating heart. If you are looking for a bright, clean, and inviting craft desk to work on, then look no further.
Do you have a desk sitting somewhere that seriously needs a makeover? With good scrubbing, some clever planning, and a nice coat of hot pink paint, you can transform even the most tired desk into an inviting crafty desk.
Don't forget that lovely three-tiered cart to the right. You can find something similar right here.
3. Bright, Light And White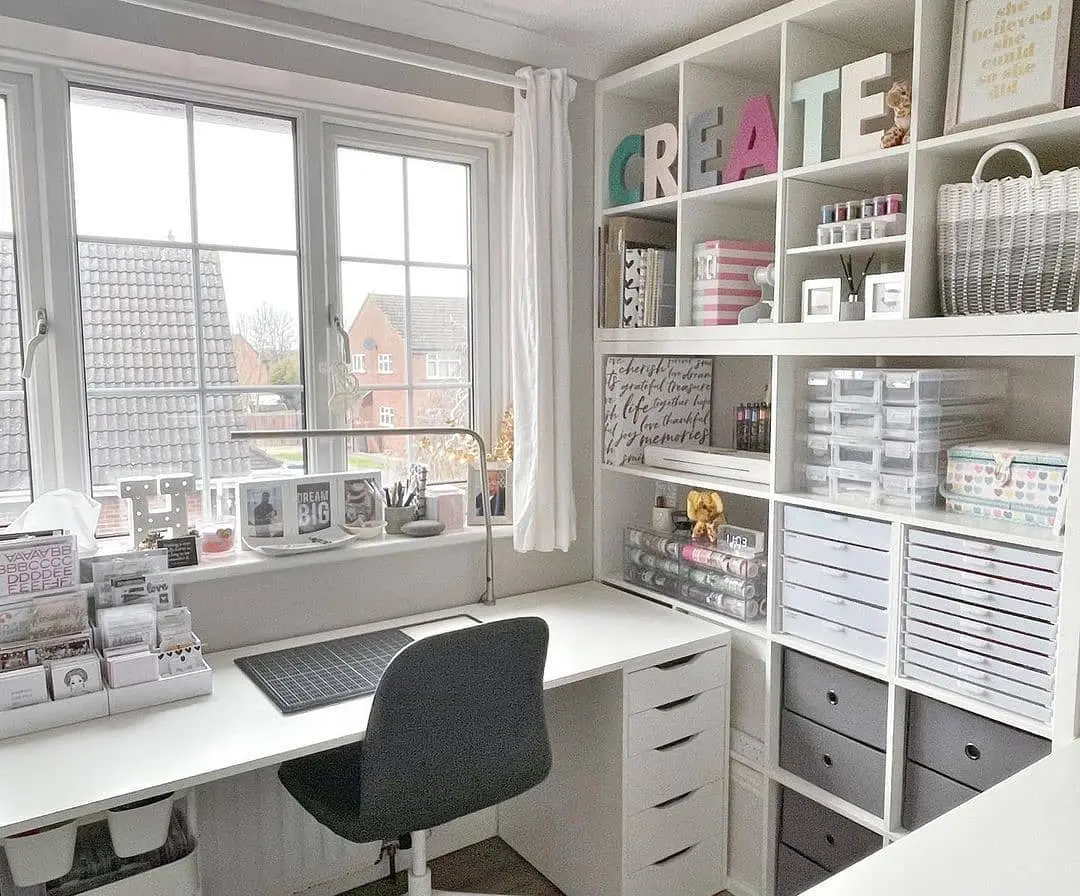 Credit: Instagram
Why draw attention away from your craft? A white palate for your desk gives you the perfect blank canvas you need to offset your bright projects.
Isn't there something so pristine and efficient about a desktop that is so simple, so uncluttered, and so…perfect? This desktop organizer blends in seamlessly, as well.
Alternatively, you can make sure your storage space is just a hand's width away. Why? You don't want to find yourself commuting from your supplies to your desk.
You can use under-the-table space, to the sides, on the wall, and even a portable storage organizer to create a well-organized system for storing your supplies.
Loving the organizing ideas? Check out these IKEA hacks to keep things organized around your crafting area.
4. Island Counter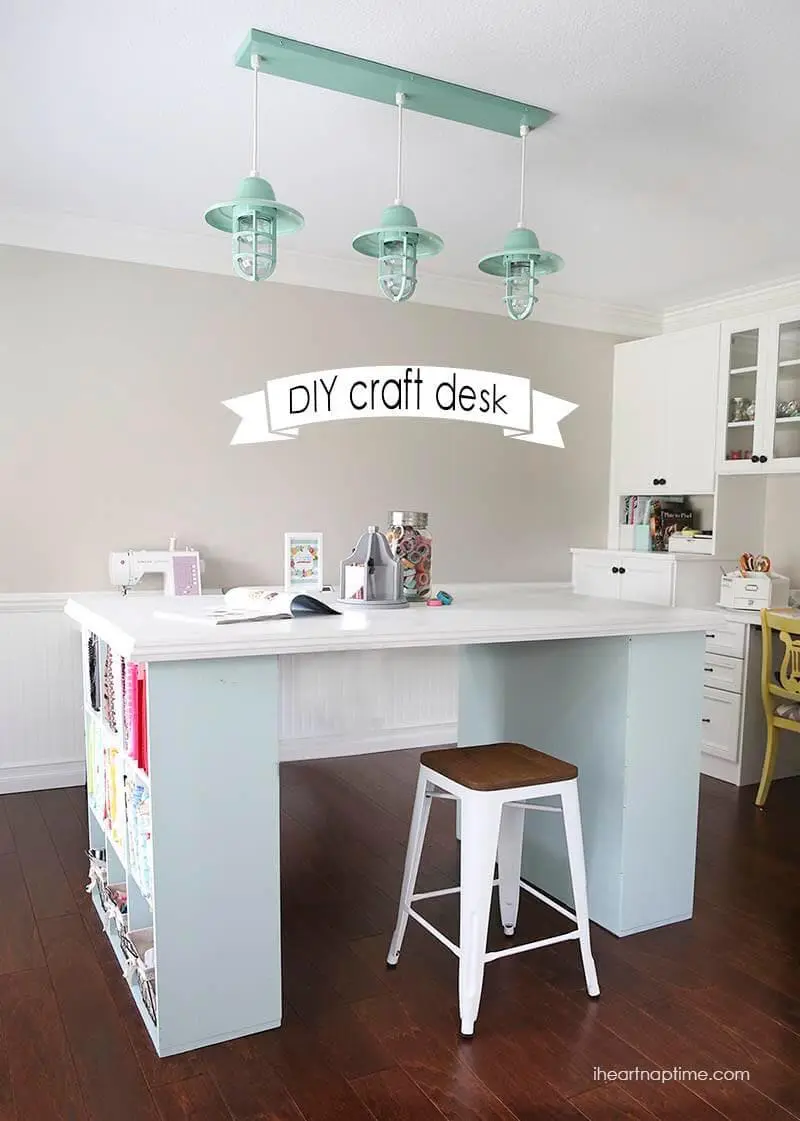 Full Tutorial at: theinspirationboard.com
This particular desk reminds me of a nice kitchen island. Just look at it sitting there, with its big island tabletop and a barstool to top it off.
It has built-in cabinets along either side of its legs, painted the softest shade of blue—Tidewater blue, from Sherwin Williams, if you're wondering. Nine deep-seated shelves on either side?
That there is ample storage, enough to accommodate more than just bolts of fabric, sewing supplies, other bobbins, and knick-knacks. It helps you keep your desktop clean and uncluttered too.
5. Foldable Desk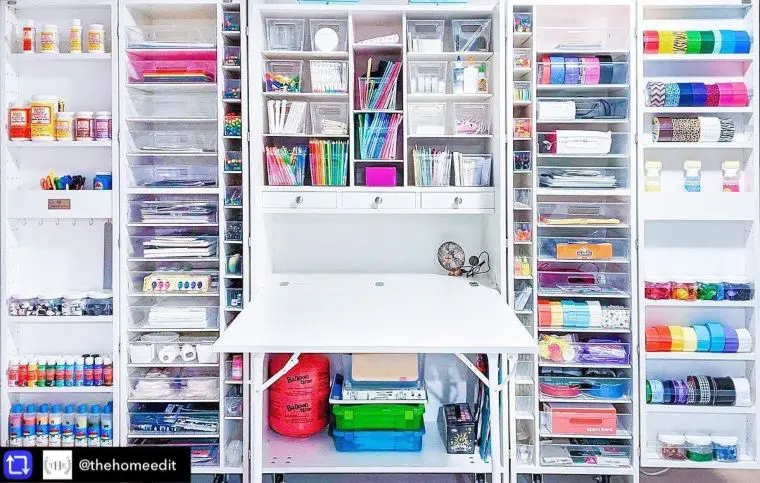 Credit: Instagram
Miles and miles of shelf space that spreads out on either side of that convenient foldable desk, check? Is that some drool I see there in the corner of your mouth?
With a DIY craft desk, you have that wonderful and terrible freedom to customize everything. You decide what you want: from your shelving to your storage system, to decide what kind of racks you want here, how many draws go there.
Now I can see tears. Fret not.
With this foldable craft desk, no spot is left unused, and every nook and cranny is filled with storage baskets and trays. You can pick up those trays and baskets at your local office supplies store, or you can order them—in bulk— here.
6. DIY Craft Desk With Hanging Bin-Storage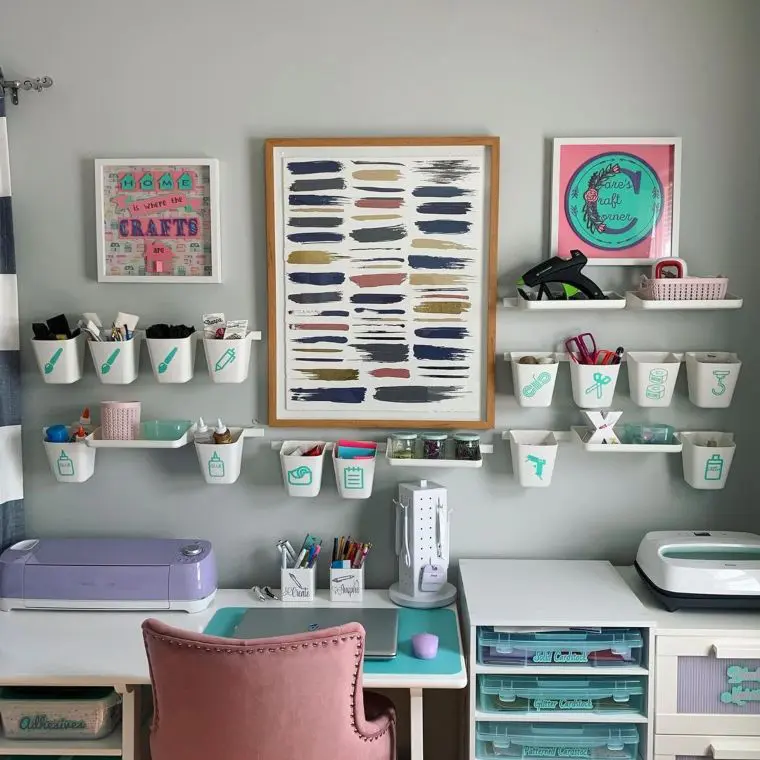 Credit: Instagram
This desk has plenty of DIY possibilities for you to explore and take advantage of.
The layout of the desk flows organically to two chests of drawers. You even have a power outlet that you can plug your printer into right in one corner.
What I love the most about it? Definitely, those quirky garden pot-like little buckets that you can use as storage bins you see hanging from those railing.
You can use those for your paint supplies, stationery, adhesives, and more. You'll find them at Ikea or here.
Check out more IKEA desk hacks here!
7. Colour Me A Rainbow DIY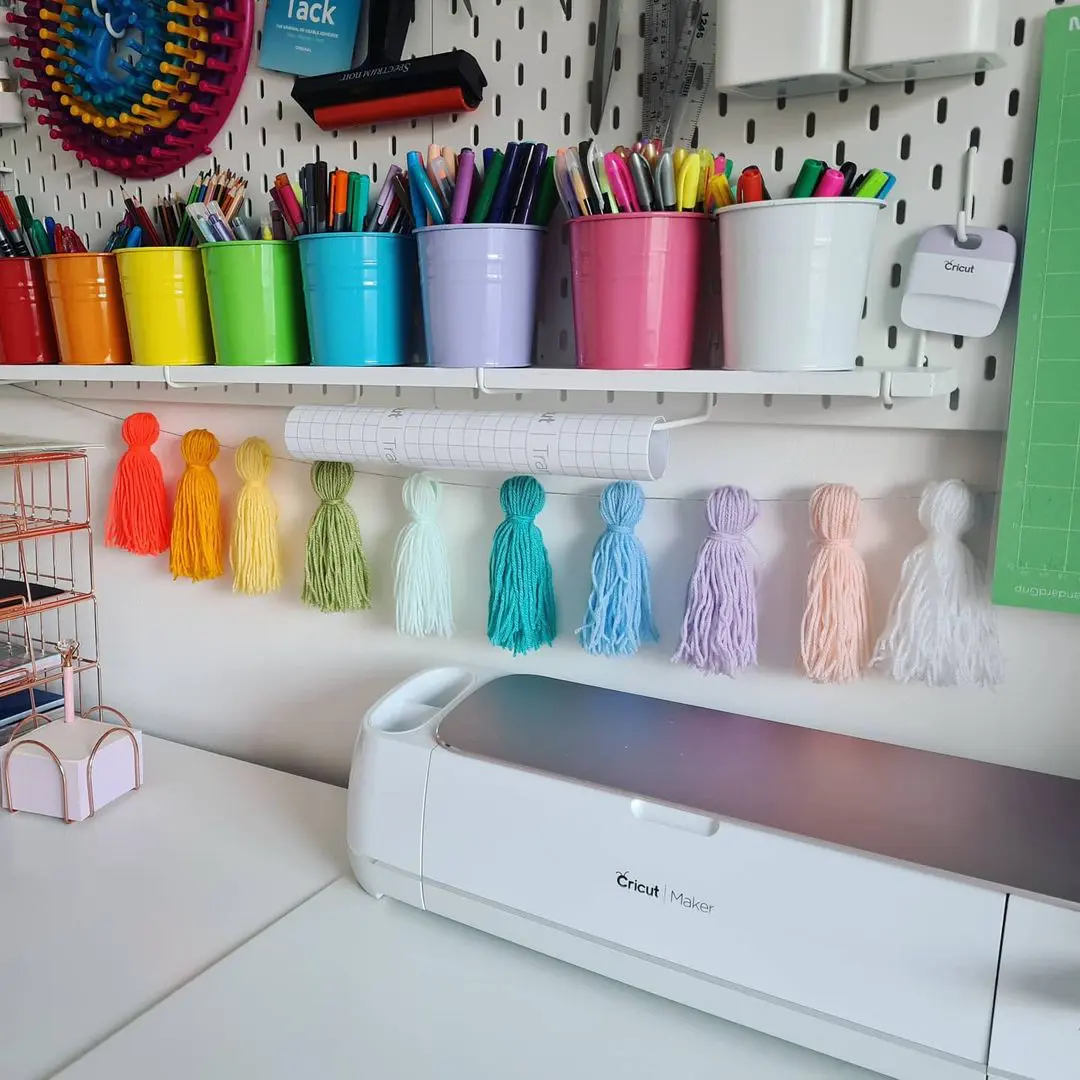 Credit: Instagram
If you've got an inclination to color coordinate, then I'm with you, one hundred percent. Isn't there anything more soothing, so fundamentally satisfying about having a color scheme?
You can line your craft supplies in blocks of color-coordinated patterns and watch them come together in a rainbow of geometry. Or a riot of colors, if you're so inclined.
You've got those pretty little bins lining the rack shelf and holding your stationery. And, look at that marquee of rainbow tassels—a craft project you can DIY and hang across the wall to brighten your craft desk.
8. DIY Mounted Wall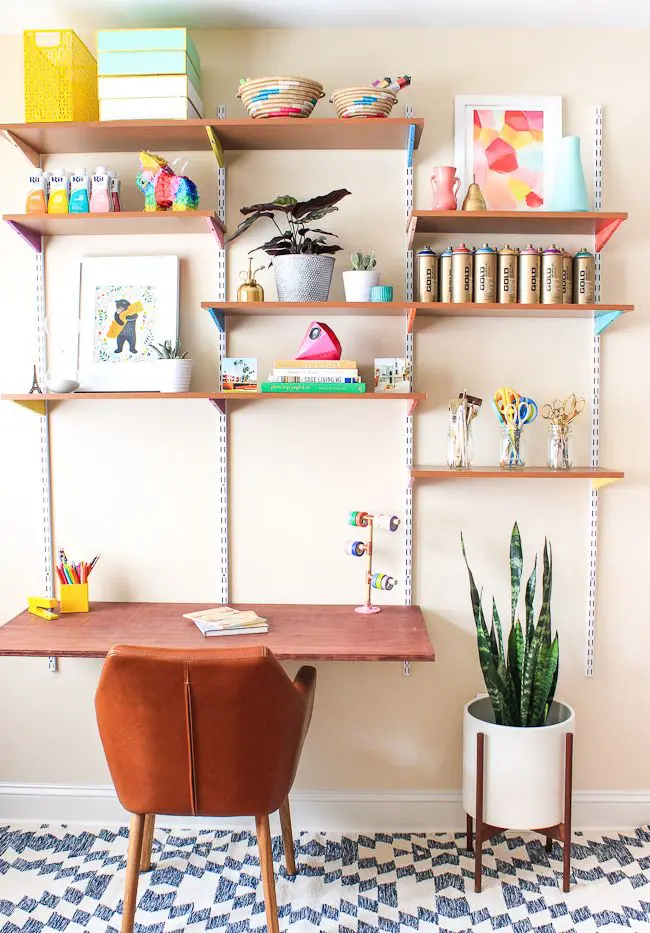 Full Tutorial at: thecraftedlife.com
This craft desk made me think of a mid-century-bohemian workspace, somewhere you'd sit down and work on macrame-craft.
You can sit there sipping a cup of oolong and listening to the Beatles belt out one of their tunes. Oh, and think of all the succulents you can accessorize this unit with, apart from craft supplies, of course.
The actual desk is a nice supple shade of tan and orange. Check out that gorgeous leather chair on its stout legs!
This unit requires a lot of DIY, though, as the tutorial calls for, and a lot of shelves to be mounted above the desk. Do you have a trusty power drill? No? Here is one I love!
9. Door-To-Desk DIY Craft Table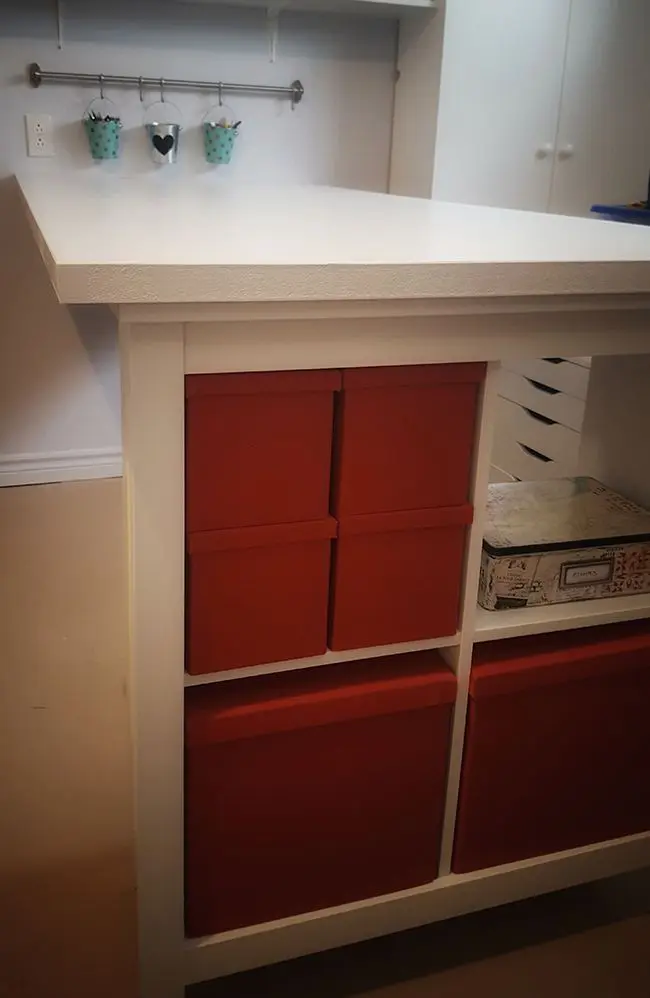 Full Tutorial at: nelidesign.com
It looks like a desk, it works like a desk, but it's a…door?
No, no, you read that right the first time.
This beautiful desk was originally a primed masonite door that has since been beautifully reworked to this sprawling 36" x 80" craft table. It even has a shelf unit placed under it for storing your supplies.
You don't need much by way of accessories with this DIY desk. All in all, you just need a door apparently, and isn't that just a craft project all on its own?
You can also fix a rack against the wall, like you see in the picture, and hang quirky storage bins from it to store your pencils, brushes, and sketch pens.
10. Holes In The Wall DIY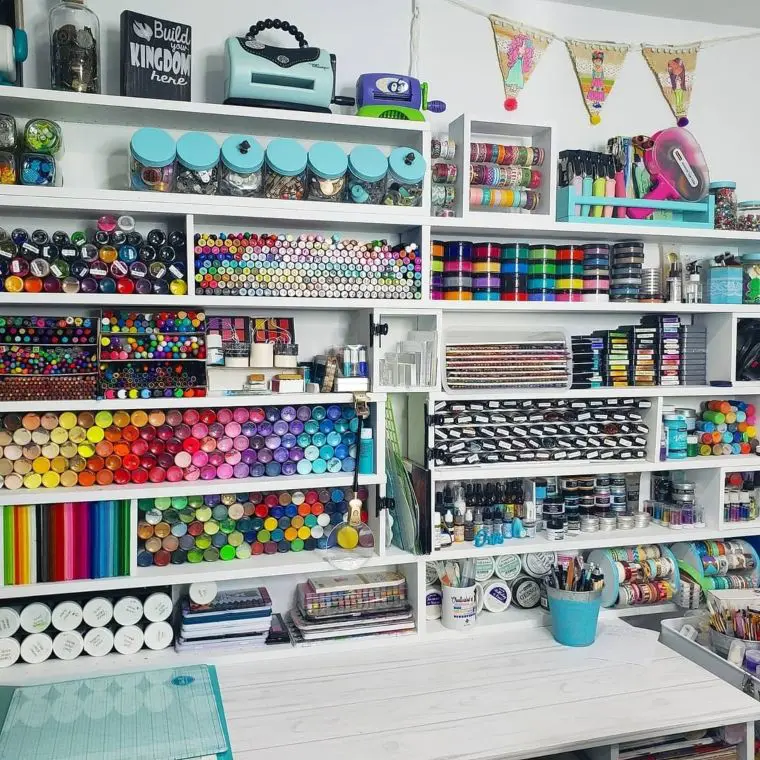 Credit: Instagram
You need to plan this particular DIY project, especially considering how many rows of shelves and cubby holes you have to drill into the wall. The actual desk is pretty basic, with a rustic tabletop.
It's the shelves in this unit that's the focal point. With the amount of storage you get from these, you definitely should spend a good amount of time trying to plan a layout.
You need to figure out what you want and where you want it before you get to the physical part of assembling your desk unit.
11. Built-In Craft Table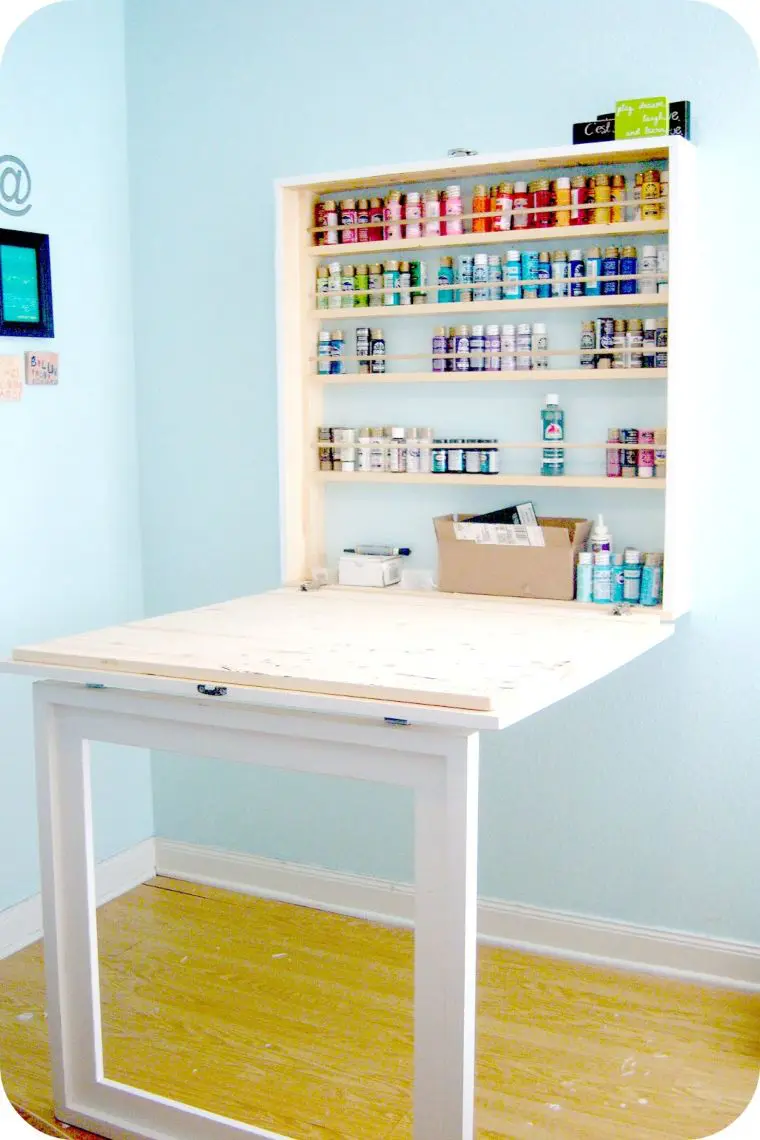 Full Tutorial at: homestoriesatoz.com
After the sensory overload from the previous DIY craft desk, this one is as soothing as a walk on the beach, with its sandy, beach-plank finish tabletop, and soft white shelves.
You'll need a pretty chair, not boring and old, but something blue, preferably not borrowed, so definitely new, like this or even a custom-made one like this one! Can't you just imagine sitting here at this craft desk?
You can start by filling those custom-built shelves specifically designed to hold your tubes of watercolors.
12. DIY Farmhouse Desk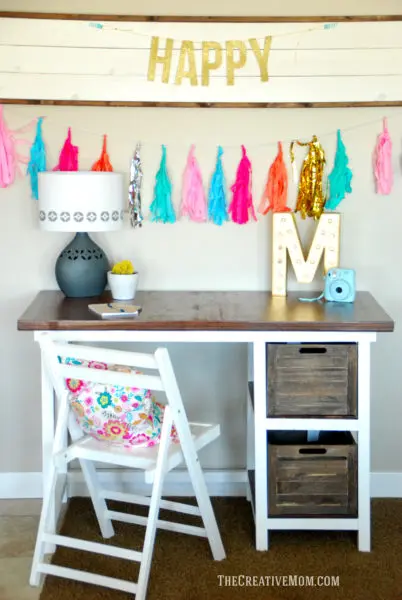 Full Tutorial at: thecreativemom.com
This little farmhouse desk screams DIY. Here's why :
Rustic, dark-stained tabletop.
Those two wooden crates in lieu of draws
The Barnhouse-white paint job on the legs and the chair.
The trifecta of farmhouse decor, that has been artfully recreated into this workspace.
You can find those nifty crates here. Just paint them with that same dark brown as the tabletop to bring the entire ensemble together.
This DIY can be a revival project if you happen to have an old, unused table in your garage or picked one up at the local flea market.
13. DIY IKEA Hack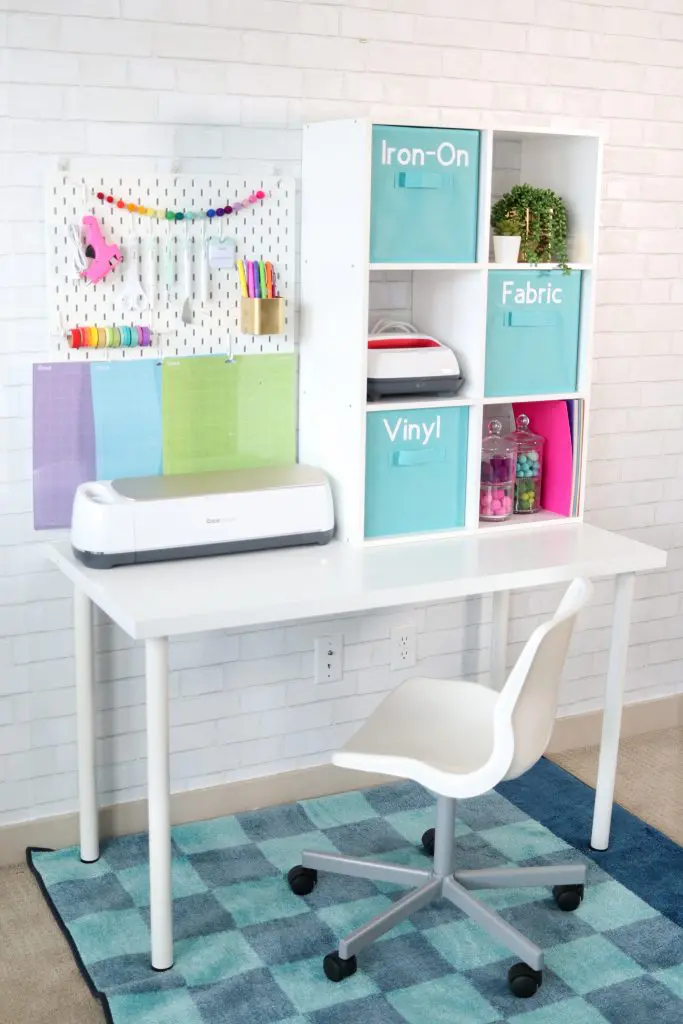 Full Tutorial at: sweetredpoppy.com
Have a little nook in your room that you want to turn into a craft corner? You don't need yards of tabletop space or a dozen cubby holes for storage.
All you need is IKEA. Sweet, perfect IKEA, where all retail dreams come true.
IKEA is every man and woman's go-to place to organize any space. With some carefully designed, inexpensive DIY projects, you can have this functional and budget-friendly craft desk.
Yes, even those bucket drawers you see here, that you can either buy at your local IKEA or order online here.
Loving the hack? You might also like these IKEA hacks.
14. The Budget-Friendly DIY Craft Desk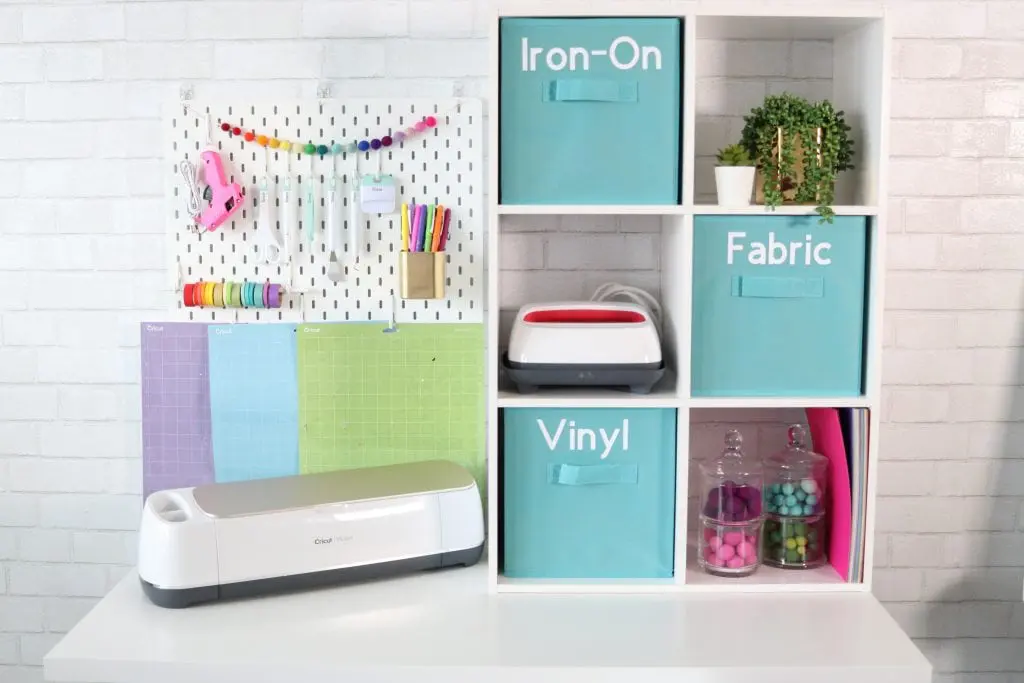 Full Tutorial at: sweetredpoppy.com
Again, it's simple, it's efficient, and you've got six cubbies of storage, all within an easy range of access.
For under a hundred bucks, you can have your functional craft desk set up with a comfortable chair. You can stretch it a little further and mount a pegboard and get a sturdy, reliable printer.
Feel free to also get some solid, cloth pull-out baskets to place in the cubbies. You can find the baskets here or pick up a few from your local home store or market.
15. DIY Solid, Mint-Green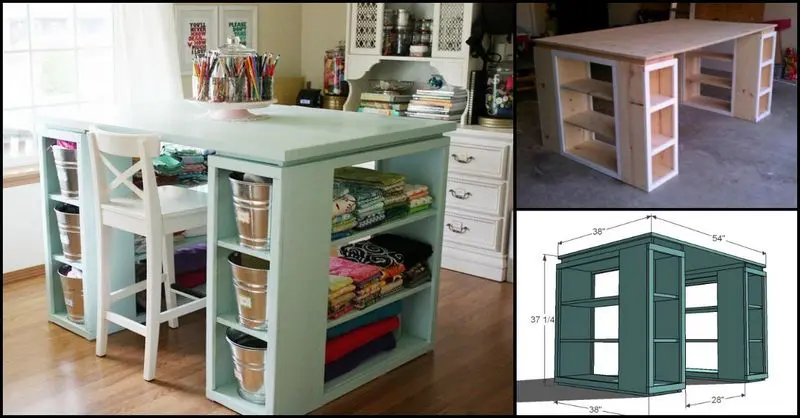 Credit: craft.ideas2live4.com
Here's what I call solid and sturdy. This craft table will see you through many, many years of long and laborious craft sessions and wear and tear. Isn't that what good craft tables do?
Look at that under-the-table shelving unit. No, really, bend down to take a look. See all those shelves? Six horizontal shelves and six square cubby-hole spaces!
Isn't that cake stand just downright crafty and clever? It can hold your stationery, look pretty, and a nice snack—a veritable trifecta. Here's one that I thought might add a little texture to those clean lines of the desk.
16. Desk With Pegboard Display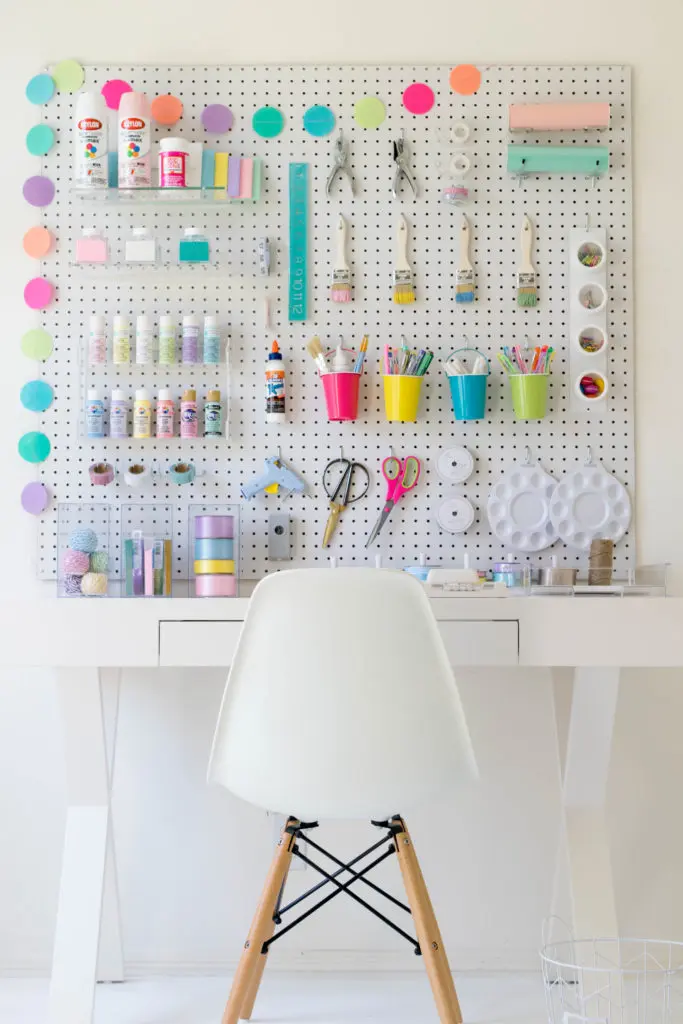 Full Tutorial at: twinkletwinklelittleparty.com
What better way to honor the crafts you make than to carefully and systematically display the tools and supplies you used to make them?
If a desk is the body of your craft station, then the pegboards are the face of it. Knowing how to install one first is a priority.
Don't forget the spacers—at least a half-inch of 'stand off' space behind the board so you can insert the hooks needed to display your tools.
You can order your basic pegboard right here.
17. The Sewing Spot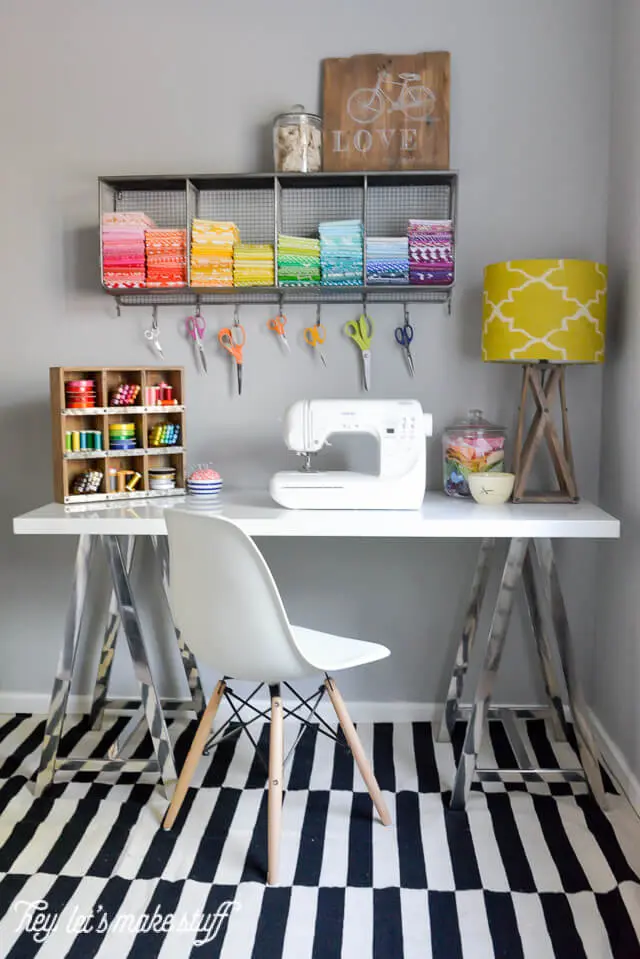 Full Tutorial at: heyletsmakestuff.com
Here's another one for budding seamstresses.
The heart of any sewing space is the sewing machine. That means the brain, where everything is neatly stored, is your storage space for threads, fabric, and supplies.
This space uses a wire-mesh wall rack to store fabric—color-coordinated, of course. It even has hooks to hang your cloth scissors from!
But look closer on the desk, by the sewing machine. See that wooden shelf sitting there, looking pretty?
Want one of those shelves to help you store and organize your sewing supplies? Here's one that's convenient and customizable!
18. Made To Fit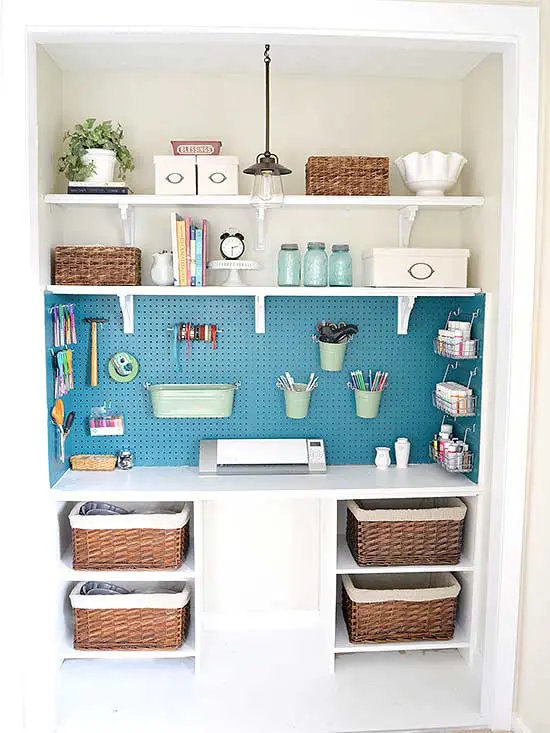 Credit: beaneathmyheart.net
Have some closet space you're not really using? A cabinet in your dining room you have no need for? A large armoire or wardrobe?
You can turn any space into a functional craft desk— a DIY project to make the space you have into the space you need.
Alternatively, you can use these little hacks to display your craft supplies right in your formal dining room or even the living room. You also don't have to worry about the clutter one usually associates with craft supplies.
How?
Try to fill cookie jars or coffee tins and sugar jars with your supplies. Buttons, beads and little bobbins, scraps of bright fabric, and skeins of plush yarn all look fabulous when displayed in a glass jar on a shelf.
You can find those jars right here.
19. The Rainbow Room's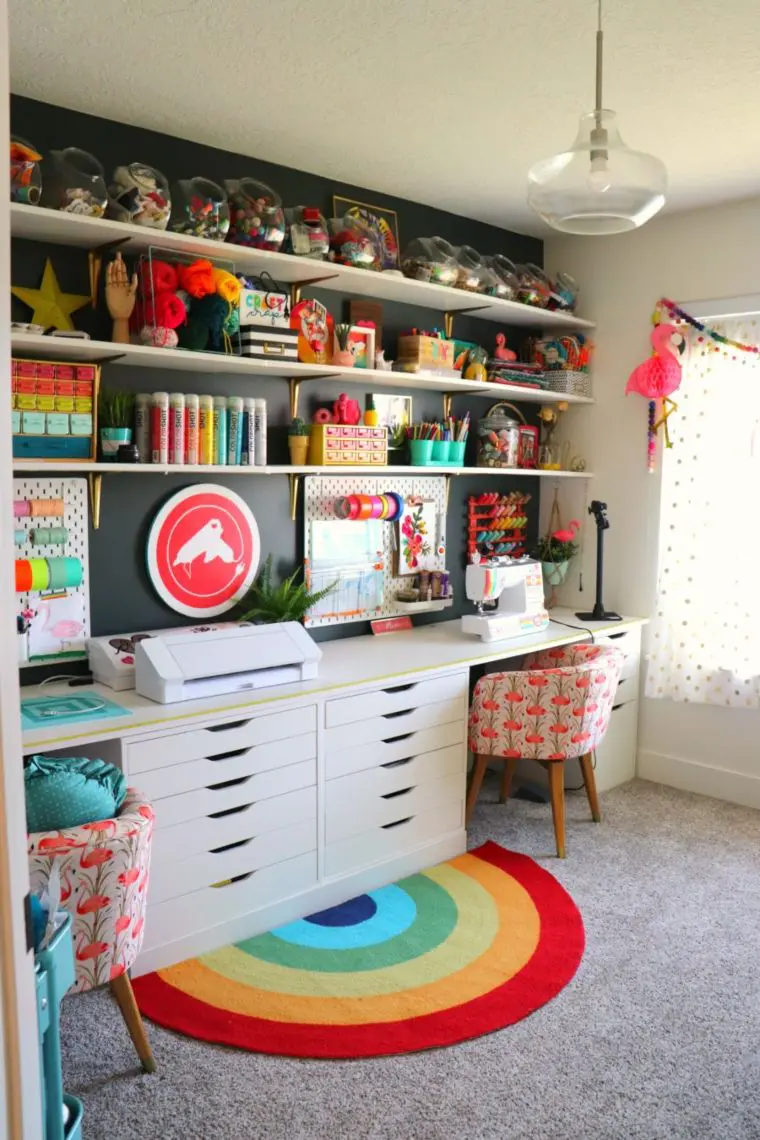 Full Tutorial at: agirlandagluegun.com
That sleek desk, great lighting, and those beautiful, beautiful, so-beautiful-that-I-have-to-say-it-a-third-time shelves that seem to go on for miles.
While I loved the half-circle rainbow rug, if you're looking for something more muted but still colorful to offset the color scheme, then take a look at this.
This is every seamstress's dream. Just take in all those—have I mentioned how beautiful?—shelves to store threads and sewing supplies. You even have a convenient power outlet for your sewing machine!
Let that natural light filter in through the window and spend a happy day tailoring away or working on some needlework in your own, craftsy bubble.
20. Kid's Corner DIY Craft Desk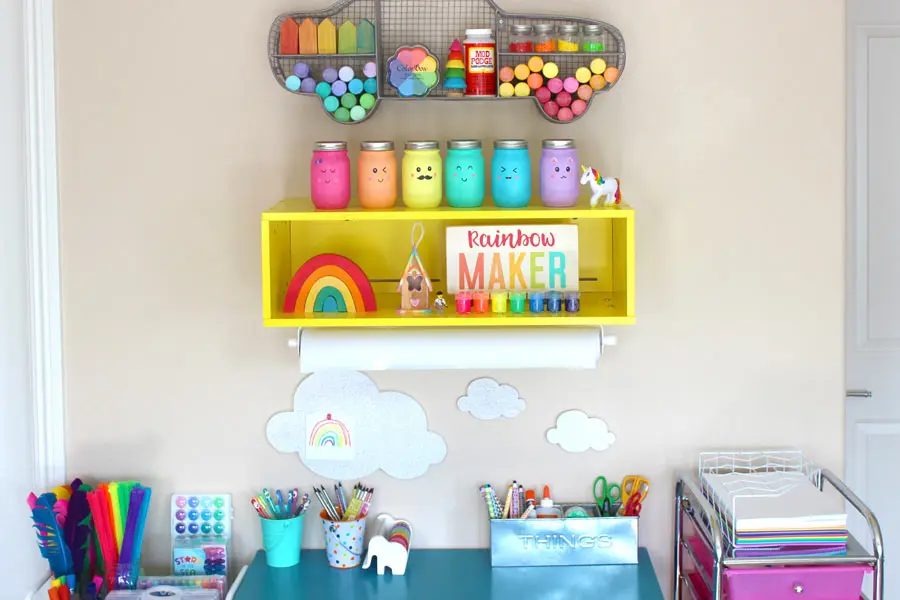 Full Tutorial at: ooly.com
Craft time is something you can share with your children, a way to keep them occupied while teaching them to explore creative avenues to expend all that energy they have.
Making your own designated craft corner for the kids? I see that colorful blue desk, bright, sunny shelves, a rainbow-colored standalone stackable drawer set (check here), and a snazzy car-shaped metal rack that doubles as wall storage.
Will you adopt me?
21. Black and White Breakfast Counte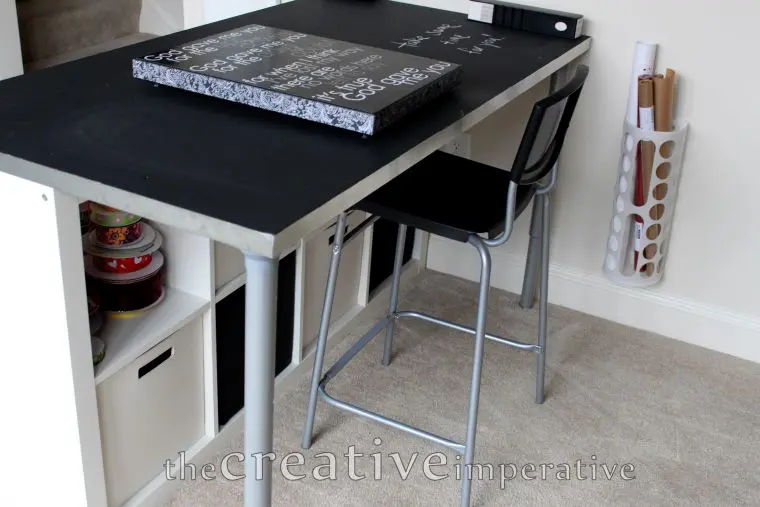 Credit: The Creative Imperative
You take in this sturdy, black, chalkboard-finish tabletop, with its adjustable legs and its bar stool, and you think: kitchen counter craft desk.
Here's a place overlooking the family room, where you can sit for hours and work on your craft while staying connected to your family. But what about your supplies, you ask?
Just under the table, you have eight large cubby holes that you can fill with all the supplies you'll need. But do you know what really sold this craft desk for me?
It's the chalkboard paint on the desktop. It's such a creative idea that lets you doodle or scrawl down lists, recipes, or a note to your family. You can find some right here.
22. DIY Craft Room Island Desk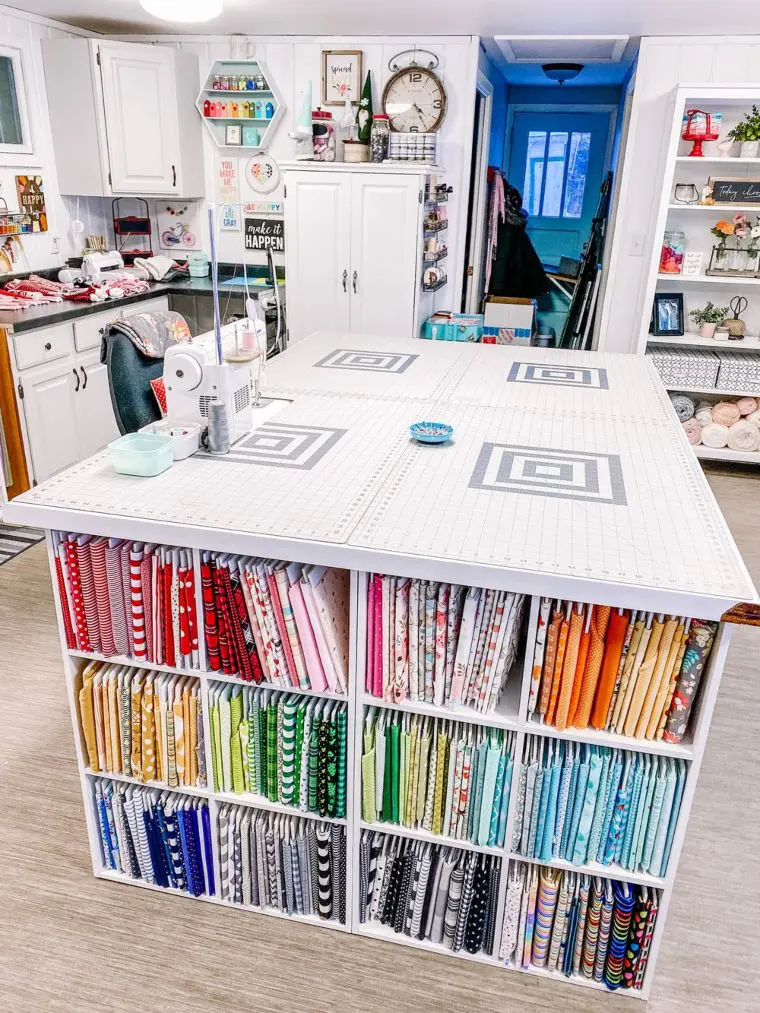 Full Tutorial at: thelittlegreenbean.com
There's no mistaking this for anything other than an island—a large sewing island at that. Check out all those cupboards on either side and along the middle. You have even more room for wire carts and other storage boxes or organizers down there.
With a built-in electrical outlet and a tabletop that doubles as a cutting mat—that you can order here— what you have is a great DIY project in the making.
23. Custom DIY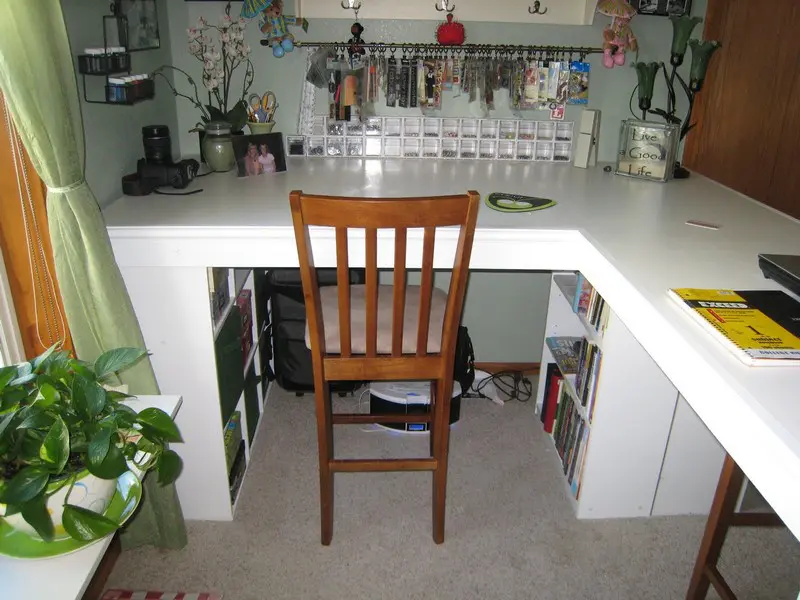 Full Tutorial at: theownerbuildernetwork.co
Sometimes you design a room to be a craft room, and sometimes you design a craft space that fits into the room. This particular craft desk costs just over a hundred bucks.
It has been built with the owners' storage needs and space availability is taken into consideration. There are cubbies and bookshelves that run around it to fit any number of craft supplies.
Here's a thought: with the table being as tall as it is, why not consider using it as a standing workstation? I hear it's all in the rage at the moment.
Conclusion
That's the last one. Now go right on ahead and get started on your DIY Craft Desk.