Are you someone that doesn't feel they have the time to get into deeper cleaning projects? Or someone that hates taking the time to clean at all? These cleaning hacks will blow your mind
Our list of cleaning hacks will save you time, money, and patience. Whether you're a novice cleaner looking to get better, or an old pro looking for some extra tips, this list has something for everyone.
This list also uses everyday items most average households already own.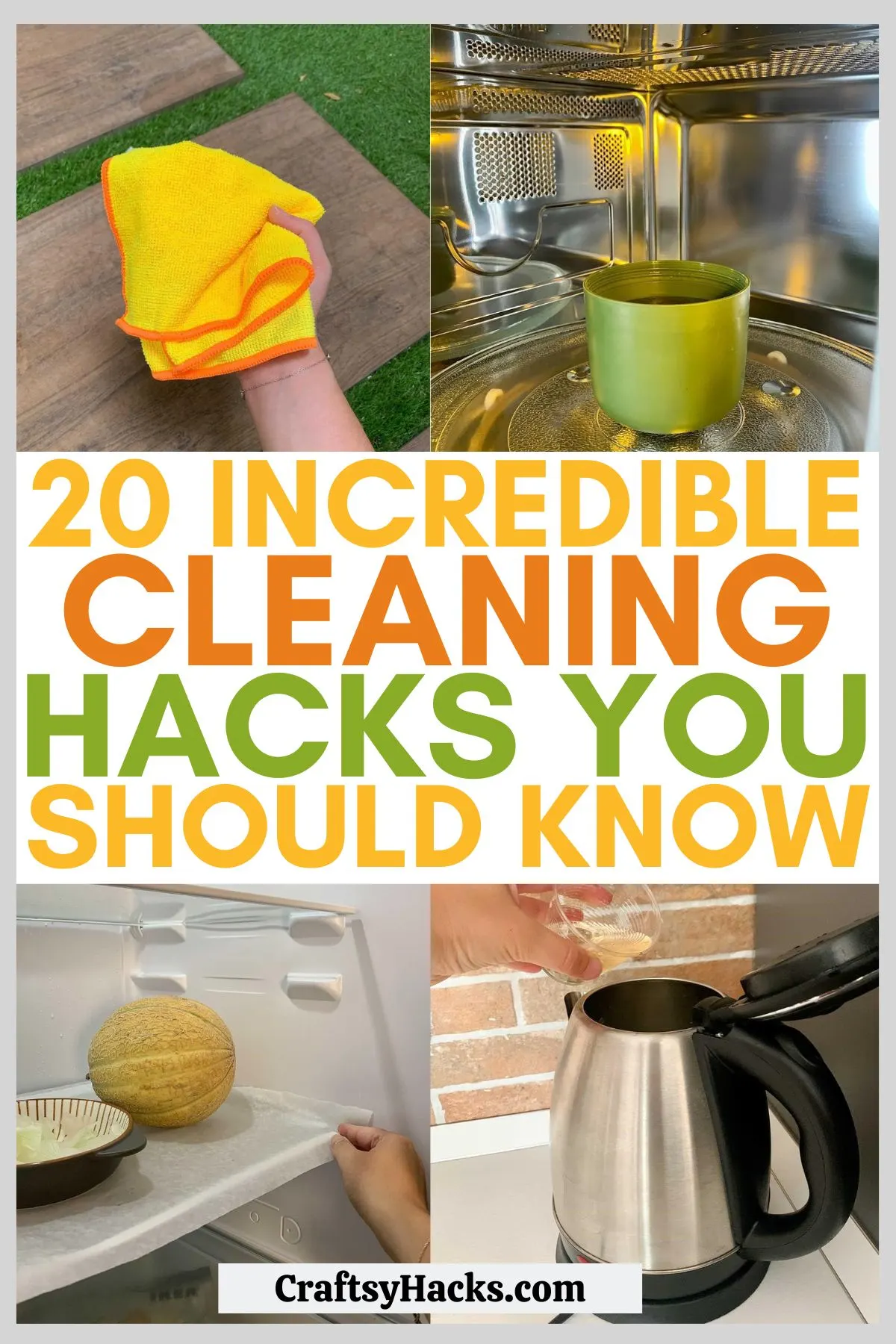 Feel free to comment any hacks you may have and would like to share with us in the comments below! And with that, let's get into the list.
VIDEO: 20 Cleaning Hacks You Need to Know
1. Clean Baseboards With A Broom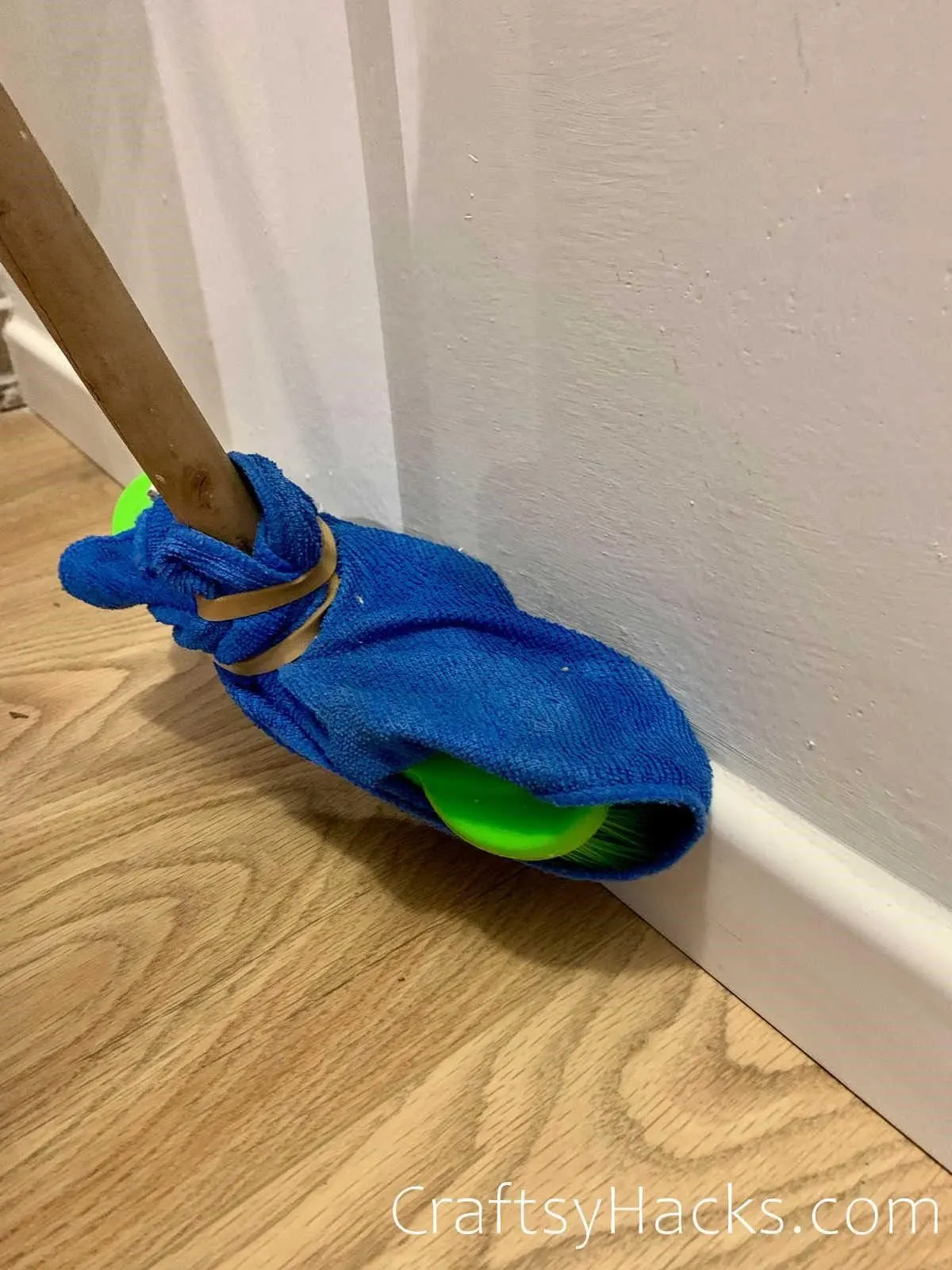 Could your baseboards use some love, but you aren't ready to get down on your hands and knees and give them some TLC?
Do not fret! Grab a trusty microfibre cloth, fit it around your broom, and secure it with a few rubber bands.
The second part is just as easy as the first–grab your favorite dusting cleaner, spray a little on it, and start on those baseboards.
If you're feeling extra ambitious, this works well on walls too!
2. Clean the Oven Overnight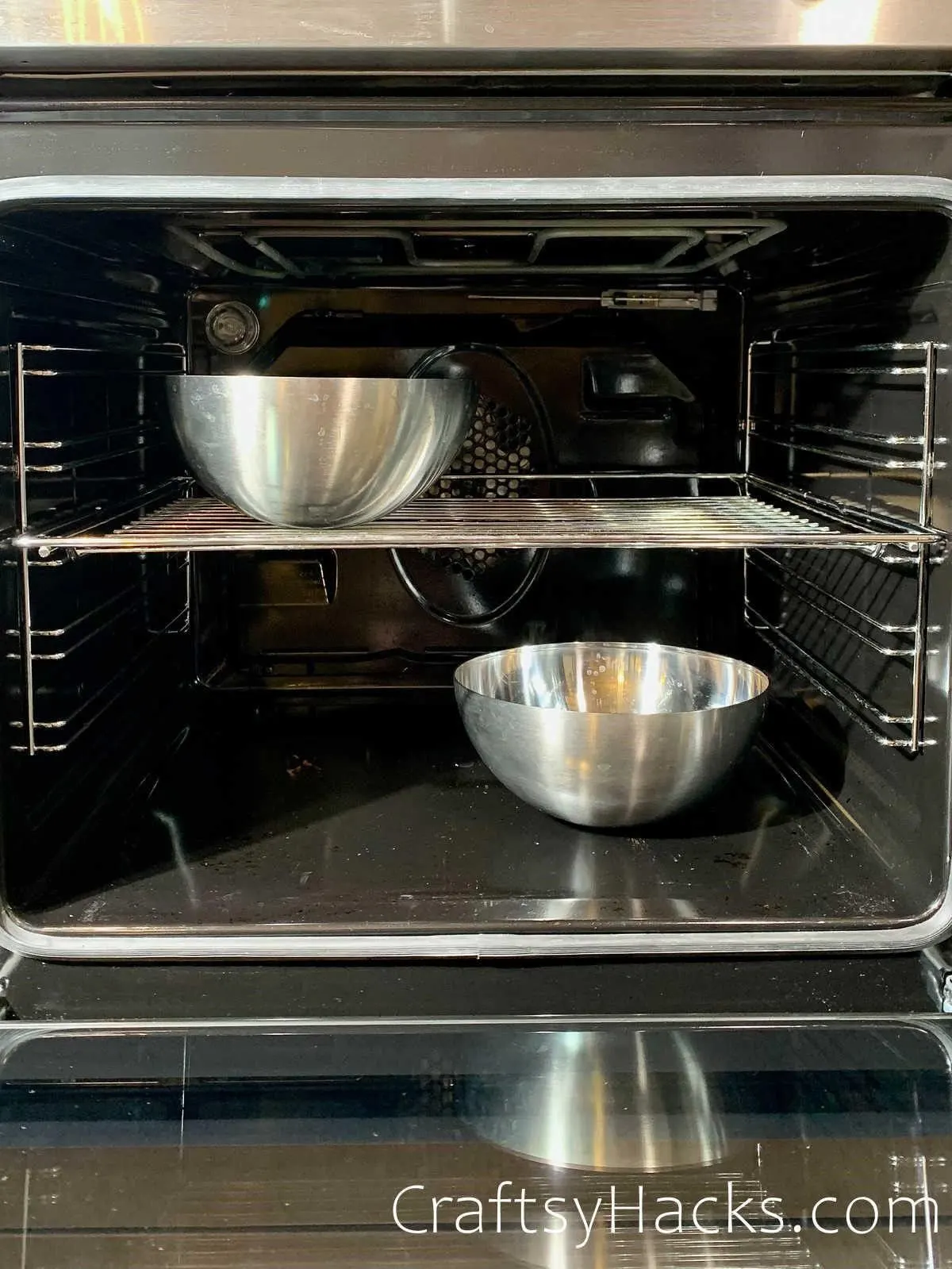 We all know cleaning ovens can be a labor of love and true ambition needs to be present while tackling this beast. This hack, and a little planning, makes cleaning your oven a breeze!
Preheat your oven to 200 degrees Fahrenheit
Turn it off once it comes to temperature
Place a boiling pan of water on the lower rack
A bowl of ammonia goes on the upper rack
Let it sit that way overnight and the following morning, take a dry rag and wipe all surfaces.
3. Use White Wine Vinegar to Clean Your Microwave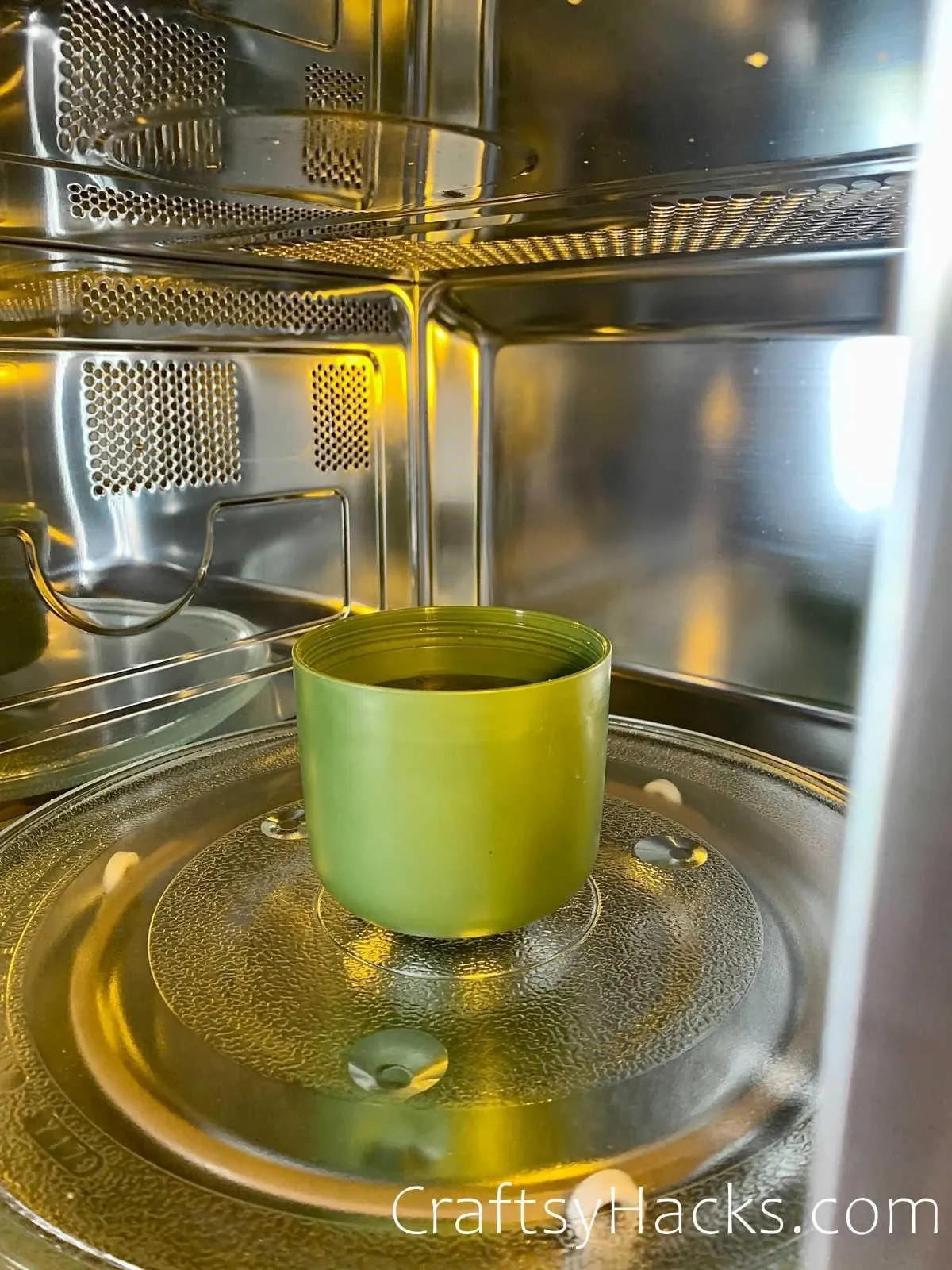 The microwave is a secret weapon in the kitchen for many a cook, but like its bigger counterpart, the oven, it's no easy feat to clean.
Similarly, there is a steam-based hack to forgo the elbow grease power. It involves vinegar this time! Make sure there is sufficient mixture to yield a better result.
Grab a microwave-safe bowl
Add a 1 to 1 ratio of water and white wine vinegar
Close the door and set it for five minutes
Check progress, add more time, if needed
Bowl may be hot, be careful when removing
Wipe all surfaces down with a rag. Again be aware microwave innards could be hot.
4. Sanitise Your Dish Sponge in the Washing Machine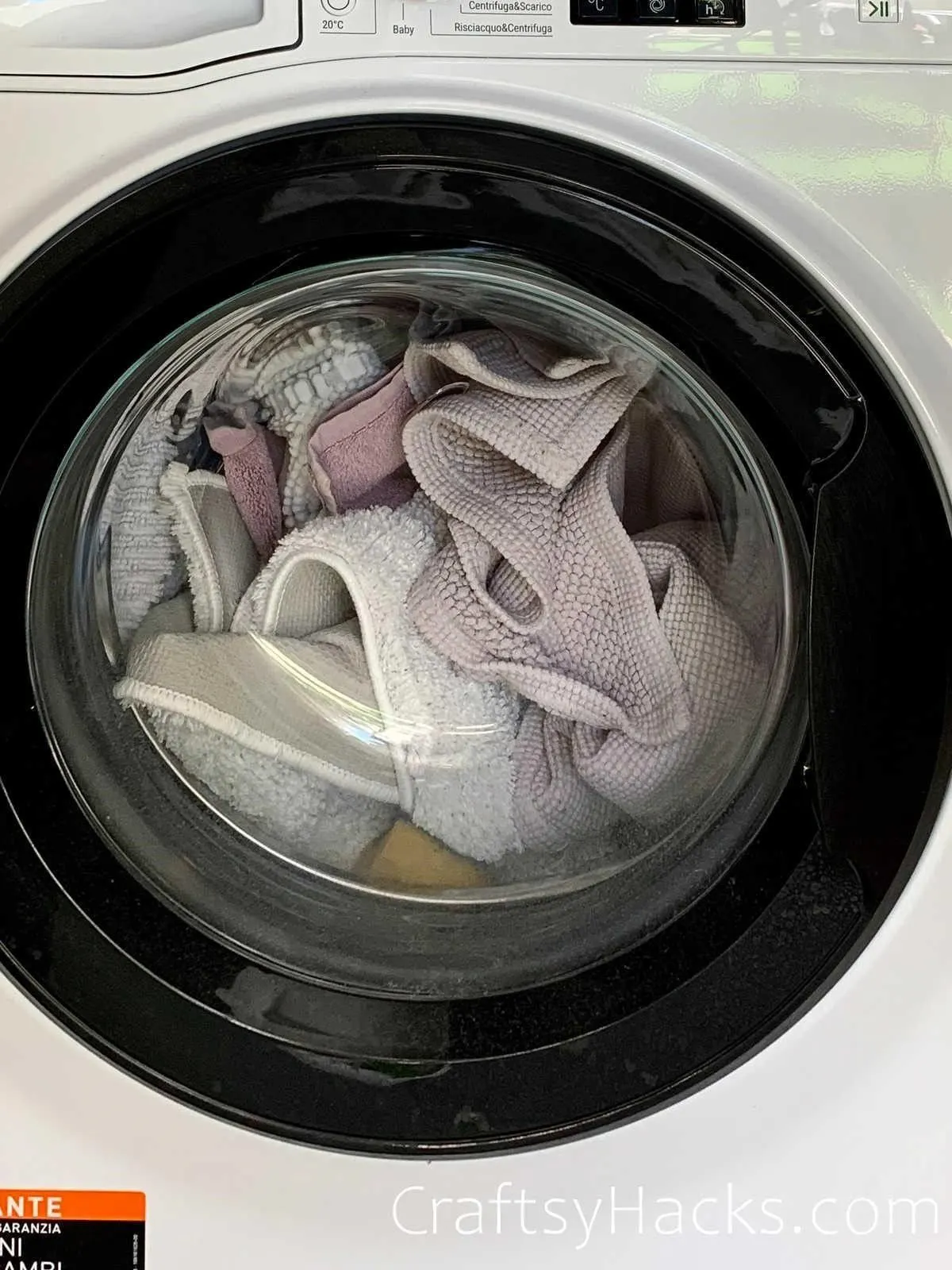 There's not much scarier than a grimy old sponge in this house. Bacteria and grot are absolutely the stuff of nightmares.
While most recommend microwaving a sponge to sanitize it, I don't love the idea.
What I like to do with my sponge is throw it in with a colour wash on a 40-degree celcsius wash (104 F) to kill anything gross. That way, I combine two tasks and save some precious time.
I'm also elongating the life of my sponge, saving some money, and being eco-friendly by reusing it!
5. Remove Gunk From A Dirty Pot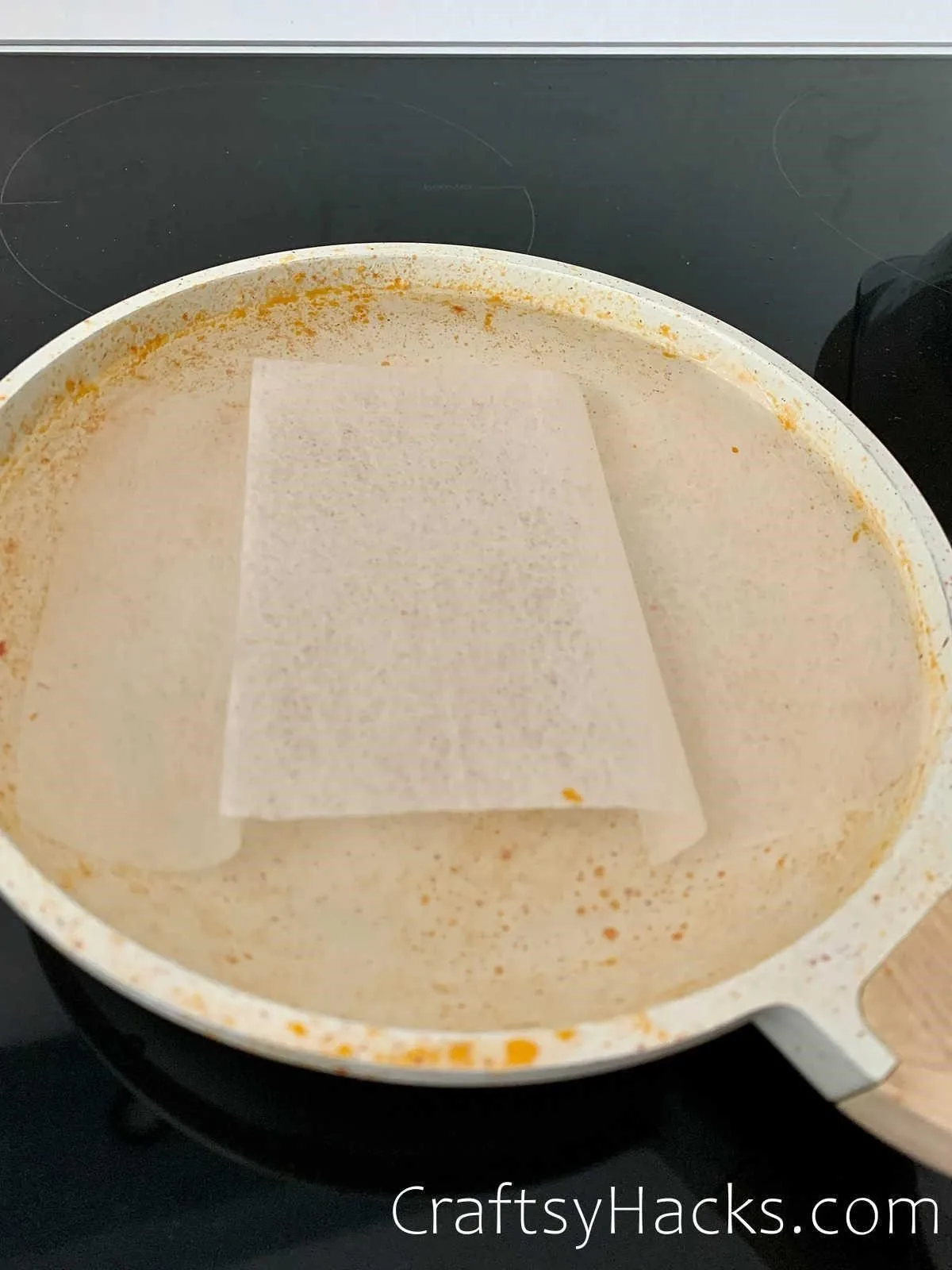 Another dreaded task, cleaning a dirty pot, is made easier with an unexpected household item!
Enter the common dryer sheet like this. Fill your dirty pot or pan with water, add the dryer sheet, and wait until the morning to clean.
The chemicals released into the water from the dryer sheet soften the crusty, gunky leftovers making the item way easier to wipe away in the AM.
6. Clean Your Shower Head Overnight With White Vinegar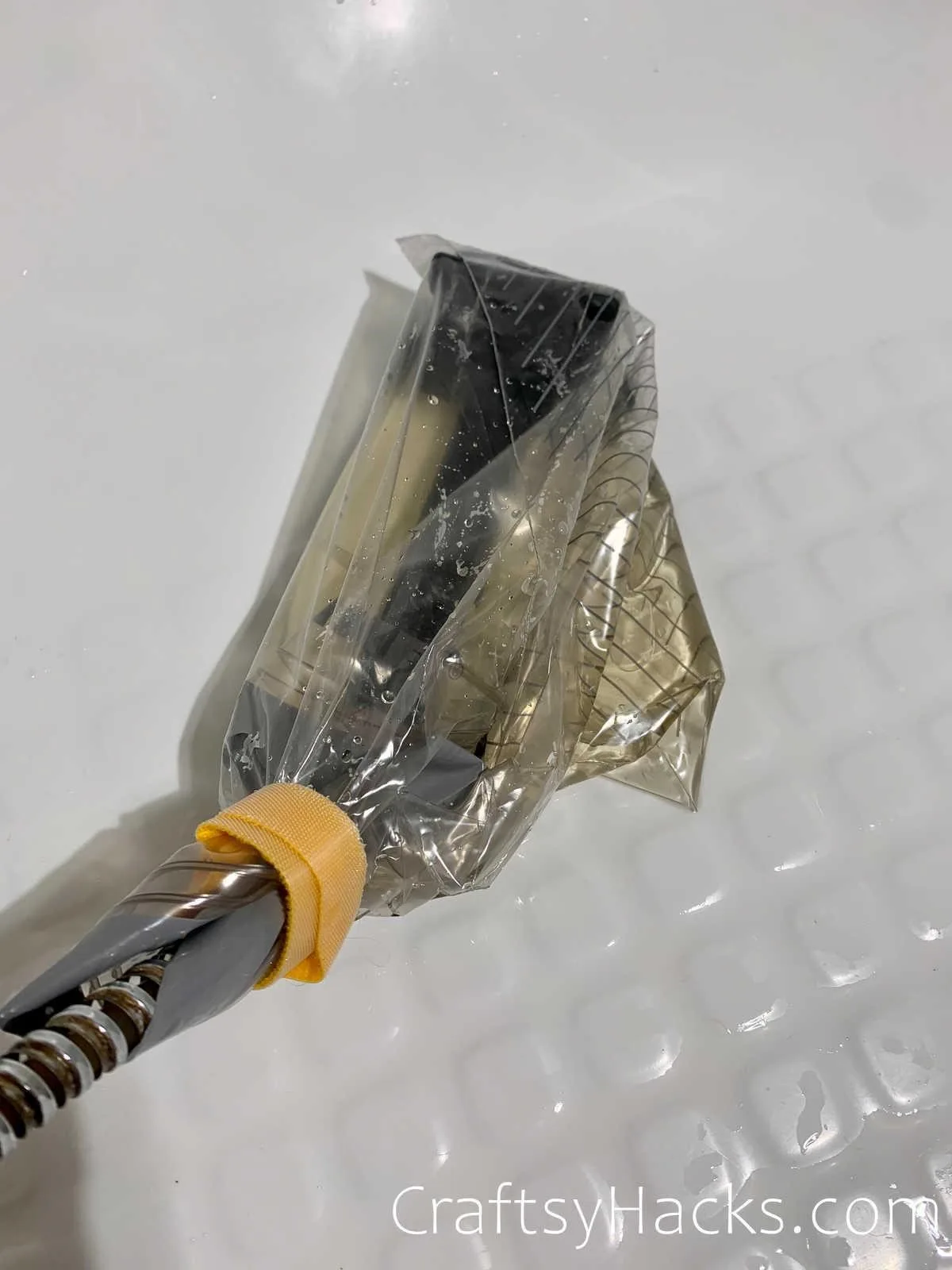 I firmly believe anyone that has cleaned a bathroom has a lowkey horror story about cleaning their shower head.
Thankfully, there is another way–no mess guaranteed. Simply fill an appropriate-sized sandwich bag with white wine vinegar and secure it to your shower head.
Make sure the head is in the solution. Leave overnight.
Have lots of white vinegar? Try these other vinegar cleaning hacks?
7. Use White Wine Vinegar to Descale Your Kettle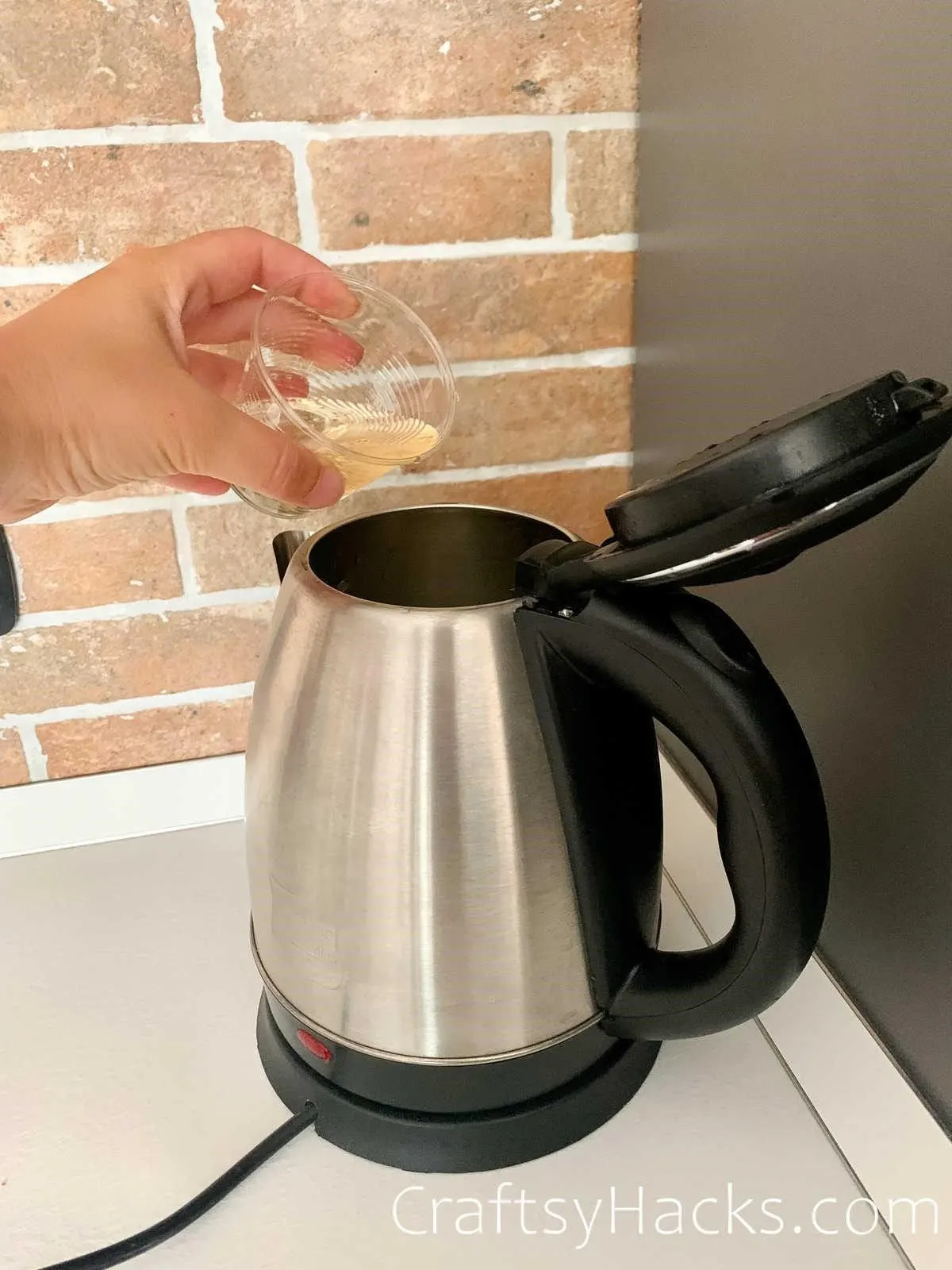 This tip is literally magic, and although vinegar is not the sweetest smelling cleaning item, it gets the job done. Inside and out!
Inside: Pour in equal parts water and white wine vinegar. Turn on your kettle or let your kettle come to a boil on the stove. The mixture sanitizes the inside and any hard water lines.
Outside: Take a cleaning rag and wet it with vinegar. Wipe down or spot clean any dirty part of your kettle.
8. Use Coffee Filters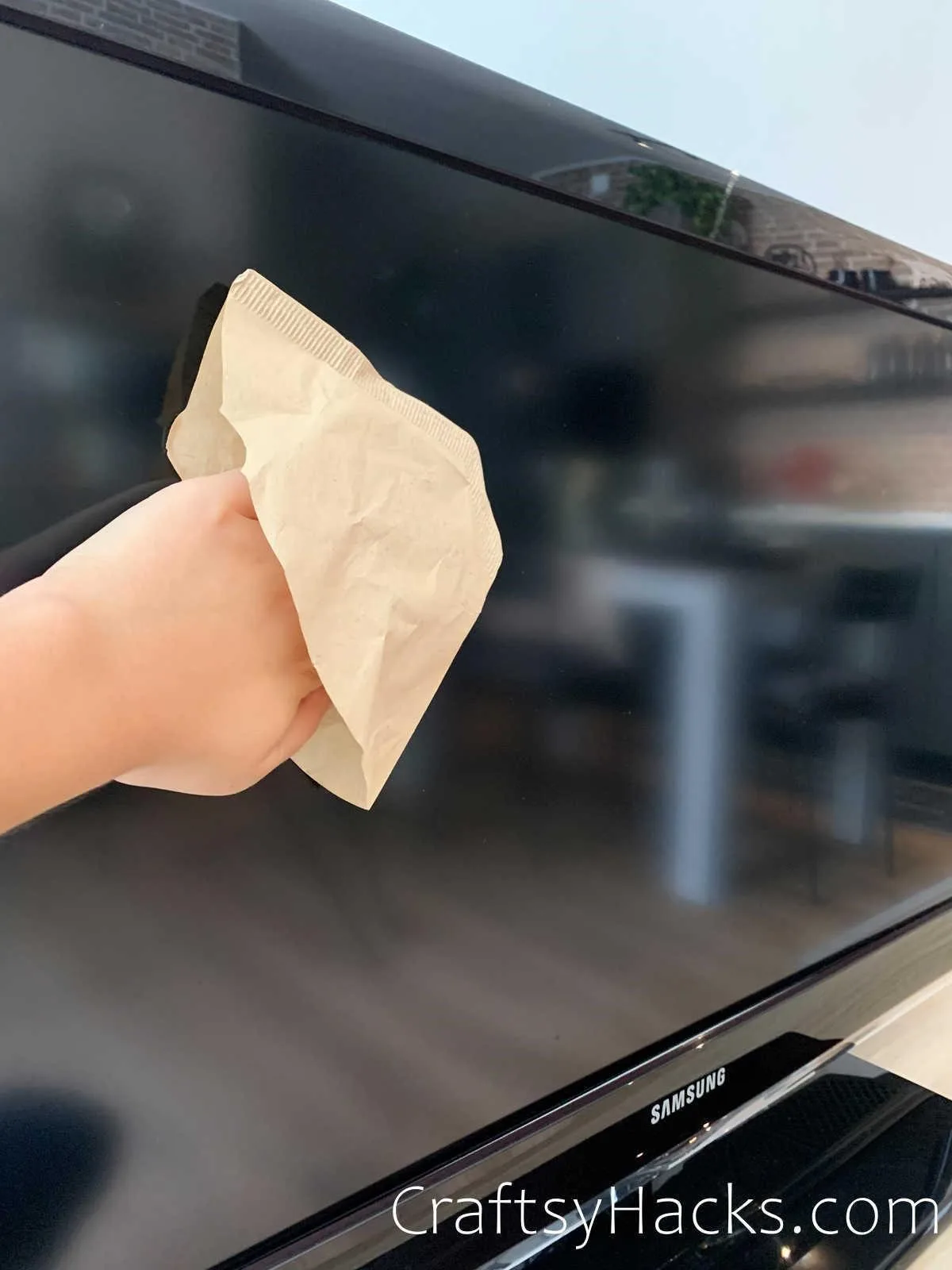 Not into dusting days? Or can't stand dust bunnies flying around as you go? A coffee filter is truly a simple swap from a paper towel.
The texture of the filter leaves nothing behind, unlike paper towels or other cleaning towels. Making everything a lowkey easy project to get done any day of the week.
Also applicable on various electronic device screens!
9. Clean Your Bathroom Walls With a Swiffer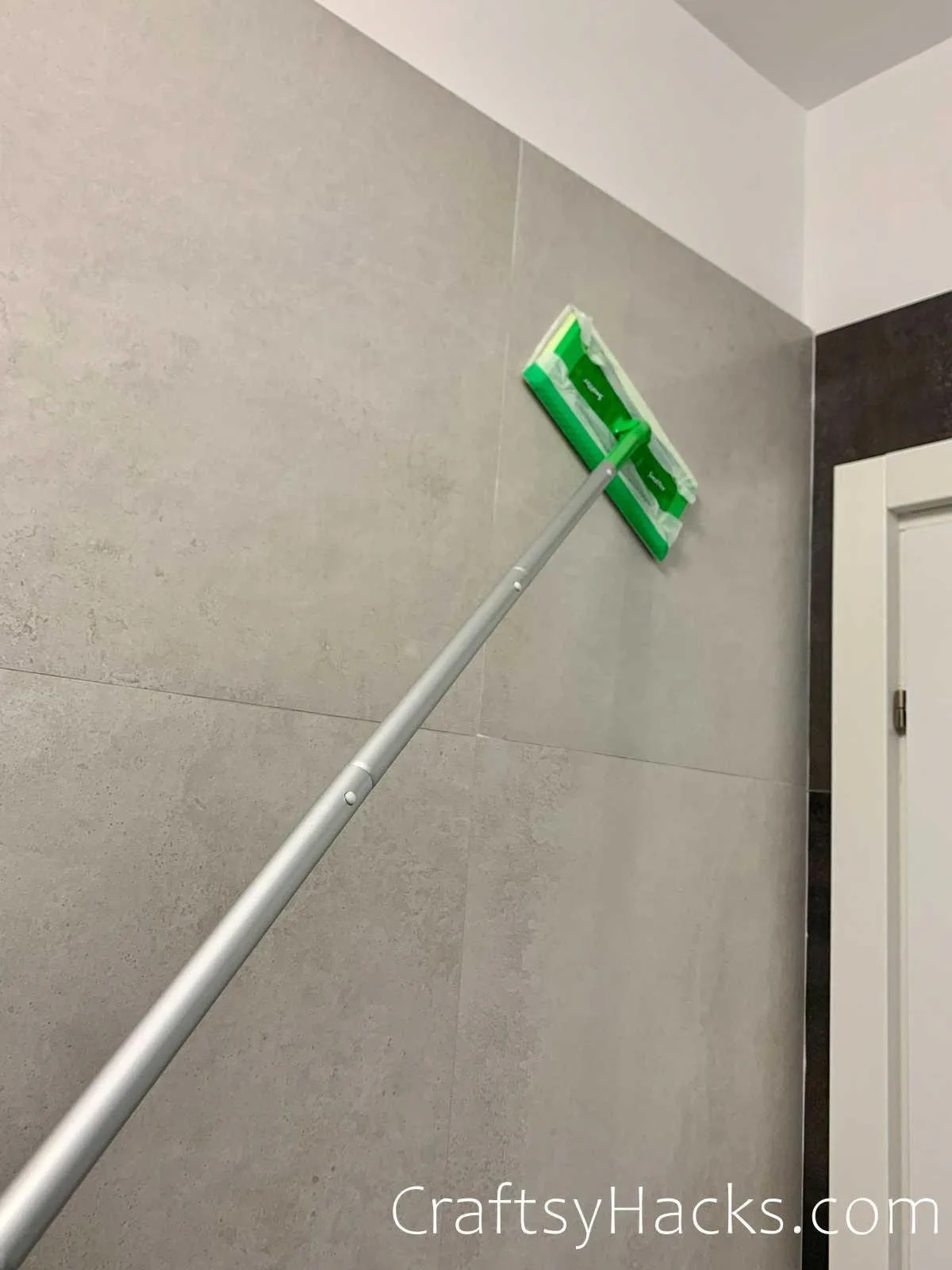 Don't forget about cleaning an essential element of the bathroom–it's walls! A lot can build up on your bathroom walls since it is arguably, the most used room in the house.
With this Swiffer or dust mop paired with your regular cleaning solution, those steamed-on dust bunnies will be a thing of the past. And there's no stress involved with getting something to stand on in the bathroom, easy as can be!
Want to get a deeper clean? Try these bizarre bathroom cleaning tips.
10. Use Q-tips to Clean Baseboards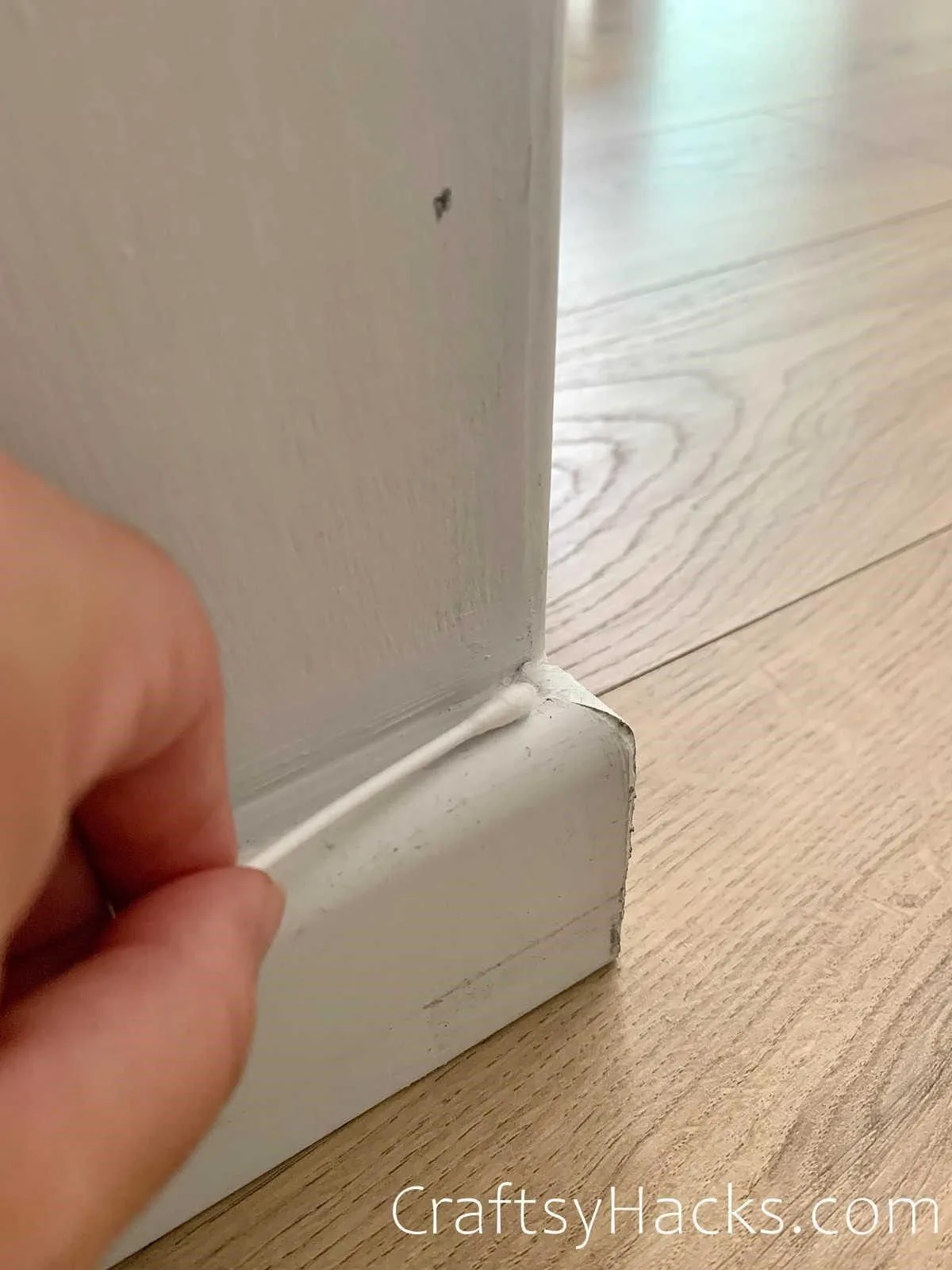 If these are skirting boards, baseboards, or anything else to you, we all know cleaning them can be a daunting task, regardless of whatever vacuum you may have.
The rooms that take more love daily–a kitchen, mudroom, or anything beyond–a Q-tip may be the answers to your troubles. Okay, probably way more than just one, but you get the idea.
Literally, take a Q-tip across the top of the board and watch the grime disappear.
11. Clean Windows with a Microfibre Cloth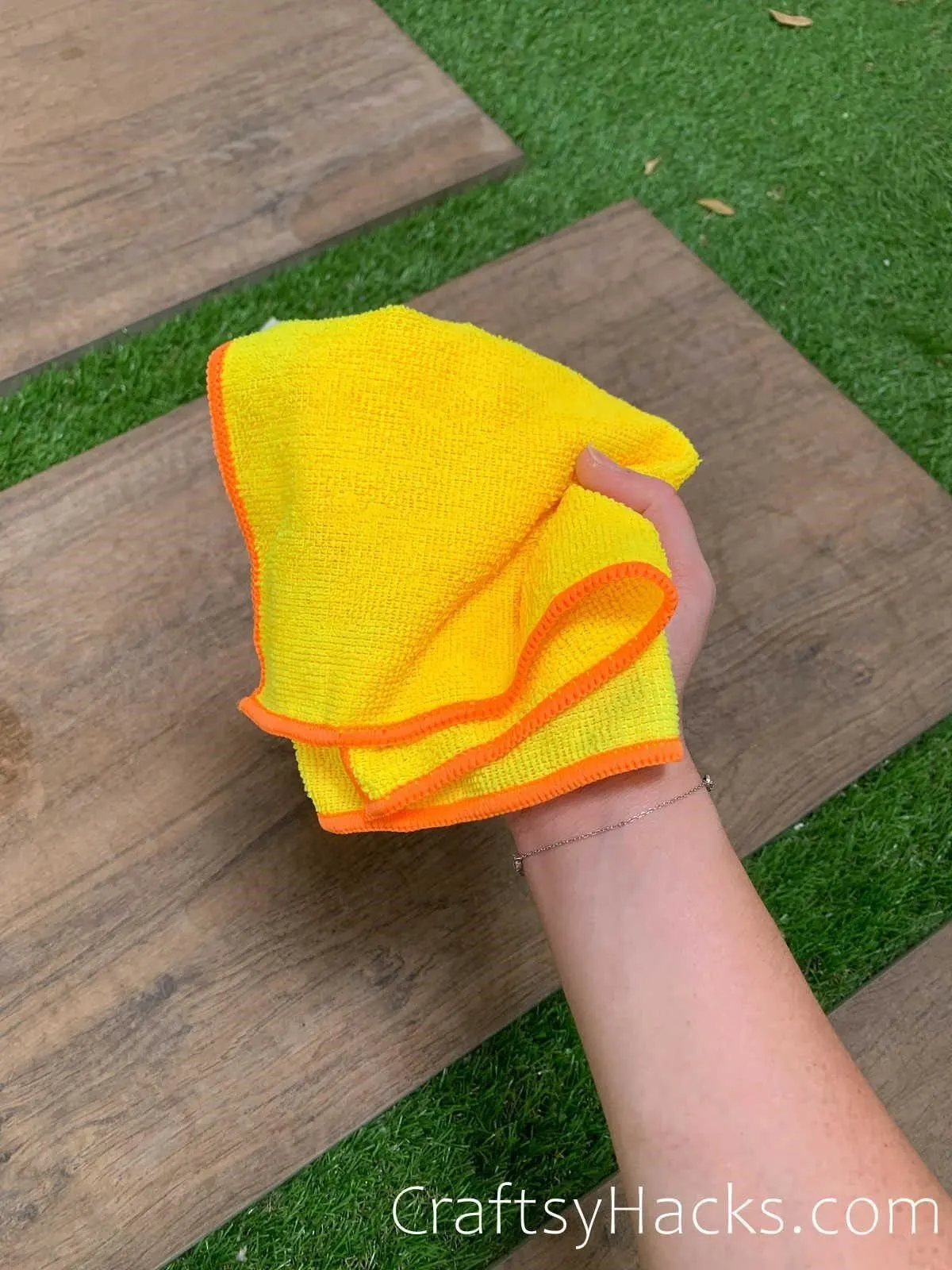 Hate washing your windows? Dread the idea of getting all the various pieces of equipment out or going through what seems like endless rolls of paper towels?
Don't worry, there's an easier method to keep your windows sparkling clean.
A simple and surefire way to keep window cleaning simple is using a microfibre cloth regularly on all windows.
12. Never Clean Your Fridge Shelves Again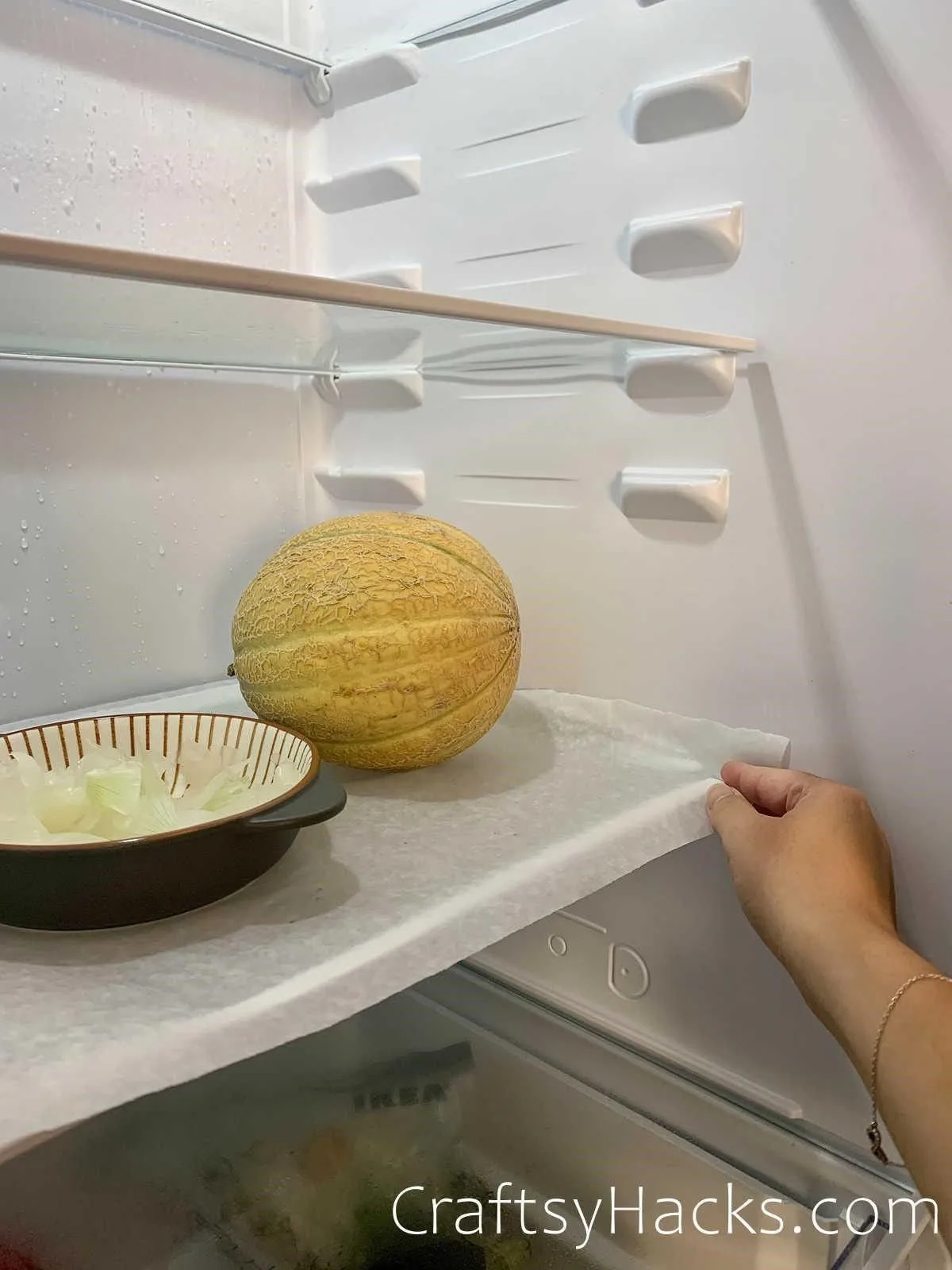 Hate the act of cleaning out the fridge? Placing some wax paper, plastic wrap, or even saran wrap "Press and Seal" on your shelves as liners eliminate the need to wash the shelving!
This wax paper is such a lifesaver and so versatile!
13. Set a Daily Timer to Clean for 15 Minutes Only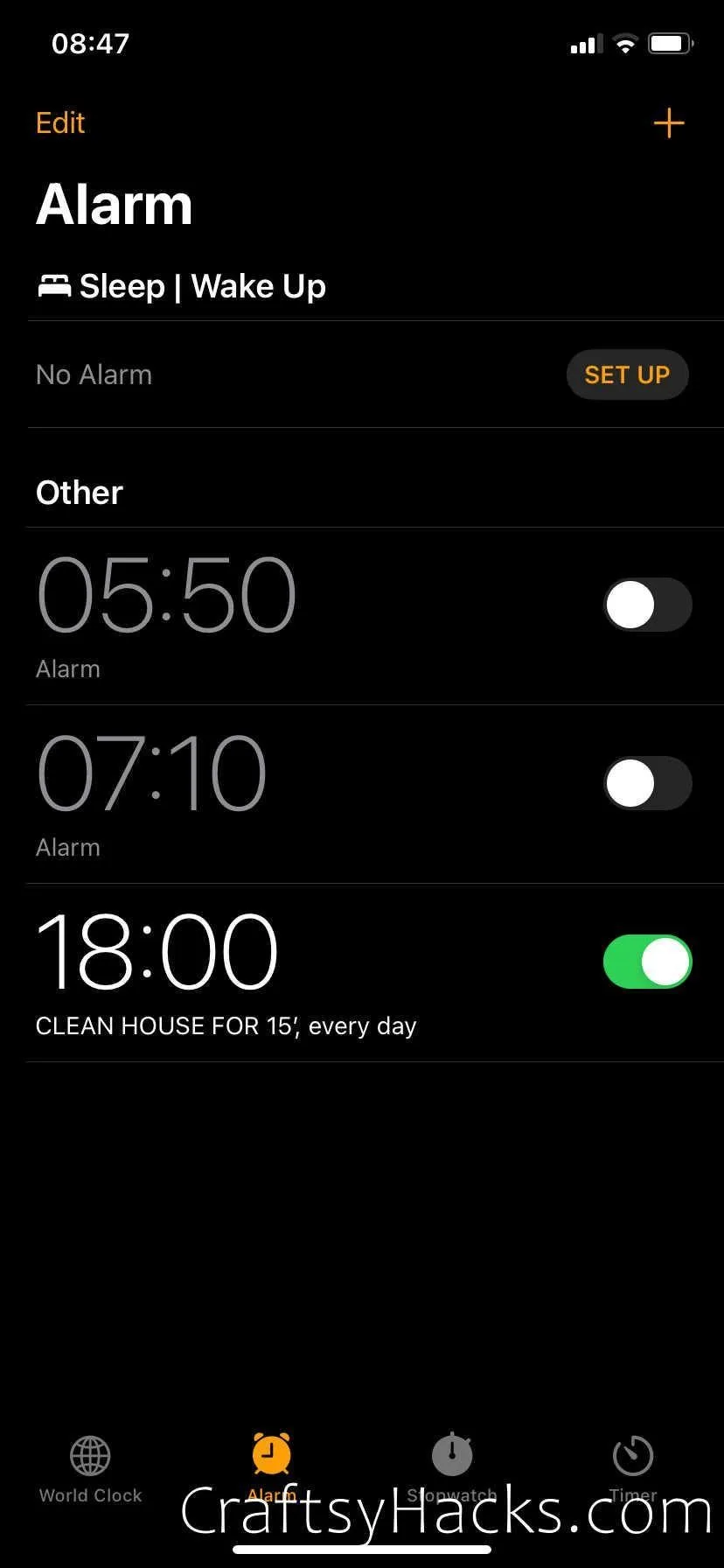 Are you someone struggling to keep up every week? Start with a daily timer to do a simple pick-up. You should pick a time where it feels best suited to your schedule. Sometime that generally is always free.
A set time of 10-15 minutes to do the basics. This idea will help you build long-lasting habits in the long run.
Not sure what to do in those 15 minutes? Try these mind-blowing cleaning hacks for every room!
14. Sanitize Your Cutting Board Easily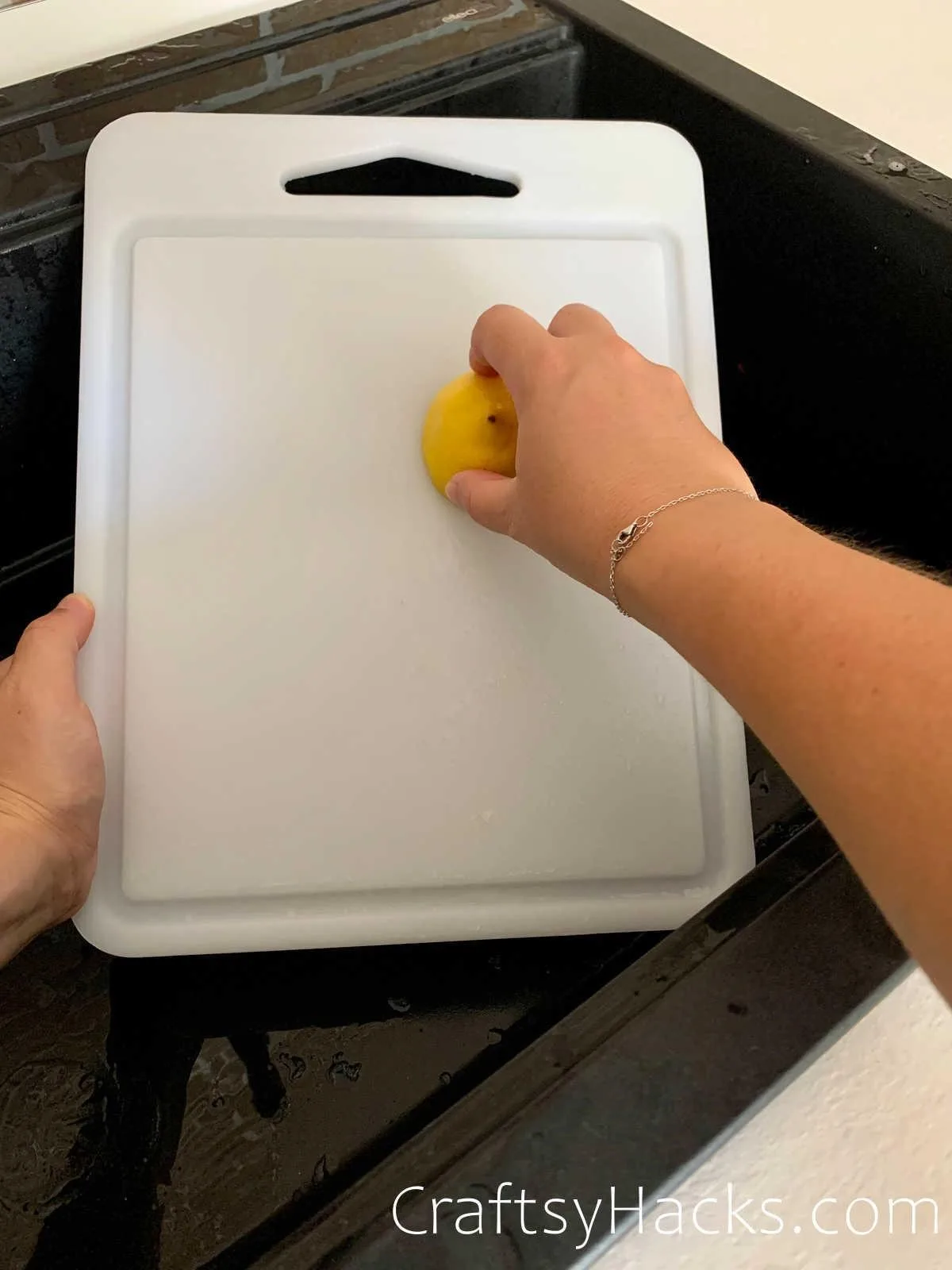 Everyone has at least one plastic cutting board at home. A way to ensure its cleanliness and kill anything they've absorbed:
Wash it with hot soapy water
Cut a lemon in half
Rub that lemon on the board's surface
Set off to the side and dry
Nice sanitized board!
15. Work Your Way Down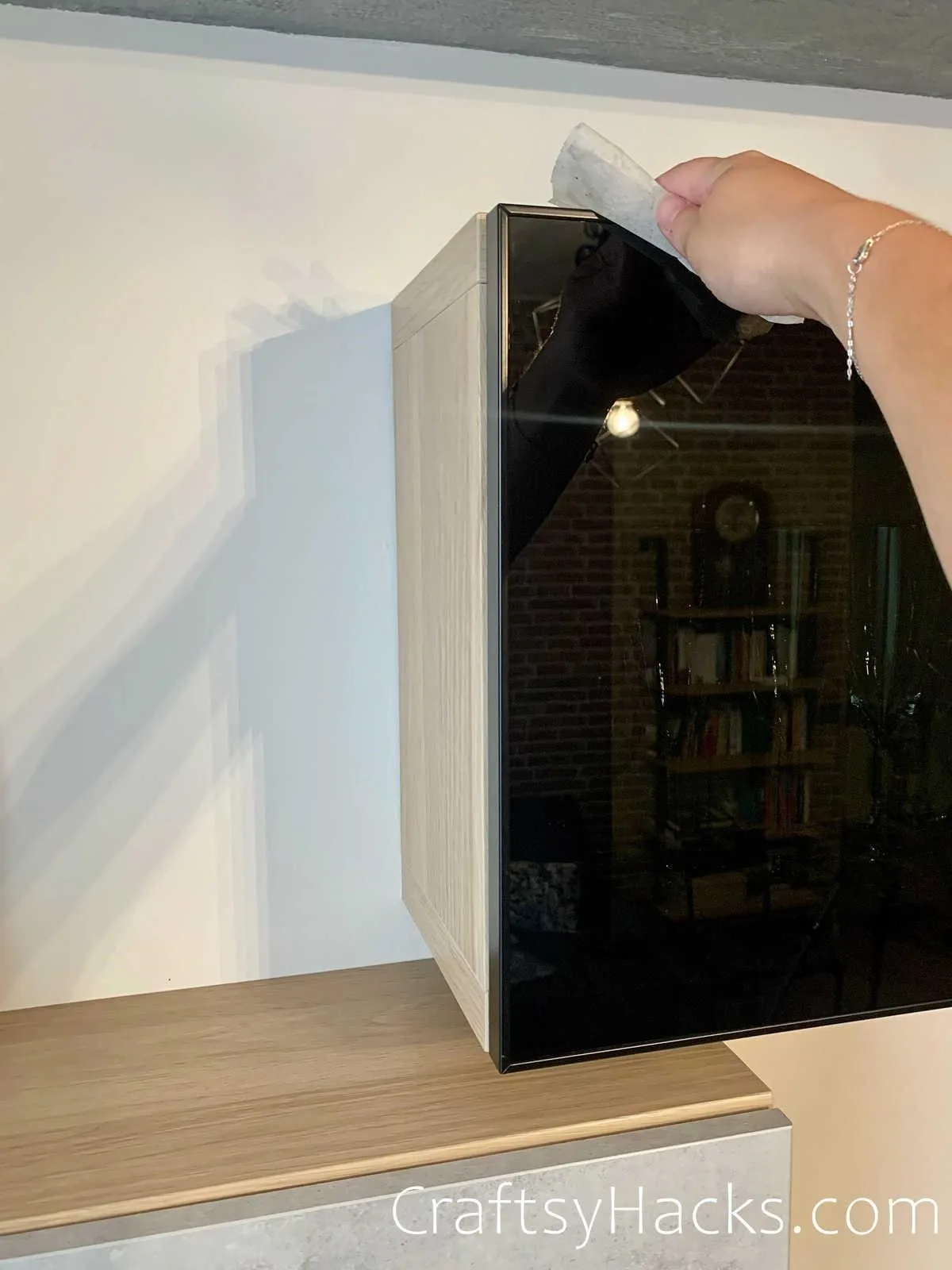 While cleaning, the most efficient way is to start at the top of whatever you're cleaning and work your way down towards the floors. Finish up with a sweep, vacuum, or mop to have a top to bottom clean. Minimal extra cleanup once a project is done!
16. Use Dryer Sheets for Dusting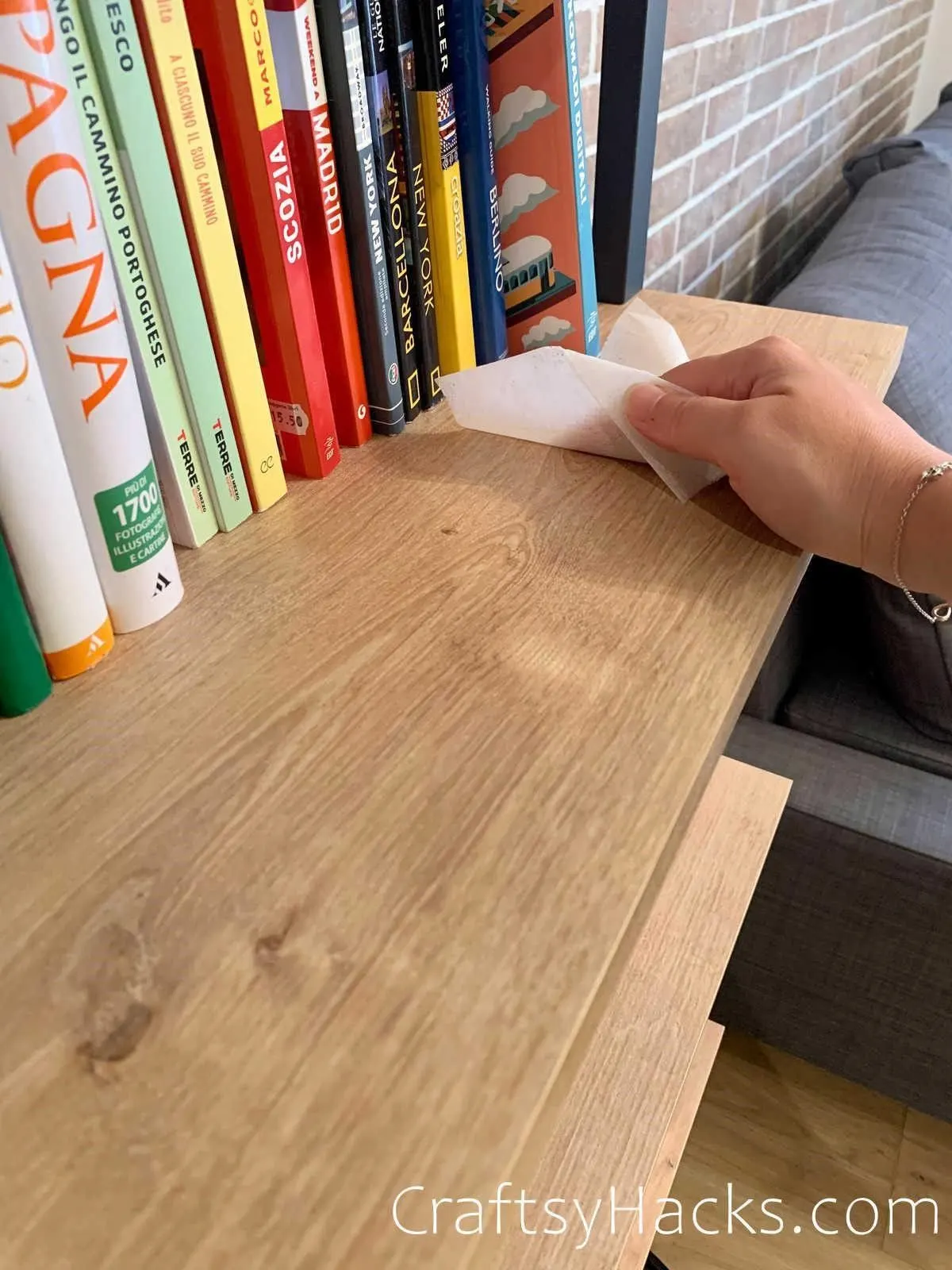 Dryer sheets for the win again, a multi-dimensional tool that transcends the laundry room. They are a great alternative to picking up dust while cleaning. Easy as can be, just swipe any dusty surface with a dryer sheet and the dust is long gone!
Bonus! As an eco-conscious option, used dryer sheets work just as well as their new counterpart dusters.
17. Fix Smelly Bins with Baking Soda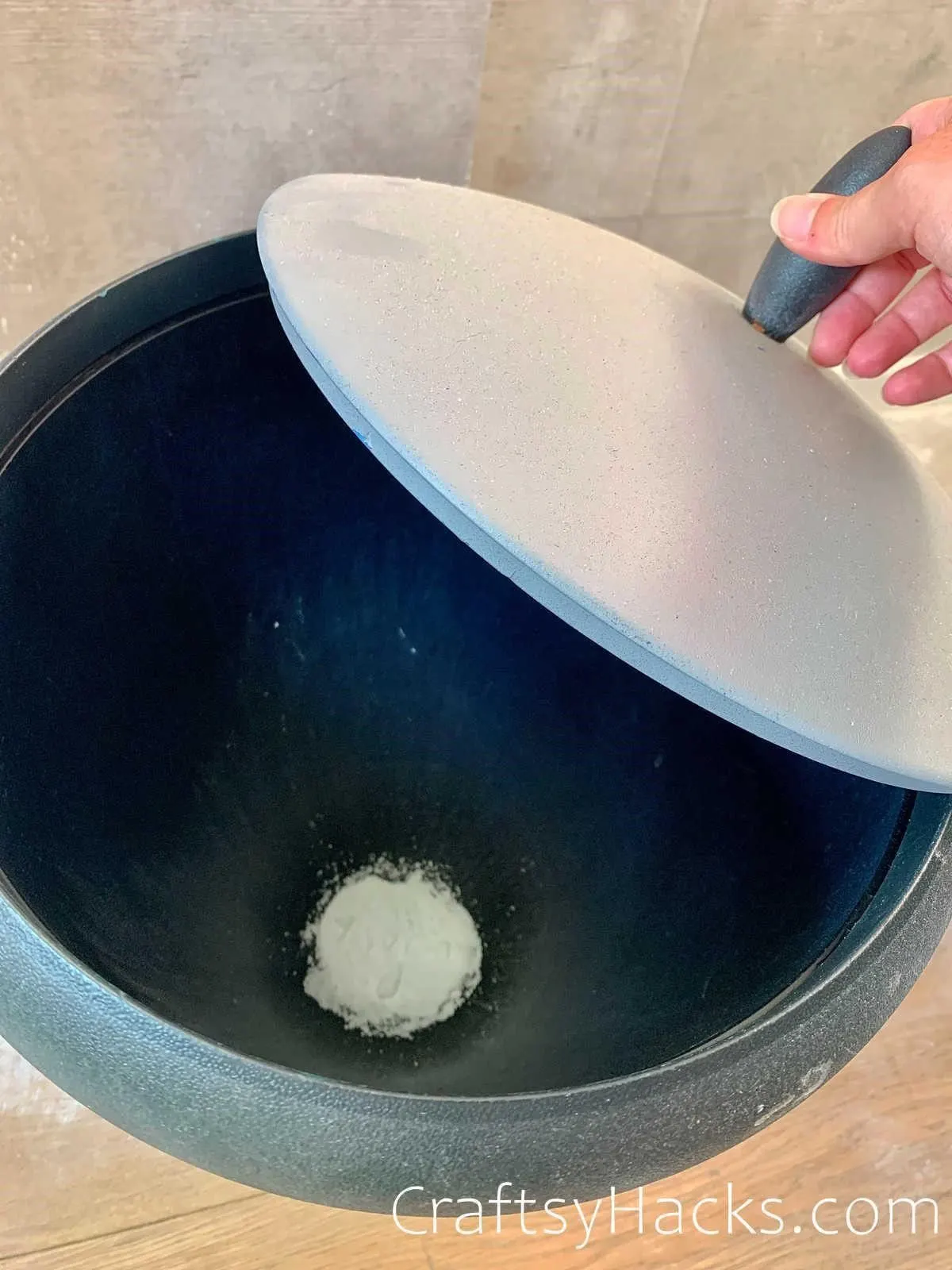 Smelling the rubbish in one's bin is gross and an unpleasant experience. Baking soda is an excellent way to combat this whole experience.
Shaking a bit of baking soda into the bottom of the bin (before a new bag goes in) will help greatly.
Bonus: The next time your bin needs a whole cleaning, try cleaning it in the shower! There's enough space for clean-up, but it's all contained and minimal clean-up.
You must try more of these baking soda cleaning hacks!
18. Remove Scuff Marks on Walls with Tennis Balls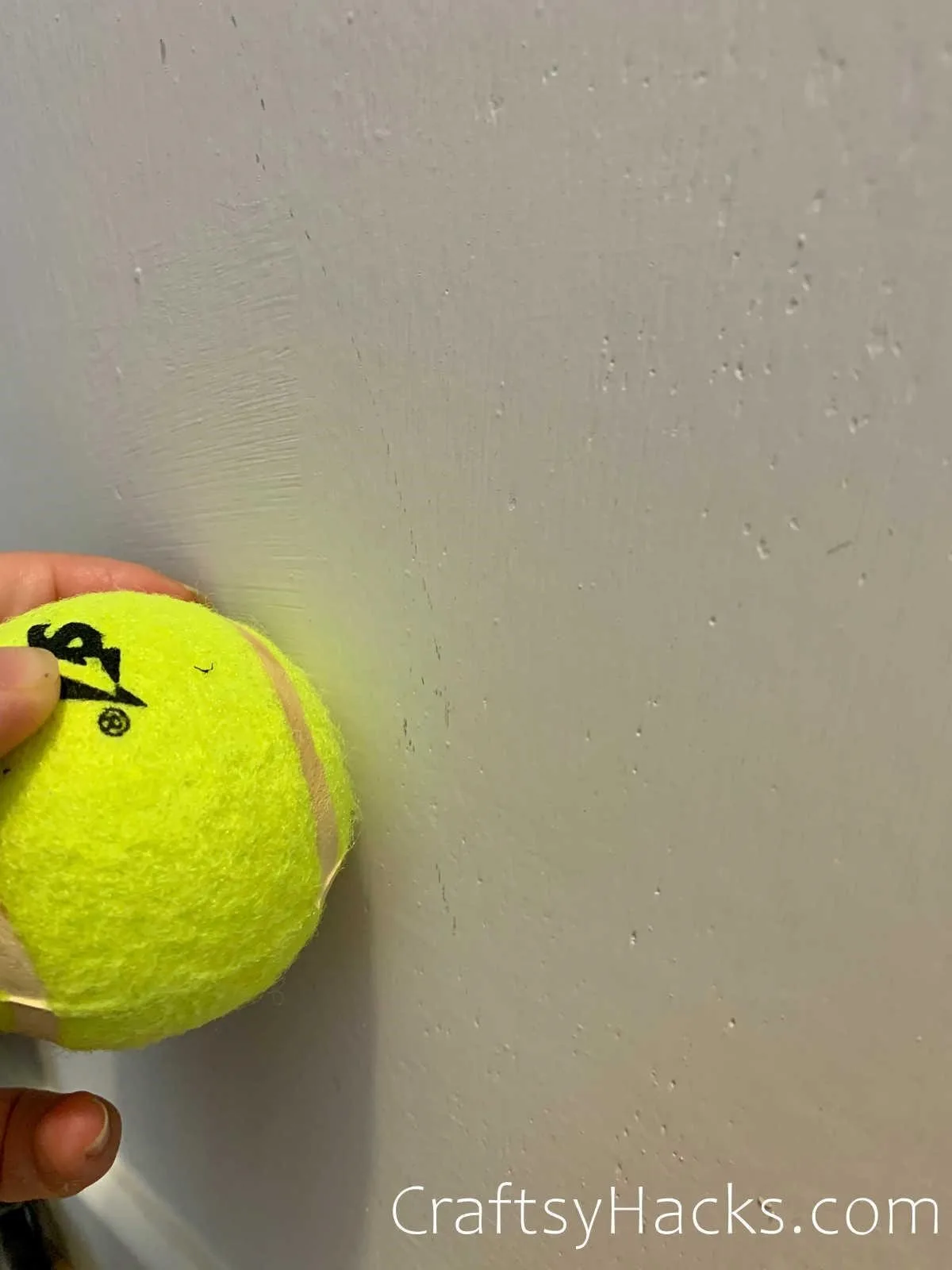 Anyone knows any place you live, as time goes on, mystery scuffs, and marks will inevitably show up on the walls.
Tennis balls will help buff out those pesky markings. Just take one to the specific area and rub gently until the spot isn't as visible.
19. Vacuum Your Cabinets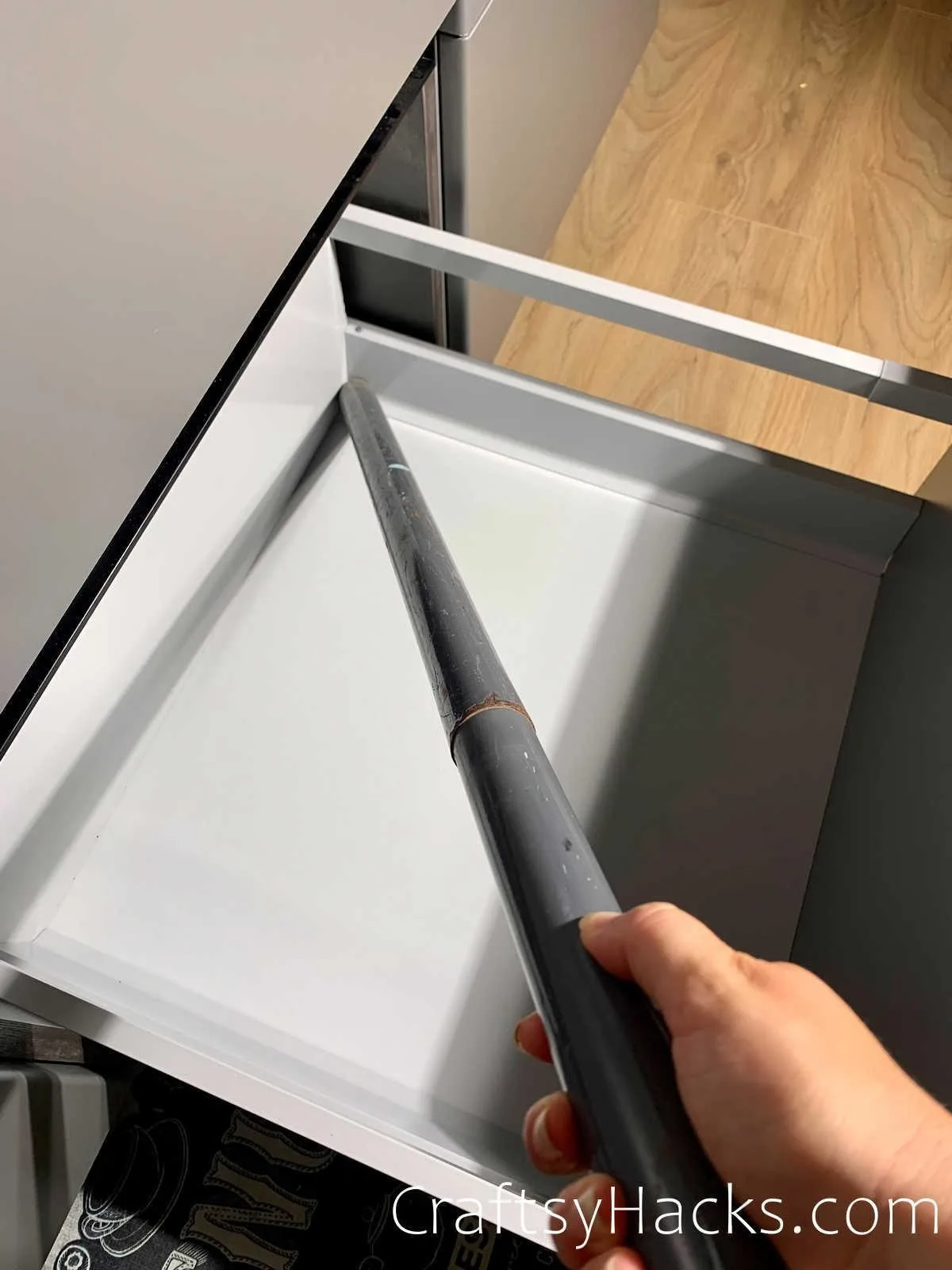 Cabinets can be such a pain to clean, specifically those hard-to-reach corners.
The next time you're tackling cabinets, break out your vacuum and its attachments. Make sure to use the brush attachment that best suits the area, and those corners will be clean in no time!
Try these other genius vacuuming hacks!
20. Spot-Clean Fabric with Baby Wipes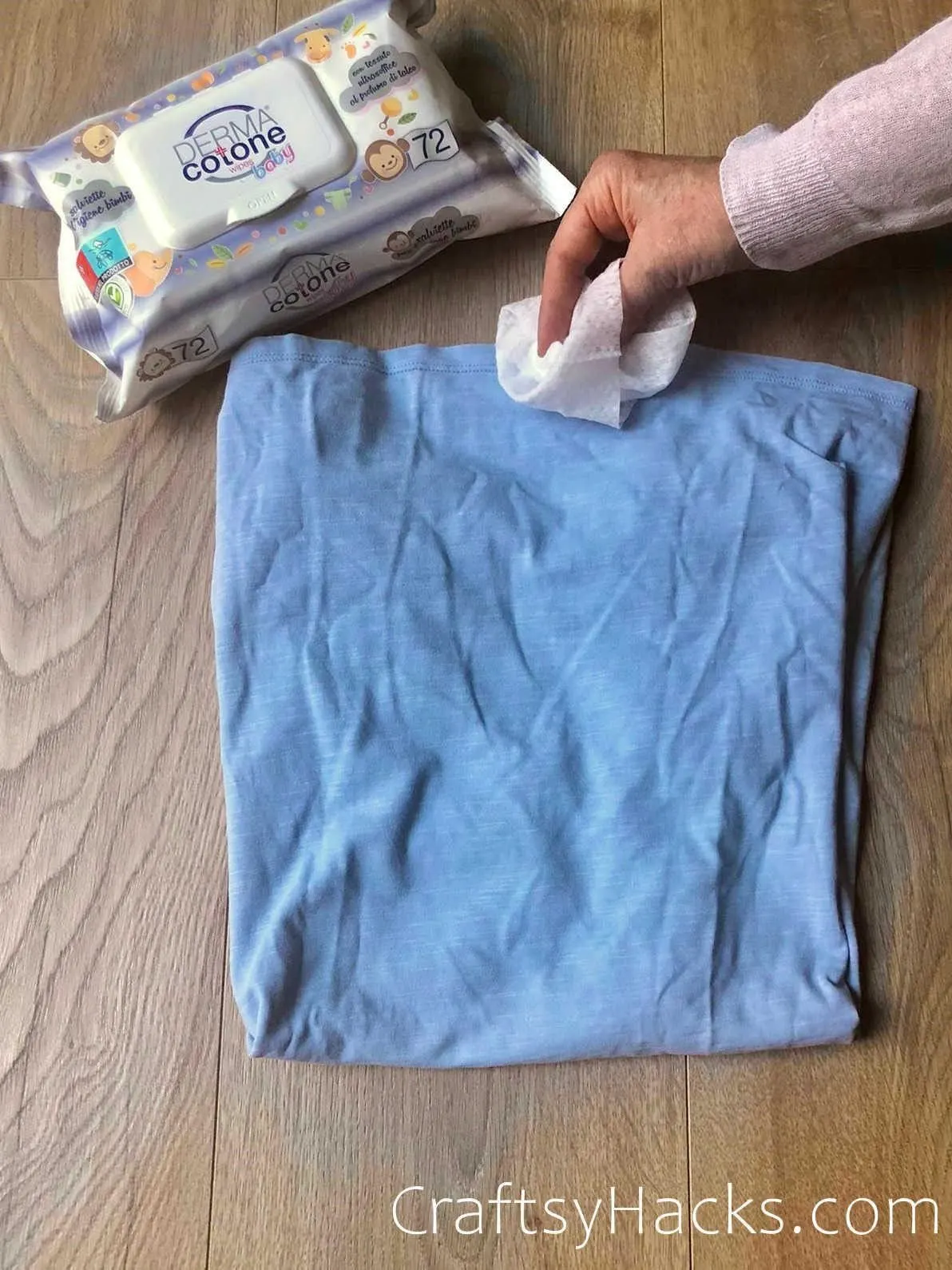 These baby wipes have saved me so many times before! The perfect gentle cleansing wipe.
Be sure to note before starting this hack that it calls for baby wipes and not household cleaning wipes.
A baby wipe doesn't contain much moisture, holds gentle cleaning properties, and the remaining dampness evaporates quickly.