Cleaning can be so tiring! Use these bathroom cleaning hacks to get the work done faster!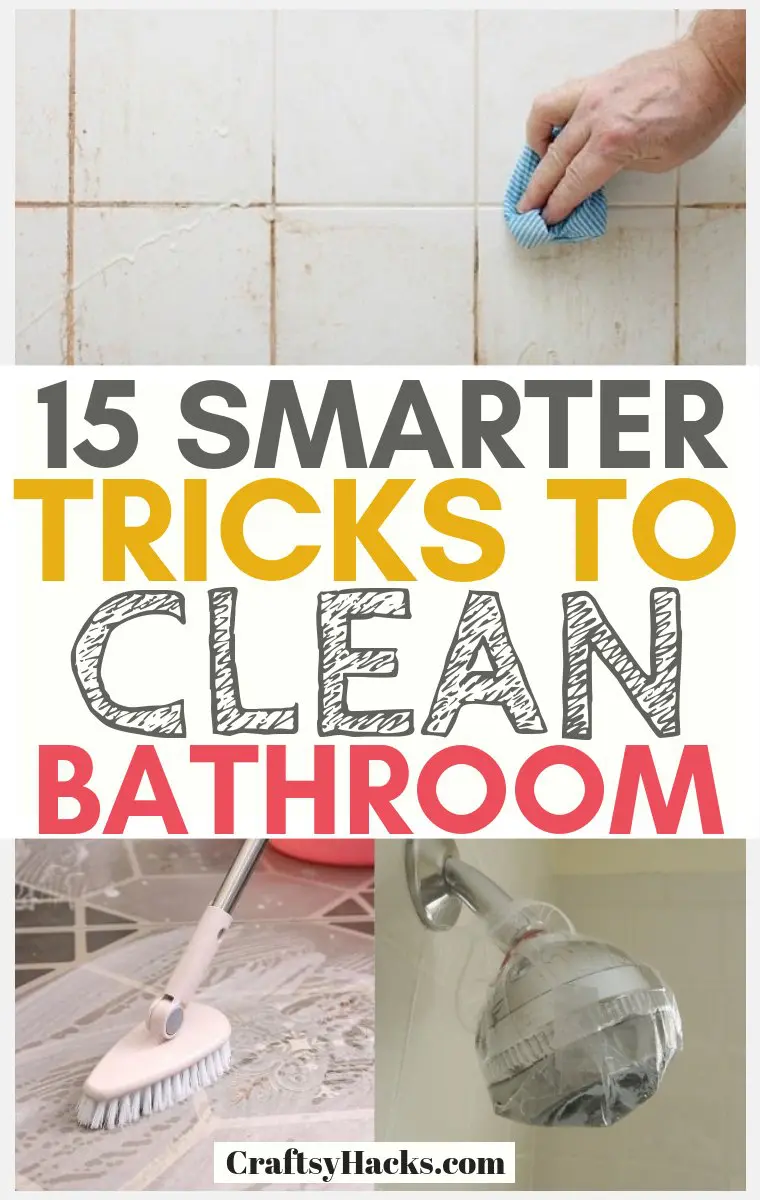 The bathroom really does top the list as everyone's least favorite spot to clean around the house!
The reason being, it just takes so much work that it quite literally feels like you've had an intense workout session after getting down and dirty to scrub down every surface.
However, we can all appreciate that wonderful feeling of walking into a bathroom that sparkles.
It's immaculate and you can even detect the faint smell of lavender or even, an ocean breeze. If you really think about it, we actually do spend a ton of time in the bathroom so it does make sense to clean it properly once in a while.
When it comes to cleaning the bathroom, it's not just about making it look clean. You should also be putting in the effort to disinfect everything. The good news is that cleaning your bathroom really doesn't have to be such an arduous task.
Also, it's a lot easier when you know a couple of good natural cleaning hacks! Ready to give your bathroom a good clean?
Here are 15 brilliant bathroom cleaning tips to get everything looking sparkly clean!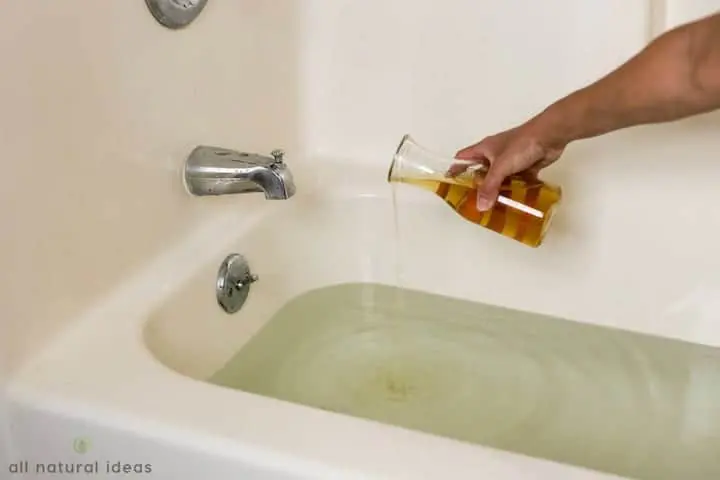 Check for more: allnaturalideas.com
Most household cleaning products (especially those we use to clean the bathroom) are loaded with toxic chemicals and other harmful ingredients.
Instead of risking exposure to these chemicals, it's a great idea to look into opting for natural cleaning solutions!
It's really no secret that white vinegar works incredibly well as a natural cleaning agent. But, apple cider vinegar pretty much does the same thing. It just smells way better.
To disinfect and remove soap scrum from your tub, use apple cider vinegar to scrub off all the icky buildup! I highly recommend grabbing a bottle of Bragg's organic raw apple cider vinegar, which you can find here.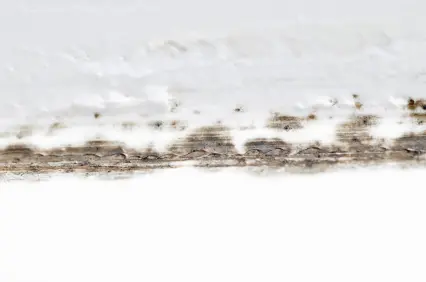 Check for more: royalmaidservicenorthpinellas.com
Another great natural cleaning agent?
If you've got a mold problem in your bathroom, just use borax to clean it. You can create your own natural cleaning solution by mixing borax with water.
The ratio to use: one cup borax to one gallon of water. For a stronger cleaning solution, you can also add a cup of vinegar into the mixture!
You can easily find borax at your local grocery store or even online here.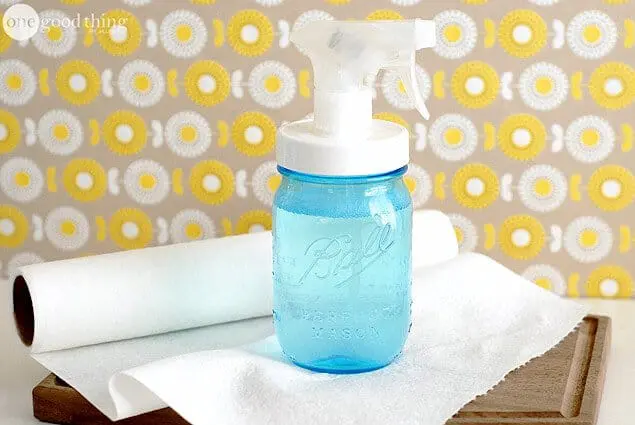 Check for more: onegoodthingbyjillee.com
The most frustrating part about cleaning the bathroom? Spending a ton of time wiping down the mirrors only to end up with a streaky mess.
Luckily, there's a fairly simple solution to get rid of this problem… Just make your own glass cleaner with a little DIY. Just mix one part vinegar with 4 parts water in a little bottle.
I love keeping a set of empty spray bottles at home whenever I need to create my own natural cleaning solutions. You can grab a set of plastic spray bottles for a fantastic price here.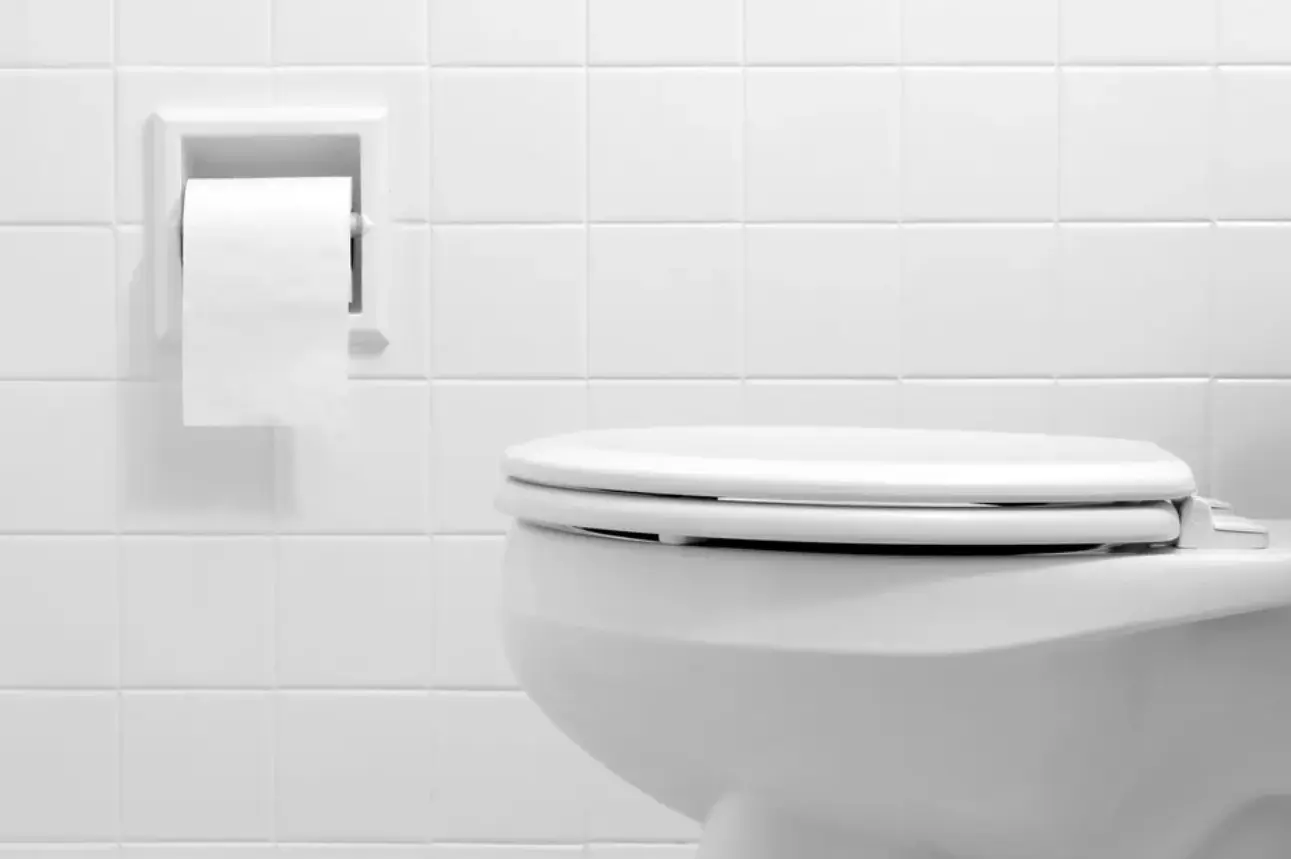 Check for more: thespruce.com
Cleaning the toilet is no fun. But the good news is that you really don't need toxic cleaning products to achieve the results!
For a natural way to clean your toilet, just grab some vinegar and baking soda to clean the hard water stains off your toilet.
Just sprinkle 1 cup of baking soda and 1 cup of vinegar all over the bowl of the toilet. Let it sit for 30 minutes, then give it a scrub and let the water run.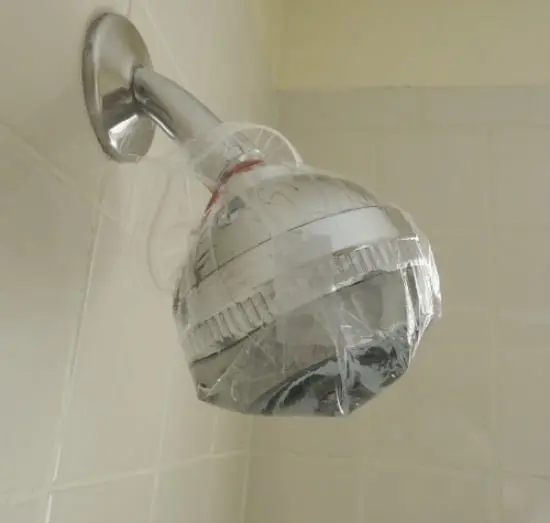 Check for more: housewifehowtos.com
Chances are that you're not cleaning your bathroom showerheads as often as you should.
If you really think about it, this really isn't the place for you to cut corners during your cleaning session. Your showerheads come into direct contact with the water that lands on you!
It's actually pretty simple to disinfect and clean your showerheads. All you have to do is create a solution out of hot water and white vinegar. I usually mix 1 part water with 1 part vinegar.
Then, remove the showerhead and let it sit in this mixture for a good 30 minutes. To finish things off, use an old toothbrush to give it a scrub, removing the remaining dirt and residue.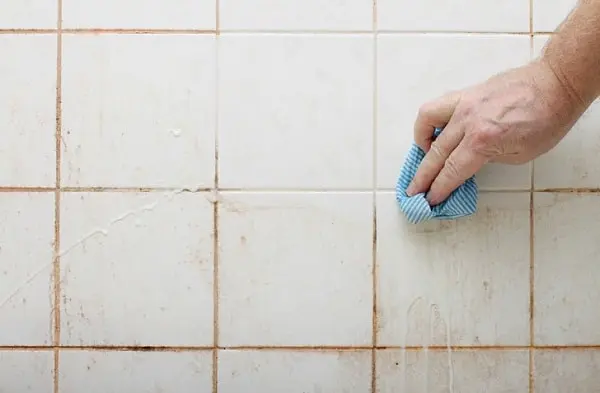 Check for more: divesanddollar.com
Bet you never thought of this trick!
The best way to clean your bathroom tiles is to give them steam. I mean, it does make a lot of sense considering the fact that steam works wonders for opening up our pores.
So the same logic would apply here. Use a steam cleaner to heat up the tiles and to loosen up the dirt and other gunk that gets trapped!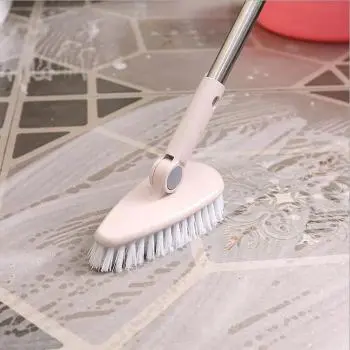 Check for more: clubfactory.com
This cleaning hack is a total game-changer.
Forget about getting down on your knees to scrub your tub because there's a much simpler (and less strenuous) way to go about this!
Just use a tile scrubber that comes with an extendable handle to make your life way easier. I highly recommend getting yourself a tile scrubber like the one you can find here.
I absolutely love using it for all the intense scrubbing action that goes on in the bathroom!
8. Throw Shower Curtains into the Washing Machine
Anyone else guilty of always tossing out their shower curtains once they see a bit of mildew?
Instead of constantly replacing your shower curtains, there's an easier and more budget-friendly way to go about this.
Just throw them into the washing machine (on a gentle setting) with a couple of towels, detergent, and 1/2 cup of baking soda. When it comes time for the rinse cycle, add 1/2 cup of vinegar!
Just in case it really is the right time for you to replace any shower curtains around your home! I absolutely love the simplicity in the design of the shower curtains that you can find here.
9. Use a Vacuum to Clean Your Tub
Here's the ultimate trick to get your tub to sparkle! Before you begin your intense cleaning session and all that scrubbing action, use a vacuum to pick up all the hair and dust particles that can get in the way!
Need more vacuuming tips? More vacuuming hacks here!
10. Get Your Hands on Mr. Clean's Magic Eraser ASAP
If you don't already own the Mr. Clean Magic Eraser… well, you're seriously missing out. It's the real MVP when it comes to getting out stains from ANY surface.
Streaky mirrors? Shower grout? Stubborn stains in your tub? Wall stains that magically appeared out of nowhere?
The magic eraser will take care of ALL of that. You can grab the magic eraser online here.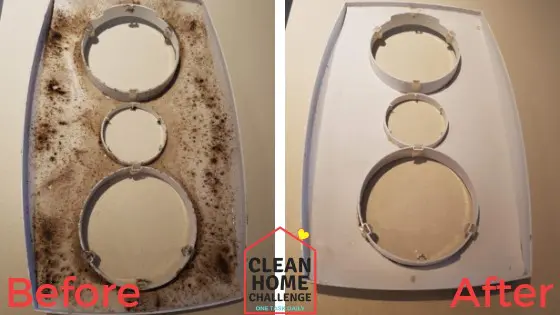 Check for more: cleanhomechallenge.com
Another part of the bathroom that we can show a bit more love to? The exhaust fan!
For optimal performance, it's imperative that you're giving the cover a good clean every now and then to remove all the dust and debris that gets trapped in there.
The first thing you should do is use your vacuum cleaner to get rid of ALL the dust. Let me warn you, there's going to be a lot.
Next, remove the cover and use an old toothbrush to give it a good scrub under warm water.
Check for more: cleanhomechallenge.com
Who else is already exhausted at the thought of scrubbing their tub?
Forget about the intense scrubbing session, because there's a much easier way to get the job done! All you need to do is make your own DIY extra strength cleaning solution.
The best part is that you can ditch the toxic cleaning supplies for good! This magical solution works wonders for getting rid of all the stubborn stains from your tub.
To make this natural cleaning solution, all you need is Dawn dishwashing liquid and white vinegar! For the best results, you need to make sure you're using Dawn dishwashing liquid which you can find here.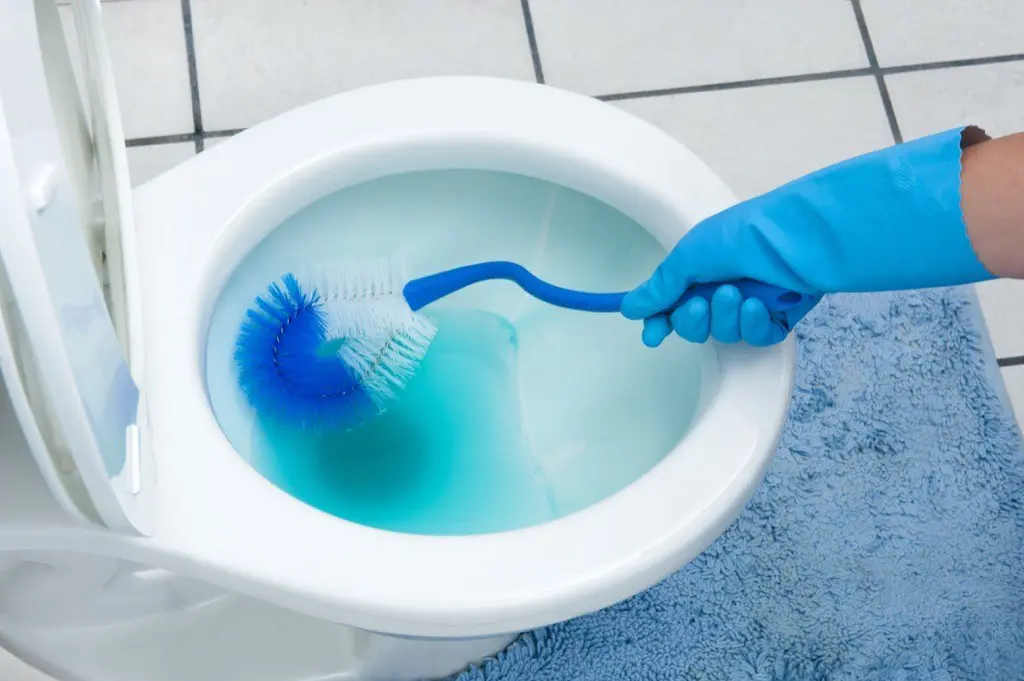 Check for more: bestlifeonline.com
You already have one of the best toilet bowl cleaners sitting around your house, and you don't even know it.
Ditch the toxic cleaning supplies for good by using mouthwash to clean your toilet!
14. Unscrew the Toilet Lid
When it comes to cleaning the bathroom, getting everything to sparkle doesn't necessarily mean that it's clean!
To clean your toilet the right way, you need to make sure that you're actually getting rid of all the bacteria and germs that tend to accumulate in those hard-to-reach places.
The best way to give your toilet a proper clean is to unscrew the toilet lid first!
15. Wash Toothbrush Holders in a Dishwasher
Another part of the bathroom that we really ought to pay more attention to? Our toothbrush holders.
If you're not already washing them regularly… well, you really should. Your toothbrush can be an easy breeding ground for bacteria.
It means that your toothbrush holder also isn't safe from all the germs. To give your toothbrush holder a good clean and to sterilize them properly, just toss them into the dishwasher. But of course, make sure they're dishwasher-safe first!