Make these DIY decorations for the outdoors this Easter. These outdoor Easter decorations are fun to make, beautiful, and creative.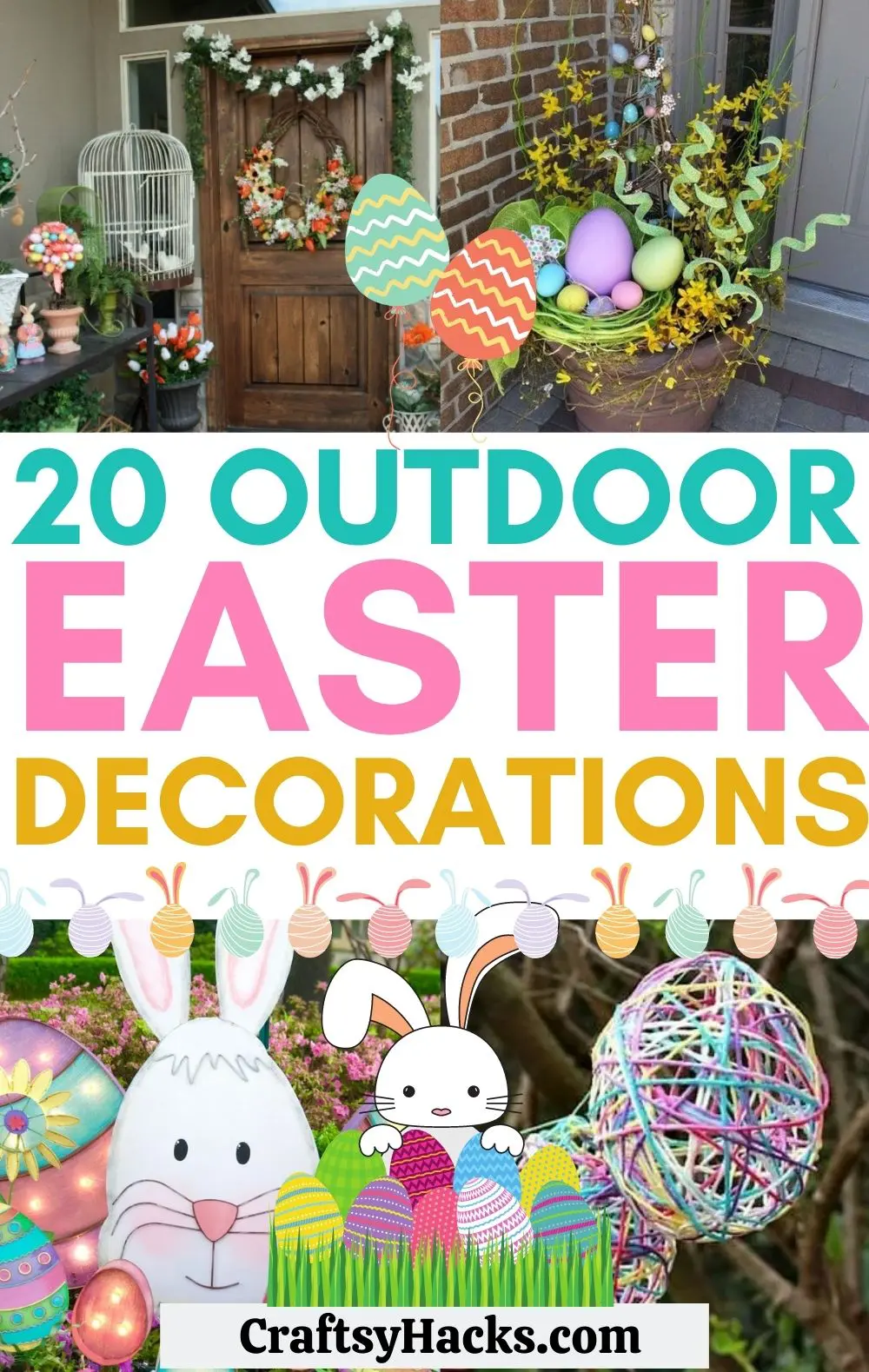 Ah, spring. The season of rebirth, of delicate tiny blooms and baby animals, of the sun in the sky and pollen on the breeze. I love spring for so many reasons, not the least of which is the presence of Easter.
Whether you're religious or not, the Easter weekend is most likely a bright spot in your year. Four days of family fun, no work, chocolate hunting, and connecting to spring's spirit of rebirth. What's not to love?
Here are twenty delightful outdoor easter decoration ideas to prepare the egg-hunting grounds to get in the spirit of this upcoming holiday.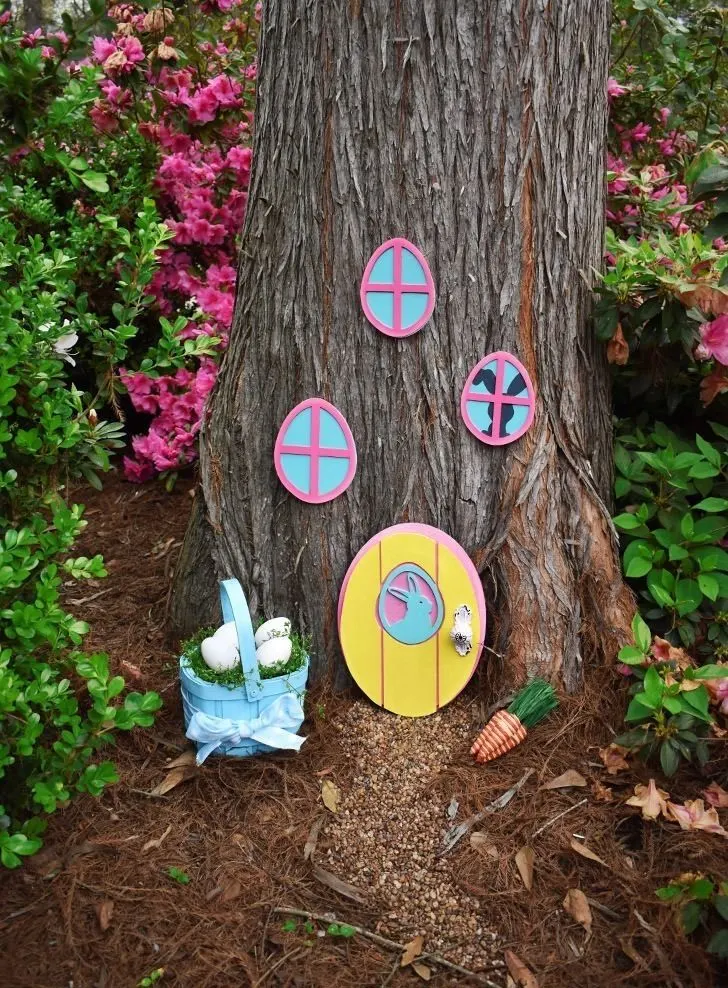 Credit: dreamalittlebigger.com
Your kids think the Easter Bunny is as real as you or I, so why not give him a temporary home in the backyard to add to the magic? This is great for your child's imagination, and the décor scheme is so cute.
To create this bunny's hideaway, you don't need to be a master woodworker. Still, you should have some familiarity with tools. You'll be making the windows and door from balsa wood, and the outlines are Cricut.
Credit: hometalk.com
Eggs are a symbol of rebirth and new beginnings, so it only makes sense to highlight them in a holiday celebrating the same things. That's where this giant, whimsical Easter egg topiary comes in!
Honestly, this thing looks like it sprung fully formed from Alice's Wonderland, and I think that's what's so great about it. Grab some giant easter eggs here, some floral foam, and a vase to construct your masterpiece.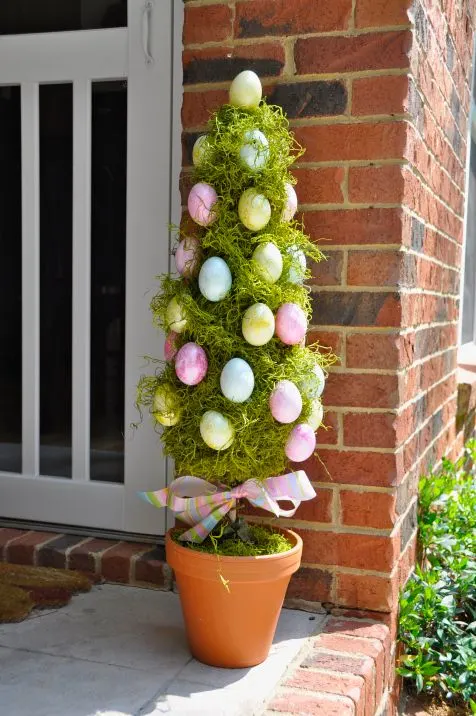 Credit: wordpress.com
It's traditional to decorate something called an Osterbaum (literally 'Easter Tree') with eggs and ornaments to celebrate the holiday in Germany. Why not bring an adorable international tradition like that home?
You'll be creating your own fake tree from a foam cone like this as well as some Spanish moss (which you can find here). Decorate it with anything Easter-themed to add a festive touch to the front porch.
Speaking of porches, I love going all out on my porch decorations when holidays come around. Check out some ideas for cute Easter porches!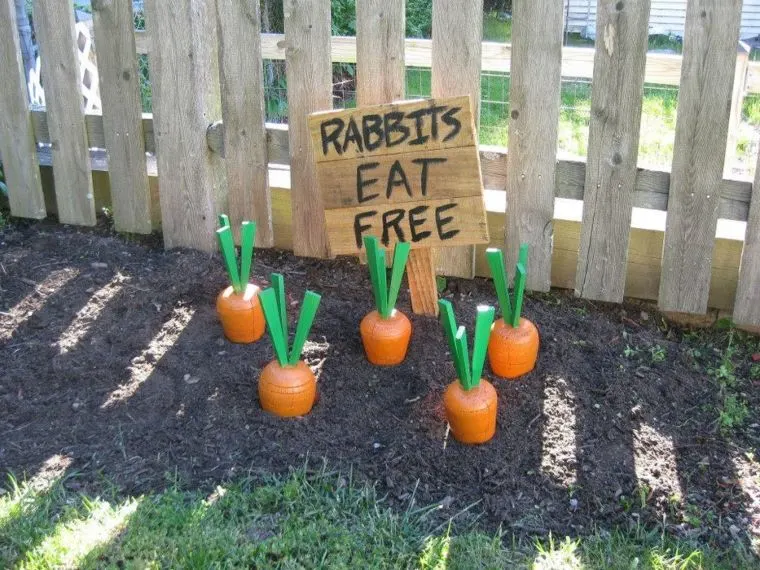 Credit: instructables.com
Bunny rabbits are arguably the best thing about springtime. It would be sacrilege to skip out on the carrot buffet with an entire holiday dedicated to celebrating a fictional (shhhh) bunny.
Don't worry. You don't need to bust out the shovel for this. If you're a competent woodworker, turn your own wooden carrots on a lathe or using a belt sander. Otherwise, grab some faux root vegetables here.
Paint them using a durable outdoor mix, then plop them in the ground along with a wooden sign proclaiming, "Bunnies Welcome!". Not only is this adorable, but it's also great for busting out each year.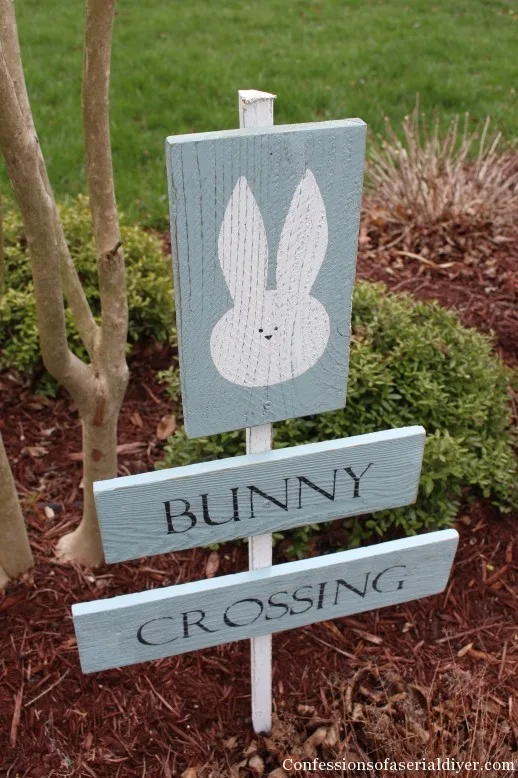 Credit: confessionsofaserialdiyer.com
If you like the above craft but don't feel the need for faux vegetables in your garden beds, might I suggest this adorable 'Bunny Crossing' sign? It's easy to put together in an afternoon, so it's perfect for the last minute.
All you need is a little chalk paint, a personal favorite DIY material of mine. Reclaimed timber is easy to find at your local hardware store; you can even have them cut it to size for you. No saw required!
If you're a fan of anything with chalk paint, I guarantee you'll enjoy these shabby chic décor ideas for your kitchen.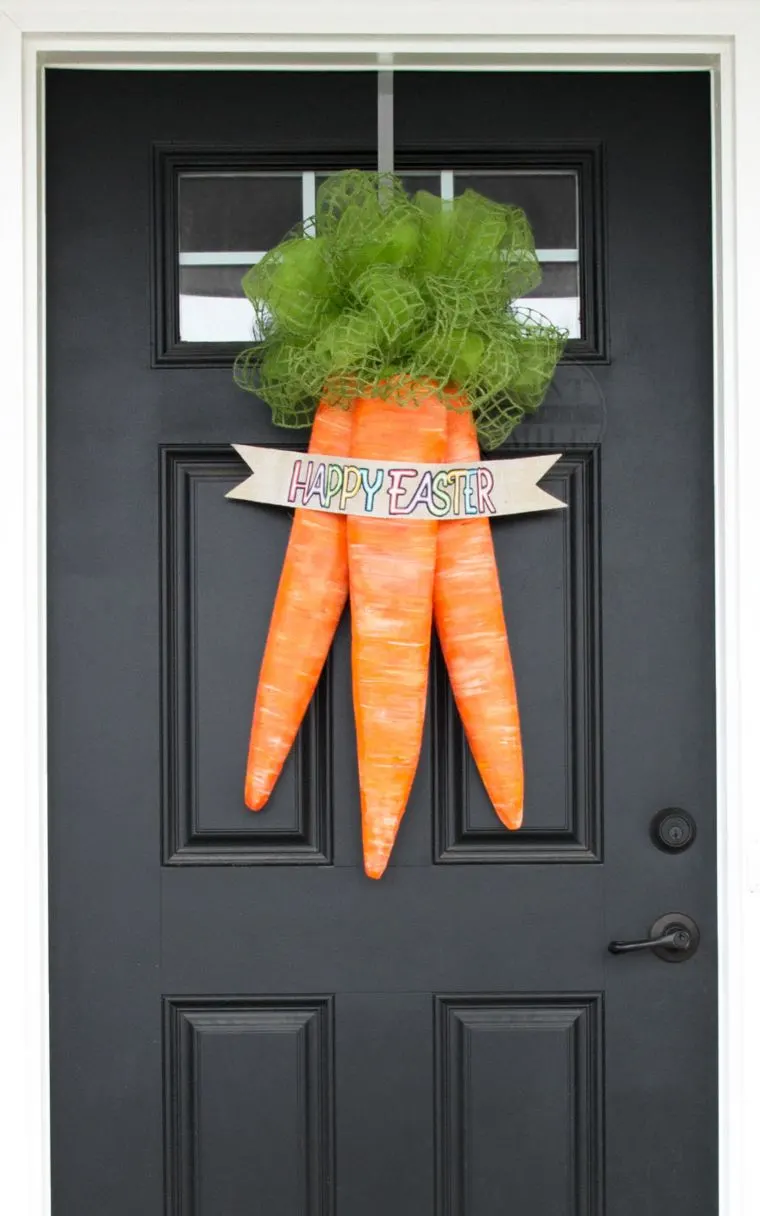 Credit: paintyourselfasmile.com
Now, I've seen a lot of wreaths in my time as a DIY lover, but this one might just take the cake. A wreath… made from carrots. It's so weird and wild, but at the same time, so absolutely adorable. I need it.
These carrots are made from thick foam insulation board (find it here). From there, it's carved, shaped, and painted by you to resemble our favorite orange vegetable. There's a catch, though; they're huge.
If you love a little drama and whimsy, create a massive bunch of carrots for your front door! If you like something a little more laid back, don't worry, the same technique works for small carrots.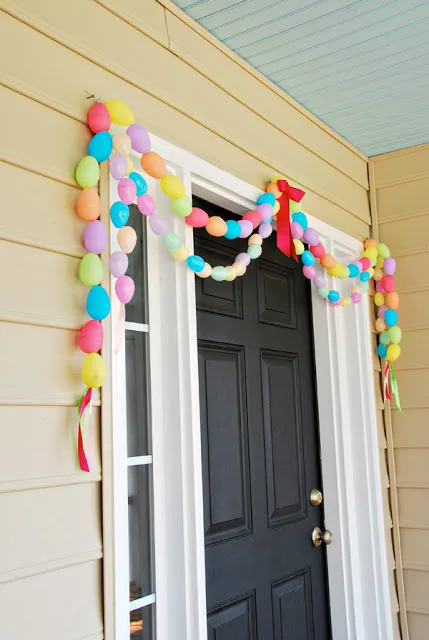 Credit: archive.org
Let's make a U-turn to something a little more traditional: a garland! These cute Easter egg garlands effortlessly dress up any doorway with colorful plastic eggs (which you can repurpose later on).
To string these up, you'll need to find plastic Easter eggs with holes pre-drilled, else risk an afternoon of just you, plastic, and the whir of your drill. Luckily, you can grab a big bag right here.
From there, all you have to do is string them on like popcorn at Christmas, hang them up, and enjoy the view!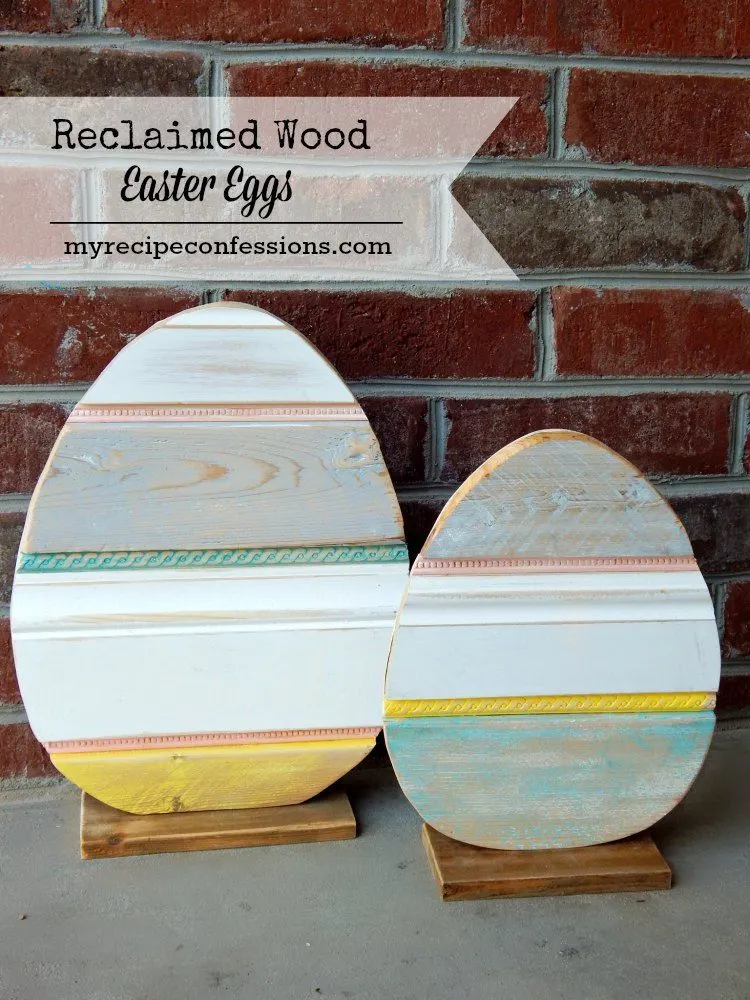 Credit: myrecipeconfessions.com
This Easter décor errs on a minimalist side, using the textures of reclaimed wood and some subtle colors to bring Easter festivity indoors. If you have any old wood lying around, this is a great way to use it!
Freehand or trace an egg shape onto your backing wood, then cut it out using your jigsaw (grab one here). Next, paint each reclaimed wood panel a different color before gluing them onto your egg shape.
From there, simply remove the excess reclaimed wood with your jigsaw, sand down the rough edges, and you're done!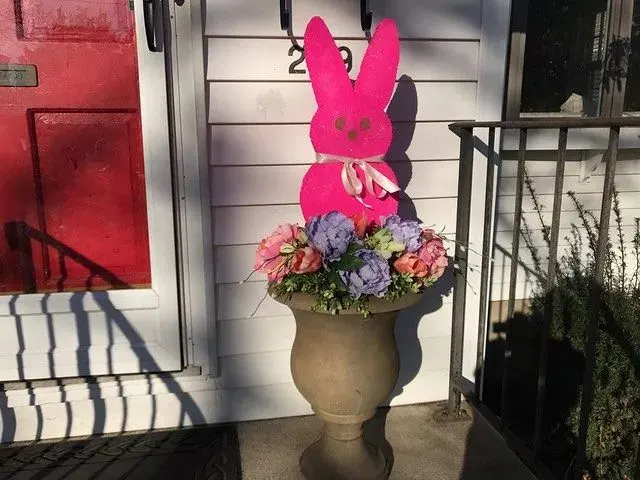 Credit: hometalk.com
We've been down the topiary road a couple of times on this list, but trust me, this is one that deserves due consideration. Marshmallow peeps are a staple of the Easter weekend, so why not make a giant one?
This topiary does precisely that. After cutting a rabbit peep shape out of your Styrofoam, paint it a bright color of your choice and dust it with iridescent glitter (here). Once mounted, adorn with greenery to finish.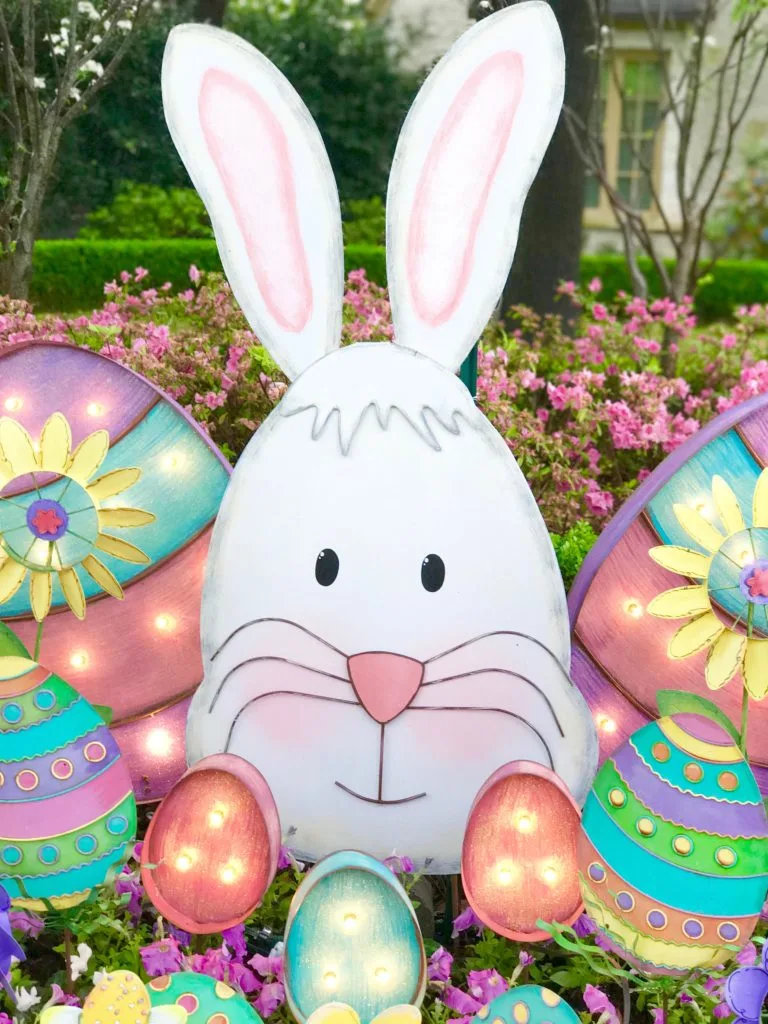 Credit: turtlecreeklane.com
Who said lights had to be relegated to the Christmas holidays? This array of light-up Easter decorations will be visible well after the sun goes down, so everyone can enjoy the view at all times.
This is less of a craft and more of an arrangement, so purchase your light-up decor here and find a garden corner you'd like to highlight. Make sure you vary the colors widely, as this will create interest!
Credit: blogspot.com
While Easter is typically all about color, there's something to be said for going the opposite way. Rather than embracing neon, turn back the clock and decorate your porch for Easter as they did in the old days.
Small touches like reclaimed wooden furniture, white painted bunnies, greenery, and even a lantern-like this will really drive the farmhouse aesthetic home.
If you like that, you'll definitely love these ideas for farmhouse decorations inside too.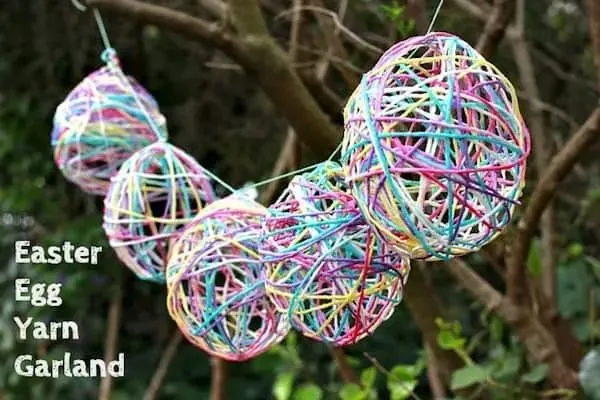 Credit: modpodgerocksblog.com
This technique really brings a whole new meaning to the words' silly string'. Fantastic for family Easter parties or outdoor decorations, these string Easter eggs are super fun to whip up with kids in tow.
All you need is some multi-colored pastel yarn like this, some balloons for the egg shape, and some Mod Podge (here). The Mod Podge holds the string in place once you pop the balloon, creating that hollow look.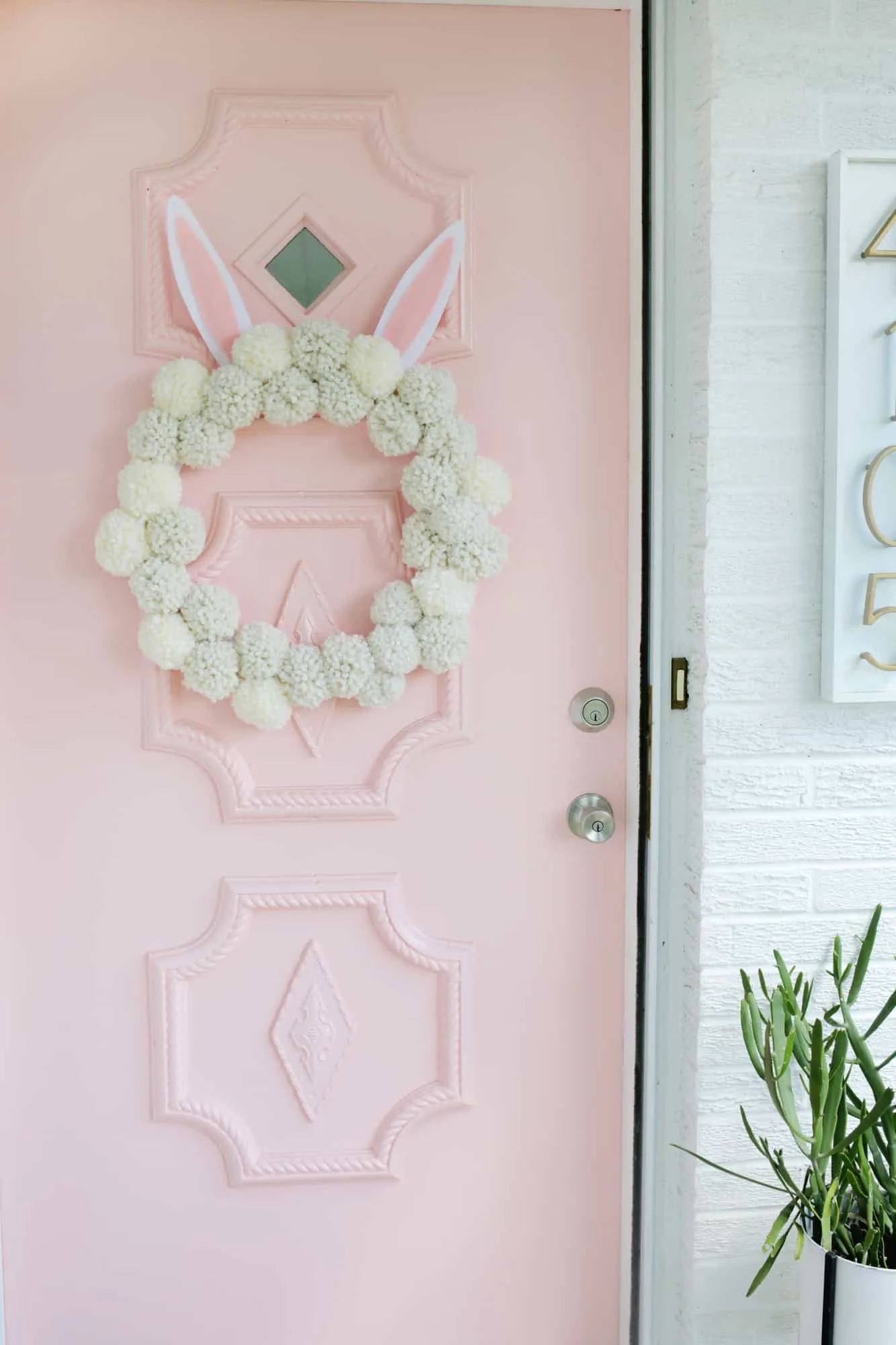 Credit: abeautifulmess.com
This adorable wreath is another creative take on a traditional holiday element, embracing the fluffiness of a bunny's tail to create something charming. All you need for this is yarn, a wreath form, some ears, and patience.
While you can definitely buy the pom-poms pre-made, I think the homemade look really adds to the final result. It takes a little bit of extra time, but if you invest in a pom-pom maker like this, it will go much faster.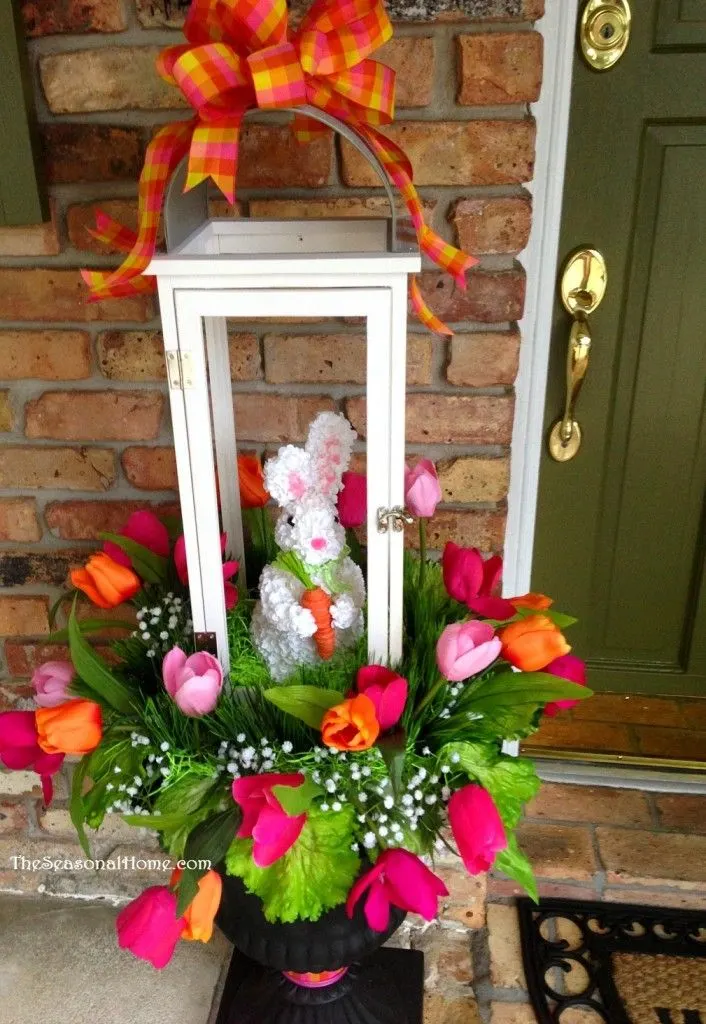 Credit: theseasonalhome.com
This is a great way to add vibrant décor to your front porch without going all-out, meaning it's fantastic for anyone renting (or with minimal time). This bunny lantern is so lovely; you won't want to put it away.
The key to this arrangement lies hidden in the flowerpot: floral foam (find it here). This is a foam strong enough to hold up an arrangement by the stems, leading to that vertical pop of color on your porch.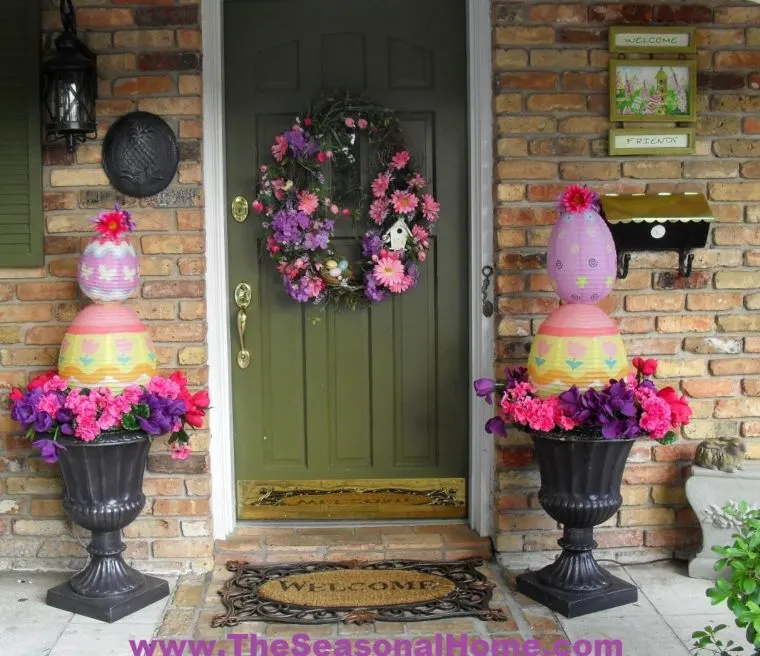 Credit: theseasonalhome.com
This next idea is the previous hack on steroids, taking you all the way down the rabbit hole and into Wonderland proper. Two egg topiaries guard your door, while a gorgeous floral wreath hangs as a focal piece.
Each element doesn't take too much time to pull together on its own. However, suppose you're doing the whole arrangement. In that case, I'd get going the weekend before Easter begins to allow enough time to complete the job.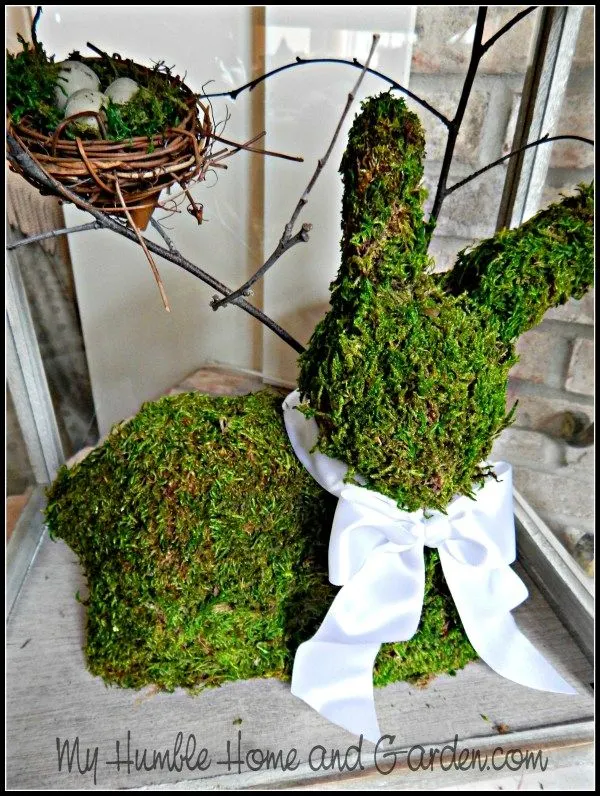 Credit: myhumblehomeandgarden.com
With this next idea, we're once again making the switch from vibrant color to sophisticated minimalism. In this iteration, you'll be housing a moss-covered bunny inside a beautifully-distressed lantern.
This decoration is perfect for pretty much anywhere in the house, as the moss doesn't require maintenance to stay green. In fact, this would be stunning on your kitchen counter or as a centerpiece!
If you fancy yourself a woodworker, you can create a custom lantern that's the perfect size for you. If not, this one would be perfect for the job.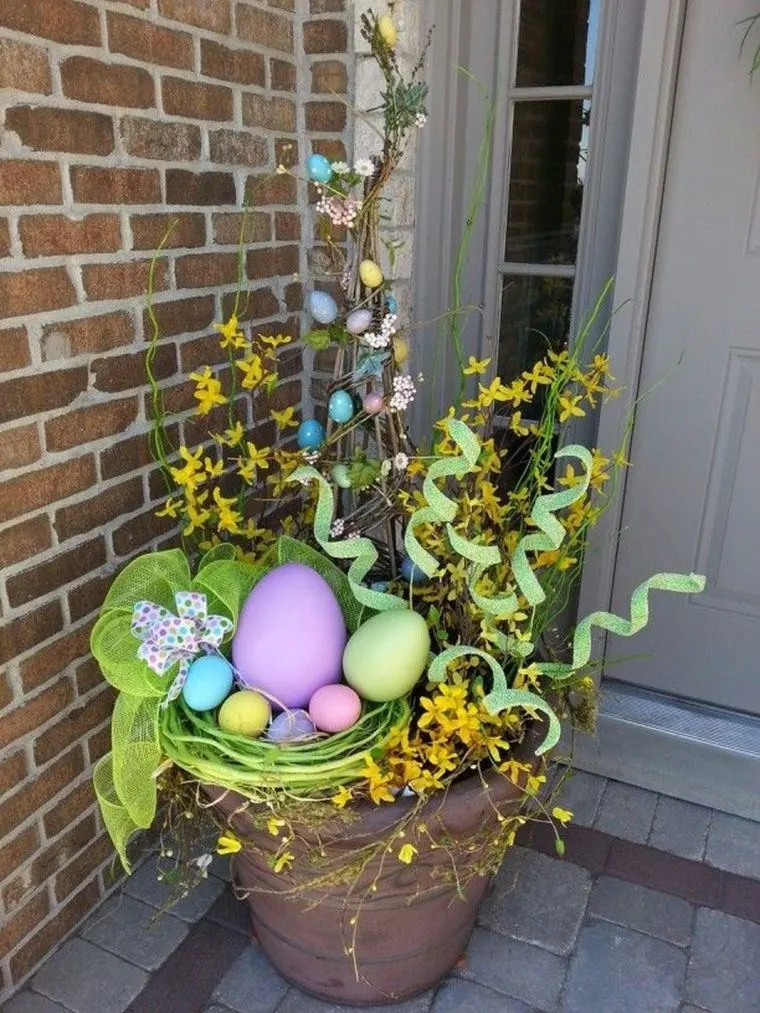 Credit: homyhomee.com
This topiary combines everything celebratory about Easter into a single masterpiece. Frankly, if you make this decoration, you won't need another one throughout your entire home. That's how bold it is!
You'll need a wide pot to accommodate all the eggs, branches, and the fake tree. I recommend a large terracotta one (like this) you can re-use once Easter has passed by. You can keep it on the porch year-round!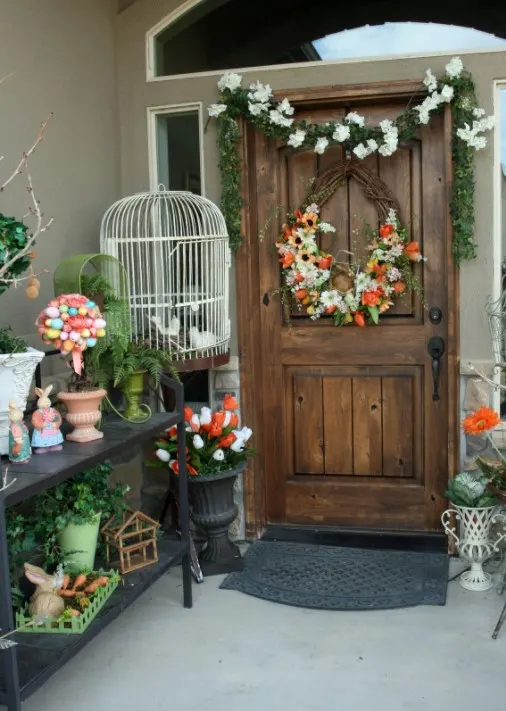 Credit: adventuresofabusybee.com
I love how this entire porch comes together to make the home's entrance look like a bunny run. From the garland over the door to the knick-knacks adorning the side table, it all just works together.
The key to this idea is to intersperse little rabbits throughout the entire scene. Whether it's in the wreath or hiding next to the door, little bunny rabbits should be hopping about everywhere (figuratively).
To get you started, here's an adorable bunny figurine to use as inspiration.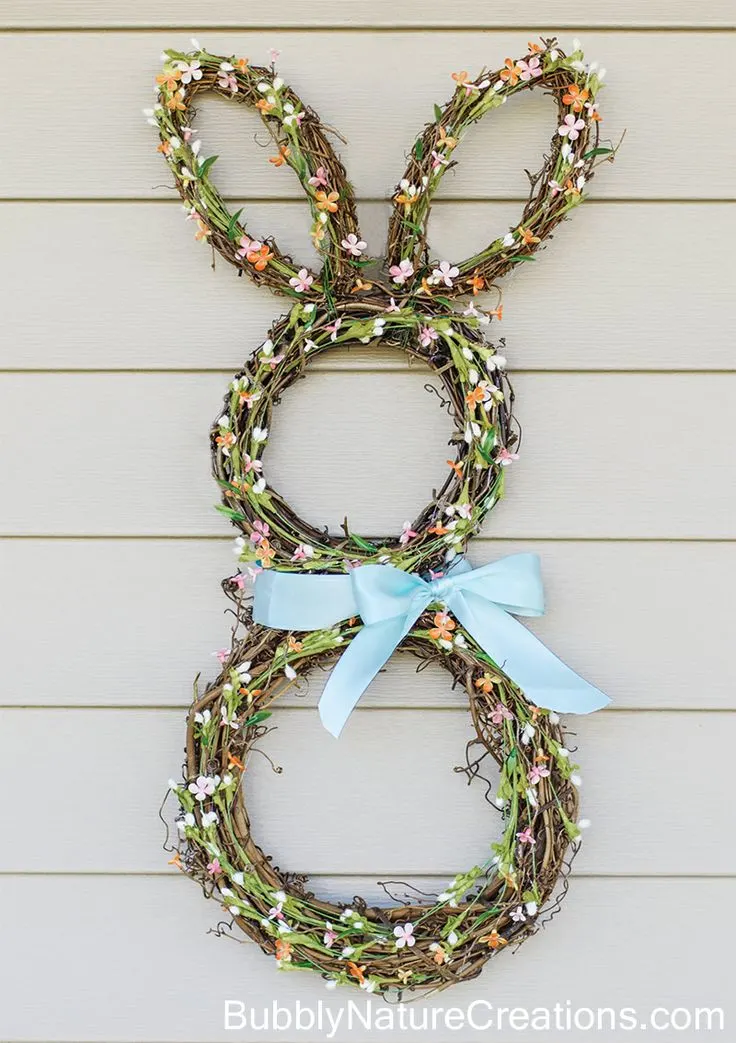 Credit: sprinklesomefun.com
A single wreath is already wondrous… so what if we add one more? This double-wreath bunny rabbit is made from grapevine wreaths, lending it a natural aesthetic that plays perfectly into springtime.
You can use faux flowers like these to adorn your grapevine wreath, as these will last longer. However, if you want an adorable activity to do with the kids, why not head into the garden to harvest some blooms?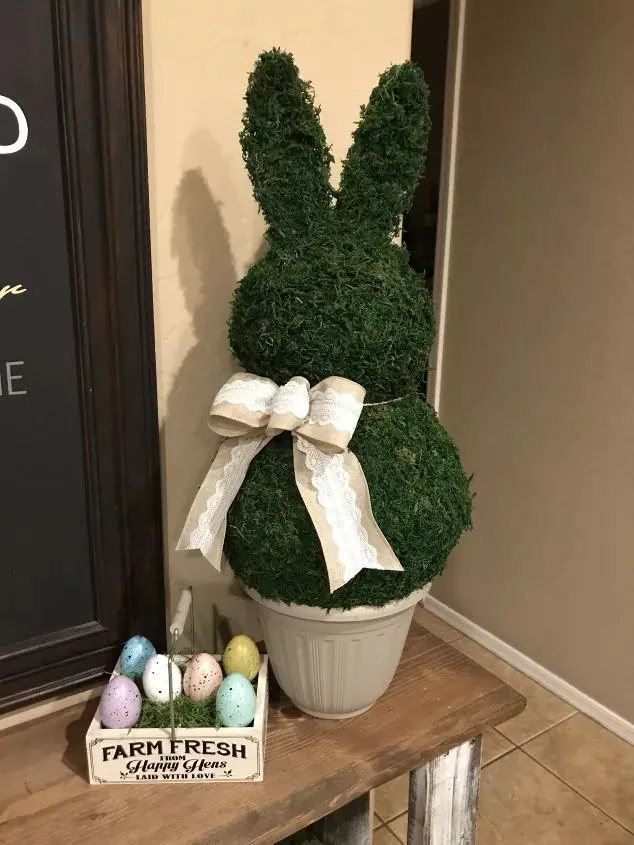 Credit: hometalk.com
Our final idea embraces elements from almost every entry on this list, combining crafting, flower arranging, and of course, glitter. It is – of course, the ultimate bunny rabbit topiary.
The idea is to create a bunny's shape from large bowls and rabbit ears, then silhouette that shape with Spanish moss. The result is a stunning and sophisticated piece perfect for almost any front porch.
The finishing touch of a bow around the neck is essential, so why not pick one with pizzazz? I'm a fan of this one.
Conclusion
With Easter approaching fast, are you ready for the chocolatiest holiday of the year? What are your plans? I can't wait to see your creations on Pinterest!