Transform your IKEA best storage system to fit the feel and style of your home. These hacks will get your creative juices going!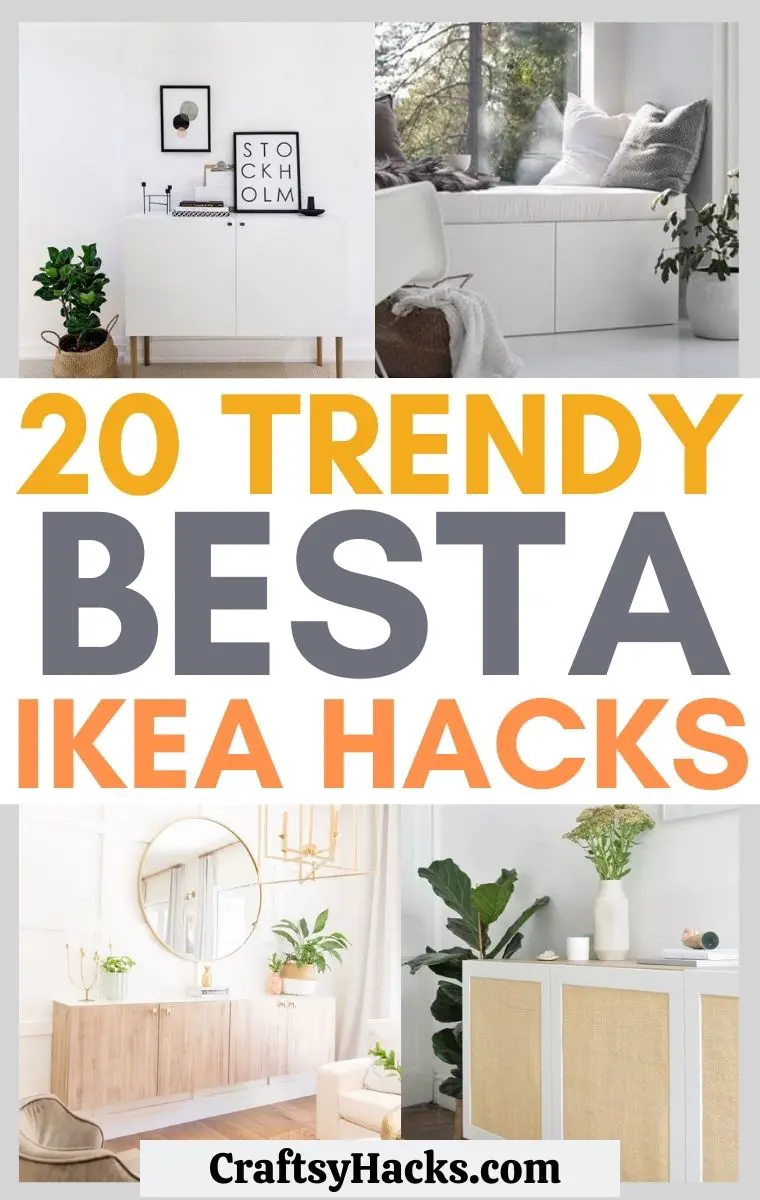 The Ikea Besta series are great additions to almost any living room space. They look great as they are, but here are a few ideas to bring your BESTA to the next level!
1. Modern TV Console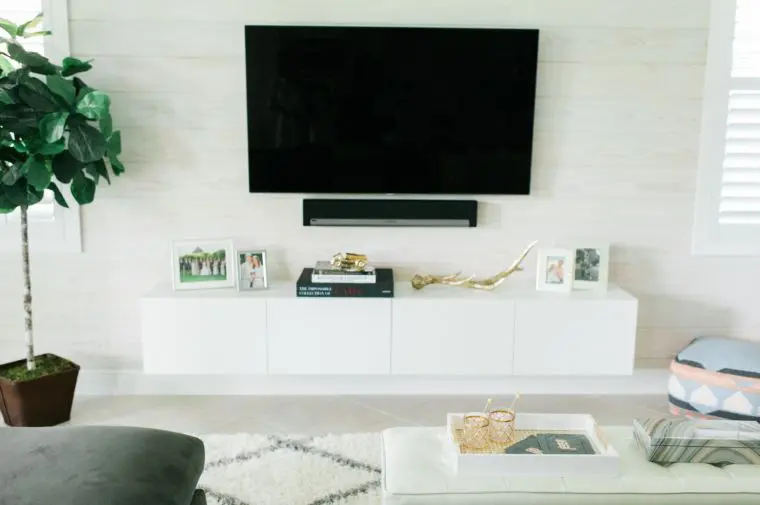 Credit: palmbeachlately.com
Modern floating TV consoles are a trend these days. Because they are so popular, their prices can get awfully crazy too!
Fortunately, we can recreate this contemporary console by combining a few Ikea BESTA frames and the SELSVIKEN doors.
2. Minimalistic Media Console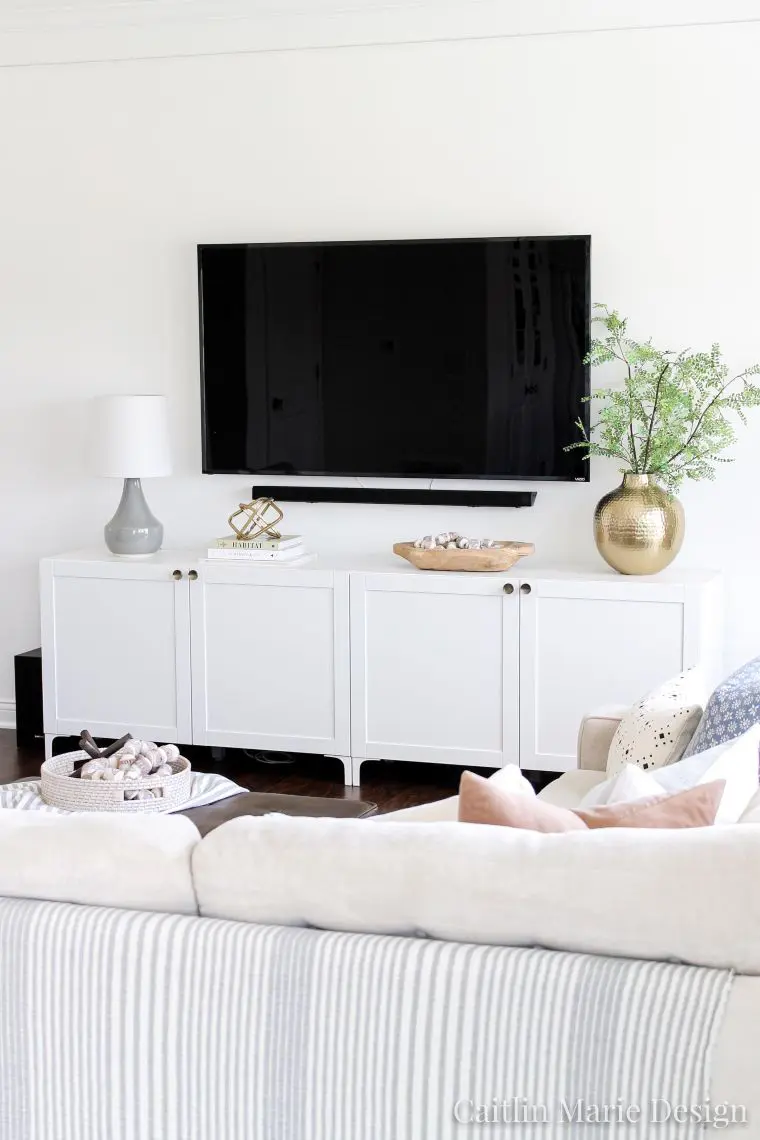 Credit: caitlinmariedesign.com
This modern console is another way of incorporating the BESTA into your living room space. But this minimalistic hack would also make it great as a buffet table for your dining space.
Besides the BESTA frames and shelves, you will also need cabinet door knobs like these to complete the modern look.
Like this one, you might enjoy these IKEA dresser hacks!
3. DIY Cane Sideboard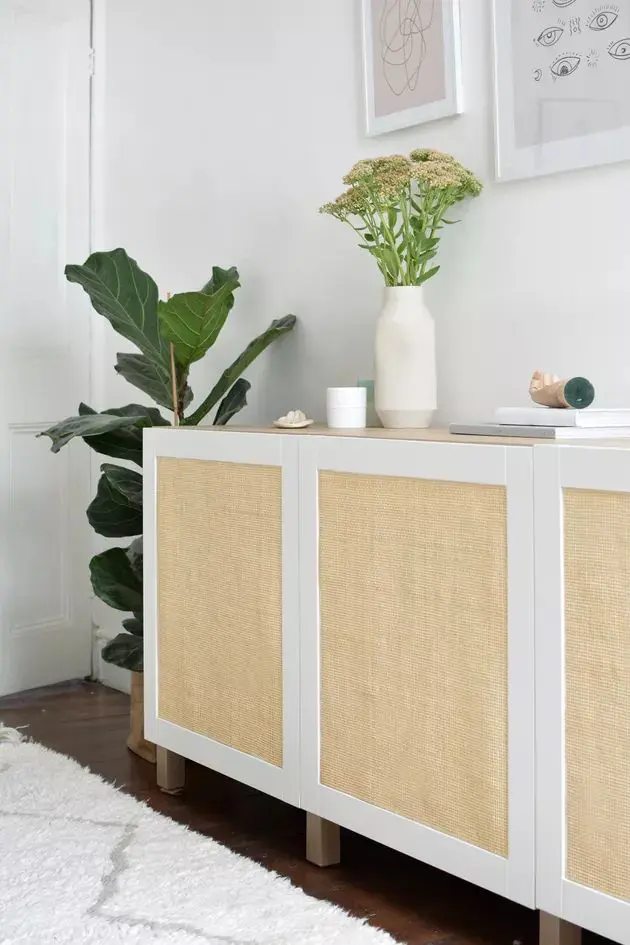 Credit: hunker.com
For an added Boho feel to your home, why not turn an Ikea BESTA cabinet into a cane sideboard. You can even do the can webbing without the need for power tools.
All you'd need is a cane sheet, like the one found here, and strong-hold all-purpose glue.
4. Stylish Floating Sideboard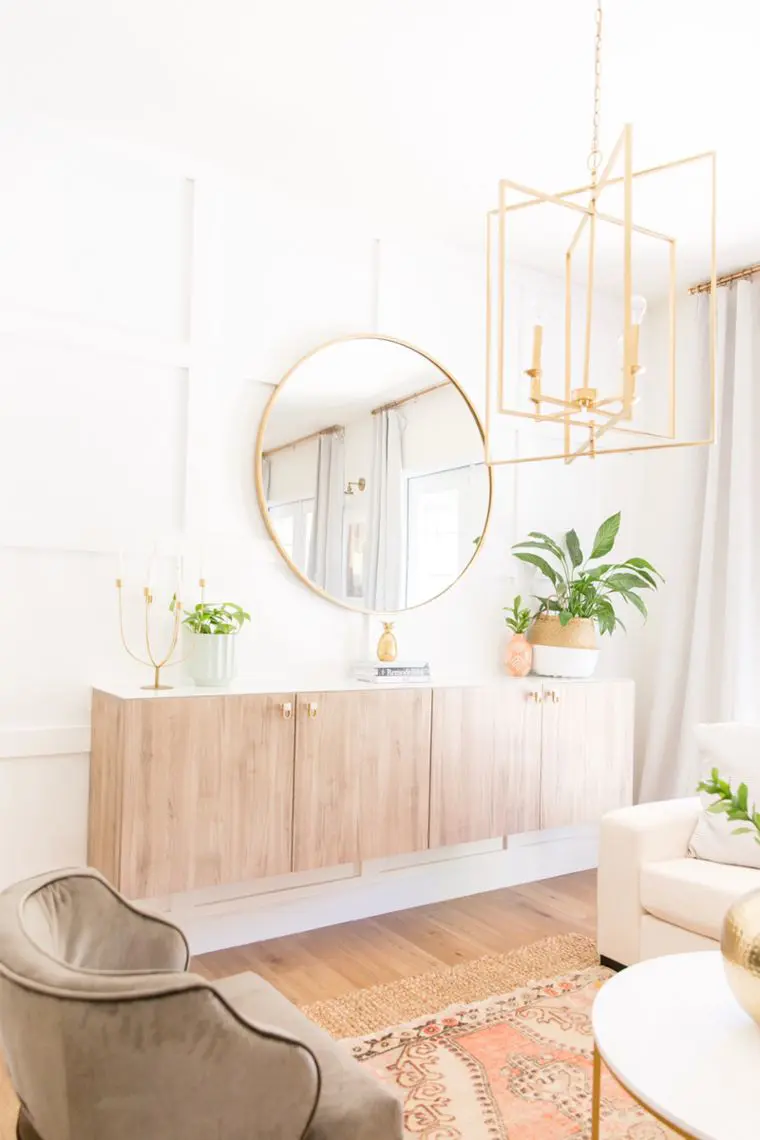 Credit: theposhhome.com
If cane webbing is not your thing, this stained oak BESTA is another stylish Boho vibe alternative. The key is to keep the decorative elements simple and cohesive.
And of course, it wouldn't be Boho if you don't place plant accents on or around the floating sideboard.
5. Exquisite Bar Cabinet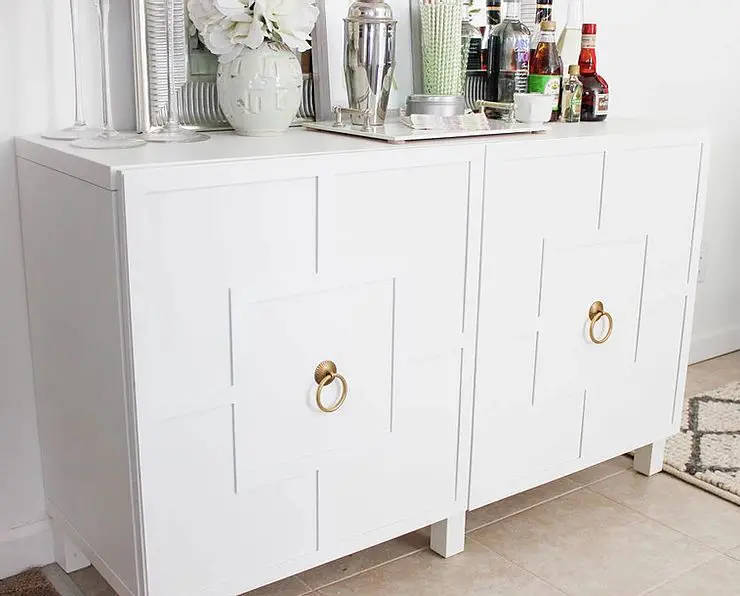 Credit: flowredesigned.com
Transform a BESTA into this stunning bar cabinet, and it will feel like you're having cocktails in an exclusive bar and not at your home. To replicate this particular style, you will need a Benjamin Moore paint in Caldwell green, available here.
This bar cabinet makes such a bold statement, it would be best placed in a room where you entertain guests the most.
6. Art-Deco Inspired Entertainment Console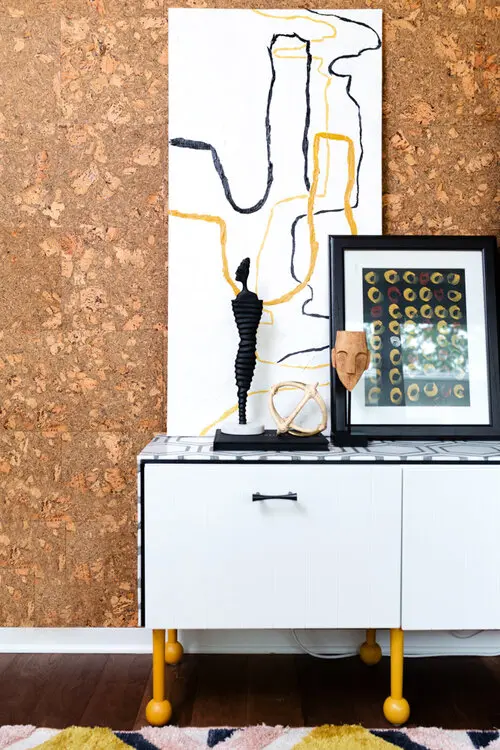 Credit: swattsandco.com
Art deco furniture is super attractive, but can also be super expensive. But here's an inexpensive way of incorporating art deco into your home décor.
You will need tiles to line your BESTA console. If you feel like actual tiles may be a bit too heavy, you can use contact paper like this instead.
I super love the peg-like furniture stand used in this hack but, unfortunately, have not been able to found anything similar. Fortunately, I found these acrylic furniture stands, which I think will also work well with the art deco theme.
7. Floor to Ceiling Wall Unit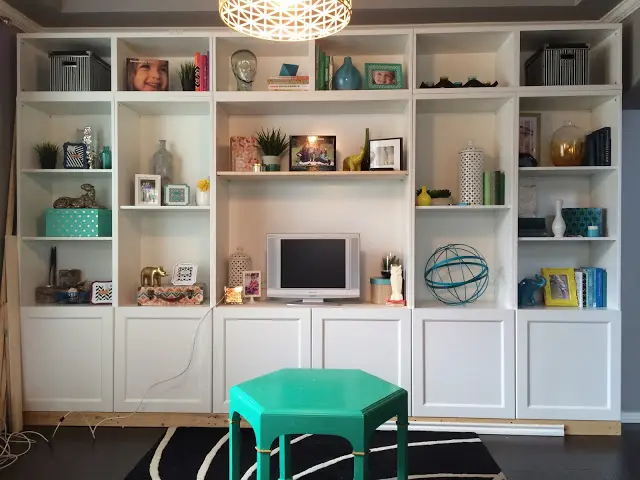 Credit: akailochiclife.com
If you're looking for a relatively easy and inexpensive way to give a room a facelift, recreate this floor-to-ceiling wall unit. Other than being a decorative accent, it also solves your storage problems.
You can do this with any room in your home, but it would look perfect in your living room. You will need a few Ikea BESTA and BILLY units to achieve this wall unit.
8. Ikea BESTA DIY 3D Cabinet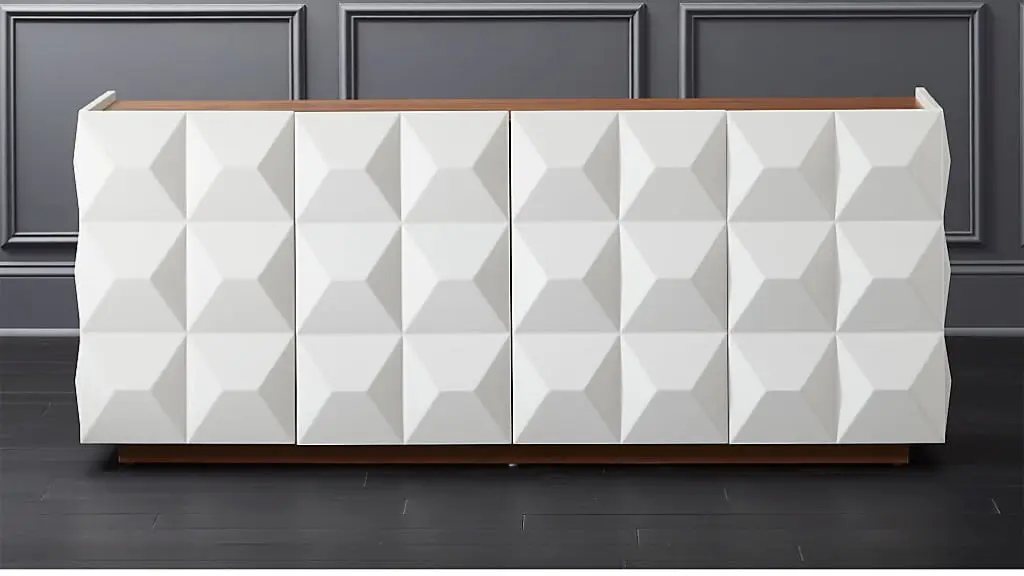 Credit: ikeahackers.net
For modern-themed home interiors, this cabinet with 3D doors makes a great decorative accent. I can imagine it sitting pretty as a buffet table, and a black one would be perfect as an entertainment console.
Another thing you'll love about this is it's absolutely easy to make. Simply assemble the BESTA as you would and line the doors with decorative 3D panels like this.
9. Color Block Cabinets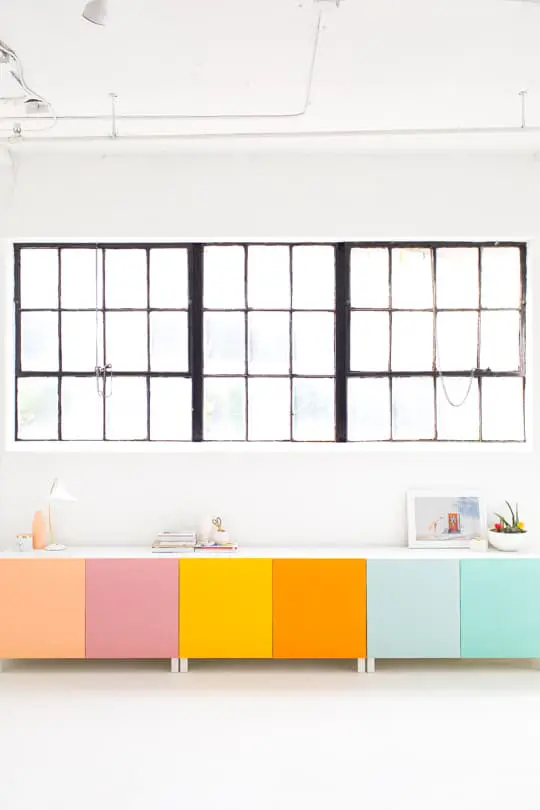 Credit: sugarandcloth.com
Spruce up your BESTA cabinets by painting each door panel with different colors. Wouldn't this look perfect in the nursery or the kids' bedroom?
If you don't know which colors to use, look at the colors available for this all-in-one spray paint range.
10. BESTA Cane Covered Doors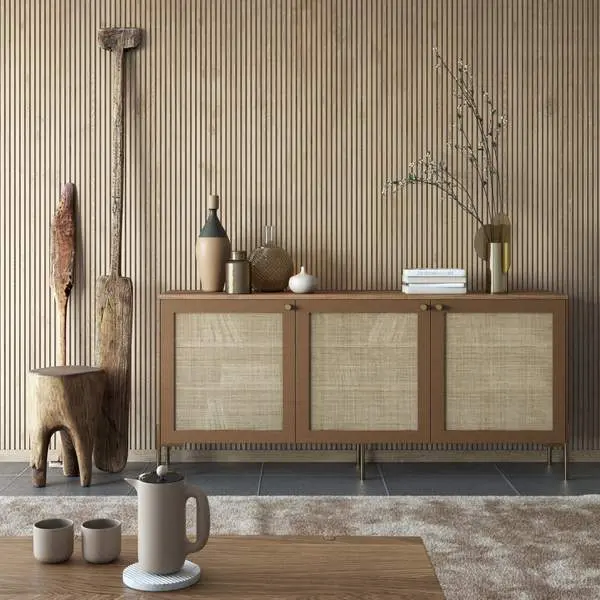 Credit: norseinteriors.com
This is another hack that requires cane webbing over your BESTA doors. The use of the walnut BESTA made the cabinet more cohesive with the rest of the room's interior.
Use one of these cabinets in your home office for a stylish, semi-formal, yet welcoming feel. It would also look great in a formal living or dining room set up.
11. DIY Floating Geometric Sideboard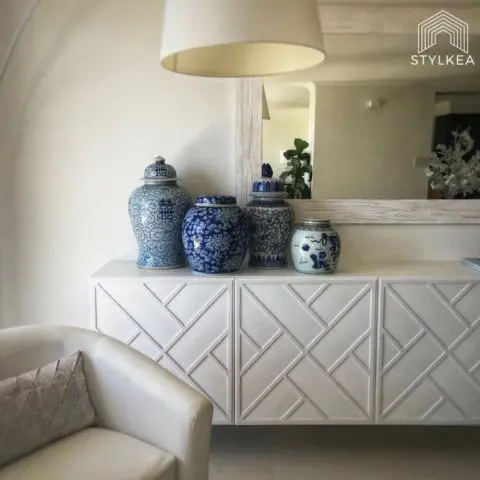 Credit: luxhax.com
This piece combines two hacks we've already seen earlier – why not, right? It's a nice little touch to your living or family room.
Throw in a massive mirror on top of it to make the room look even bigger. Use this type of paint to achieve an elegant, antique feel to your geometric sideboard.
12. Marble-Inspired Cabinet Unit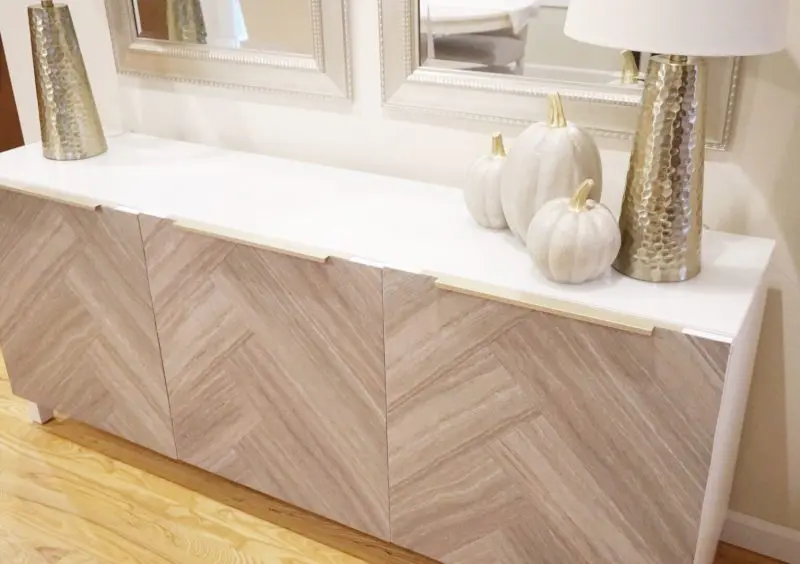 Credit: cozyandglam.com
Anything marble is elegant and classic. This BESTA hack is proof that elegant and classic doesn't always mean expensive!
The trick to making one? Use self-adhesive marble effect vinyl sheets like these on your BESTA doors.
Easy, inexpensive yet timeless and sophisticated.
13. Modern Minimalistic Hallway Table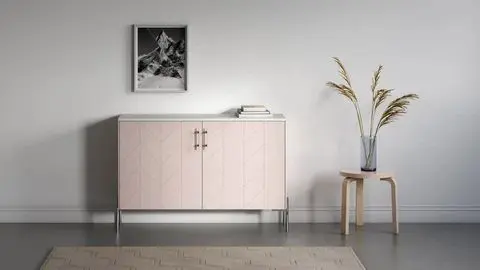 Credit: norseinteriors.com
Place a modern pastel piece like this on your hallway entrance to give anyone who enters your home a warm welcome.
Come to think of it, going with this color combination would also make this piece a great vanity or dressing table, would you agree?
14. DIY Window Reading Nook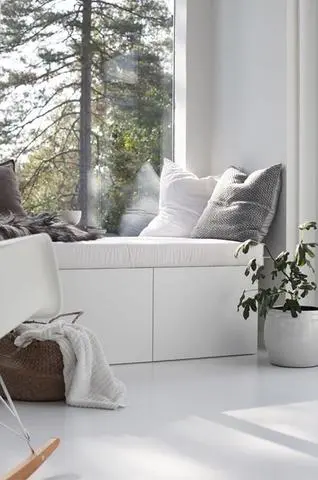 Credit: norseinteriors.com
I love reading nooks! If it were up to me, reading nooks would be a requirement for every home!
How could anyone not love this serene spot on your home? It's a nice space to switch off from the hustle and bustle of life, even for just a short time.
This nook was created using BESTA cabinets topped with a comfy cushion. Throw in some pillows and a throw blanket, and you got yourself an instant daybed.
15. DIY Ultra-Minimalistic Sideboard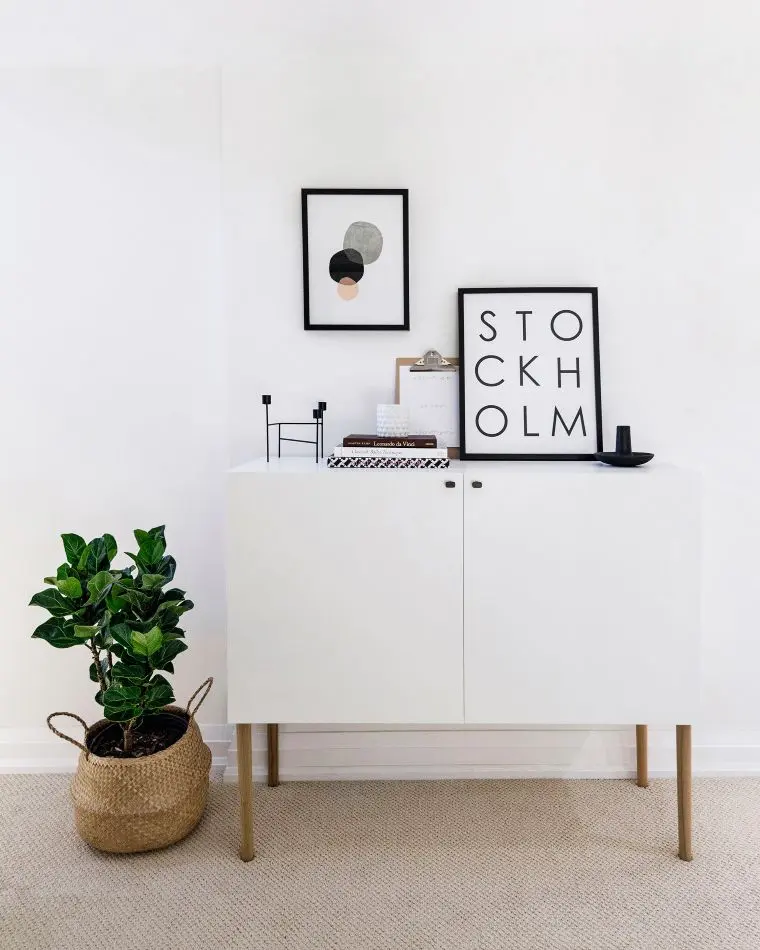 Credit: happygreylucky.com
This Ikea hack is perhaps the easiest one on our list. The base is made by combining a few BESTA units, a pair of LAPPVIKEN doors, and HACKAS knobs.
Complete the Scandinavian feel of this minimalistic free-standing furniture by installing wooden leg stands like these.
Because of its simplistic design, this furniture piece would suit any room in your home. Use it in the home office to discretely store your work files or to sneakily store nappies in the nursery.
It can even be used as a hallway table – use the closed bit to store frequently used shoes, bags, or umbrellas. Place decorative storage accents on top of the cabinet to hold your keys and incoming mail.
This could be used as a kitchen hack as well!
16. Refurbished BESTA Entertainment Console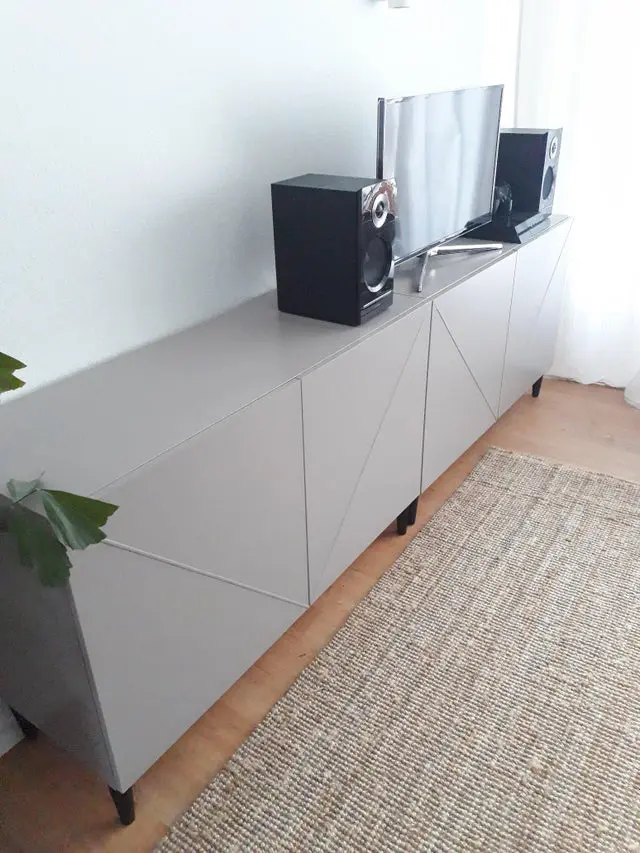 Credit: reddit.com
If you've had a BESTA for a while and are thinking of throwing it away for a new piece of furniture, think again. The way this BESTA was transformed into a modern entertainment console may change your mind.
Plus, I can assure you that it will cost you way less than having to buy a new one. Believe it or not, the diagonal design on this piece was created using a strip of insulation tape like this.
Once you've completed your diagonal design (or whatever design comes to mind), simply paint it over with your color choice. Attach fresh and inexpensive furniture legs and voila!
I've done the maths, and this project won't even cost me over $50! Now, tell me, are you still thinking of buying a new console?
17. DIY Reclaimed Timber Cabinet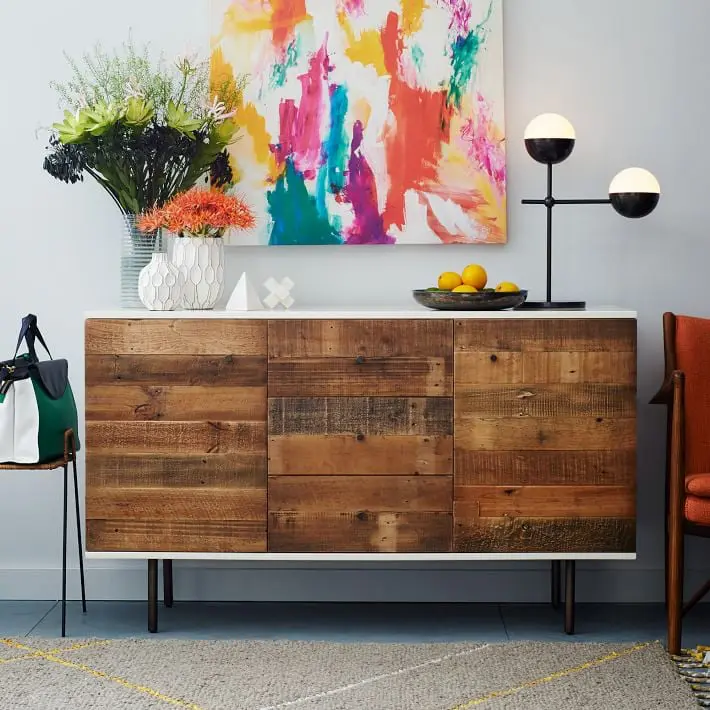 Credit: popsugar.com
Reclaimed timber furniture looks stunning, but are more often than not super pricey. The beauty of having furniture like this is it goes with any interior décor.
This type of furniture is the perfect decorative accent for a farm-style home. Timber is also great for industrial or modern homes, as this gives a warm and welcoming balance.
So how can you make reclaimed timber furniture out of an Ikea BESTA? Easy!
I bet you none of your house guests would ever guess there was an Ikea piece hiding underneath that timber.
18. Grass Cloth Covered BESTA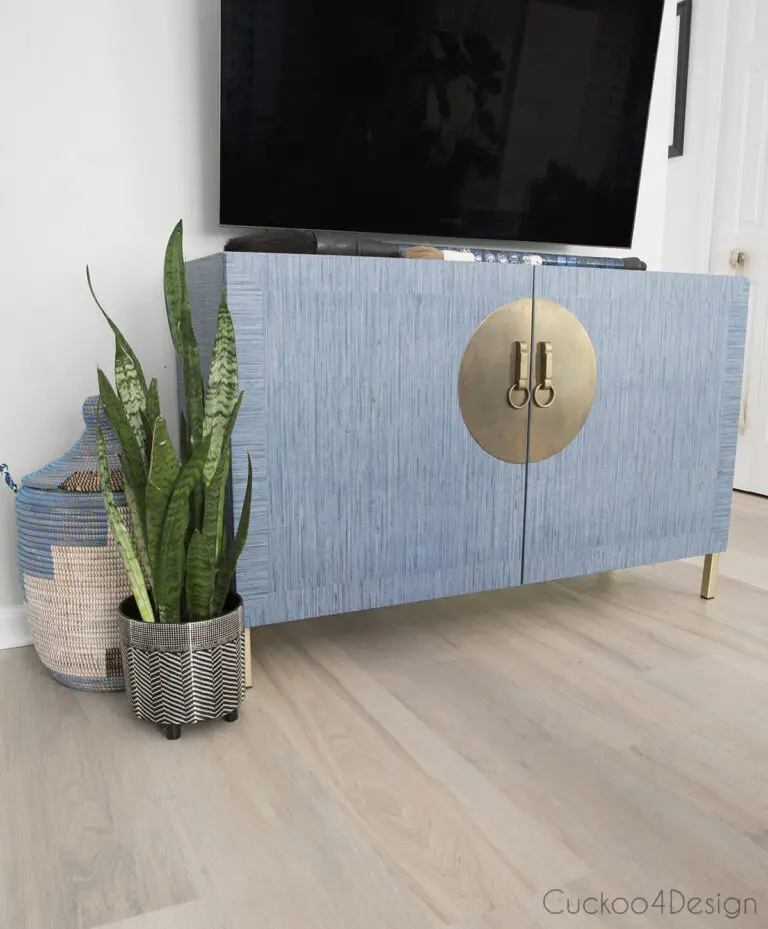 Credit: cuckoo4design.com
Another quick and easy BESTA makeover is the use of grasscloth.
What I love about grasscloth is the range is so wide for design and color. This means you can choose the one that best matches the room's interior.
My favorite grasscloth for projects like this is the peel and stick variety.
19. Asymmetrical Floating Cabinet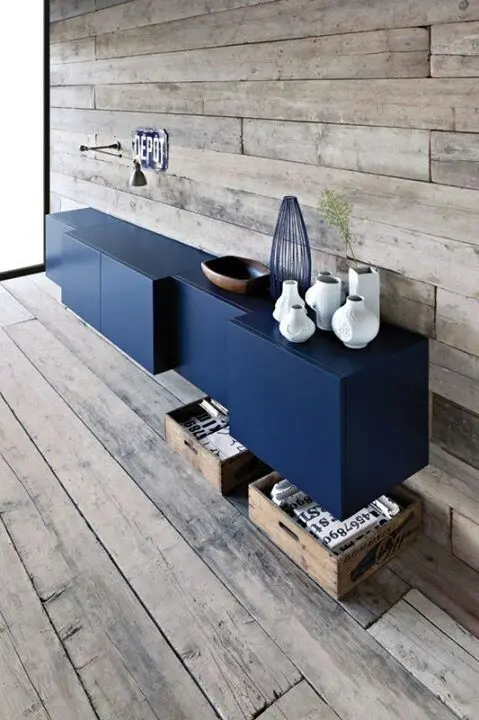 Credit: thelittledesigncorner.com
This is a genius BESTA hack for those who are wanting to maximize their floor and wall spaces. Mount the cabinet higher on the wall, leaving a bit of space on the floor for shoes, bins, and even baskets.
The use of asymmetrical shelving also creates the perception of depth. This feature makes it perfect for making small rooms appear larger.
20. Marbled Hang-Out Nook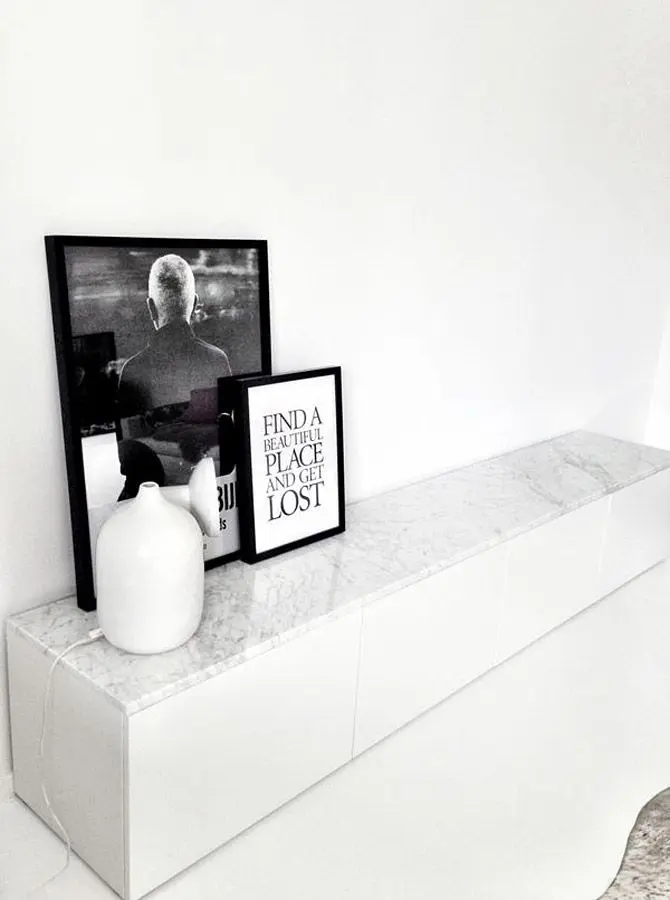 Credit: thelittledesigncorner.com
This super casual nook would be the perfect addition to a bachelor's pad. But if you have a fairly large hallway, this would be a good alternative to a mud cabinet.
The cabinets can store the shoes, and the benchtop can help put shoes on or take them off.
Going back to the bachelor pad hang-out, a low-level nook like this is a cool casual seating area for entertaining guests.
Conclusion
Have you changed your mind about the BESTA after seeing this list of hacks? I known I have.
In fact, I'm considering doing a few of these projects myself. What about you? What do you think?