Looking for ideas for your bedroom? These aesthetic bedroom décor ideas are beautiful and inspiring.
Home is where the heart is and the heart of the home can be either the kitchen, the living room, or the bedroom. The bedroom is one room where you can unabashedly decorate any way you like to create aesthetic room decor you love.
You don't have to worry about what your guests or visitors think; it's your space. So, here are 27 of the best aesthetic bedroom ideas to help you style your bedroom with personal touches.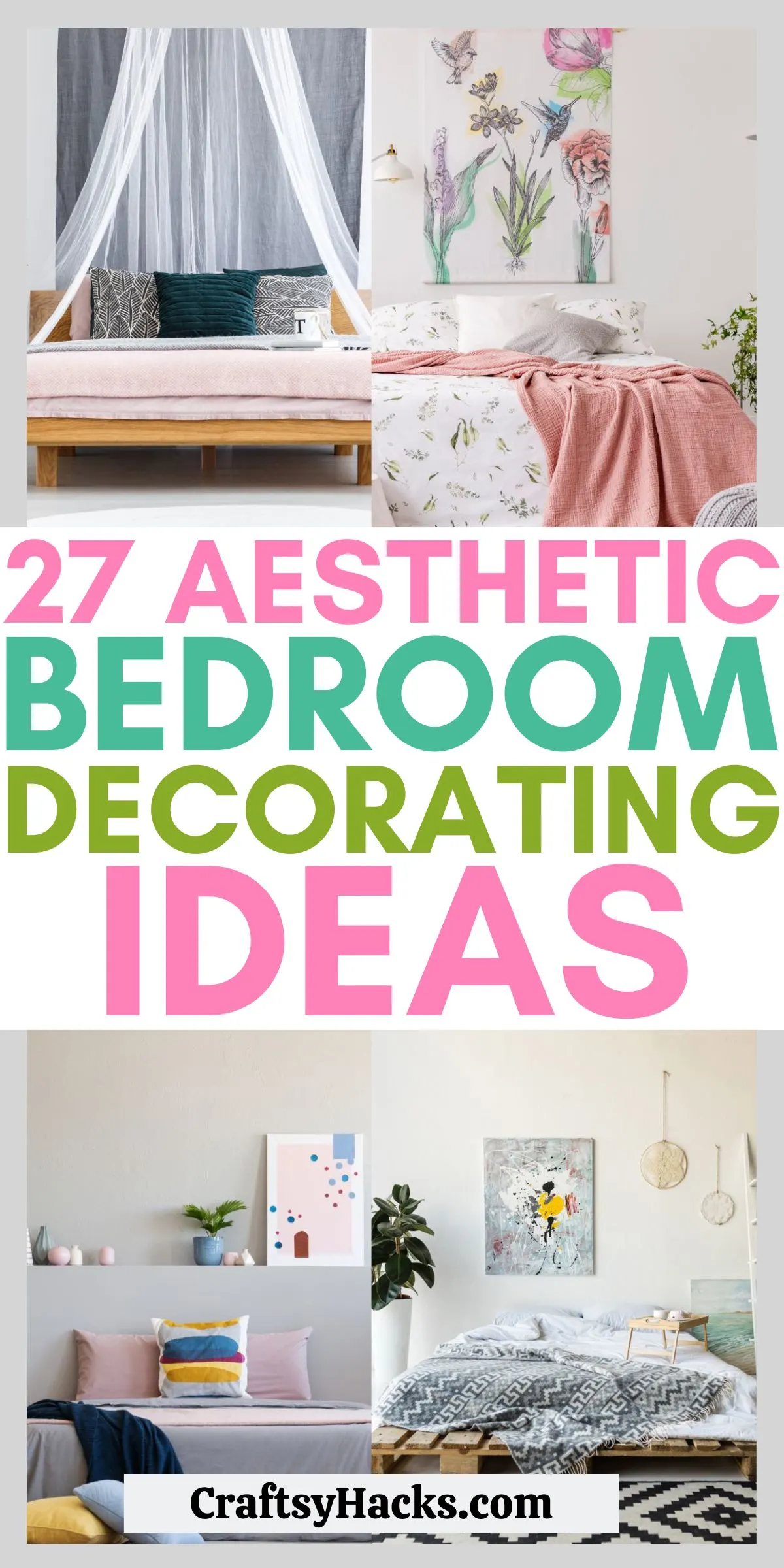 You can have the most aesthetic bedroom like the ones you see on social media with neon signs, fairy string lights, and faux vines when you get inspiration from these aesthetic room ideas.
1. Wall Decal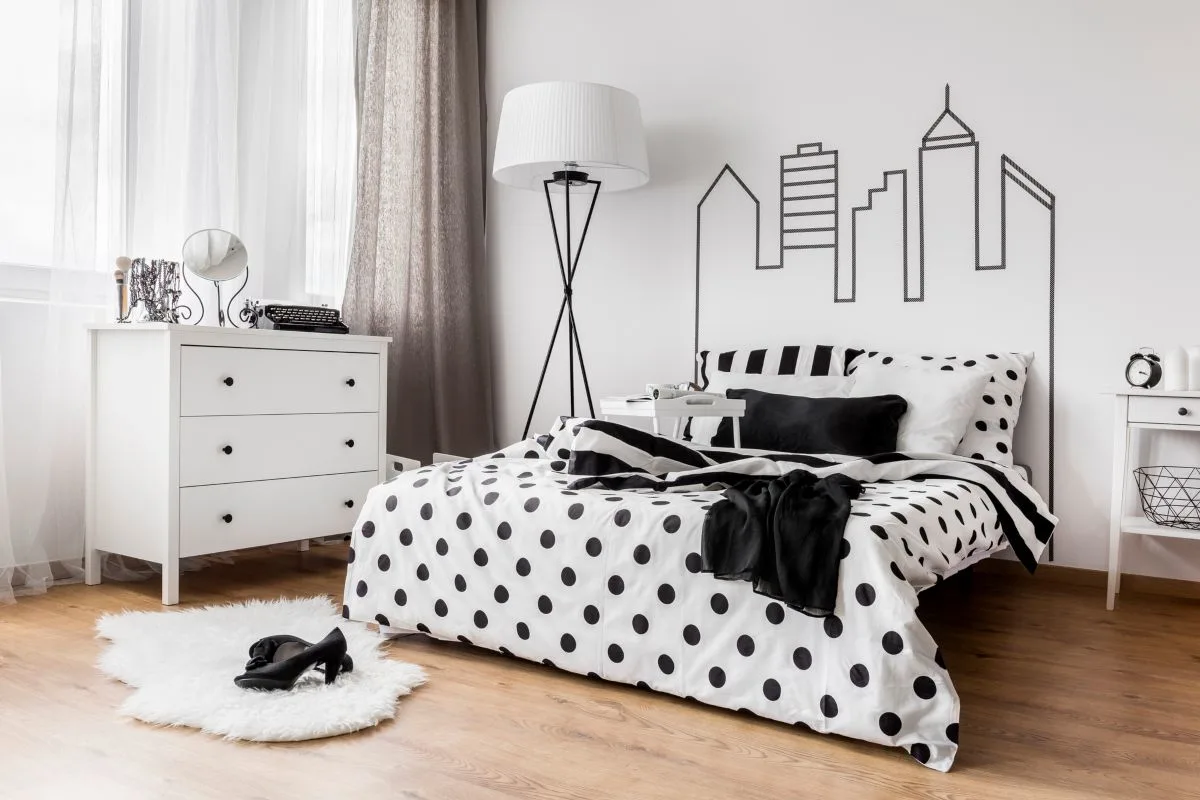 You should consider working on a cute little decal right behind your bed on the space above your headboard. It's the central focus of the room, and a place where you can display your artistic flair—if you have one.
Alternatively, you can just attach one of those stick-on printed decals and they're just as good and more durable, too. Wall decals look best on neutral colors or white walls.
2. Patterned Furniture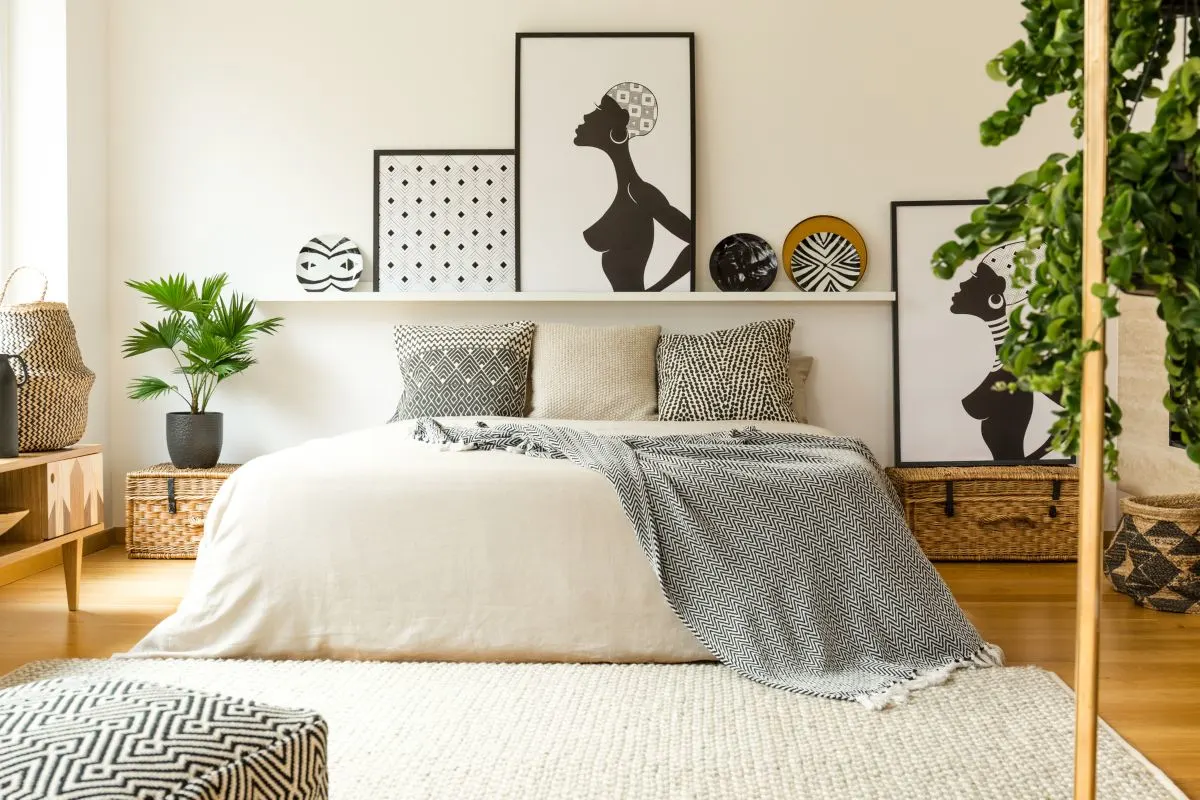 Patterned furniture can also enhance the entire decorating style of the room. If you have a rather simple and basic room colored in pastels and white rather than bright colors, then it's vital that you add texture and natural materials to it to break the monotony.
Patterned furniture adds texture, color, and a whole new level of depth to your space. It can also emphasize any aesthetic bedroom design you have in place.
3. Purple Tone Aesthetic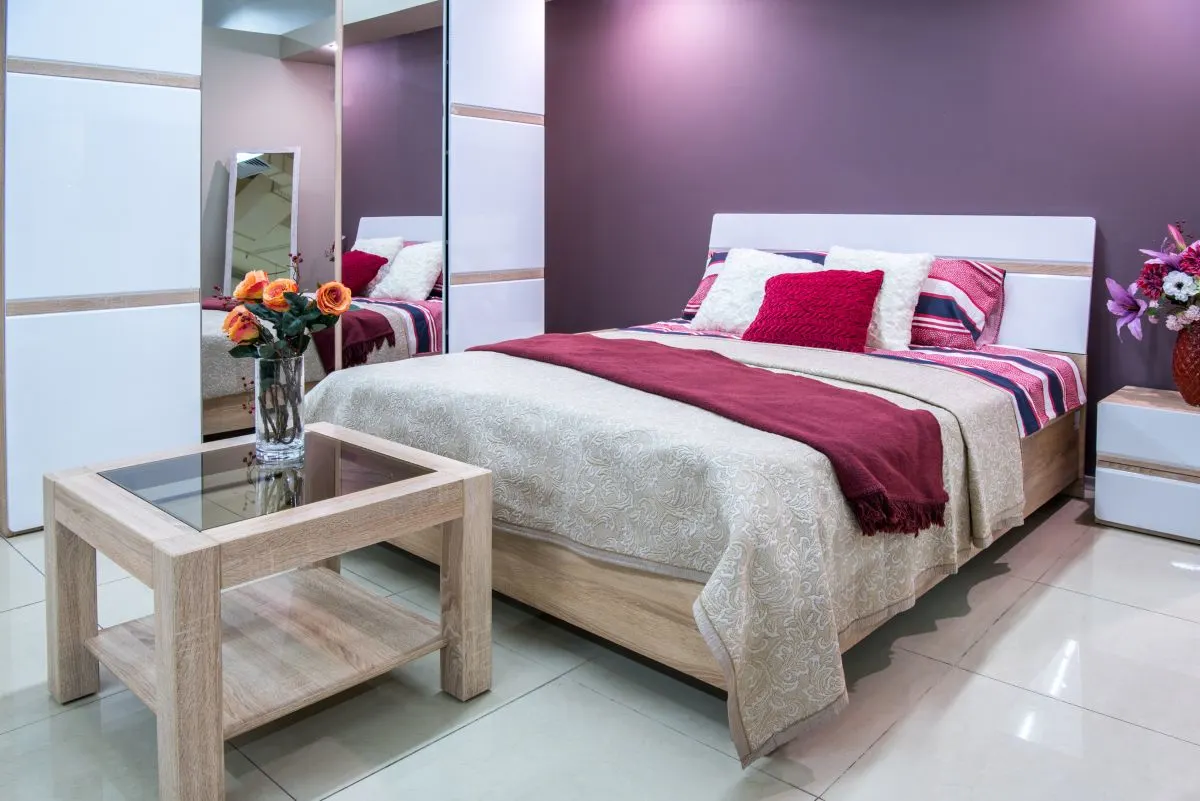 Purple tones in your bedroom can be a bold choice. If you don't play it up to the best advantage and make the most of the lighting, however, it can become an eyesore.
Try to pair the purples with more subtle shades, or, if you want brighter shades, pick hues that fall in the same family of colors—burgundy or lilac, perhaps. You can uplevel this color palette in a great way by adding fun and colorful throw pillows
4. Photo Gallery Wall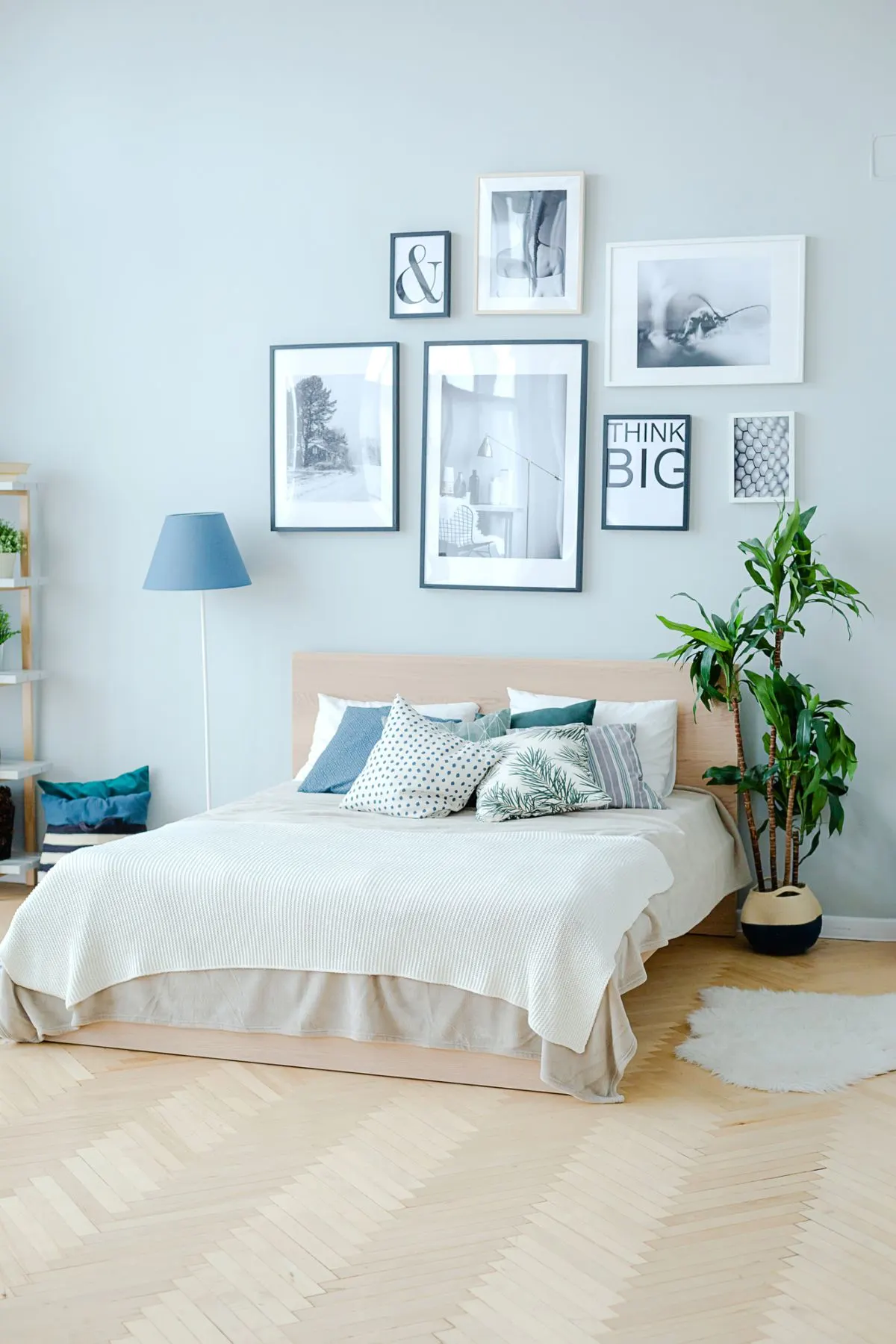 A photo wall is just what a bedroom needs to make it all about you, your friends, family, and all your loved ones. It's an opportunity to keep them close and with you at all times with wall collages of your favorite photos.
Alternatively, you can also have a ton of framed photographs—not necessarily family, mind—of quotes, wall art, illustrations, and more. Mix and match the size and finish of the frame, as well for the perfect aesthetic vibes.
5. Colourful Bedding and Accent pieces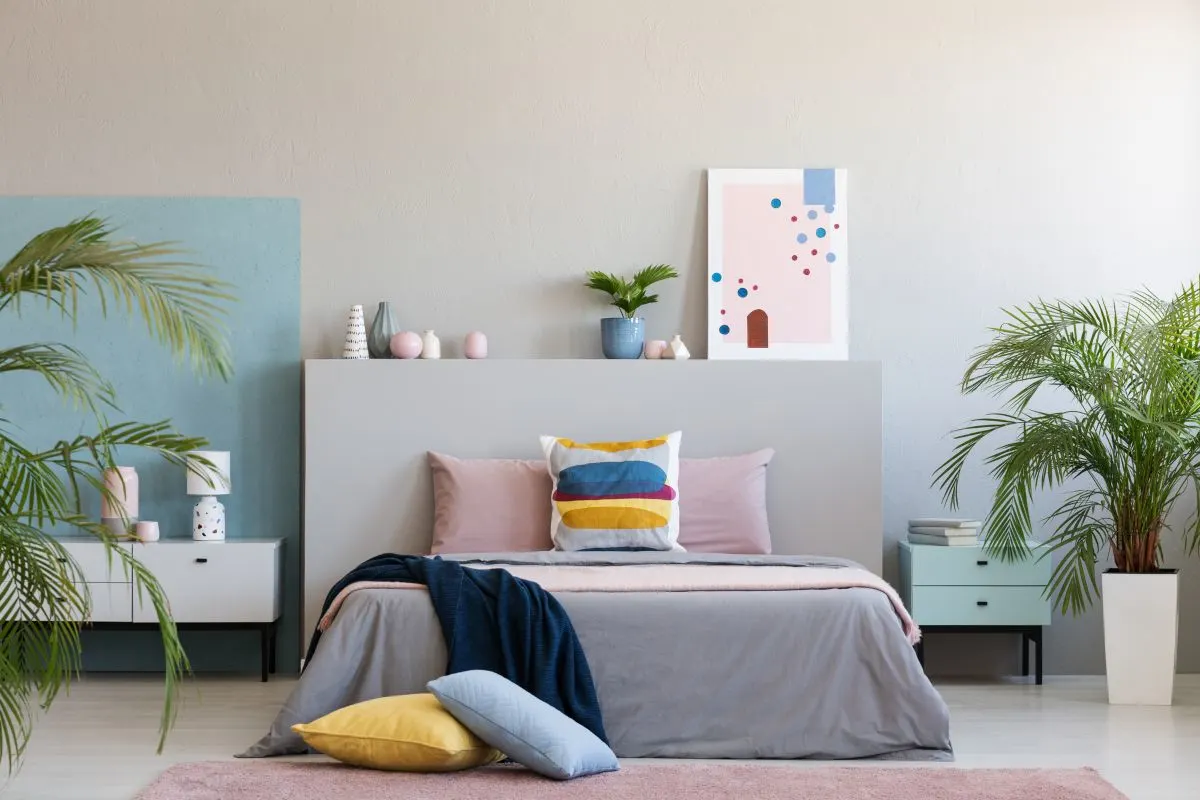 The heart of the bedroom is the bed, of course. It's important that you use the bed as the focal point of your room. Any colors and accents you add to the room needs to be centered around the bed.
Pick out the best possible colors, textures, and prints for your bedding and linen. If your linen is pretty plain and simple, then use toss pillows to accentuate and highlight the overall color and accents in the room.
6. Floral Theme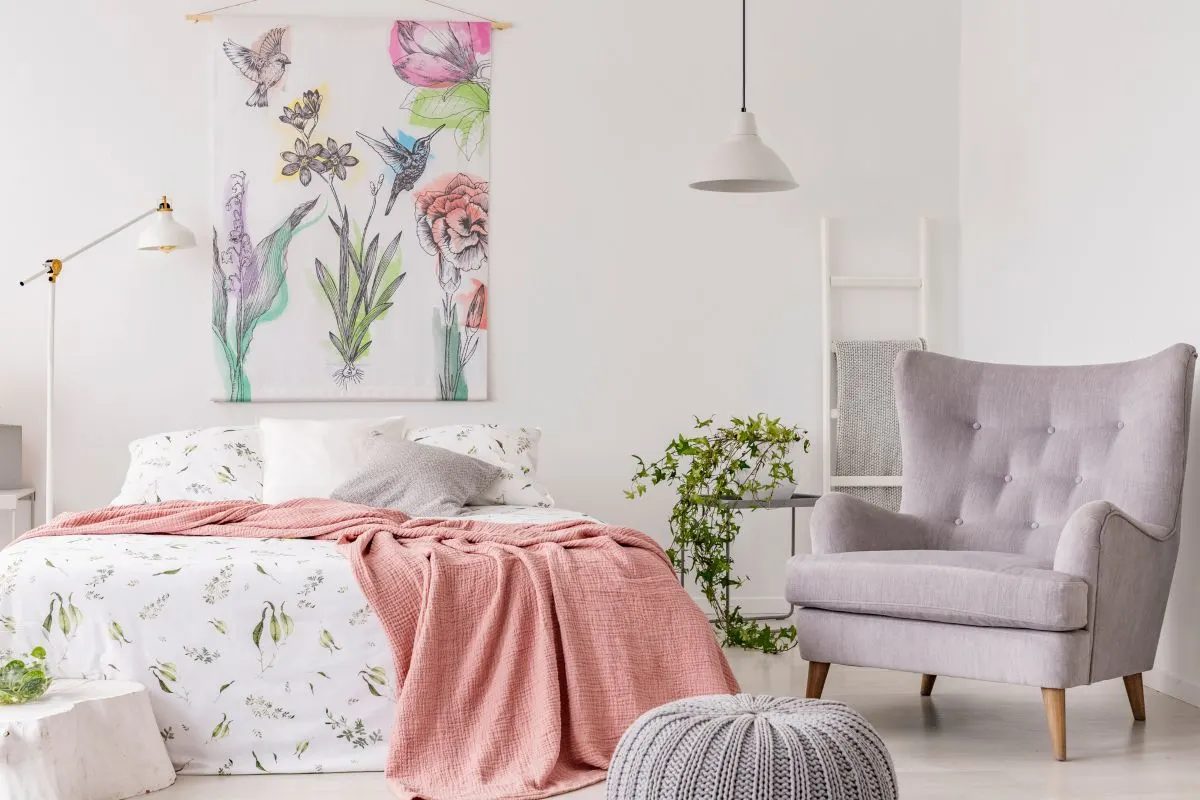 Floral-themes will forever be my go-to choice when I'm in the mood for an aesthetic look that is light and summery. The best part about florals is that you can incorporate leaves, birds, and even animal motifs and prints to the tableau.
You also have a whole variety of textures and prints to choose from, and let's not forget all those summery and spring colors!
7. Plant interior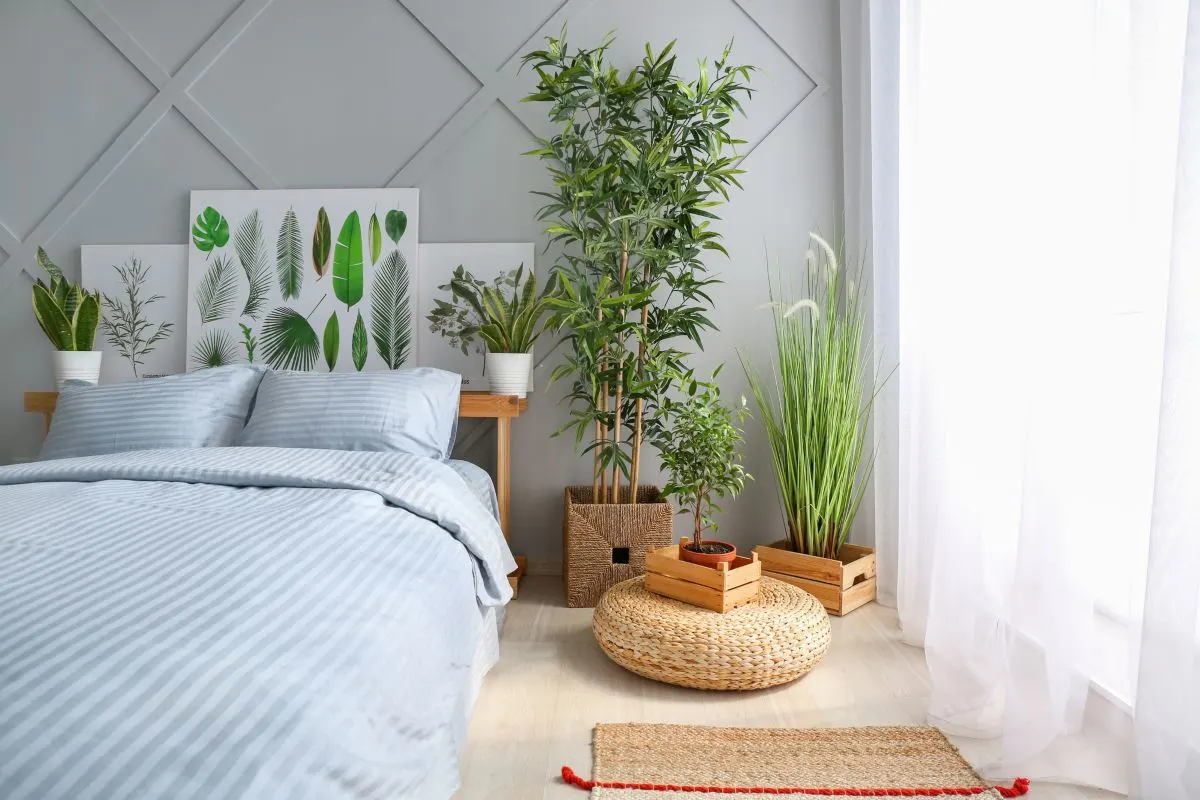 If you loved that floral bedroom, then you're going to want to consider adding some green foliage to the room. It will help accentuate the natural light in the room.
A couple of pretty planters like these boho-chic jute, cane, and hemp ones can go a long way to make your plants look fancy. You can also mount prints of leaves above the bed, too. Bonus points if you hang some decorative vines and lots of plants.
8. Wooden Headboard and furniture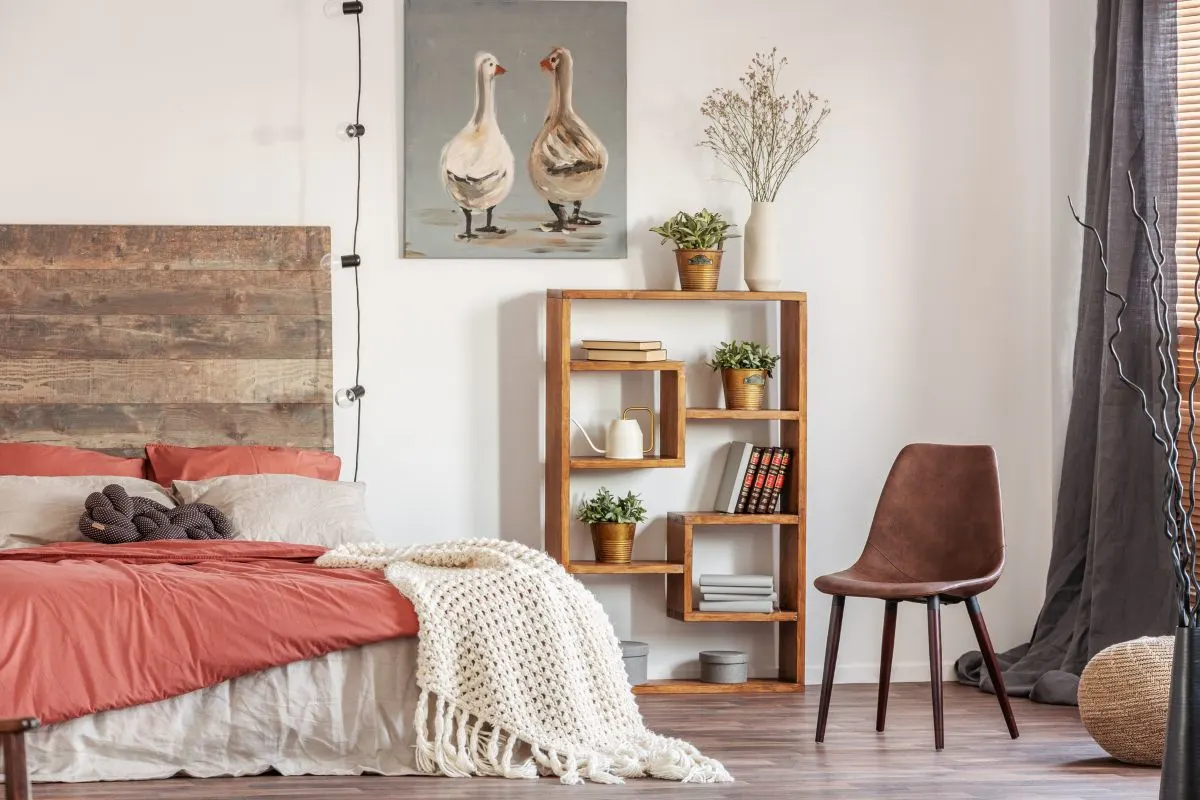 The thing about wooden furniture is that it's the absolute bomb. You can pair just about any color, texture, or print with wood.
Check out this pretty room, for example, with that lovely wooden headboard with different textures and neutral tones. You also have that gorgeous wood and leather chair, and a unique jigsaw wooden book shelf.
Source: greenwithdecor.com
A simple theme that just works every time because of how neutral it happens to be is this rustic bedroom. It's one of those rooms that you'll find in every home.
It's got a nice side table—which you can pick up from a flea market and have restored. There are a couple of unique pieces like those two wooden shutters that are displayed on either side of the bed, as well. To make it more unique you can create your own rustic pallet bed.
10. Wall Macrame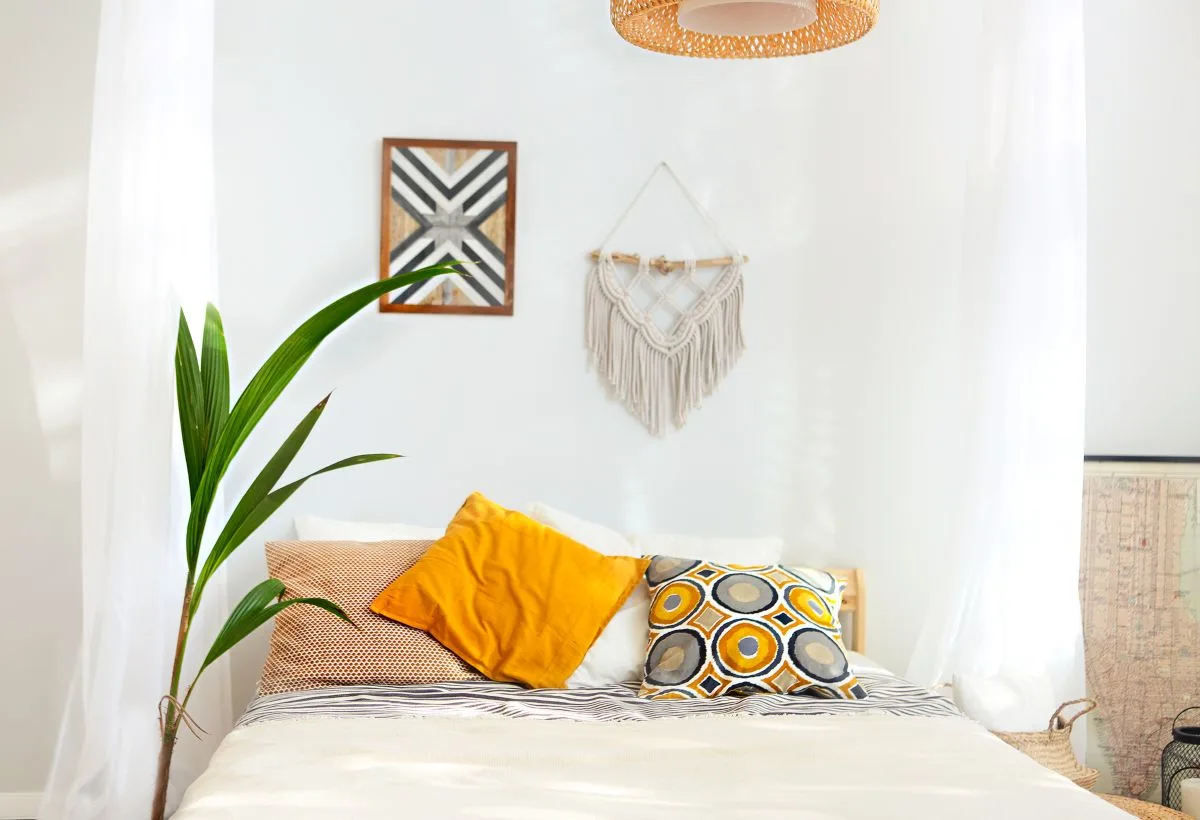 Macrame wall hangings are pretty amazing. They instantly add that bohemian charm to your room and really sets the tone for the rest of your bedroom decor.
Now you have no choice but to explore popping vibrant colors like that mango yellow toss pillow, paired with another Moroccan-esque printed pillow. Don't forget to add some plants, too, to top off the boho-vibe. You can even add a bright accent wall to complete the aesthetic room décor.
11. Dark Blue Interior
Don't worry about darker walls and whether they'll make your bedroom look cramped. When you know how to make the best use of dark colors, like you see here in this bedroom, you'll have a ball decorating it the perfect way.
Start by using plenty of light-colored furniture. You can use white wood, tan sofas, cane or wicker furniture, and finally, a jute braided mat to tie it off neatly. You can easily make small rooms look and feel larger by adding a full-length mirror.
12. Flower Wall Decor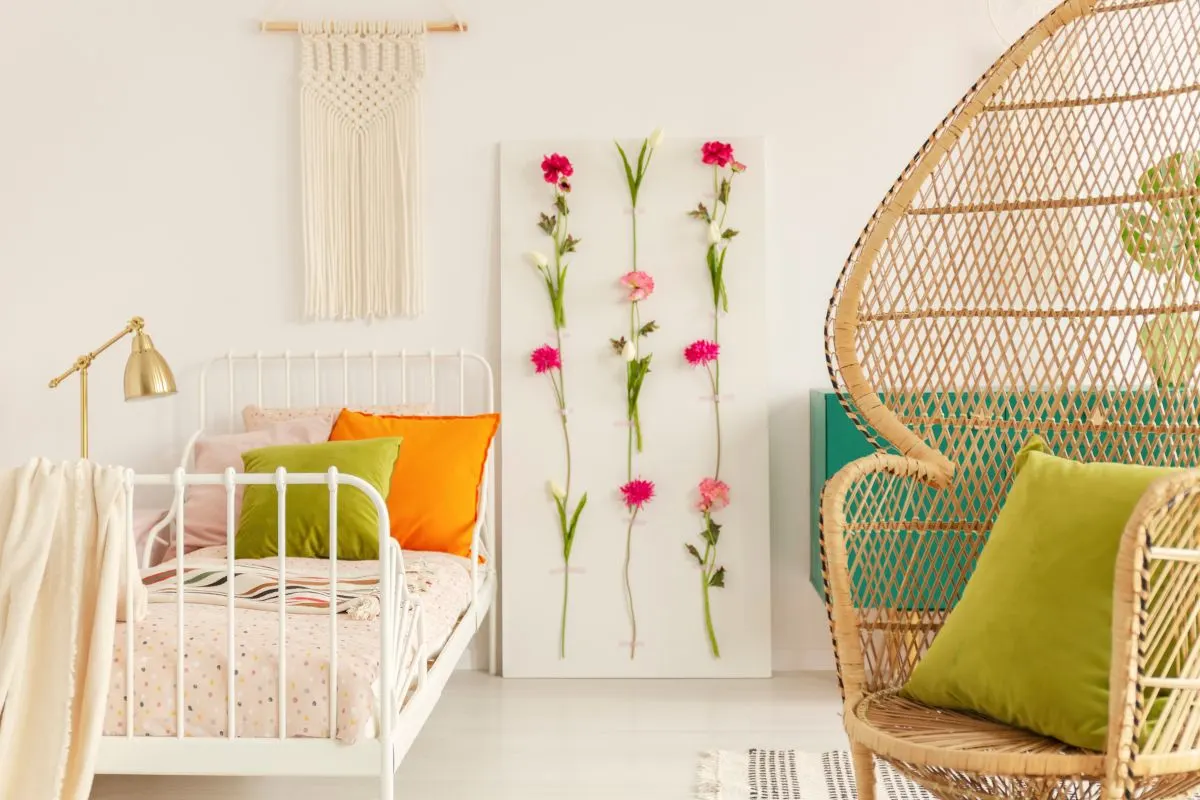 Do you love flowers? Then I bet you're going to love this floral wall decor. It's a statement piece, it's an accent piece, it's just purely a work of art.
You can make your own flower wall decor using a long slab of marble tile. You can print out your flower wall stickers and then use transfer tape and vinyl to execute the floral print on the tile.
Need more inspiration? Check these unique wall shelf ideas.
13. Floral Bedding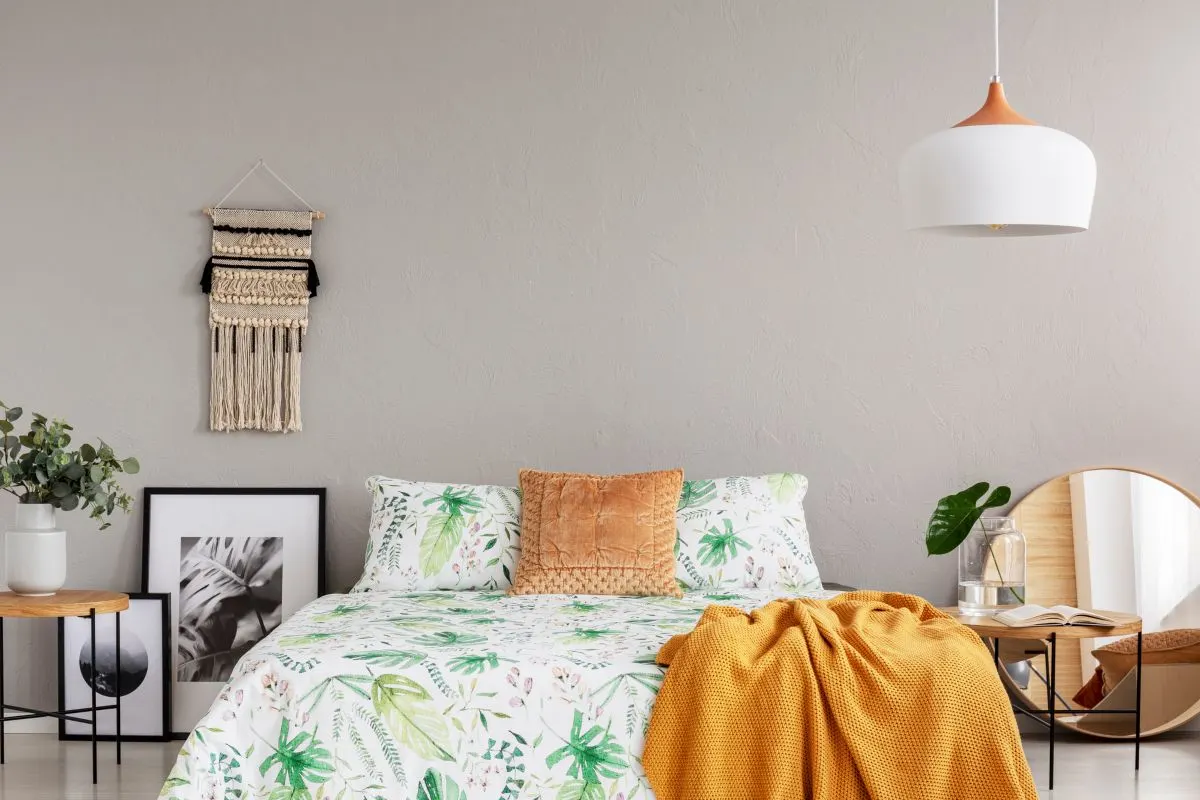 We're not quite done with the floral theme just yet. Check out this lovely floral bedcover!
When you have so much pattern concentrated around just one part of your room, try to keep the rest of it as minimalistic and neutral as you can! You can also compliment your personal space with a floor-length mirror and fun light fixtures.
14. Colourful Headboard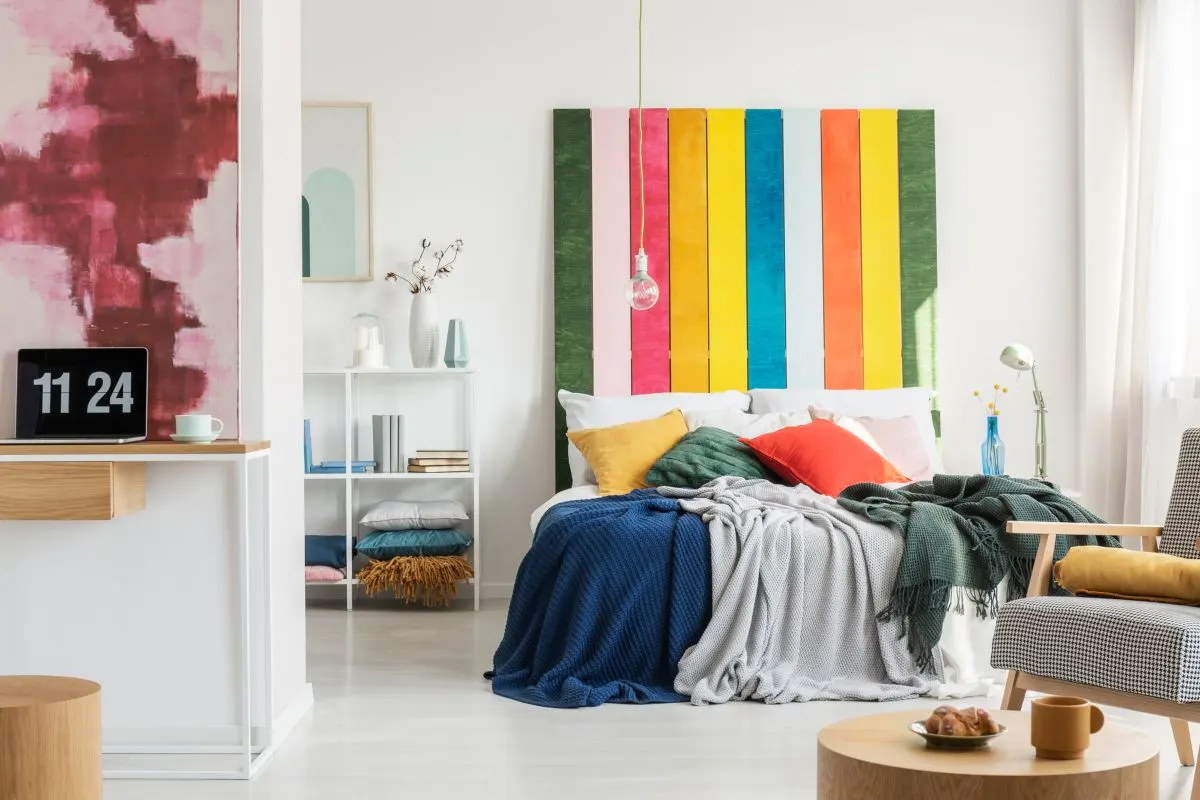 Most headboards are just traditionally wood, metal, or the likes. Have you ever seen something quite this unique and bold used as a headboard?
This rainbow headboard just naturally draws attention to the bed, and rightfully so. You can pair it with a neutral bed linen, topped with a dozen fluffy and colorful toss pillows.
15. Textured Cozy Rug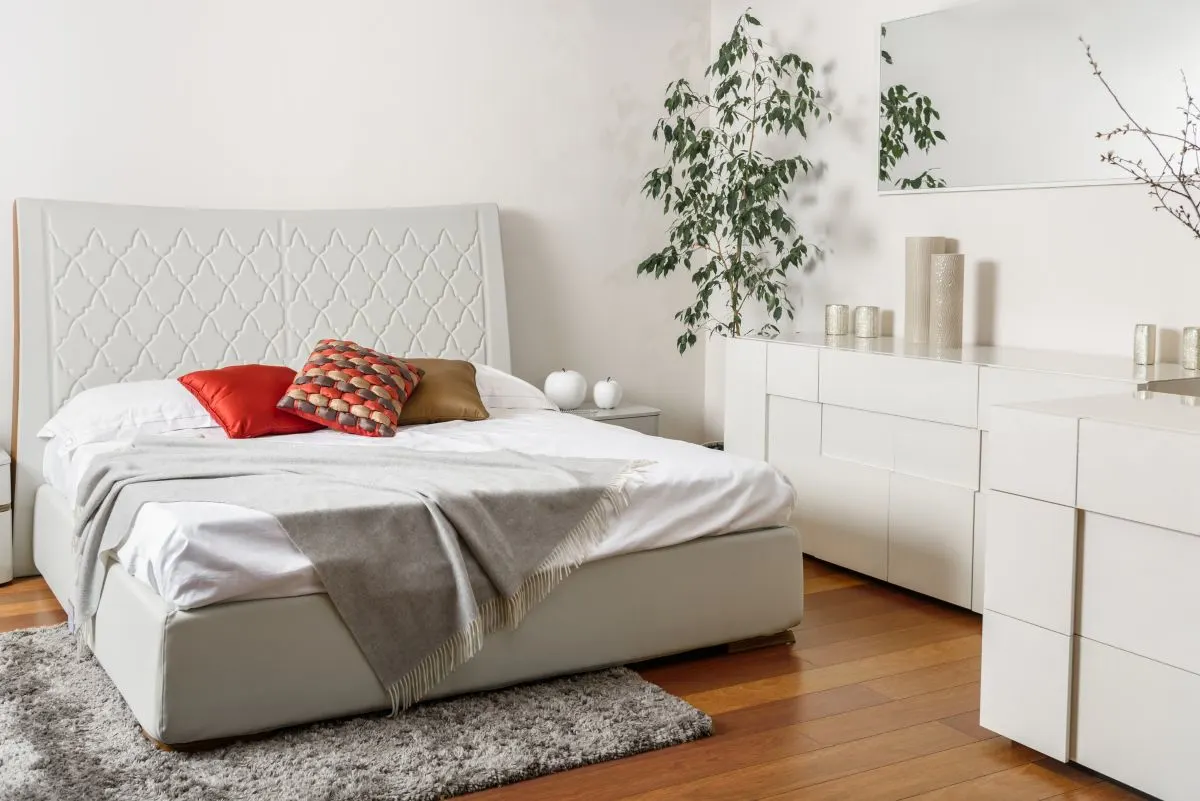 Just picture this: you wake up, stretch, toss your blanket off, and bring your legs over to place them on…cold and hard floors? Definitely not the best way to start the day, is it?
What you—and your bedroom—need is a plush, soft, cozy, and textured rug. Just imagine sinking your feet into a rug like that and enjoying the sensation of wiggling your toes in the softness.
16. Grey Neutral Interior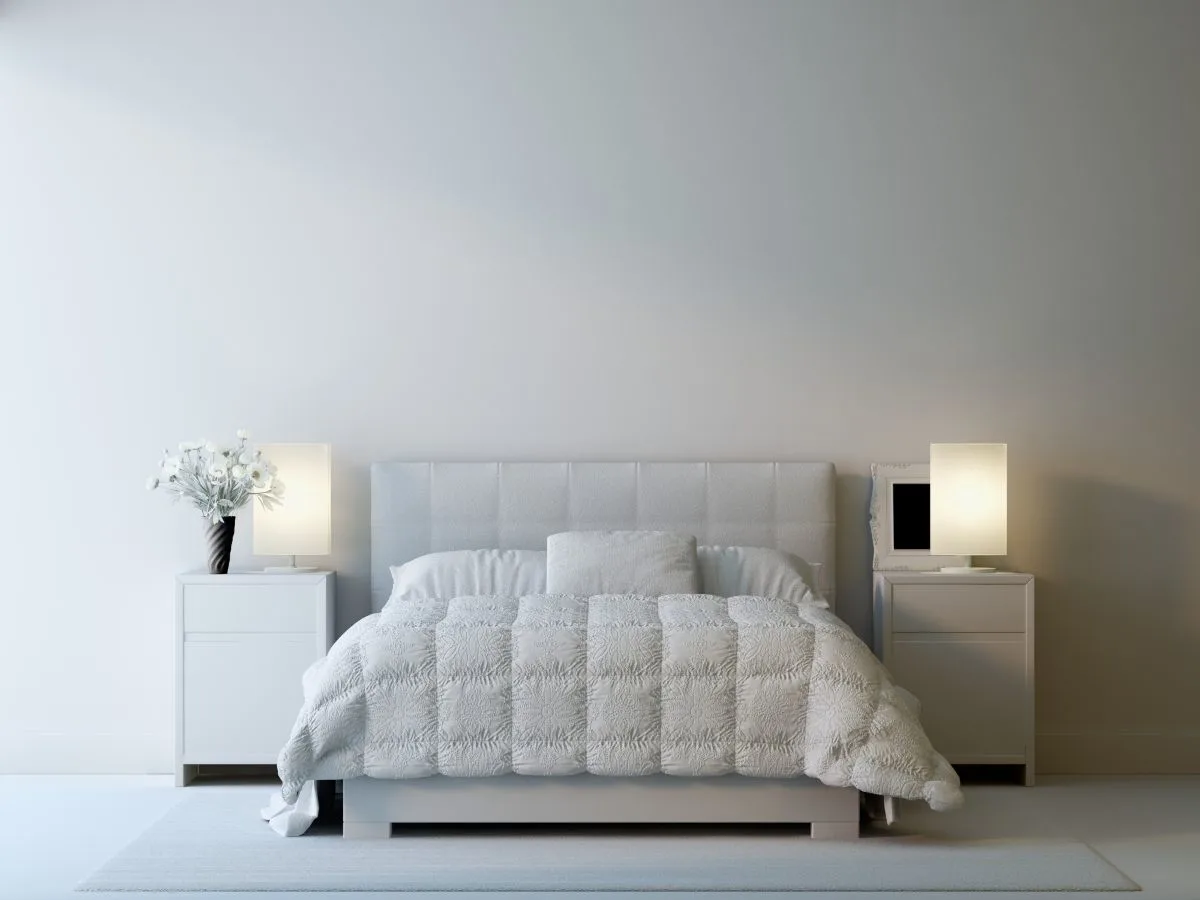 You'd be surprised by just how elegant a completely grey-toned bedroom can be. It all comes down to the shade of grey you pick.
Elephant or iron grey can be too harsh and utilitarian, while silver-grey might just fall off the mark completely. Instead, find a shade of grey with mild green or blue tints in it so you can almost pass it off as a pastel color.
17. Colourful Painting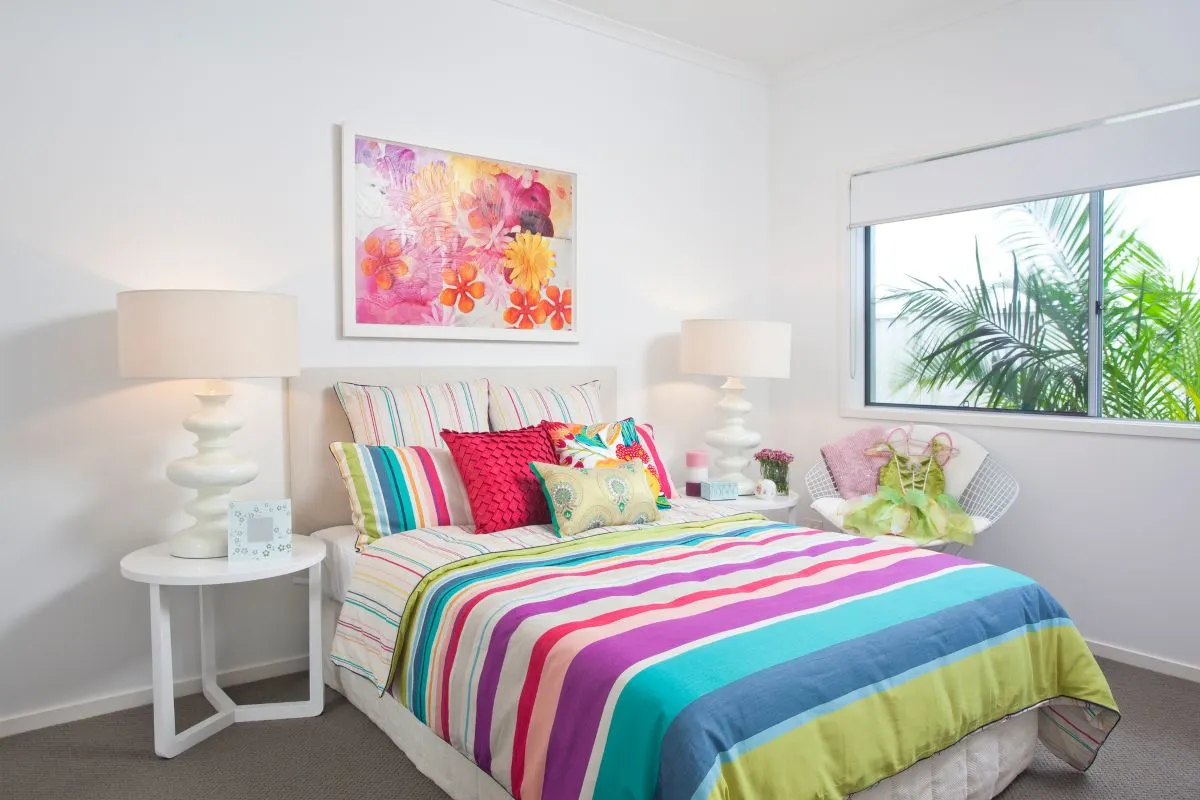 How about a big and colorful painting to decorate that space above your headboard? It's definitely the kind of artwork that's going to fill your room with color, so consider this painting for your kids' rooms.
They're bound to enjoy the colors and all that they do for the room, without the constraint of having to be 'elegant' or 'subtle.'
18. Vintage Bedroom Theme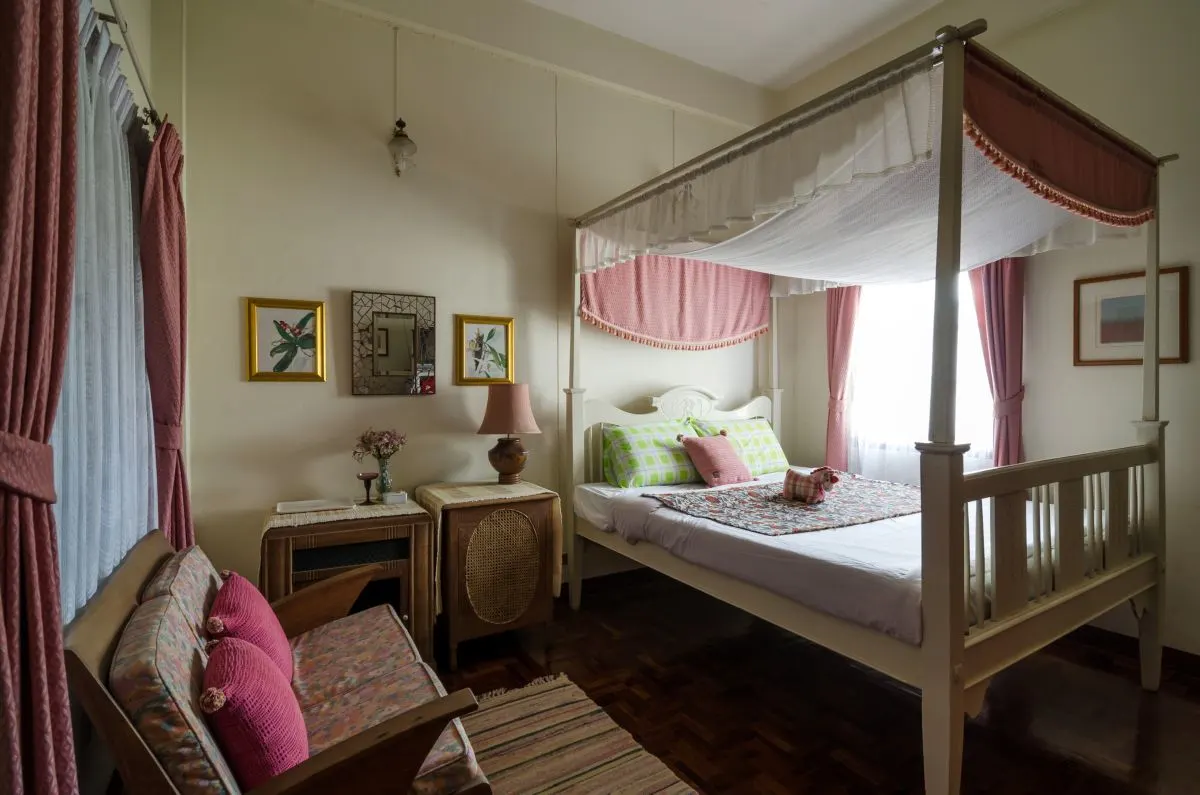 When I picture the perfect vintage bedroom for a teen girl, this is exactly what I had in mind. It's got that classic white-pink-mint green color scheme going, as well as the quintessentially vintage cabbage rose print sofa cushions.
You also have a lovely four poster bed—with a canopy! Find more bedroom decoration ideas for girls.
19. Bed Canopy
Speaking of canopy, check out this super easy yet elegant canopy. Did you know that with just a few yards of tulle or georgette fabric, you can have your very own canopy?
You can gather up the folds of the fabric and attach it to the top of the bed. Then just allow the fabric to fan out naturally before tucking and pinning them in place on the sides and behind the headboard.
20. Black and White accents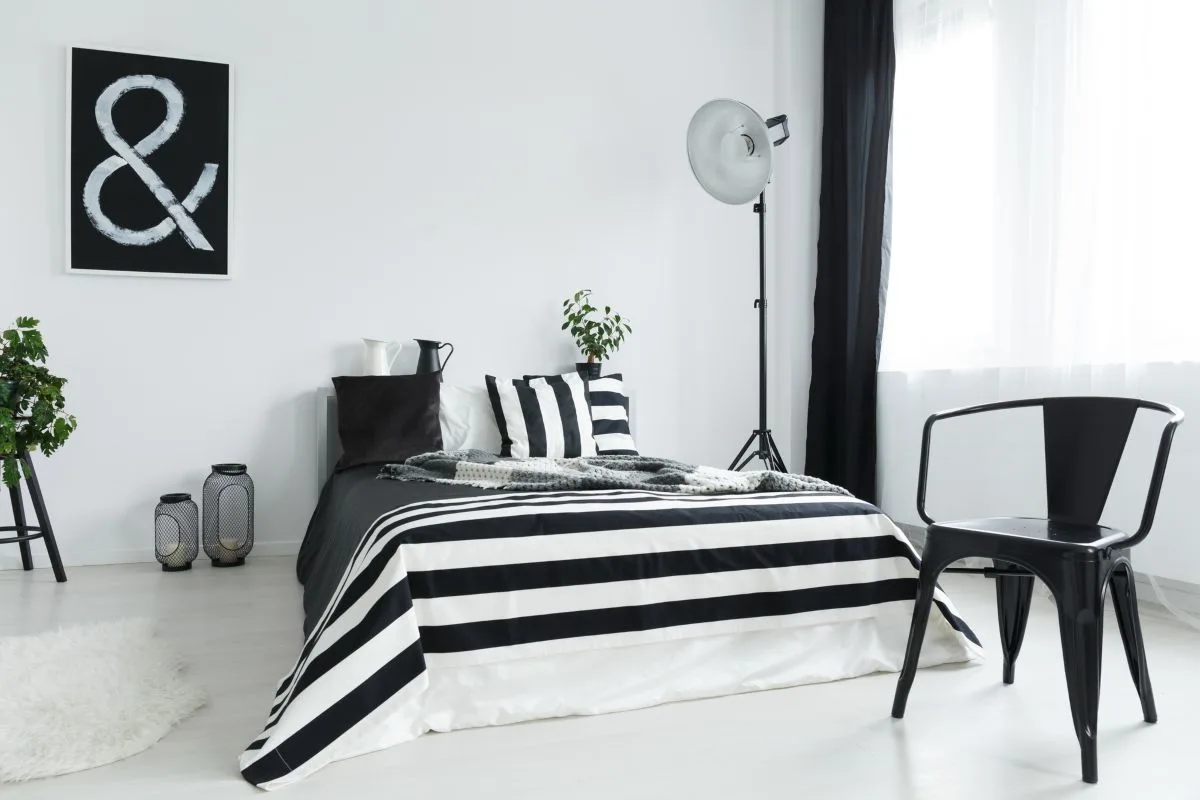 This room has completely given up any semblance of being subtle. Instead it is bold, patterned, and all monochrome black and white.
There is definitely room for a single splash of color—from a throw or pillow covers. You can also incorporate a couple of plants and introduce some green to the tableau.
21. Patterned Polka Dot Wallpaper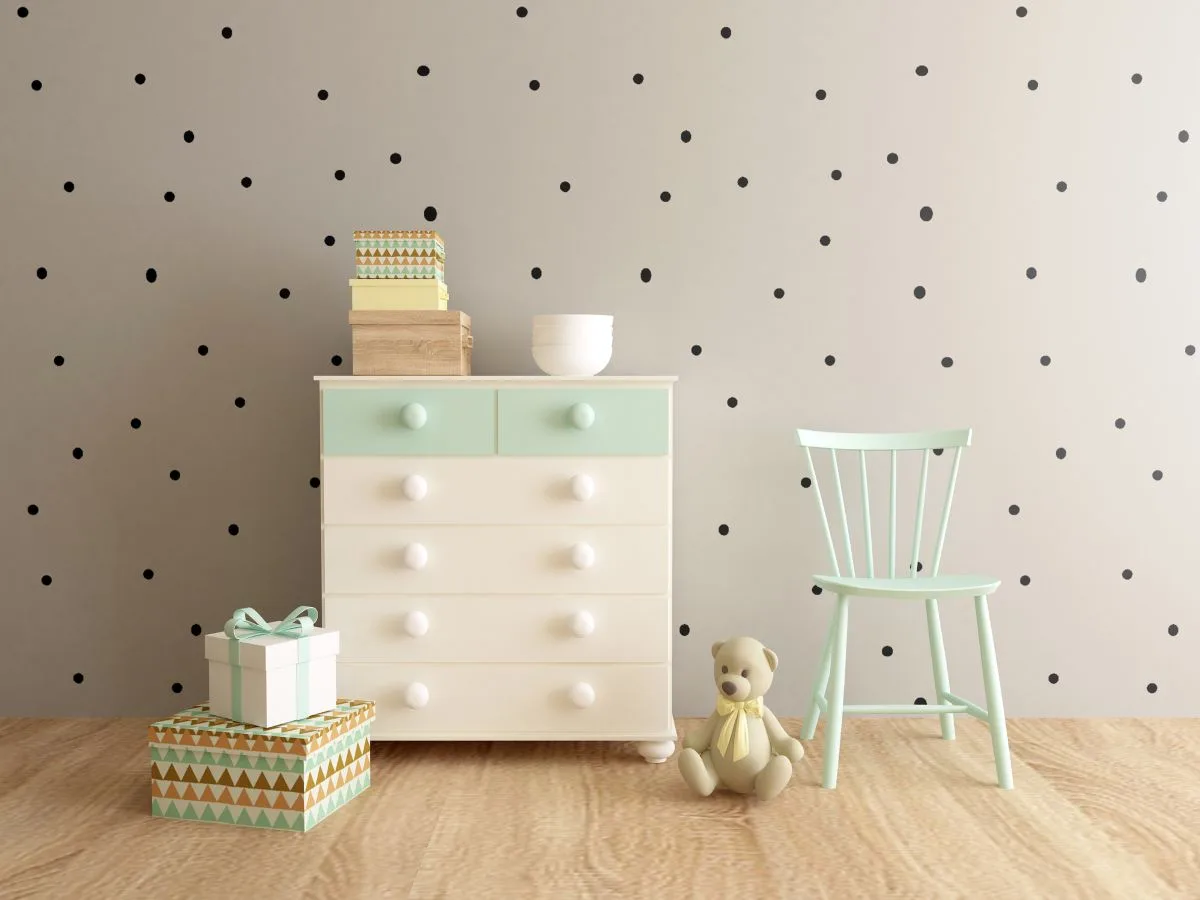 You'll be pretty surprised by how timeless polka dots can be. They are so wonderfully quirky and fun that you can never quite get enough of them.
But here's the thing: polka dots can also be pretty classy and subtle, as this particular polka dot wallpaper proves. So go ahead and pair it with some mint green and whites, and maybe even a hint of yellow, as well!
22. Rustic Dark Wooden Floors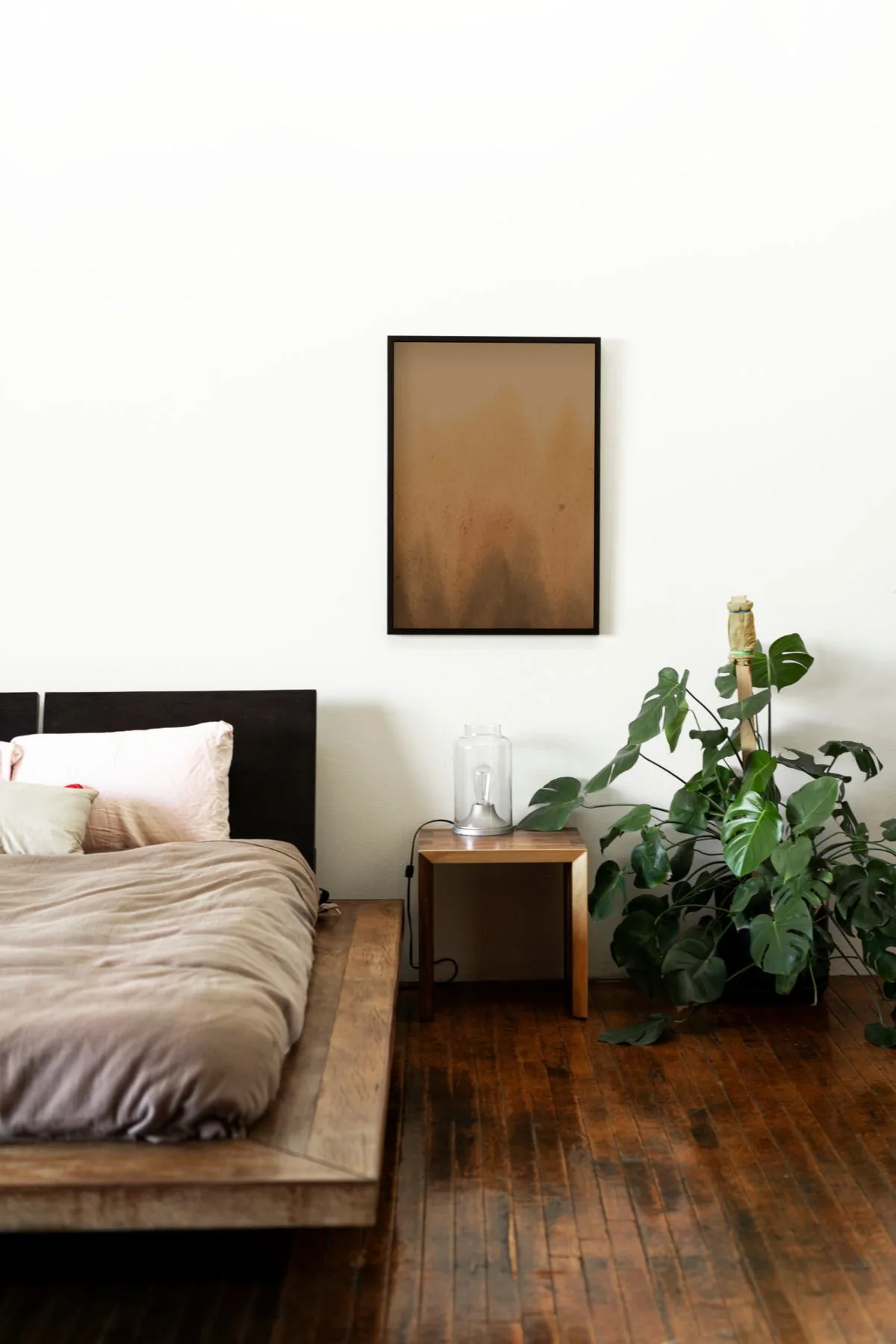 We've looked at different components in a room and how each of them can be optimised to serve the purpose and to accentuate the overall theme of the room. While the walls are definitely important, so are the floors.
A dark wooden floor can be classy and rustic at the same time. It can bring out colors in the room you never even imagined were there, and show them in the best possible light.
23. Statement Lamp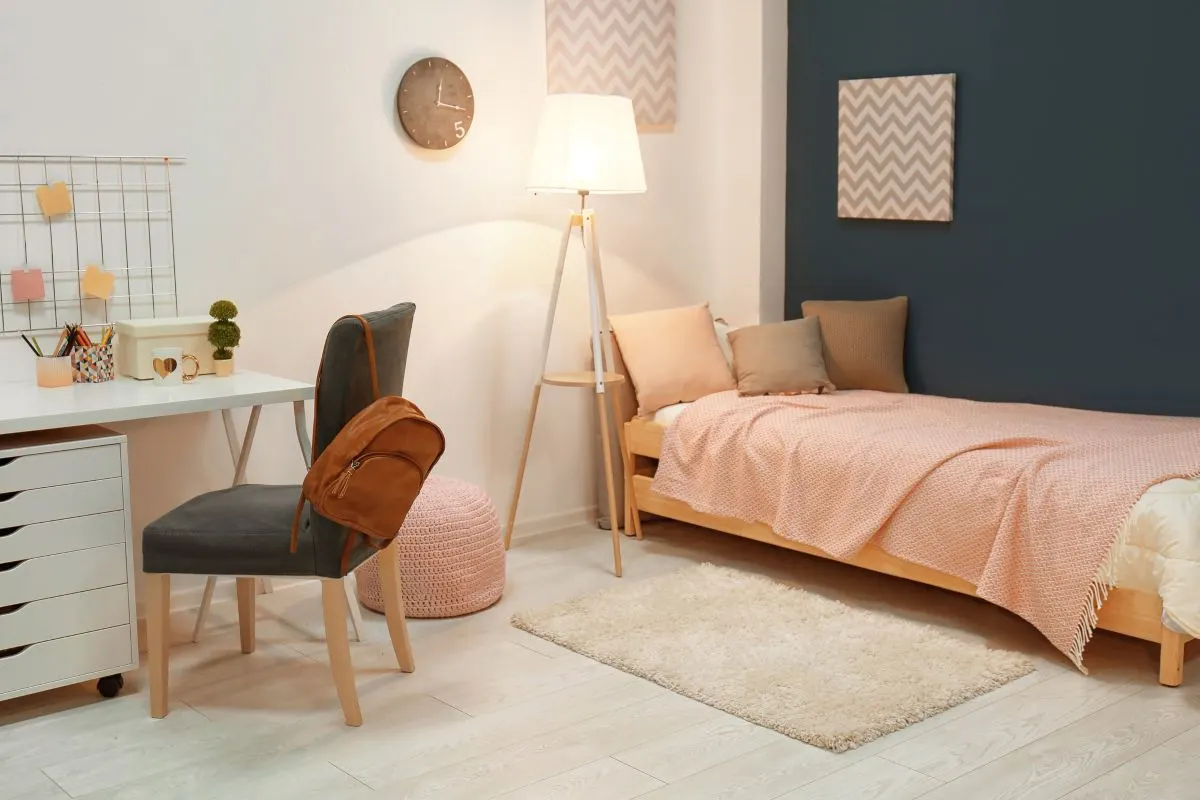 Have you given any thought to the kind of lamp you want in your room? Lighting is just5 super important, and while natural lighting is always the best, you can't always rely on it.
So go ahead and pick out a statement piece of a lamp, preferably a floor lamp like this one.
24. Exposed Clothing Rack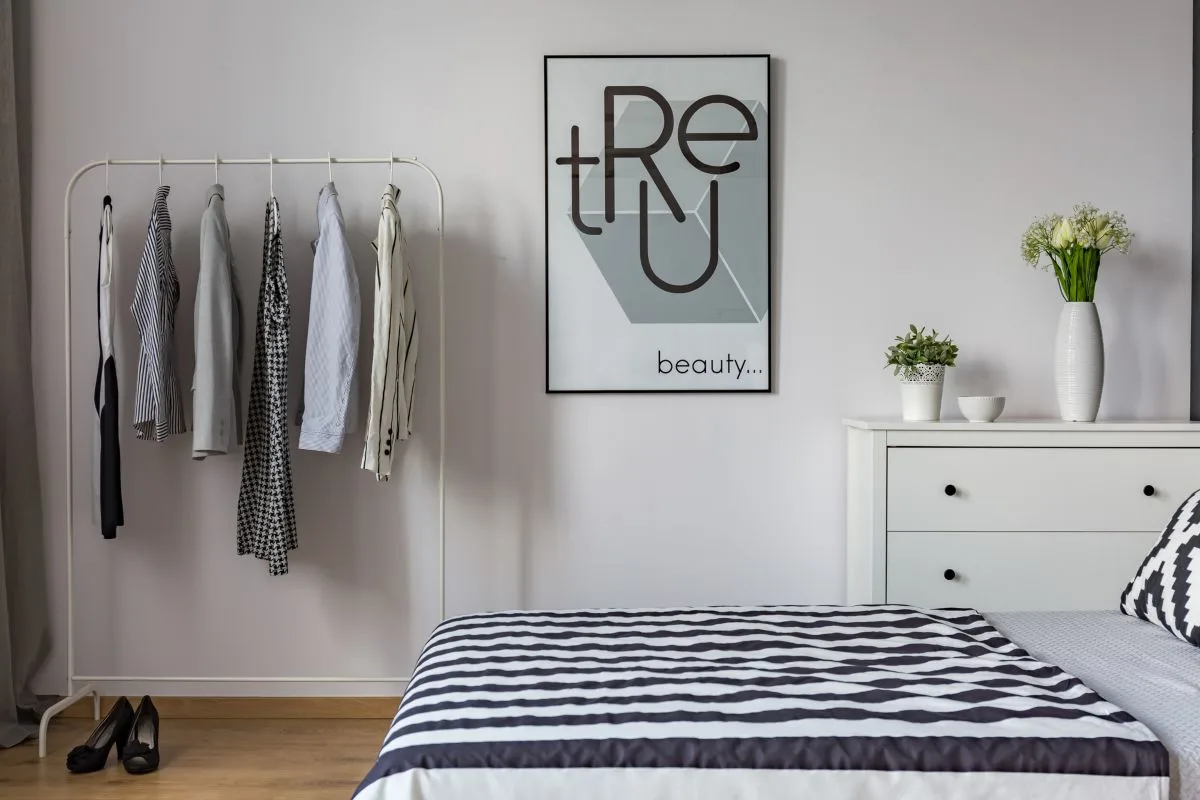 I think that every city dweller has, at one point of time or the other, owned an open and exposed clothing rack. With budding designers and artists, in particular, these exposed racks are as essential as an actual bed in the bedroom.
If you like you can use this as a decorative display and use colorful clothing to introduce color and texture to one corner of your room.
25. Beige Toned Nordic Furniture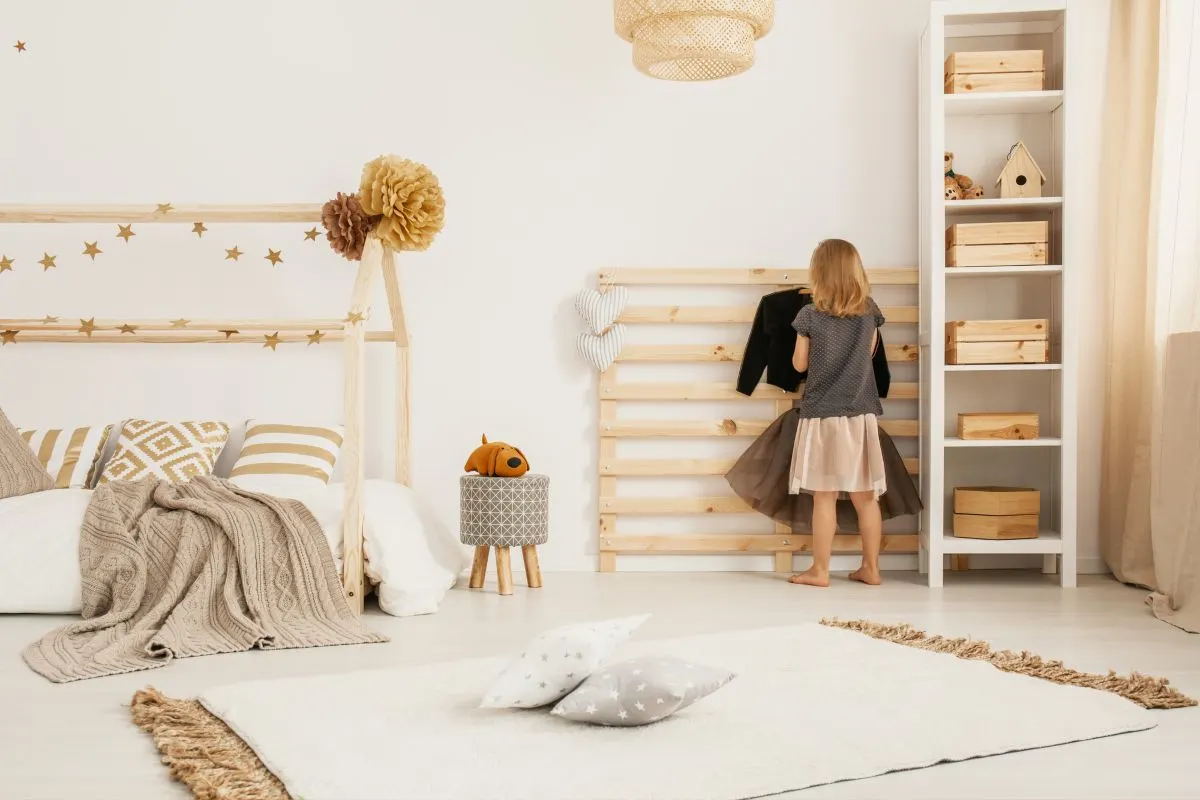 Nordic furniture like you see here are all about the beige tones. They're light and airy and go really well with white and pastel-colored rooms.
You can also incorporate light furniture into boho-chic decor ideas. Check out that fringed rug, for example, and tell me it isn't fabulous!
26. Feature Wall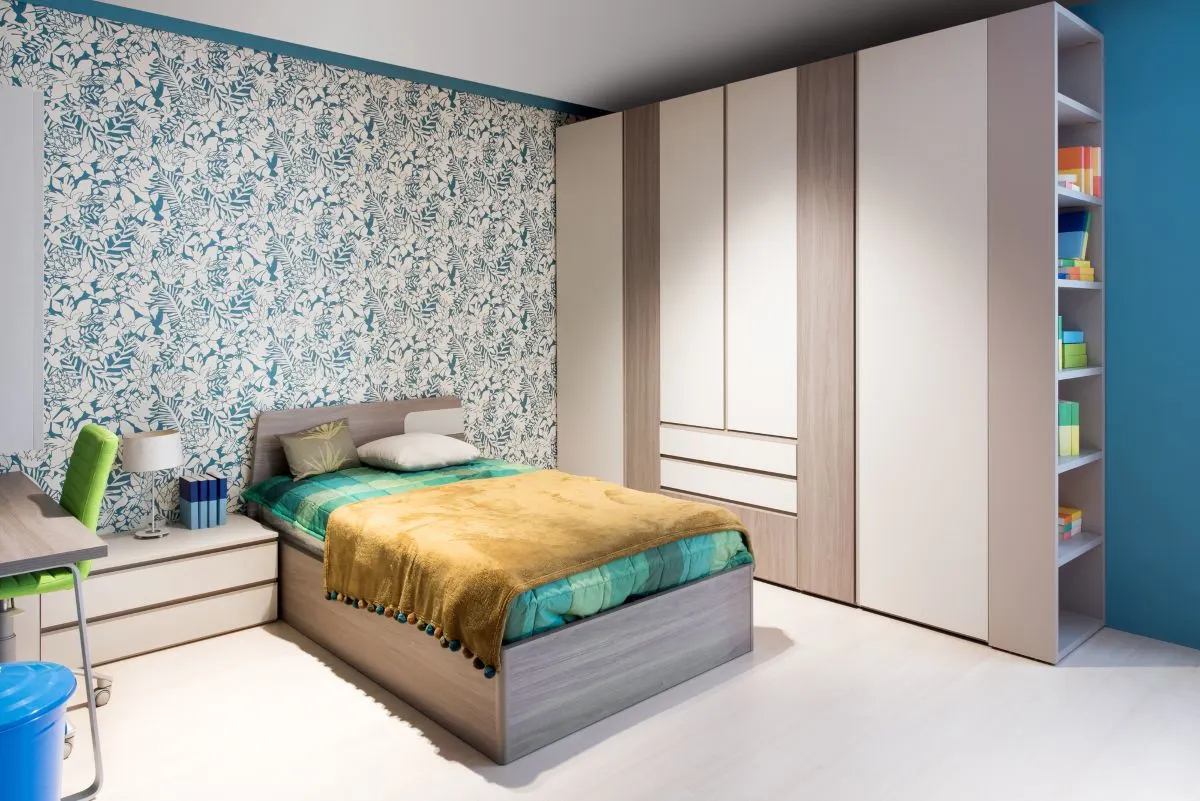 A feature wall is usually the wall behind the bed and against the headboard. You can also place it on the opposite side, facing the bed if you want to enjoy it.
You should definitely consider using wallpaper for you feature wall as they have a ton of patterns and prints to choose from.
27. Ladder Display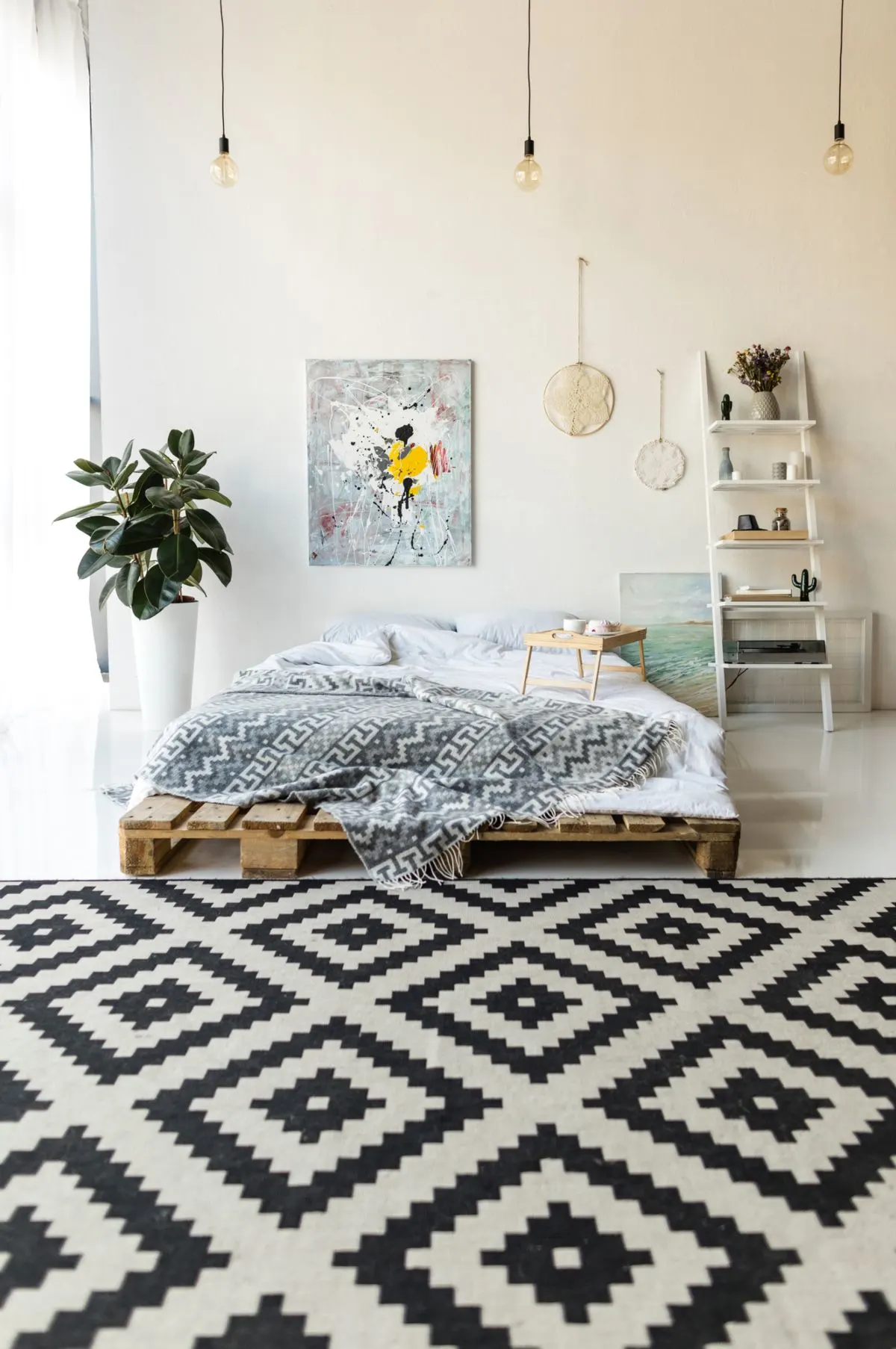 A simple addition to your bedroom that will look amazing! Easy and cute!