Get creative and give a perfect gift for him! These Valentine's day gift ideas are beautiful and creative!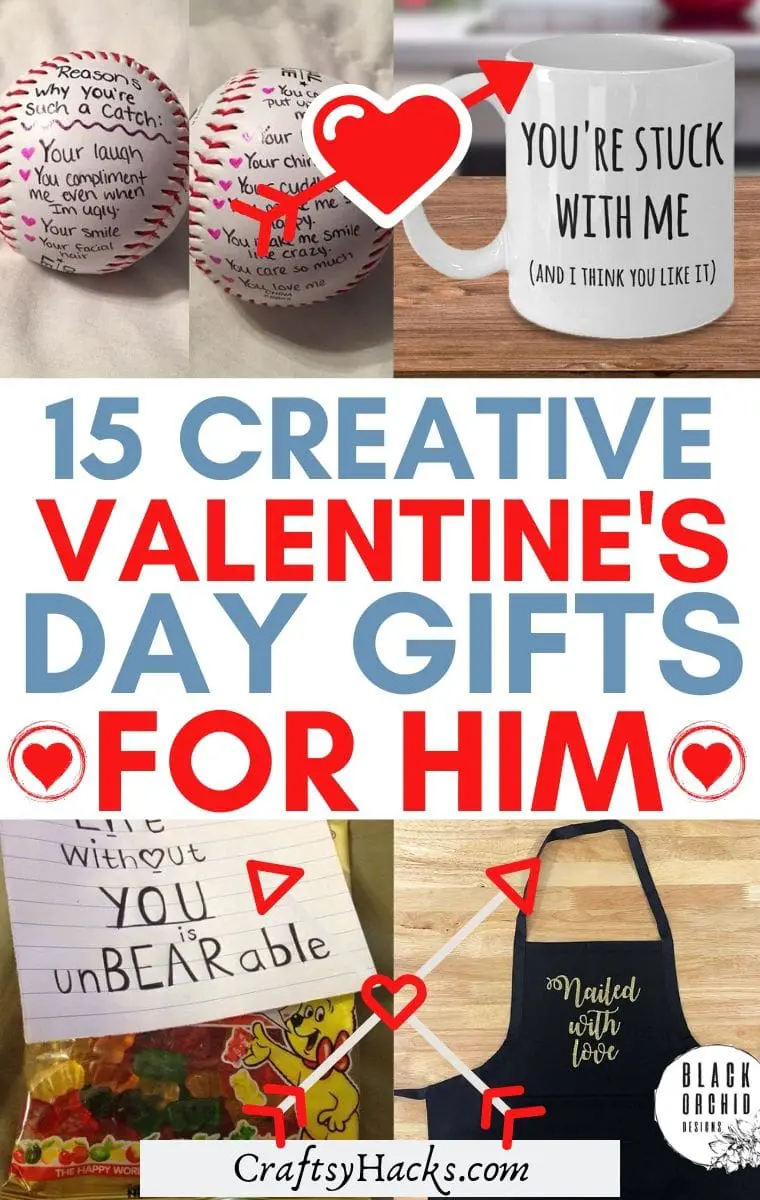 Valentine's Day isn't just about treating the woman. Men deserve love on Valentine's Day, too! Want to create something customized and special for your sweetheart this February 14?
Here are some easy, inexpensive ideas for some Valentine's Day gifts for the man in your life. Make him feel special on this sweet day, too!
1. Boxer Briefs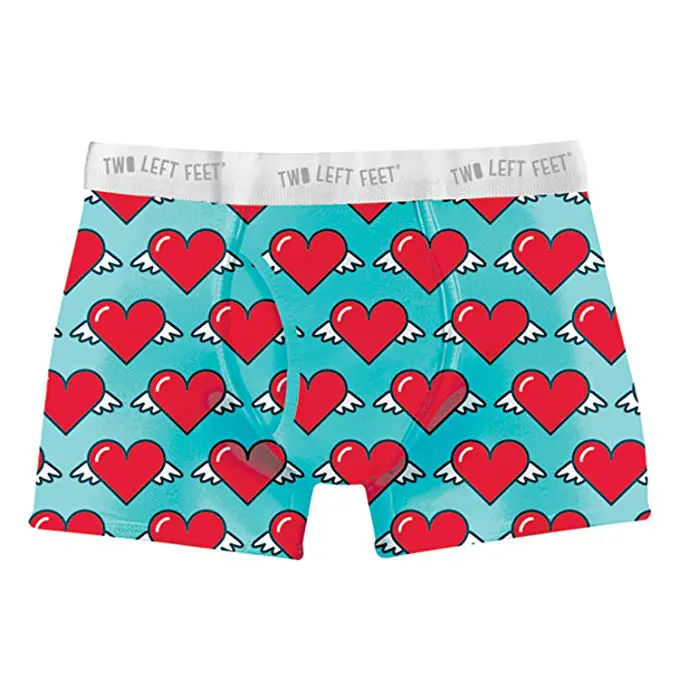 Looking for something small but cute for your guy? Check out these adorable boxer briefs!
Winged hearts cover these aqua-colored boxers that make a perfect Valentine's present for a guy. Nobody will know what he has on underneath his clothes but you, making it all the sweeter and more intimate!
Made by the brand Two Left Feet, these affordable, comfortable cotton boxers come in sizes Small up to Extra Large and have an elastic waistband.
2. Cute Coffee Mug
Credit: etsy.com
You can never have too many coffee mugs, especially if they're this cute! Express your love this Valentine's Day with this adorable mug.
Embellished with the phrase, "You're stuck with me (and I think you like it) this is a sassy, cute gift that's not only appropriate for Valentine's Day but any time of the year.
For Valentine's, fill it up with your man's favorite candy or other types of treats and decorate with tissue paper and ribbons to make it look extra special.
3. Jar of Kisses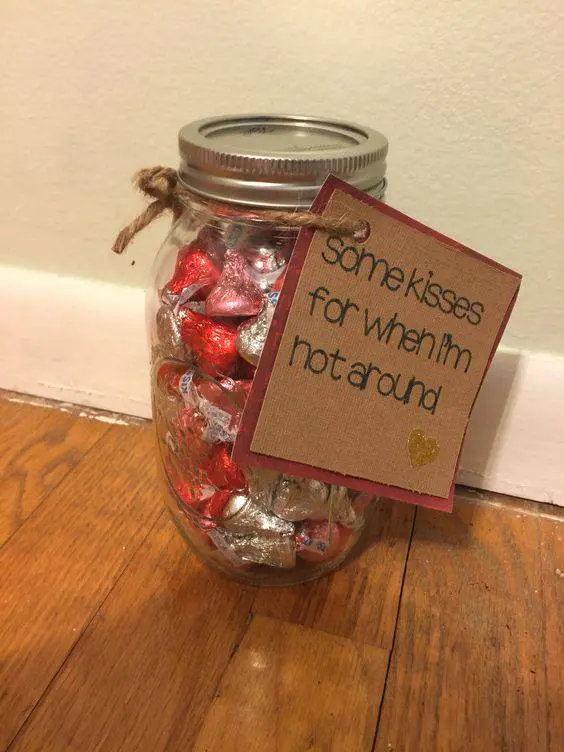 Credit: facebook.com
Don't have much cash but still want to make a statement on Valentine's Day? Grab a Mason jar.
Fill it up with Hershey's kisses. Cut a length of some string or jute.
Create a little note that says, "Some kisses for when I'm not around" or something similar and use a hole punch to make a hole in the note.
You can decorate the note with hearts or stickers. Thread the string through and tie it around the jar, finishing it off with a bow.
Thoughtful, sweet, and affordable!
4. Why I Love You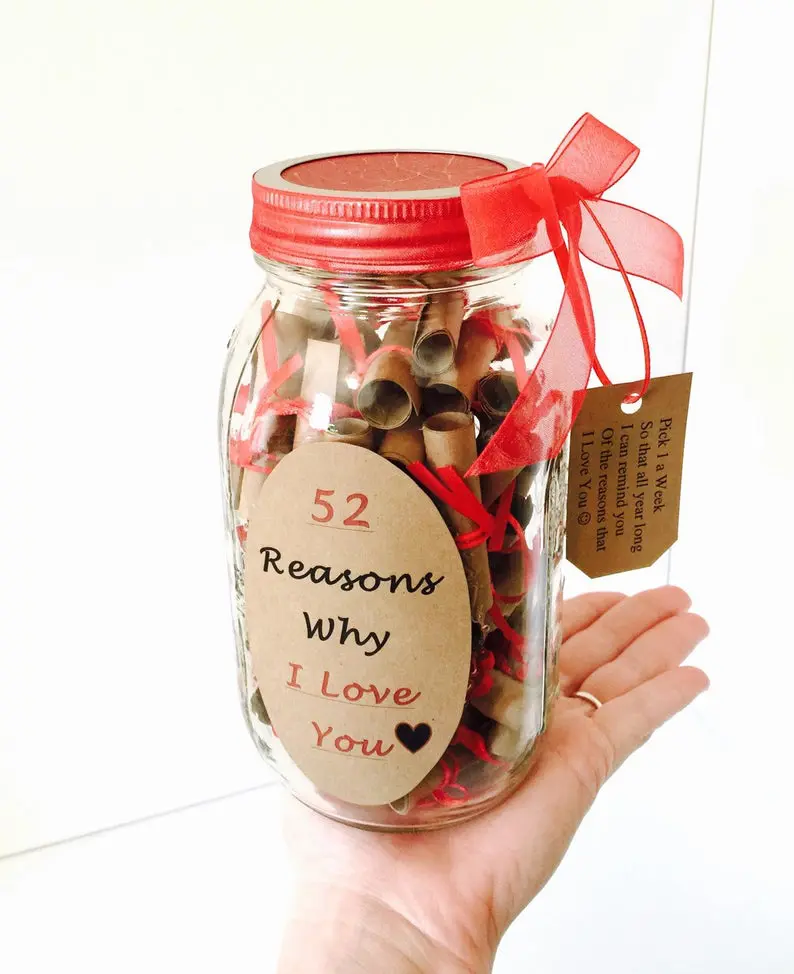 Credit: etsy.com
Sometimes people just need to hear what they do that makes you happy. Why do you love your partner?
There are likely a lot of reasons, so let them know how special they are and why they're so dear to you with this jar of scrolls.
On each tiny scroll, there's a reason why you love them, 52 in all. Customize the scrolls, so they're personal, and present your partner with this fantastic handcrafted gift on Valentine's Day.
He can read all of them at once or read one a day!
5. Adorable Apron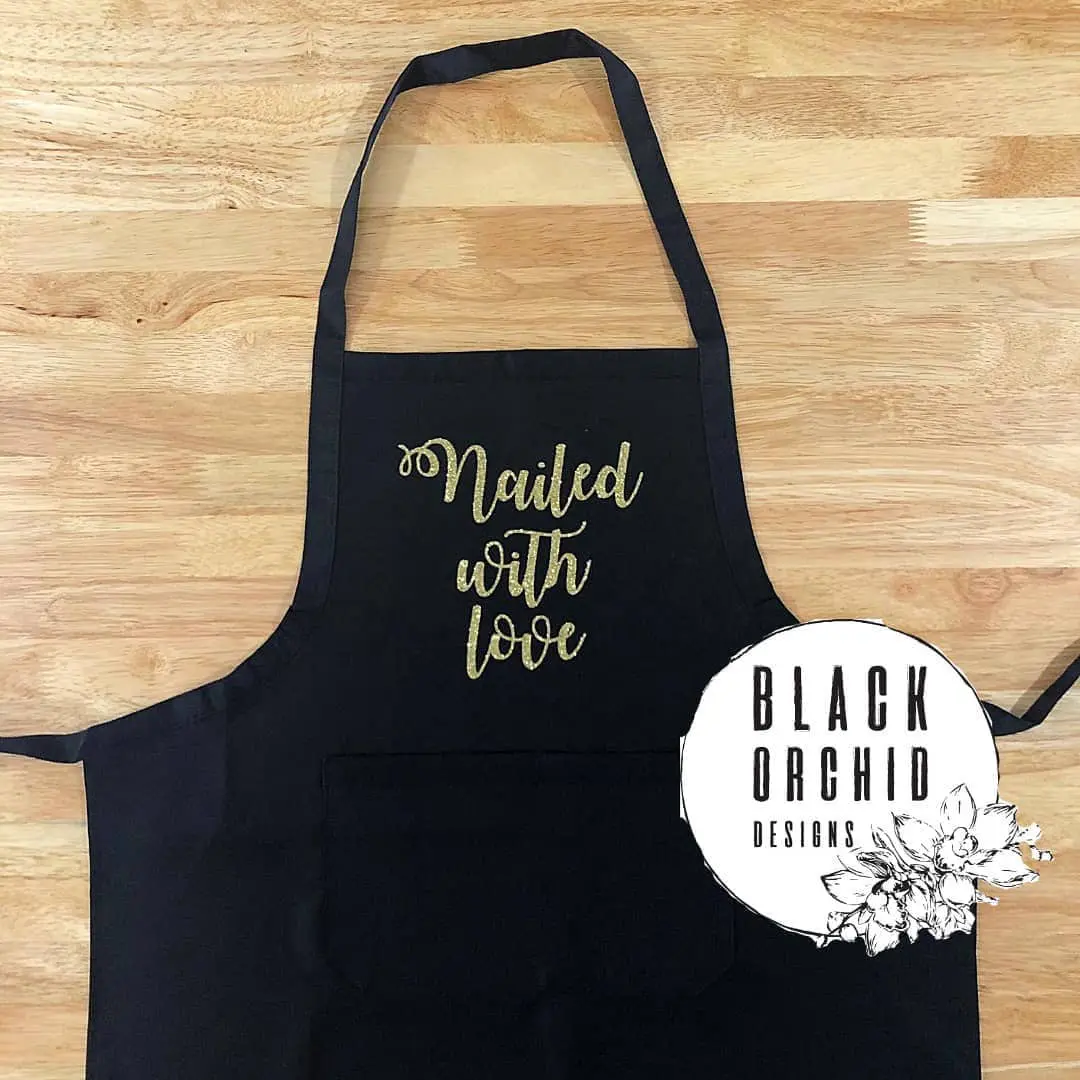 Credit: instagram.com
This personalized apron can be for a man who loves to cook or DIY in the garage. Customized with a cheeky message, this apron is sure to elicit smiles!
Order one for your boyfriend or husband by clicking here, and give it totally unique present this Valentine's Day that he can get used out of all year.
Try making your own Valentine's crafts and gift them!
6. Sweet Words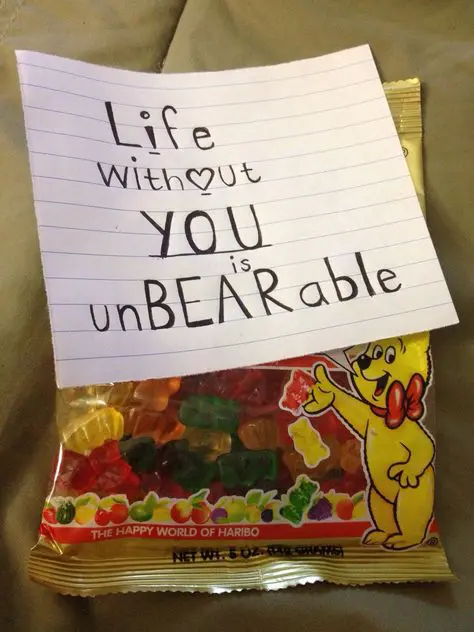 Credit: pinterest.com
The great thing about showing someone you love them is that you don't need a lot of money. Pick up your love's favorite candy and attach a note that goes with the sweet.
Some examples include, "Life without you is unbearable" with some gummy bears, "You color my world" with a bag of Skittles, or some lollipops with the phrase, "Life would suck without you."
There are a lot of these, and the more creative and fun they are, the better!
And this is extremely affordable. You don't have to wait till V-Day for this cute craft, do it anytime you want to let your man know how you feel.
7. Liquor Love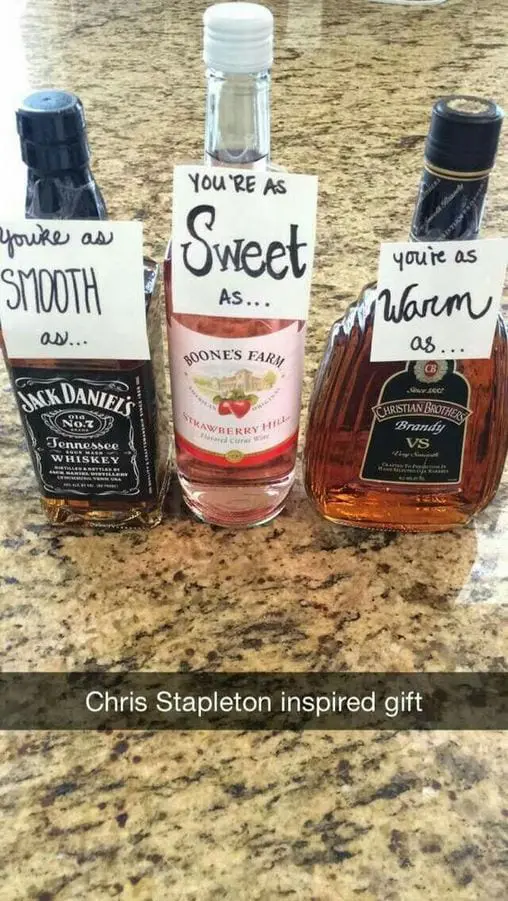 Credit: pinterest.com
Buy your man his favorite bottle of liquor or spirits. Think of a clever play on words you can add to the bottle.
Some of these include "You're as smooth as…" which you could add a bottle of whiskey, or "You're as sweet as…" with a bottle of wine or wine coolers. You get the idea.
This is a fun idea that gives you a chance to be creative with the wording you come up with.
You could also tie ribbons around the bottle or add foam sticker hearts all over the bottle for more décor.
8. You've Got Balls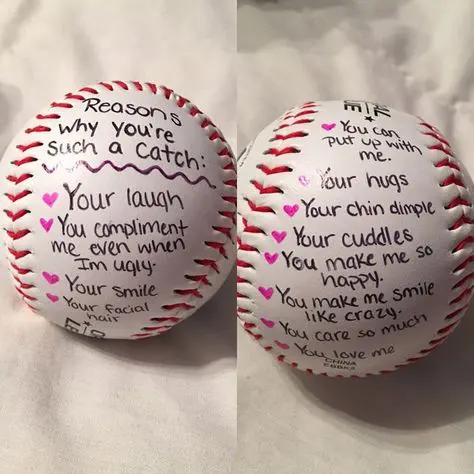 Credit: pinterest.com
Does your sweetie love sports? If he's an athlete, then he'll love this gift.
Use a ballpoint pin to neatly list some of the reasons you love him. Be candid, cute, romantic, and funny.
You can use different colors of pens or markers to doodle hearts, song lyrics, or other designs on baseballs.
9. Sexy Socks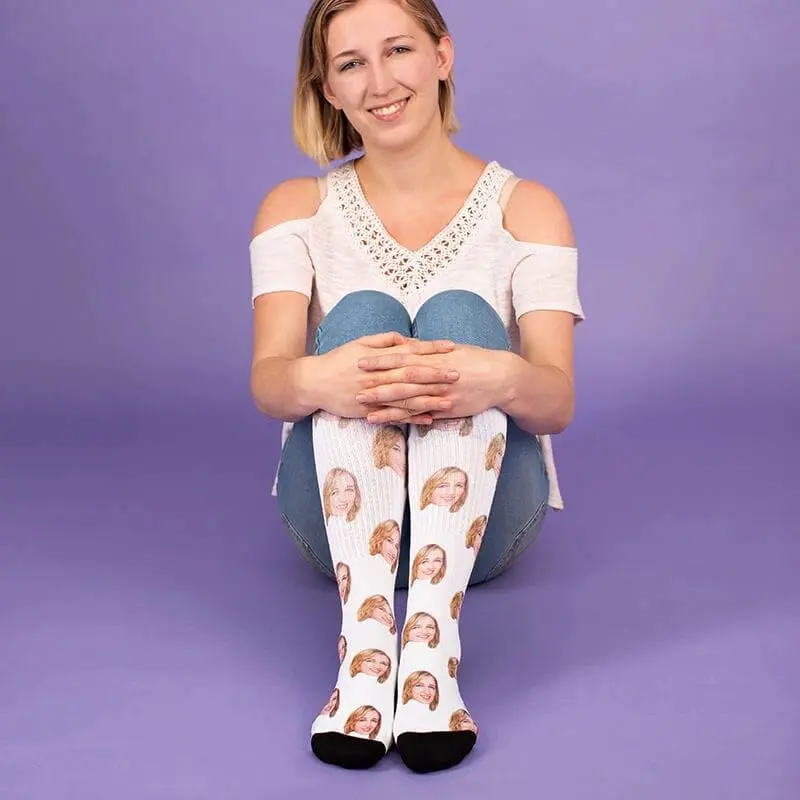 Credit: prezzybox.com
Silly and sweet, you can get your adorable face custom-printed on a pair of socks for your partner! Now he'll think of you every time he takes his shoes off!
These funny socks make a unique gift for any occasion, and you'll love the look on his face when he opens the box to find your face on socks!
Socks can be customized with any photo, and you can select from different color schemes along with choosing from three different sizes.
They're soft cotton socks, and you can order them when you click here.
10. Manly Massage
Credit: menkind.co.uk
It may look like something that came out of the kitchen, but after a long, hard day of work, your man will love the feeling of this vibrating head massager.
Unwind and relax with a mild, soothing massage that can be a great way to end the day! It also works to stimulate pressure points all over the head and the neck, so it can be a good way to release tension around your neck and shoulders, too.
Affordable, fun, and the perfect gift for your stressed-out man, you can find one of these by clicking here or get them here on Amazon.
11. Is it Wine 'o Clock?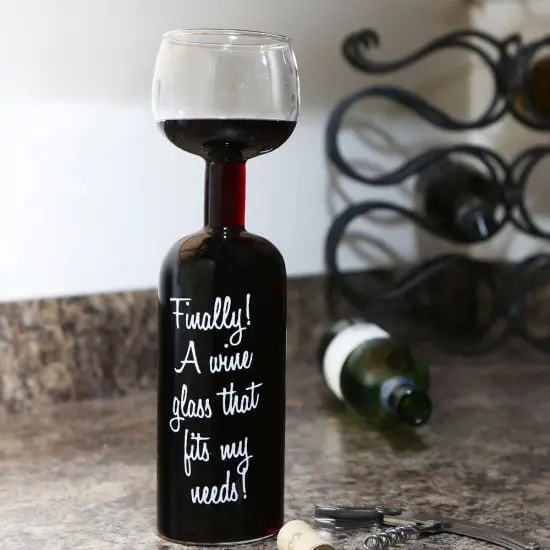 Credit: menkind.co.uk
Some days you need a glass of wine. Some days, you need the whole bottle. This glass gives you the best of both worlds. A bottle-shaped glass lets you add an entire bottle of wine.
The top part of the bottle is glass-shaped, making it easy to drink out of. This is a fun, tongue-in-cheek gift for a man who loves his wine!
The bottle measures 750ml, and even though it's funny, it's still a functional item you can use as real drinkware!
It's hand-wash only, has the saying, "Finally! A wine glass that fits my needs!" printed across the front, and you can order your own for an affordable price here.
12. Who Needs Chocolates?
Credit: pinterest.com
It may look like you're giving your man a giant, heart-shaped box of chocolates for Valentine's Day. However, lift the lid and see something completely different!
You can purchase the small, airplane-sized liquor bottles and display them flat inside the box just as you would chocolates.
Your boyfriend or husband will get a good laugh when he sees the phrase that's written inside the lid (use colorful card stock or construction paper!), which is, "Every minute that is spent without you is a minute that is WASTED."
How cute is that? You can decorate the inside and outside of the box as you want, or better yet, purchase a fancy box of chocolates, eat them yourself, and use the empty box for this DIY drinking gift!
Everyone wins!
13. Cozy Robe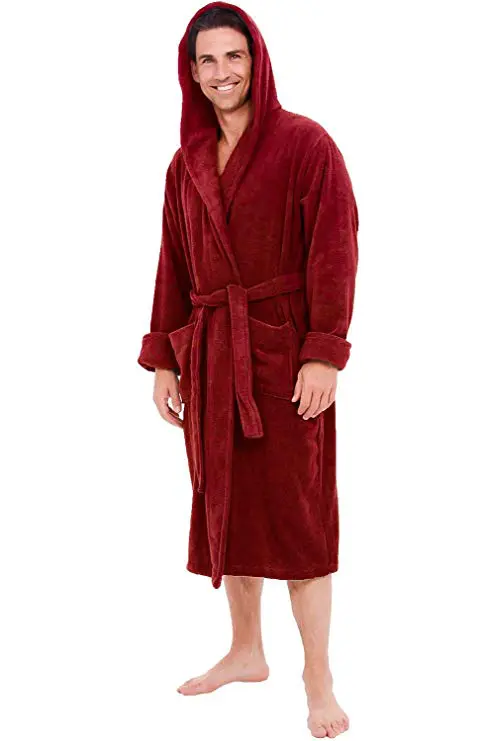 Credit: Amazon
Everyone loves slipping into a soft, warm robe after taking a shower. Spoil your man with this thick, sumptuous Turkish terry cloth robe.
Available in either black, burgundy, or white, this luxurious hooded robe has deep front pockets, a belt, and is made from extremely absorbent cotton.
It's easy to care for and versatile. Your man will love using this robe at home, at the gym, the pool, or the hot tub.
Order one in sizes that range from Small to 2XL by clicking here.
14. Cookie Date Night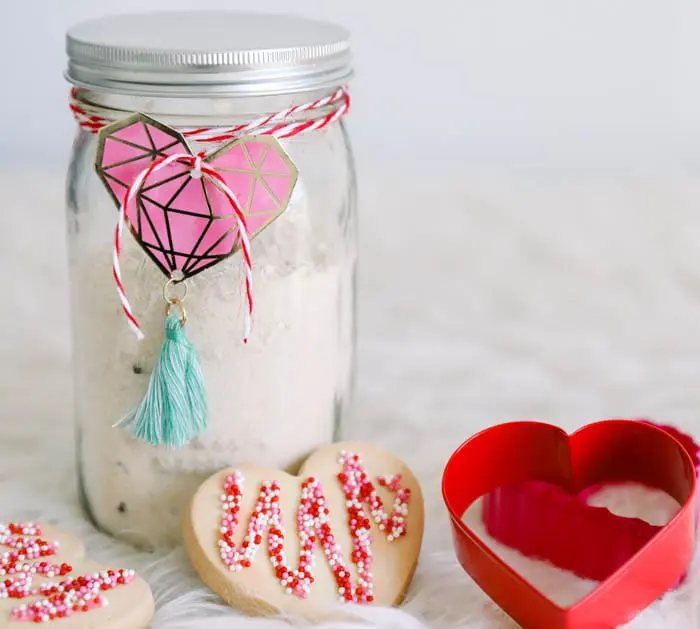 Credit: thesouthernthing.com
Let's face it, most men don't know too much about baking, so why not give your man a crash course in cookies for Valentine's Day.
This adorable jar gift is easy and cheap, and you simply pour dry cookie mix into a Mason jar and add sprinkles and cookie cutters.
Add a gift card for the rest of the supplies, and you've got a fun date night at home, making heart-shaped cookies together and decorating them!
Tie a ribbon or string around the lid of the jar with a card, and you've got a delicious and fun gift that costs next to nothing.
15. Novelty Toilet Paper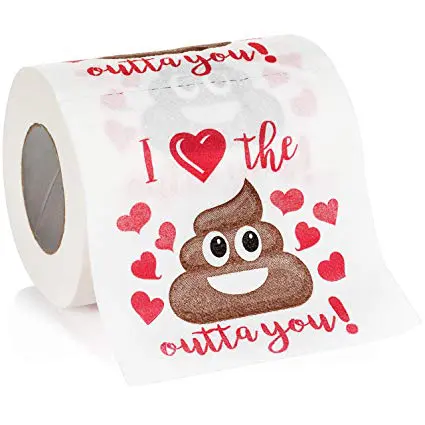 Credit: Amazon
For men who have a sense of humor, nothing is off-limits. This funny, themed toilet paper is so cute he may not even want to use it!
The poop emoji takes center stage as its surrounded by hearts with the phrase "I love the *** outta you!"
Simply switch your regular toilet paper out for this paper on Valentine's Day and gift your guy a laugh next time he goes into the bathroom!
He will be totally caught off guard, and most likely crack up laughing!
Buy your novelty toilet paper by clicking here.
Conclusion
Which one of the gifts is your favorite? Sharing is caring, so spread the message!