Looking for a great way to engage younger kids or older kids? With these fun outdoor activities for boys, you'll keep your children busy and engaged.
If it takes a village to bring up a baby, it should take two to bring up boys. Boys are born with energy that bounces off the walls.
Let them have much fun with these fun games. At the end of the day, there is nothing quite as healthy as fresh air, outdoor fun, and exercise.
Check out these super cool and equally tiring outdoor activities for your boys. Not only will these keep them happy, but they will also tire them out enough to sleep through the night.
Check the list of outdoor activities that will make for a perfect time outside.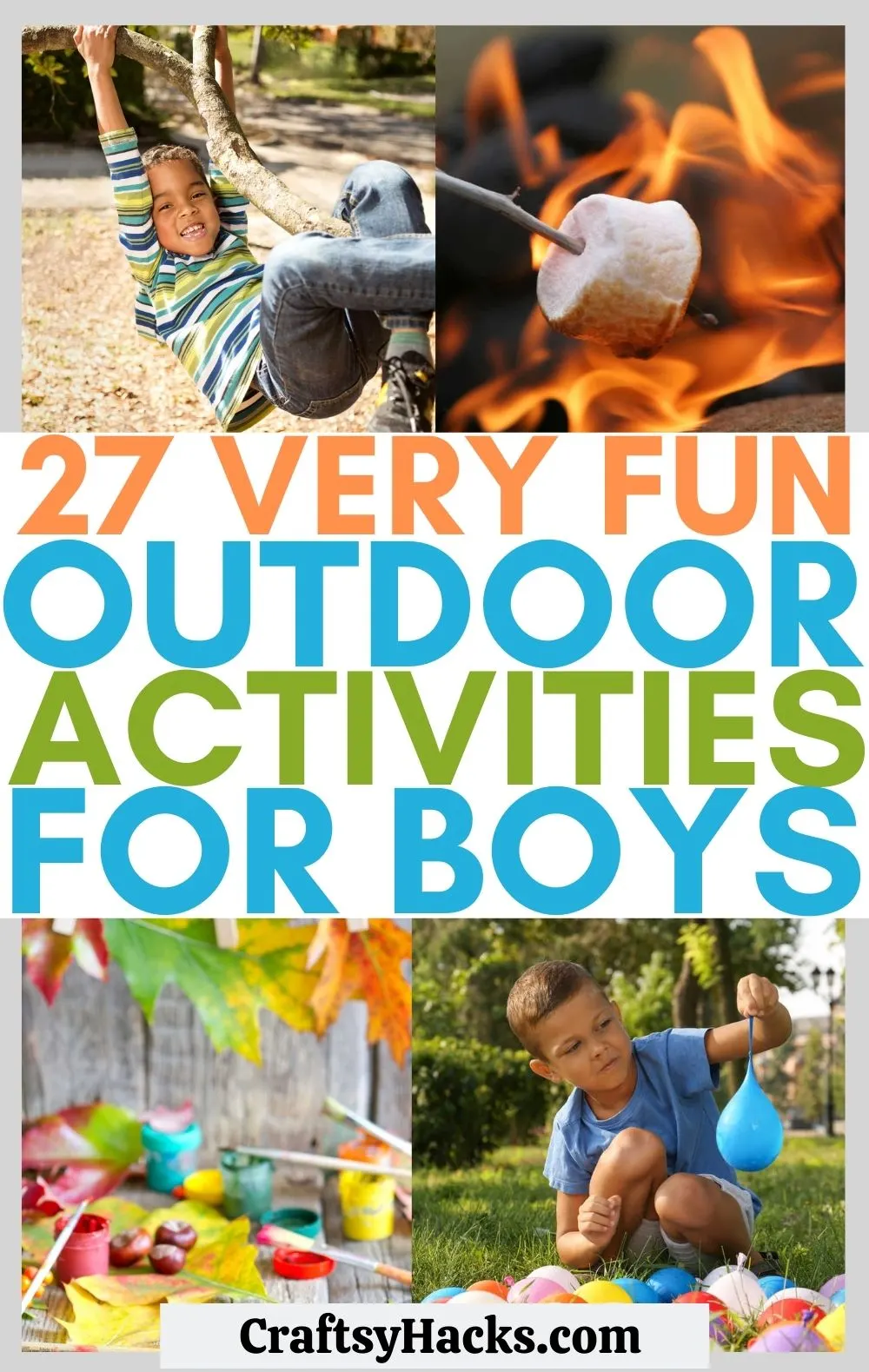 1. Obstacle Course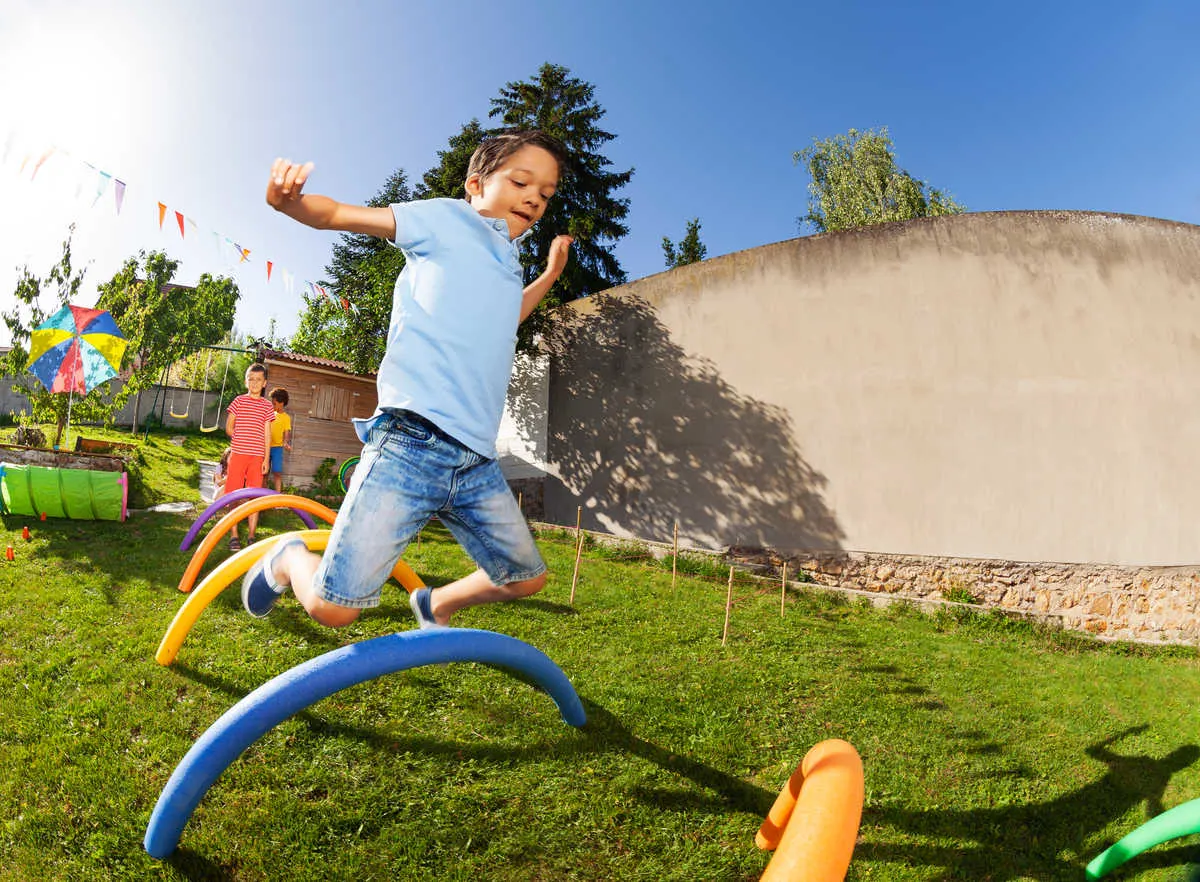 This is a fun outdoor game! Backyard obstacle courses are a great way to keep boys active, healthy, and amused for hours.
If you have a neat, big backyard, you can make a small and simple obstacle course. However, if you don't have a backyard, you can always seek out places that offer obstacle courses for young kids.
To build a basic obstacle course, you will need a small inflatable pool, hula hoops, pool noodles, balloons, and other such items that are easily acquired. To order your inflatable pool, click here.
Need more ideas for the little ones? These are great 2-year-old baby activities.
2. Rollerblading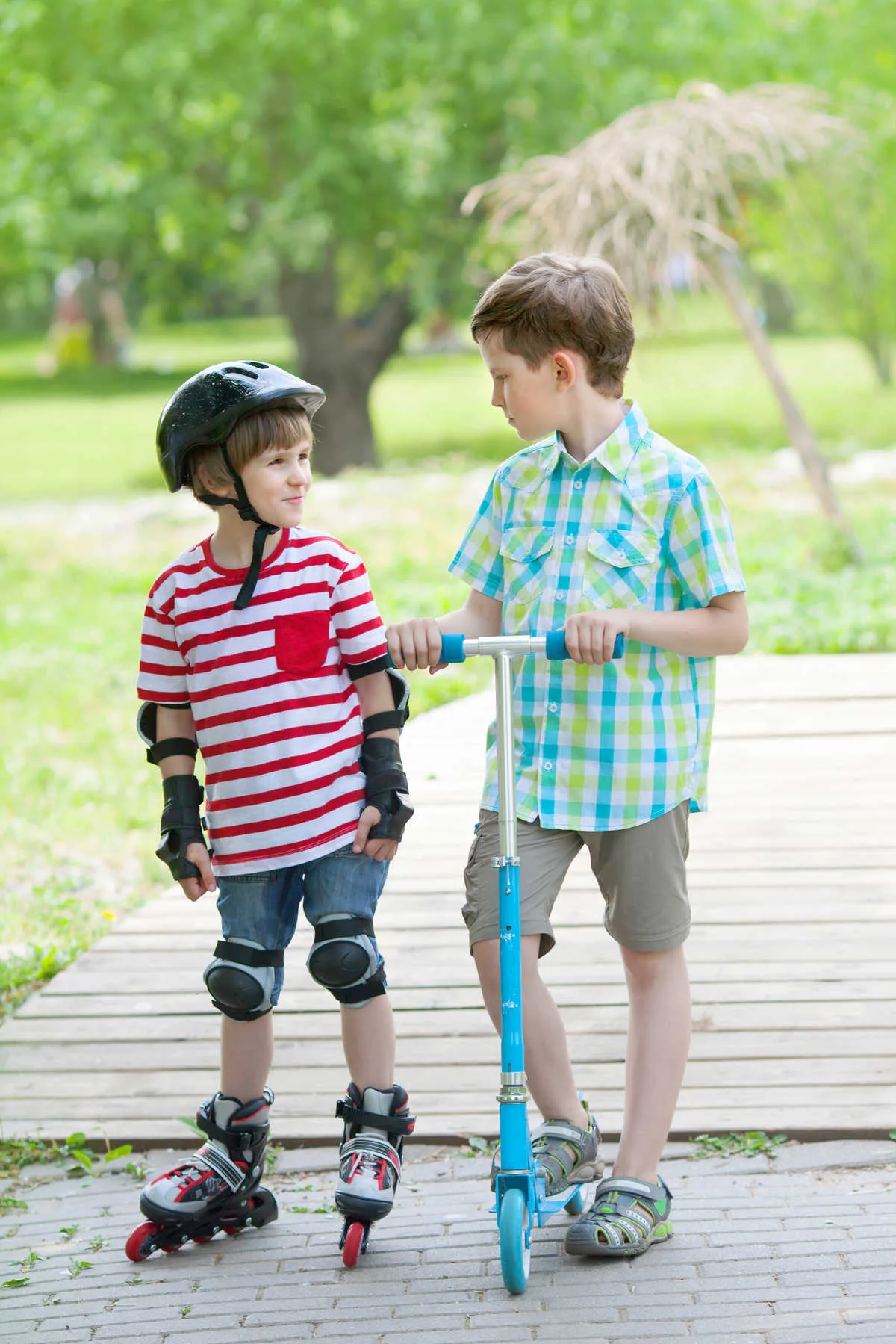 Some of the best ideas when it comes to the best outdoor activities are quite simple. Invest in some good rollerblades and take your kids rollerblading. You can either join a summer camp or visit public parks.
Rollerblading is a great exercise that builds healthy muscles and makes the body lean. It also helps kids focus and develops their cognitive skills.
If you have an antisocial kid, rollerblading will also help him make friends. Order a pair of high-quality rollerblades here.
3. Dodgeball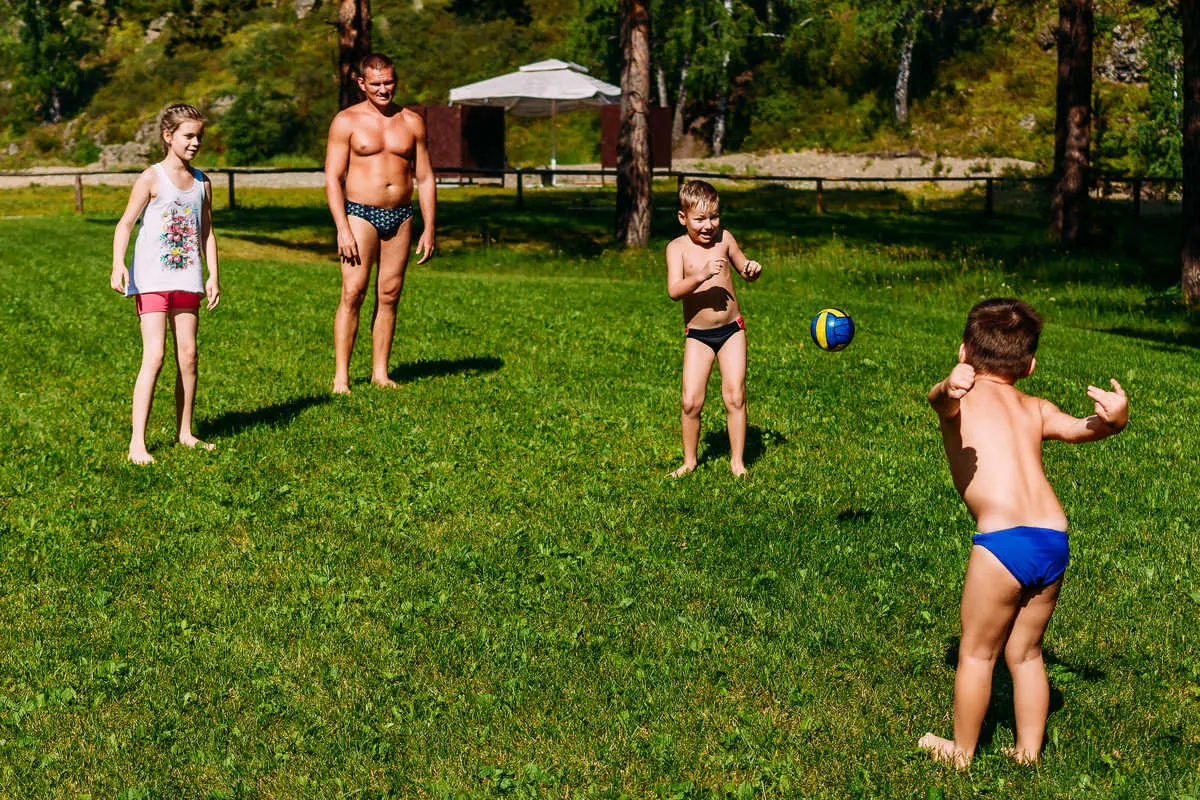 Are you having a tough time handling your boys? Call all their friends over and have a friendly match of dodgeball. This is a brilliant idea, and trust us; the other moms will go crazy over this super idea.
Dodgeball is one of the best games that's played with two opposing teams. The whole point of the game is to eliminate a player by either throwing a ball at him or, with the help of the ball, pushing him to go out of the court.
It's a fun game that most kids play at school, so everyone is aware of how it goes. The time will fly by, and before you know it, the day will end, and the boys will be too tired to mess around and give you unnecessary trouble.
4. Capture the Flag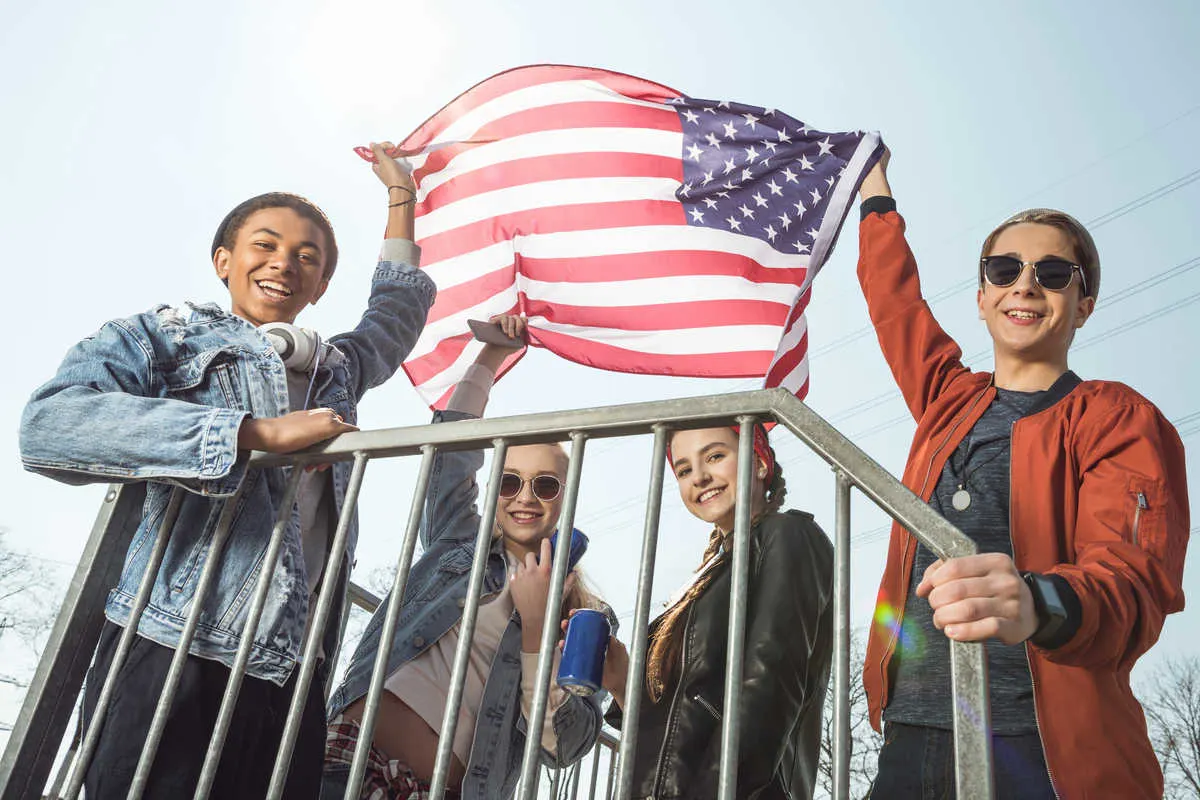 Need a game that is both fitness and fun? Remember the old school or summer camp game capturing the flag? Did you know it's a hit backyard game as well?
All you need is an open area, a good amount of players, and some homemade flags for each team. It's a super fun game that helps kids build communication skills, problem-solving skills as well as teamwork skills.
5. Mini-Golf Course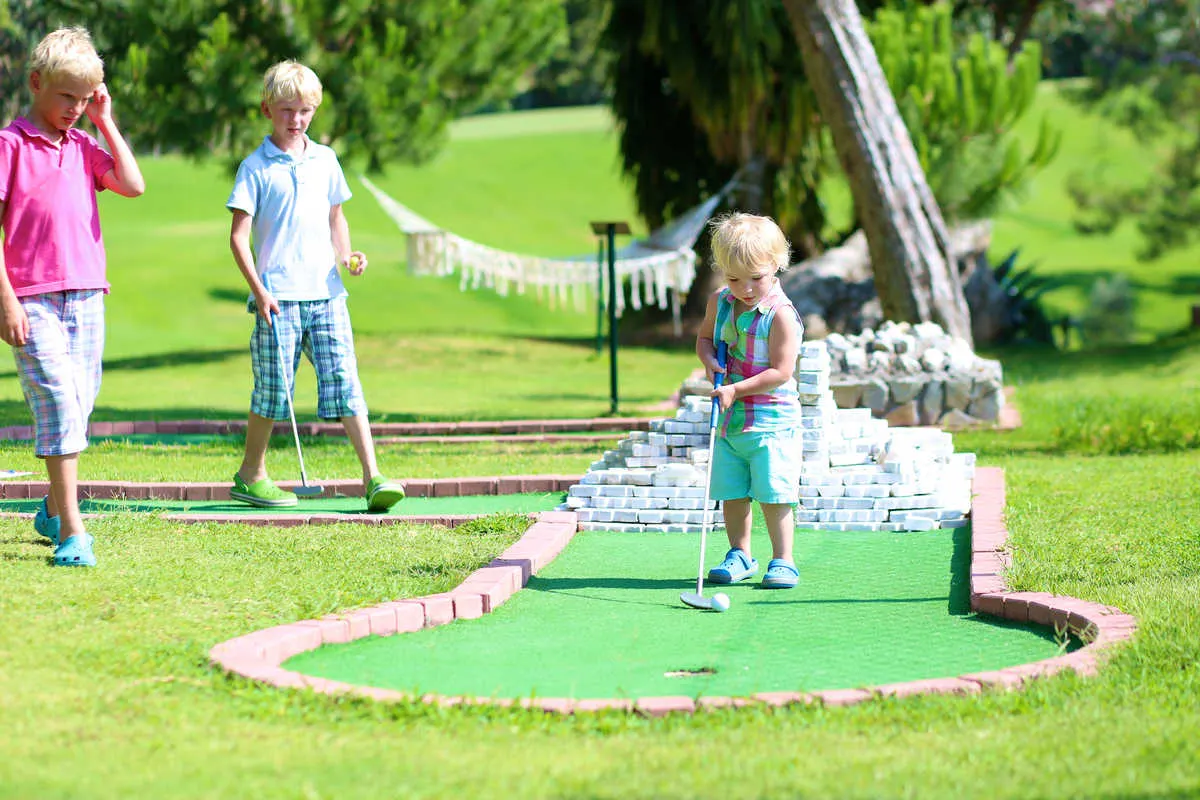 If your locality has a mini-golf course, you should most definitely take your kids to that. Golf is a brilliant game that teaches kids how to be patient and develops hand-eye coordination as well as balance.
Moreover, Golf can also help your shy kid be more social and make more friends. Outdoor games are fun, not only for the kids, but it's equally rewarding for the parents to see their kids thrive.
6. Field Hockey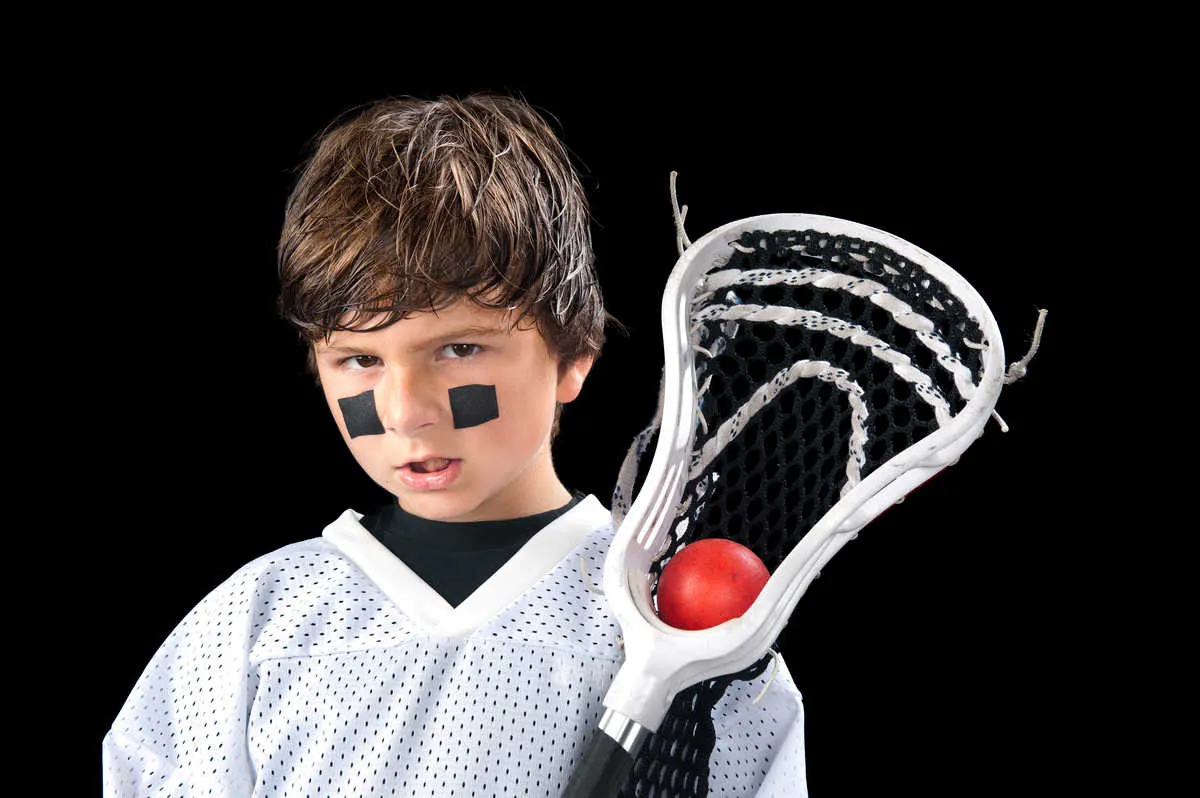 Have you seen your kid playing great hockey? If you think your kid has the potential to pursue field hockey as a career, you need to get him practicing.
It's fairly easy to build a field hockey side in your backyard. You will also need to buy your boy a hockey kit; get one here. Typically a hockey kit has Cleats, Shin guards, sports glasses, Gloves, and Masks.
Being a part of a team is a great social activity for boys. Moreover, field hockey is hard work. It tires you out and also helps you stay in shape. It's fun and fitness, packed in one.
Check out more weekend children activities.
7. Paper Boat Race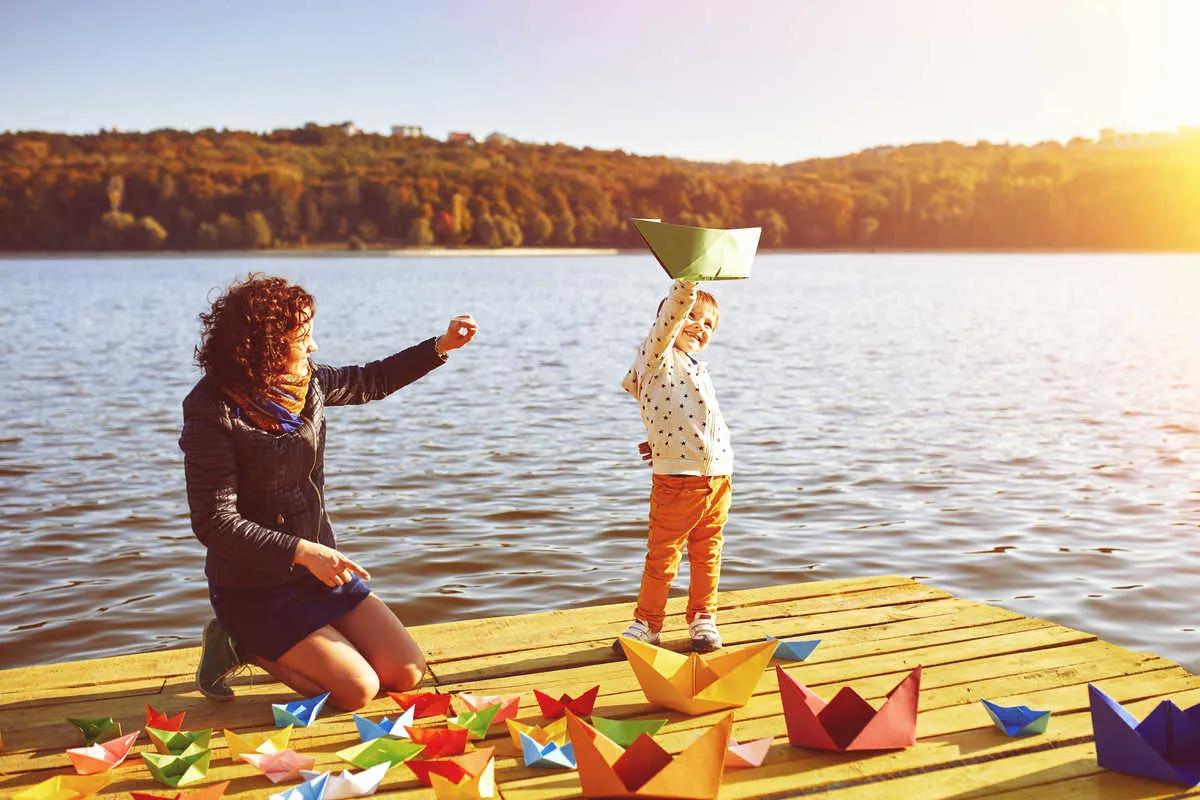 A great thing doesn't need to be complicated! Paper boat race is a brilliant and easy game that needs nothing but the art of making a boat with paper and some straws. If you don't have straws, order a pack here and let your kids race their hearts out.
Teach your kids how to blow through the straw and move the boat forward. Let them race to the finish line. You will hear nothing but squeals of joy all day if you start the boating competition between the boys.
8. Slip n Slide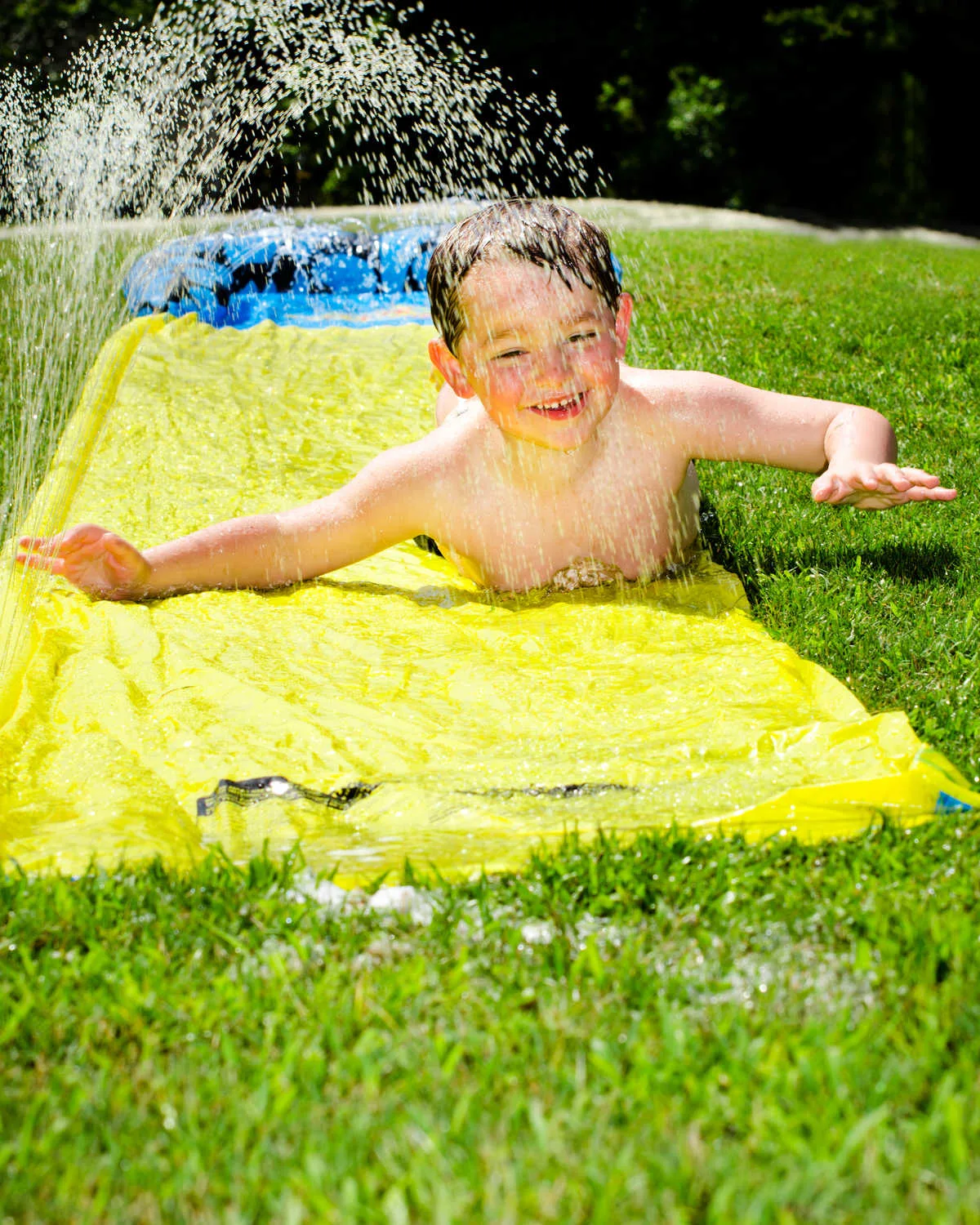 Slip and splash is the perfect summer backyard game that you can create and use for days. All you need is a long heavy-duty plastic sheet, and the rest is history. Order the plastic sheet here.
Slip and slide is a fun way of keeping the kids busy and cool on a hot summer's day. Run the plastic down your backyard, secure it with lawn anchor pins and add some soap to get the slide extra slippery.
Watch as your kids slide with the widest smile on their faces and keep coming back for more. Kids can play for days on this super fun and wet slide. It's the perfect summer outdoor activity for the whole family.
9. Squirt Guns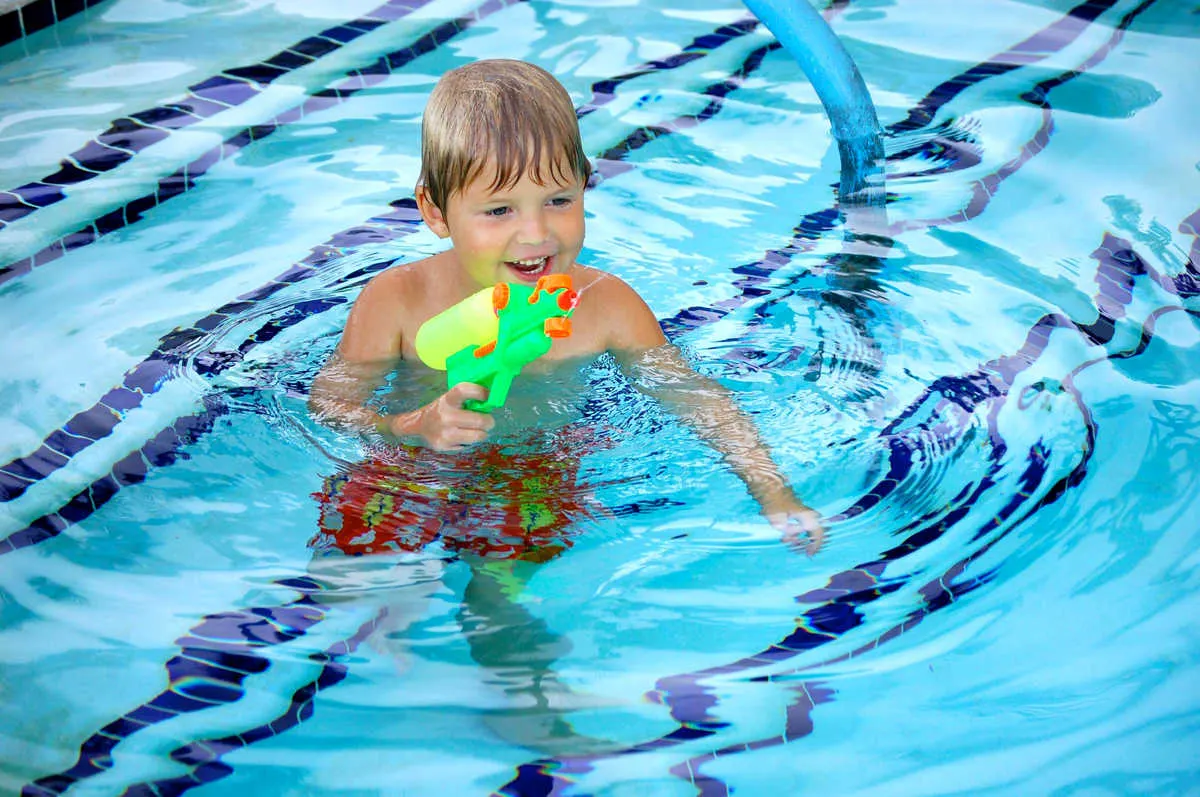 Summer outdoor activities are super; they keep the kids busy and are also great fun. One such activity tool is squirt guns. You can use squirt guns to play all sorts of water games with your kids in the backyard or on your lawn.
You can even take your guns to the local park and have a water battle there. If you want to make it even more fun, wear white t-shirts and fill your water guns with colored water. Get your water squirting guns here.
This is one of the easy outdoor activities perfect for warm weather. You can play it in your own backyard without the risk of damage!
Check out more engaging activities for 1-year-olds!
10. Water Balloon Fight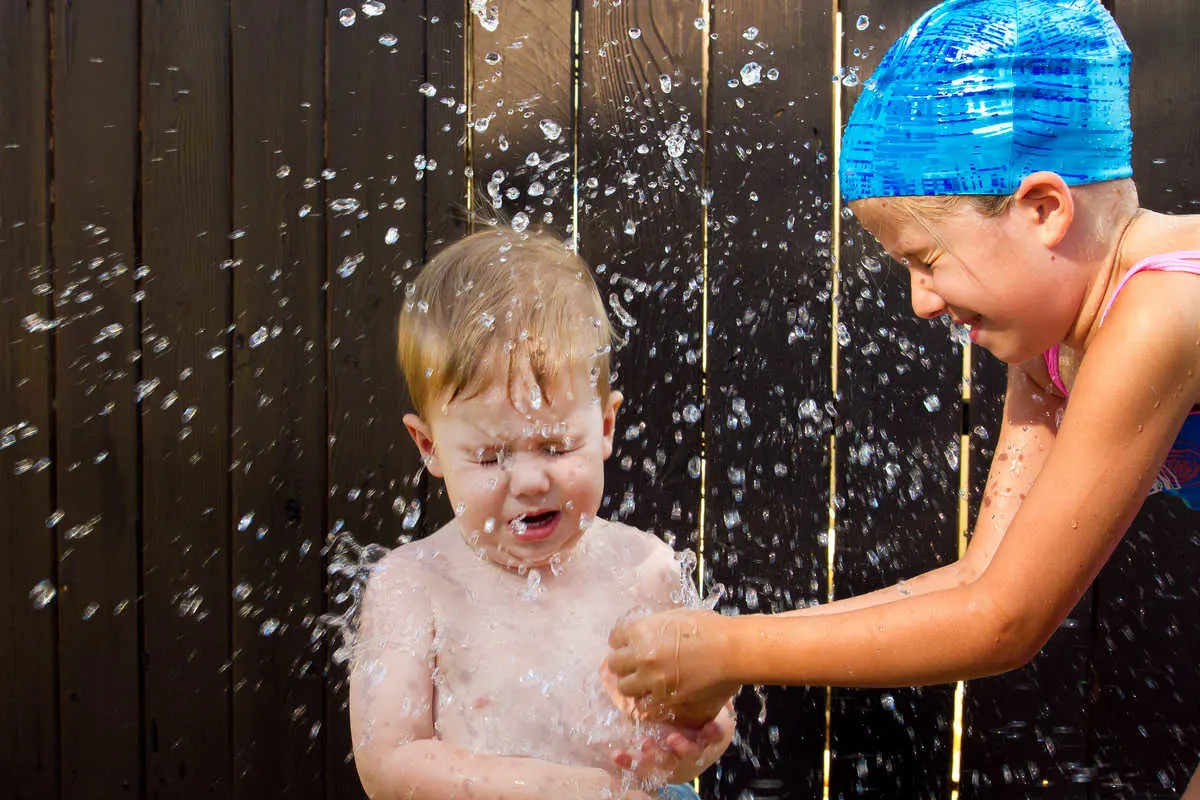 Just like squirt guns, water balloons make for the best outdoor activity gadgets. You can plan for a family water fight on a hot summer day. The boys and the whole family can take part in the fight.
Water balloons are really affordable, and you easily get enough for the whole family in one pack; they are also very easy to fill. Get your 1st pack of water balloons here.
11. Bike Riding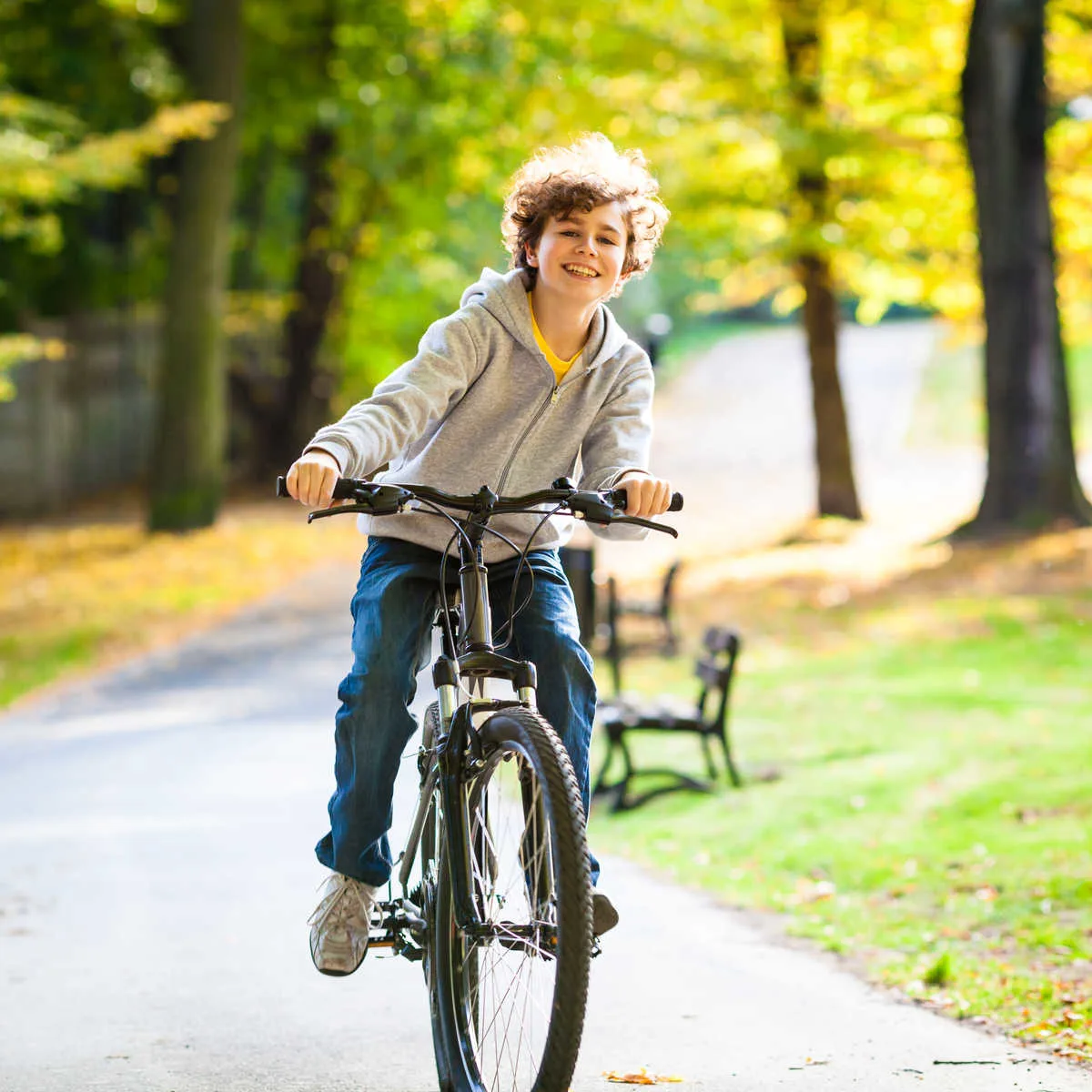 Summer breaks are fun for kids, but they are hard for parents. The kids need too much attention and activities all day. It's not easy for boys' parents to keep them amused all day long.
For such hyperactive bots, we suggest bikes! Get your boys bikes and bike riding lessons. They will have the time of their lives roaming around the neighborhood and will stay out of your hair for a good part of the day.
12. Playing Catch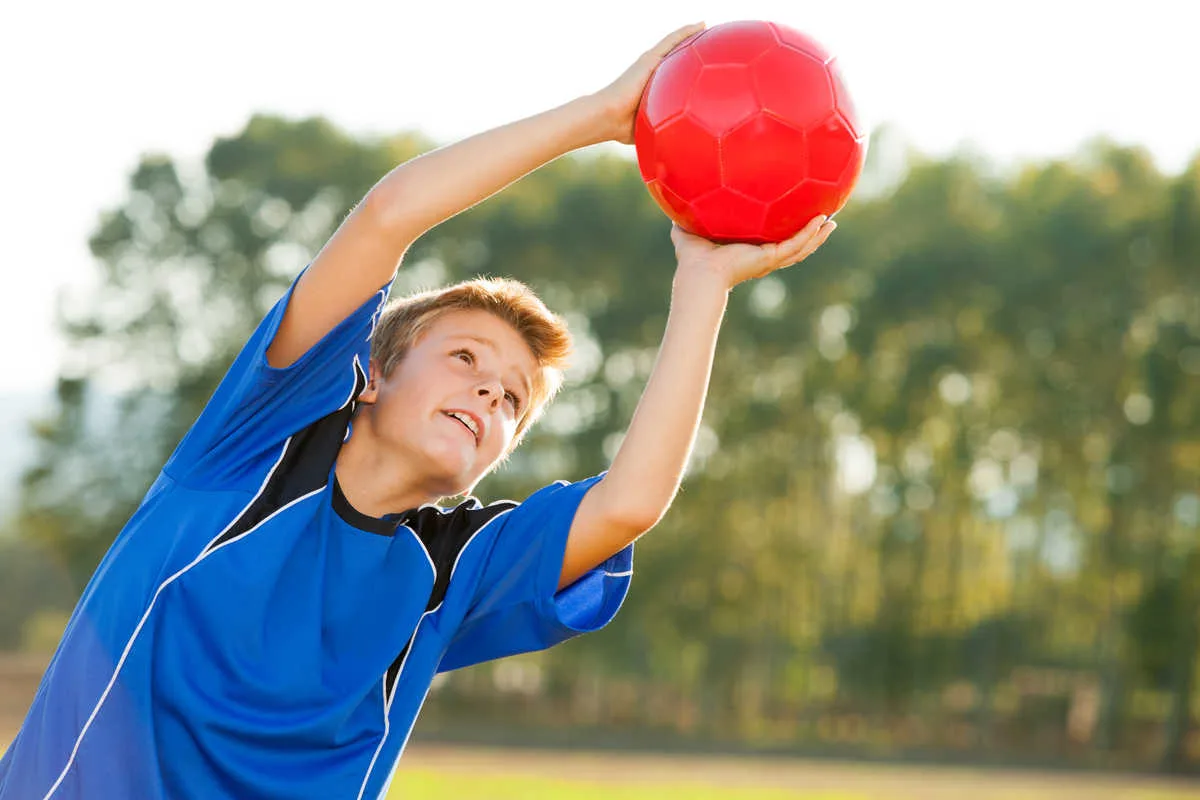 Kids play well independently, but at times they do need their parents' attention. If your kids are having a hard day and if they want you to play with them, the easiest thing to play is catch.
You need nothing but a couple of balls to play catch and have fun with your boys. Playing catch may seem like a simple game, but it has many benefits. It builds hand-eye coordination; it also builds focus and attention.
The best part is it's also a great trust exercise between a child and his parents. So, there you are, the many benefits of playing catch with your boys apart from it being fun.
This is a great activity when you don't have many creative ideas.
13. Shoot Hoops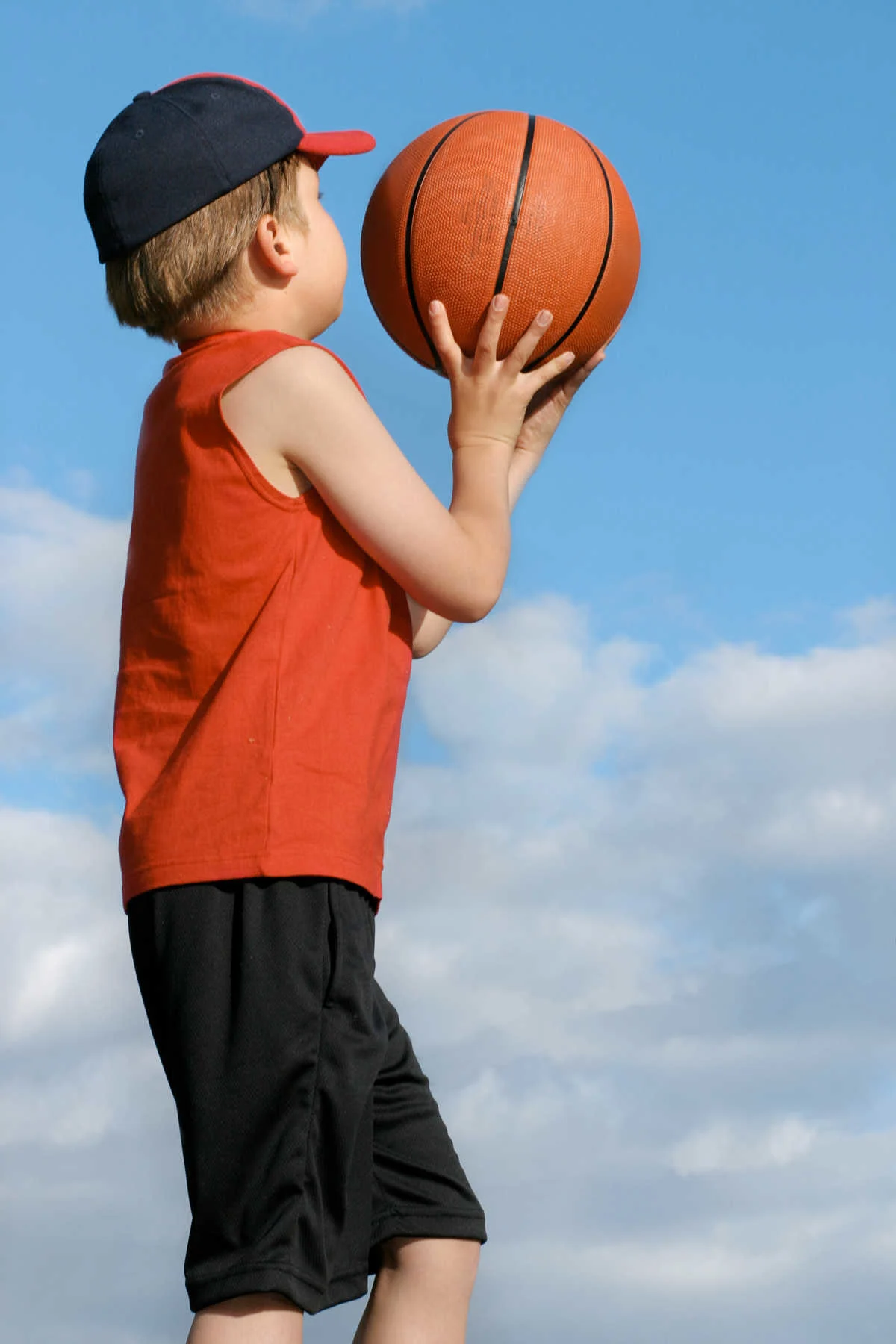 Shooting hoops is yet another brilliant outdoor game that you can play with your boys. You can easily order a hoop here if you already don't have one.
All outdoor games have massive health benefits; your boys can get a lot of exercise from simple outdoor games like shooting hoops.
Shooting hoops make the upper body stronger, and it also helps focus and strengthen bone muscles. It's a full-body exercise that's perfect for growing boys.
14. Squirt Gun Painting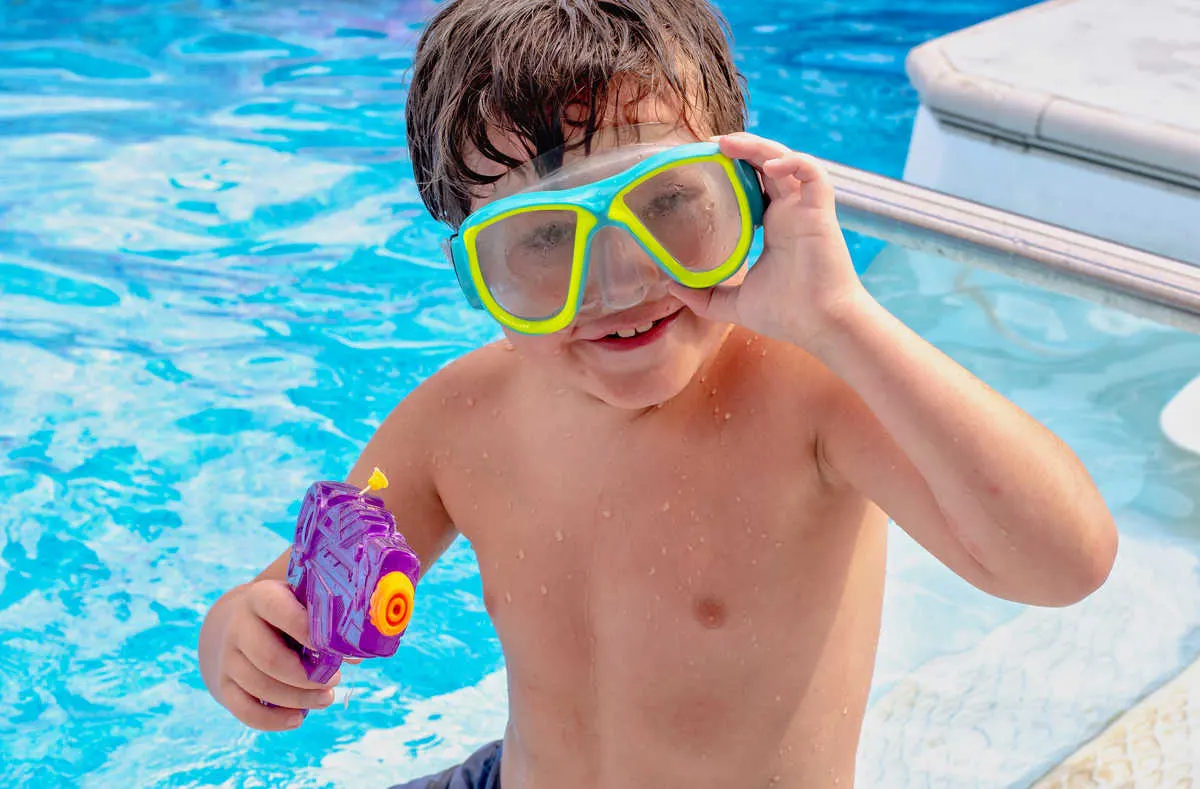 If your kids are bored of traditional games like running, playing catch, etc., we have a better solution to keep them outdoors. Get some plastic water guns, fill them up with colored water and let them have a go at Squirt Gun Painting.
You can get your squirt gun here. You can get big canvases, plain white t-shirts, or even white cardboard as targets. This is a super fun activity that will keep your kids amused for hours.
15. Mud Kitchen
The mud kitchen is highly popular with kids of all ages and genders; both can play with a mud kitchen all day, whether you have girls or boys.
A mud kitchen is easy to build if you can't just buy one online. Get your mud kitchen here. Let your kids play pretend kitchen with water, sand, and mud. With their super creative mud kitchen, they can pour, squash, cook, and whatnot.
16. Nature Paint Brushes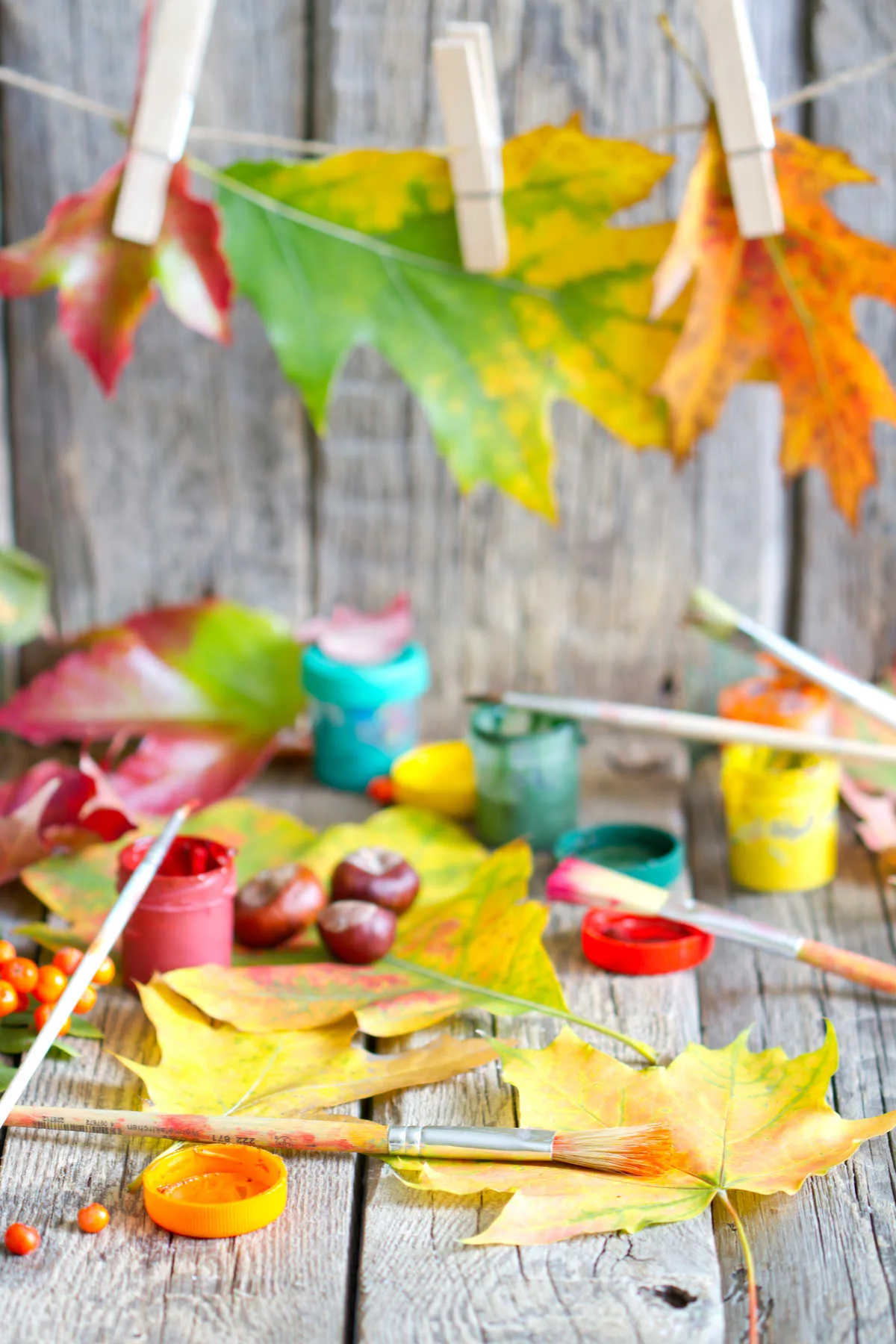 Painting activities are super cool and popular with all kids, but making a painting tool, now that's an excellent idea. Collect twigs with your kids for nature brushes. Next, find as many different textured leaves and bushes as you can to make the brushes' bristles.
Once you have enough material, start tying it all together to make your brushes. Give your kids some paint and paper to test out their brushes.
17. Sponge Water Bombs
Let's have a water war, not with water balloons but with sponge bombs. Sponge bombs are easy to make. You will need eight strips of sponge for each bomb. Hold them together and tie in the mild to make the bomb.
Once you have an extensive arsenal of sponge bombs, get a bucket each and let the fun begin. This is a brilliant game for boys of all ages. You can call over your son's friends, too, as they say, "The more, The merrier."
18. Bug Scavenger Hunt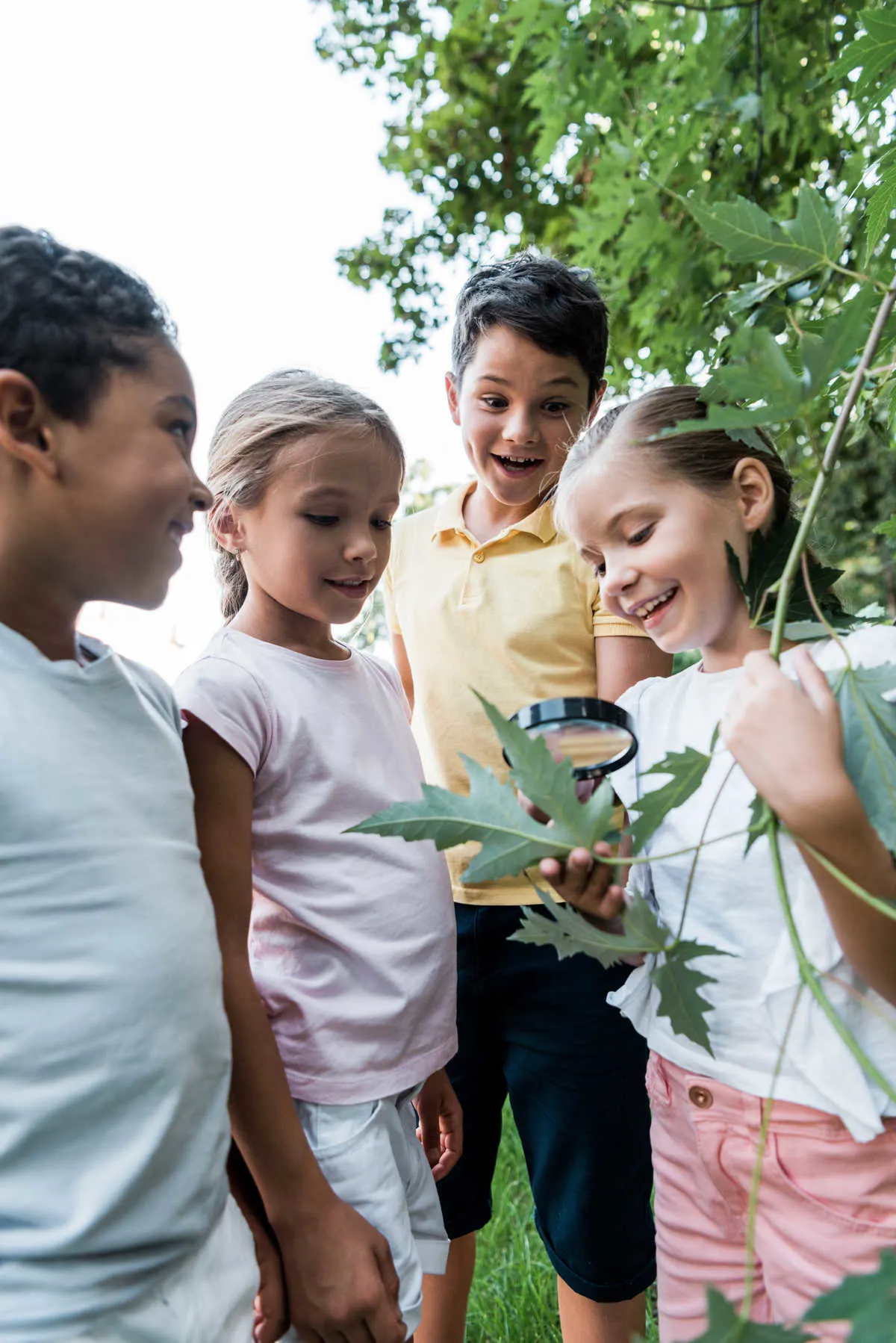 The bug scavenger hunt is just the same as any normal scavenger hunt; the only difference is that you explore nature to find what's hidden. Get a printout of common bugs found in the garden, and let your kids spend a day outside looking for the bugs.
You can get the printout online, or you can make your own. You can add different flowers and plants to your scavenger hunt as well.
Enjoy this nature scavenger hunt as it's one of the easy activities the whole family will enjoy.
19. Climb a Tree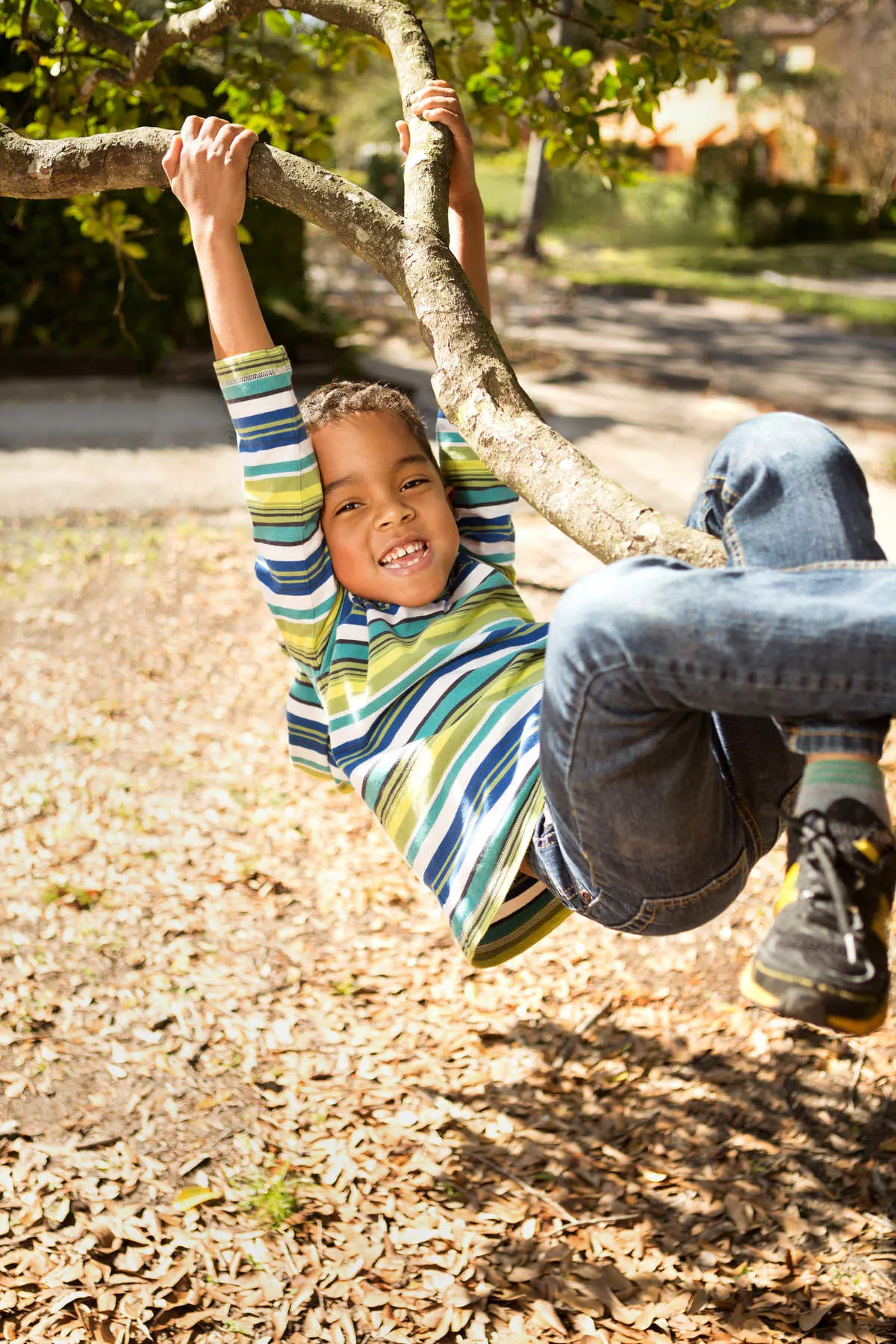 Do you have a climber in your lot? If yes, why not teach him to climb trees safely? There are a lot of online tutorials that can help you teach your boys how to climb a tree.
It's a brilliant skill that will help your boy strengthen his upper body muscles and boost his confidence. Letting the kids play outside is excellent for their physical and mental health.
20. Rock Maze
If you want your kids to have outdoor playtime, you need to push their imagination. Teach your kids how to make rock mazes and help them make some independently.
Once they learn how to, they want to show off to their friends. Playing with kids helps them open up more. It also helps your kid take the next step towards independent play.
Moreover, the Rock maze is a great way to boost your baby boy's creativity. Give your boys different shapes to try with the rock maze. It's a great pastime and a fun outdoor activity.
21. Nature Journal
Nature is a big wonder, and it has so many secrets and teaching moments. Let your kids explore nature by motivating them through a nature journal. You can start one with them, but let them finish it on their own.
Discuss nature with your kids, let them explore different aspects of nature, and record them in their journals. You can help them when they get stuck, but let this be their baby project.
Did you know Charles Darwin, the famous scientist, kept a nature journal as a kid? You never know what this harmless hobby has in store for your baby.
22. Create a backyard dinosaur world
How to kick start your child's imagination? Play outdoors with them. Create a backyard dinosaur world and let them take the lead on it.
Get yourself some rubber dinosaurs here and help your kids build their very own Jurassic Park. With this outdoor game, you can teach your kids all about dinosaurs and their extinction.
23. Sidewalk Chalk art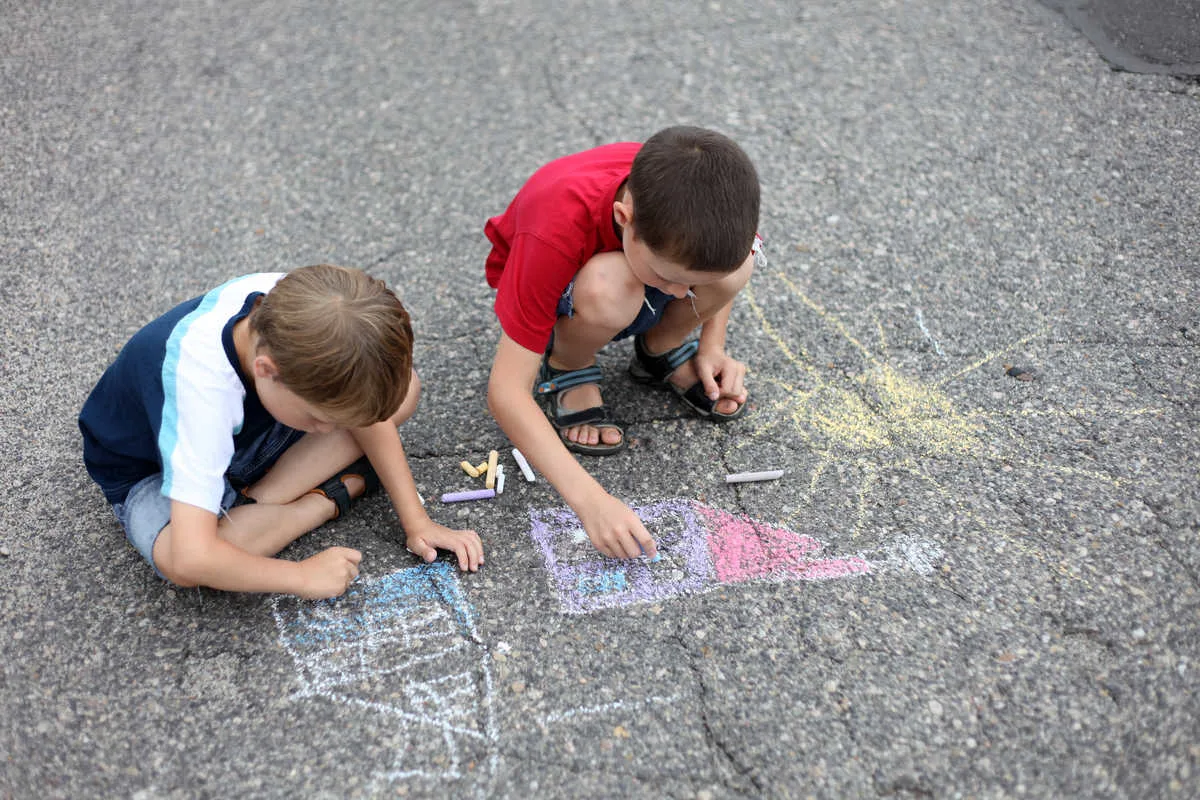 Do you have an artist in your house? If your boy loves to paint and draw, buy him a pack of colorful chalks here and let him draw on the sidewalk.
Kids love a huge canvas, and what's better than the sidewalk to draw to your heart's content? Do this, and you will not see your kid till it's dark outside.
This is one of the simple outdoor activities you can enjoy. Incorporate different colors into your art and make it truly one of the best fun activities!
24. Bonfire Dancing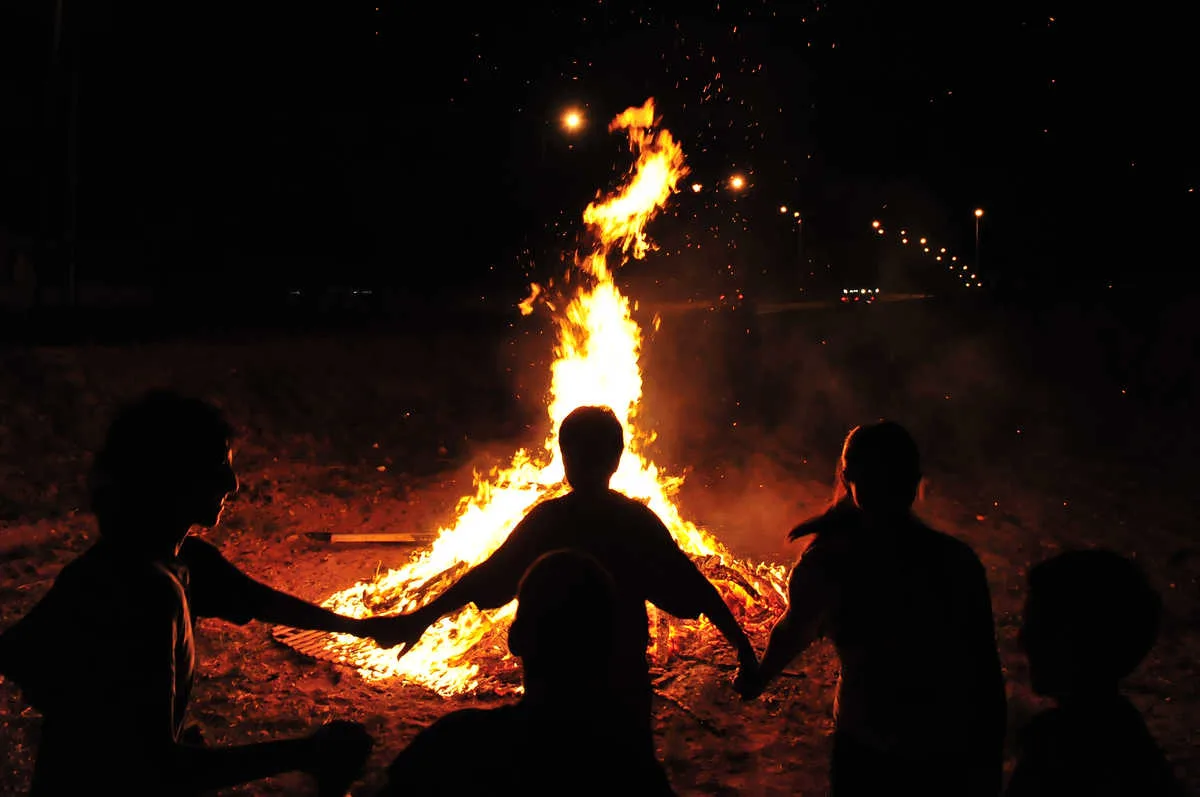 Need a bit more creative ways to engage kiddos? Bonfire dancing is definitely one of the best outdoor activity ideas that will encourage creativity!
Kids are funny people; they love the most ordinary things. It's very easy to amuse your kids with the simplest ideas. Take the bonfire dance, for instance.
Have a camp outside with your kids, and build a bonfire with them. Now put their favorite poems on and dance your hearts out. This is such a fun idea; they will be begging you for more camping adventures every week.
25. Make a Nature Wand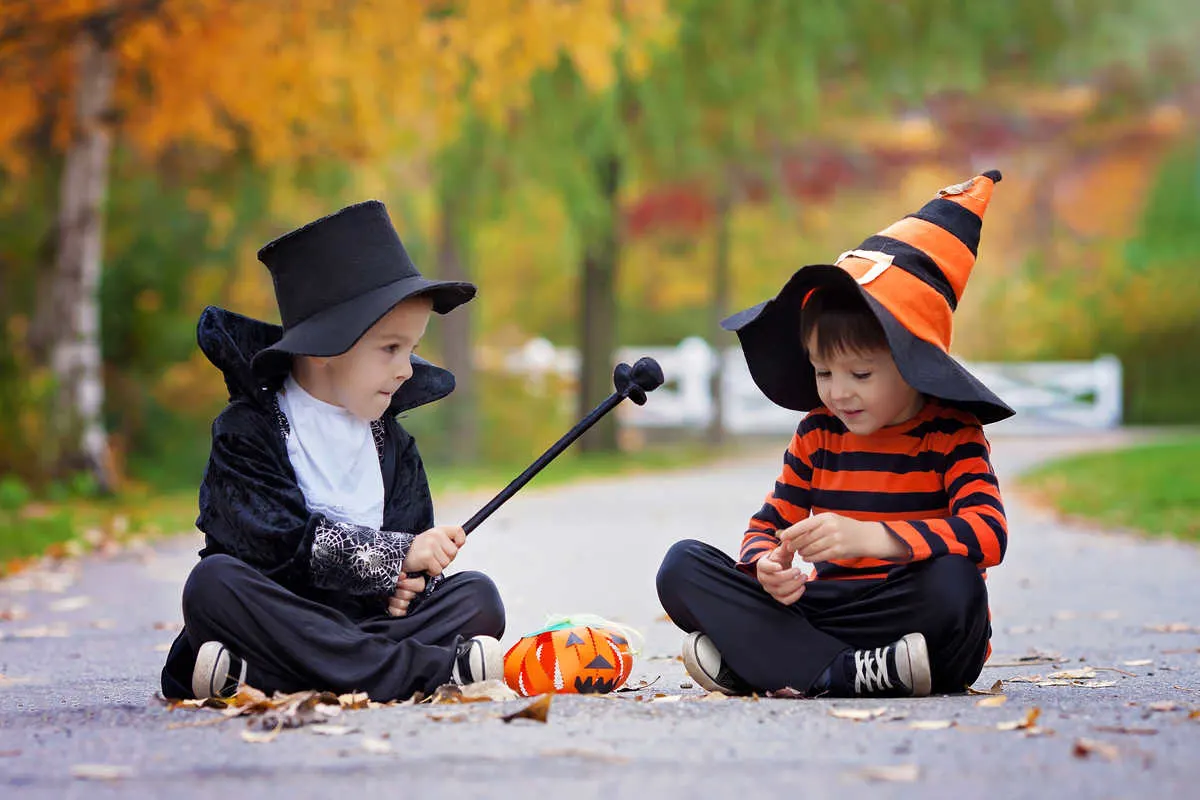 If you're out on a nature walk and the boys are getting bored, try making a nature wand. Just like nature brushes, you can make nature wands; for this, you need nothing but a little creativity, a little outdoor time, and a keen kid to help you with the wands.
Let your boy collect the twigs as well as other materials to make the wand. Once you have everything, let him choose bits and pieces for every wand.
Help him put the wand together and play with pretend magic. You can take spells and enchantment inspiration from the Harry Potter books.
26. Collect Rocks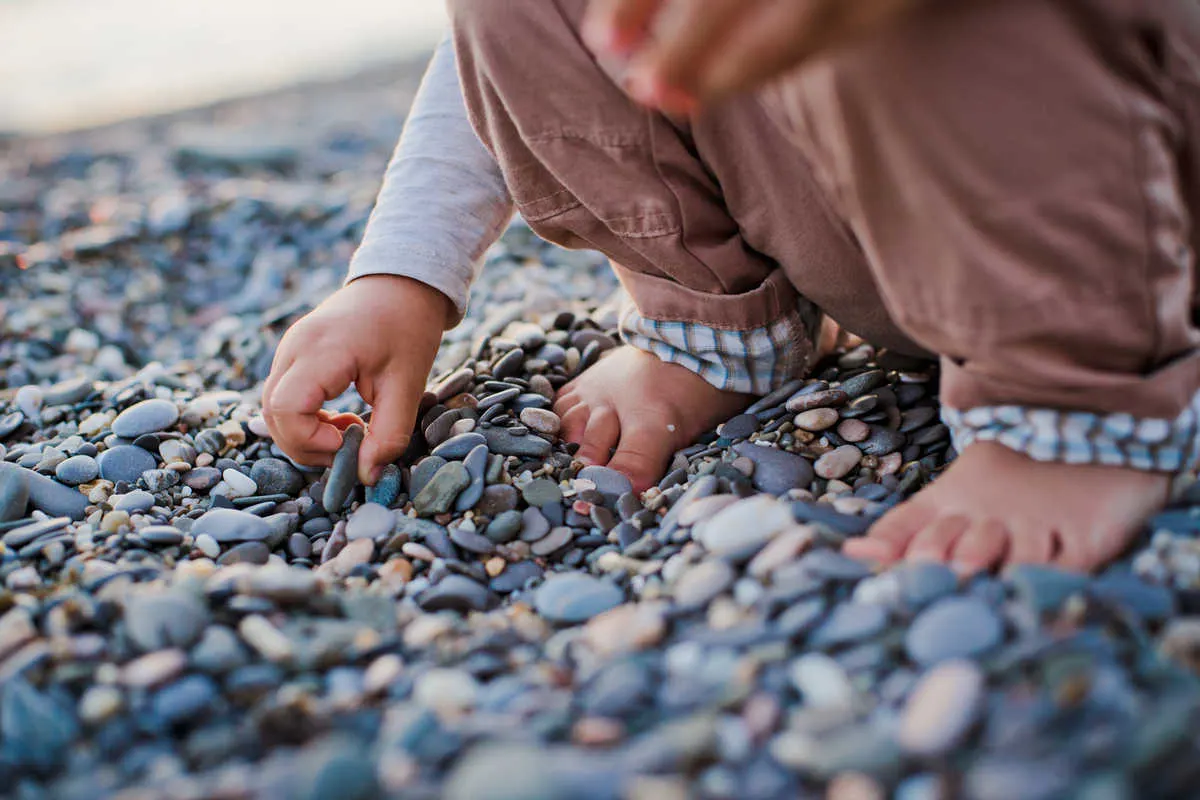 Kids love rocks; they have an uncanny attraction toward rocks. If your kid is the same, you need to push him towards rock collecting. You can get a rock collection kit here and get him started on his new hobby.
Rock collection is not only fun, but it's also highly educational. Make sure you get some jars ahead of time for your boy to store his rocks neatly.
27. Toast Marshmallows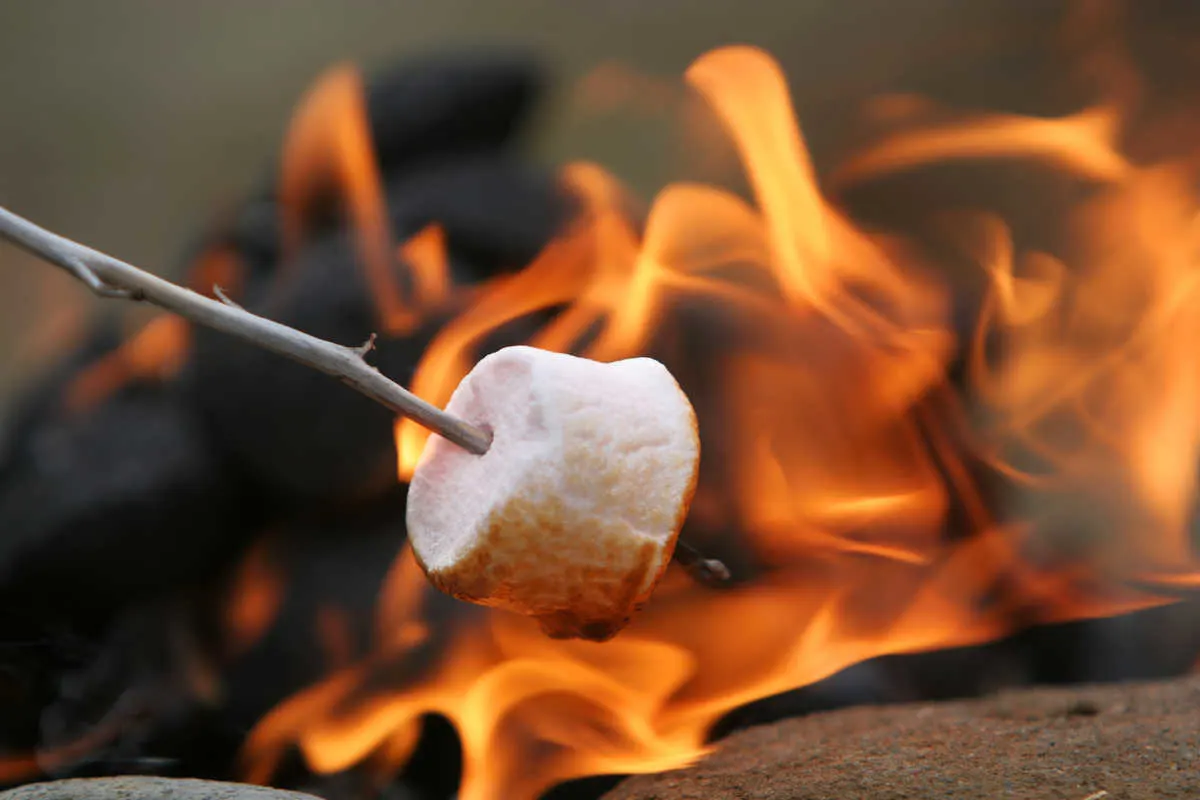 Here's another camping activity. If you are having a camp outside with your boys, get a big bag of marshmallows and get toasting. Keep the fire as low as possible or only use hot coals for safety purposes.
Moreover, get extra long sticks to keep your kids from burning their hands. Always discuss rules before doing any activity with fire.
The outdoors is a world of wonder; let your kids run wild, let them explore nature, and give them tools to conquer the world. Boys love the outdoors. However, they run out of ideas pretty fast. Help them get more ideas to play outdoors, and they will be out of your hair in no time.
Yield: activities for boys
27 Fun Outdoor Activities for Boys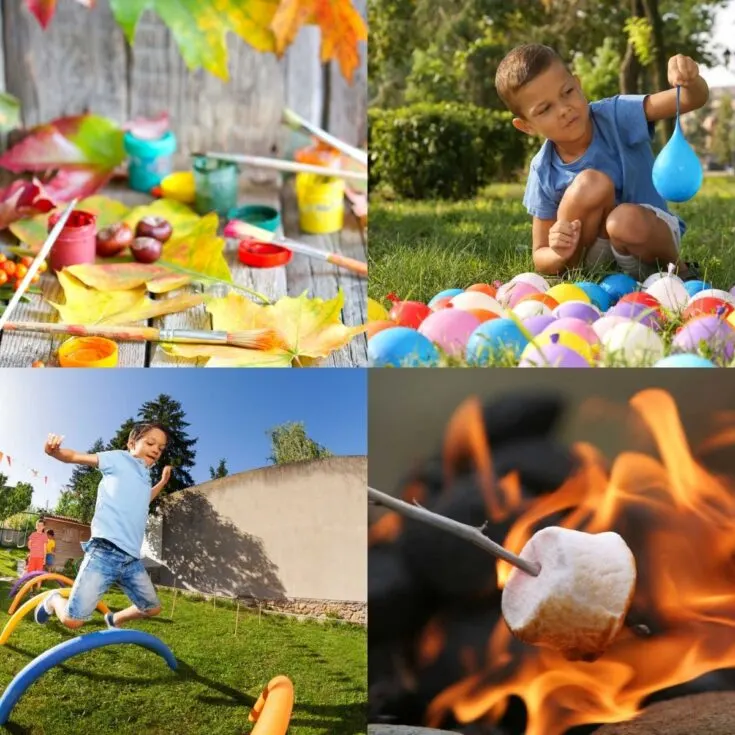 Check out these Outdoor Activities for Boys and keep your children busy! Easy, fun, and creative!
Materials
Find the activity you'll like above!
Instructions
Choose the activity you like.
Get your boys engaged!