Looking for unicorn party ideas? These fun crafts, decorations, and accessories will make the kid party even more fun!
My four-year-old niece is crazy about unicorns; she wants everything with a unicorn on it. This unicorn obsession has made our life a lot easier because we don't have to look very hard for her gifts.
If you have kids around you who are as much crazy about unicorns, you need to check out these super fun unicorn party ideas. Surprise your little ones with their favorite theme and become their favorite uncle/aunt/parent.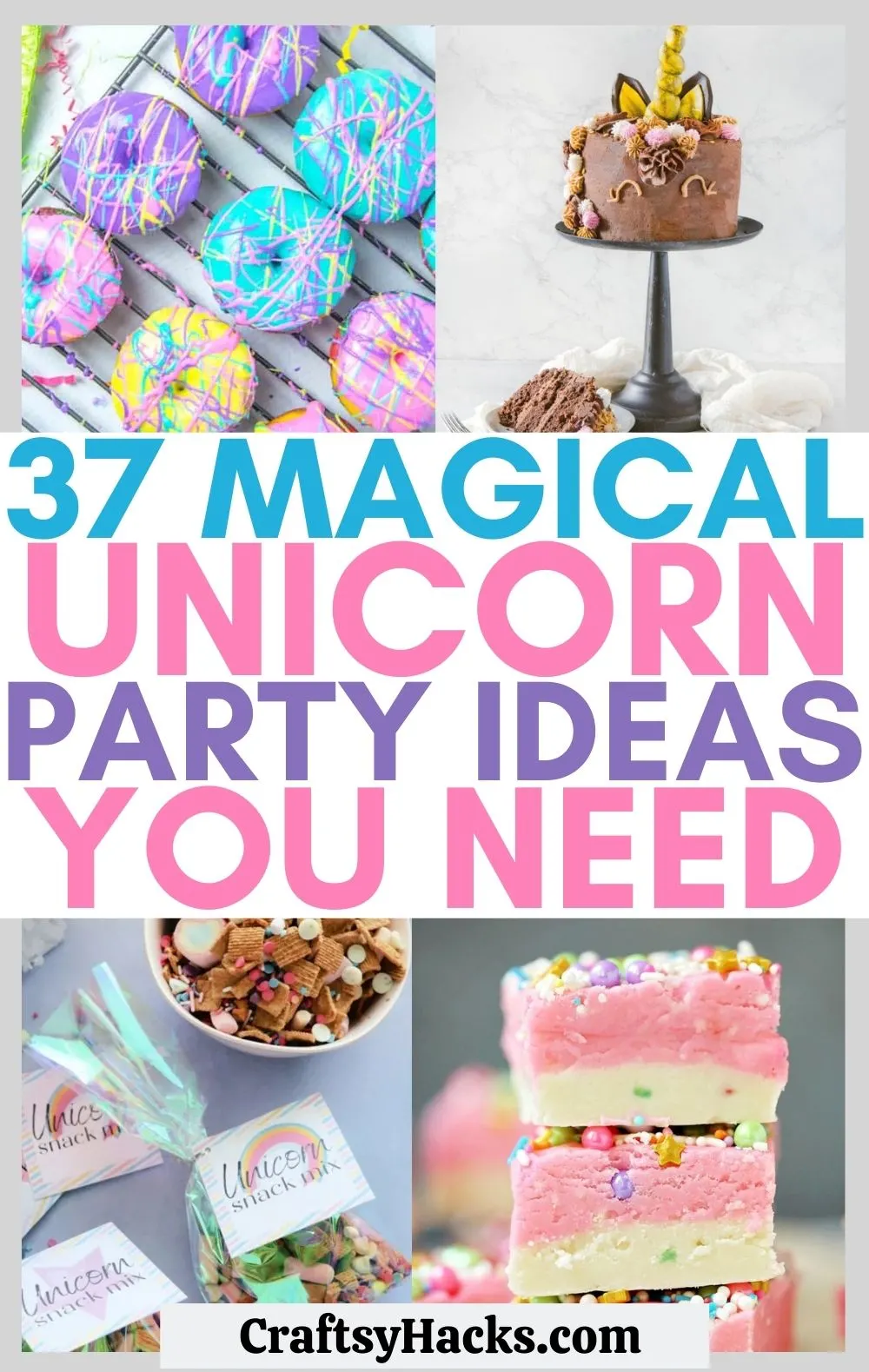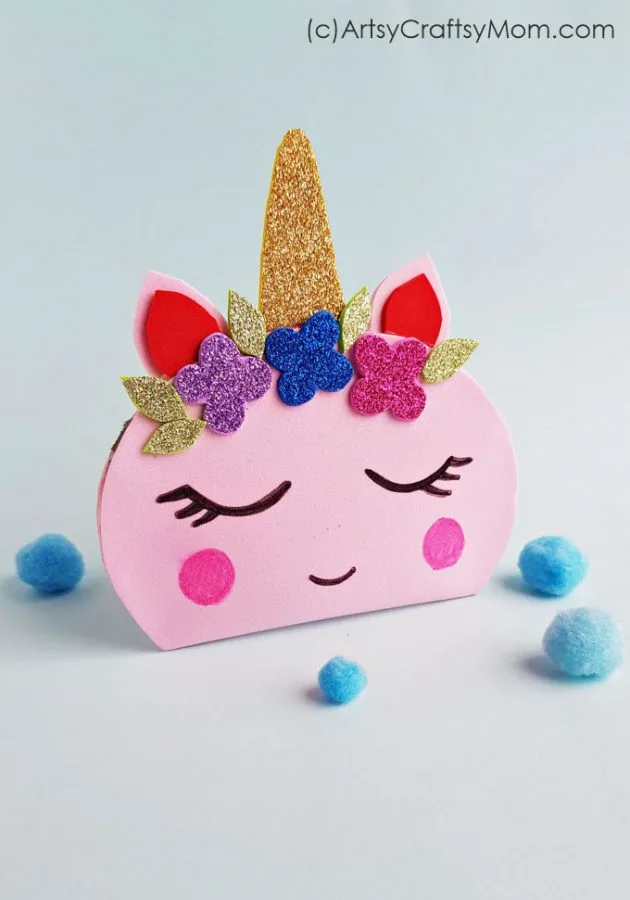 Source: artsycraftsymom.com
Kids love playing dress-up, especially when they are going to a party. They love getting ready like mummy and daddy. For such fashionista babies, we have the best unicorn accessory ever!
Our DIY foam pouch will make your unicorn-crazed girl very happy. For this DIY, you need a creative eye and some simple supplies like foam sheets, a glue gun, and glitter. A glue gun is a must-have DIY tool that you can use in many other projects.
Cut your foam sheet in the shape of number 8, add a small rectangle window for the zipper and add the horns and ears before gluing it up from all sides. That's it! You are done with your coolest ever no-sew unicorn pouch.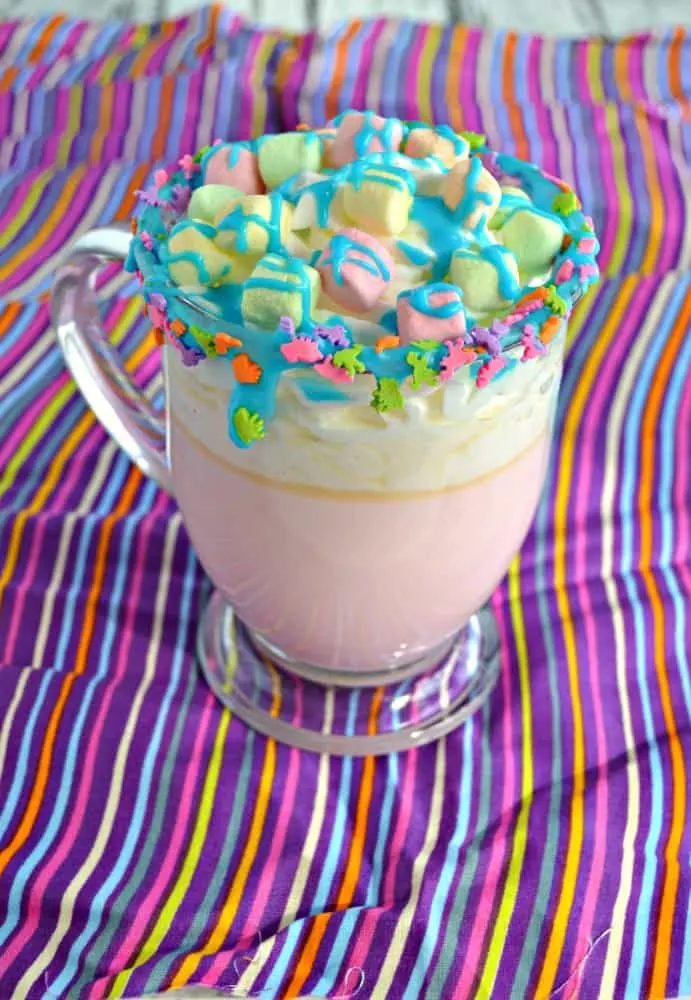 Source: hezzi-dsbooksandcooks.com
If you have planned a unicorn party for your kids, you need one last thing for your plan to be a huge success, Unicorn Hot Chocolate. Let's face it, kids love hot chocolate, and if you mix it with a unicorn theme, they will go nuts over it.
Well, here's how you can make some. White hot chocolate, drizzled with some pastel marshmallows and blue icing. This is it; this is how you make unicorn hot chocolate for your unicorn party.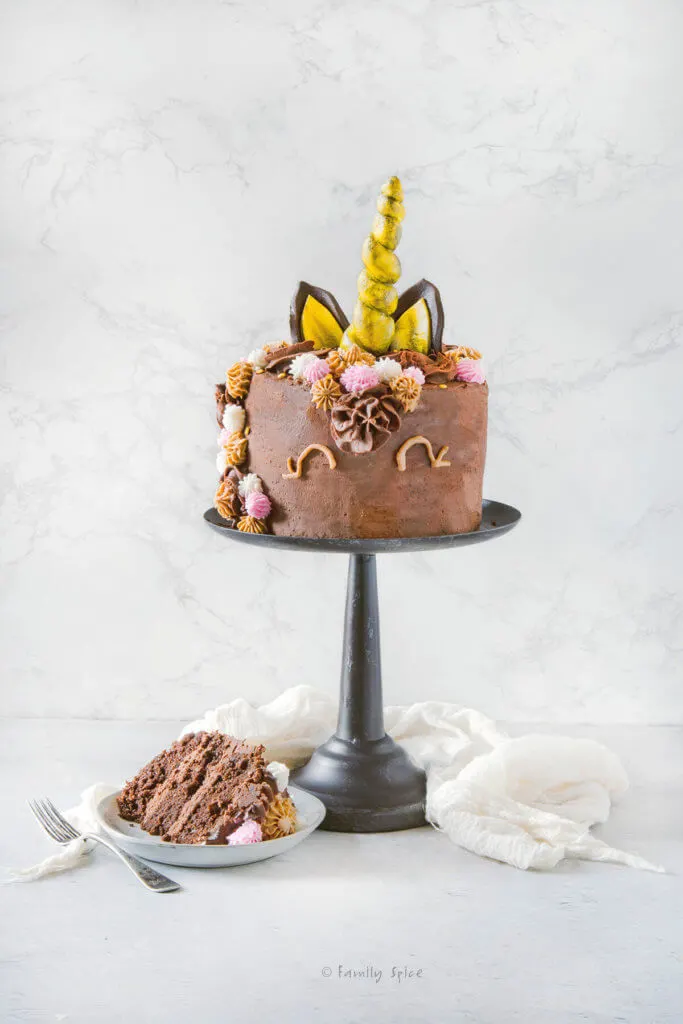 Source: familyspice.com
Did you know you can transform any cake into a unicorn one? Well, it's pretty easy to make a unicorn cake, and if you want, you can also make a homemade cake and turn it into a unicorn one.
To decorate a unicorn theme cake, you will need food coloring, edible gold powder, heavy whipped cream, and icing sugar. If you can't find edible gold glitter, order some here.
You can make any kind of homemade fondant to make the horns and ears of the unicorn. Use black icing to make lashes and a smiley on the cake to represent the face of the unicorn.
And there you have it; your unicorn cake is ready to be served.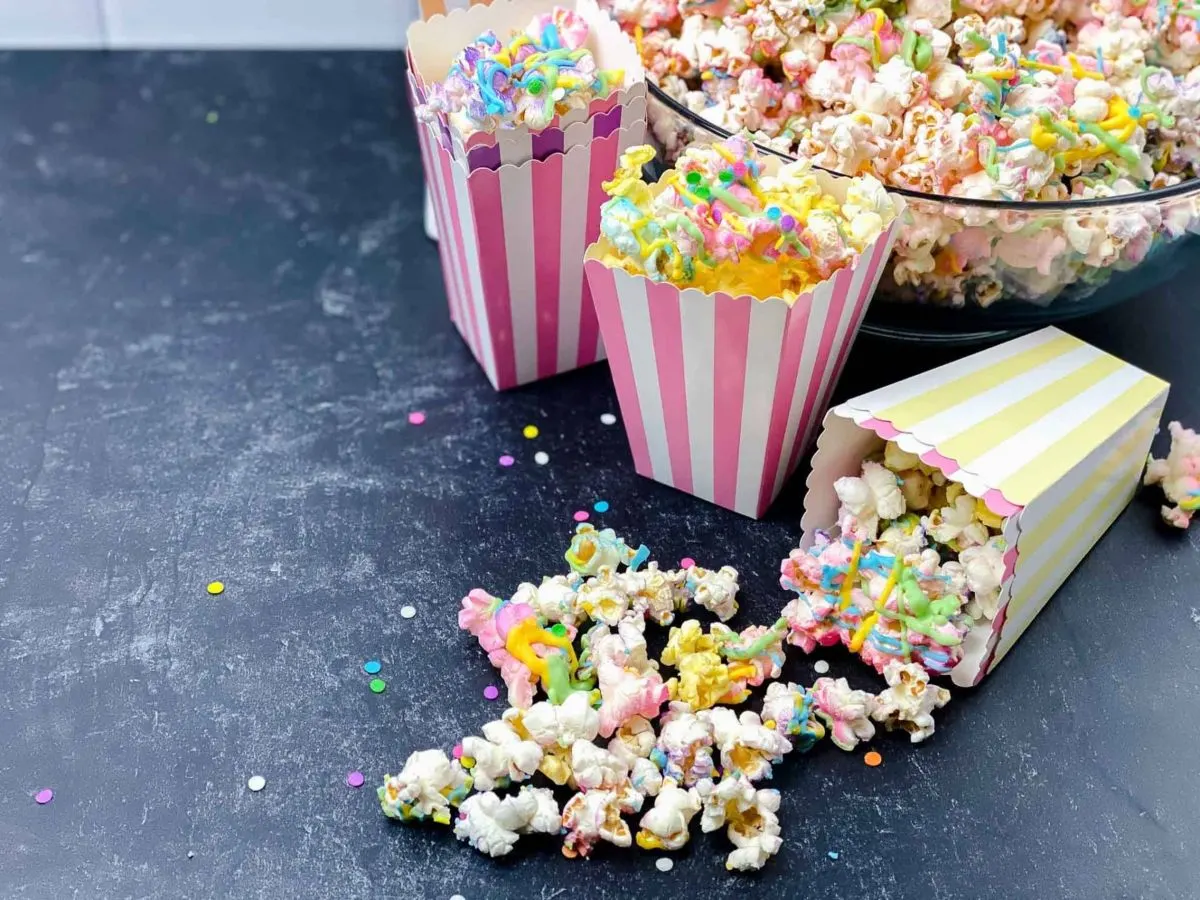 Source: brooklynactivemama.com
A little bit of color can make anything magical; this is how we create our very own magical unicorn popcorns.
To make your own batch, you will need candy melts, candy mist, regular popcorn, and a whole lot of magic.
Pop some corns, spray them with blue and pink mist and later add your candy melts like icing on the popcorns. You can serve these for all kinds of special events like birthdays, baby showers, etc.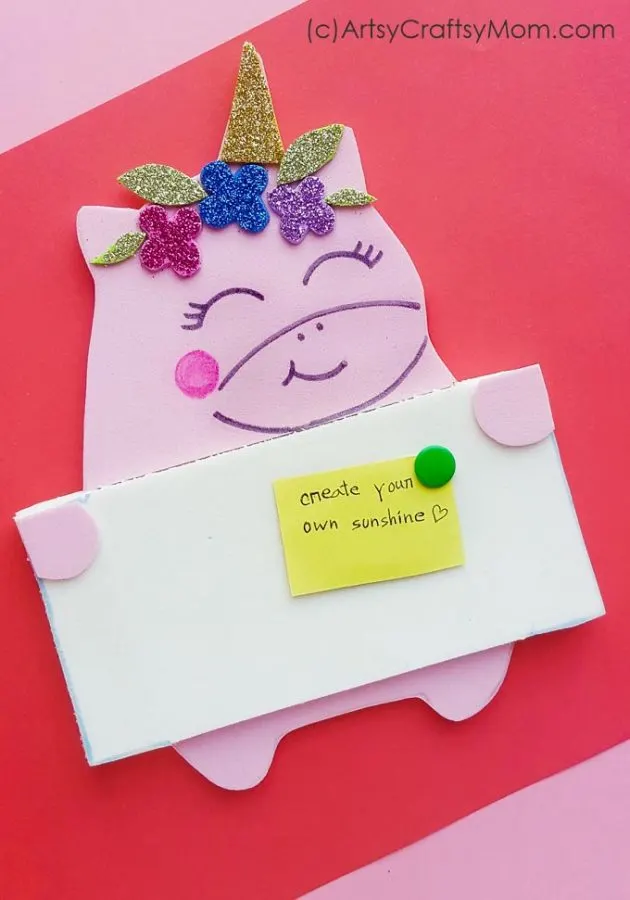 Source: artsycraftsymom.com
Pushing kids to study hard isn't easy, but once you make studies fun, we are sure your kids will make efforts too. Our foam unicorn pinboard can make education and study hours easy for your kids.
The foam unicorn board can be used to add reminders, cute messages as well as motivational quotes at exam times. To make the board, you will need a craft foam sheet, preferably pink, some glitter paper, and a sharpie to add details to your unicorn.
Download the template and use it as your stencil to cut out your unicorn shape. Also, cut out the details, use the glitter foam sheets for the details, put them all together to make your unicorn pinboard.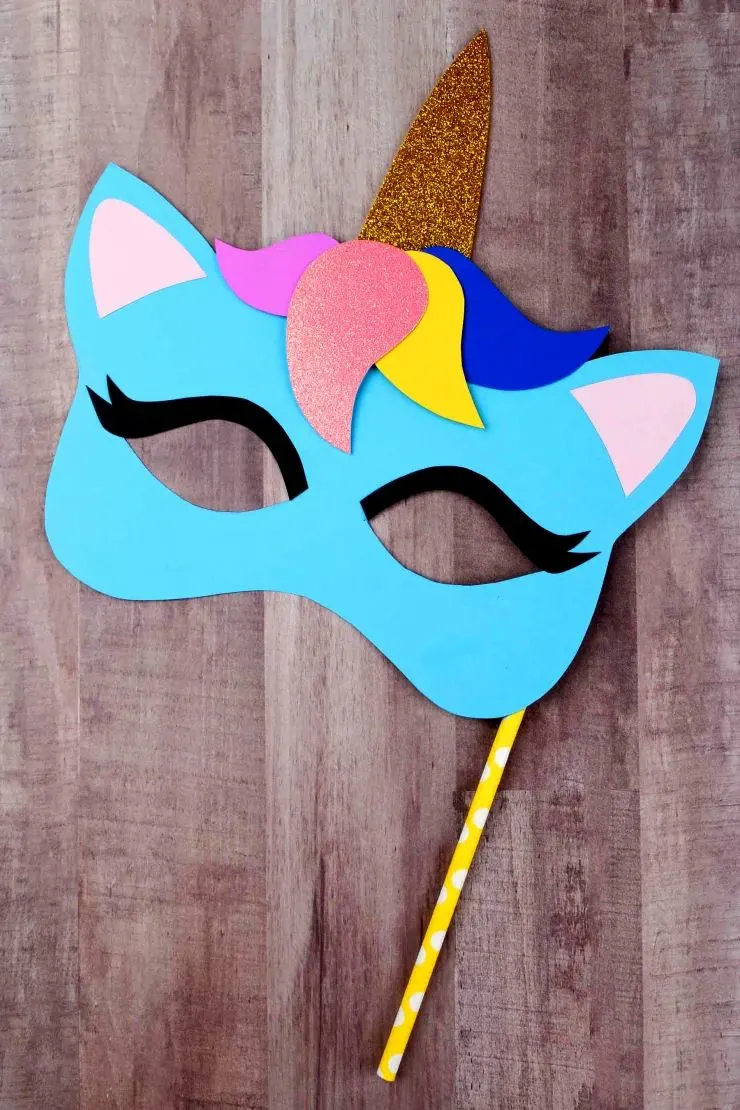 Source: frugalmomeh.com
The unicorn theme is so versatile that you can make so much out of it for your kids. Step out of the ordinary and think different. If you have planned a unicorn birthday bash for your kids on their birthday, let's make it a whole lot of fun with UNICORN masks!
Unicorn masks are not only easy to make but also a fun DIY for you and your kids. To make unicorn masks, you need a gold glitter foam sheet, scissors, rhinestones, and some glue. Rhinestones are optional, but if you want some to glam up your masks, get some.
The first step is to download the template, trace and cut out the cardstock, use the glitter sheets for details. Lastly, add the straw to finish off the mask. Your unicorn foam masks will be the life of your kids' birthday bash.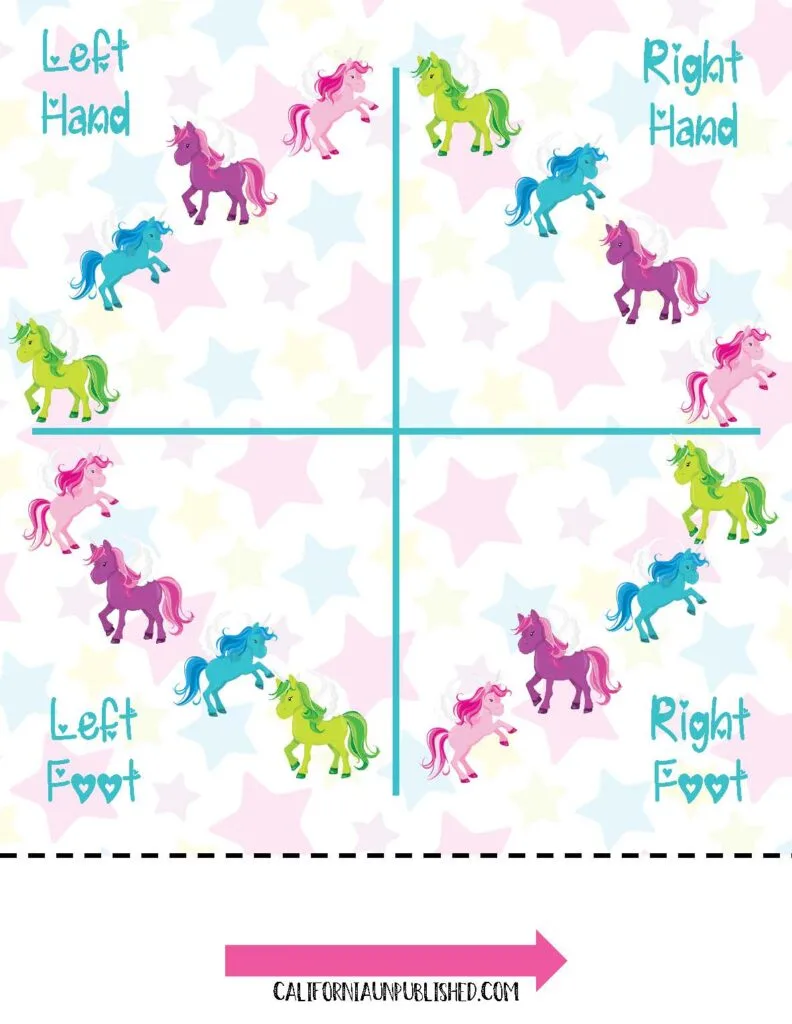 Source: californiaunpublished.com
One can't have a unicorn-themed party without some unicorn-themed games. Here are some traditional games with our very own unicorn twist.
Instead of pinning the tail on the donkey, you can get a unicorn drawing and play pin the horn on the unicorn. You can also play 'roll a unicorn'. Throw the dice to complete the unicorn. These fun unicorn games are perfect for a unicorn theme birthday bash.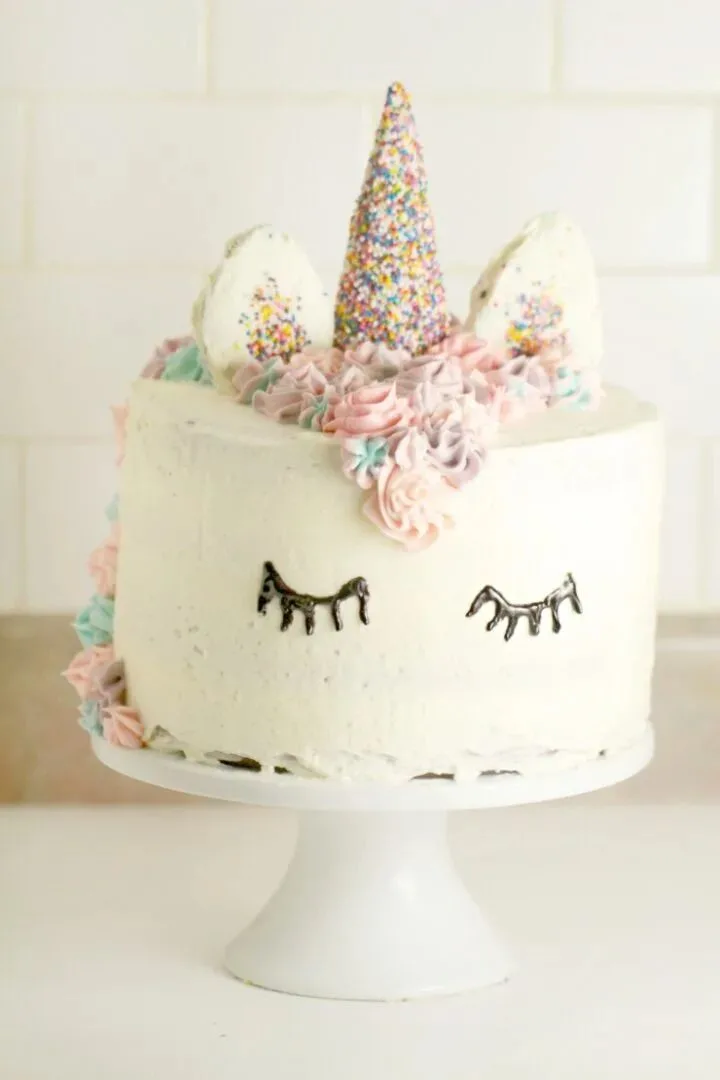 Source: frugalmomeh.com
A rainbow unicorn cake can be the showstopper of your unicorn theme party. Here's how you can make the perfect rainbow cake to add all the colors to your unicorn-themed party.
To start with, you will need four batches of vanilla cake batter. Add red, yellow, green, and blue food coloring to your vanilla batter and bake your cakes. Once your cakes are baked, layer them up.
The rest is all in the details. Use a sugar cone for the horn, frosting to decorate the cake, and lastly, black icing to add other details to your unicorn cake.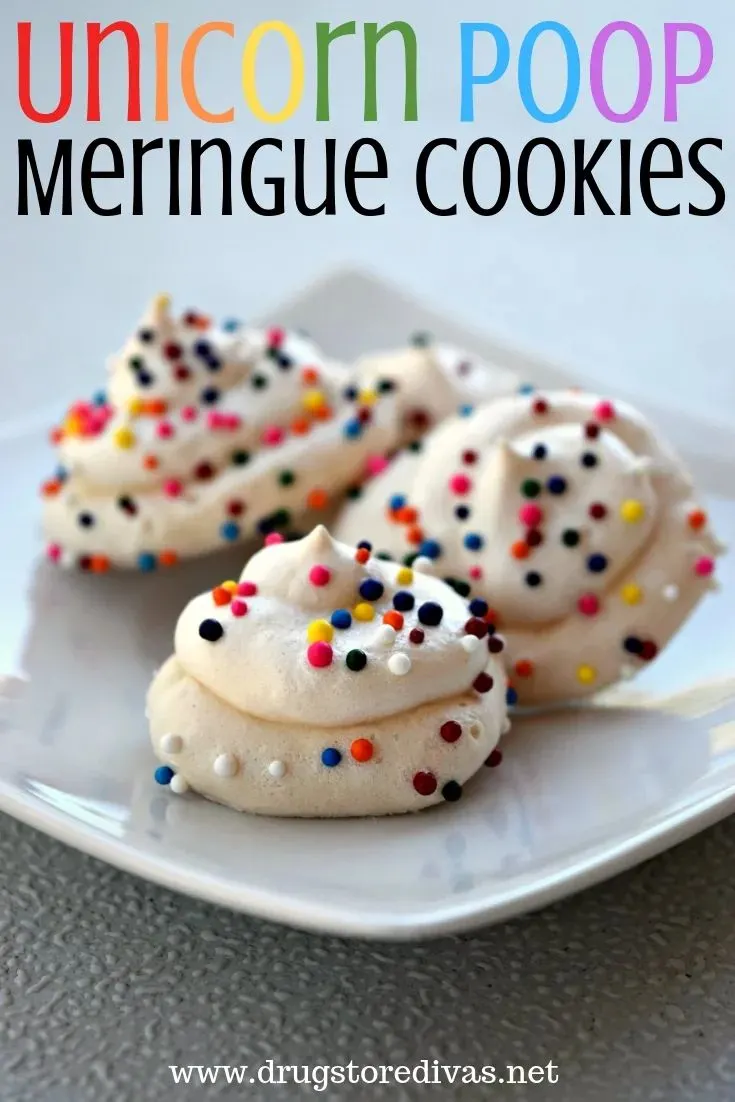 Source: drugstoredivas.net
Unicorn fans love anything and everything to do with unicorns, even if it's the Unicorn Poop Meringue Cookies. These cookies are perfect for a unicorn theme birthday party or even a baby shower.
To make this super easy recipe, all you need are basic cookie ingredients like eggs, cream of tartar, vanilla, and Rainbow sprinkles; even if you don't have the sprinkles, not to worry! Just click here to order a box.
These cookies taste like crunchy clouds in the mouth; if you need a quick sweetness fix, this can be your go-to recipe.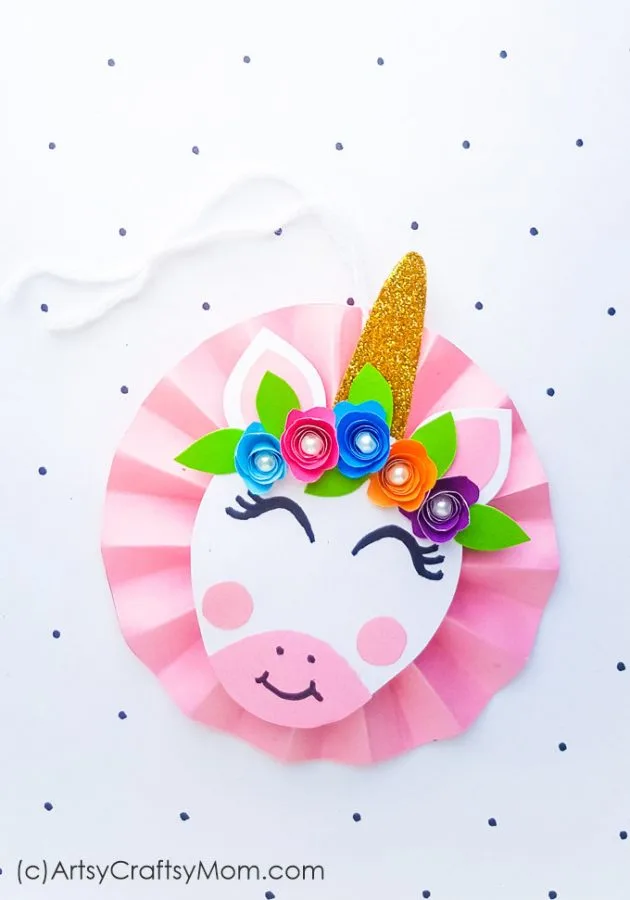 Source: artsycraftsymom.com
Is there anything more magical than unicorns? Well, yes, Christmas. So let's combine the magic of these two and make a unicorn paper ornament for Christmas.
For this simple yet magical ornament, you will need green craft paper, Golden craft glitter, and a long string. Print out the template and cut out all the necessary parts with the help of the template.
Once you have all the parts, glue them neatly and attach the string, and there you have it. The best Christmas unicorn paper ornament is ready to adorn your Christmas tree.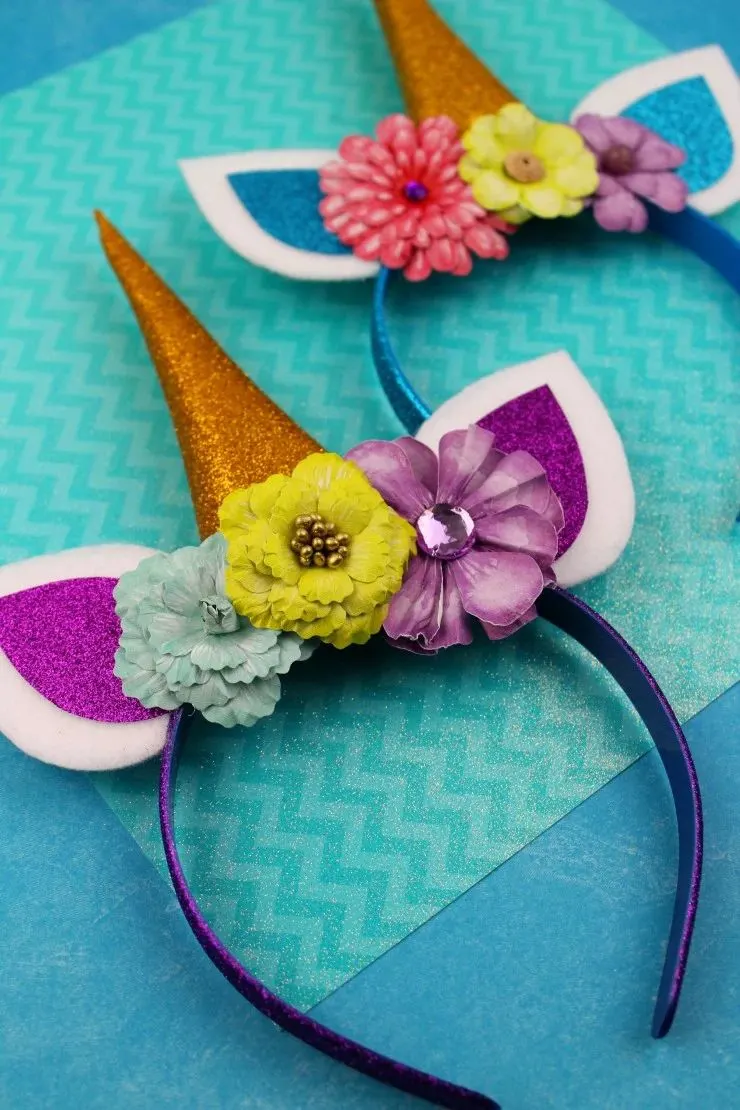 Source: frugalmomeh.com
Whether it's a Halloween party, fun dress-up at home, or just a themed birthday bash, a unicorn headband is perfect for all three. This versatile unicorn band is the perfect surprise for your little girl, and it's so easy to make. Let's get started.
You will need a couple of headbands, some glitter and plain foam sheets, scissors, and some flowers for glamming up the headband!
Use the template to cut out horns and ears, roll up the horns and assemble the ears. Hot glue them on the headband and add the flowers on the front. These headbands will make your little girl sequel with joy.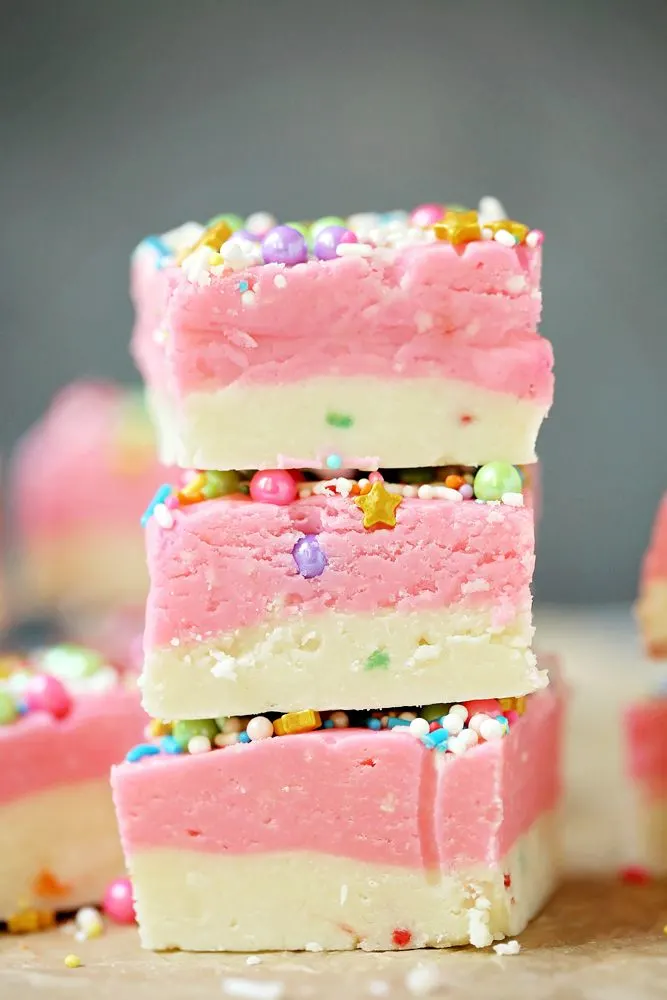 Source: californiaunpublished.com
Are you planning a unicorn party but aren't keen on a huge cake? Well, we have the perfect fudge recipe that is a cake, but not really.
Our cake batter fudge recipe tastes not only great but also looks divine. You will need to make two different layers of cakes, one pink and one white. To decorate your fudge cake, you will need A LOT of sprinkles.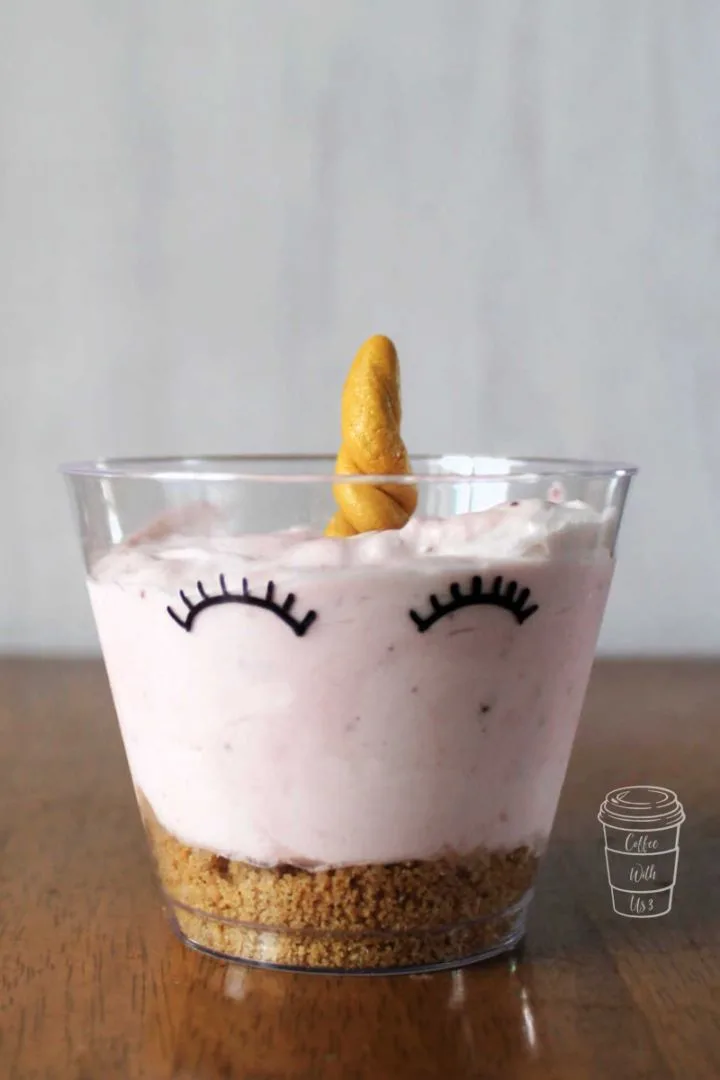 Source: coffeewithus3.com
Unicorn cups are surprisingly easy to make, and they are also a great snack item for birthdays and baby showers. You will need clear plastic glasses and a sharpie to draw your unicorn on the glass.
The recipe is fairly easy if you have frozen strawberries, sour cream, and heavy cream. For the horn, you will need gold fondant. These unicorn cups make a simple dessert utterly magical.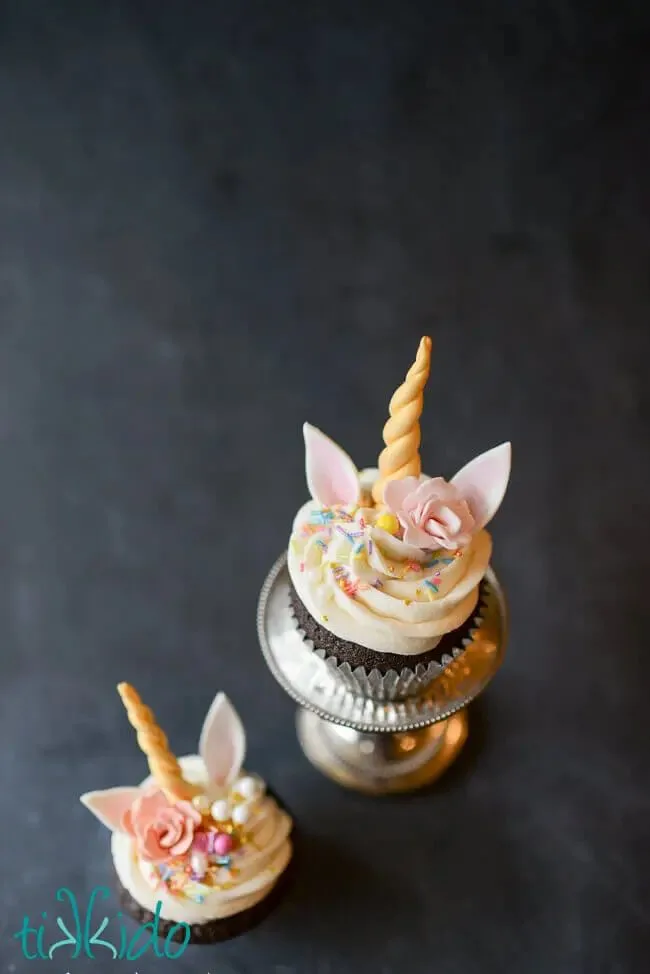 Source: tikkido.com
Let's put together a batch full of magical confection; we are thinking unicorn CUPCAKES! These cupcakes are easy to make and decorate, and they are also the perfect sweet for your little girl's unicorn party.
To decorate your simple cupcakes and make them magical, you need pink frosting and gum paste for your horn; you can even place fondant roses to make your cupcakes look prettier.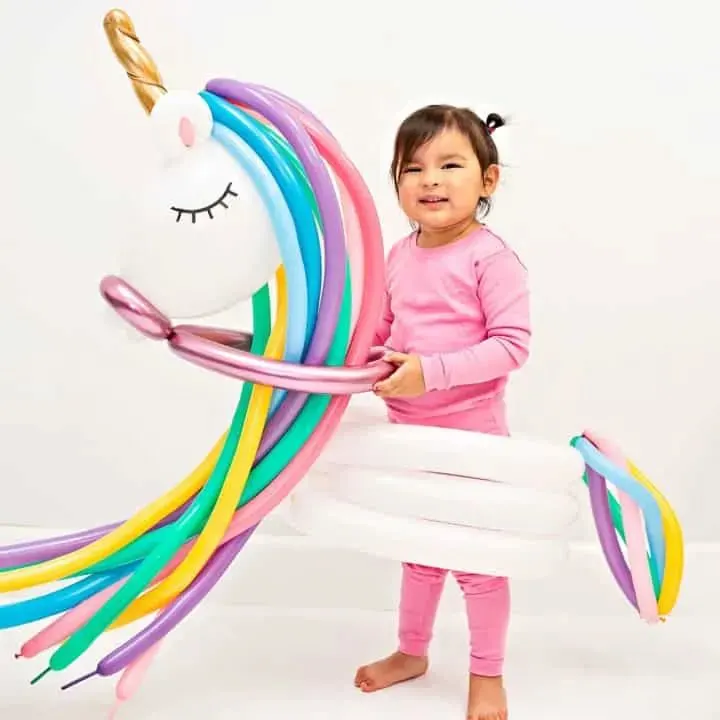 Source: hellowonderful.co
Ready to make a statement unicorn costume with balloons! This cute balloon costume is pretty easy to make, and you can do this for all sorts of occasions and events like Halloween and birthday parties.
This balloon custom is easy to put together; all you need is a hand pump, some 260 balloons, and a cute toddler. If this is your 1st time making a balloon costume, you can get your balloon pump here.
If you happen to have a knack for making balloon stuff, your balloon pump will come in handy for all future DIY balloon costumes.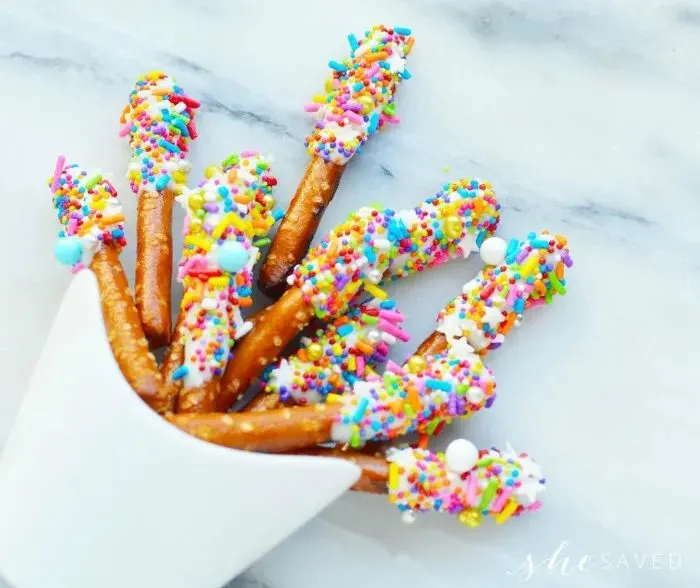 Source: shesaved.com
Who knew creating magic was so simple and easy. Our Unicorn Horn Treats may be just dipped pretzels, but they are truly magical because we had all the fun while making them.
All the giggles and smiles are the actual magic while making these dipped pretzels. To make this magical snack, you will need thin pretzel sticks, Rainbow Sprinkles and Parchment Paper. Get your rainbow sprinkles here.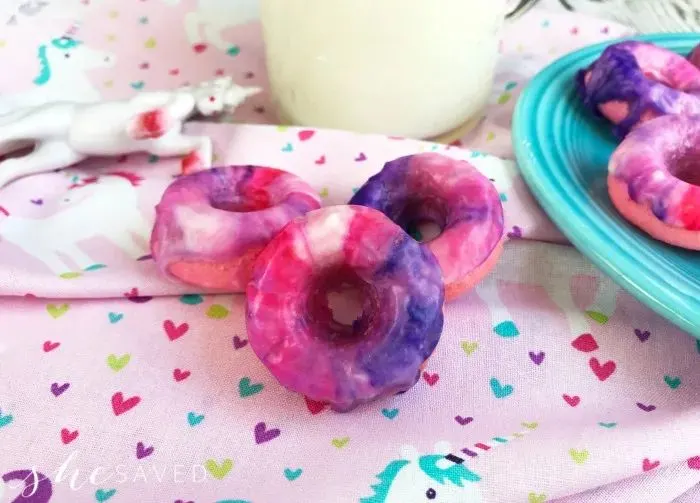 Source: shesaved.com
Our cute unicorn donuts aren't only a birthday favorite but also a lunch favorite for school. It's not only the kids; I also get very excited when we are making these unicorn donuts.
To make your simple donuts magical, you need pink and purple food dye coloring. Get assorted colors here. You can also add edible glitter to make your donuts even more magical.
Get a ready cake mix and combine it with egg whites, oil, and water. And shape that into mini donuts. You will need to add the food coloring before shaping the donuts for even distribution.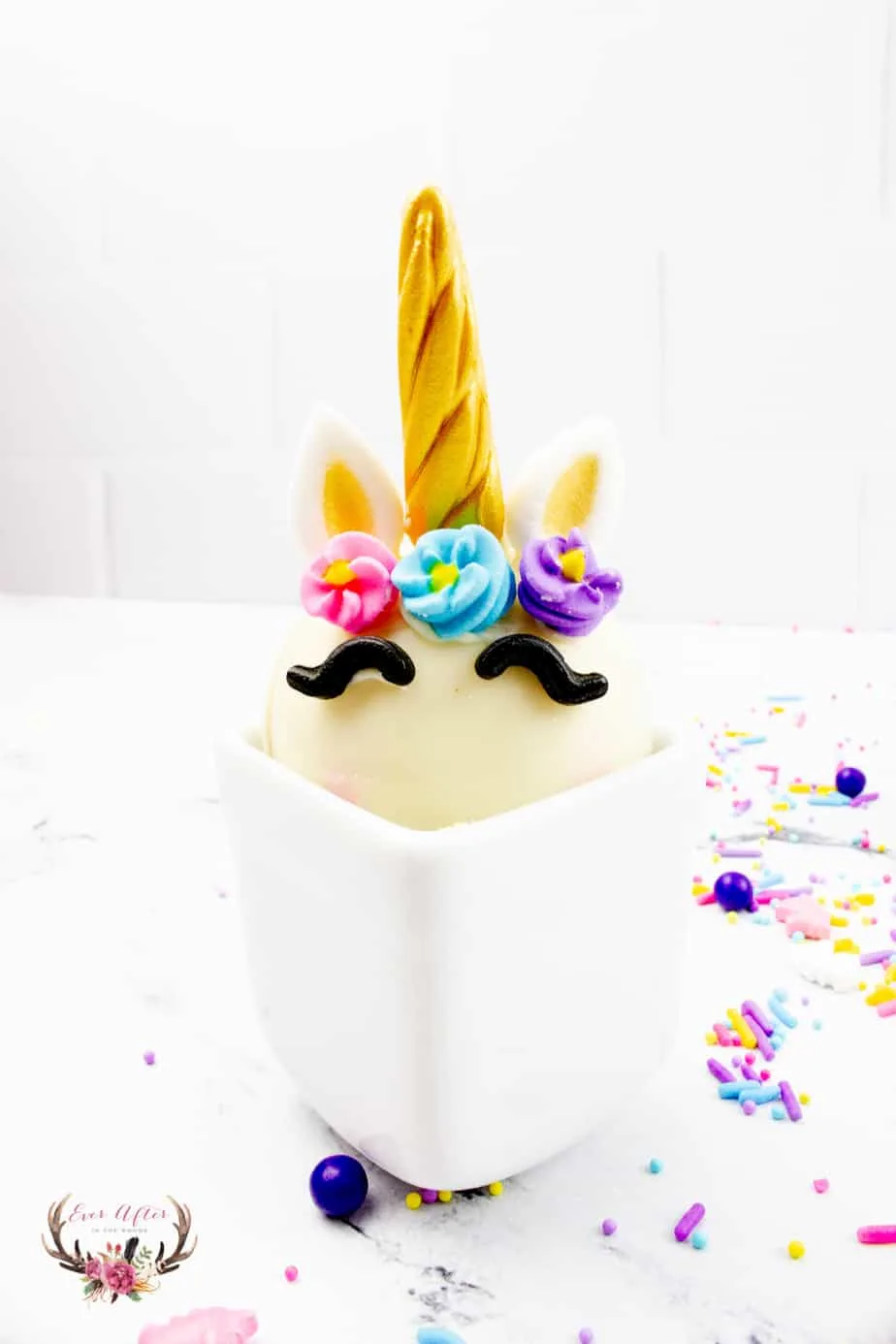 Source: everafterinthewoods.com
Cocoa bombs are trending big time. If you haven't tried them yet, you are missing out on some serious fun. Here is a super-easy way to make unicorn hot cocoa bombs that your kids will love.
But first, you need silicon molds; these are a must-have if you are making cocoa bombs. These reusable molds are great; they are easy to clean and perfect for so many other sweet recipes.
Melt your white chocolate, and make chocolate spheres with the help of your molds. Fill up your spheres and join them together. For the filling, you will need hot cocoa and marshmallows. To decorate the coca bombs, you will need Unicorn Mix Sprinkles, fondant horn, and flowers. If you have the mold at hand, this recipe is super easy and a fun bedtime activity.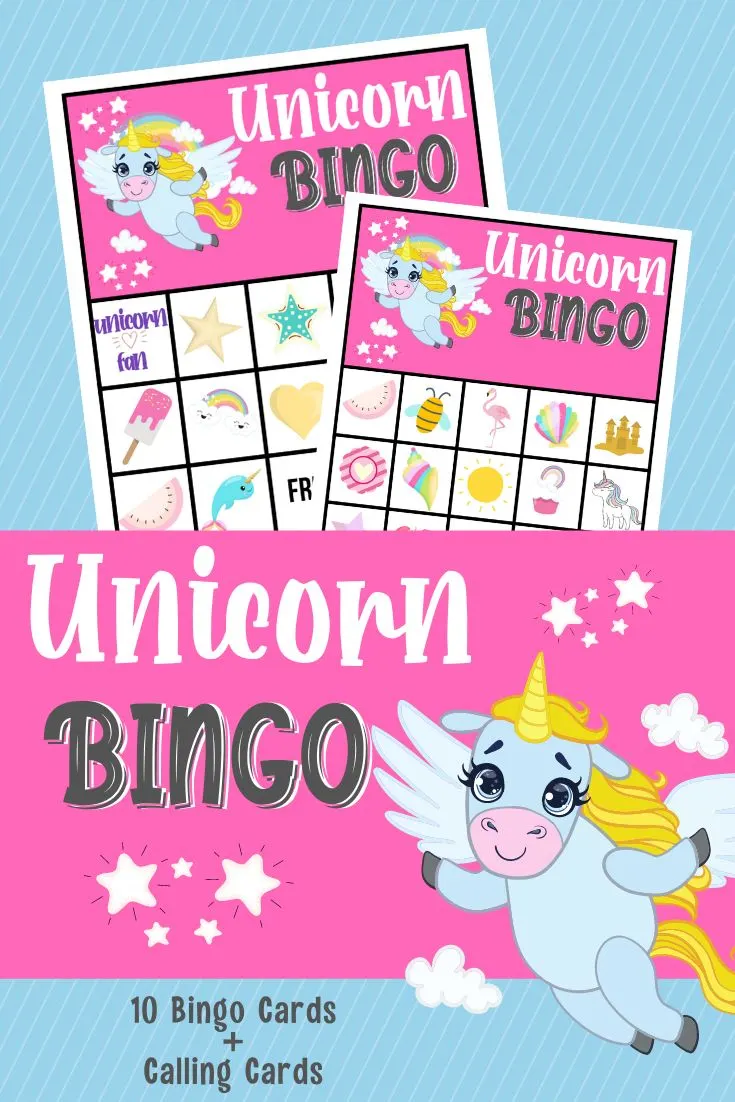 Source: twokidsandacoupon.com
Unicorn bingo is yet another cool unicorn game for unicorn-themed parties. You can also print this game out for slumber parties or family sleepovers.
Covid-19 has put a stop to a lot of fun outdoor activities. With our unicorn-themed bingo, we are trying to make in-door games more interactive and fun.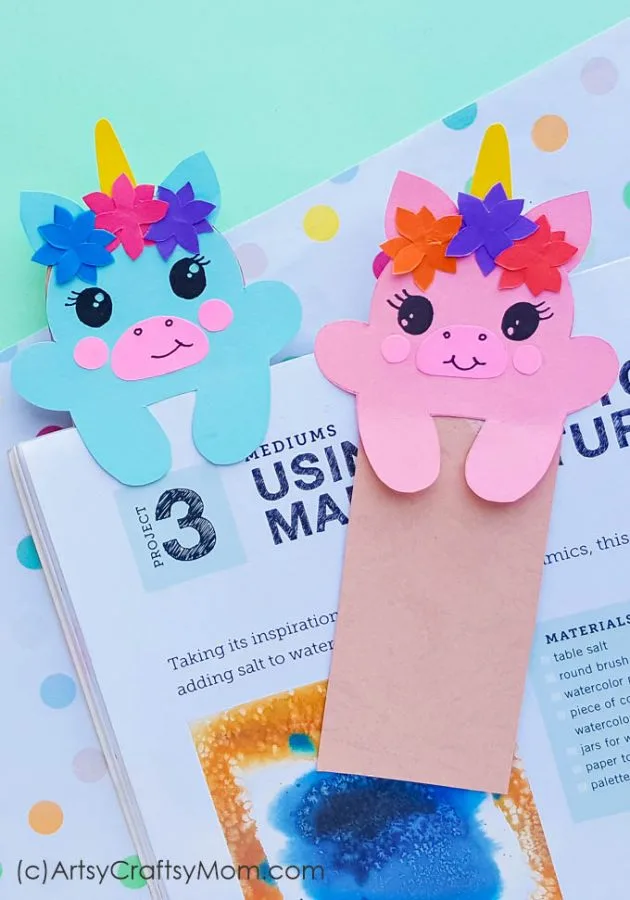 Source: artsycraftsymom.com
Unicorn-themed bookmarks are one of the cutest items you can give your bookworm. You can also use these for birthday goody bags,
To make these cute bookmarks, you will need colorful craft paper, card stock paper, Black marker, Scissors, and Craft glue. We suggest Elmer's school glue for safe use. Order it here.
Use the printable template to cut out the bookmark piece and use the glue to stick them together neatly. And there, your unicorn bookmark is ready to be used.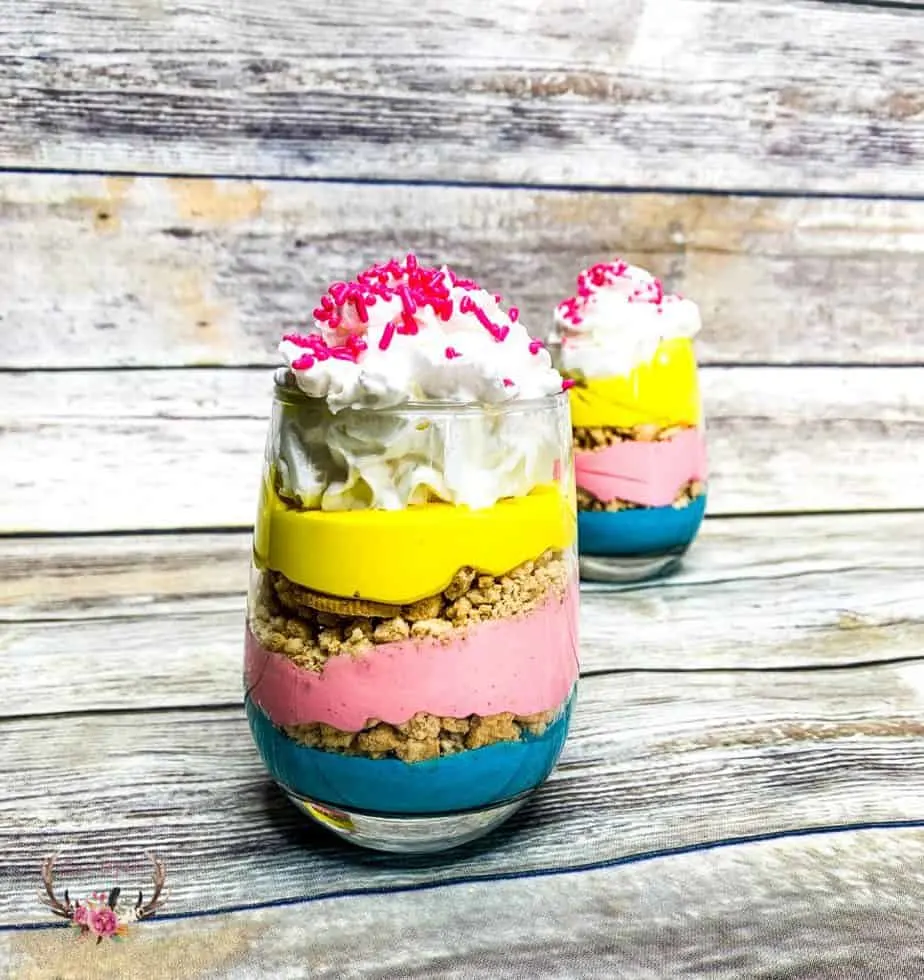 Source: everafterinthewoods.com
A little bit of color can make any dish magical; these unicorn parfaits are the proof of this. Making these unicorn parfaits is very easy.
With easy supplies like instant vanilla pudding, pink/blue food coloring, plain Cookies, and whipped cream, you can make this in under 10 minutes. You can add colorful sprinkles to make this even more enchanted.
Add food coloring to your pudding separately, and layer your glasses, starting with the cookies first and finishing it off with whipped cream and sprinkles. The colored pudding layers make the unicorn parfaits look divine.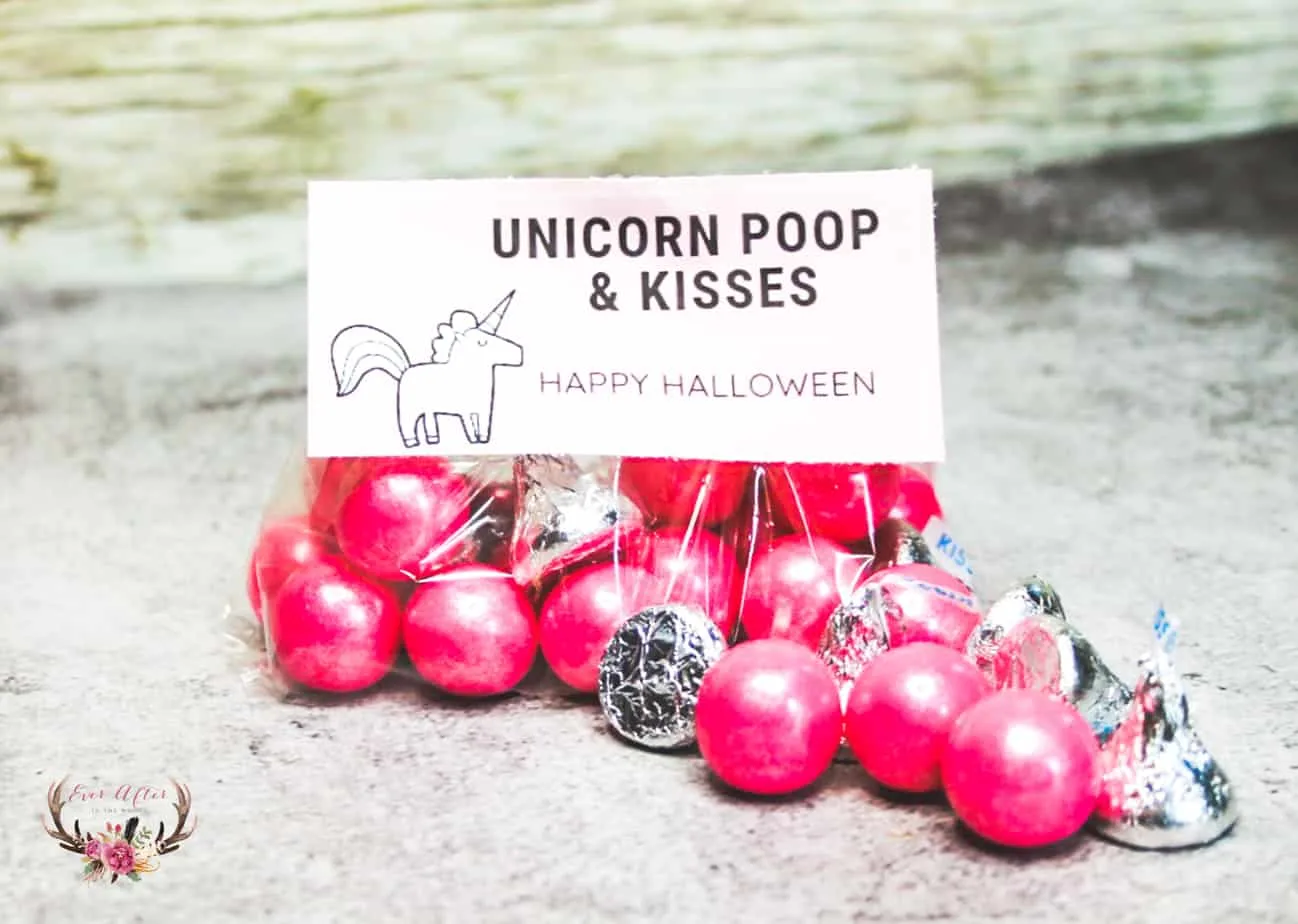 Source: everafterinthewoods.com
Every year on Halloween, we rack our heads for unique ideas to hand out candies; well, this year, we have something pretty simple yet unique. Our unicorn printables are pretty versatile and can be used for Halloween, birthday parties, and other kinds of fun celebrations.
Download and print out the poop and kisses printable and attach it to a clear bag of pink gumballs and Hersey's kisses. Yes! It's this easy; your kids will love handing out these party favors at their birthdays.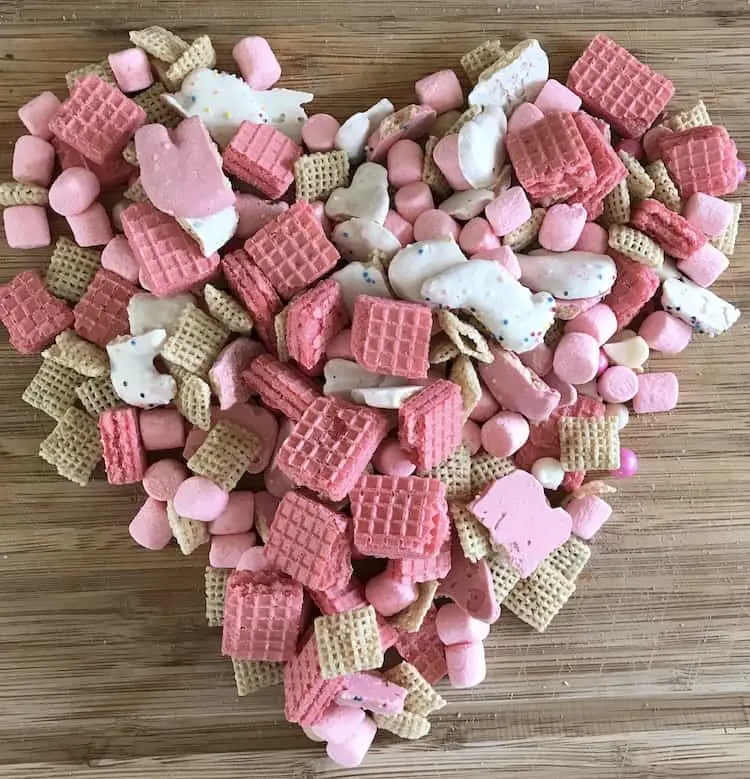 Source: savingyoudinero.com
Sugar, Spice, and everything nice isn't this the recipe for fun? Well, we have a new recipe. Take a look at our unicorn mix for your fun backyard oasis. This unicorn mix can be used for snack time, school lunches, birthday parties, and whatnot.
To prepare this unicorn mix, you will need a big pink bowl. Add pink mini marshmallows, frosted animal crackers, rice cereal squares, pink wafer cookies, etc. All your favorite pink and white snacks are welcomed.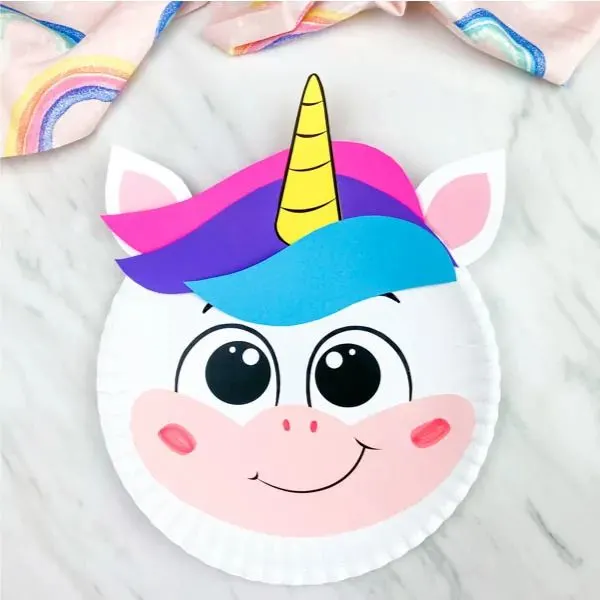 Source: simpleeverydaymom.com
Doing DIY crafts with your kids is a fun way to learn about shapes, colors, and how things work. Our Paper Plate Unicorn Craft can teach your kids about different shapes, colors, and how glue works to stick things together.
To make this super cute unicorn paper plate craft, you will need a paper plate and colored cardstock. If you aren't sure about which colors to use, get assorted color cardstock here.
Download the printable template and start cutting the shape of your unicorn. Once you have all the desired pieces, start gluing them to your paper plate. These plates can be a fun decor for your unicorn-themed party.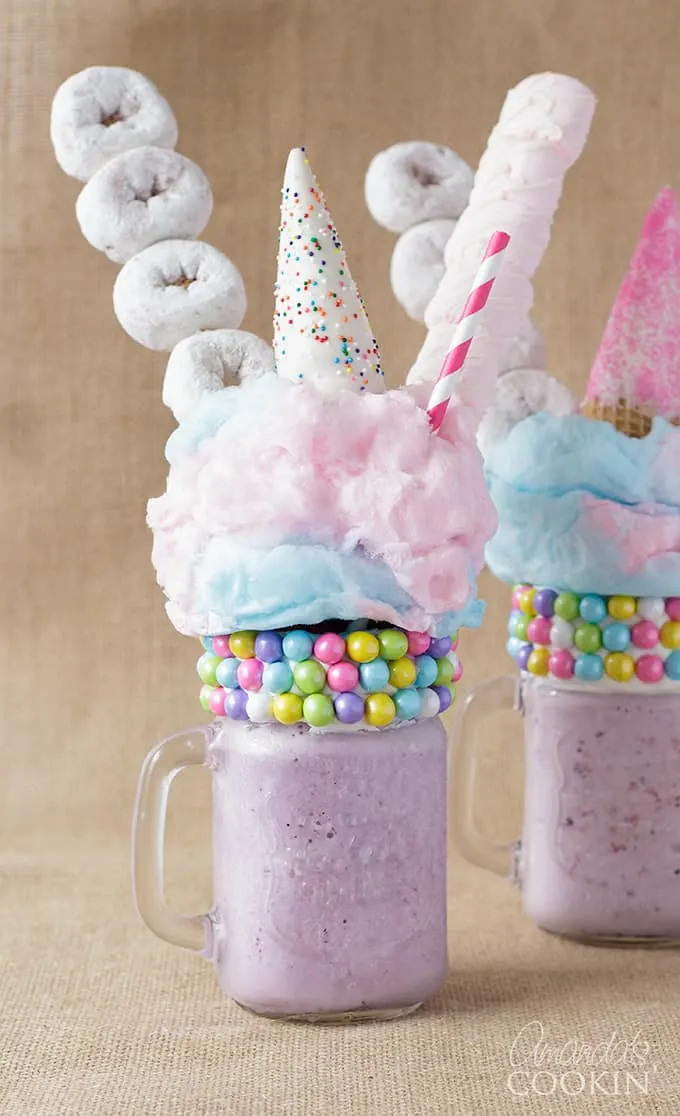 Source: amandascookin.com
Throwing a unicorn-theme party is easy; it's finding the snacks that are hard. The cake and decor are pretty mainstream, but other snacks are pretty hard to create.
For all those mums who are looking for unicorn snack inspirations, here is our unicorn Freakshakes recipe. Easy to create and beautiful to serve, this recipe will make the kids jump up and down with joy.
For the shake, you will need strawberry ice cream, blueberries, and milk. For the topping, you will need mini donuts, Cotton candy, multi-colored chocolate candy pearls, and sugar cones. You can add as many toppings as you need.
This milkshake is very sweet; keep that in mind before serving the kids. If you want, you can take the toppings out before serving.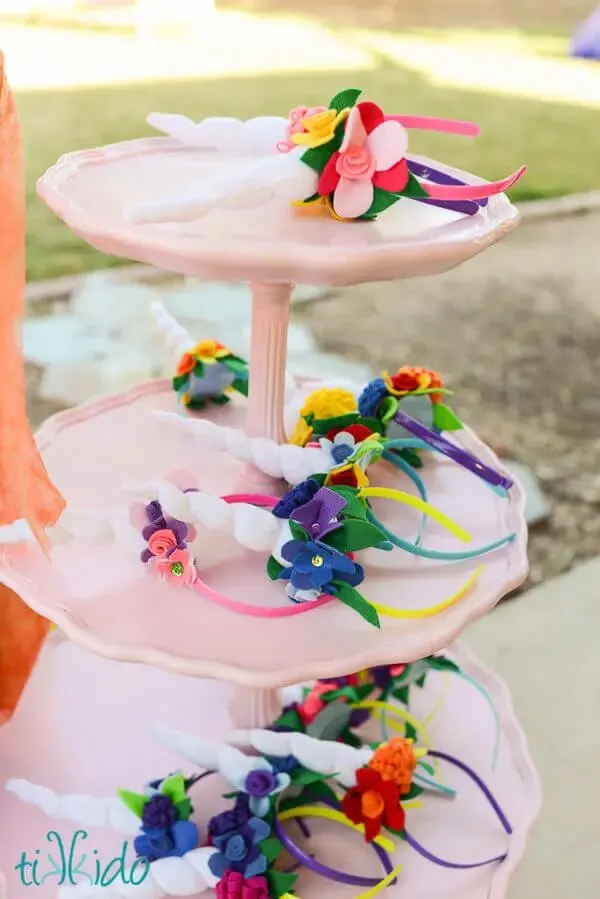 Source: tikkido.com
Unicorn accessories are my all-time favorites; kids adore them as well. This cute unicorn-felt headband is perfect for costume parties, Halloween, and themed birthday bashes. They are also very easy to make.
All you need are some basic supplies like white felt for the horn and colorful felt for the flowers, glue, and cute colorful headbands. You can order your headbands here.
Start by downloading and cutting the template for the horn. Use this template to trace and cut your white felt. Make felt flowers in advance to stick on the headband. Stuff your white horn with cotton or any filling that you have at hand and stick it on the headband.
This does take a bit of preparation, but once you are done, the gluing part doesn't take long.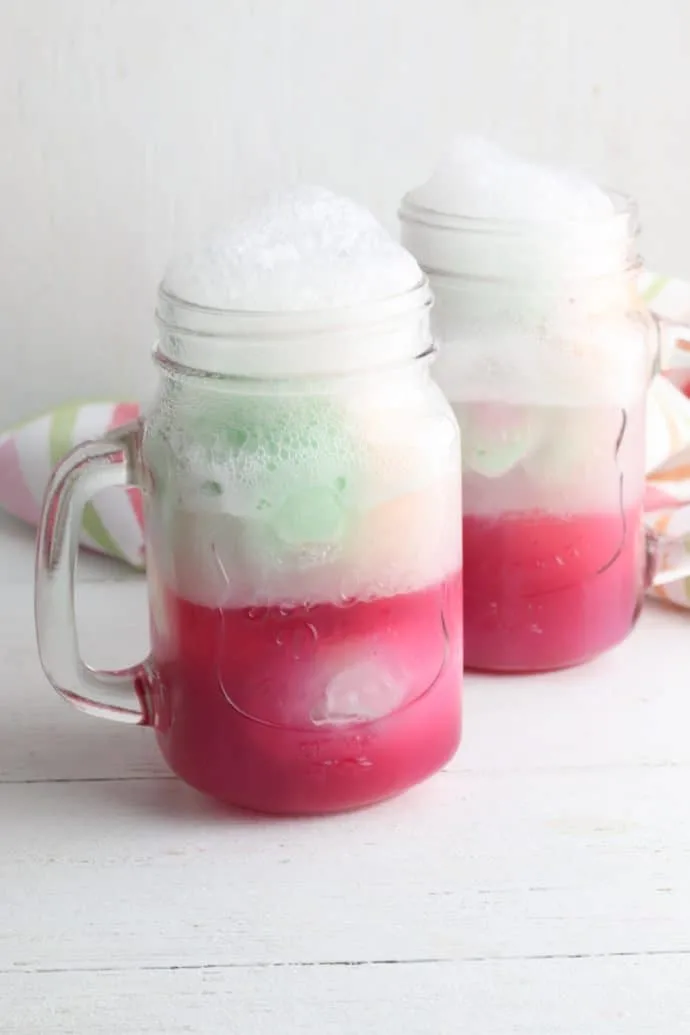 Source: kimandkalee.com
Making snacks with a unicorn theme isn't easy, but with a little bit of creativity, you can do tons, just like this Unicorn Sherbet Float. Make this once, and this ice cream punch will soon become your signature dish.
To make your Sherbet Float, you need only a few things like rainbow sherbet, fruit punch, and lemon-lime soda. You can serve these in a mason jar to make it look cool.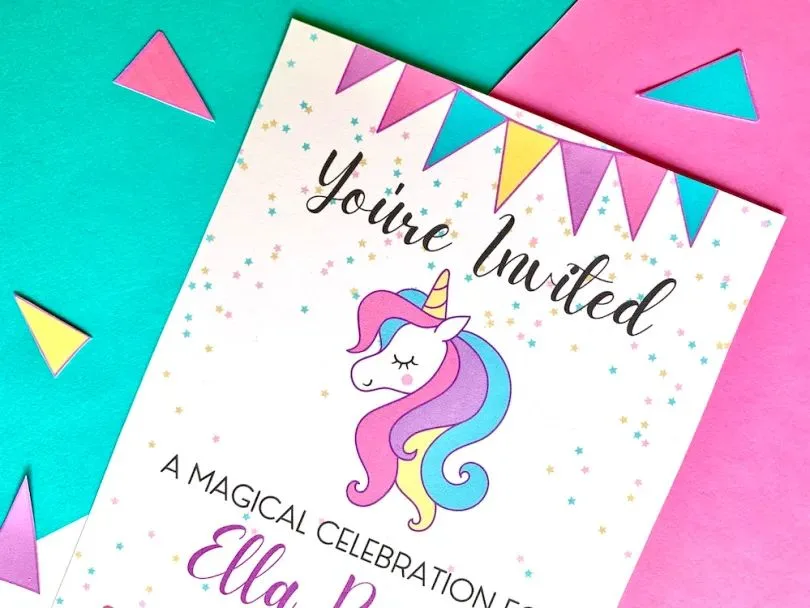 Source: honeyandlime.co
There is more to a unicorn theme party than just snacks and cake. There are so many details that should have unicorns over them to make the party a huge hit.
For example, you can use this editable template to make your unicorn invites, bottle labels, and a welcome sign. You can also make a small unicorn pinata for table decor.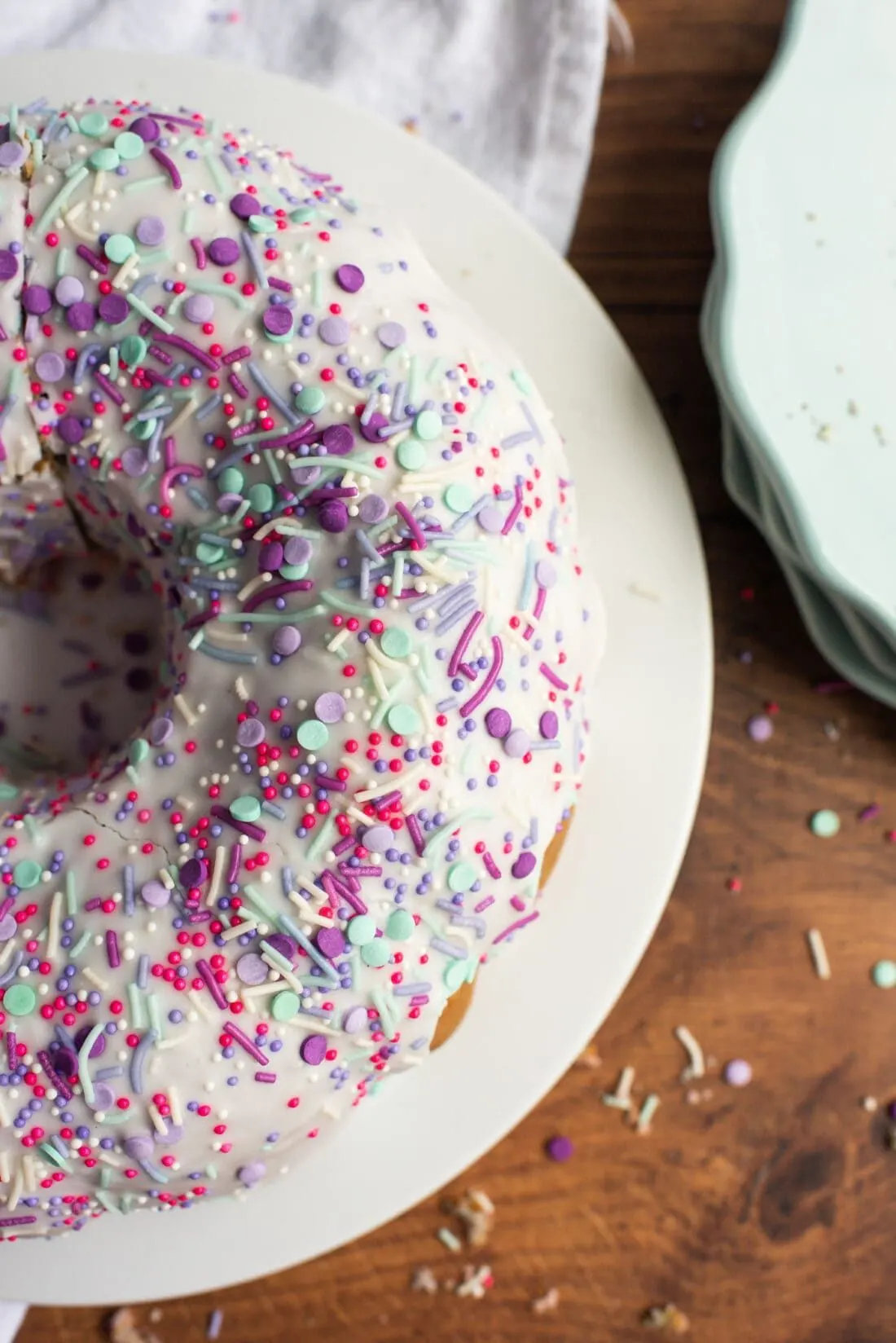 Source: amandascookin.com
Forgot the unicorn-themed cake for your unicorn-themed party? Well, we have something that will save the day and make you a baking star.
Get two cake mix boxes, vanilla flavor, and unicorn sprinkles. You can get the right sprinkles here. Apart from that, you will also need to dig out your bundt cake pan; if you don't have one, you can get one here as well.
Once you have all the ingredients, making the cake is a piece of cake. Use as many sprinkles and white frosting you need to make your unicorn cake magical.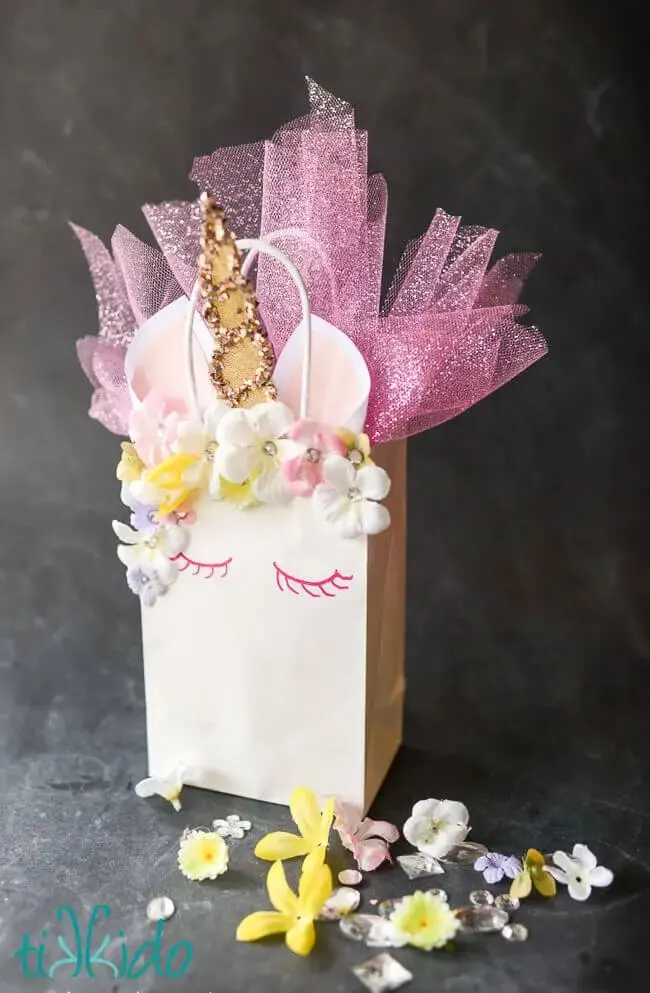 Source: tikkido.com
Did your kid get an invite for a cool unicorn birthday party? Well, you can't just give your gift in a regular bag, can you?
Use our DIY unicorn gift bag for your gift and help your child's present stand out from the crowd. You can turn any old, plain white gift bag into a magical one using pink and white paper, gold paper, glitter, and artificial flowers. You will also need a black marker to draw the details.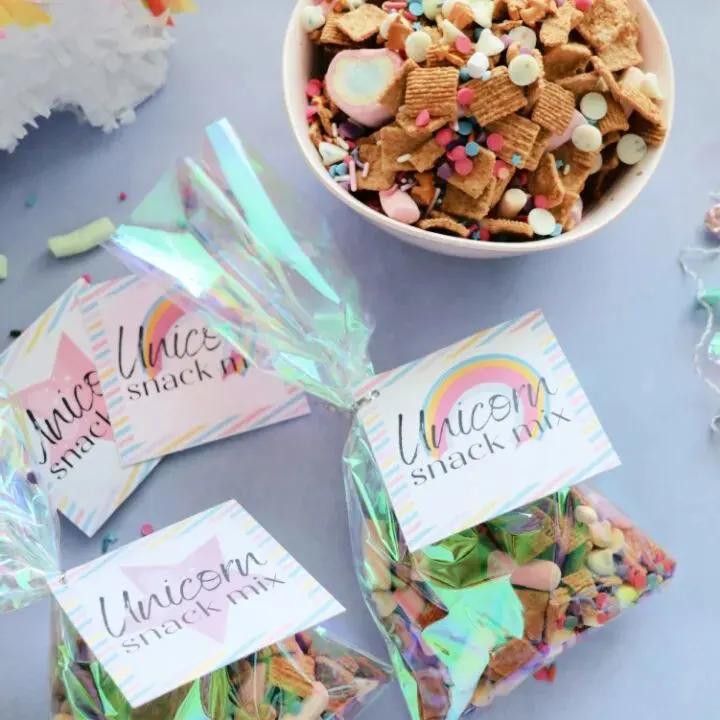 Source: thedenverhousewife.com
So many kids hate traveling, they also hate to mingle, so here we are with a great tip. Make your kid excited for family trips and picnics by asking them to help make a delicious treat.
This unicorn S'more Snack Mix is perfect as birthday favors, snacking in the car, or as snacks for movie night. All you need are clear plastic bags; get the right size here.
You can fill these bags with sweet stuff like cookies and crackers, marshmallows, wafers, and unicorn sprinkles. You can even download and print the label for your snack mix and make this an official movie night snack for your family.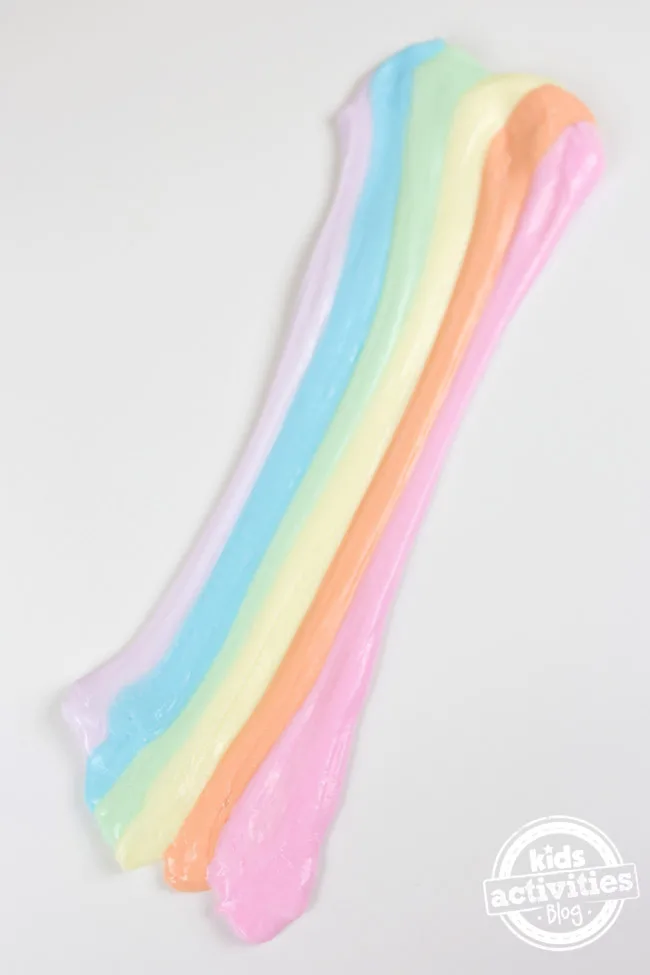 Source: kidsactivitiesblog.com
I am yet to find a kid who doesn't love playing with slime. If they love it so much, isn't it time we make it at home using our favorite Unicorn theme?
Making slime at home serves a lot of purposes. Firstly it is kids friendly, so you don't have to worry about harmful toxins. Secondly, you can make slime-making into a separate activity for your kids.
To make the slime, you need two key ingredients, food dye, and school glue.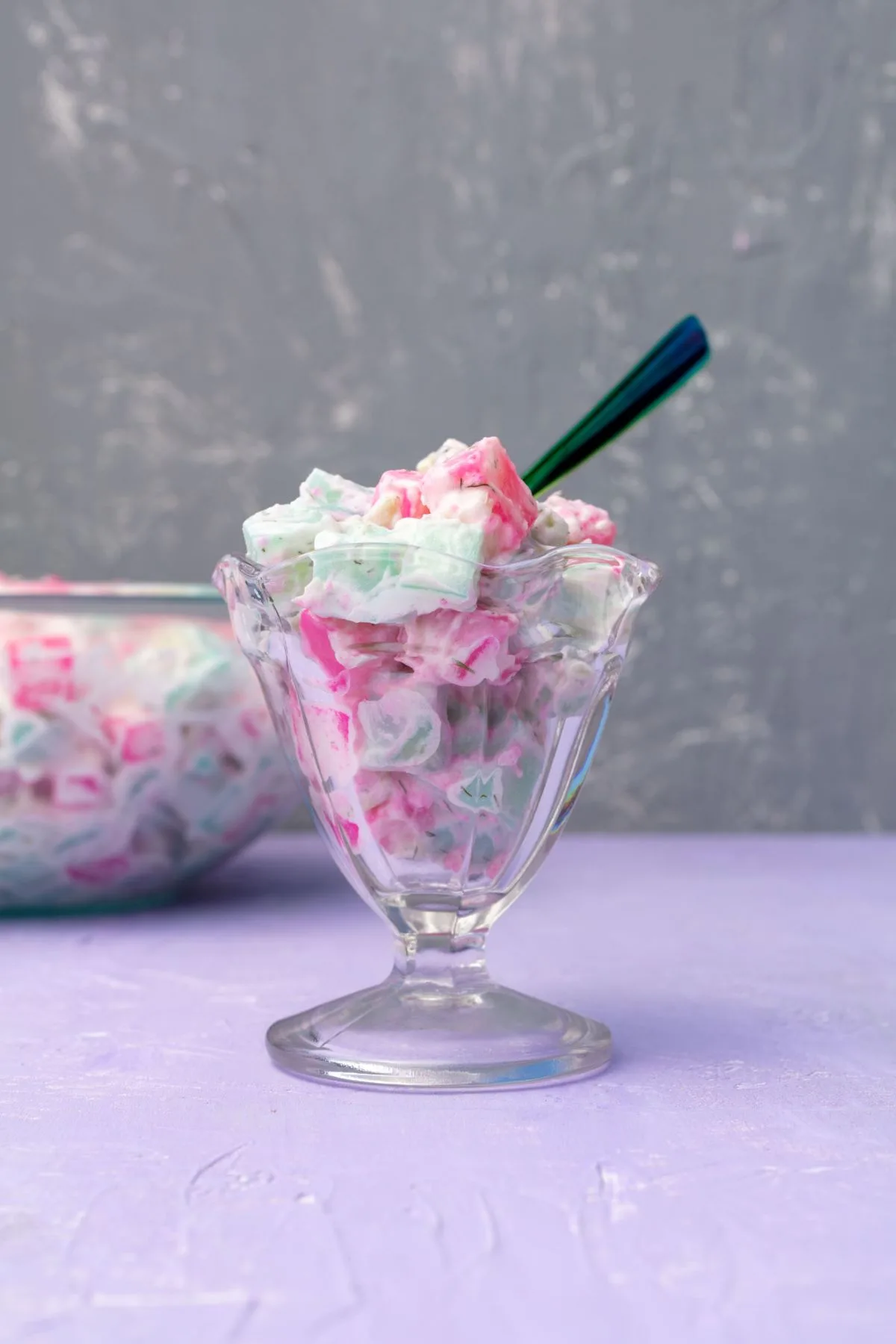 Source: vegandollhouse.com
The only kind of potato salad my kids would eat is french fries. So, I am always on the lookout for anything that would entice them to eat baked/boiled potatoes.
This unicorn potato salad is a Godsend. My kids finish this up in minutes, and all I need are some soft-boiled potatoes, organic mayo, and food coloring. You can add any kind of seasoning to this salad.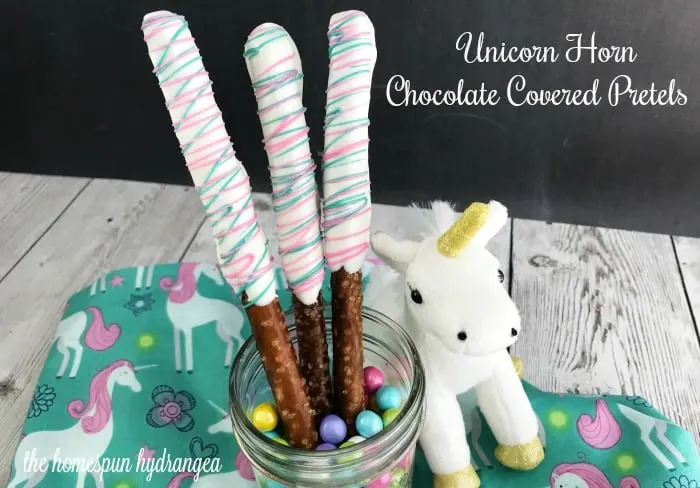 Source: thehomespunhydrangea.com
Pretzels are perfect as an evening snack, but what if we tell you that you can make unicorn party favors out of them?
Use thin Pretzels sticks to make your very own party snack within minutes. Just melt white chocolate and candy melts separately. Now dip your thin Pretzels into white chocolate and drizzle the colorful candy melts.
The easiest unicorn party snacks and favors ever!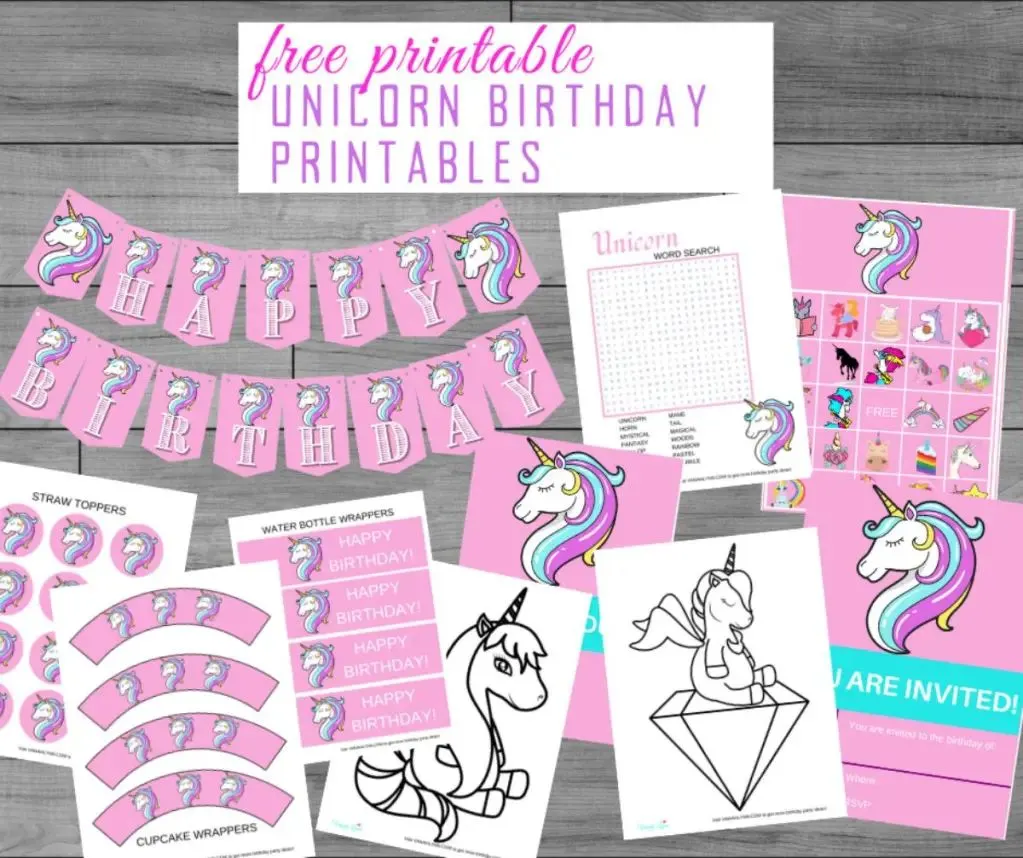 Source: vanahlynn.com
In case you don't have quite enough time. Just print these, cut them out and you've got the decorations for your party!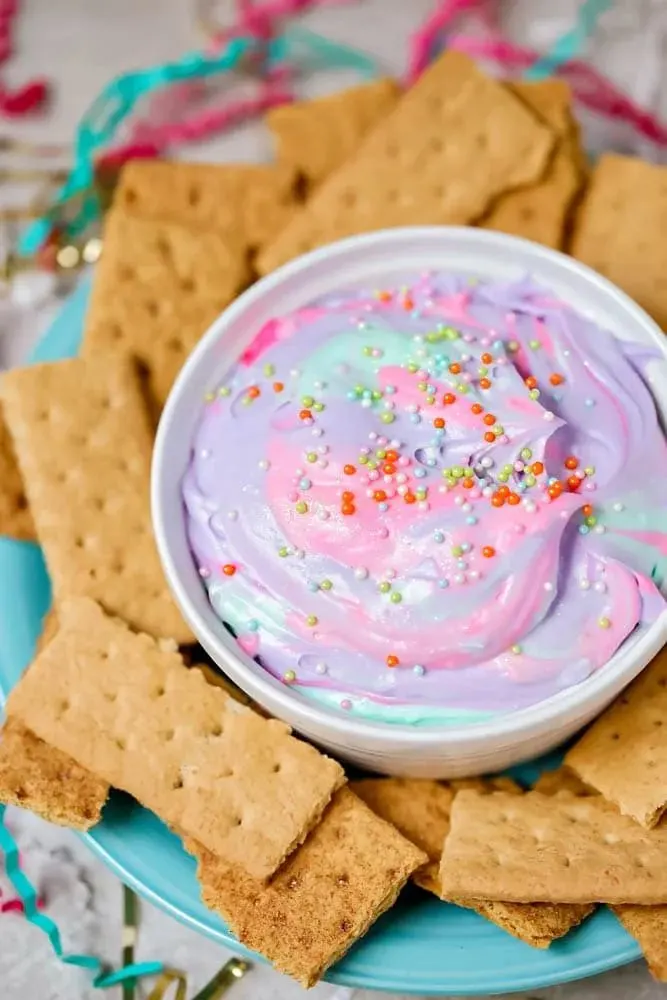 Source: simplisticallyliving.com
Are you looking for a movie night unicorn dip for your kids? We all want our kids to have the most fun on movie night. This unicorn dip is the perfect thing to go with crisps and also Graham crackers.
To make this colorful dip add food coloring to your cream cheese and heavy cream dip. You can also make a batch of sour cream and add food coloring to it. For a fun look, add sprinkles on top.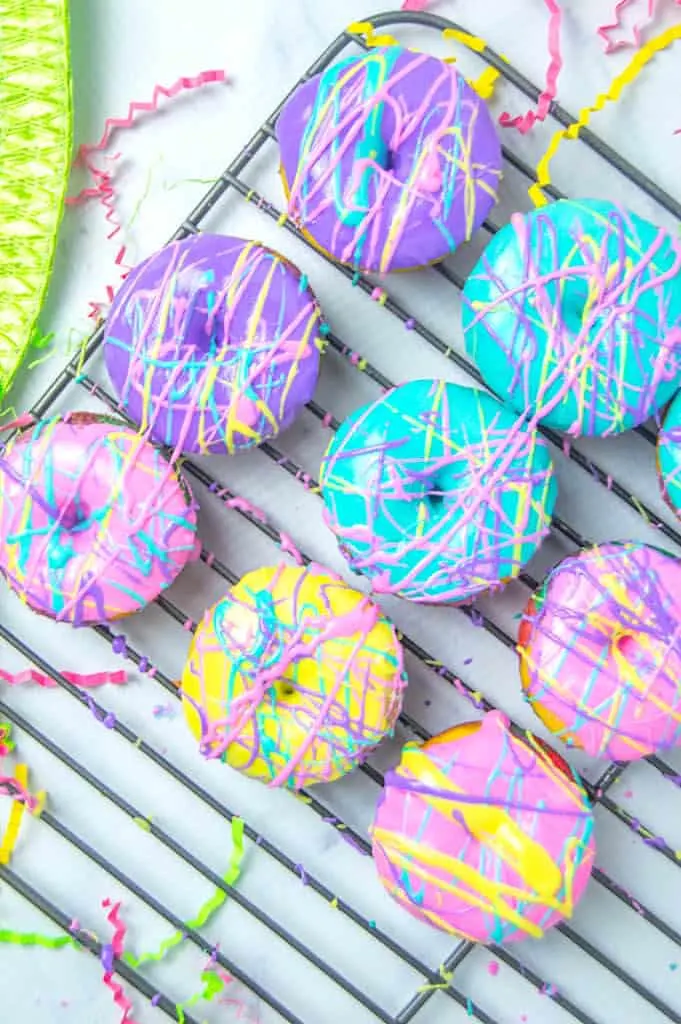 Source: wellifshecandoit.com
The beauty of donuts is in variations; let's try some unicorn donuts for a unicorn-themed birthday bash.
The funniest part is that these effortless donuts are made from store-bought cake mix. Use any color dye you need; we suggest pastel colors as it will give your donut the perfect magical look.
These colorful donuts are ideal for Halloween, Easter as well as birthday bashes.
Yield: Unicorn party decorations
37 Unicorn Party Ideas Your Kids Will Love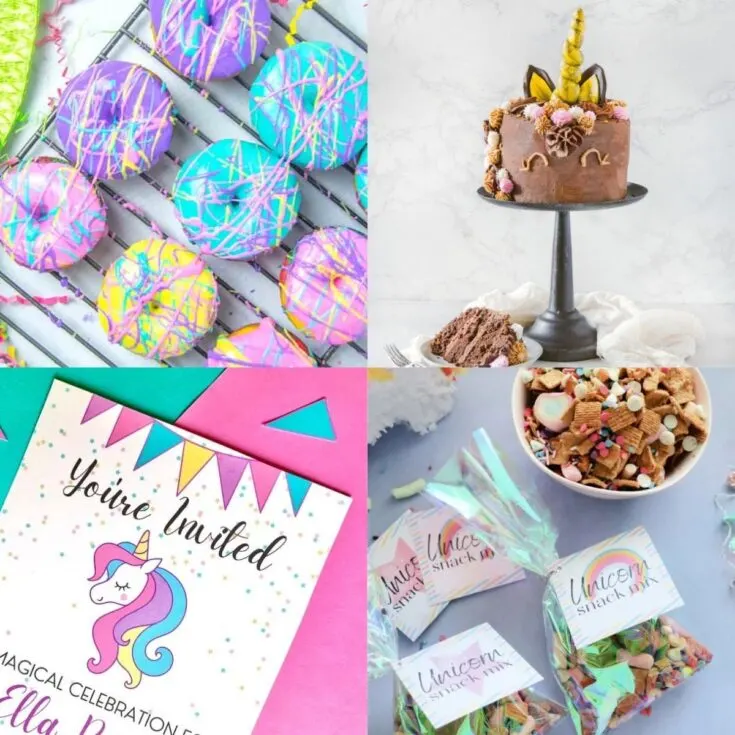 Have fun decorating for a birthday party! These Unicorn Party Ideas will make the little ones smile.
Total Time
1 hour
20 minutes
Materials
1. Unicorn Pouch
2. Unicorn Hot Chocolate
3. Unicorn Cake
4. Unicorn Candy Popcorn
5. Unicorn Pin Board
6. Unicorn Mask
7. Printable Unicorn Games
8. Unicorn Cake with Rainbow Layers
9. Colorful Unicorn Cookies
10. Unicorn Paper Ornament
11. Unicorn Headband
12. Unicorn Cake Batter Fudge
13. Unicorn Cups
14. Unicorn Cupcakes
15. Unicorn Balloon Costume
16. Unicorn Horn Treats
17. Unicorn Donuts
18. Unicorn Hot Cocoa Bombs
19. Unicorn Bingo Game
20. Baby Unicorn Bookmarks
21. Unicorn Parfait
22. Unicorn Printables
23. Snack Mix
24. Paper Plate Unicorn Craft
25. Freakshakes
26. Felt Headband
27. Unicorn Sherbet Float
28. Unicorn Invitations
29. Bundt Cake
30. Unicorn Gift Bag
31. S'more Snack Mix
32. Slime
33. Colourful Potato Salad
34. Unicorn Horn Chocolate Covered Pretzels
35. Party Kit
36. Unicorn Dip
37. Donuts
Instructions
Choose the set of decorations.
Get shopping and gather your supplies.
Decorate for the party!