In need of some crafts for vacation bible school? Or just looking for a simple craft to make for kids of all ages? These Christian Crafts for kids will keep the kids happy, educated, and closer to God.
Want to make bible lessons more interesting? There is no better to keep kids engaged than by letting them be creative.
These DIY projects will strengthen the Christian faith and teach younger kids in a fun way about God's word. Whether you're looking to teach a bible verse or just engage kids in a fun craft, you'll find the perfect craft ideas to have much fun with.
There is nothing better than making a fun bible craft and learning the word of God all at the same time.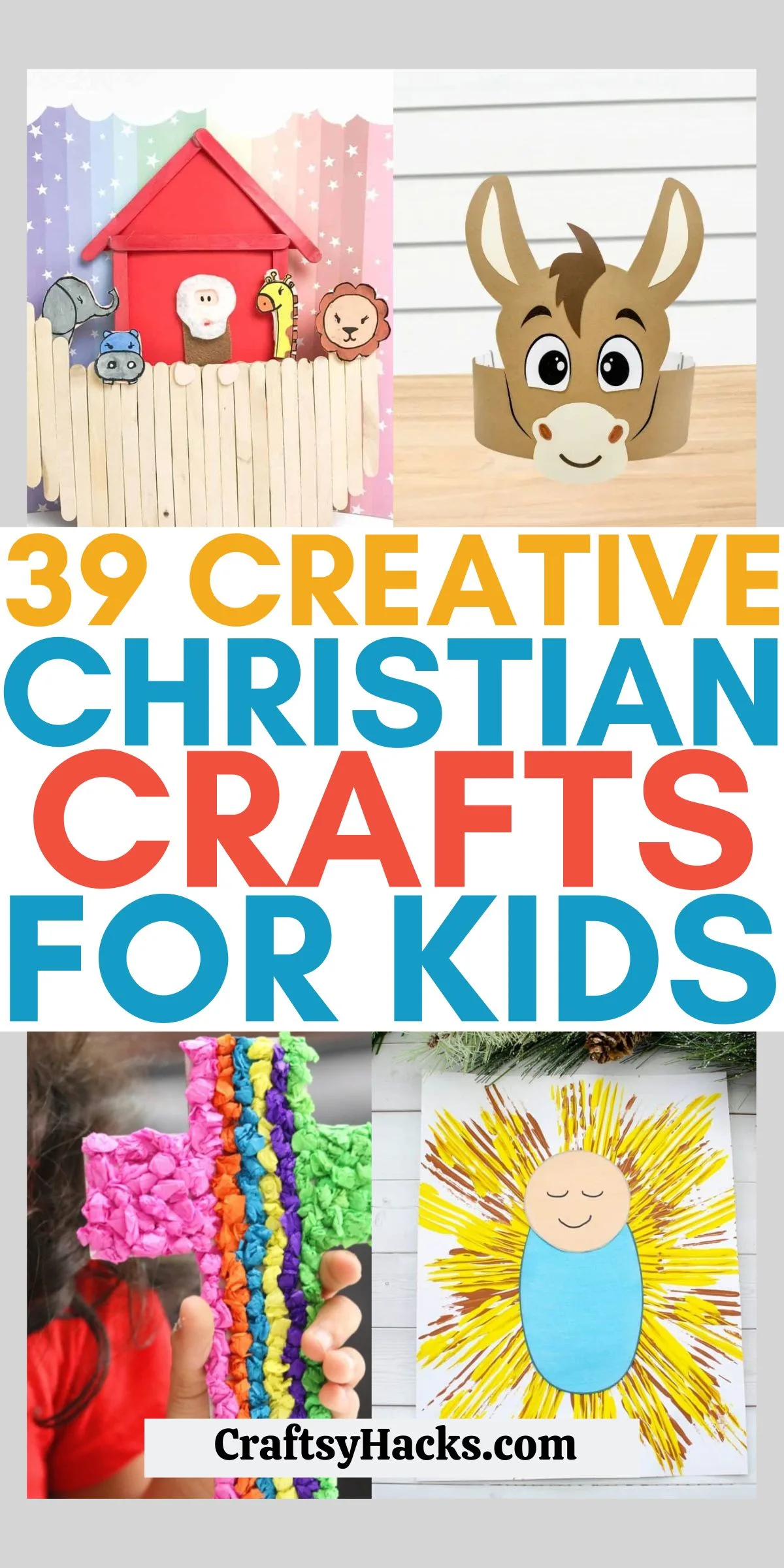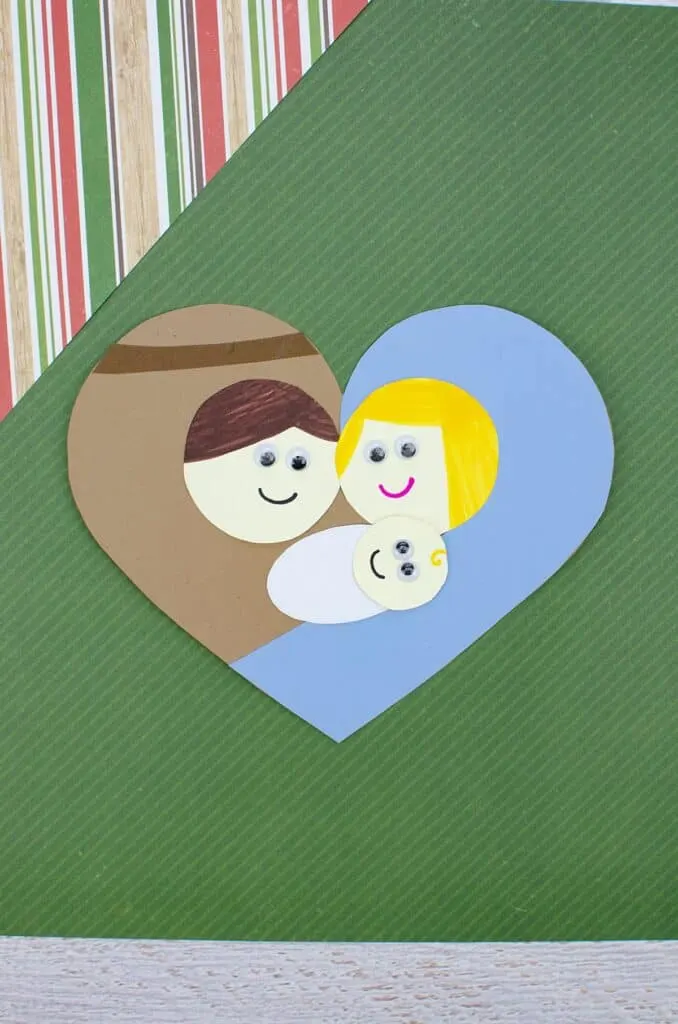 Source: bigfamilyblessings.com
Here's a great craft for your kids that's a great way to get them into the crafting mood this Christmas. It's easy, simple, and the best part? You hardly need any elaborate supplies for this project.
The craft offers a beautiful way to learn about the holy spirit, the God, and God's love. It's also lots of fun for the little ones!
There's also a template provided to help you along the way. Just click on the title, and you'll get to the step-by-step instructions.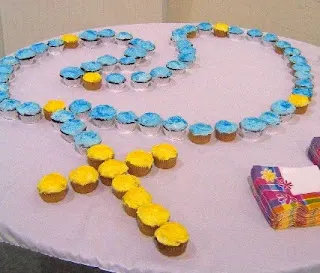 Source: catholicicing.com
Well, I'll be honest with you: if I had a rosary that I could eat, I'd be praying a whole lot, too. If you want to get your kids into saying their prayer early on, then you have to give them some sort of incentive and positive reinforcement.
If, however, you want a creative cake or cupcake decoration idea for a Christian party. Or even just Sunday brunch after church, then you can go all out with a rosary-shaped arrangement of cupcakes.
This is a lovely cross craft!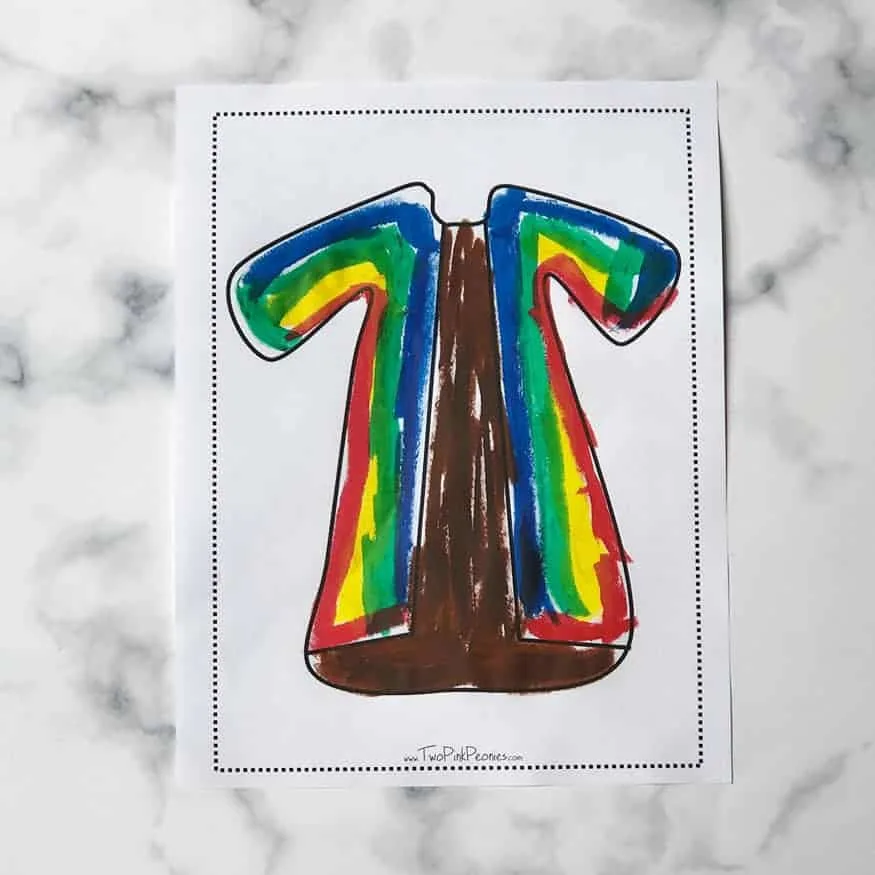 Source: twopinkpeonies.com
Whether it's an activity to work on at Sunday school or even just something for your kids to work with at home, this printable Joseph's coat is definitely easy to make. There's a printable template provided so you can have copies made for all the kids to color.
Also, take this opportunity to include a little story session while the kids paint or color Joseph's coat. Just sit them down with the printed template and some crayons from here and just get started on your story!
This is one of the easy crafts that you can use for bible study and just to tell the story of Jesus Christ.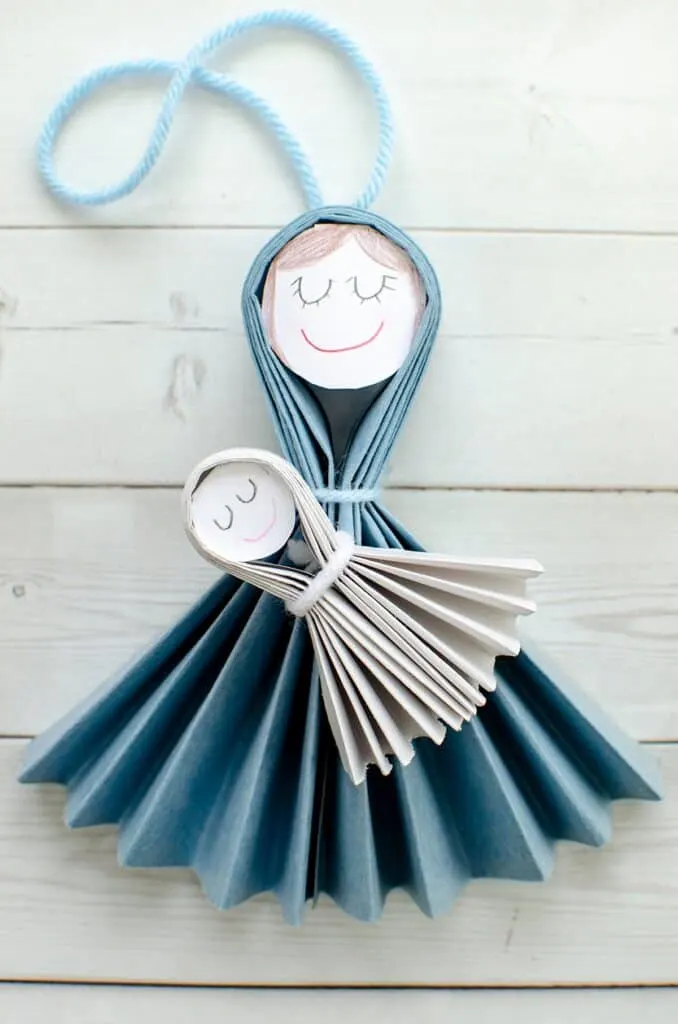 Source: bigfamilyblessings.com
Christmas time can be a whirlwind of fun. There's bound to be a whole lot of activity going around the house, and it's important to involve the little ones in the holiday festivities.
A fun Christian craft project like making this Mary and baby Jesus Christmas ornament should be just right. You don't need too many materials.
Just grab some construction paper, two small bits of yarn, googly eyes, and finally, some markers.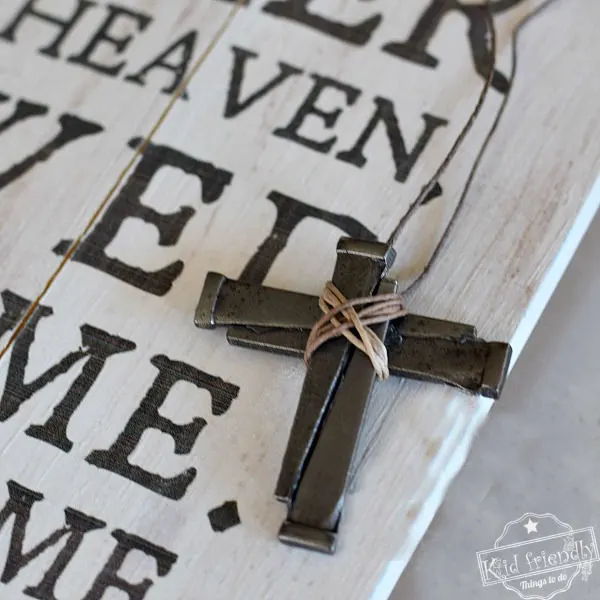 Source: kidfriendlythingstodo.com
Here's a cute little cross necklace craft project for all of you who're crazy about jewelry-making crafts. This necklace is actually made from nails.
So, not only is there some biblical symbolism at work here, it's also a great project for teens and adults, as well.
This is a great project for religious craft sessions. Grab some masonry cut nails from here, as well as some hemp cord or twine from here to begin.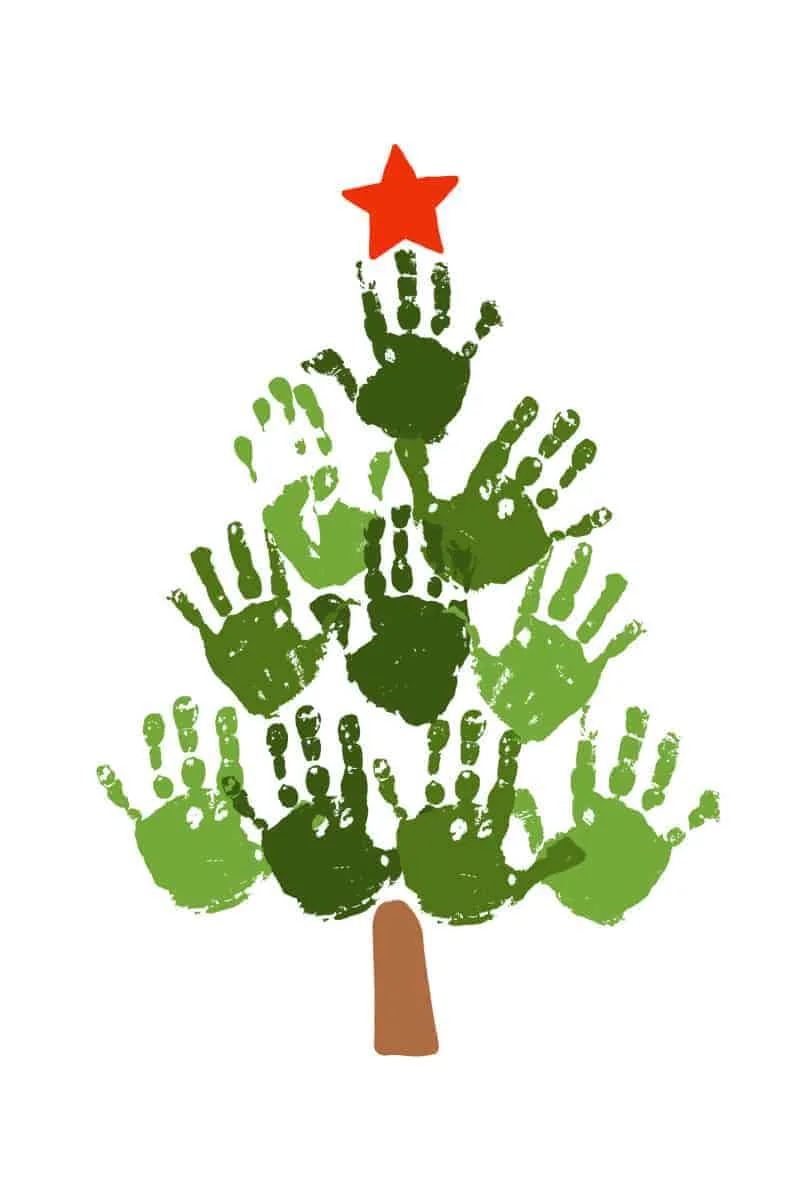 Source: in-our-spare-time.com
This is one of the fun Christmas crafts you must try! Hand painting is definitely one of those craft projects that's a rite of passage for all of us when we were growing up.
It's messy, it's fun, and it can be a great way to get your kids to actually sit down and keep them occupied.
Grab some paper plates, paints, and your little ones for this handprint Christmas tree painting project. Don't forget to paint a big star on top of the tree when you're done, though!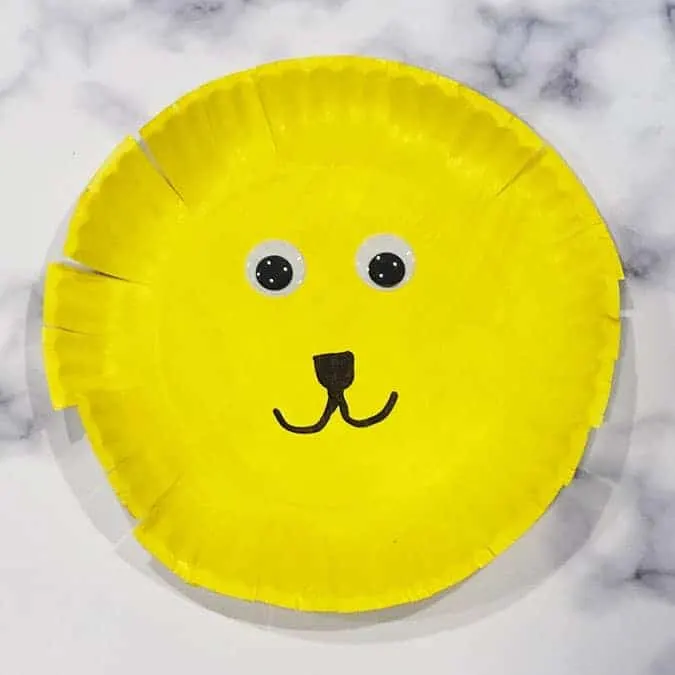 Source: twopinkpeonies.com
There are some craft projects that can really help you incorporate fun and playtime but also some valuable lesson time for your kids. How? Well, if you're looking to educate your kids on a specific bible story, this is one of the easy bible crafts that are just great to incorporate into your lesson plan.
Well, if you're looking to educate your kids about biblical stories, then a story session via craft can be the way to go.
This time, with a few bottles of paints, some paper plates from here, and brushes, you can tell your kids the story of Daniel and the lion. Just grab some paper towels to help you with the mess that is sure to ensue, and you're set.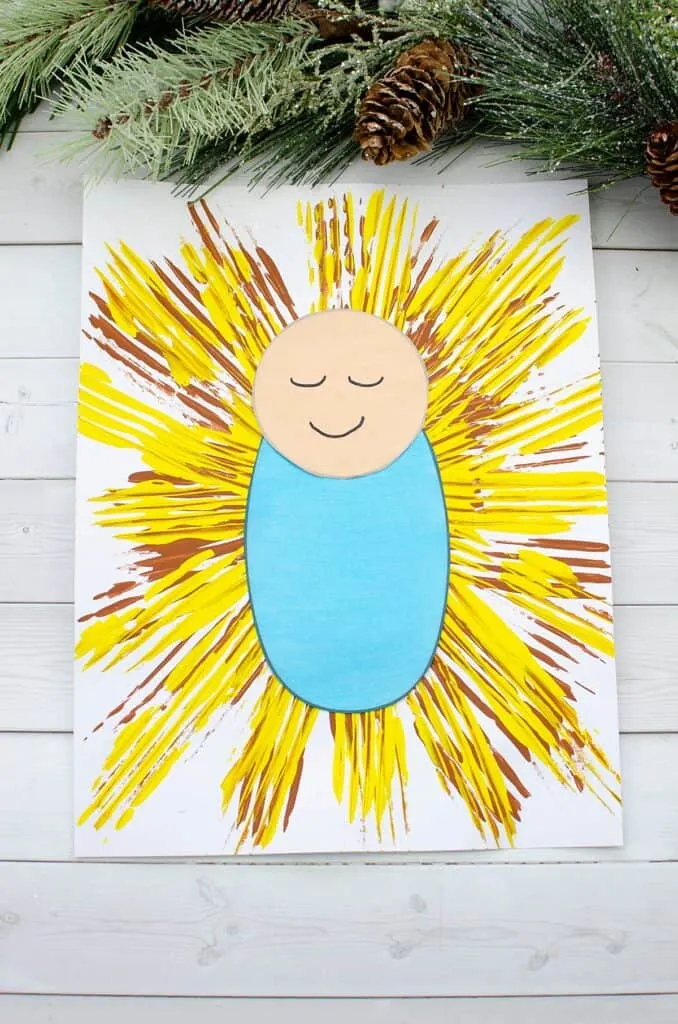 Source: bigfamilyblessings.com
There's no time like Christmas to talk about Christ, especially baby Christ and the story of his miraculous birth. Here's a little craft project to help you impart the story of Christ to your little ones.
Grab some cardstock, a pair of scissors, and all the other supplies needed. Don't forget to set out a plate of cookies, too, to really grab the little ones' attention.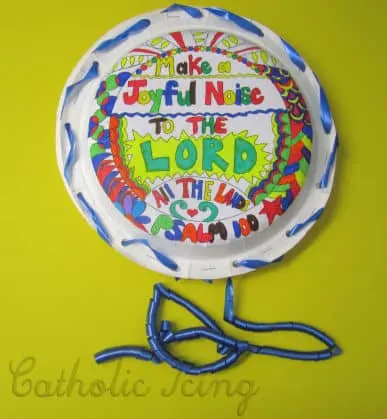 Source: catholicicing.com
Do you still have a couple of paper plates leftover from that previous project? If you do, you can use them for this next craft project.
Psalm 100 is all about proclaiming one's love for Christ. If you want something that your kids can actually make in the proclamation of that love, then check this out!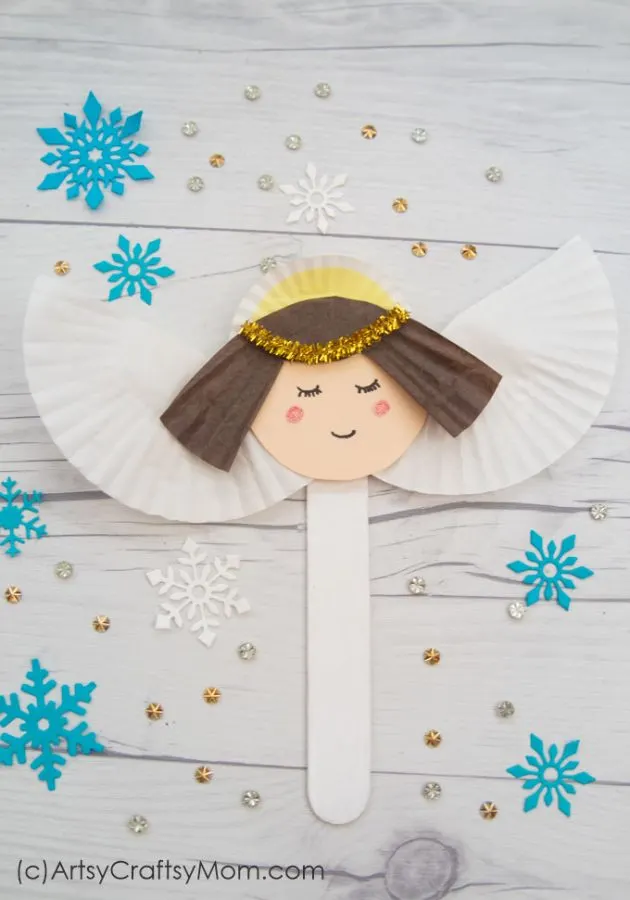 Source: artsycraftsymom.com
For this next project, you'll need a few popsicle sticks. You can either save up sticks from when your kids eat popsicles or just buy craft sticks from here.
You can make a stick angel to use as an ornament or even a prop-up at your kids craft desks around Christmas time. If you like, you can switch out your regular craft popsicle sticks with jumbo-sized sticks from here.
This is a lovely craft activity young kids will enjoy!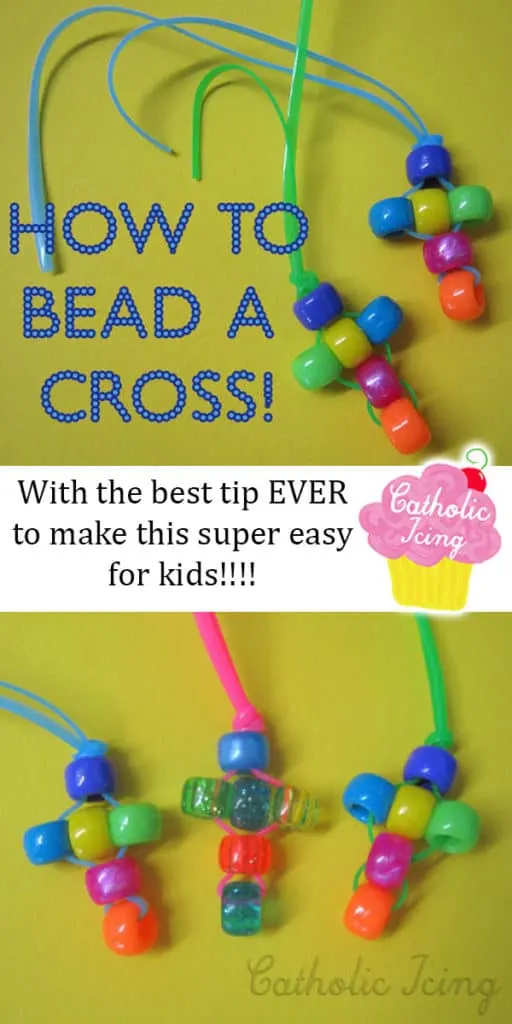 Source: catholicicing.com
This is a classic Christian craft project that's perfect for your little ones, especially if they're over the age of three but still under ten. It's got a whole lot of beads which is definitely an incentive to get them into wearing a beaded cross, yes?
You will need about six pony beads for every single cross, so go ahead and sort them out first. Once you do, you will need to get some string–plastic string is recommended–and string those beads up.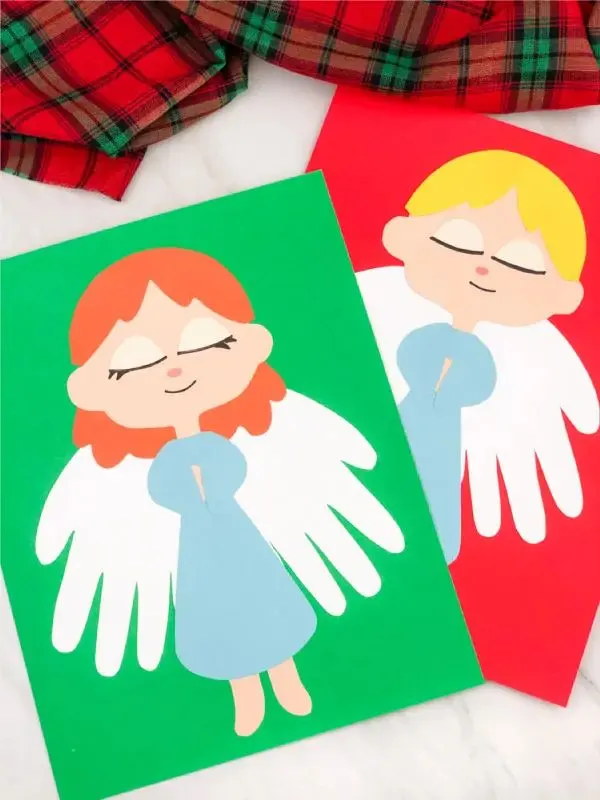 Source: simpleeverydaymom.com
Did your kids love making that hand painted handprint Christmas tree? Well, if they did, then how about another handprint project, only this time.Let's make an angel.
While you won't be painting this particular angel, you will, however, need to trace out your kids' hand print and cut it. After that, you can start working on the details and artistic touches to turn it into an angel.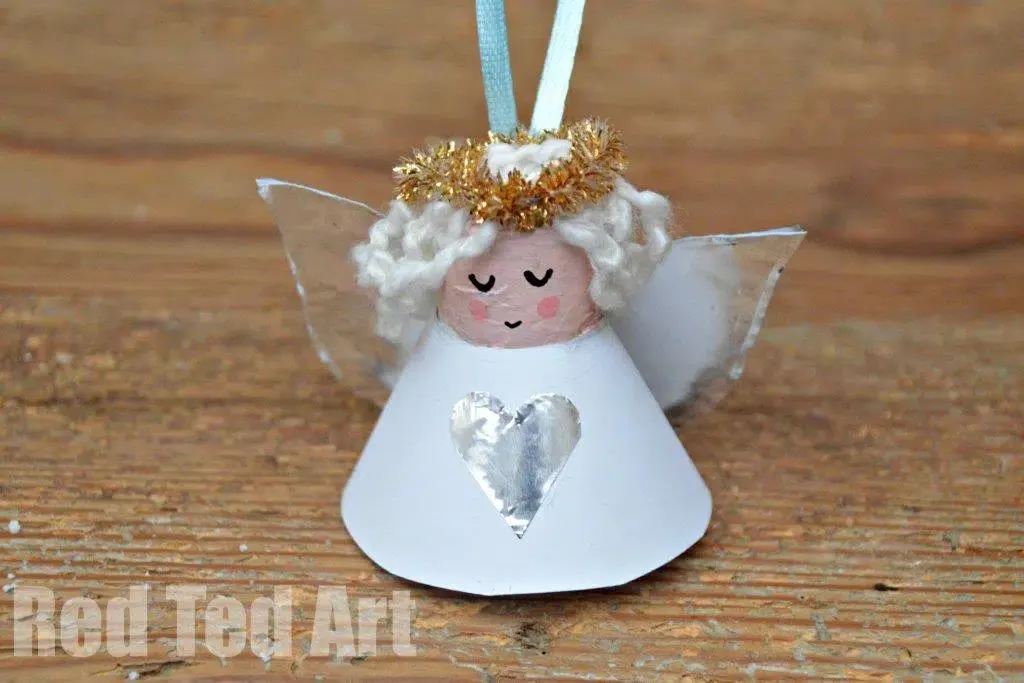 Source: redtedart.com
If your kids are loving the whole angel-themed craft session, then here's another one for them. First, grab a few corks–if you have some saved from when you opened a bottle or two of wine, then go ahead and use that.
If you don't then grab some from here. There's plenty of opportunities here to finesse your angel–right from the top of their heads to their outfits.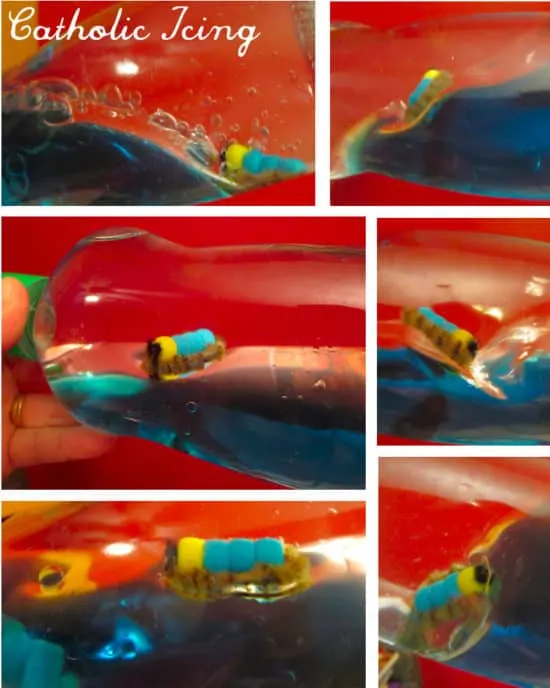 Source: catholicicing.com
Check out this cute little Baby Moses in a bottle! There's a creative aspect to this project where you can just shake the bottle and make baby Moses swirl around in there.
There's also a science to wave in the bottle projects. You typically fill it half with water and the other half with water. So when the two liquids come in contact–they obviously don't blend–so they create a cute wavy motion inside.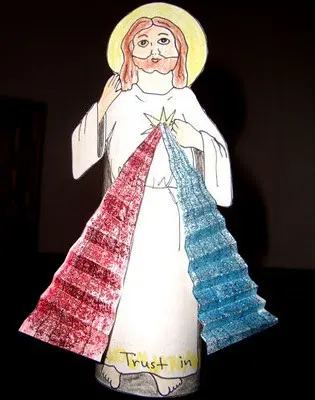 Source: catholicicing.com
For this next craft project, you have a printable template available to help you all through the way. So go ahead and print it out and gather all your supplies before you get started.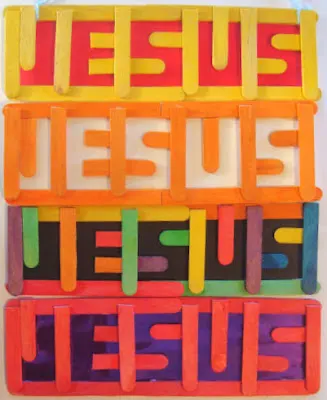 Source: catholicicing.com
This funky optical illusion project can be a little complicated to create, so if you've got kids who are a little older, then they're sure to enjoy it to the fullest. Grab some colored cardstock or construction paper and some colored popsicle sticks, as well.
You will need plenty of glue, as well. To make it a little easier, you can stencil out 'Jesus' on the paper before you start gluing your sticks in place.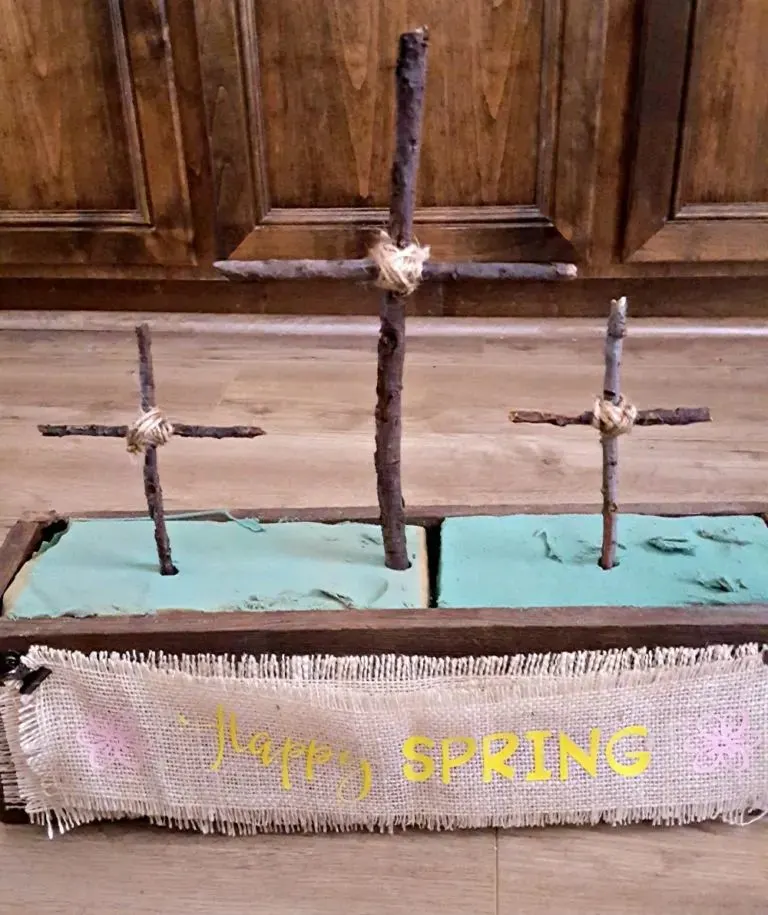 Source: leapoffaithcrafting.com
There's something rather beautiful and hallowed about wooden crosses. It's unpretentious and beautiful, and this wooden cross-project also happens to be inexpensive and easy to make.
It can be used as a centerpiece just about any time of the year, but also specially around, say Easter, or Sunday brunch with your friends and family after Church. You can also have your kids help out when you're making this!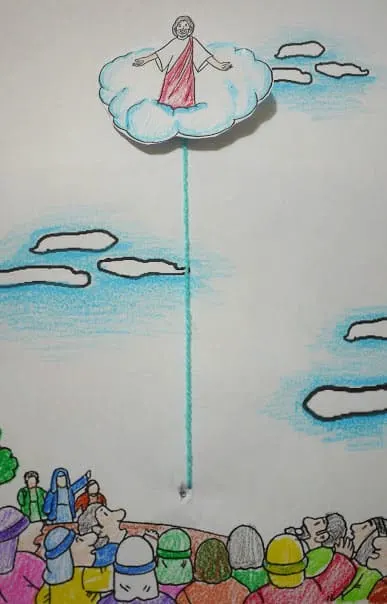 Source: catholicicing.com
Celebrating the Ascension of Jesus is something that you can do with your kids and get them started from the get-go. It's a sacred occasion and there is a ton of biblical stories and lessons revolving around it.
Let's incorporate a little fun time with craft projects when you're teaching your little ones about the Ascension of Christ. Just print out the coloring page that's been provided and you're set.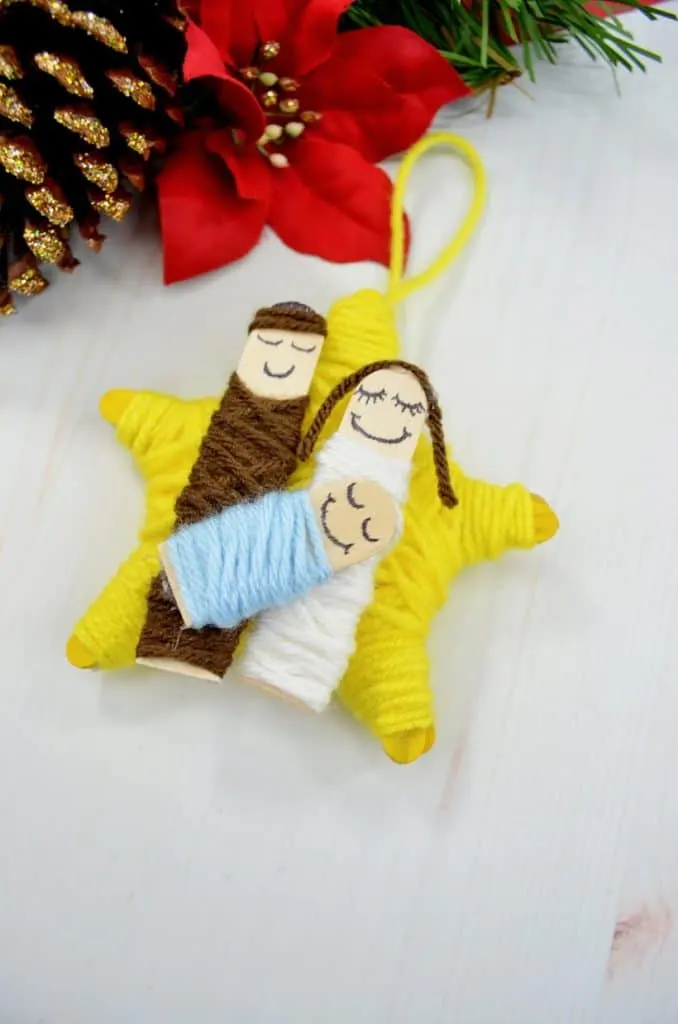 Source: bigfamilyblessings.com
There's no time like Christmas to get out all your ornaments. If you're really big on nativity crafts around the holiday season, then perhaps you can just make your very own nativity ornament right at home.
First, grab some yarn–multiple colors of skeins–as you'll definitely be needing it for this project. Just pick up a few skeins right here.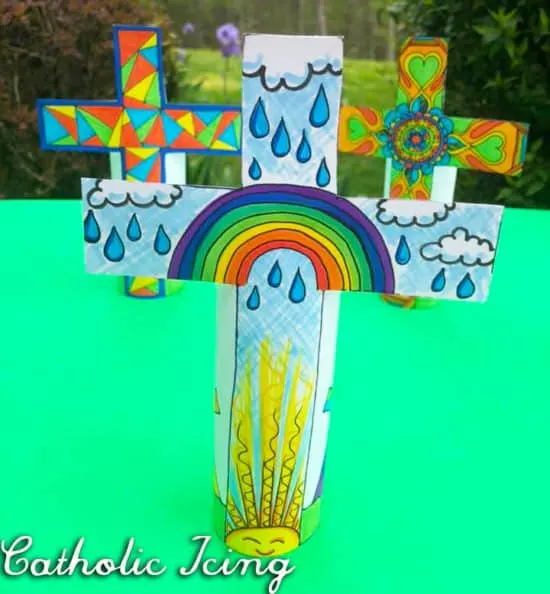 Source: catholicicing.com
Rainbows hold a ton of symbolism in Christianity. They are, after all, God's promise to mankind and what a beautiful promise it was. Have you seen anything prettier?
Rainbow crafts are just pure fun. They're full of color and this particular one also has a ton of sparkle. So buy some glitter from here, and you can get started on this God-given rainbow.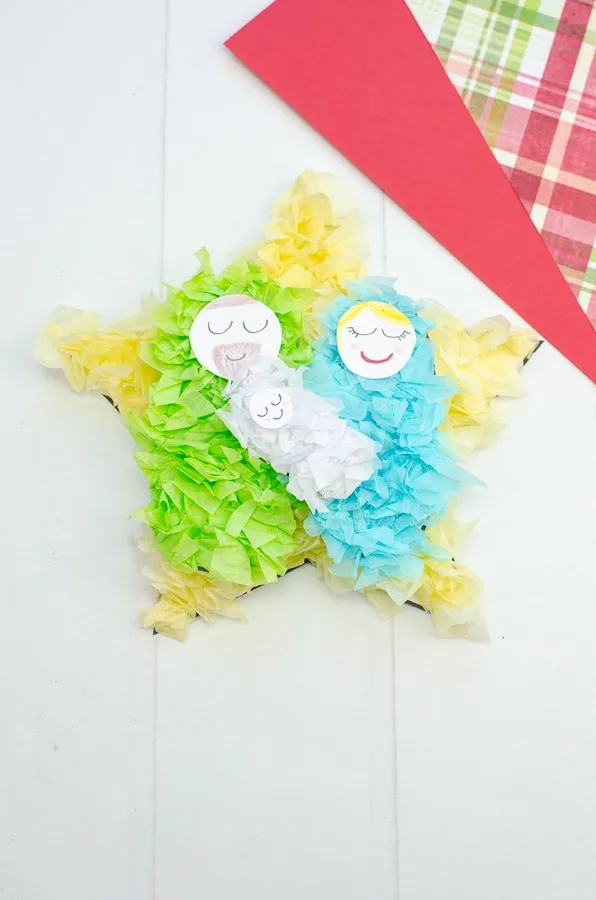 Source: mommymadethat.com
How about one more nativity craft project? I feel like you can never have too many and every project you and your kids make is an opportunity for them to learn about the natives.
This project can be super cathartic as well, as it involves a ton of paper crumpling. I bet your kids will love that. So grab some paper and start crumpling.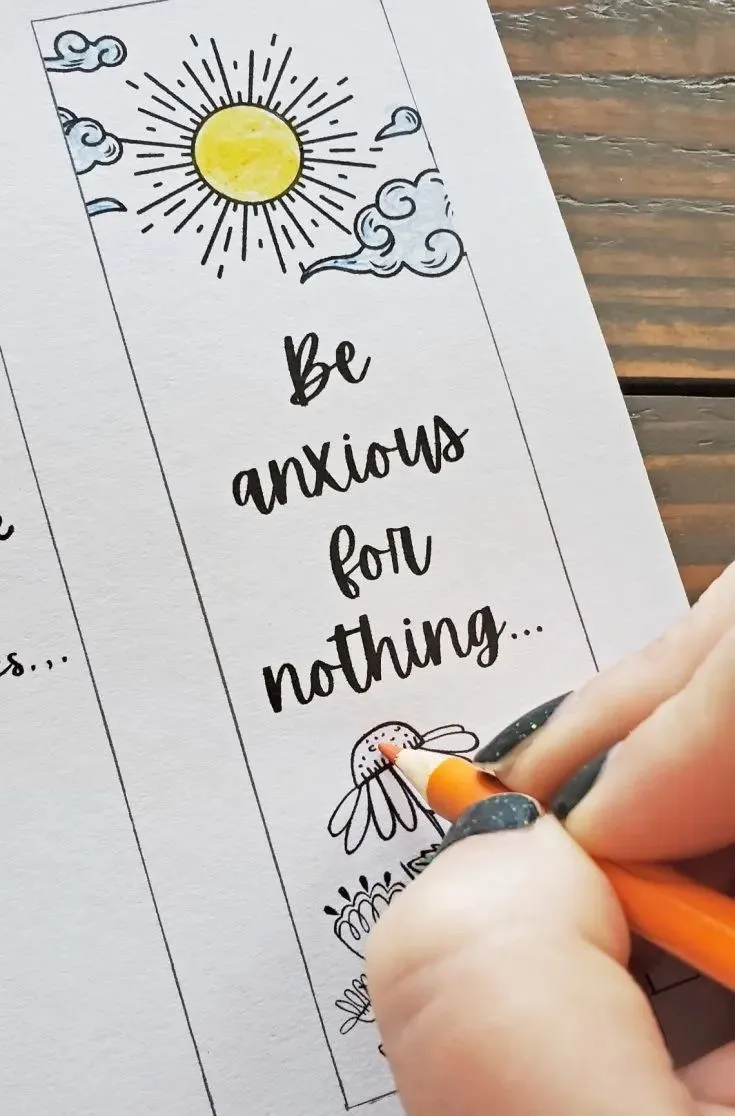 Source: leapoffaithcrafting.com
Are you trying to get your kids to read their scripture? You know what you could use as an incentive? Bookmarks!
These printable bookmarks can be colored on or painted. It's a great way to lure your little ones to their bible reading sessions and an even better way to keep them there.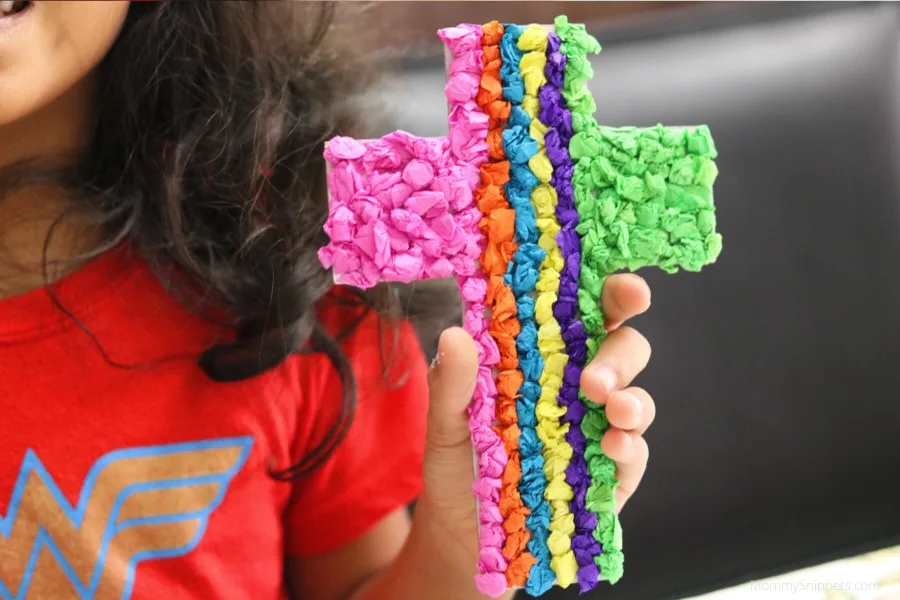 Source: mommysnippets.com
Crosses are always a popular choice of Christian craft projects. They're just super easy to make and easier still to customize.
Once you have everything you need, all you have to do is scrunch up and then stick the tissue squares on the sticky board.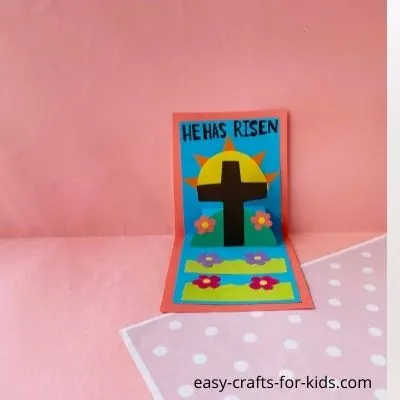 Source: easy-crafts-for-kids.com
Nothing like a pop up craft to depict Christ's ascension, don't you think? It's oddly apropos, if you think about it.
This "He is Risen" pop-up card is super quick to put together and is ideal for younger and older kids alike. It's always fun to have a little 3D element to any papercraft, so make sure you recreate the pop-up properly!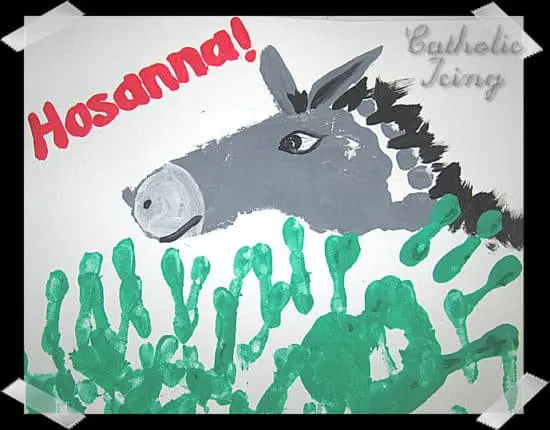 Source: catholicicing.com
Stories in the Bible have a ton of lessons to be learnt, messages to be imparted, and also, just plain old fun if you plan them right. How do you make them fun and have your kids actually look forward to hearing them? You use craft time, of course.
You work on making this P(s)alm Sunday card…isn't that just super clever? There are a ton of Bible stories that can be painted onto cards with just handprints as the base
So, go ahead and take a look!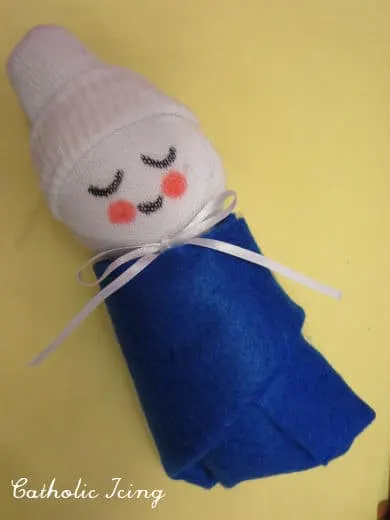 Source: catholicicing.com
Did you ever think that you'd be making a sock baby Jesus with your kids one day? Well, now you can, and all you need is a sock.
You don't even need your sewing supplies because it's a no-sew project, which reduces the time you'll need to work on it.
Here are 41 fun crafts for 3-year-olds that you can explore for more ideas.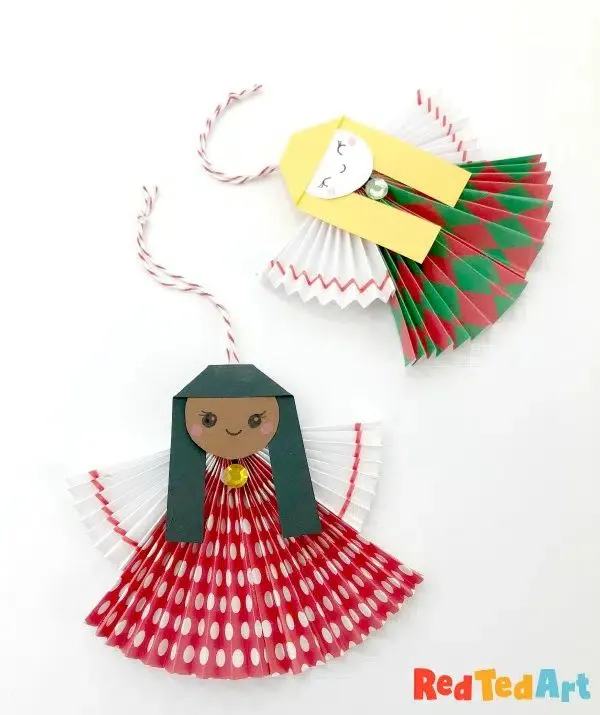 Source: redtedart.com
Have you ever made those paper fans? It's one of the easiest paper-folding crafts, but you don't need to just make a fan.
You can also make a paper fan angel and turn it into an ornament to hang up on your Christmas tree this holiday season. When you're done making these angels, just hang them up on your tree with some twine from here.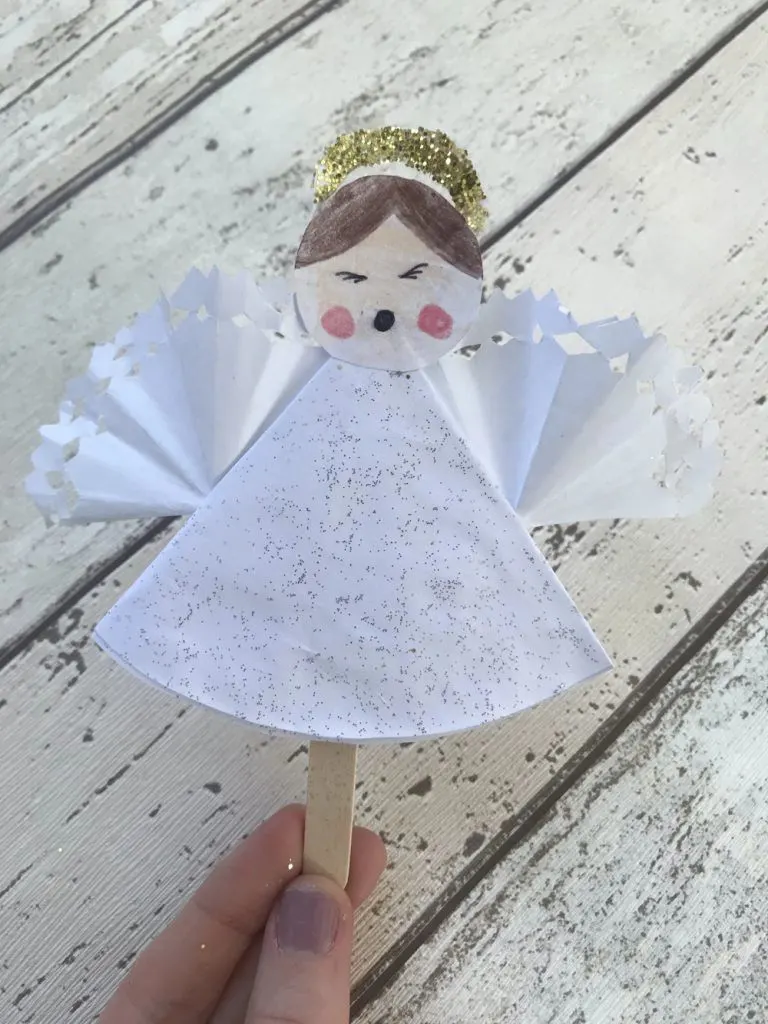 Source: daisiesandpie.co.uk
Do your kids love everything and anything to do with angels? Well, it's understandable to want to be surrounded by them so they can watch over you and your family.
And nothing says angel quite better than pure and pristine white-colored outfits and their little halos. You can make this pretty little snowflake angel in just 15 minutes or under, so go ahead and sit your kids down and make a half dozen or so.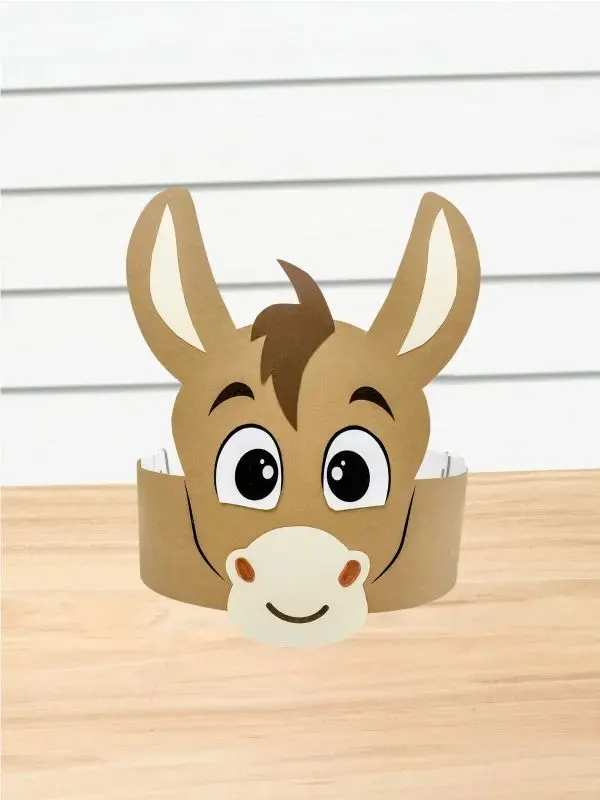 Source: simpleeverydaymom.com
The best part of crafting is the tangible result of your efforts. If you also get to wear your craft project, like this donkey headband, then that just takes the cake.
You will need some scrap paper–you can also use cardstock or construction paper. If you like, there is also a template provided for you. Just download and print it, and have your kids paint or color it before cutting it and pinning it in place.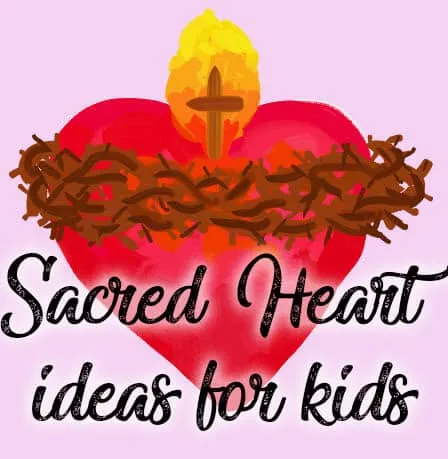 Source: catholicicing.com
Do you have any heavy-duty aluminum foil at home? No? Then go ahead and pick up a roll from here to get started on the Sacred Heart craft project.
You will also need a couple of sharpies, fun foam, and finally, a pair of scissors. For reference, you can also look up and download a couple of images of a sacred and immaculate heart to help you along the way.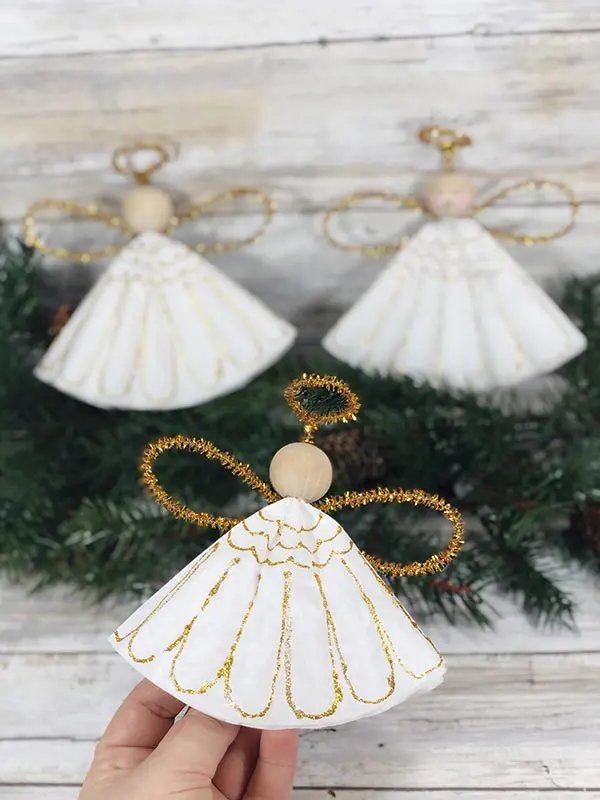 Source: darcyandbrian.com
Coffee filters are one of those things that you're sure to have lying around your home. They're super nifty and can be used in craft projects, as well, to make coffee filter angels in this case.
Coffee is definitely God's gift to mankind, so it feels apropos to be making God's messengers out of coffee filters. Don't you think?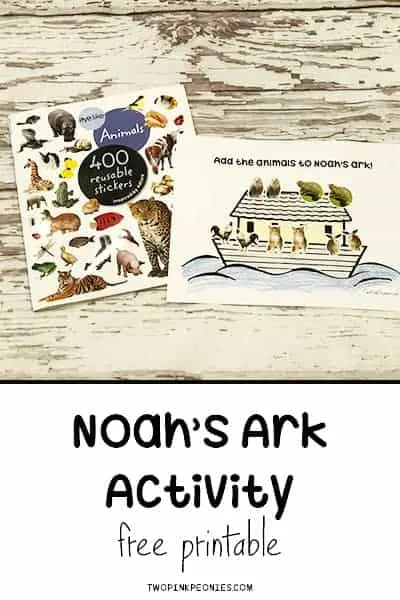 Source: twopinkpeonies.com
The tale of Noah's Ark is one of my favorites. There's just so much to take away from it, too.
This Noah's Ark activity is ideal for your younger children, particularly if you've got a toddler and you want to turn storytime into a more interactive one.
You can use your Noah's Ark activity to teach your kids about different animals, too. That's what makes this one really special!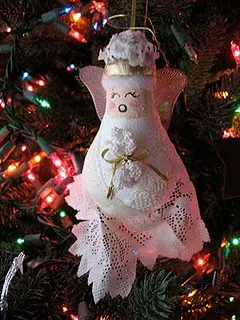 Source: craftsbyamanda.com
What do you do with lightbulbs after they stop working? Well, I have a craft project for you that will let those bulbs continue to light up your home.
This lightbulb angel ornament will surely light up your Christmas tree come this holiday season. You can also just hang it up as charms around your home throughout the year if you like the idea of angels watching over you.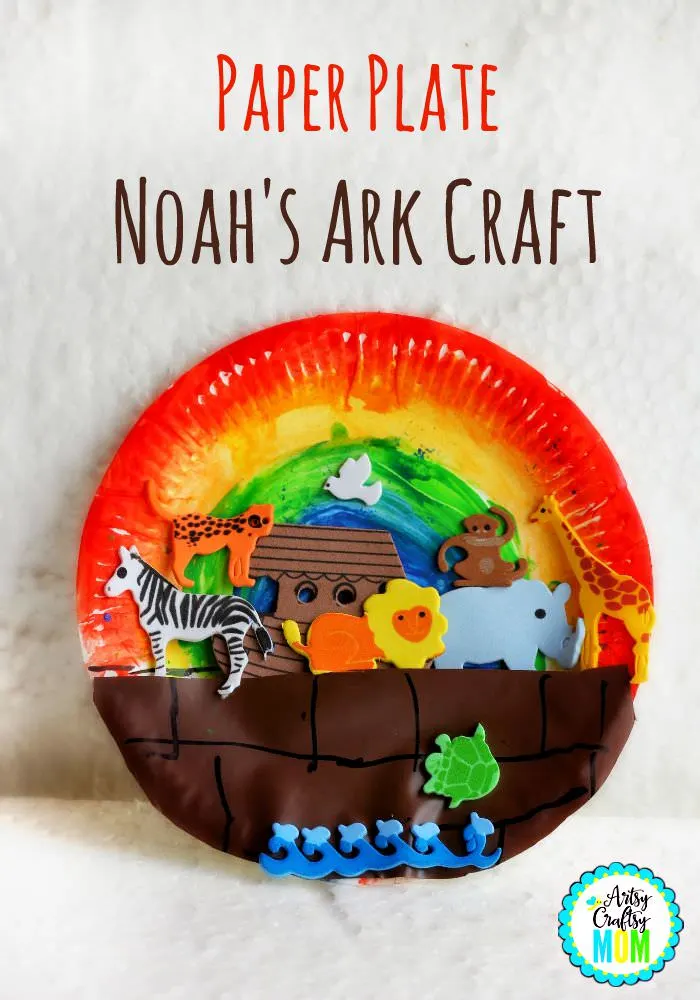 Source: artsycraftsymom.com
This paper plate Noah's Ark has a whole lot of fun and creative ideas going on. There's a whole rainbow of color(probably allegorical to God's promise of a rainbow after the flood).
There is also a whole menagerie of animals aboard the ark. Just pick out your kid's favorite animals and include them on the decks of Noah's Ark.
Love paper plate crafts? Then you've got to check out these 47 fun paper plate crafts for kids!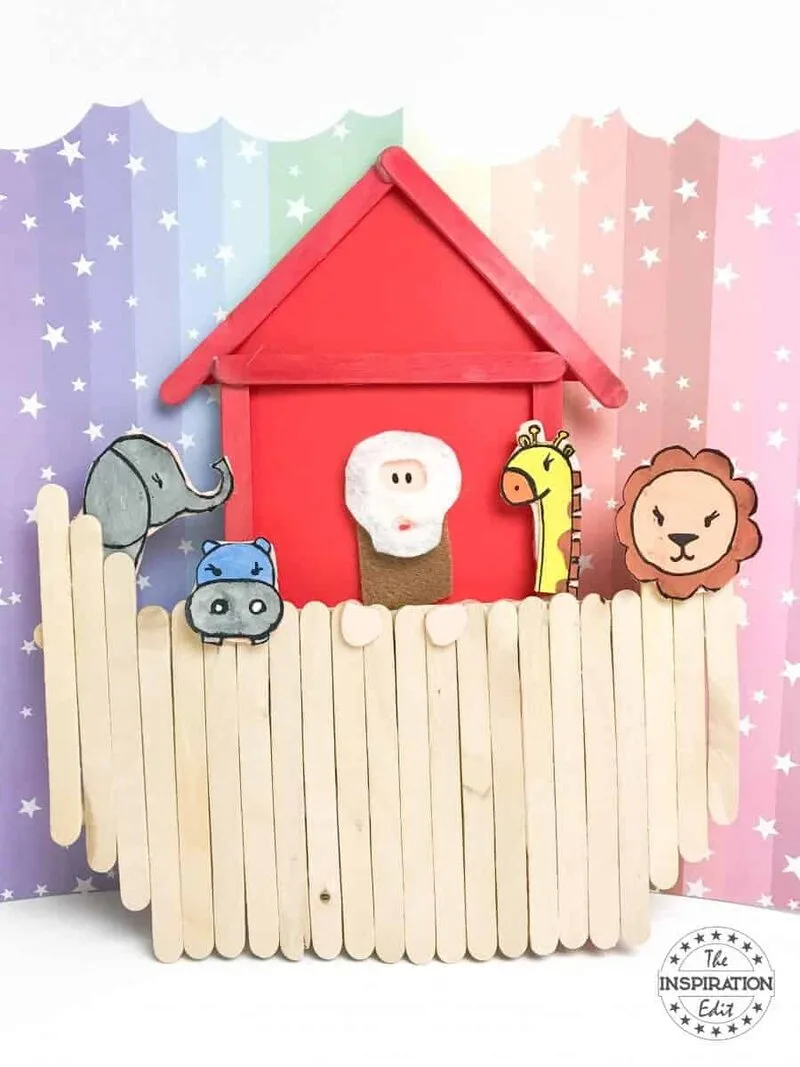 Source: theinspirationedit.com
It would seem that we're not quite done with Noah's Arc as a theme for our craft projects. I mean, it does make sense because there are just so many ways you can play around with that as the central idea.
Let's switch out the paper plate with popsicle sticks for this particular project. You can pick a packet of craft sticks right here.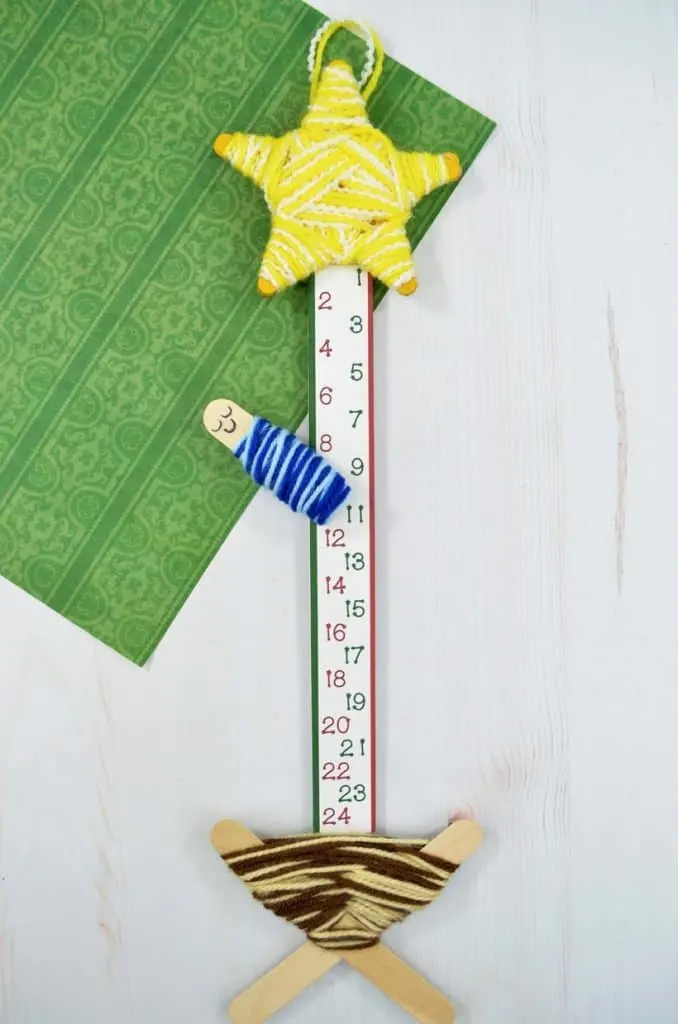 Source: bigfamilyblessings.com
Grab some yarn and a couple of markers, and get started on making this advent countdown calendar! You will also need a couple of craft popsicle sticks, a hot glue gun, and a pair of scissors.
You will have noticed that adorable little yarn-wrapped baby Jesus add-on. Feel free to play around with the yarn color and the size, too, if you want something smaller.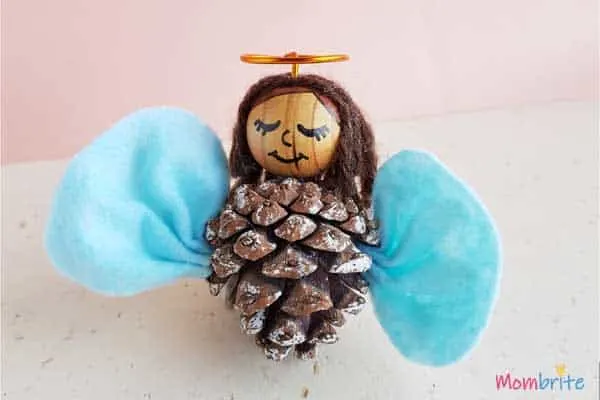 Source: mombrite.com
I don't know about you but when the fall season hits, it's time to go out and collect pinecones! It's an activity that kids enjoy, seeing how it involves foraging and romping around in mud.
Grab a pinecone now to make a pinecone angel with your kids. You will need a large wooden bead per ornament which you can find here. Go ahead and pick up a roll of ribbon, too while you're shopping for supplies.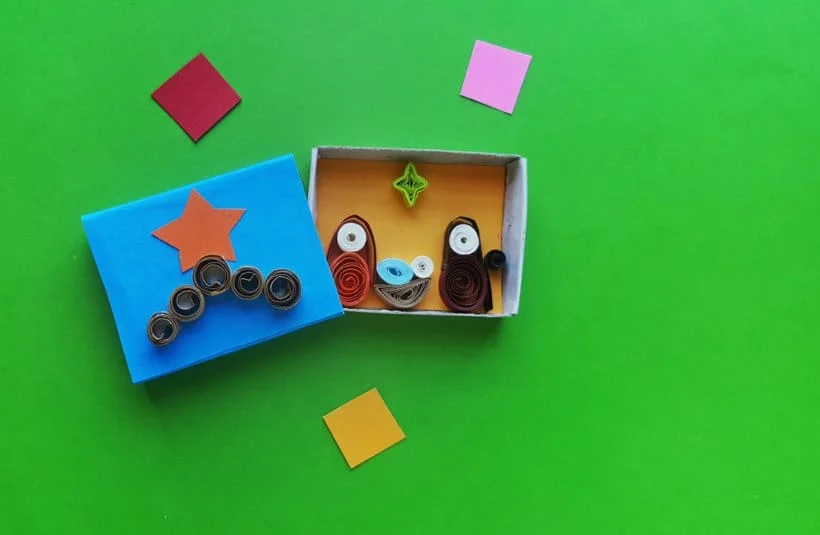 Source: bigfamilyblessings.com
Are your kids fond of quilling crafts? If they are, then they're bound to enjoy this paper nativity craft project.
You can use this opportunity to upcycle some craft items you've got in your stash as additional decorative props. Go ahead and grab a shoebox to use as a base, and start planning your nativity-themed project now!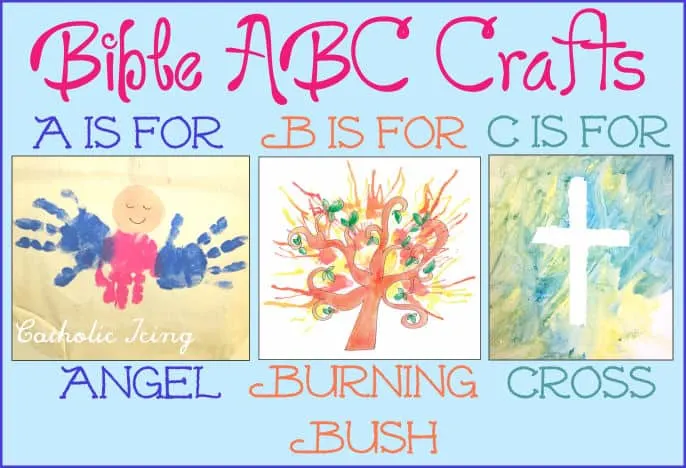 Source: catholicicing.com
It's a no-brainer that your little ones need to learn their alphabets. So why not use ABC's to teach them some bible-related words, too.
You can stick with A for apple–as in the apple that Eve ate. Pretty creative, don't you think. Just take a look at the different bible references you can use and start your kids on their literary journey!